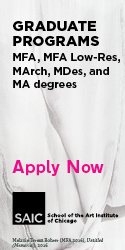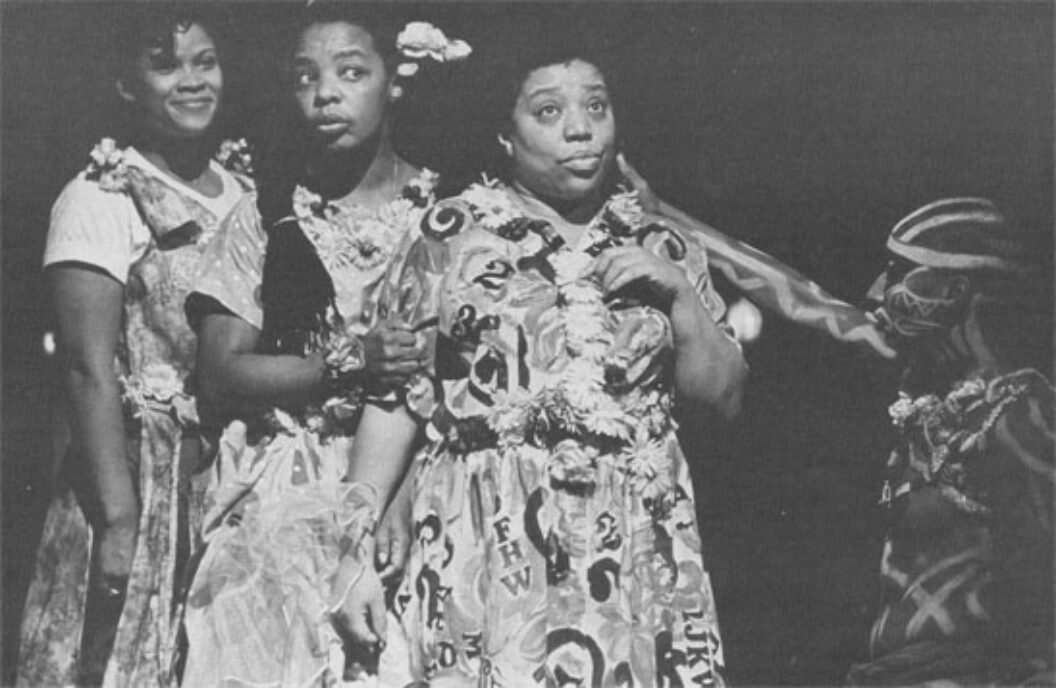 Laurie Carlos is the complete performer, an actor's actor. Whether on the great stage of the BAM Opera House as the ebullient grandmother in Urban Bush Women's Praise House, or playing at a packed-to-the-rafters Nuyorican Café with the performance trio Thought Music (consisting of Carlos, Jessica Hagedorn, and Robbie McCauley), or performing a duet with McCauley, Persimmon Peel, at The Working Theatre, or in her own ensemble piece, White Chocolate for My Father, at Performance Space 122, she never gives less than one hundred percent. Every ounce of her body and spirit is full of integrity, commitment, intelligence and passion. She is the recipient of an Obie Award for creating the role of Lady Blue in Ntozake Shange's For Colored Girls Who Have Considered Suicide When the Rainbow Is Enuf, and a Bessie Award for her extensive and exceptional work in Heat. I have been an unqualified fan since I first saw Laurie, and pleased and grateful that she's become a loyal colleague and trusted friend.
Nicky Paraiso What is it that first made you want to be an actress, to express yourself through performance, and have the reasons changed over the years?
Laurie Carlos The basic impulses for wanting to be an actor have expanded, but the bottom line is exactly the same. That is, I believed at the age of 14, that there was no voice for me. No voice for me on the stage. As a person. When I went to the theatre, I never heard stories, for the most part, that had to do with anything I knew. Anything that I knew in the kitchens, in the places that I thought of as art. I grew up on the Lower East Side. My life as a child was surrounded by musicians and dancers and poets and lots of artists as well as people who did regular kinds of jobs. But I didn't see that when I went to the theatre. As I got older, the voices that I got committed to as an actor, I saw even less. I did see it when I went to the theatre to see the works of Adrienne Kennedy. Later on, the same thing happened to me when I saw the works of Aisha Rahman, Jessica Hagedorn, Thulani Davis. So I started hearing the voices that had something to do with what it was I wanted to hear when I went to the theatre. The theatre and the stage, and film were very powerful places in terms of politics. In America, in the early '60s, the voices of black people were very minimalized. I wanted to be able to use my voice as an artist for political reasons as well as aesthetic reasons. The two are not very far apart.
NP White Chocolate For My Father is an astonishing piece of theatre. It feels like the culmination of a particular investigation of your own familial and cultural roots, a thread continuing through Monkey Dances, and other previous works. It also feels the most personal.
LC White Chocolate is, at the moment, the last piece of "autobiographical theatre" work I'm going to do. Yes, it is the culmination of an exploration that I've been doing for quite some time. About why it is culturally and in terms of one's family, certain things happen, or are allowed to continue and how cycles are broken in terms of cruelty, abandonment, low self-esteem, or high self-esteem, economic establishments. The cruelty of not recognizing one's own face in the mirror is something that has been institutionalized from one family to the next and then has spread through large communities of people all over the world. It is the story of enculturalization, it is the story of colonialism. It is the story of self-deprecation. When we look at who we are in the world—Michael Jackson's face is the culmination of that—for me it's self-mutilation. We take off parts of ourselves in order to assimilate to a culture that is defined by how much they can sell to you, how much you are willing to buy. So, White Chocolate starts off with my last ancestor in Africa having her face eaten off by dogs as the slavers take her daughter and put her on a ship to North America. That same spirit has no face entering into a relationship through time. What that is for all of us inside my family, inside of my family as a black woman and as a black woman artist, as a black woman artist who sings, as a black woman artist who sings with children, or a black woman artist who has a lot of other kind of alliances in the world. How difficult it's been to hold on to our identity. So, I just simply examine situations, thoughts, prayers, dance movements, recipes in order to tell that story.
NP In White Chocolate the spirits in the house are palpable. It feels like all the women in your family through the generations are present, a whole community. That's quite an achievement. Who is the White Light Spirit that Cynthia Oliver plays?
LC The White Light Spirit is that last African spirit whose face was eaten off. They dug a hole, put her in the hole. And then had the dogs literally eat off her head. That White Light Spirit that moves constantly through the generations. Finally you see her as a junkie. Who is to determine the value of another human being? People had big objections that the African woman who was strong and courageous, and full of herself, would arrive back as a junkie in a white wig and red hot pants. "Why would you let that happen to her," they asked. It wasn't me letting anything happen. Why is that person, who's been dumped in the hole more valuable than a junkie on the street? It's the same person. Why don't you recognize her? And again, we are not able to recognize each other because the faces have been eaten off.
NP One of my favorite monologues is the one about you as a little girl wanting to marry the Irish boy. A pink boy and a brown girl making yellow Chinese children.
LC It is based on a real story. I think all of us learn racism very early on, no matter how innocent it is. We tell jokes about each other. But sometimes something comes through that is precious and wonderful. That's what John O'Connor was. We were eight-years-old and were going to marry and have Chinese children. They sent him away to a private school the next year to make sure that he never again had any of those feelings for a little colored girl. I was left to live my life without that as an expectation because that was gone. We've all had those experiences that cross over from what it is that we are supposed to be to what it is that is possible for all of us.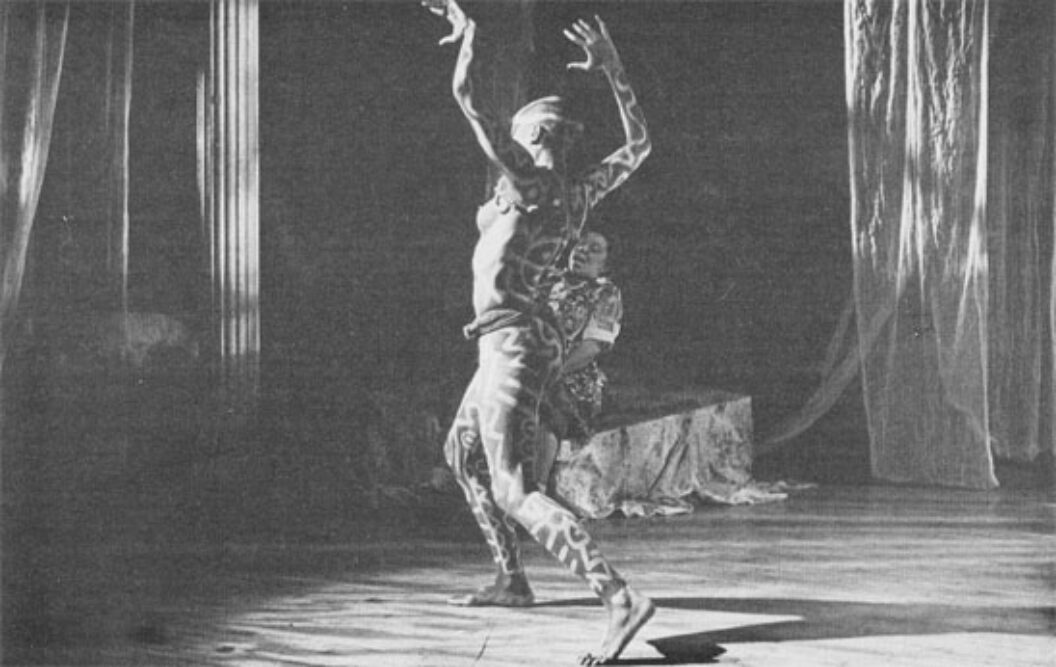 NP Did your mother really move to Zaire? The character "Mickey," is that based on your mother?
LC Mickey, the character based on my birth mother, does truly live in Zaire now. She went from picking cotton in Arkansas, to teaching in the University and not through a regular education. She created her own venues of moving through pain and fire. We would assume that someone who worked in clubs as an exotic dancer would not get any further than that, but she did. So, yeah, all of that.
NP How was it raising your own daughter, Amber, while maintaining a career and doing your art?
LC Extremely difficult. I must say that without support from my step-mother and my father, my extended family, it would have been impossible. It's not a matter of choosing, it's all a matter of what was required. I deal with the reactions from that, with that, about that even now, and probably will all my life. I made some real hard choices. Good ones, but real hard.
NP Could you talk about how you first met your cohorts in Thought Music, Robbie McCauley and Jessica Hagedorn, and why you all decided to work together?
LC Working together was inevitable. Just because of the nature of who we are, there was nothing else we could do, except work together. Or become solo performers. The first time we all worked together was uptown, in Harlem, at Roger Furman's theatre in Shadow and Veil. We just kept looking at each other's work and jumping up on stage with each other.
NP In Thought Music, your role is sometimes to cajole, to adjudicate, to bring down to earth—the pragmatic one; "Now wait a minute. What are we really talking about here?" Is that true?
LC My role in Thought Music is to play the fool because Robbie and Jessica are so absolutely clear. Jessica has a particular kind of whimsy that is devastatingly attractive. I take the role of the fool, so that we can reroute the information in three different ways. Through each body and each voice, gesture is significantly changed, and the text is significantly changed, according to whose version you are hearing. Sometimes you're hearing all three versions at once.
NP Persimmon Peel is a duet between you and Robbie. Tell us about the germination and development of this work.
LC Robbie kept saying, "We have to have a rehearsal, we have to have a rehearsal." I hate rehearsal. It finally got down to the last moment, we hadn't had a rehearsal, we didn't know what the hell we were going to do, we got up onstage, I looked at her, she looked at me, and we went for it. We had a wonderful time, it was the most frightening thing either of us had done in a while. Scary as hell. We then decided we had to get back to moments on stage that were improvisational.
NP And how did the deconstruction of the Star Spangled Banner come about?
LC The very first time we did it. We retained it because it's one of the hardest bits of improv to do. We called up all kinds of questions of loyalty, questions about God, commerce. I'm always surprised just how hard it is to do, and I'm always surprised just what it does call up.
NP Going back, how about your early work as an actor, who were the playwrights and directors you worked with, the community you hung out with?
LC A lot of my community is in Hollywood at the moment. Playwrights. Thankfully, I've worked with many different playwrights, mostly doing new work. I like creating characters. I am a writer's actor. Always have been and continue to be. I'm a writer's director. It's very, very important to me what the writer is saying.
NP Are there writers working today, new writers that you admire or like?
LC Oh, yeah, there are a lot of them. Suzan Lori-Parks, Edgar White, Aisha Rahman, Shay Youngblood.
NP What do you think of Spike Lee's work? Have you seen Malcolm X?
LC I haven't seen Malcolm yet, and I think it's probably one of the pieces that I will see of his. At the moment, I feel theater and film are in the middle of a testosterone hell. There are just too many pubescent boys for me. Ejaculating everywhere, it's very messy on some level. Whereas I think a lot of the poet Audre Lorde, she will be missed. Adrienne Kennedy, whose work is very rarely produced because people can't handle what her images are, although they know them intimately, they're still frightened of them. I look at the work of Julie Dash and Neema Barnett and I don't understand why Julie Dash hasn't made five films by now. It was bad enough being locked out by white men, it is really awful when you are…
NP It amazes me, the lack of recognition for Daughters of the Dust.
LC It didn't amaze me at all, not at all. It seems as if there is this need not to recognize the works of women at the moment. It sounds very much to me like the old Black Panther thing, the neo-African thing where you are supposed to pick up the instruments and follow men until they get to a better place. I don't want to carry your instrument. I know how to play one. I know how to make one. We can make music, my brother, but I don't feel like carrying nobody's instruments. So there's this assumption that there's not enough room for everybody. It's a stupid assumption, it's a colonialist assumption. We are still dealing with this hierarchy, patriarchy. You don't have to be 40 to be a patriarch. You can be 12 and a half. "Jump, Jump. Daddy Mack." I get really bored with the position that black women are still taking. It's so sexist at the moment and very boring.
NP One Christmas Eve, three years ago, I saw you at the Bottom Line, at Laura Nyro's concert. You brought your daughter, Amber. You were pregnant with Amber when you went to hear Nyro sing at the Fillmore East in 1970.
LC I started listening to Laura Nyro in 1966. She's influenced me a great deal in terms of what dramatic line is in a lyric and where music's possibilities can go. She's always been an inside performer to me. Not just the honesty, but the courage to be honest about it. Yeah, I danced to Nyro music up to giving birth and all the way through. So much of how I've learned to scream inside of a note has to do with having experienced her music.
NP Why are you moving to L.A.?
LC I'm moving to L.A. because right now there's an incredible dichotomy going on in terms of film and television. I turn on the television or I look at the films and I recognize people with whom I'd like to work. For me it's splitting up the tribe.
NP That doesn't mean you won't come back?
LC No, that doesn't even mean I'd move my furniture. I am going, for the first time earnestly, to L.A. and expand my horizons a bit or at least my pocket book. Unfortunately, the work that we do pays so little money for such hard times and hard work. If I'm not going to get grants, I'm going to have to fight this undertow. There's a big backlash brewing. Multicultural, blah, blah, blah. Nobody truly wants to do this at some level. They are dependent on whether or not you walk into certain forums for their funding. They are evil when you get there. I had the worst experience of my life here in New York trying to do a project. The broad wasn't interested in me as an artist or the community that she was working in. The backlash from that is unbelievable. At the same time there is a door in L.A. A lot of my friends are in L.A. and I want to work with them. I've never left New York in order to make my life someplace else. It might be time for that.
NP Are you in love with anyone right now? You always tell me, "Do what makes you happy!" Are you doing what makes you happy? In that context?
LC Not yet, I've sort of shut love, that love, away. Which doesn't mean I haven't had close inter-personal relationships, because I have but they haven't been physical. That's been O.K., I've learned how to love other people without that physicality. I think what I require right now from another human being, from a male person, is very different from what it used to be. It's taken me a while to reevaluate that. I mean, I ain't suffering. I ain't lonely. I'm happy.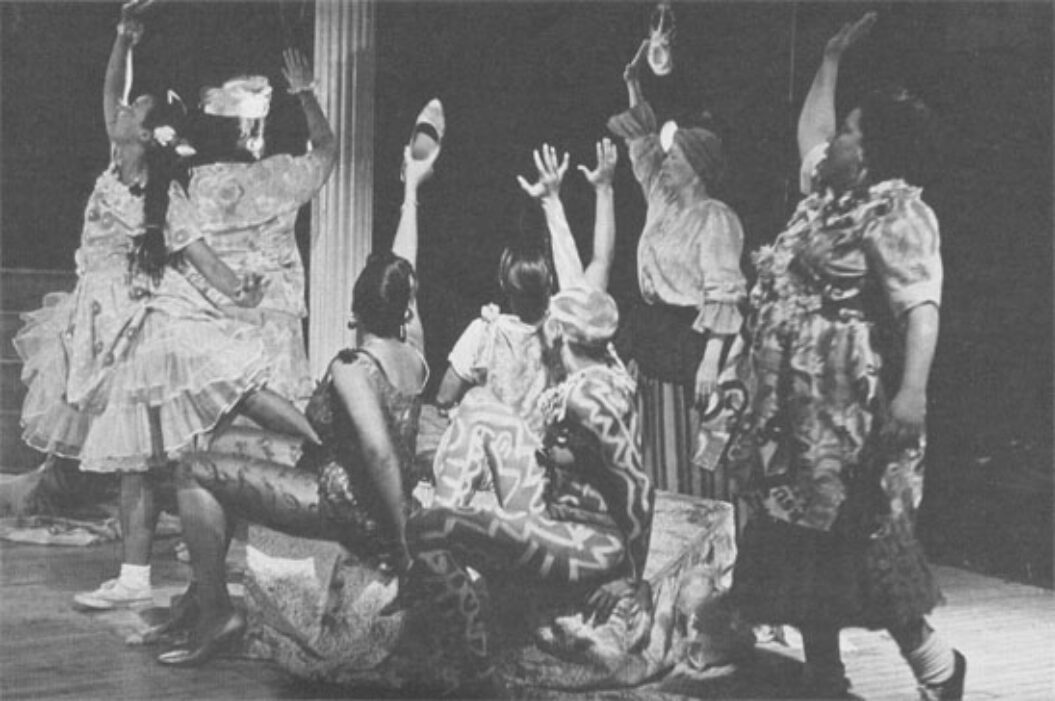 Originally published in
Featuring interviews with Tony Kushner, Ousmane Sembene, Jeanette Winterson, Andres Serrano, Faye Myenne Ng, Vernon Reid, Gillian Armstrong, Andrew MacNair, Laurie Carlos, Srinivas Krishna, Mira Schor, and Barbara Hammer.