The artist on performing motherhood and marriage in her new video The Breath We Took and why "write what you know" is limiting advice.
If you live in Atlanta, chances are you've encountered the work of Lauri Stallings. There aren't many contemporary choreographers, or many cities, one could say this about—a testament to the complicated, synergistic, multi-platform relationship that Stallings has with Atlanta.
Stallings first began choreographing work late in her career as a dancer with Ballet BC and Hubbard Street Dance Chicago. After a three-year stint as choreographer-in-residence at the Atlanta Ballet, Stallings remained in Atlanta where she founded the company gloATL in 2009. Through the company's numerous public performances, Stallings has sought to engage the city in all of its aspects—its most central, trafficked and familiar places as well as its tucked away, odd, and hidden pockets. Whether in a busy shopping mall, an empty public pool, the High Museum's central plaza, or an odd drainage gulley of Piedmont Park, Stallings' work utilizes an intriguing gestural and visual language that encompasses everything from the erotic and the absurd to the grotesque and the unabashedly beautiful, drawing in an ever-widening circle of viewers, participants, and collaborators.
Andrew Alexander How does new work begin for you? I imagine it's somewhat different each time, but is there some way to generalize?
Lauri Stallings There's something that I sort of allow to happen. I guess the best word would be 'intuition.' Surprisingly, it's a mindful one: It's mental. I'm not saying I'm always aware of it, but it is something that happens. I never know when, but it is prior to getting in the studio, the literal process of generating material as a choreographer. The consistent thing is: I'm always surprised at what comes to me first. That's what can't be generalized. But intuition is the one thing I don't second-guess, and I think that comes from my parents. They kept telling us over and over again, "All you have are your instincts." I'm very grateful they kept telling me that.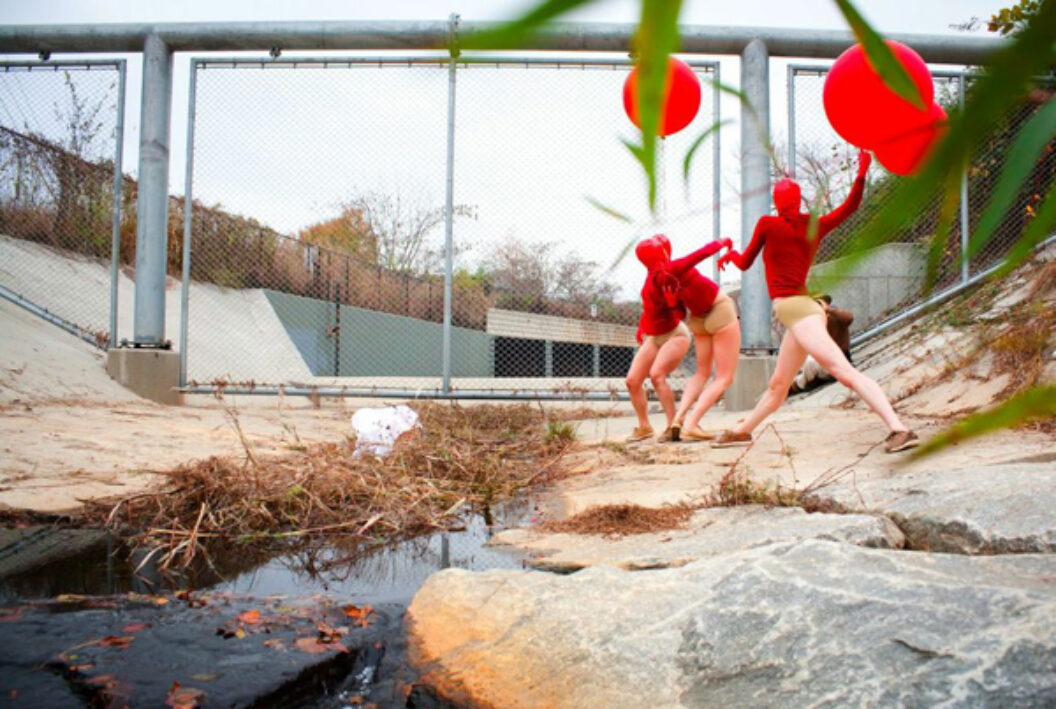 AA Do you have a clear picture from the beginning what a work will look like? Or is it more a matter of putting the various materials together and then seeing what you have? For instance, your work Search for the Exceptional (2012) involved a lot of very different elements—a defunct public swimming pool in an economically disadvantaged neighborhood, projected film by Micah Stansell, dancers, music.
LS Search for the Exceptional was genuinely a public work. The public as in: the neighborhood, the city Department of Parks and Recreation, the Boys' and Girls' Club across the street, the landscape company that took care of the park while we were there, our volunteers. They informed the work. I went into that space with a team of individuals who were invested in refurbishing the pool, opening its doors back to the community. That, in turn, became as much a part of the work as the sound design, the filmmaker's materials. That's process. That's public process, the artists and the army allowing the process to inform the dialogue that's interpreted through artistic mediums. In that case, it was gesture and sound and film, a bit of theatricality and imagery.
You ask me could I see it before? I could see because of the womb of the pool, the literal shape of it. It was a literal 'L' and the sense of depth, the craters and erosion that had happened over time. Those were my early informants. That's what remained with me throughout the process. It didn't really morph or change with the end result. It's what I entered the space evaluating and connecting with. As we left I was still evaluating and connecting with the space in a very similar way.
AA Some of what you do is studio-based work for the proscenium stage. That must feel like a very different process. Or does it?
LS The proscenium stage is all I knew up until four years ago. Really, it's what I grew up with, it's where my experiences as a performing artist existed and thrived, and where I acquired knowledge of conversation and dialogue with a public. I think it's essentially where I got to know myself and my own needs, where I communicated from. But the proscenium stage tends to be in the shape of a box. I think I just am responding to the planet as a round surface: It's curvy, it's soft. It likes waves and wind and things that move. Fundamentally, it's trying to get human beings to respond in that way. I just remember thinking, "What if this space were softer, what if this space weren't so finite, what if there was only one wall, maybe there's just a ceiling and no walls, or maybe the lid was off." When I started thinking about that, I realized that most of the time when I was performing, when I was on stage with Hubbard Street, I was sort of using everything. That included my eyelashes and my tongue and—
AA Is this something choreographers were telling you to do?
LS (laughter) No. Oftentimes, they would say, "Could you not use that?!" But my body had its interest in letting things in. It goes back to my childhood; my parents allowed many creatures into the house. Just a real sense of fluidity, a welcoming sense. My intrigue with letting people in would become something I was invested in finding through an art form. When I'm free of stage aesthetics and conventions, it enables me to take greater risks and be more receptive to my surroundings. Particularly in the migratory works—as an artist—I am exposed, completely vulnerable. I become honest; armed with only my body and philosophies.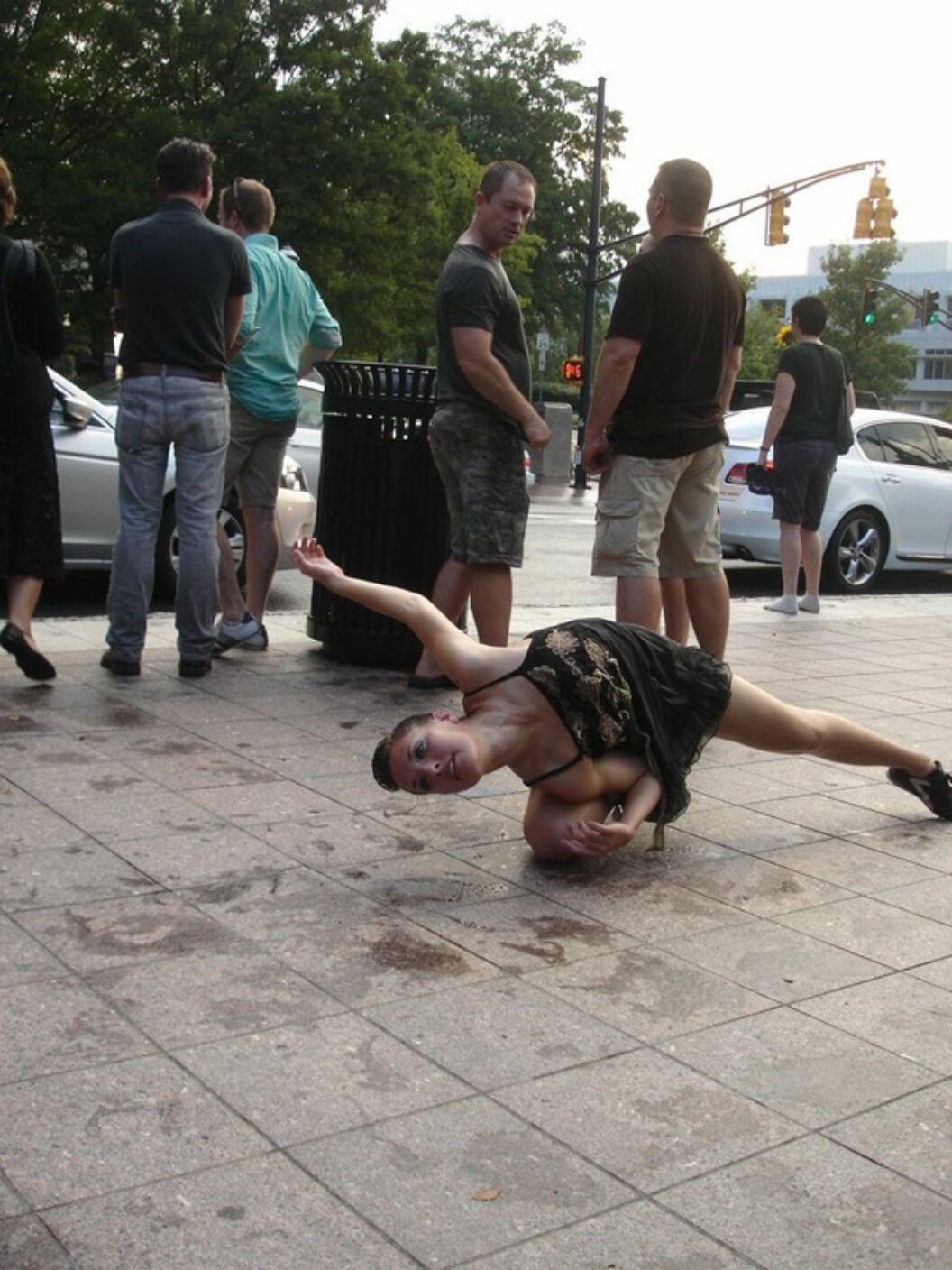 But I also take those philosophies with me into a studio. And I think those philosophies allow the dancer who feels safer with that fixed point of view to at least open up to possibilities that there are other ways of reaching the public. There are other ways of expressing themselves. The public doesn't always see how those philosophies that happen in a public space could also be current on the more traditional proscenium stage. These philosophies have little to do with dance and more to do with the contemporary individual, that person who is curious, the person who is allowing unexpectedness into their eyes, their ears.
AA Is there a way to measure success or failure with a work? Would you ever sit down and say, "This work was more successful than that one—"
LS I'm human. My heart breaks. But no matter the critical response, as long as the team I'm working with can collectively identify genuine threads that have informed us as we move forward, that to me is success. Other ways to measure success are more personal. Others have to do with things I'm very passionate about for the city of Atlanta, for the entire city. I have a responsibility—we all do—to promote dialogue and to find ways to support it. At some point in my existence here, I became just as passionate and invested and interested in the entire city itself, well beyond just my work.
AA Would you feel that way about wherever you settle?
LS It's just Atlanta.
AA That's interesting to me, because I think Atlanta has been a bit 'off the map' when it comes to contemporary art, certainly when it comes to contemporary dance. That's not an assessment of the work being done here, just my thought on what the perception is from outside. If you stopped someone on the street in New York or Chicago—certainly if you did this ten years ago—and asked them 'What's happening in Atlanta?' they probably wouldn't have known, or even have cared to know.
LS I don't think so either. And that's inspiring, right? That's one reason for the whole of Atlanta to be understood and recognized as a place, as a home for sensitivity, for curiosity, for genuine courage to respond to themes in the current world. It inspired me. That's partly one of the reasons I stayed here and began gloATL. I just thought 'There has to be this export.'
The last few years, everyone's efforts and investment has started to change the direction of the city. I can feel that. It's very exciting. I can at least feel the faces starting to turn to look towards Atlanta. Some are turned all the way around, like 'What the hell is going on?' There's so much progress and achievement on everyone's part. But we need to find ways to include everyone in the dialogue. Everyone in Atlanta has the time and the resources to be included in this conversation because ultimately this conversation is about the city of Atlanta. It's worthy of that. It's definitely the reason I'm here. It's such a deep passion, and it's so inspiring here. The artist almost gets lost in the potential for Atlanta as a place for conversation. We start to lose ourselves. The mission of the city starts to be my mission as an artist. That's the beauty of Atlanta. It asks that much of you. The level of investment it asks of you, it almost becomes a drug.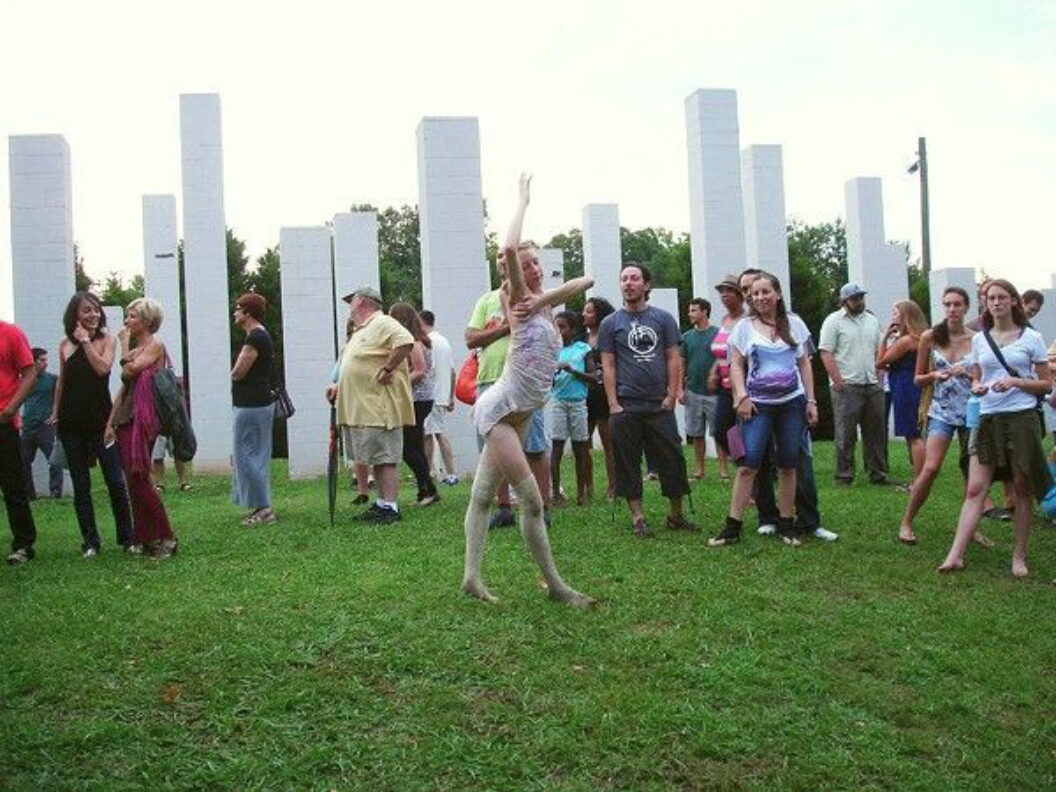 AA You've created a lot of different platforms for work here. There's gloATL, a dance season, a biennial dance event, public works, installations, ticketed events, works for the stage, collaborations, discussions, workshops, etc. Would it be possible to identify a parallel aim to all of these things? Are they all leading to the same end?
LS I'm fascinated with this time, this moment right now—all things contemporary. I think all the works have that in common. What else they have in common is that they're ambitious—near arrogant—with the belief that dance, universal gesture, is the center of the universe. It's our catalyst. It has been since the beginning of time, well before we could have common language. That's what ties them all together. I don't know what it's called—it's beyond a "belief"—but I've always thought that my movement and my gestures were impactful and meaningful. I am invested in empowering the viewer and the artist with that sense of ownership of their physical being, of the choices that they can make in expressing themselves with their entire body. I'm one of many artists proposing to the world these types of experiences. I think thus far it's unclear where they belong because everyone's so interested in the rock, the permanent. We actually thrive in the fact that this is ephemeral; that this moment will not exist again. We like that. We are embracing fluidity. All of the works have that.
AA But don't you ever get frustrated with ephemerality? If someone asks you, 'What wasLivers like?' I suppose there's video and photography to show them, but the thing itself, all of your work, is gone. It's not like a sculpture or a painting.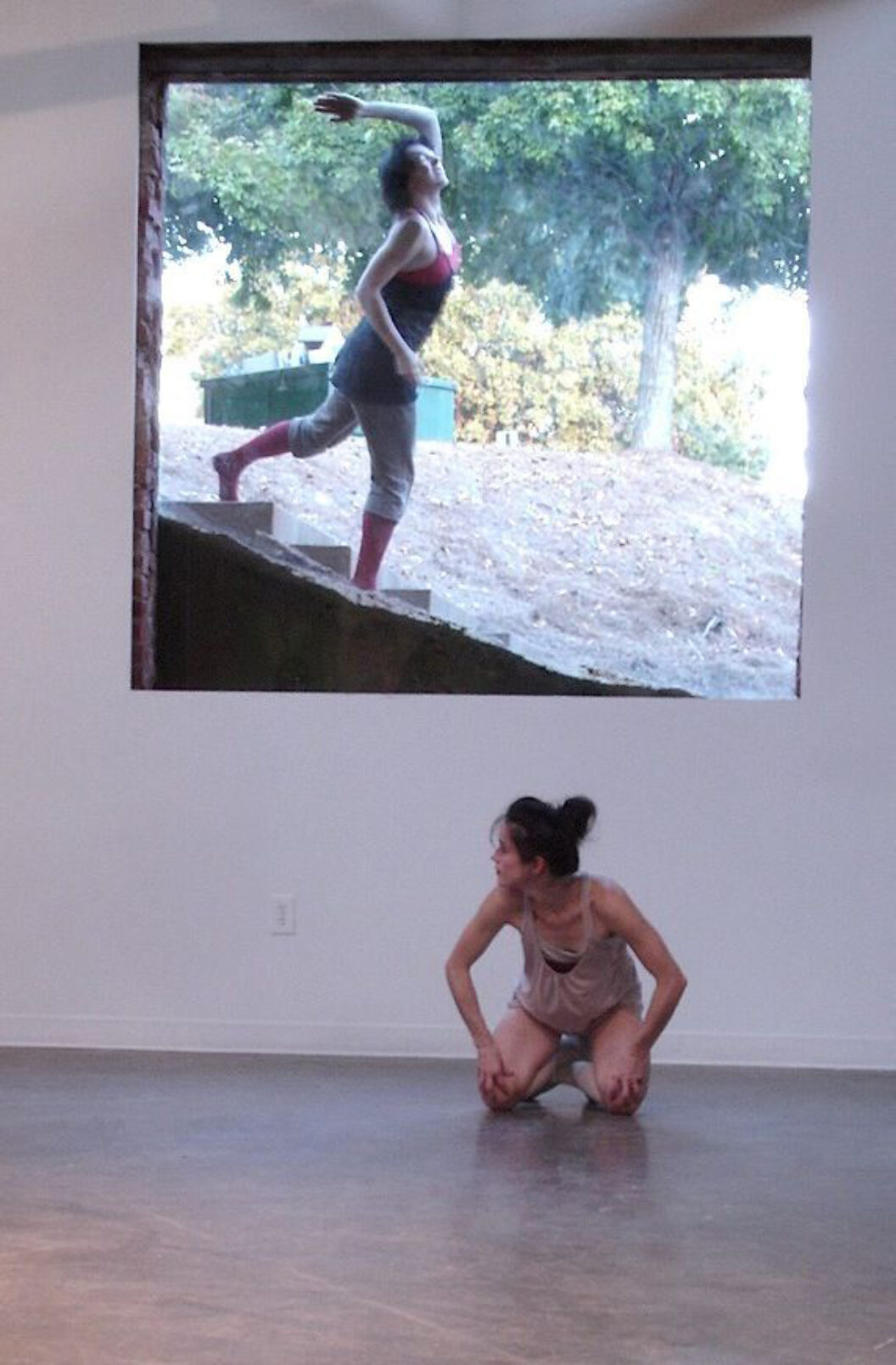 LS But there's always still that one question 'Why are we here?' I haven't found anyone who knows the answer. This is just the best way I know to ask that question, through contemporary performance. That's the loveliest thing about making dances. You have that dialogue with something that always has a feeling, and always can respond. The human, that flesh interest, is by far the deepest investment. And the process does something to you. That's the point of process. It's such a gift to get to spend my life in process, so close to those things that turn us on and off, that break our heart and mend it … Something tells me that the mystery of life, that one question that still remains, "Why are we here?" is inside of us: A complex, but not complicated, daily voyage. It's a dialogue between us and the places we inhabit.
For more on Lauri Stallings, check out gloATL's website.
Andrew Alexander is an Atlanta-based arts writer. His work appears in Art Papers, Burnaway,ArtsATL, Creative Loafing, the Atlanta Journal-Constitution, and on his blog.