Discover MFA Programs in Art and Writing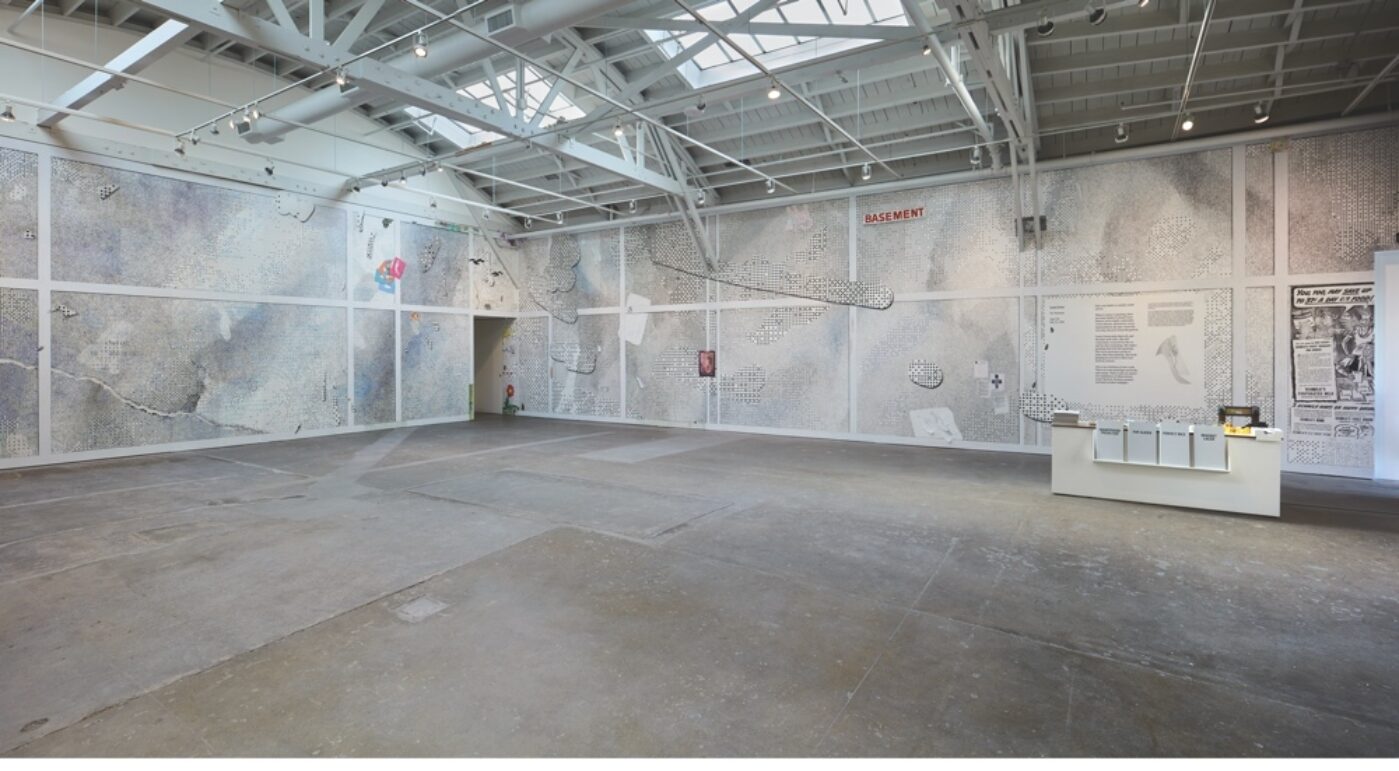 "How should I live?"
"Sorry, could you repeat that?"
"That's not helpful, but thanks anyway!"
This was an early exchange I had with Laura Owens's wallpaper. Or paintings. Or however we want to talk about her show at the CCA Wattis Institute in San Francisco.
Everywhere you look in the first room, there are little directives, tucked into the art, to text various numbers for answers. I did as bidden, but because I was listening to Fiona Apple's "I Know" on repeat too loudly over my headphones, I couldn't hear the answers, which emanated God-like from the walls, and so I only have this one-sided record for you, dear reader. (All I could hear was the tone, and I didn't like it.) The ridiculousness of the human condition, the contemporary moment. Not only am I texting a wall, I can't even do it correctly. Baby, I can't help you out…
When I return a few weeks later, I'm prepared. "Is that you, Bill Berkson?" I type. And a male voice answers, without missing a beat, "Seems about right." Bill would have liked that, I think. Owens's show is called Ten Paintings. It's a didactic title, only these discrete objects are camouflaged by the wallpaper that covers most of the Wattis's large outer room. Eventually they'll be cut out of their hiding places, the better to make new meanings. And who knows what becomes of the poor wallpaper? Art-world class hierarchies are merciless. The silliness of the division between abstraction and representation. Paint rushing to interrupt painting, each somehow gloriously immune to, yet entirely compromised by, the other.
At first I misunderstood. I thought the paintings were hiding behind the paper. Such innocence. "Adam alone in Paradise did grieve," begins a poem in the back room, in one of the many needlepoint creations by Owens's grandmother. Encountering these, all clustered together with a few of Owens's smaller, less exuberant works, I saw the outer room anew once more: what had seemed pixelated within the wallpaper now clearly read as the needlepoint patterns for the pillows my mother made when I was little. Owens is fucking with technology, and she's fucking with the past (hers, ours, whomever's), and at a certain point this mischief seems one and the same: we're formed very early on in our lives. No? How we see ourselves and our worlds doesn't necessarily shift all that much. It's all the same technology.
But time! Texting time versus painting time—this is where the cynical rubs up against the romantic. It's part of what saves the delicious frosting whorls of color muckled onto Owens's canvases from being overly sweet. Or maybe they are overly sweet, maybe I'm all wrong in my approach. But I love standing in front of these suckers. I love that the sea in which the ship is sailing is one of roiling pigment.
We have to live in this world, after all. By some miracle, leaving the Wattis, I'm able to catch a cab without technological assistance. Just my hand. My cabbie drives almost the entire way in the bicycle lane, laughing and muttering to himself as we go. He says he's a writer, and I ask where I can see his work. "Google Jimmy Mankind," he says. "And you'll see all kinds of things." Everything on the Internet is hiding in plain site. And here, as in Ten Paintings, I think "site" must surely be cq.
Claudia La Rocco is author of the selected writings, The Best Most Useless Dress (Badlands Unlimited), and the novel petit cadeau (The Chocolate Factory). She and saxophonist/composer Phillip Greenlief are animals & giraffes.
Originally published in
Featuring interviews with Sarah Oppenheimer, Mel Chin, Marina Rosenfeld, Okwui Okpokwasili, Laia Jufresa, Nell Zink, Jen Bervin, and Dianna Frid.