It's Always a Collaboration: Laura Blackett and Eve Gleichman Interviewed by Vanessa Chan
A funny coauthored novel about the times we live in.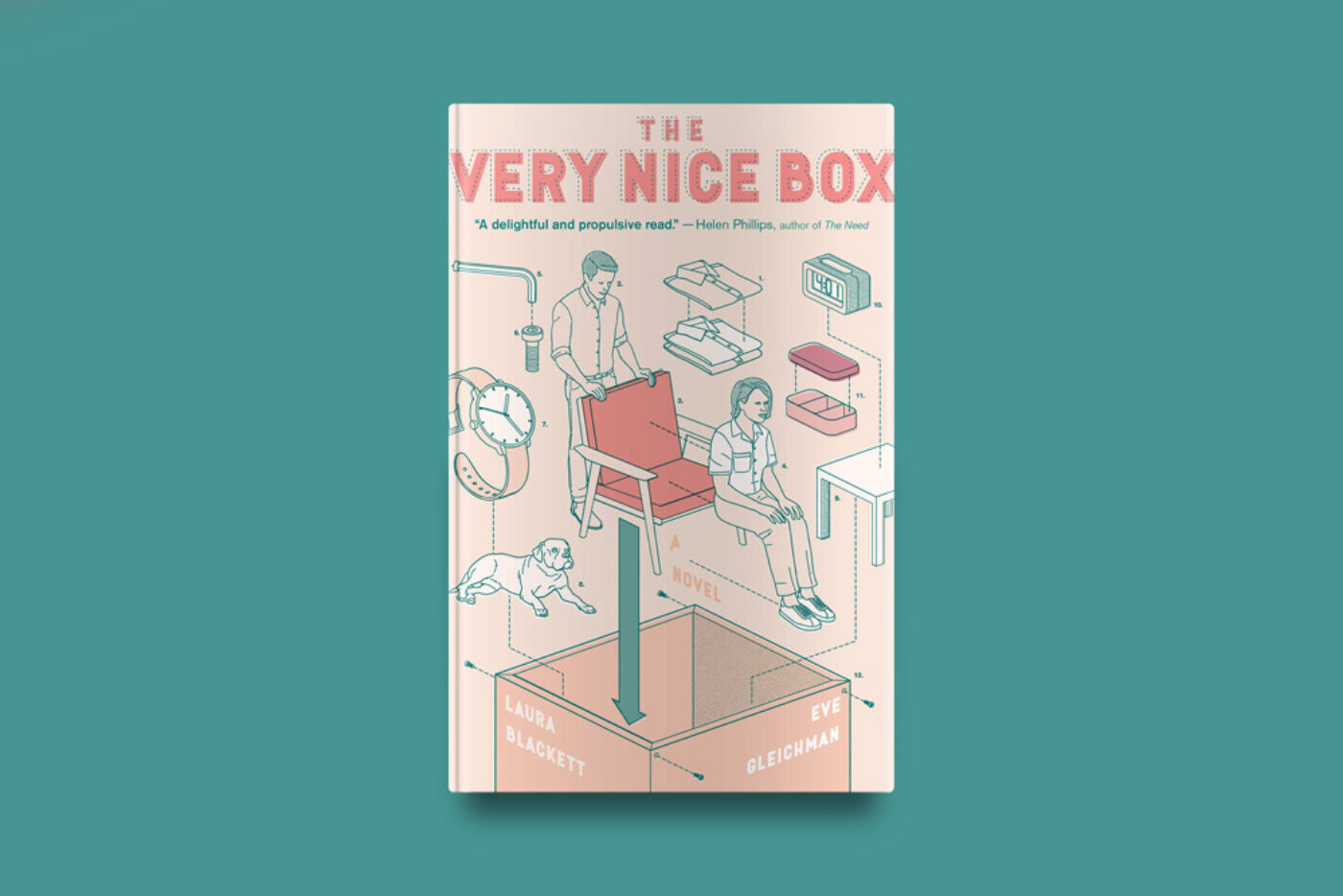 The conventional wisdom about writing is that it is a solitary endeavor, a lonely process that happens by the unflattering glow of the computer screen. The author kept company only by the neuroses of the imagined characters that they're conjuring. But with their debut novel The Very Nice Box (Houghton Mifflin), co-authors Laura Blackett and Eve Gleichman break out of the boxes that dictate both what a book should be about, and how it should be written.
Longtime Brooklyn neighbors and friends, Blackett and Gleichman wrote this novel together, swapping ideas via text message and building endless streams of comments on Google docs. The result is the best kind of novel marinade—a book of intersections that defies most standard definitions—a queer romcom-meets suspenseful thriller-meets literary fiction-meets comedic satire. In The Very Nice Box, Ava Simon, a grieving, storage box designer at modular furniture company STÄDA, leads a quiet, limited life defined by her work. But when she meets her new boss, the charismatic, salesy, Mat Putnam, Ava finds herself mired in his magnetism and the unspooling of lies that follow.
The Very Nice Box is highly readable, full of twists and irony—inspiring deep belly-laughs with every sentence. With their debut, Blackett and Gleichman show us a future of novel-writing that intentionally disregards the restrictive lines between "literary" and "commercial genre." They show us that it can be collaborative and fun, and ultimately, filled with joy.
—Vanessa Chan
Vanessa Chan I want to start first with the metaphor of boxes that threads through the novel beginning with its title, The Very Nice Box and then with the protagonist, Ava Simon, who is a storage unit designer who compartmentalizes emotions in order to cope with past trauma. What drew you both to boxes? Which one of you compartmentalizes more?
Laura Blackett I think we both compartmentalize. That's something Eve and I have in common. The protagonist, Ava, is limited in a lot of ways. But the things that soothe Ava, also soothe me. If I'm stressed out, I visually correct things I see in the world, like aligning a table and making it plumb.
Eve Gleichman We both also love IKEA.
LB I was at IKEA the other day and was really proud to get in and out in twenty minutes. I like IKEA for the game of IKEA, like it's a version of Tetris and I am one of the blocks.
EGIn terms of the box symbolism, we never wrote towards symbolism or metaphor. We always tried to keep the objects as objects. To the point about symmetry, the protagonist was originally just called H, because we wanted her name to be symmetrical. Later, we chose the name Ava because we liked that the word looks like it folds in half nicely.
VC One of the most astonishing and wonderful things about this debut novel is that you both wrote it together. When and how did you start?
LB This novel took us a year and a half to write. We started in fall of 2018 and I do feel amazed at how it came together. One time, we broke Google Docs because we reached the comment limit. We freaked out because we thought we'd lost the whole thing.
EG And one time we got locked out of the doc because Word was like, "You can no longer work on this document. Too many words are misspelled."
LB We would pass the draft back and forth and trade off chapters. So, I would get Eve's chapter and edit it. Then I'd write a new chapter and pass the draft back to Eve. But our unspoken rule was we would not be in the doc at the same time. In fact, if I even see Eve in there, I'm out.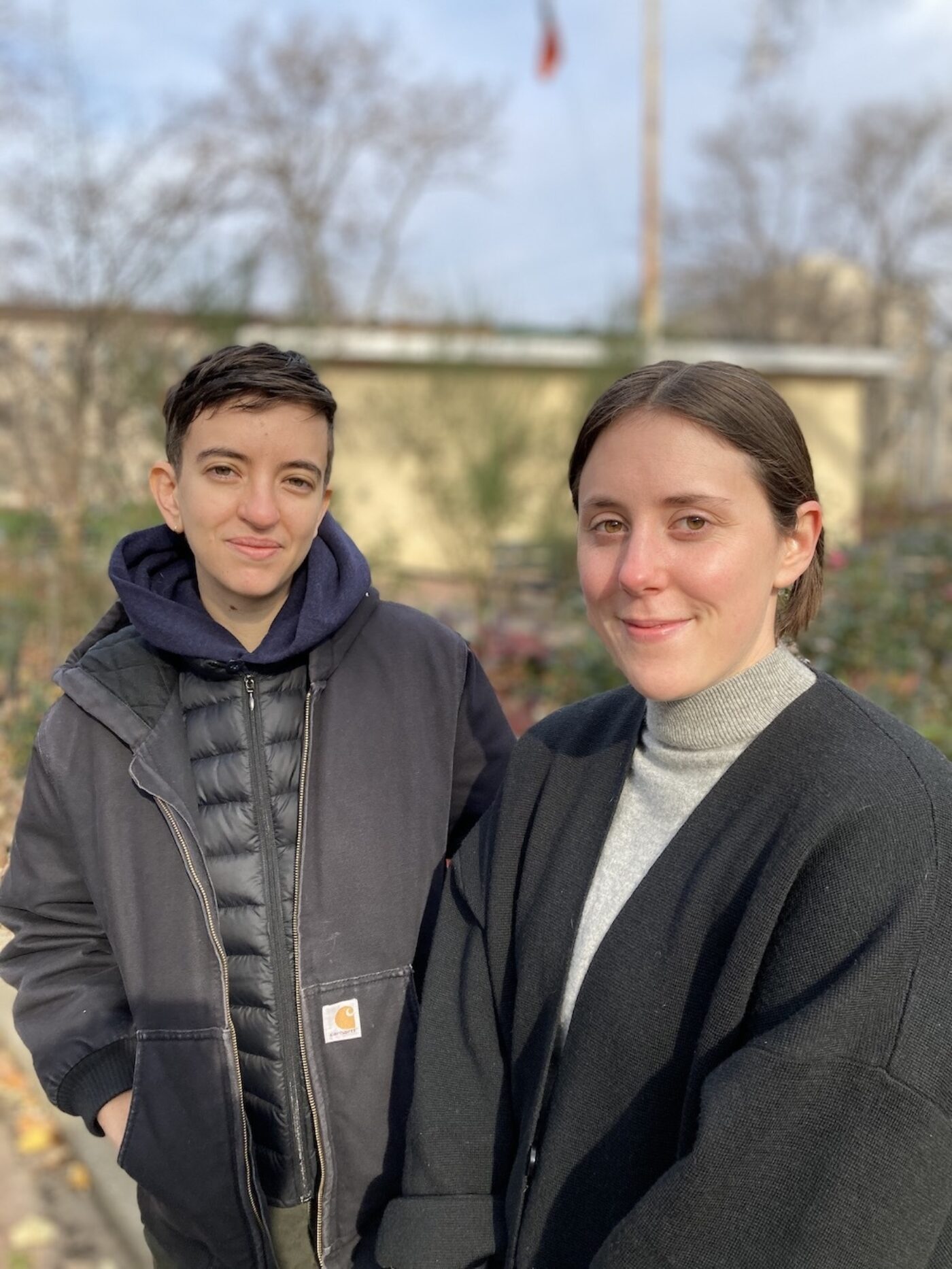 VCWhat did you enjoy about the collaborative process?
EG That this wasn't going to be a lonely, difficult endeavor. It was the opposite. It was very joyful and collaborative. The image that some people have of writers is that of a lonely man hunched over a typewriter with a glass of bourbon, feeling really sorry for himself.
LB [whispers] Sometimes that was me though.
EG But it doesn't have to be like that. That's not to say it isn't difficult to write a book, but there's joy to be had in the process, and this way there wasn't time to be precious about the book.
LB If we had an idea about the plot, we would just text each other. Something incremental happens with that as opposed to just writing your idea in a notebook, almost like the idea has a bit of room to breathe. The way we gave each other feedback was also cool. Like, "I see what you're doing, we can do it that way. Or we can try it these three other ways." We didn't really say no to each other. We were very, "Yes and…"
EG We got to build on each other. A lot of our bad ideas went away for that reason too. We were honest with each other about what was going to work and what wasn't. Neither of us had an ego about it. Writing together requires flexibility but somehow, I think with writing alone it's harder to be flexible because you're only negotiating with yourself, and we are much harder on ourselves than on others.
VC You are also neighbors?
EGYes. We were same-building neighbors ten years ago.
LB We used to see each other in the building a lot, but it took us a long time to see each other outside of the building. I remember running into Eve on my way to the laundromat once and I was like, Oh, Eve exists in the outside world, too. Then for the next ten years, we both moved around Crown Heights and Bed-Stuy in Brooklyn, and always ended up within a few blocks of each other.
EG In that first apartment, I was having a housewarming party so I slipped a note under the door of apartment 12…
LB I still have the note actually. It says, "To John, Teddy, and anyone else who lives in this apartment, please come to my housewarming party."
EG And they all came!
VC You both had different paths to writing. Tell me about them.
LB I don't have a fiction or literary background. I've been working in customer service in the tech industry for eight years. In my current job, I write the instructions for how to build websites. In a way I'm like Ava: I'm a technical writer. I collaborate with a group of technical writers and we pass things back and forth, constantly editing each other's work. Outside of my day job I do woodworking. I've worked on various furniture projects, with and without Eve. I'm not an engineer but I have a mechanical mind, so I brought that to the book for sure.
EG I did an MFA and immediately went into publishing. Actually, this novel got started because of a visit to Laura's job. She invited me to meet her for lunch at her tech office and I got a little tour of the place. I couldn't believe it—it was so decadent—my eyeballs were falling out of my head. I had never experienced anything like that before. After lunch, I really didn't want to leave. I was like, Maybe I should work in tech, and I had a full identity crisis in the lobby. Then the next morning I wrote the first chapter of the novel. It was so clear to me that the novel needed to be set in an office like this.
VC The book satirizes many real-life cultural phenomena—cult-like workplaces, modular furniture, app-based therapy, pop Buddhism, Jordan Peterson, and men's self-help. Did you have to do a lot of research?
EG Good Guys is a program that Mat (the novel's primary antagonist) is a part of that seems like harmless pop Buddhism, before it becomes more sinister. I really liked writing Mat because he's carried all this guilt, and the only way he can get rid of it is by changing the narrative so he's actually the hero of the story. It was fun to think about how he can use a self-help group to actually cause harm. That part of the book for me was the most fun to write—men grappling with their own guilt and looking to each other for absolution—these men who are unwilling to sit in the discomfort of their own bad decisions and instead manipulate things so that they are not only excused, but heroic.
LB We did research after writing the book to tighten things up. But as a society we're very saturated in that "self-help" way of thinking, so it was possible to get through writing the book just absorbing all the ambient toxic, self-help culture all around us. I remember that during the summer we were writing, Eve was listening to a lot of pop Buddhism podcasts.
EG Yes, and I was thinking about how a bad person could manipulate good teachings and cause harm by twisting the teachings to serve themselves.
LB Really if I think of what the actual original, tiniest version of this novel is—it's about a woman, and a bad man. That's where it started.
VC Queerness is woven throughout the novel in a way that is both central and seamless. Did you set out to write a queer book?
EG Actually, no, it was going to be a straight book. But we just couldn't do it! I can't believe we even tried to make it straight. It became a queer book pretty early in the process.
LB I think when we tried to get into the headspace to show how great Ava's previous relationship was, we struggled to picture a good straight relationship! Eventually we realized we needed to write someone we both could have a crush on, to make that character work. So, we wrote Andie and we wrote a queer relationship.
VC Who did you write The Very Nice Box for?
LB My first instinct was to say I wrote this book for Eve!
EG I love that. I'm not sure who I wrote it for, but I think this book may not be popular with cis men. Cis men in general have not been that receptive. I think it is an uncomfortable book for them to read because it feels like a romcom at first, where a man seems to be softening this uptight woman, and it's sweet because it seems like she's going to overcome her grief and finally open up to him. Then we turn the tables. I can imagine this would make some cis men confused and upset.
LB One of the blurbs we've received described the book as a "send-up of male entitlement." I read the blurbs to my dad and I could feel that one just floating above us in the room.
EG Cis guys will probably feel implicated.
LB Probably, but is that anything new?
VC You're both debut novelists. Tell me about navigating the publication of this novel. Were there any misconceptions you encountered?
EG One thing that was funny that happened was more literary-leaning people were skeptical of the collaborative aspect of the project. It wasn't taken seriously. When I told people, "My neighbor and I are writing a book together," they would say, "That sounds like a fun hobby." I remember being at a writing conference and saying I was working on a suspense novel with a friend. People responded with, "Oh uh, that's interesting, so, switching gears, how are your short stories coming along?" All this meant getting the agent was a huge moment of validation. I'm still chasing the high from getting an email back from Faye Bender (at The Book Group) that said, "Let's talk on the phone when you're free." I would put that on a mug right now. She was the first person whom we did not know, who took a serious interest in the novel.
LB We signed with Faye in late February 2020 and then the pandemic happened. Both of us were like, "Well that was fun, goodbye book." I had a sinking feeling that everything that was relevant before would no longer be relevant. I thought, our novel is a satire about the office, and no one is in the office anymore, so why would anyone want to read this? I thought all the momentum we had was going to deflate from there. And then it didn't. I still can't believe it.
VC Are you going to continue collaborating?
LB Yes, we're working on a new project. I think it's going to be playful and satirical. It's about a couple that moves upstate and gets in over their heads.
EG Mostly, I think we figured out how to write a book together. I couldn't have written this book alone, and if I had tried it would've taken me ten years. More people should do this. When you have another smart voice in the room, good things happen. In fact, anyone who pretends they're writing alone is lying! Writers are using references from books, from their lives, from workshops, from friends, to write their novels. No one is writing in isolation. It's always a collaboration—so you may as well put more than one name on the book.
The Very Nice Box is available for purchase here.
Vanessa Chan is a Malaysian writer. Her writing is published in Conjunctions, Electric Literature, and more. She is a fiction editor at TriQuarterly and is at work on her first novel. Find her at vanessajchan.com.