Janelle Iglesias + Lisa Iglesias = Las Hermanas Iglesias. The sisters share their reflections on collaboration, collection, and the absurd with Martha Moldovan.

Discover MFA Programs in Art and Writing
My sister still bears a little scar on her cheek from the time we fought over a tube of Pringles—a permanent vestige of a sibling rivalry that no longer manifests itself around food. Luckily Lisa and Janelle Iglesias have not moved completely past such childhood quarrels and activities. Their video "Cherry Contest" (from the Sibling Rivalry series) shows Lisa and Janelle sitting at a table facing the camera in matching salsa-red jumpsuits. They shove cherries into their mouths in a competition to see who can more efficiently ingest the fruit. Through their collaborative project, Las Hermanas Iglesias present their versions of impromptu races, piñata parties, and scavenger hunts. Yet beneath their whimsical sculptures and performances dwells a chain of serious cultural inquiries.
Martha Moldovan Tell me about how your collaborative project was born.
Las Hermanas Iglesias Our collaboration started while we were both in grad school with a long stretch of I-95 between us. Neither of us had substantial art school training prior to grad school and we were feeling pretty overwhelmed as well as experiencing the same sort of existential questioning and vulnerability that many MFA students have. To deal with these feelings, we started sending drawings back and forth in the mail. Without any rules or verbal conversation about the marks, the drawings were purely a visual dialogue. We were interested in teasing out and discovering parallel tendencies in the images and palette we were using as well as to get to know each other's practices more intimately. We both decided to move back to New York City after school not so much because of the art world but more because New York was ours and we missed it—our friends, foods, haunts—and it is a home we collaborate from.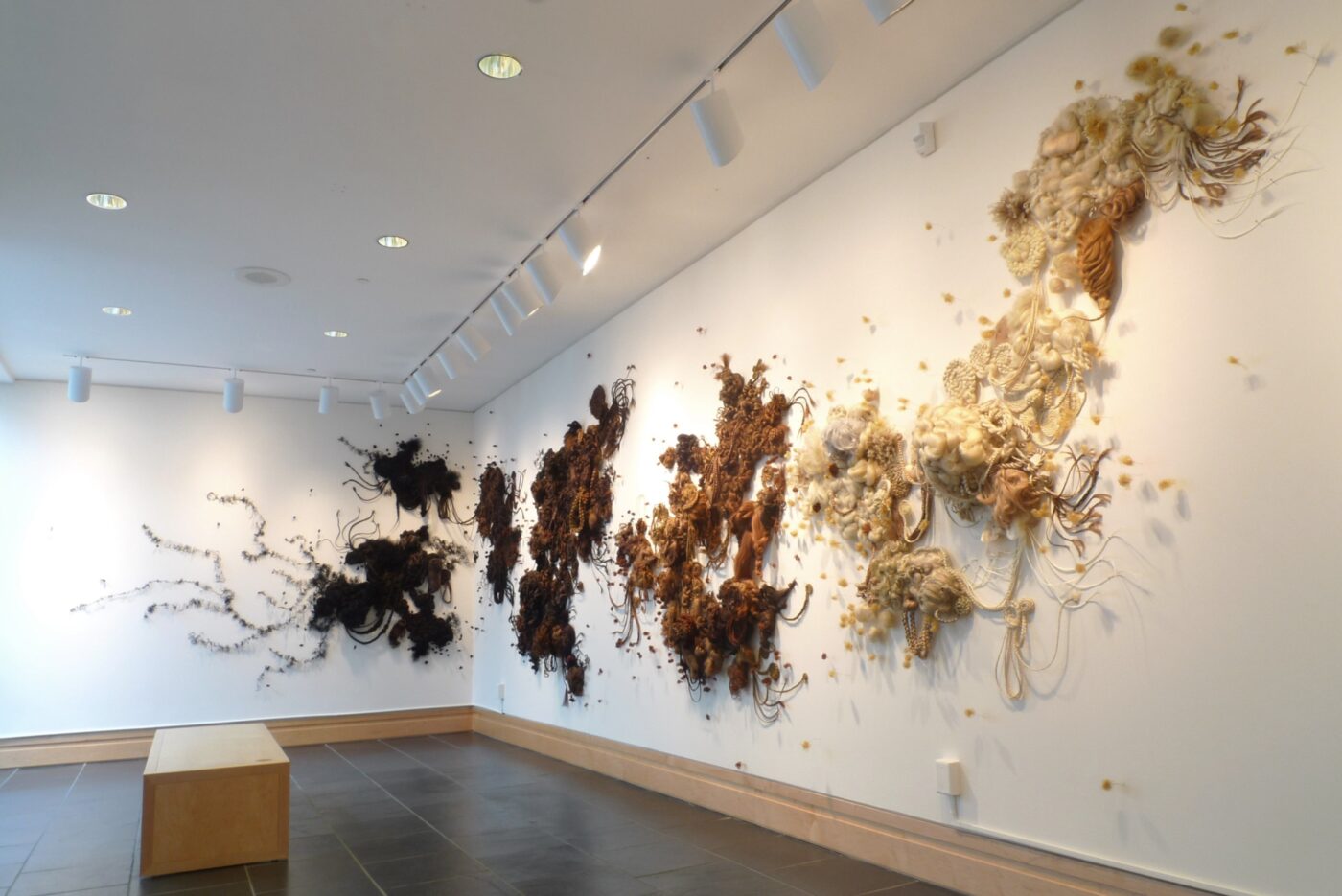 MM Let's look at Hairwork. Where'd the idea to work with hair-as-material come from?
LHI The idea to work with hair started in 2006 after re-discovering cellophaned hair clippings that our mother, Bodhild, saved after major haircuts throughout our childhood. She also inherited her mother's braid and touching our grandmother's hair without ever having met her was a really interesting experience. At the time, we were really excited by Victorian era hair wreaths and ladies fancy-work and research into those traditions also inspired us. In our very first Hairwork, we used all our sister's hair, braiding each length into each other, into a circle. For the later Hairwork pieces (wall drawings and videos), we've used both synthetic and human hair. We purchased the synthetic hair from stores in our local neighborhoods. Much of what we've worked with is from a store in Jamaica, Queens that's very close to our childhood home and we also purchased some from a store in Utica, NY while we were working on the project during Janelle's residency at Sculpture Space. Over a third of the hair that we've worked with is from our good friend, Miguel Landron, whose grandfather owned a haberdashery in Queens in the 1960s.
As with our other work, one of the conversations that we've had throughout this project regarded our preference to source materials locally. We noticed that beauty parlors, nail salons, barber shops and beauty supply shops were one of the few local business that stayed afloat in our neighborhoods as other small businesses were pushed out by larger chain stores and so we were interested in sourcing these sites for materials.
MM A lot of your work confronts cultural interactions and exchanges, such as the Adidas Superstar 2.0 sneakers you hand-painted with Dominican and Norwegian motifs for a MoCADA exhibit. Did growing up in Queens—said to be one of the most diverse places in the world—have anything to do with this attention to cultural hybridity?
LHI Superstar falls within a broader series of works in which we play with a variety of cultural artifacts, exercising them as sites for aesthetic and familial mash-ups. Superstar 2.0s were made famous by Run DMC who grew up in Hollis, not too far from our house.
The block in Hollis we grew up on hosted a lot of other kids our age. These friends were Taiwanese and Jewish/Italian, Haitian/Irish, Chinese American, Orthodox Jewish, Jamaican—almost everyone's parents were immigrants like ours and many of them were mixed as we self-described.
We grew up experiencing this diversity as the norm and still feel that Queens is one of the most interesting and relatable places for us because of this.
We don't privilege a romanticized notion of fusions—but rather find new possibilities in the synchronicities and curiosity that can arise when creating mash-ups.
MM How did your parents meet?
LHI Our parents, Bienvenido Iglesias and Bodhild Brendryen, met in an Irish pub called Pat O'Brien's in Great Neck, NY in 1968. At the time, it was very fashionable for upper class families to hire live-in Scandinavian governesses and in 1967, our mother followed the example of her best friend who came to the States to work for a year as an au pair. Our father was studying political science at St. John's University in Queens and frequented this bar with his crew of friends. As the story goes, our parents encountered each other at the pub when Bodhild's best friend hit on Bienvenido's male companion. Their collective cliques began to hang out together, gathering at people's homes. Our mother claims she later started flirting with our father in order to avoid the advances of one of his friends. On their first formal date, Bienvenido told Bodhild that he would marry her and she told him he was full of shit. They married a year later in 1969 and went on to have four children, of which we are the youngest two.
MM In your recent show at Y Gallery, Fell From the Same Tree, Lisa presented a drawing animation piece called Felling a Horizon in which you both are depicted manipulating a two-person saw known as a misery whip. Drawings appear and vanish from beneath the saw. Is this a metaphor for your collaborative process? Can you elaborate on this?
Lisa Iglesias Much of the process in my work relates to the Myth of Sisyphus and Camus's ideas relating to the futility and absurdity of existence. I find redemptive power in repetitive gestures and and re-creating and so I was really drawn to the back-and-forth of the misery whip. In this animation, Felling a Horizon, I take this process as the deconstructive and constructive layers of collaboration. Even more than enjoying each other's company and ideas, I think Janelle and I have a fundamental attraction to collaboration as a philosophy—so while so much of our collective practice is challenging and full of trip wires, we both seem to jump back into the work to see what can happen as a team.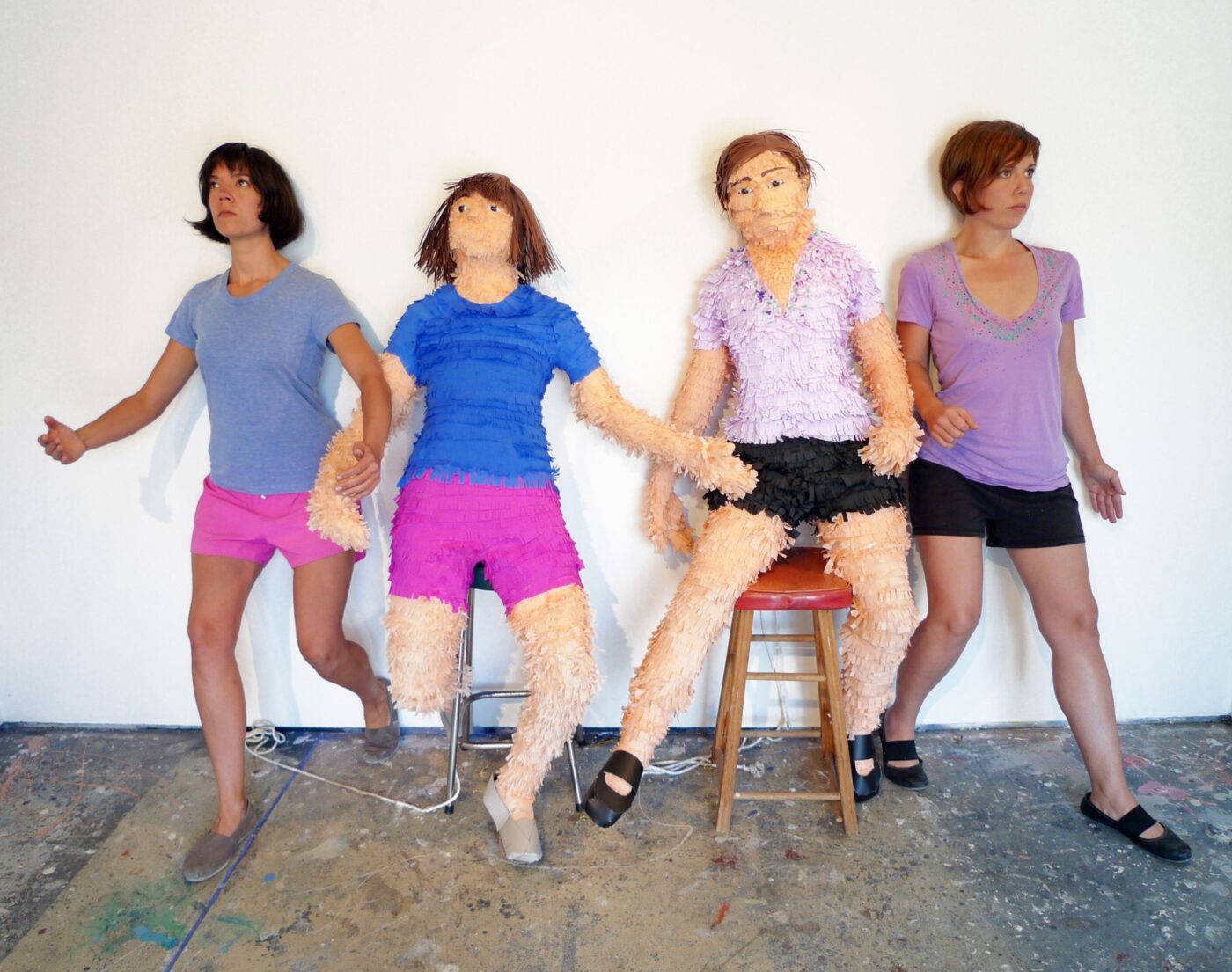 MM There is repetition in so much of your work, even in viewers' interactions with your piñatas. Someone can walk around blindfolded swinging a bat forever without ever hitting one of those things. Camus was spot-on in suggesting that we can find meaning and happiness in repetitive action and the absurd. Games are often born from repetition—that element of play and jest is evident in your collaborations.
In your piece, Lost Glove, you exhibit 62 single gloves found in the six months you spent in Paris. The result is a personal map of a culture, a new landscape created through a collection of impractical objects (abandoned gloves). The repetition of this search informs both you and the viewer. Let's talk about the redemptive quality in the simultaneously tedious and enjoyable act of collection, the gratification found in the search.
LHI Lost Glove is definitely one of our favorite projects. We had never been to Paris and wanted to work on projects that let us experience this new place rather than work in the studio alone. Sometimes, we would take a walk with the sole purpose of wandering until we found a glove. It was a scavenger hunt through which we became acquainted with the topography of our temporary home. Each glove carries with it the memory of where we found it, who we spoke to upon spotting it, et cetera—the child's blue mitten with its torn connector cord, found in the train station at 3am exciting our whole evening, the fur-lined women's black glove that started off the project found on our nearest bridge—so each glove expanded the collection and also punctuated the resonance of the days we found them. The project was a natural collaboration between the two of us—enacting a gesture, creating a sculpture of found objects and re-creating things completely by hand.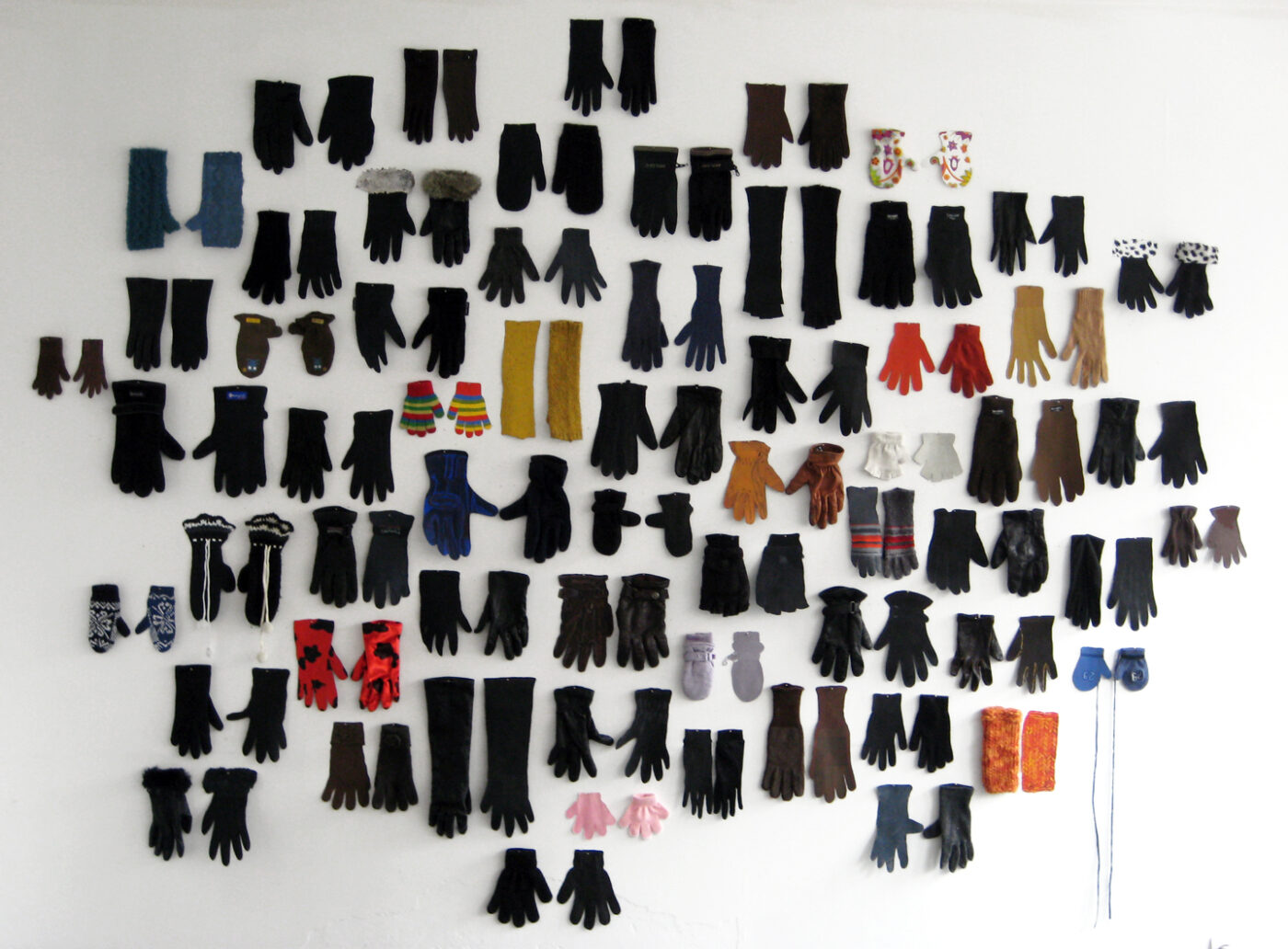 MM If you could choose another place and native object to collect, where and what would they be?
Janelle Iglesias Collection is definitely part of my installation/sculpture practice. Last year I would bike along the East River to my studio downtown––I was participating in Lower Manhattan Cultural Council's Workspace program near Wall Street. I started collecting driftwood during my nine months there. I just moved to the tip of Cape Cod and ironically I've given up the driftwood. My newest collection is of sand that I empty out of my shoes after walking on the beach. I'm also on the look-out for whistling tea kettles for a tea kettle orchestra.
LI I do a lot of image-collecting and currently the images that stand out for their strangeness and attract me are images of suited men and photographic reproductions of falling objects and people in flux. For various projects, I've collected used afghan blankets or assembled a collection of gestures. Recently, I've wanted to collect old copies of [Orwell's] 1984 but this urge is postponed, lacking access to a storage space or a permanent home or studio.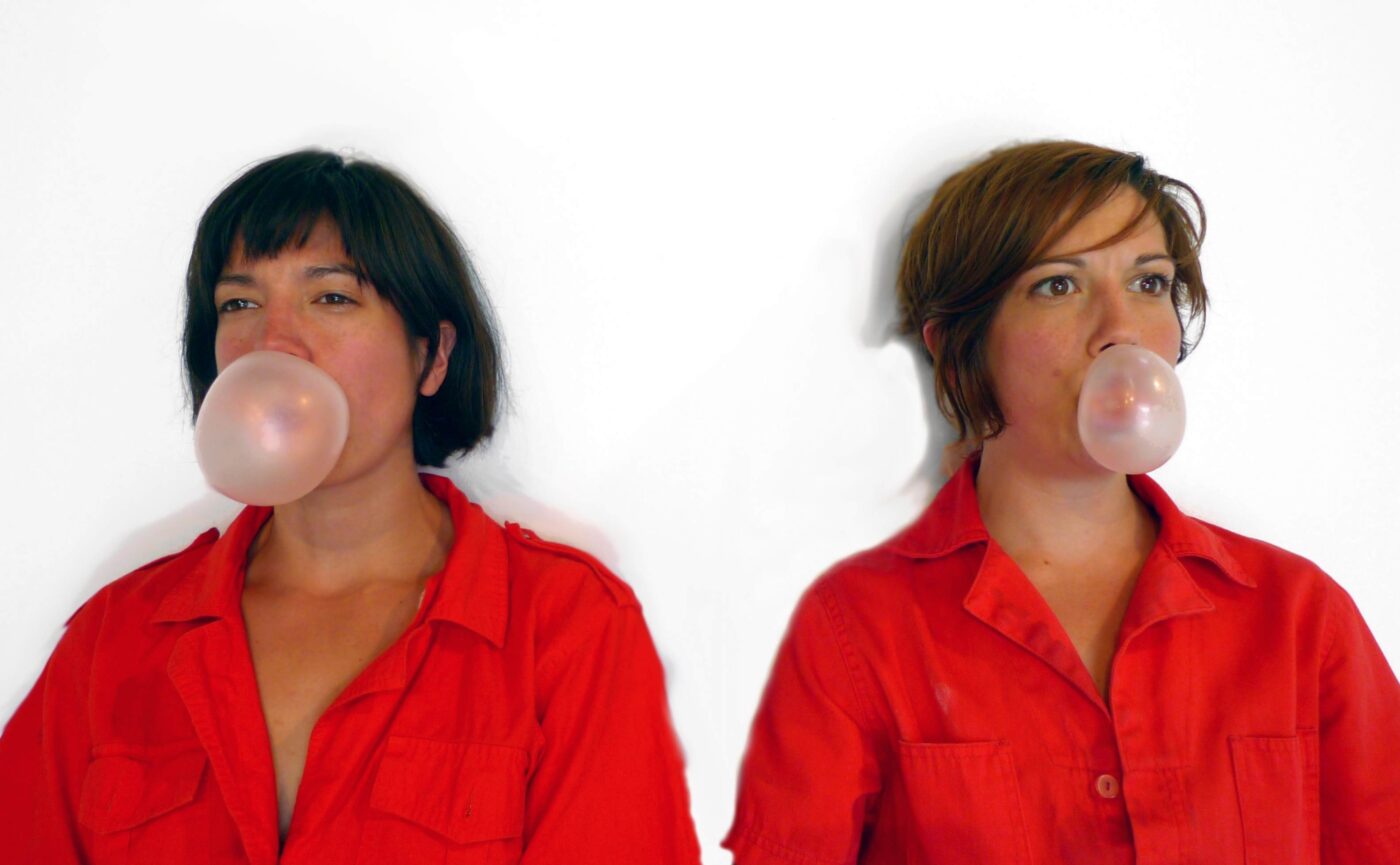 MM Your Sibling Rivalry series is really funny. You perform competitions that are also a series of humorous acts. The Suitcase Contest, for example, in which you race to dress yourselves in the contents of a suitcase brought for a month-long residency, is hilarious. I'm reminded of William Wegman's deadpan video duets with his dog Man Ray from the 80s, and of Tim Davis's YouTube series from the past year.
LHI Our first competition was a tart-eating contest in Paris during our residency in Paris through LMCC. This idea stemmed from our ping-pong games at the park downstairs from the atelier, games we gradually developed to be decision makers when we couldn't come to a collaborative decision in the process of a project. We enjoyed these games so much that we wanted to see what would happen if we thought of them in an art context. Our collaborative practice is often a site of freedom for us—it grew out of a non-pressurized and hypothetical place. So, while we're both engaged with ideas that have heady or layered philosophical subtexts, we often indulge more automatically in our love for absurdity and humor in our collective work.
MM Were you competitive growing up? Who was a bigger bully?
LHI While we experience many of the trappings of sibling dynamics, we've been supporters of each other throughout our lives rather than competitive. We've had the instinct from our earliest age, to be a team rather than exclusive individuals.
Though we did (and still do) our fair share of bickering, making fun of each other and beating each other up, our childhood competitions were always for the sake of amusement and for testing our bodies. They were pretty banal and silly––who can jump more times without stopping? Who can hold their breath under water the longest?
We went to different high schools, colleges and graduate programs and actually developed our interest in art simultaneously, but individually. We've had separate groups of friends and disparate interests, though our communities and curiosities overlap as well obviously. We've always loved each other in the way that we truly want the whole world for the other and that each other's happiness and success enhances our own happiness rather than casts a shadow upon the other.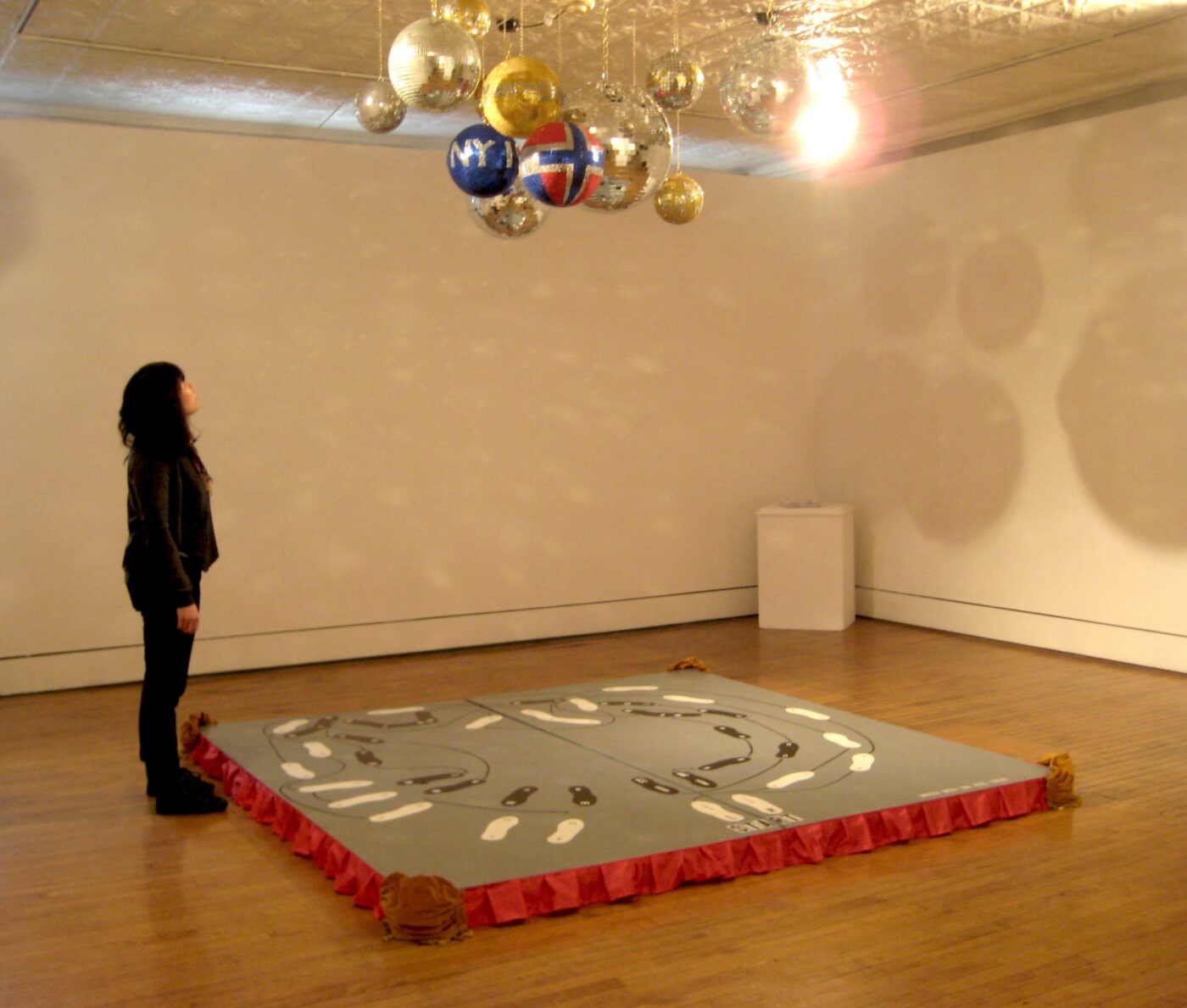 MM The instructional element of Everybody Likes to Dance brings to mind Andy Warhol's Dance Diagram. Were you considering his work when producing this piece? Who are some artists you like?
LHI Yes, we're directly referencing Warhol's Dance Diagram series from the early 1960s. For this series, Warhol reproduced ready-made diagrams of ballroom dance steps onto canvas and displayed them on the floor. This series was one of the first times paintings were exhibited like this and we liked the idea of making a functional dance floor that was also a painting. A lot of our work makes specific nods to art historical references or is in conversation with specific artworks. This was the first project for which we designed a free take-away newspaper poster—in this case, the poster featured a section of the dance diagram to remind visitors of the steps. For this, we were directly inspired by 'zine traditions and by Felix Gonzales-Torres. Now we try to make a newspaper poster for each major project we do.
During our residency in Paris through LMCC, we saw a retrospective of Jimmie Durham at a local museum and his resourcefulness, humor and optimism affected both of us quite a bit. We frequently look to Joseph Beuys, Felix Gonzalez Torres and Francis Alÿs both individually and collaboratively as well. Lisa loves Louise Bourgeois, Vija Celmins, Emily Jacir, Amy Cutler, and Annette Messager; Janelle is a huge fan of Jean Tinguely, Celeste Boursier-Mougenot, and Roman Signer.
MM What are some upcoming projects we have to look forward to from Las Hermanas?
LHI That's a good question. Our last two-person show, Fell from the Same Tree featured our individual works in conversation with each other for the first time as Lisa and Janelle rather than as Las Hermanas. This was really new to our individual practice—as our studio practices have been almost exclusive to ourselves in contrast to the Las Hermanas collaboration, which we feel is this third entity that we've created.
At the moment, we are both inspired by the Occupy movement and the importance of lateral participation. Participation has been a theme in our collaborative work for a while but is something we'd like to further bring out in our projects.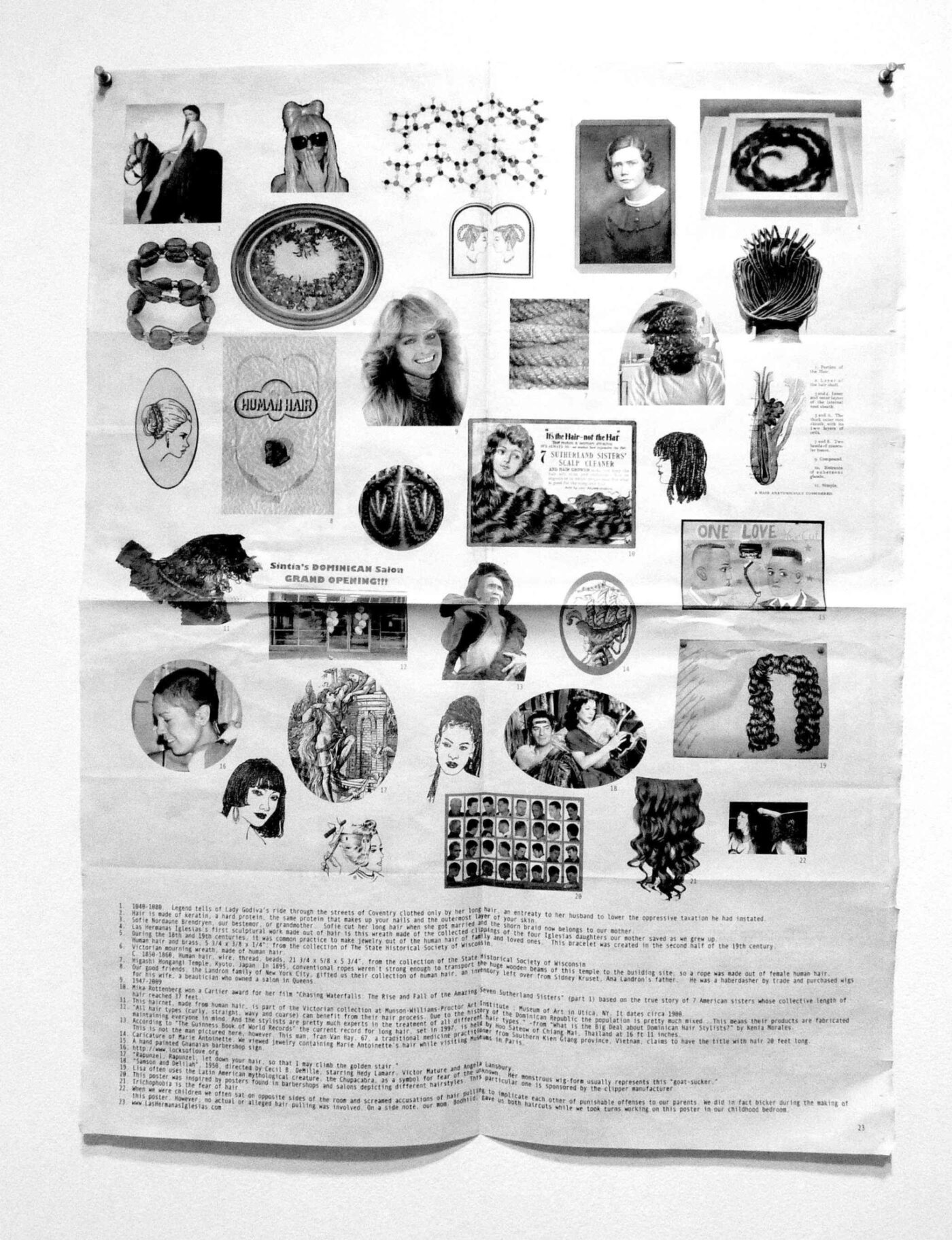 Martha Moldovan is a curator and co-founder of the Exhibition Initiative, a contemporary arts organization in Oberlin, Ohio. She currently lives and works in New York.