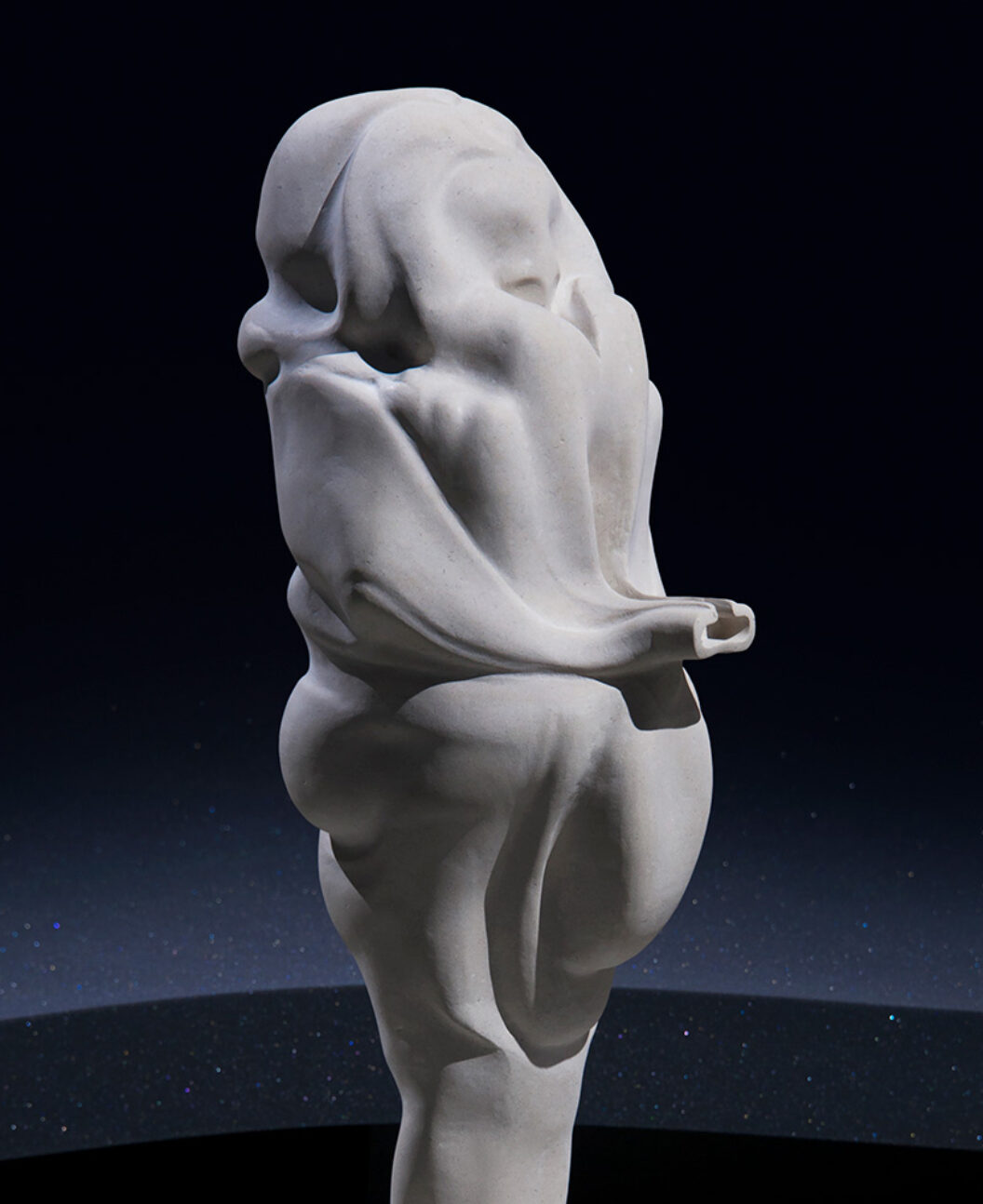 (Latency, 2020)
At first glance, what surprises about Lafawndah's new album, The Fifth Season, is the absence of her image on the cover. Instead of the regal, sometimes confrontational gazes adorning past works, such as Ancestor Boy (2019) and "Tan" (2016), here the listener is greeted with the empty eyes of an amorphous stone figure, kneeling, palms extended, on what seems to be the edge of the Earth. It's unclear if this character is meant to represent Lafawndah herself, or something else entirely—but upon listening to the album, it almost doesn't matter. As an artist who self-identifies as a "creative orphan," shapeshifting is written into Lafawndah's DNA. It's only appropriate that her latest release takes it as its central mode.
Its core subject, however, marks a decisive break from past projects. Rather than looking inward, Lafawndah instead extends outward, drawing on the emotionally charged myths of N.K. Jemisin's Broken Earth trilogy to guide her. Set in a far-future Earth rife with conflict and periodic disasters ("Seasons") that threaten to destroy all human life, Jemisin's Afrofuturist series tells tales of heartbreak, strife, and conflict from the perspectives of three different women. It's only at the end the reader realizes that each character is the same person, at different points in her life.
Lafawndah adopts a similar relationship to time throughout her Fifth Season. Pairing the sci-fi themes of Jemisin's work with traditional sounds and influences, she illuminates the links between the past and the present. Backed by a chamber bass orchestra and tribal drums, her voice sounds virtually untouched: it's organic, volatile, and often strained, alternating between whisper-soft and falsetto-high prose. Throughout the album, these vocals waft in and out of the listener's reach, yelling into their ear before retreating into the distance once more.
This evasive atmosphere is especially present in "Don't Despair," a cover of a Beverly Glenn-Copeland track of the same name. "All around your body / your lovers lie broken," Lafawndah sings. "So you run to the mirror, in search of a reason / but the eyes upon your eyelids only remind you of the season." In this moment, multiple subjectivities and timelines exist at once. Past lovers are made present, as are different selves—one with their eyes shut, another with their eyes open. "Don't despair," the song continues, "tomorrow may bring roses."
Other moments in the album invoke a similar obscuring of time: "You, at the End," adapted from Kae Tempest's poem "The woman the boy became," tells the story of an empowered misfit exploring the various selves they've occupied, while "Old Prayer" and "Le Malentendu" reinterpret the work of French composer Lili Boulanger and writer Albert Camus, transporting the words of these late figures into the present moment. Referencing these other artists, Lafawndah undergoes a temporary loss of subjectivity herself, breaking from the autobiographical tendencies of past work. It's through the dissociation of speaking in another's tongue that she best summons the emotional rigor of both beginnings and ends. In her absence, Lafawndah is more present than ever.
Lily Sperry is a Brooklyn-based writer, DJ, and BOMB's former editorial intern.
Originally published in
Our fall issue features interview with Erica Baum, Billy-Ray Belcourt, Trenton Doyle Hancock, Carolyn Lazard, Nathalie Léger, Martine Syms, and Rufus Wainwright; fiction by Kevin Brockmeier and C Pam Zhang; poetry by Yi Sang and Vijay Seshadri; nonfiction by Lorraine O'Grady and Paula Mónaco Felipe; a special project by Garrett Bradley; and more.