"I wanted to do a movie about a woman I respect—a woman artist."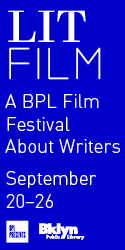 Everybody Knows… Elizabeth Murray is a new documentary film about the life, groundbreaking work, and legacy of the renowned artist. Notable for her shaped canvases and bold colors, Murray's dynamic career was cut short by cancer in 2007, just a few years after her retrospective at the Museum of Modern Art (an opportunity seldom afforded to women at the time). Director Kristi Zea—the Oscar-nominated production designer for films by Jonathan Demme, James L. Brooks, and Martin Scorsese—debuts with this intimate portrait of her friend, making use of candid footage, home video, and personal journals. Producer Jacki Ochs, also an experimental and documentary filmmaker (Letters Not About Love and Vietnam: The Secret Agent), joins in for this conversation.
Kristi Zea The reason the film is called Everybody Knows… Elizabeth Murray is because that was the last piece Elizabeth painted before she passed away. That's what it was called: Everybody Knows (2007).
Coleen Fitzgibbon Was it a reference to the fact that she had cancer?
KZ She doesn't say. But in fact, all of her titles have hidden messages. In this case, I interpret it as, "Everybody knows I have cancer," but also as "Not everybody knows Elizabeth Murray."
CF Even though in New York, in the art world, everybody did know Elizabeth Murray, and so did a lot of the general public?
Jacki Ochs But there's a disconnect there, because while she was quite influential, she still doesn't have the kind of recognition many other artists of her era have.
CF The people you're talking about all happen to be male, right? I mean, name another woman artist more well known than her.
JO There are a handful of women, of course—
KZ Georgia O'Keefe. If you stop Mr. or Ms. Smith on the street and ask, "Have you ever heard of Elizabeth Murray?" Shockingly, you will find very few people who say yes.
CF But the art world is very small, right?
KZ In my milieu—mostly the film business, mostly commercial—when I tell people I've just finished a movie about the painter Elizabeth Murray, indeed very few know of her. Even if they've heard the name, they definitely don't know the work.
CF There hasn't been too much press on Murray. This is the first documentary film about her, right?
JO Well, there have been a couple of others. "Art21" did a section as part of their PBS series. And there are a couple more that have dabbled in different aspects of her life, all very short.
CF When I see art films—especially those about women—they're never long enough! (laughter) But here you put in a lot of the actual work, right up front, in the beginning, which is really important. Too seldom is the public able to see somebody's artwork in full. This film allows us to do that. I knew her work beforehand, but I didn't know it all—especially the early art.
JO A film finds its length depending on the material you have. In this case, there's a narrative we go through, seeing a lot of work, but getting down to the bone. I'd prefer to have an audience wanting more, rather than wishing it had ended ten minutes ago. You're always weighing that balance. Many times, filmmakers are constrained by the exhibition worlds—like, an hour-long film is better for broadcast than feature-length.
KZ The intent, originally, was something like American Masters. That's my fantasy right there. Broadcast is really where I was hoping it would end up.
CF And probably museums?
KZ Definitely museums. People come in and see an artist's work, then decide whether to watch a movie about them. There are a lot of museums that have her work, of course. OMI International Arts Center up in Ghent, New York called absolutely out of the blue, saying they were showing three of Elizabeth's works asking if we had a film to screen in conjunction. So, we did, with a much shorter, earlier version. It was fantastic to be able to watch, then the lights go up and around you are some of the same pieces we featured.
CF That part where she does the shaped canvas—disassembles it, then puts it back together again. That was amazing.
JO I love her telling people, "Don't worry about messing it up, I'll just paint it back over." (laughter)
KZ Another part of it, which has certainly affected people, is just who she was as a person, and also how she dealt with the male-oriented art world: she ignored it and just did her thing.
CF There's another great quote: "Even though she wasn't part of this boy's club, she could still play."
KZ To her credit, she didn't for one minute think she didn't belong in that club.
CF At some point in the film she realizes that she needed to make the paintings bigger so she wouldn't be left behind—though they were great smaller. It's where the art world was heading, where it always heads. Then Arne Glimcher says, "Well, they're complicated to live with, so not everyone wants them on their walls." They're just so intense.
KZ Robert Storr calls it "wall power," and mentions the fact that in some instances, if you put a piece of Elizabeth's up next to any other, hers takes over.
CF She was the fifth woman to show at MoMA, but was she the first actually alive for her retrospective?
JO That's a good question. But five is not a great amount.
JO And we're talking about 2005. MoMA has been with us a long time, sort of like the Republican convention. (laughter)
KZ MoMA has gotten better lately, though, let's give them some credit.
JO All the museums are tackling this, or should be.
CF Aggie Gund [president emerita of MoMA] and all the female curators she hired were spearheading this, getting more women into shows. But how did you meet Elizabeth Murray anyway? I know she was a friend.
KZ I met Elizabeth several years before filming began on this movie. She was a friend of JoAnne Akalaitis, the theatre director instrumental in things like Mabou Mines. JoAnne and I went back many years, to her movie Dead End Kids, which I designed costumes for. Anyway, she had an idea for a Mormon opera (laughter)… way before Book of Mormon.
JO I don't think it would have been anything like that.
KZ Definitely not. We decided to go out to Utah and sniff around, with Helen Tworkov, who started Tricycle magazine, and Hermine Ford, an artist. The next time we went out, Elizabeth joined us. I think it was Travel & Leisure who wanted Elizabeth to do a piece on Utah. I remember her writing all these notes, doing drawings. We became friends, then soon after, watching my cohort Jonathan Demme do a film about Neil Young that was so cool, then Scorsese doing Bob Dylan, which was also so cool, I wanted to do a movie about a woman I respect—a woman artist. I started using my own money, basically, to do interviews. She gave me a list.
CF How did you come into this, Jacki?
JO Kristi and I were both visiting JoAnne up in Nova Scotia.
KZ I said, "I need a producer! I don't know what the hell I am doing!"
JO She needed a sponsor of some kind, an organization to help get the Warhol Foundation to consider it. Human Arts Association is a fiscal media organization and also a production entity, depending on what the director needs.
KZ Because of the grant, I really was able to kick into gear—do interviews, hire an editor, get the ball rolling.
JO Because of Kristi's schedule, of always working full time, doing production design elsewhere, it was really off and on making this thing. Eight months would go by, then she would grab a chunk of time. I would drop in to see what we had, then generate ideas about who to talk to about Elizabeth, who to talk to about funding.
KZ You helped with an art auction also.
JO All these artists donated work, which was fabulous. As long as this film took to make—and it took a long time, maybe ten or twelve years—there's something that happens when you have that much time. People contribute, then suggest another person to go talk to. Different things would pop up over the course of that time, and I think it really enriched the final product to have that gestation.
CF It's also really subtle—that relationship between Kristi and Elizabeth over time. You see Elizabeth age, which is great because you don't always get that sort of footage. There's a scene where she goes to the Venice Biennale, and nothing is going to stop her, she's gonna go. The chance to be filmed talking about and making art is very precious, and she understood this, obviously.
KZ She was always for doing this project, though her family maybe became more protective—in that they didn't want her stressed, physically or emotionally. But she loved it. There were certain times when I would go to their [Elizabeth Murray and Bob Holman's] house and bring the camera, but never take it out, feeling it was invasive.
CF The important part is the art itself, which is what she wanted you to film. You shot her working.
JO Another thing that really grew over the course of editing was the use of her journals. That started as a smattering, and later became crucial.
KZ It became her voice and our narrative.
CF That brings up Meryl Streep, the actress who does Elizabeth's voice. I could hardly tell them apart.
KZ I did The Manchurian Candidate with Meryl, and when the time came to decide who was going to read these journals I instantaneously thought of her. She's the same kind of woman. She's just gonna do it—just like Elizabeth.
CF I would forget she was reading, and the words just became Elizabeth's voice.
JO Which is interesting because it's so not Elizabeth's voice, but she captures the character brilliantly.
KZ At some point Meryl said, "I'm going to bring in some Illinois stuff."
JO Some intonation, since that's where Elizabeth was born.
KZ Speaking of sound, the difficulty here was that the music also threw us into a time period. Though, of course, Philip Glass was so kind, because he knew her too, and he let us use some of his archival material. It's of the same fabric and anchors things.
CF You have a lot of great interviews, too—Chuck Close, Adam Weinberg, Paula Cooper, Roberta Smith, and more.
JO The thing I love about this film, is that it's a "normal" life; there's no scandal, just an incredible film about perseverance and quiet ambition. There's no flame out. Very often films about artists depict an outrageous life, with horrible skeletons in the closet, etc. This film is not about that. She didn't sacrifice her family to her career. There aren't bodies strewn down the road of her career.
CF At the very end, when Bob Holman reads a poem about her, it made me want to cry. He has such a great voice and was so close to the situation. It was very touching. Their relationship—how wacky her art is, and how humorous his poetry is—makes perfect sense.
KZ It really resonates, yeah.
CF With men, we're used to it being about their work, never their children or family life. With women, often it's just about their emotional side as women artists, filmmakers, businesspeople, politicians—like Hillary, right? But I did see a few other recent movies about women artists and thought they were also great. Like the Eva Hesse film—she's a minimalist, but it's not going to look like their minimalism.
KZ I just keep thinking of the basketball analogy, where watching women play is much more exciting because it's not just about slam-dunking. There's real teamwork, creating a container in which to play the game. And that's Elizabeth, she created a container for playing the game in her world. It wasn't just zooming into the studio, picking up a brush, and painting. She created a life where she could have it all, not just being a painter, but also a mom, wife, and teacher. She gave out into the world, and she wanted a world with everything in it.
Everybody Knows… Elizabeth Murray is playing now at Film Forum in New York City.

Coleen Fitzgibbon is an artist and filmmaker of over forty experimental and documentary works (including Jonathan Silver: Infidel in the Studio, Land of Nod, and Internal System) shown at TIFF, Viennale, MOMA, New Museum, Musee d'Art Moderne de la Ville, among other venues. She was co-producer of John Lurie's Fishing with John series, as well as of Mark Rappaport's videos, and is an occasional contributor to BOMB.