Klaus Kertess (1940–2016)

Discover MFA Programs in Art and Writing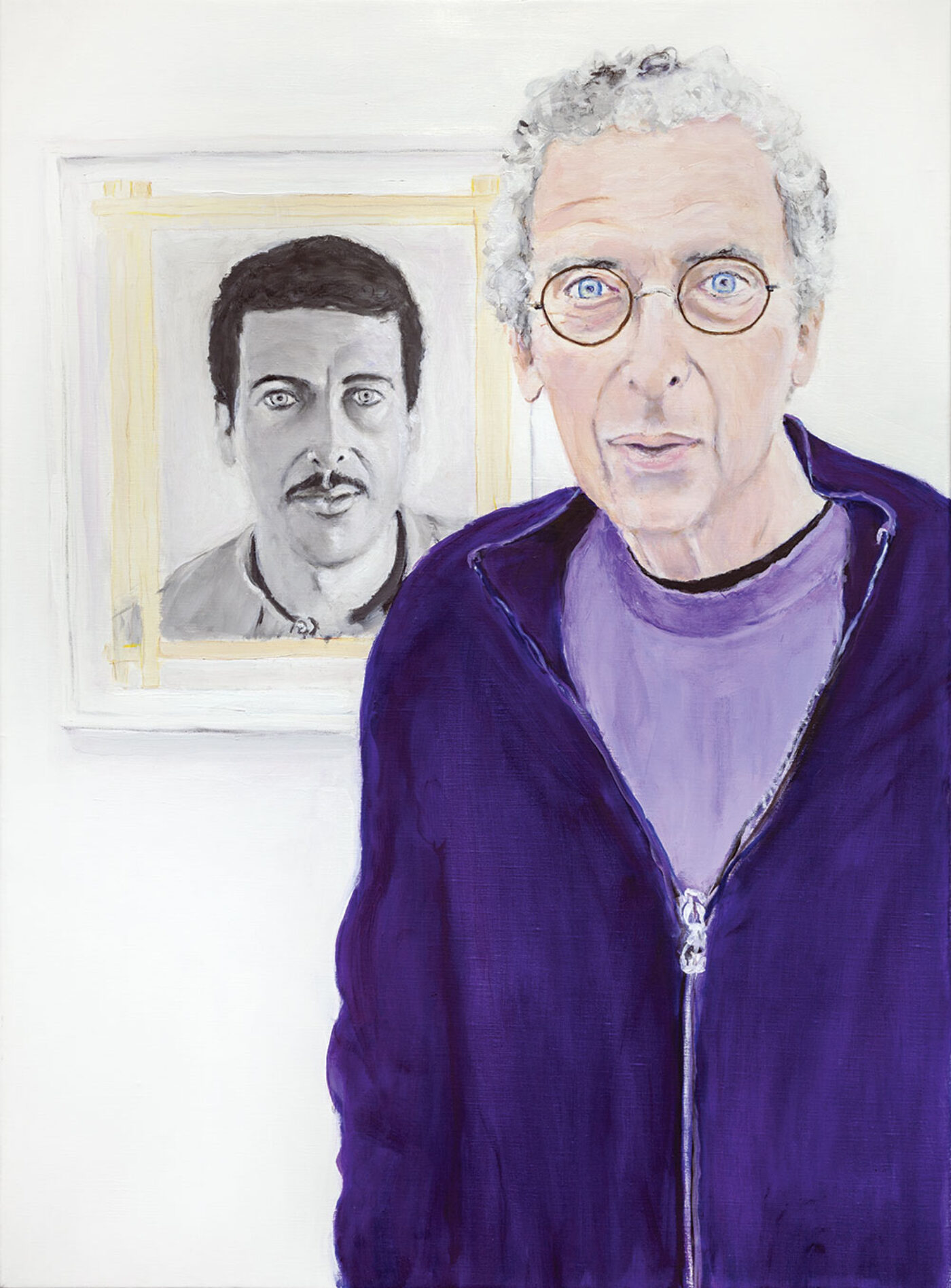 When Klaus and I met, he was a thirty-two-year-old art dealer and I was a twenty-two-year-old aspiring artist looking for a map of the New York art scene. I figured out fairly quickly that his gallery was important, and I used to stop by with my friends whenever we were in the neighborhood. He was always accessible and surprisingly willing to spend time with us, ask questions, and explain things (everyone was less busy then).
Klaus was very encouraging to me even before he saw my work, and his friendship was crucial to me taking myself seriously as an artist. He was one of the first people I invited to my studio when I felt ready to show my work, and this began a rich dialogue that continued and intensified until the end of his life.
Klaus wasn't really cut out to be an art dealer—he was too involved in his own creativity. But his connection to art and artists deepened throughout his life. His way of writing about art was unique and profound. He used language to embody the thought process behind the work he was considering. His curatorial activities were somehow both central and eccentric; an old-school model of deep engagement.
Klaus was sensitive, smart, elegant, funny, and sweet. He was a unique man, and his departure has left a hole that will never be filled—for his friends and for the New York art community.
Many of my memories of Klaus are connected with the lovely meals we shared. We first met in 1974 at a Mexican restaurant in my hometown of Fort Worth. I had just started working for the Fort Worth Art Museum, and we were both at a dinner in honor of Brice Marden, one of the many artists Klaus had shown at Bykert Gallery. I watched enviously as this skinny Bogart look-alike lifted one nacho after the other to his mouth. In between bites he sipped on an enormous margarita. We talked mostly about writing, a passion we shared, and at the end of the evening he pulled a beautiful fountain pen out of one inside pocket and a little notebook from another, and wrote his number on a page before carefully tearing it out and handing it to me.
A few weeks later, when I came to New York, I called him and he asked me to lunch. We met at Da Silvano. After we sat down, he ordered a Bombay gin martini and an enormous, delicious-looking pasta he'd seen at another table. We talked about literature and art. His profound knowledge of each affected me deeply, as did his enthusiasm. I wanted to know everything he could teach me.
Whenever I came to New York, Klaus would take me to the studios of artists he loved. He would enter unobtrusively and go quietly over to the wall or space where the artwork was installed. Then he'd look at it intensely and walk away from it and stare at it from a different perspective. Sometimes he would ask a simple question such as, "Why did you choose this form?" Or, "Does its source have a meaning for you?" Or, he'd say, "The paint over here is great." Then he'd listen attentively while the artist responded. I learned a lot about looking at art from Klaus.
Klaus had a hand in every fortuitous turn in my long New York life. Until he got sick, he remained my cicerone, introducing me to almost everyone I know in the art world. He even facilitated my late-in-life marriage by insisting that I accept what I'd dismissed as a too-last-minute invitation from my then-new love interest. "Go meet him," he said. "You know you like him, so show him that you do." I did pretty much everything Klaus told me to do for the thirty-plus years of our friendship. He was rarely wrong.
One of my last memories of Klaus was at his seventy-sixth birthday party last summer at the home he shared with his husband, the painter Billy Sullivan. Klaus was no longer able to cook, and when I arrived he was sitting in a side chair elegantly dressed and carefully leafing through Billy's magnificent new book of pictures, Still, Looking. Works 1969–2016. I like to think that Klaus was paging through their happy times together.
Klaus was always so quiet, composed, and peaceful. Listening to him, it felt as if time slowed down. He spoke eloquently and intelligently about nearly everything—especially about painting. He really loved painting, or, as he once declared, "the primacy of painting."
I often wondered how Klaus arrived at his insights about the artists whose work he loved, for instance, Carroll Dunham and Frank Moore. It was, I think, because he saw in each an insolent maverick, whereas I saw them as being rooted in history and probably missed the more audacious aspects of their work. Klaus detected everything—their insinuations, subtle allusions, and dark places, as well as the residue of meaning that takes visual language to a completely different level. In 1998, he curated a Willem de Kooning exhibition at The Drawing Center, and surprised all of us by including some of the artist's late Crucifixion drawings. I had dismissed those works as too freaky. I was wrong. Looking back, I now realize that Klaus unlocked doors.
I'm a preppy just as Klaus was. But it took me years to realize that privilege is nonsense, whereas he knew it immediately. What mattered more to him was his ability to stare darkness in the face and bluntly account for himself by daring damnation. That's how he looked at art.
Klaus was always way ahead of me.
I don't think Klaus and I were ever actually introduced. We just started talking one day in his office sometime around 1969 or 1970. These conversations lasted through the '80s and '90s. Eight years separated us in age, but our backgrounds were as different as they could be. I was a kid from Brooklyn, and he was from Ardsley-on-Hudson. I went to the School of Visual Arts, while he attended Andover and Yale. I was studying to be an artist, and he was a respected dealer and starting to write a novel.
As I sit here writing this, I realize how significant a role Klaus played in my life. Hanging around his office at Bykert Gallery, I met a wide range of artists, among them Ralph Humphrey, Alan Saret, Gary Stephan, Barry Le Va, Bill Bollinger, James Bishop, Lucio Pozzi, Alan Uglow, and Michael Goldberg, all of whom would become my friends. More importantly, in 1974, Klaus gave me my first solo exhibition at Bykert's uptown venue. At a time when the art world was becoming increasingly sectarian, Klaus refused all aesthetic orthodoxy and partisanship. In 1975, he gave me a second show when he opened a space on Broome Street in SoHo. The works I exhibited were audiotape loops of texts based on synonyms. Given that my work was unsalable, Klaus joked that Brice Marden and Deborah Remington had paid for my shows.
I also remember dog sitting Klaus's Basenji named Ben—a very elegant, mute dog who could be quite spiteful. Sometime after Klaus left the gallery, he took Ben with him to go live and write in Venice. Although I never saw him there, I have an image fixed in my head of Klaus walking with Ben along the canals, silhouetted in the halo of a dense fog. He's wearing a long overcoat with his collar turned up.
Klaus and I became friends the very first second we met. A flash of recognition passed between us, a life force. His saucer-wide blue eyes smiled, and we laughed. This happened more often than not with Klaus because he got people; he treasured them in the way he treasured great art, literature, food, and pleasure. He was one of BOMB's first trustees and spent over thirty years with us, advocating for artists and writers with great effect, tenderness, and deep feeling.
What I loved most about Klaus was his old-world elegance. Courtly in a downtown sort of way, he made integrity his hallmark: he was deeply loyal to his friends, the artists and writers he made his world, and he was as committed to his writing as he was to his partner of forty years, Billy Sullivan.
One morning many years ago, we were sitting at a picnic table in front of the East Hampton jail, waiting for the release of a dear friend who had been celebrating a bit too heavily the night before. The location triggered in Klaus memories of his German-born father, who, after moving his family to the US, had been convicted of doing business with the enemy during World War II. It couldn't have been easy for him to tell me, a Jew; I was shocked. But the pain that I saw in his face was palpable. For the past decade, Klaus was writing a memoir that is Proustian in its incantation of the past and voluptuous in its glancing, piercing descriptions of the art and artists he knew and loved.
When he learned of the Alzheimer's that would attack his memory, Klaus did not descend into self-pity. He carried on, always elegant, capable of the witty remark, and, most importantly, giving and receiving affection. Billy stood by him throughout this deep bow to life. Klaus could not have done it without him. Ever present, stalwart, refusing to discuss private affairs in public, and insistent upon civility and decorum to the end, Billy inspired us all to follow suit. In this way, we kept Klaus longer than anyone thought possible.
The day after Klaus died, a robin redbreast landed on the picnic table outside my study. Its round saucer eyes drilled into mine, and I thought, Could it be that he's come to say goodbye?
Originally published in
Featuring interviews with Lynda Benglis, Roe Ethridge, Becca Blackwell, Antonio Campos, Robert Greene, Angie Keefer, Liz Magic Laser, Laura Kurgan, China Miéville, Michael Palmer, and Rosmarie Waldrop.