"I was always performing, but never with intent. I was loitering with intent."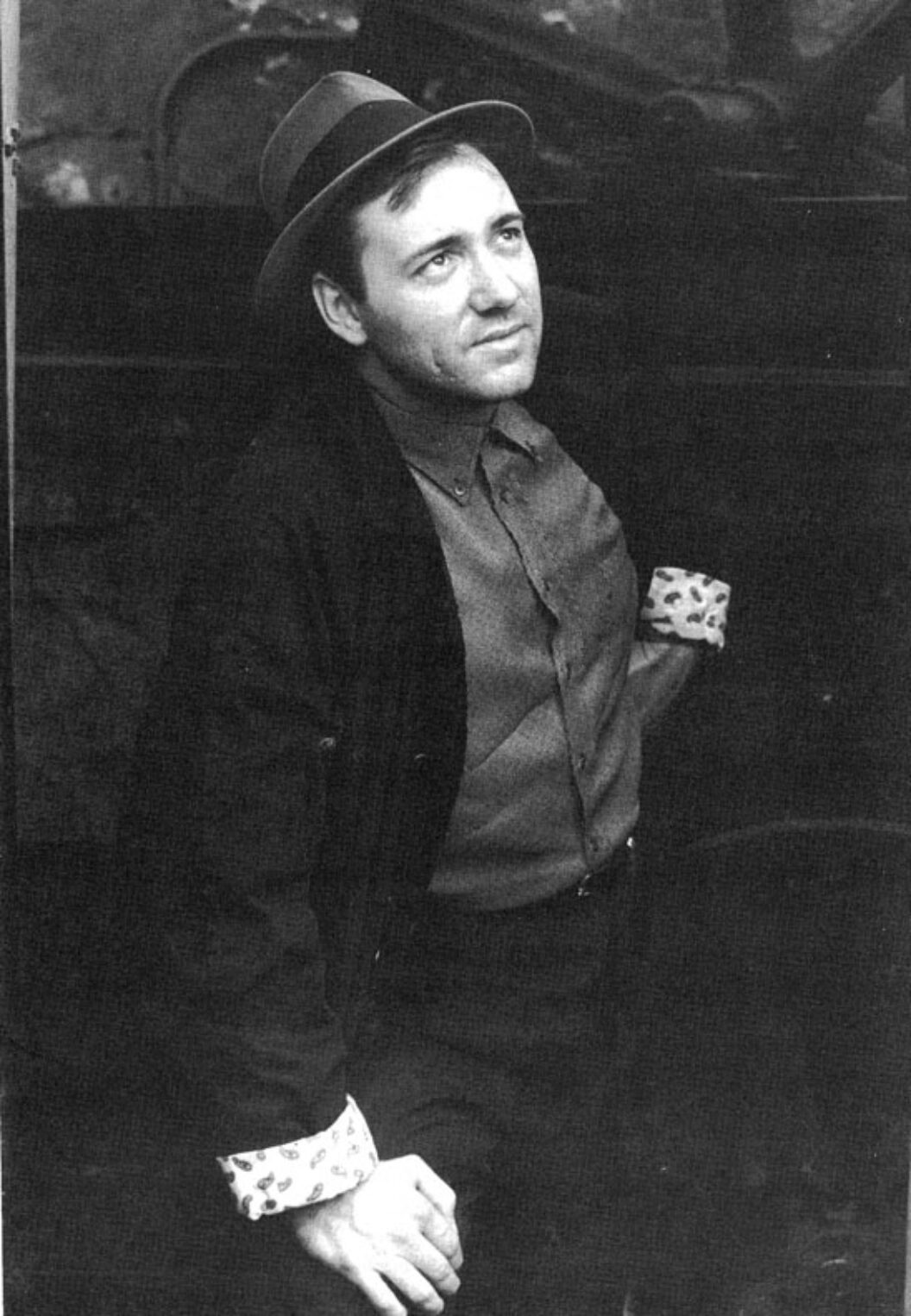 ON POE
I met Kevin Spacey in 1987 when I was auditioning actors for a picture called, Rocket Gibraltar. He came in to read for the part of "Dwayne Hanson," a part I had already cast, that is, until the studio informed me that my choice would not be "approved." Spacey got the job and we became fast friends and although Rocket Gibraltar turned out to be a nightmare on Route 27, our friendship endured. Kevin is a rare actor, whose gifts—among them, intelligence, wit, bravado, irreverence and sensitivity—were illuminated like pond scum by moonlight in last year's TV series Wiseguy. He will be seen shortly in three films, Dad with Jack Lemmon, Show of Force with Robert Duvall and Henry and June with Uma Thurman and Richard E. Grant.
FAID TO PLAID
INT. JERRY'S ON PRINCE STREET.
DAY ONE: SPACEY AND POE IN A BOOTH.
Amos Poe Here we are in Mr. Chow's … 
Kevin Spacey Oh, yeah.
AP … on a sunny, summery …
KS It's a beautiful Sunday, isn't it? I may walk in the park a little later, myself. Maybe take a boat out, what do you think?
DISSOLVE TO.
AP Two hours later, here we are in a boat in Central Park.
Waiter Hey, aren't you Mel Profitt?
KS No, I'm Kevin Spacey. But if you're on a macrobiotic diet, it's okay to call me Mel. They got some of that radicchio on the pasta. I quit radicchio about two years ago. I quit smoking, drinking, radicchio … I hate this.
AP How did you get started in this business?
KS Oh, God—now I hate this even more. How did I get started? I got thrown out of Northridge Military Academy.
AP Where's that?
KS Southern California.
AP Is that where you grew up? In southern California?
KS Uh-huh. Eighteen years—I'm just a valley kid at heart. I was always performing, but never with intent. I was loitering with intent. And then in Junior High, some woman, if I could remember her name I'd give her credit for having started this whole mess, suggested I take an elective course, because I seemed to have excessive energy. That was exactly how she put it.
AP Valium 404?
KS I was thinking of wood shop, where I could carve bigger knives … and she suggested drama. And I went into drama, and literally haven't stopped. They can't stop me now.
AP Did you go to the Yale Drama School or something?
KS Mmm. I went to an even more pretentious school than that. I went to Juilliard.
AP To Juilliard?
KS Oh, man. Are you kidding? I was held hostage there for two years. I came to New York ten years ago in 1979 and Juilliard hit me like a wave of steel.
AP They have a theater department in Juilliard?
KS No, I took the violin … I'm a virtuoso, didn't you know that? It was only years later, I'd be in rehearsal at Seattle Rep or at the Kennedy Center, and a director, or a moment, or an actor would say something amiss a flash card would come down. I would see what my teachers had been talking about, suddenly I had a context. And that's how training keeps working for me; I keep learning. So I'm really very grateful for the hell I was put through.
AP And then after that you did regional theater?
KS I harassed Rosemarie Tichler at the Shakespeare Festival for a long time and finally got an audition with Des McAnuff for Henry IV Part I. I got cast as a tavern person, a priest and a rock … whatever else they wanted me to do, and got paid $120 a week.
AP That was when $120 was a lot of money.
KS Are you kidding? We had a nice apartment on Central Park West. Doorman building.
AP Now you make $100,000 a year and you live on the Lower East Side in …
KS In a hovel. Unbelievable … So that was my first play in New York. And then I didn't work for a while. Couldn't get arrested. So I asked Joe Papp—who remembered me from my extraordinary performance as a rock in the park—I said, "I really don't want to wait on tables. I'd rather do something else. I'd rather do anything." So Joe hired me in the stock room of the Shakespeare Festival. I handed out pencils to Joanne Akailitis and pads to Richard Foreman. And then Joe put me in a staged reading of a play, Mr. Bloom and the Cyclops, which was a section of Ulysses. I played Gariel and the Dog, another piece of typecasting. Then I got an off-off-off-off-awful-Broadway showcase, and played the lead in this Friedrich von Schiller play, on 13th Street. And Joe came. And then like some great father he brought me into his office and fired me. He felt I should be acting and that I was getting too comfortable and secure with a weekly paycheck. At the time I didn't understand, but I realized later that it was a really great gesture.
AP He didn't have any more parts for dogs or rocks.
KS Any more parts for dogs or rocks. Get out of my face. So Des made some calls and got me an audition for this play Barbarians.
DISSOLVE TO
MINUTES LATER.
KS … After that, a wonderful casting director, Mary Calhoun, knew they were auditioning for a Broadway revival of Ibsen's Ghosts that a director named John Neville was doing. They were having a very difficult time casting the role of Oswald. She recommended me to John Neville. And I got it. It was the show that got me my Equity card. So I did my first Broadway play. While I was performing Barbarians, I was rehearsing Ghosts during the day. Scared, so scared.
AP Of what?
KS I was 20 years old and I was playing Liv Ullmann's son on Broadway. It was a pretty serious gig. A year out of Juilliard. I went through—out of fear—what I like to call my first and hopefully last case of the attitudinals. Meaning I became an asshole for about three months. Thank you, thank you very much. That was a pretty great lesson, actually.
AP Because you felt like you were a star all of a sudden?
KS Yeah, it was kind of as ugly as that, yeah, yeah. It got uglier, in fact. And then my first manager, Biff Warren laid a pretty serious foundation about understanding longevity. He sent me off to do regional theater. The first thing I did was a production of The Mousetrap at the Barter Theater in Virginia. Kinda humbling, huh? In the dead of winter. Drive through snow to do a play that's been running for 120 years in London. It was a rich and new experience. We brought many new levels to that extraordinarily in-depth production. Then, as if that wasn't humbling enough, I went to the Kennedy Center and understudied Brad Davis, in a play with Kathleen Turner that Tony Richardson directed. Well, any thought that I ever had of a film career was right out the window. I thought this was it. I was going to end up with Phoenix Rep directing productions of Mr. Roberts.
I spent the rest of '82, '83 and all of '84, doing regional theater, anywhere that I could. Do you have this feeling I'm talking too much?
AP No, no. I'm trying to figure out your background, when you made your move to LA …
KS Well, obviously, you have a misconception that I moved to LA at some point.
AP I thought you moved to LA. I thought you lived there.
KS I never moved to LA. I grew up in LA … There is a point after we did Rocket Gibraltar together … let me just catch up to that point. So I came back to New York and did Hurlyburly. Then I did The Seagull with Peter Sellars at the Kennedy Center, with Colleen Dewhurst. Great experience. Then we did Long Day's Journey Into Night, which was directed by Jonathon Miller and was a year's experience. Then a couple of plays and miniseries and then Rocket Gibraltar happened. "Rocket" was my second feature, although it was my first supporting role. Mike Nichols put me in a small role in Heartburn in '85—a funny part, a blond Lower East Side sort who mugs Meryl Streep and her entire group-therapy class.
AP He knew you from Hurlyburly in which you understudied?
KS Yeah, I was the pinch hitter. I started out playing Phil, which was Harvey Keitel's part. Then Mike would come and see something, and he'd be really pleased, and he'd call "That was great—how soon can you learn Mickey?" Which was Ron Silver's part because he knew Ron was going up to do a miniseries. So I'd do Mickey for a while. And then he'd call and say, "How soon could you learn Eddie?" And then he had me learn Artie. They tried to get me to do Darlene, but I wouldn't wear the dress. Last year, Mike called me again and put me in a cameo in Working Girl. Mike and I were discussing doing a spin-off, Bob the Arbitrage Guy.
Then after "Rocket," my agent Kevin Huvane and my new managers, Joanne Horowitz and Tobie Haggerty said, "Look, you gotta go to LA and shake some hands." I had steadfastly refused to go to LA and knock on doors. It has been the thing that has disinterested me more than anything else. Having grown up there, I knew what it had to offer. And I said, "Alright, I'll go out, but I'm not going out to look for a job: I'm just going out to meet people. I don't want to audition." This is one of those great Hollywood stories that you never think's going to happen to you. I arrive at LAX, I rent a car, my black Labrador, in the back seat, drive to William Morris to pick up a couple of scripts that I'm supposed to read before I'm going on to the house that I'm staying at. I'm in the office of one of the agents—I'm talking, I'm chatting—and suddenly the agent says, "Well, now, what are you doing?" And I said, "I'm jet lagged, I'm going to go crash for a while." And she said, "There's an appointment for something that has just come up, they're kind of in a jam, would you go over?" She told me about it a little bit, and I said, "Oh, alright, alright, alright." Of course, this is Wiseguy I'm talking about. I auditioned for a jury of about 13 men and women, all the writers, story editors and producers—and they offered me the role. I had a lot of reservations about it. And this went on for about an hour. Steve Cannell couldn't figure out why an actor was turning down a role that most actors would kill to play. Finally, he asked me to come into the office and tell him what my reservations were, which I thought was a pretty darn cool thing to do. I wasn't interested in creating a character that was another prime-time villain played with the same slickness we've seen since the Name of the Game. And I said, "If you let me do what I think I'd like to do with this part—and I won't really know until I get up there—you're going to think you have an actor who's completely lost his mind. It's not going to make any sense to you in dailies." I was interested in playing a character that was going to continually evolve and change, from episode to episode, scene to scene, so that you couldn't figure him out at all. The unlikelihood of being able to approach something in prime-time television with total and complete abandon, not caring whether anybody liked it or got it, but that it was an art… I have to say, Stephen Cannell is a man of his word, as far as those kind of choices, we were really left to our own devices. One day later I was on a plane to their set in Vancouver. So that was my trip to LA—two days. I got a job and I was gone: my dog was still in the back seat of the car.
AP That was the turning point of your career.
KS Mel Profitt was the turning point in recognition. My first lesson in the power of television. I'd walk down the street and people would yell at me, "Yo, Mel!"
It was a nine week episode … It was a perfect amount of time to discover what a series is like, but not necessarily be tied to it. I, personally, wouldn't want to do a television series as a steady diet—not right now. My allegiance to the theater is too strong, and my desire to do films is just too great. The thing that I've been really happy, both in my film and theater work, is that I played a variety of roles, and nobody quite can get a handle on me. And that's to my advantage. It's more to my advantage than not.
After Wiseguy I came back to New York, and we suddenly were in the middle of a writer's strike. It was like, whoa! Well, I found a play that we did at Playwright's Horizons, Right Behind the Flag by Kevin Heelan. And then I didn't work again until I did a comedy film called See No Evil. And then in the middle of my lap fell a play, National Anthems by Dennis McIntyre. They were going into rehearsal at the Long Wharf in New Haven. Al Pacino had dropped out of it—Sea of Love had gone over schedule. So Paula Wagner, one of my agents at CAA suggested my name to Arvin Brown, the director. It was one of those fortunate and extraordinary experiences where a role and a time and a place just all kind of fits together.
AP That's the play that might come to Broadway?
KS It's the play that might come to Broadway or off-Broadway, we're not sure. I'm hoping to get a second whack at it, because I think it's a powerful play that addresses what has happened to our values in the 1980s. In particular, where we place people in society who are, for example, civil servants. I play a fireman facing a crisis in his life with his new, Yuppie, upwardly-mobile neighbors in Birmingham, Detroit who is a corporate lawyer. It's about contrasting lives. A really powerful play; caustically funny, bitingly hysterical. I love being able to do plays that have that range, where you have a first act that's deceptive and hilarious and a second act that takes a decidedly ugly and terrifying turn.
AP (He has no question.)
CUT TO
AP No questions.
KS None. We're making this up as we go along.
AP Pretty much covers it, I think. If we were on TV, we could break for a commercial. But we're not, so … Your characters all grapple with moral questions and yet, most of them are decidedly evil, or desperate: a failed comic, a deluded, broken foreman, an incestuous junky drug dealer … You make the audience have compassion for them. Are you typecast?
KS It's a hard question to answer, because I'm on the inside of it.
AP You've worked with the same agent for so long, has he editorial privilege, does he know what to send you and what not to send you?
KS No. I don't give anybody editorial privilege. I read everything that anybody wants me to read. Usually, they pass everything by me. They call and say, "How do you feel about this? Would you be interested in this, ba-baby?" You have no idea where good material can come from. It would be very detrimental if I stopped reading everything that I could. It would kill me, because then I would be steered in a direction that would be about somebody's idea of what I should do, and that's where you get into areas of personality versus actor.
AP The cult of personality rather than the cult of actual work. You're right. If you're interested in playing more than what people perceive of you as being able to play. I've heard actors say, "Don't send me anything that's not a lead," and they've lost out on a supporting part, that was really the best part in that movie.
KS Somebody said to me once, "God, Jack Nicholson is playing like this supporting part in Terms of Endearment." Well. A, They hadn't seen the movie …
AP Or they hadn't read the script.
KS So they didn't know what kind of supporting part it was. It's so stupid, like it's some sort of magical level to play a "leading man," whatever the fuck that is. The other absurd comment occurred about seven years ago, somebody said, "Whatever happened to Paul Simon? He was so talented." I said, "Just wait." Artists are not consistent; that's the one thing they're not. It's a complete roller coaster. Two years later, Graceland came out, this genius album. And that's what happens. The whole thing should be about the process and the exploration, that's where the joy comes in. Whether it's a success on the exterior—hey, we all like a success, and that can be icing on the cake, as long as you don't get trapped by it, as long as you don't come to expect it.
AP Are you more interested in cerebral characters, or, let's say, physical or romantic characters? The character you're going to be playing in Paris, is a cerebral character, right?
KS By that I assume you mean intelligent?
AP Duh … yeah.
KS He is also on the edge of a nervous breakdown.
I tend to play characters that are on the edge of facing an internal confrontation. In many ways, they are characters that are dead, but they don't know it; walking corpses. They're interesting to play because of the complexities. I try to give each of these characters a life and a sense of humor; not to just play one dimension of them. That's one of the reasons Wiseguy became liked as it did, the character had such a bizarre sense of humor, eccentric. So I tend to be attracted toward roles where there is some crisis. I'm not interested in playing a witty character who stands around with a cocktail glass and makes charming remarks. I definitely like to play people with an edge, and it's probably because I walk on one in my life. Not that these characters have had very much to do with me, but I'm attracted to that, because it's more of a challenge to try to understand why a playwright or a screenwriter wrote a certain value into the character. If your skill or your instincts are being trusted, then you can often bring an aspect to a role that a writer hadn't intended, but that explores and exploits his ideas and intentions even to a greater degree. That's the joy of rehearsal. Particularly with living writers—I love having the playwrights around. I really believe that my job as an actor,—sometimes when I'm faced with a really incredible piece of writing, I feel that I'm fraudulent in my talent, because I don't really create, I just interpret. The real creation's with the writer …
AP That's what you try to do when you're writing, and that's why I sometimes have difficulty talking to producers about rewriting dialogue. Sometimes you can't really tell what is wrong or what is right with a piece of dialogue until you hear it. You want to write in such a way that it's clear to any actor reading the part. When you hear it, it's effortless. Let's say I have a character who talks in run-on sentences, so you have like six lines of dialogue in one sentence. And the actor sometimes can't …
KS This is something that isn't always applicable but it's a good barometer. If you can break dialogue down, into ideas, into thoughts—where does a new thought for this sentence begin? Often, you know what your response is going to be to what I am saying before I finish my sentence. So where does that thought happen? If you can break the script down into how the character thinks, then you can discover how he breathes, because for every new thought you take a breath. It's an impulse, an impetus toward something. Every character breathes differently, because everybody has a different thought process.
AP Do you think that it takes a different kind of actor, to be successful on TV than to be successful in movies? Or are the mediums so similar at this point that it doesn't matter?
KS The camera doesn't know that it's a TV camera or a film camera—it's just a camera. I think it's possible to do good work in all three mediums. I don't think that the acting style changes.
AP Between theater and film?
KS When you're doing a play, you have to play to a large audience—your back row, so to speak. And when you do a film or television show, you have to play to your front row. If you just make that adjustment, then there shouldn't be any change in the way you approach the material. And if it's honest work, it doesn't matter. Look at what Nicholson did in Batman—do you think that couldn't play at the fucking Palladium and be seen by the back row? But it's honest, and it's funny and it's good work. So it doesn't matter if it's over the top. I've done some over the top work; I've done some subtler work; I've done some quiet work.
AP Do you look for characters who are your age? Would you be opposed to playing somebody much older, like having to gray your hair up, or somebody much younger?
KS No, no. I love being able to play characters that are somewhat disguised, where I can really change. I'm not really in a place where my personality is so known that I can't hide. The only thing that people recognized me from is Wiseguy, and then they might realize later on that they've seen me in something else, but they didn't know it was me. And that's the best compliment I can get. I have no qualms about playing any age. In fact, because I have always looked older than I am, I've always been able to play much more complex characters than my peers. My first Broadway play I was playing a thirty-year old. And I was twenty.
DISSOLVE TO
TWENTY MINUTES LATER.
AP You've got a great ear for an actor, your impressions …
KS Ah, here we go—we're moving into impressions.
AP Burt Lancaster, who may be one of the hardest people to impersonate.
KS Thank you for that set-up, that difficult set-up. People on the set of Rocket Gibraltor were intimidated by him, but I really liked him. The first night, Bill Pullman, who played Crow Black, the pitcher—we were roommates—we were living in this little cabin on Jagger Lane in Southampton—and I said, "Let's call Burt." Bill said, "What do you mean, let's call Burt?" I said, "Let's call Burt. Let's invite him out. We're all here in the Hamptons; nobody knows anybody." This is where my Burt impression comes in. I called Burt: Burt answers the phone. "Ah, yes," I said, "Burt, it's Dwayne." (My character's name in the movie.) And he went, "Dwayne? Dwayne? I don't know a Dwayne. Who is this?" I said, "It's Dwa-a-a-yne." He said, "Aaah, Dwa-a-a-yne. How the hell are you, Dwayne? You just called me in the middle of taking six pills." I said, "Six pills? Why are you taking six pills?" He said, "Ah, I gotta take six pills every six hours, otherwise the heart stops and so does the picture." So I invited him to dinner. He goes, "I'd love to go to dinner. Where do you want to go? You want to have fish? Let's go have some fish. A ha ha ha ha ha." We had a great time, six hours in this restaurant, of Burt telling stories about his career. It was like watching somebody get old and young and old and young and middle-aged—his whole life passed before my eyes. I really cherish that night.
AP What about Jack Lemmon?
KS Lemmon? Well, Jack—we just did a picture in California, Dad, and Jack didn't know I was coming in for the role. I said, "Don't tell the Lemmon I'm coming. So Jack walked into the rehearsal room, stopped dead in his tracks, looked at Gary Goldberg and said, "Oh, shit, oh, Jesus. You know, we were that close to doing a really fine picture, and then they had to let the asshole come in from the East."
AP (laughter) Apparently, he loves you.
KS Yeah. He loves me. And I was real happy to get that role in Dad. He's underrated as a serious actor. A lot of people when it was announced that he was doing Long Day's Journey, poohed and hawed. They assumed that James Tyrone should only be played by some great Shakespearean actor. Who the hell said that O'Neill's James Tyrone was supposed to be a Shakespearian actor to begin with? James Tyrone was a ham. The fact of the matter is, James Tyrone sold out; he sold out for the money; he became a hack.
AP Hmmm.
KS What Lemmon brought to that role was an irony and a sad show-biz quality that was just perfect. There's this false reverence for Journey here that is so full of shit. It doesn't bring the play any life. Jonathan Miller gave it the kick in the pants it needed. And I'll tell you, in London they sure appreciated it because they don't have O'Neill on a pedestal; there isn't a designated way to do it. They just thought it was a damn good production.
DISSOLVE TO
AP Who have you worked with that you think is superb?
KS Colleen Dewhurst. I adored being onstage with her. We were each other's anchor. And I have great respect for her as an artist; I have great respect for her as president of my union; and I just like her as a person.
AP What about your contemporaries? Which ones do you particularly think are people to watch?
KS I like just about the same amount of people that almost everybody else likes. I have favorite actors who are no longer with us: Henry Fonda because he kept such a steady balance between films and theater. I've always admired Jimmy Stewart. I'm very indiscriminate with my love of actors. Pacino, Hoffman, William Hurt, I'm a big fan of Bill's. On occasion, I've called myself a friend of his. But I haven't really seen him in a while. Mare Winningham is still one of my favorite actors, and I'm still madly in love with her. There are people I admire who have yet to become known. Mary McDonnell, who was in National Anthems with me is a really great actress. She just got the lead opposite Kevin Costner in the film he's directing and starring in.
AP One of the films that blew my mind was Pennies from Heaven with Chris Walken.
KS Who used to be a hoofer.
AP He used to be a what?
KS Chris Walken started out as a dancer in this business.
AP Yeah, yeah, yeah. I thought you said "hooker."
KS Finally had a chance to shine.
AP I had a great time with him recently. There was a bachelor party for my agent Steve Starr at the Friars Club. Get this, a U-shaped table, where 30 agents, producers—you know, Steve's closest and dearest friends.
KS Closest and dearest friends.
AP And I'm sitting next to Chris Walken.
KS Was his wife there?
AP No.
KS She's a great lady.
AP No, this is just men. This is a bachelor party.
KS Oh, it's a bachelor deal. Mark Harmon pop out of a cake?
AP No. Two very attractive young ladies of incredibly attractive dimensions eventually came to do a real performance for us.
KS Very lovely, yeah.
AP Anyway, prior to these two young ladies coming out, there was drinks and hors d'oeuvres, and then people sat down and as the ceremonial veal was being served, a microphone went around, and everyone had to tell their best jokes, round-robin, over and over and over again. The first time, I told a joke roasting Steve. So I had to make up for it the next time around. And I started to freeze. And the mic…
KS Mic's getting closer and closer.
AP …and Walken is saying to me, "Well, you better come up with something good." I said, "Yeah, yeah. What am I going to tell?" He goes, "Before you say it, try it on me." I said, "I know! Here's one. 'I had dinner with Charlie Manson last night. He said, Is it hot in here or am I crazy?'" Walken starts to laugh, like crazy…the microphone comes to him and he tells the joke! My joke. He said,"I was having dinner with Charlie Manson last night and he asks, 'Is it hot in here or am I crazy?'"
KS He stole your joke.
AP Everybody's on the floor.
KS He stole your joke.
AP He stole my joke.
KS And now you're frozen, right? He hands you the mike, smiling.
AP I said, "How could you do that?" He starts laughing, like a con artist having pulled one on a rube. But he's still one of my personal faves.
KS I had to do a round-robin for Lemmon. A year ago, more than that now, he got the AFI Lifetime Achievement award. I was terrified. Jimmy Stewart is sitting there with Walter Matthau, Shirley MacLaine's talking, Michael Douglas is next to me, Gene Autrey, Johnny Carson's at the next table…Steve Martin. So I get up, Jack knows how I feel about him; I don't have to fawn over him. So I told a story about him fucking up onstage one night in London. I said, "One of the things I admire about Jack is that he can speak faster than anyone I have ever known in my life. He has got a rapid-fire delivery that sometimes can get him in a little trouble if he gets a little ahead of it. For example, he had a line at a very serious moment in Long Day's Journey, and his line, as O'Neill had written it, was: 'There's a gloom in the air you could cut with a knife.' Now, Jack said this line perfectly for a hundred performances. And then one night in London he walked out onstage and said: 'There's a doom in this room you could shake with a stick.'"
AP (laughter)
KS We got backstage, I said, "Jack, what's your first line?" He said, "There's a gloom in the air you could cut with a knife." I said, "That's not what you said." He said, "I did, too." I said, "No, you didn't. You said, 'There's a doom in this room you could shake with a stick.'" And he says, "No, I didn't…anyway, it's the same thing. O'Neill and I were like this." But there was no convincing Jack he'd done it wrong. So I told that story. It went over well.
AP The next film you're working on is about Henry Miller.
KS I've been reading a lot about Henry Miller since March.
AP That's when you got the job?
KS No, it's when I knew I wanted the job. I started my preparation; it's research. I absolutely have loved reading Henry Miller. I feel like I've met a soul mate. He writes like people think. There's nothing that gets between him and—and him. And yet, like most great writers, he's a complete mystery, as a man. I mean, I've been reading essays, autobiographical sketches, portraits, little poems, and he's as mysterious to me at this moment as he was when I cracked the cover of the first book. I'm not discouraged by that knowledge; I'm very excited, it means there's more work to do.
Waiter The check, Mr. Profitt?
FADE TO BLACK
Amos Poe is a writer-filmmaker living in NYC with his wife, the artist Sarah Charlesworth and their children. He is currently reading Fred Allen: His Life and Wit.
Originally published in
Featuring interviews with Kevin Spacey, Robert Gober, Deborah Eisenberg, Christopher Guest, Isaac Mizrahi, Kazuo Ishiguro, Marvin Heiferman, Bharati Mukherjee, John Heys, Maureen Conner, Hillary Johnson, and Ketan Mehta.