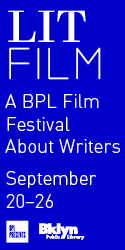 Neatly bound in blue, Kenneth Goldsmith's third book, Day, comprises every letter, number and symbol printed in the September 1, 2000 edition of the New York Times, laboriously retyped by the author to a length of 836 pages. Neither revisionist nor nostalgic, Goldsmith's project insists on appropriation, a strategy well established in music and visual art, as an important literary possibility. "They say that time changes things," wrote Andy Warhol in his Diaries, "but you actually have to change them yourself." It's a distinctive alchemy Goldsmith achieves, transforming a three-year-old throwaway daily into a reference-like tome without changing a single word.
With references not only to Warhol but also concrete poetry, Duchamp, Cage and Joyce, Goldsmith regifts the newspaper as poetry. As in Dieter Roth's cut-up newspaper book projects, the words are not "elevated" but reframed:
Elsewhere today, a bomb exploded near a public market in the southern town of Kabacan, wounding at least 13 people, officials said. The police said they suspected that another Muslim rebel group, the Moro Islamic Liberation Front, was responsible. the original razor scooter hot@bloomingdales

Goldsmith was originally trained as a sculptor, and Day, like Fidget (in which the author recorded his every movement over one day) and Soliloquy (an unedited record of every word he spoke in one week), is a hefty volume adequately blurbed in a one-liner. This discrepancy between the simple idea and its dictionary-size manifestation marks the fulcrum of Day's complexity: as easily as we throw away the paper or toss out phrases every day, words weigh something. And in Goldsmith's world, they're free for the giving as well as the taking—he's also the editor of UbuWeb, an unparalleled source of sound and concrete poetry, archival and out-of-print recordings and writings all available for public download. The book as a formal medium is integral to Goldsmith's work as an archivist; catalogued inside its binding are all the words we use to describe a day before we throw it away. Day is banal, and for Goldsmith that's worth preserving too.
Day was published by The Figures earlier this year.
Originally published in
Featuring interviews with Sol Lewitt, Vera Lutter and Peter Wollen, Rikki Ducornet and Laura Mullen, Edward St. Aubyn and Patrick McGrath & Maria Aitken, Jon Robin Baitz and Stephen Gaghan, Gina Gershon and Dave Stewart, EL-P and Matthew Shipp, and Suzanne Farrell.