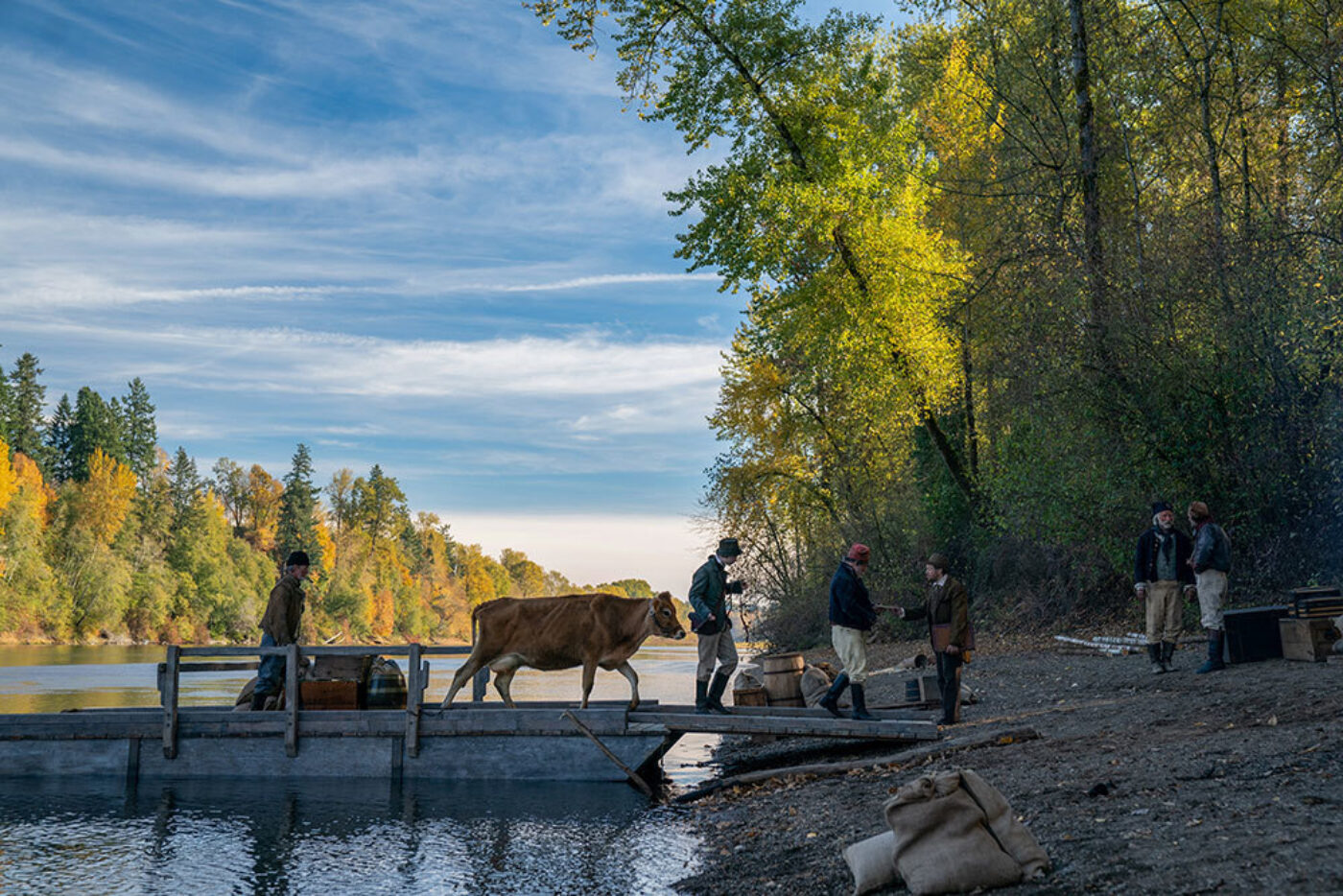 (A24, 2020)
How do we find our friends? When Cookie Figowitz first meets King Lu at the start of Kelly Reichardt's new film First Cow, King is hunched over naked in the woods. It's the 1820s in an Oregon that won't be a United State for another forty years. The territory is populated by a hodgepodge of British Trading Company men, American fur-trappers, hired guns from the world over, and Native Americans, whose lands these various settlers occupy. Then there's Cookie and King, outsiders scraping by without family or money—in King's case, on the run for his life. When Cookie sees him shaking behind a bush, he first mistakes him for a Native American. In fact, King tells him, he's Chinese, and fleeing a group of Russians he shot at after they gutted his friend from "neck to loin." Hoping to evade his pursuers, he hid his clothes inside hollow logs and lit out for the woods, surviving alone for days until Cookie spots him while out picking mushrooms for the cruel trappers he works for as a cook. Cookie brings the fugitive stranger water, food, and a blanket, then smuggles him by night to the shelter of his tent.
First Cow is Reichardt's seventh feature and her fifth set in Oregon. Perhaps no other contemporary American filmmaker has committed themselves so deeply to depicting a specific place from so many different vantages—so much so that it was almost a shock when she decamped east to Montana for Certain Women (2016). Often working with the novelist Jonathan Raymond, Reichardt has excavated Oregon's foundational myths in Meek's Cutoff (2010), and examined the uncertainty of its future in Night Moves (2013). While most directors tend to move toward flashier films made on a grander scale, Reichardt has done the opposite by rigorously burrowing down. She remains most concerned with the practical mechanics of how people get by, especially when faced with dwindling resources and no clear path forward. What emerges from her filmography is not a single portrait of Oregon (or Montana, or America) but something like a series of photo slides, each composed in their own way but connected through shared properties of color, light, and tone. First Cow's West, too, is not the wide prairies and stampeding cattle of Howard Hawks's Red River, nor is it, while closer in spirit, the snowed-in, muddy grimness of Robert Altman's McCabe and Mrs. Miller. Cookie and King's Oregon is made up of woods and rivers in autumn, painted in olive greens, auburns, and dark browns, expressing both the vivid intensity and encroaching doom that comes with the fall.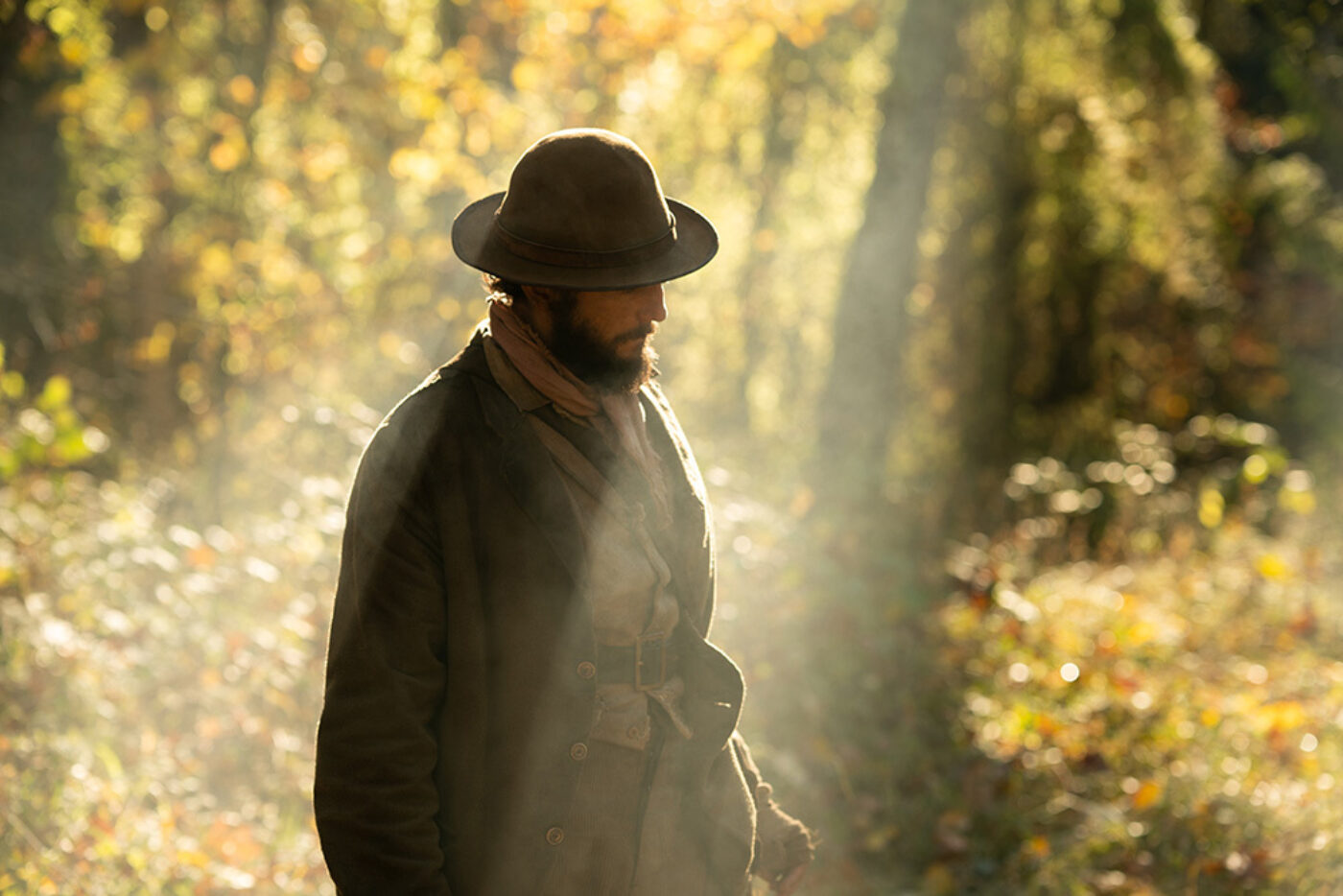 With First Cow, Reichardt has reached such an assured place as a writer, director, and editor that she can devote virtually the entire film to documenting the shifting dynamics of Cookie and King's friendship. When the two meet again at a bar in town, they seem to slip almost thoughtlessly into becoming housemates and confidantes, and suddenly, like a feat of magic, the rhythms of their daily chores and conversations take hold of the movie. Reichardt emphasizes their bond by framing the movie in a boxy 4:3 aspect ratio that, like the wooden hutch they live in, feels both intimate and crowded.
They make an oddly complementary pair. Cookie is sensitive and quiet, an orphan searching for the domestic comforts of the home he's been without for most of his life. He pays close attention to small things—mushrooms lying in the dirt, the taste of a biscuit, the feel of new boots—and hopes someday to own a hotel for weary travelers. Now that he's out of the woods, King reveals himself to be a budding entrepreneur in the classic American mold: an immigrant who lacks money but not ideas. There's no limit to his fondness for talking. He's lived in cities like Canton and London, he tells Cookie, but senses untapped resources in the Oregon wilderness. "History isn't here yet," he says. "It's coming, but maybe this time we can take it on our own terms."
Soon, history does arrive, in the form of the eponymous cow, shipped from France expressly so the chief of the trading company can partake of the pastries of his beloved England. When Cookie speaks longingly of what he might do with just a little buttermilk, King immediately senses their chance to get ahead, hatching a plan for the dangerous game they will soon be playing. The more they steal, the closer they come to freedom and the closer they come to getting caught.
"The essential American soul," D. H. Lawrence writes in Studies in Classic American Literature, "is hard, isolate, stoic, and a killer," a statement that applies equally to the fabled lives of the so-called great American capitalists and the totalizing code of ethics practiced by the lone Western gunman. What First Cow seems to understand, though, is that this murderous isolation is less of an essential fact of the American soul than it is its most common and calculated choice. When Americans see two people working together, suggesting that they may not need to always go it alone, they get nervous. It rarely ends well. There's Bonnie and Clyde, McCabe and Mrs. Miller, and there's Cookie and King. The two remind me most, in name and in spirit, of Bowie and Keechie in Nicholas Ray's They Live by Night: they've become outlaws for the sake of each other; they must slip away into the night because there's no room for them by the light of day. Most of us are alone and naked in the woods, but not all of us will take the hand that reaches out to us.
Kelly Reichardt's First Cow will screen at Brooklyn Academy of Music on March 13–18.
Michael Blair is a contributing editor at BOMB and the co-author, with Joe Bucciero, of Young Marble Giants' Colossal Youth (Bloomsbury, 2017).
Originally published in
Our spring issue features interviews with Chitra Ganesh, Tania Cypriano, Charles Atlas, Netta Yerushalmy, Vi Khi Nao, Amani Al-Thuwaini, Andrea Hasler, and Bruce Boone, as well as fiction from Verónica Gerber Bicecci, Justin Taylor, Rebecca Dinerstein Knight, and Lee Relvas, and poetry from Shuzo Takiguchi and Bruce Boone.