Keeping the Past Present: Shadowed! by Anne K. Yoder
An exhibition catalogue for Ellen Rothenberg's elsetime.

Discover MFA Programs in Art and Writing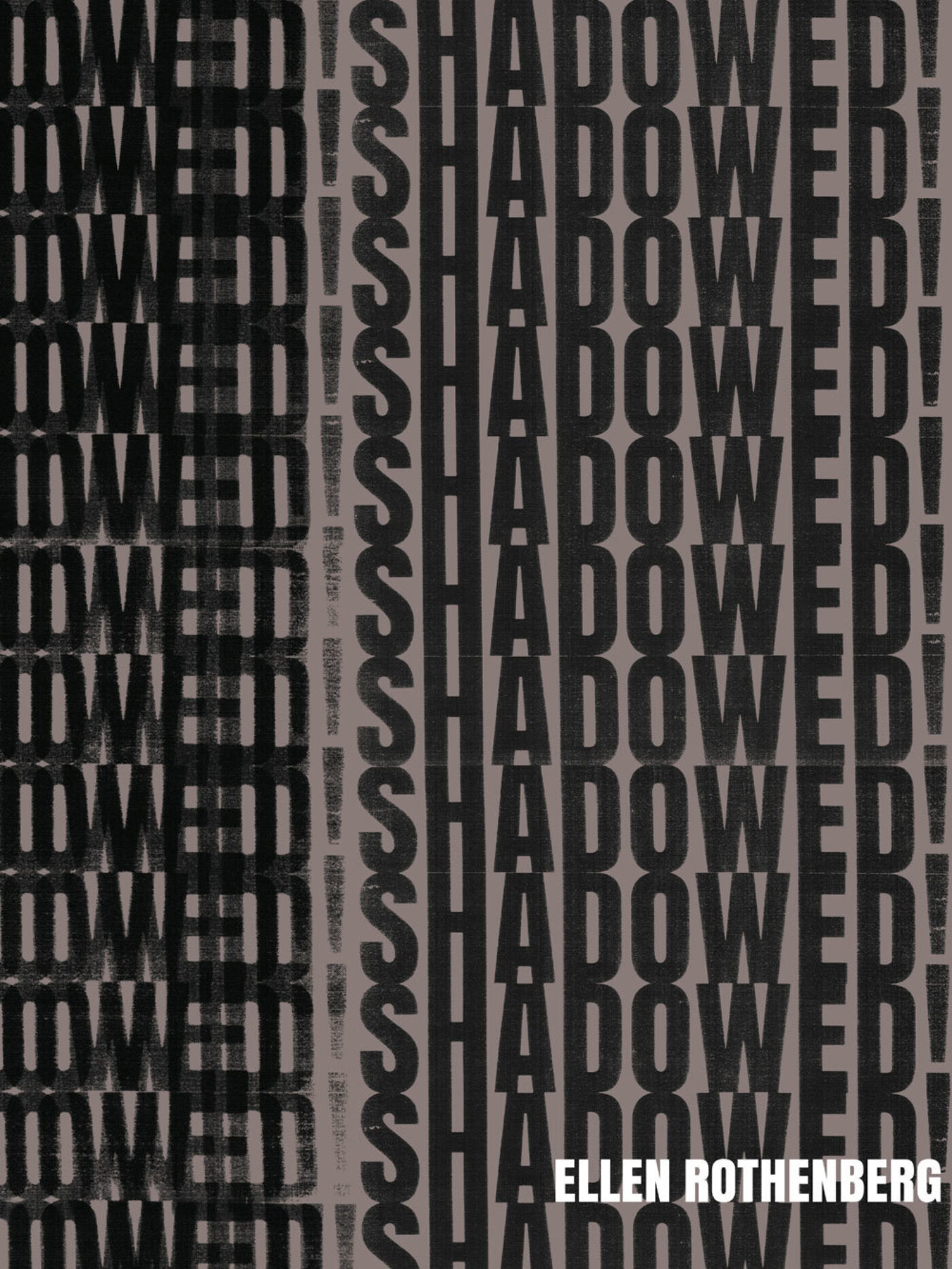 The words "VORWÄRTS" and "RÜCKWÄRTS" sit atop the right and left shoes worn by artist Ellen Rothenberg in the photographic documentation of her public performance of Dear Traitor in 1990s Berlin. Translated from the German as "forwards" and backwards," they straddle time and cancel each other out in the "present." The shoes evoke not just one present but the multiplicity of presents that resonated through and beyond time in Rothenberg's elsetime exhibition held at Sector 2337 in Chicago during late spring 2015.
One could consider Rothenberg's show, her larger body of work, and especially her art in Shadowed!—the recently published elsetime exhibition catalogue—through the prominence of shoes, their traces, where they've been worn, and where they've been left. Consider: one pair of blue, starred cowboy boots captured in multiple film stills in a Woodstock documentary; three pairs of empty shoes set before a chair and a bench as if their former occupants have convened in the next room; the silver wingtips Rothenberg wears against the parquet of Bertolt Brecht's studio in Berlin, a space Rothenberg frequented during her sabbatical in 2014; a pair of slippers inhabited by human feet, the image pinned to the front of a structure behind which the VORWÄRTS/ RÜCKWÄRTS shoes have been placed.
Rothenberg's work investigates the tension between looking toward the past in the present moment, and the inevitable contraction into the future—as if to say we are all Januses looking back to disparate points in time, and in doing so take them with us into the future. In Shadowed!, Woodstock documentary film stills are accompanied by an image of a Mac keyboard, as if to suggest the intimacy of watching this grandest of Happenings from home, perhaps in bed. Simultaneously it reduces the iconic gathering to a mere laptop screening, disrupting nostalgic tendencies before they kick in. In her catalogue essay, Shadowed! editor and curator Caroline Picard draws attention to the piles of trash at the end of the Woodstock photo series in that they "look more like the aftermath of some environmental catastrophe" than the backdrop of a utopian music festival.
In Shadowed! images of crowds gathered, dancing, defiant—and of trash heaps, too—segue into documentation of a recent Syrian protest filled with swathes of bright colors and movement, where the passage of the crowd is easier to discern than the outline of a single body. Here these messy moments unfold simultaneously, bleeding into one another across distance and time. Rothenberg's use of both object and image is meant to disorient, as she says with regard to her recent Chicago exhibition, ISO 6463: ineluctable immigrant, but it applies here as well. This shifting opens new possibilities. Time isn't linear, and in Rothenberg's elsetime I imagine time as a nearly invisible thread connecting disparate objects and scenes—the worn armchair in Brecht's studio, the crowd scaling scaffolding at Woodstock, Rothenberg cutting loaves of bread into shoes in Dear Traitor—and drawing these moments together, both wrapping and warping them into the present.
Shadowed! takes its name from a tattered pulp novel pictured on a bookshelf in Brecht's studio. In her contribution, Hannah B Higgins writes about this complication of his character and the loss of a past, when her knowledge of Epic Theater wasn't complicated by her awareness of Brecht's indulgences and personal failures: "Brecht wasn't so pure … Cheap humor, vaudevillian gags, and corny archetypal characters are as important for pulp as Brecht's writing, albeit with opposing outcomes." The final section of Shadowed! features documentation of performances made by artists, in the series Not to Be Taken, who were invited to use the gallery space and given a list of directives for creating new performance work. Rothenberg has said that she was also imagining various possible futures for Sector 2337, as her exhibition closed out the gallery's first year of programming. Shadowed! looks to fragments of the past but with a simultaneous awareness that the past isn't lost, just transformed. 
Shadowed!, edited by Caroline Picard and featuring contributions by Mark Booth, Alexandria Eregbu, Simone Forti, Becky Grajeda, Hannah B Higgins, Terri Kapsalis, Tim Kinsella, Anne Elizabeth Moore, Dao Nguyen, Caroline Picard, Jeffrey Skoller, and Shawn Michelle Smith, is available from Green Lantern Press.
Anne K. Yoder is a staff writer for The Millions. She is at work on a novel about coming of age in a techno-pharmaceutical society.