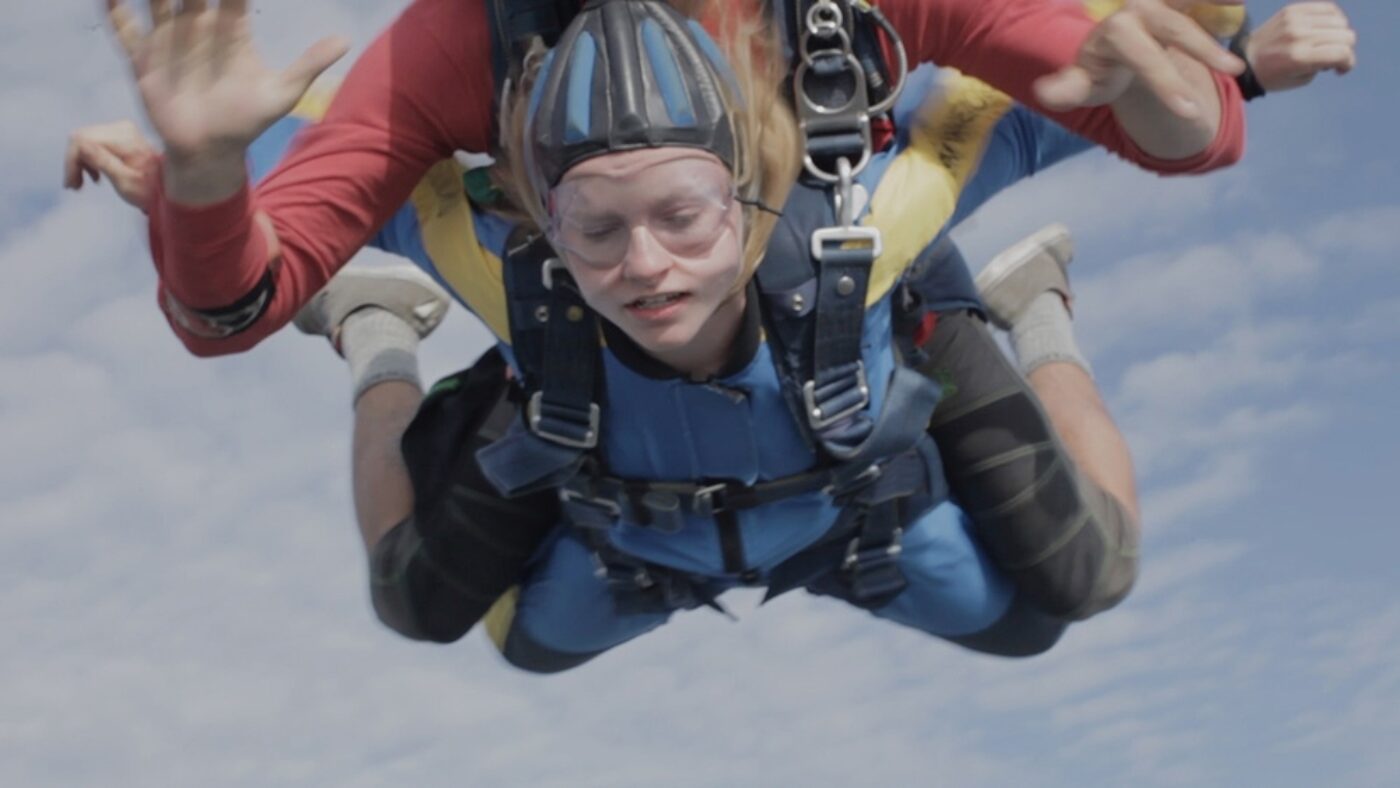 (Medium Density Fibreboard Films, 2019)
"You look really different than your picture." This skewering statement is delivered at the outset of a doomed Tinder date by Anne, the impish protagonist of Kazik Radwanski's Anne at 13,000 Ft. At the film's tragicomic core is a tour de force performance by Deragh Campbell, who portrays Anne as a storm of vulnerability, exuberance, and reckless uncertainty. Anne is a character who has the pluck to call someone out for using a misleading profile picture but still sticks around to chat over a pint of Miller Lite. In the awkward conversation that follows, Anne describes her date's unexpected appearance as "not good or bad, just disconcerting," and we get the sense that she's a person uniquely capable of finding amusement on her own terms, and who derives great comfort in observing the strangeness of others. By the time her suitor asks the clichéd, "Do you like to travel?" the audience is cringing with Anne—or maybe Campbell has allowed us to laugh a little at ourselves.
Throughout Anne at 13,000 Ft., Radwanski offers a series of potent snapshots of Anne's day-to-day, yet the details of her life and mental health remain hazy. The film opens with intercut shots of Anne working at a daycare, where she encourages her young wards to gently admire a monarch butterfly, and close crops on Anne at a skydiving bachelorette party for her friend Sarah (Dorothea Paas). Skydiving's commingling of precision and abandon appeals to Anne, who soon after signs up for solo-jumping classes. Midway through the film, Anne proudly shows her on-again, off-again boyfriend Matt (Matt Johnson) footage of a recent jump, her cheeks flapping in the wind. Understandably, Matt seems taken aback by Anne's desire to flutter to Earth from a moving plane, but the physical rush seems to offer her a hard-won sense of calm.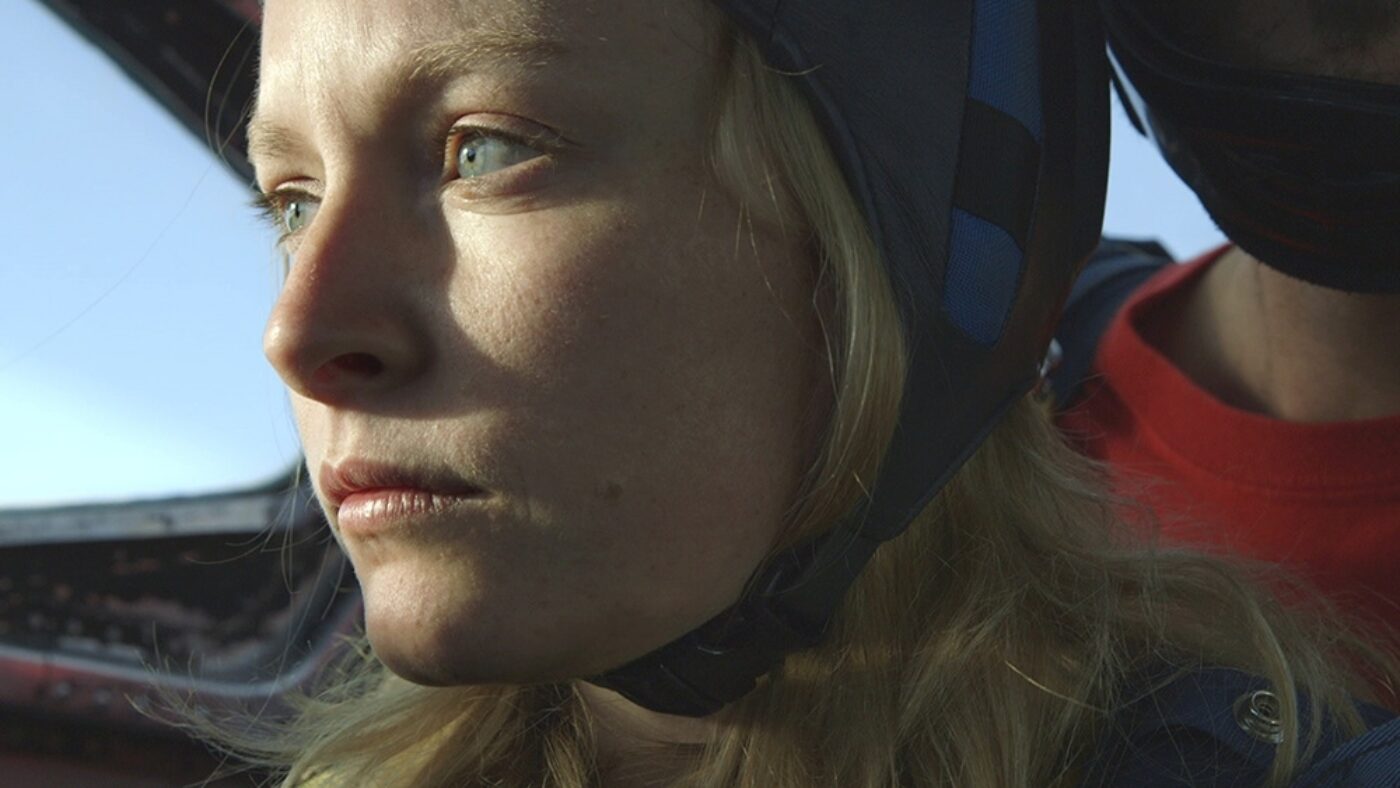 Several reviewers have likened Campbell's raw performance as a woman in crisis to Gena Rowlands's turn in John Cassavetes's 1974 classic, A Woman Under the Influence. While the comparison is apt, what is so engaging about Anne is the film's openness: Campbell's nuanced expressivity and Radwanski's thoughtful script both eschew diagnosing the heroine's outbursts, though brief scenes with her watchful mother suggest that Anne's mental health has recently undergone a period of dramatic instability. Despite being subject to almost constant scrutiny—the handheld camera trains tightly and insistently on Campbell—Anne remains unknowable. We watch her play imaginatively with children; at odds with a dour-faced colleague; rejecting support from her family; making an ill-advised speech at Sarah's wedding; vaping with new skydiving buddies; all in a search for a frisson beyond mundane work and social rules.
Campbell's performance shows Anne's resilience, dark humor, hypocrisy, and sincere desire for connection with a rare candor. The actor has collaborated on a series of improvisation-led, independent features with rising director Sofia Bohdanowicz—most recently on MS Slavic 7 (2019), which Campbell starred in and codirected. In Anne at 13,000 Ft., Campbell's improvisational methods reach new heights as she shifts between giddiness and discomfort with unnerving frankness. In a sea of overwrought films about female breakdowns, it was refreshing to see one about someone on the edge, but holding it together, with the potential to change, albeit imperfectly. Anne's inconsistencies make her more believable; it's the male characters—who range from hapless to kindly to potentially threatening—who are cast in the manic pixie roles. "Can you tell me what it is like to be young and beautiful?" an older man semi-facetiously teases Anne at Sarah's wedding. Laughing and evidently torn between discomfort and amusement, Anne replies, "It feels powerful." In Anne at 13,000 Ft., we see the power of a young woman grappling, aware, and engaged in the absurdity of figuring it all out.
Esmé Hogeveen is a writer and editor based between Toronto and Montreal. Her work has appeared in Artforum, the Brooklyn Rail, Canadian Art, Frieze, and Hazlitt, among others. She is a staff writer at Another Gaze: a Feminist Film Journal.
Originally published in
Our summer issue includes interviews with Amoako Boafo, Jibz Cameron, Brenda Goodman, Odili Donald Odita, Jenny Offill, Nicolas Party, Rowan Ricardo Phillips, and Craig Taborn; poetry by Safia Elhillo and Nathaniel Mackey; prose by Lydia Davis, Marie-Helene Bertino, and Saidiya Hartman; and more.