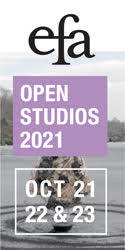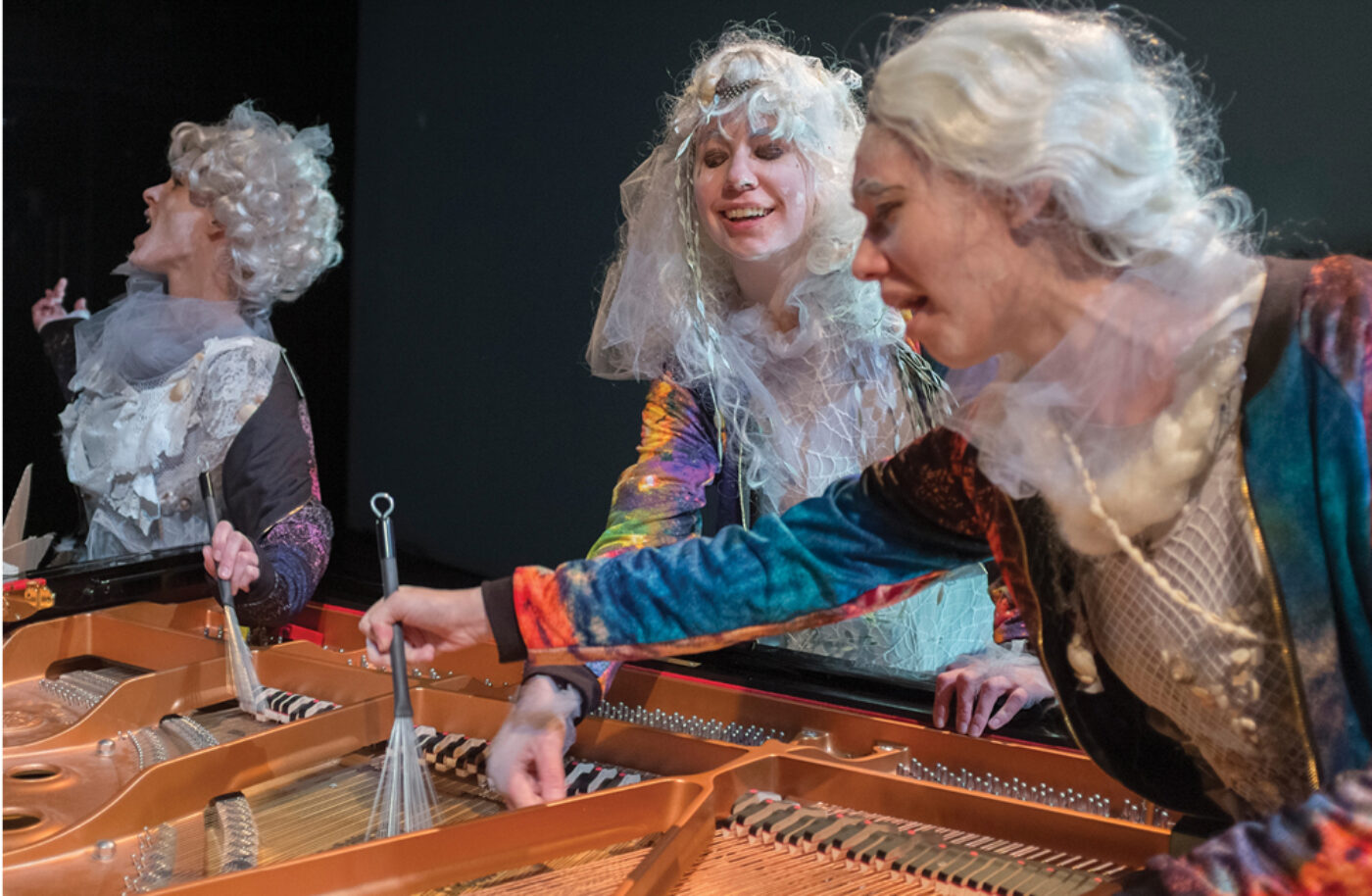 Morningside Opera, 2014
Kate Soper's Here Be Sirens explores, through beautiful harmonies and curious discords, the constraint of fixed roles and the desire to release oneself from them through the activity of research—finding the origin of the fixed identity being key to redefining and freeing oneself. Calling on an ancient example of a frightening femme fatale, in Soper's work, the figure of the siren stands in for any fixed subject identity.
I found myself mesmerized by the sounds and sights of this opera; by the interrelated set and props, such as the classroom with toppled books, desks, and chalkboard; the sirens' lacey, colored-silk outfits with shell necklaces and curious monster feet; and by the dazzling video projection showing a rocky coast and the occasional ship.
The three sirens respond to the approaching ships with song and music, as if they are wired to do so. Interacting with one another, they float in and out of dreamlike and illusory realms, which are interspersed by arguments with each other, moments of audience address, and occasional breaks into cruise-ship cabaret-type shenanigans. At one point I found myself facing a siren's solemn seductive stare, as she sang (to me), "Oh, sailor, oh, sailor." I'll be your sailor, thank you.
One of the sirens combs through books (rather than hair), researching her lineage and the genesis of her role of constraint, which is to be stuck on that rock, having to sing and lure sailors to their deaths. As the embedded narrator of the play, she recites (from many books) statements on the historical context and psychoanalytic implications of her task in a comedic academic tone. "When did the siren lose her wings?" she asks. While as a siren, she may have to fulfill a certain role, if she could only discover when her wings were clipped, she may recast, redress, rewrite her kind, and fly from the rock of assumptions.
Leaving the Dixon Place theater, I reflected on the opera's use of research as it was literally conveyed through one character and I wondered if it is necessary to determine the point of original injustice in an attempt to solve an inequality. While it wouldn't be fair to expect this siren to resolve the 5,000-year-old form of domination called patriarchy, Soper's work did lure me onto a thinking rock to recast "woman as provocateur" and encouraged me to further explore the relationship of myth to history and opera to social commentary. And I'm still sitting there, fully immersed in my memory of the sights, sounds, and the potential of Here Be Sirens. 
Andrea Ray is a Brooklyn-based artist whose recent installations explore issues of subjectivity and community through, for example, proposed forms of alternative living and utopian communities.
Originally published in
Featuring interviews with Adam Broomberg and Oliver Chanarin, Theaster Gates, Martin Wilner, Paola Prestini, A.G. Porta, Pierre Guyotat, Paweł Althamer, and Eugéne Green.