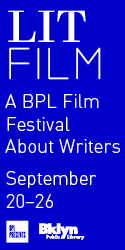 (Fitzcarraldo Editions, 2017)
Often, while reading a book, I'm engulfed by a desire to translate the text. Whether written in my native tongue or in a foreign one, I'm tempted to rewrite it in my own private language. This is, somehow, a movement within language itself, driving the text toward me as reader. This impulse lies at the heart of Kate Briggs's inspiring This Little Art. Briggs delves into her experience translating Roland Barthes's La Préparation du roman to offer us a poignant account of what this translation compulsion might be. She elegantly likens it to the actions of the avid but amateur aerobic exerciser who wakes up every morning to attend her dance class purely for the pleasure of energetically mimicking the gestures of others. This vindication of the figure of the amateur translator hints at the fact that all translation is an uncontrollable act of desire, a playful gesture that greets us at a fundamental level: the appeal of the text. As Barthes had already sketched out in his autobiography, the amateur—coming from the Latin amator, or lover—is the one who, in opposition to the professional, truly engages with the pleasure of her craft. 
Faithful to this intuition, This Little Art reads like a jubilant tribute to that vital impulse that marks the reader's attempt to engage with the pleasure of the text at the very basic level of language, a delight that derives from the minutiae of writing's unfolding, the joy of seeing both how contingent language is and yet how absolutely necessary it appears in the works of writers and their translators: Thomas Mann and his translator Helen Lowe-Porter, André Gide and his translator Dorothy Bussy, Roland Barthes and Kate Briggs herself. It is perhaps the story of this last partnership that holds the key that unlocks the secret charm of this singular book, for This Little Art is as much about the late Barthes as it is about translation. Like two examples she offers—that of the researcher reading the 1500 books Flaubert is said to have read in order to write Bouvard et Pécuchet, and the reader who underlines each line of a book as if everything were important—Briggs has written a testimony about the possibility of reading a text so intensely that one feels tempted to recreate it. This utopian project, the contours of which mimic that of Borges's enigmatic Pierre Menard, ends up sketching a beautiful homage to the late Barthes, who, in that last project of his, perhaps more clearly than anyone else, understood that all writing springs from a desire to render into our private idioms the appreciation we feel toward the work of others. In doing so, This Little Art inherits his unfulfilled desire to write a novel and traces around it a convincing plea for the art of translation—that all writing is, in a way, translation. 
Carlos Fonseca was born in Costa Rica and grew up in Puerto Rico. His work has appeared in publications including the Guardian and The White Review. He teaches at the University of Cambridge and lives in London. He is the author of the novels Colonel Lágrimas and Museo Animal.
Originally published in
Featuring interviews with Milford Graves, Celeste Dupuy-Spencer, Meredith Monk, Jim Hodges, Lucy Dodd, Branden Jacobs-Jenkins, Jlin, Cate Giordano, Don Mee Choi, Christian Hawkey, and Friederike Mayröcker.