Kassidy Chism and Fountain by Jenn Joy
Jenn Joy is confronted by the distorted anatomy and face of Heather Kravas's Kassidy Chism.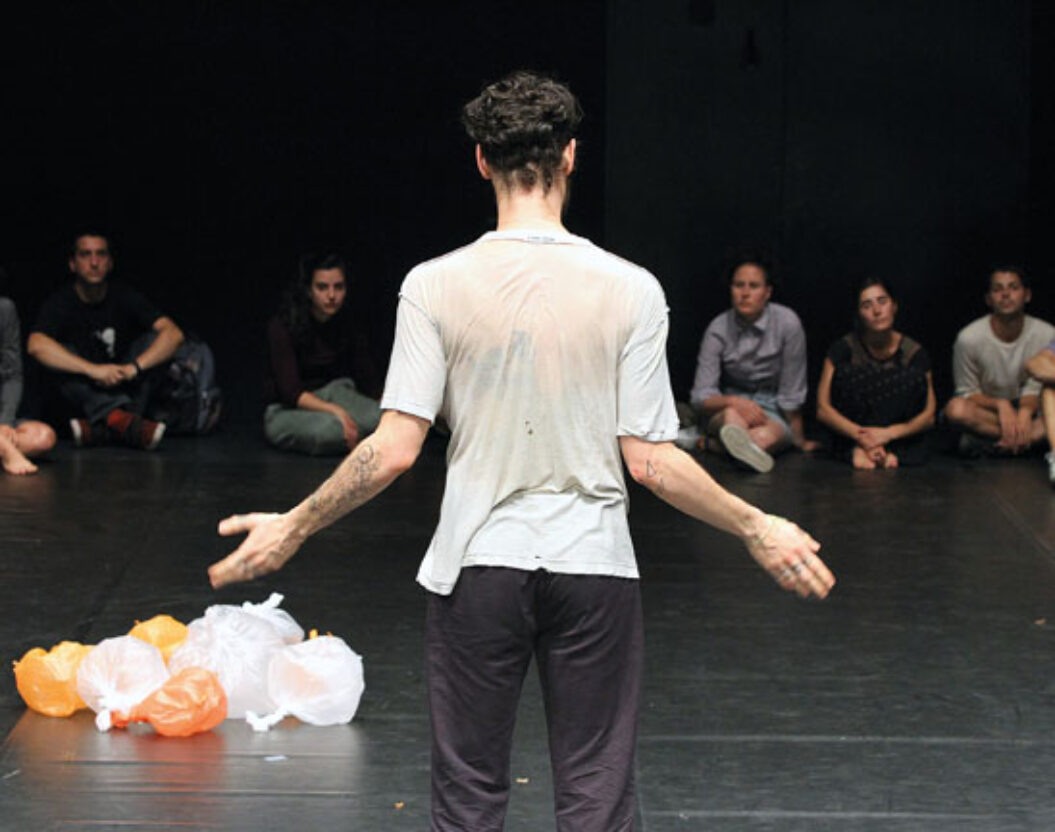 "Choreography is something else … ecstasy, disorientation, not knowing … the untenable … a threshold to facilitate an experience … there is glitter everywhere." Jeremy Wade's words speak to the unsettling power that underlies both his fountain and Heather Kravas's Kassidy Chism that premiered together at Danspace Project at St. Mark's Church-in-the-Bowery this past fall. Wade and Kravas address choreographic perception through darkness, generating unsettling encounters with desire, fear, risk, and illegibility that open to something quite beautiful.
Wade's fountain plays with expectation and disorientation, proximity and distance, and the gut-wrenching and the glittery as physical and energetic qualities. We are all "pilgrims of small details," he intones, as he points to the rainbows of stained glass, repeating architectural domes, and the "frenzied geometries" of gray industrial carpet seams in St. Mark's sanctuary. Calling attention to the obvious yet usually unremarked-upon environmental textures affects a "charging of the space" that the audience is asked to hold as we stand in a circle around him watching as he morphs from new-age charismatic to possessed shaman and back again. Speech becomes utterance becomes guttural plaint becomes disfiguring gesture exhibiting his exceptionally virtuosic distortion of face and anatomy. Against the now-pounding sound track, he focuses his gaze on certain individuals appearing to channel and consume their discomfort or uncertainty. In these moments, fountain shifts its initial invitation—are we engaging in a space of mutual address or witnessing at too close a range?
Kravas's Kassidy Chism is more explicitly confrontational in its address. Wearing a black cocktail dress and pink DG sneakers, Kravas opens with her reenactment of ten-year-old YouTube phenom Kassidy Chism's naive and fearless hip-hop dance. Chism's music has been replaced with a barking-dog track designed by Preshish Moments (Michael Carter), and Kravas's version descends into eroticized punk-rock darkness. Hand on hip, mouth open, eyes rolling back in her head, she drools on her dress, wipes it off, and walks to the large rolling mirror in the back of the space. As she slowly angles it across the sanctuary, the audience appears on the surface, implicated if only in reflection. Taping her dress above her waist, Kravas kneels in front of the mirror, her now-bare ass facing the audience: its repetitive flexing is accentuated by the sound of a syncopated braying donkey. The virtuosic intensity of her facial expressions, penetrating and penetrated, and her exquisite physicality render the velocity of desire as simultaneously annihilating and gorgeous.
Jenn Joy is an NYC-based writer, editor, and dramaturg who teaches in graduate studies and sculpture at the Rhode Island School of Design.
Originally published in
Featuring interviews with Jimmie Durham, John Miller, Suzanne McClelland and Barry Schwabsky, Paul La Farge and Peter Orner, Yang Fudong, and Radiohole.