Karen Finley Makes Love to New York by Lauren Bakst
Lauren Bakst reviews performance artist Karen Finley's Make Love, a post 9/11 cabaret show inspired by the iconic image of Liza Minnelli, but most of all, by New York.

Discover MFA Programs in Art and Writing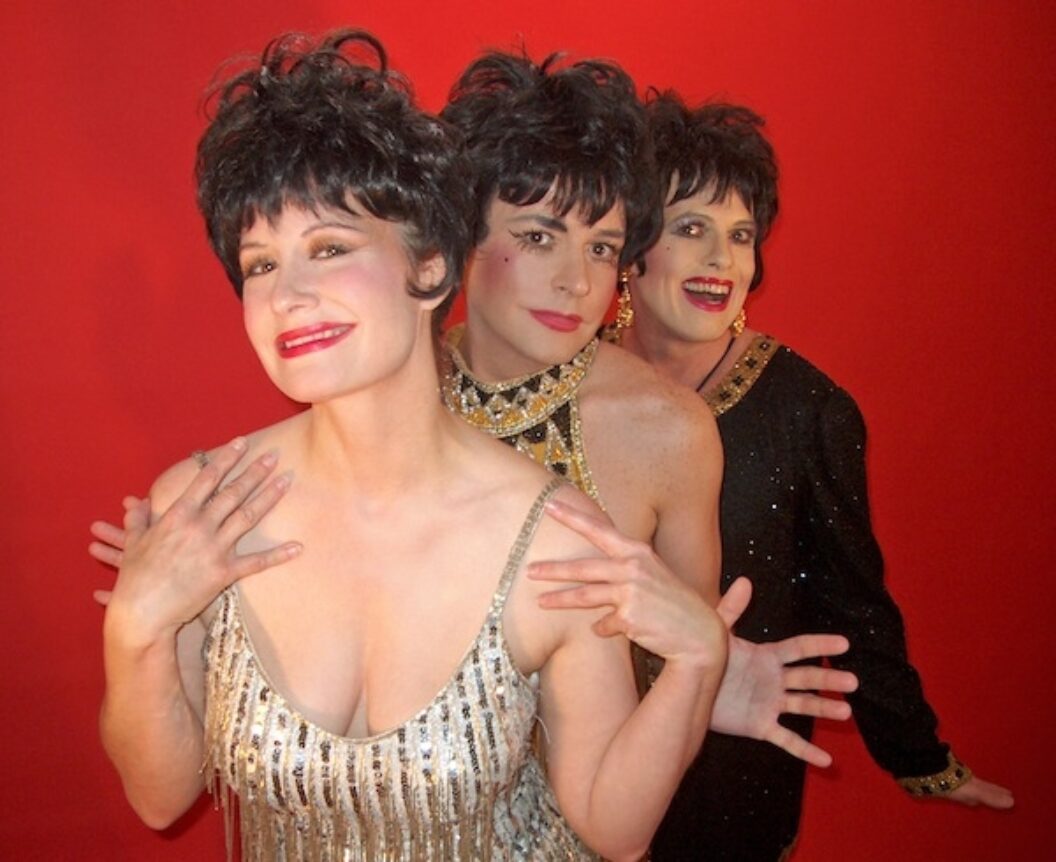 "You are going to die when you're going to die," says Karen Finley in that unmistakable slightly over enunciated, low pitched voice of hers, chin tilted down and mouth pressed up against the microphone. Dressed in a short black wig and a gold sparkling mini dress, her stare penetrates into the audience at the West Bank Cafe on 42nd street as we slowly sip our drinks. It was only a few moments ago that we were laughing at the parade of Liza Minnelli look-a-likes stumbling across the small stage, but now our attention has been commanded and we're listening.
This is Make Love, Karen Finley's cabaret show, first created just under ten years ago in response to the attacks on September 11th. Returning to the stage for the tenth year anniversary of that day, Make Love is a tragicomic homage to this place and the people in it, a psychoanalytic inquiry into the collective grief of post 9/11 New York staged under the guise of a cabaret spectacle. Finley is joined to the stage by drag performer Chris Tanner—aka Liza #2, pianist Lance Cruce—another Liza no doubt, and a whole entourage of Lizas, all keeping each other company and performing necessary tasks at Finley's request. During one of Finley's monologues—a retelling of an anxiety inducing post 9/11 flying experience, she beckons to her fellow Lizas, "Probe me, probe me," in a reenactment of that walk through airport security we all know so well. "Osama's in that ass!," Finley screams out as the Lizas grope frantically at her bent over body. While the performers all appear to be Liza on the surface, this is by no means a full on impersonation—Karen Finley is undoubtedly Karen Finley dressed as Liza Minnelli performing Karen Finley. What this superficial approximation of the image of Minnelli seems to suggest is that at the end of the day, we've all—New Yorkers that is–got a little bit of Liza in us, and we shouldn't be so afraid to show it.
Karen Finley is not afraid to delve into the vulnerability and the fear that is so deeply embedded in the events of September 11th and the memorialization of them. With a quick shift of her voice that rides the poetic roller coaster of her text, she sears through the layers of veneers she has constructed and taps into a space that can only be called humanity. It is in these moments that Make Love is at its most poignant. Ten years have passed and what can we say? Finley describes her thought process of attempting to understand something more about that tragedy that happened on that day. Was there something she could tell us? Write a witty Obama song perhaps? But there wasn't and there isn't. In that moment, Finley created a space where we could all accept our confusion around the entanglement of ourselves with this place and this trauma and what it all might mean right now. And for that, I am grateful.
Make Love runs September 3-17 at the Laurie Beechman Theatre with performances on Saturday nights. Visit Spin Cycle for tickets and more information.

Lauren Bakst is a dance artist and writer living in Brooklyn, NY.