The writers on indigenous ancestry, playing with language, and maintaining public personas.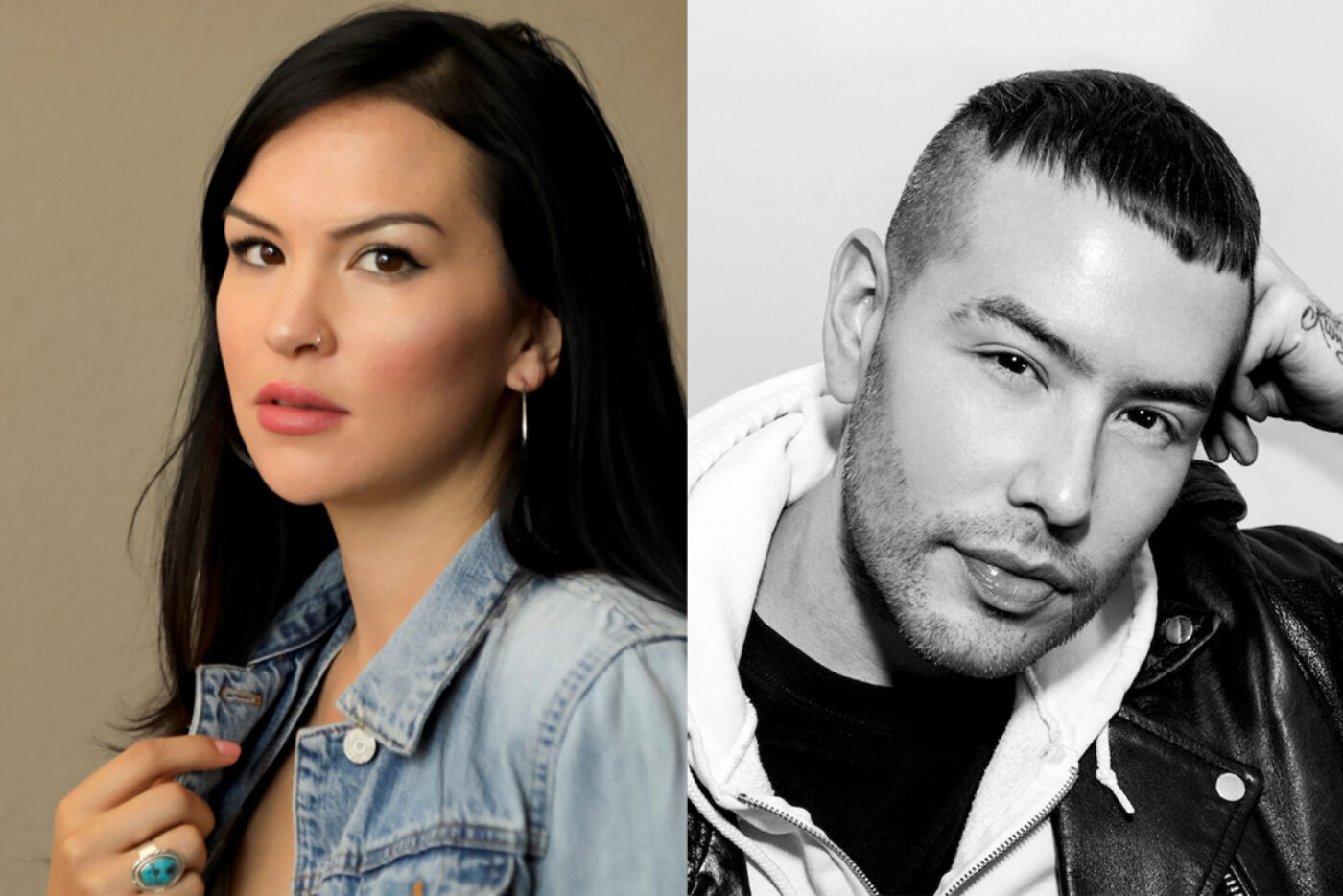 Kali Fajardo-Anstine and I met each other onstage over panel-water for a Bay Area Book Festival event about contemporary indigeneity in literature. The panel wasn't about being really, really ridiculously good-looking. That was incidental. Our portraiture of contemporary indigenous characters, often young and urban and silver-tongued, has drawn raised eyebrows and open wallets from audiences high and low—not to mention a slew of awards, nominations, and nods between the two of us. Recently we hopped on an email thread to discuss everything process, progress, and tense. Honestly, you're welcome.
—Tommy Pico
Kali Fajardo-Anstine Am I talking to Teebs or Tommy? LOL.
Tommy Pico There was a time when they were separate personas, but I'm all blobbed up in one, an unadulterated mixture that honestly writing these four books helped to create. I recently did a reading with Shira Erlichman where she talked about how writing her book Odes To Lithium actually helped her destigmatize taking the meds and allowed her to admit it out loud and in print. I think writing these books has melded me in a similar way.
KFAThat's fascinating, the melding. I'm also interested in persona as it relates to your performances. I had a private fangirl moment when we met for our panel at the Bay Area Book Festival. I had heard about you and your poetry for years, and the day before I attended your panel on queer poetics with Franny Choi, Sam Sax, and Brenda Shaughnessy. I hadn't seen you perform live before. You read from Junk and I was like, this, this is the shit. Afterward I was deeply inspired to push my own readings. The musicality of your voice, the power, the delivery. Can you talk about your performance style and how you developed it?
TPMy mom was a church singer with a beautiful voice, my dad sings traditional Kumeyaay music, and my grandma and all my aunties would come over to the house and sing. I used to fall asleep in the doorframe of my bedroom listening to them playing guitar and harmonizing into the early hours. I still love singing and never pass up an opportunity to karaoke. Also, my dad was a tribal chairman and used to practice his speeches in the living room. You could say that was an early education in vocal dynamics!
When I got older and started to read my poems I would do vocal exercises while I ran because I read somewhere that Beyoncé did that. My mentor Pamela Sneed is a poet and performer and actress with an absolutely mesmerizing and dramatic command of the stage. She pushed me to push myself to connect with the feeling of the words, which married with practice and breath control can make for some really singular moments onstage. Plus, it's really freakin' cathartic to yell, let me tell you.
As I've moved from poetry into essay writing and screenwriting, I've become kind of obsessed with how they become outlets for different types of ideas. I'm curious in general about the writing process that underlies short fiction, like what idea/theme/action you're trying to atomize in your stories.
KFAI usually follow instinct in the early stages of writing a short story. This can come from an overheard conversation, an image I can't shake, a voice that presents itself to me.
One winter morning I drove from Laramie, Wyoming, to Denver and heavy fog rolled over the highway, forcing me to pull off at a rest area. The fog was disorienting, thick, causing me to lose my sense of direction, up or down. I remember sitting at the rest stop, shaking behind the wheel of my Grand Prix, trying to build the courage to drive again, even through the fog. When I eventually crawled the car back out onto the road, I began speaking to myself in two voices. A woman named Cole who had recently been released from prison and her nephew, a young kid named Tomi. They distracted me for an hour on the road. When I got to Denver, I started a new short story, "Tomi," which would later find its home inside my collection Sabrina & Corina.
Once the initial spark of creation presents itself to me, the drafting process is very much about analyzing what themes, images, and aspects of my worldview are revealing themselves through story. Then I organize. I enhance, shape, reduce.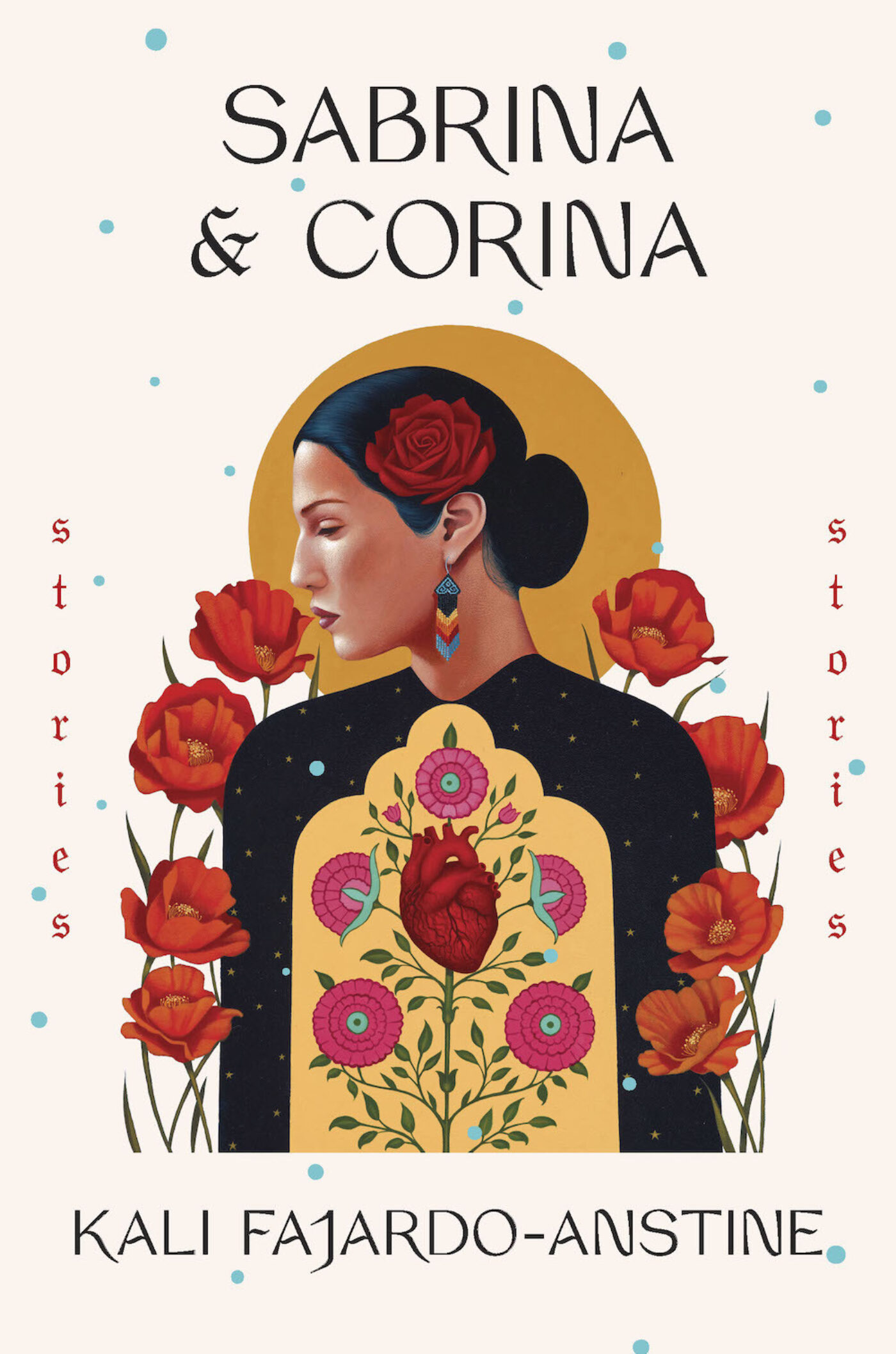 TP When I read your stuff I immediately feel like I see the world, I smell the dresses, I feel the texture of their clothes, I smell their breath. When writing, how does the sensory information layer onto your plot? Are they inextricable?
KFA What an interesting question. I love it! I allow details to naturally come to the page during the invention process, but after I've established a full draft of the story, I note those sensory details and the ways in which they speak to the story's core themes—for me usually something to deal with death, beauty, art-making, homeland, and abandonment. I keep a notebook of the kinds of moments and details that keep showing up (or only show up once) in each piece. I also draw structure outlines that often include notes about what is appearing in each scene.
Each detail in my writing, I hope, is doing double and sometimes triple work. I want these sensory details to make the universe of my fiction feel vivid and real, but I also want these details to say something about character and theme, history, politics, all of it. We've all seen those '90s T-shirts [that say] "God is in the details" and the devil, too. The kind of fiction I adore usually has a strong sense of place, an atmospheric quality that is created, in part, through a culmination of distinct details.
In your work, one of the ways I think that atmospheric quality is achieved is through specific music, which plays such an important role in Feed. I took great delight in tracking the poem through song references—Patsy Cline, Selena, Hot Chip, The Knife, the list goes on. How did you decide which songs to include?
TP Initially the book was a soundscape commissioned by the High Line park in New York City. They asked me to write something for their spring launch that a park patron could listen to as they wandered the park. The idea that I could incorporate singing into something had me hyyyyyyyyype, so I started with songs with lyrics that would take their cue from some part of the text of the soundscape and I just sang! In transferring that into something written, and getting into copyright stuff, I couldn't just have the lyrics in the book. They switched to interpretations of the songs that would add something to the "narrative" of the poem. Also it was like making a mixtape for the reader! I miss making mixtapes!
KFA I'd love to talk to you about language. Sometimes, in my own work, I think about how indigenous languages (and colonizer languages like Spanish) have been stripped from my ancestors, leaving us with only English. I love how fully energetically, unapologetically, and blissfully you wield the language we have. Is the loss of language something you think about in your work, and does this influence your style?
TP Oh for sure! I think I'm always conscious of the tension inherent in things that bring me joy, but especially English. There's this line in Nature Poem that goes, "English is some Stockholm shit!" It's weird to love something that was forced upon you and your ancestors under threat of literal death. But linguistic play gives me actual joy (I mean, have you read my horrible dad pun Twitter account? LOL). Like, my parents and I used to play word games all the time. There's invention and subversion and humor and gravity. It's not because of ignorance about the history of English that I love this. It's because we didn't ask for English, but it's ours now. And look what we're doing with it.
I want to talk about what you're doing with Denver. Sabrina & Corina is like Denver's big up/big criticism. What does Denver mean to you and what does Denver mean to your characters?
KFA Denver is the adopted home of my ancestors, the urban area where they first came together in the 1930s. It was the place where they decided to lay down roots, creating a unique convergence to form my ancestry—Picuris Pueblo, Filipino, Mexican, European, Jewish. To me, Denver represents the space where the creation of a person like me is possible. But I didn't see my personal history reflected in the state's official story and early on I began to wonder why this was. My K–12 textbooks focused on European settlement from east to west, and from the time I was a little girl, I was angry about the invisibility of my Denver in the mainstream.
Simply put, the city contributed to my creation and the creation of countless people like me. I wanted to show that in my fiction.
TP What world and worlds were you most interested in creating? How do you want people to walk away from this collection in general, or from individual stories?
KFA I am interested in the enormous world of storytelling. I love jokes, tales, gossip, riddles, all of it. I remember dancing around my great-grandmother's living room in the Five Points neighborhood in Denver, how I'd pretend my hairbrush was a microphone. I'd interview my family, the stuffed animals, the plastic fruit. "That girl sure loves to tell stories," my great-grandmother would say. I am lucky I found my passion early and I want to share that with others. I want people to leave the pages of Sabrina & Corina with the feeling of having been told a great story. We all know that feeling. It's transformative, it's entertaining, it's sometimes painful and often inspiring.
I also want others to leave the pages of my work with the feeling of being storytellers themselves. I love when readers tell me they are jotting down family stories, paying closer attention to their own traditions. I want my readers to feel pride in the stories of their people.
TP OMG, soul sisters! I used to do the same thing. My mom worked at the thrift store on the rez, so I had a bunch of stuffed animals and Barbies and G.I. Joes and stuff, and a tape recorder, so I would interview them like I was the Viejas Reservation Oprah, LOL. But I don't think that was an accident. I'm curious if hearing stories as a child influenced your desire to tell them, and/or what sense you got of the stories being told in your childhood. What was floating around?
KFA Storytelling was such an important part of my childhood, some of it positive and some of it more sinister. The elders in my family, in particular the women, often told stories about my ancestors with such repetition and detail that it was as if I knew family members from long ago. Many of these stories, however, focused on the violence women in my family had endured and these stories shaped the perception of both myself and my family line. In a more direct sense, my mother is a writer, community organizer, and an oral storyteller. She knows many folktales, and she told these tales to her seven children. I remember a driving game we played as kids, my mother would ask us to look at the cars on the road and to imagine the lives of the people inside them. I didn't know it at the time, but she was training me for an eventual life as a fiction writer. She was giving me permission to look, to imagine, to peer inside.
Your work, too, seems rooted in storytelling in some ways. I love that you write book-length poems. I've heard you say that this, in part, comes from the Kumeyaay Bird Song tradition. I'd love to know more about these sacred songs and how traditional ways have influenced your poetry, especially in Feed.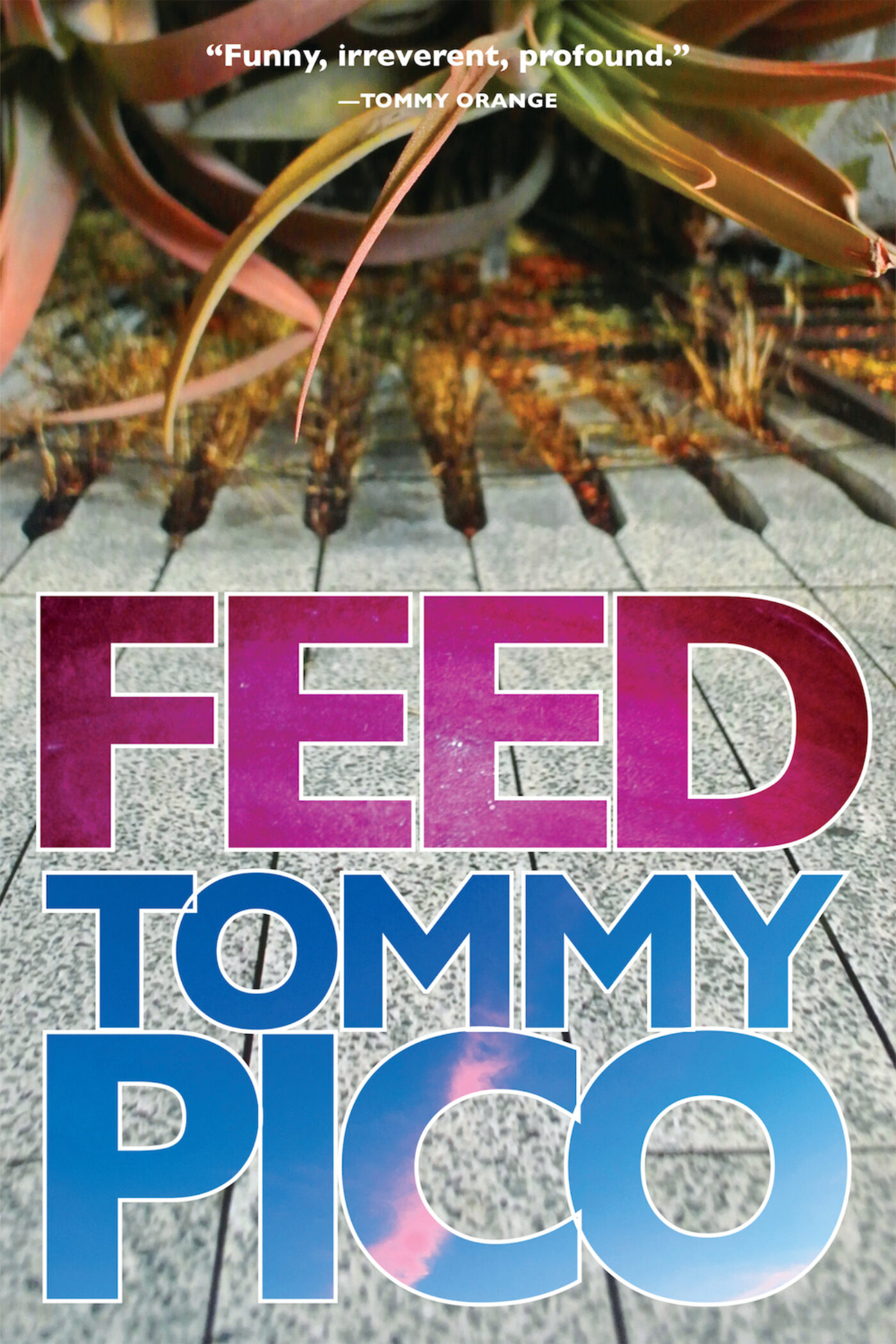 TPThey are traditionally sung from dusk until dawn and are basically like travelogues that detail how Kumeyaay people made it to the ancestral homeland and what we passed on the way. Basically they are long poems, set to a gourd rattle and sung in unison by multiple people. My books, what I'm calling my new Bird Songs, basically detail how the character left the Rez and what he passed on his way. Once I started writing book-length poems, once I realized that their origin was more in these Bird Songs I grew up hearing my whole life and less Whitman or A. R. Ammons, I began to understand that leaving the Rez didn't make me less Kumeyaay. It meant I was making the world at large more Kumeyaay.
And yet, there are some cultural things that I don't write about. Are there things you wanted to write but that you didn't feel like you could?
KFAYes, I used to be afraid to explore violence in my work. I was embarrassed by the things I had gone through, of the violence my ancestors had endured. But over time, I learned not to be ashamed of the ways in which I am wounded. That isn't my burden. My burden is to tell the tale to help free others of that shame.
In Feed, some of the themes I saw coming up again and again linger around loneliness and the state of being alone. I once said that I became a writer to honor the books that kept me company when there was no one else. Feed made me feel less lonely in my own life, and I especially loved the direct "dear reader" addresses. What is your relationship with your readers?
TPI wanted Feed to be epistolary for exactly that reason. I live a life of almost perpetual touring, and in general I'm kind of a loner even though community is really important to me. Directly addressing someone in the text, even if I can't really see them, made me feel less alone on my travels as well. Relationships with readers can be weird though, and not necessarily in a negative way. I've learned this both being an author and hosting podcasts. Oftentimes when people are reading you or listening to you on their headphones, they're alone. And everyone is walking around with so much pain that they might not know how to name or talk about. Sometimes you'll say something or write something that someone connects with, deeply, and because of that they feel seen by you even though you can't see them. It's personal and it's real, but it might not be mutual, does that make sense? It feels kind of selfish to say so, but I've definitely had that connection to authors that they don't have with me.
Like, in my mind me and Kelly Clarkson would be like best friends if we hung out, because there's something warm and connecting and special and irreverent in her voice that I feel. But she don't know me! So, you know, you keep it moving. Admiration doesn't mean obligation, right?
KFAOh, I love this. This reminds me of the few times I've waited in signing lines for an author whose work I greatly admire, whose work has probably altered my life in dramatic ways, and I'm like, I don't want to talk to you at all—please just sign my book. It's as if I'm afraid the "true" person behind the work will corrupt the private relationship I have to the text.
But I also came of age as a reader before social media and I glimpsed my favorite writers infrequently. I very much feel that my own social media accounts, specifically Instagram, are a form of performance. I've wished for a feature where the entire account could go blank, maybe during the weekends, for some time off. How do you feel about the access social media provides readers to artists whom they admire? Or the allusion of access? The performance of it?
TPMuch like you, I also came of age as a reader and writer looooooong before we had anything like Instagram or YouTube or Twitter. That dial-up bleep-bloop-blorp is a permanent fixture in my brain-thing. I think at its best, social media can be a way that an audience can distance us critically, as people, from our work. Maybe if I am living my life one way, even in a curated way, and you do as well, we are not the characters we create in our books. Maybe in the gulf between us and our books as facilitated by social media, as indigenous writers or marginalized writers or whatever, we can be read for craft and not autobiography. Maybe that's me being an idealist. LOL.
Kali Fajardo-Anstine is the author of Sabrina & Corina, a Finalist for the National Book Award in Fiction, and Longlisted for the Aspen Words Literary Prize. Sabrina & Corina has been selected as a campus one-read by the University of Colorado and Regis University. Fajardo-Anstine is the 2019 recipient of the Denver Mayor's Global Award. Her fiction has appeared in The American Scholar, Boston Review, Bellevue Literary Review, The Idaho Review, Southwestern American Literature, and elsewhere. She has been awarded fellowships from Yaddo, MacDowell Colony, and Hedgebrook. She has an MFA from the University of Wyoming and is from Denver, Colorado.
Tommy "Teebs" Pico is author of the books IRL, Nature Poem, Junk, Feed, and myriad keen tweets including "sittin on the cock of the gay." Originally from the Viejas Indian Reservation of the Kumeyaay Nation, he now splits his time between Los Angeles and Brooklyn. He co-curates the reading series Poets with Attitude, co-hosts the podcast Food 4 Thot, and is a contributing editor at Literary Hub.