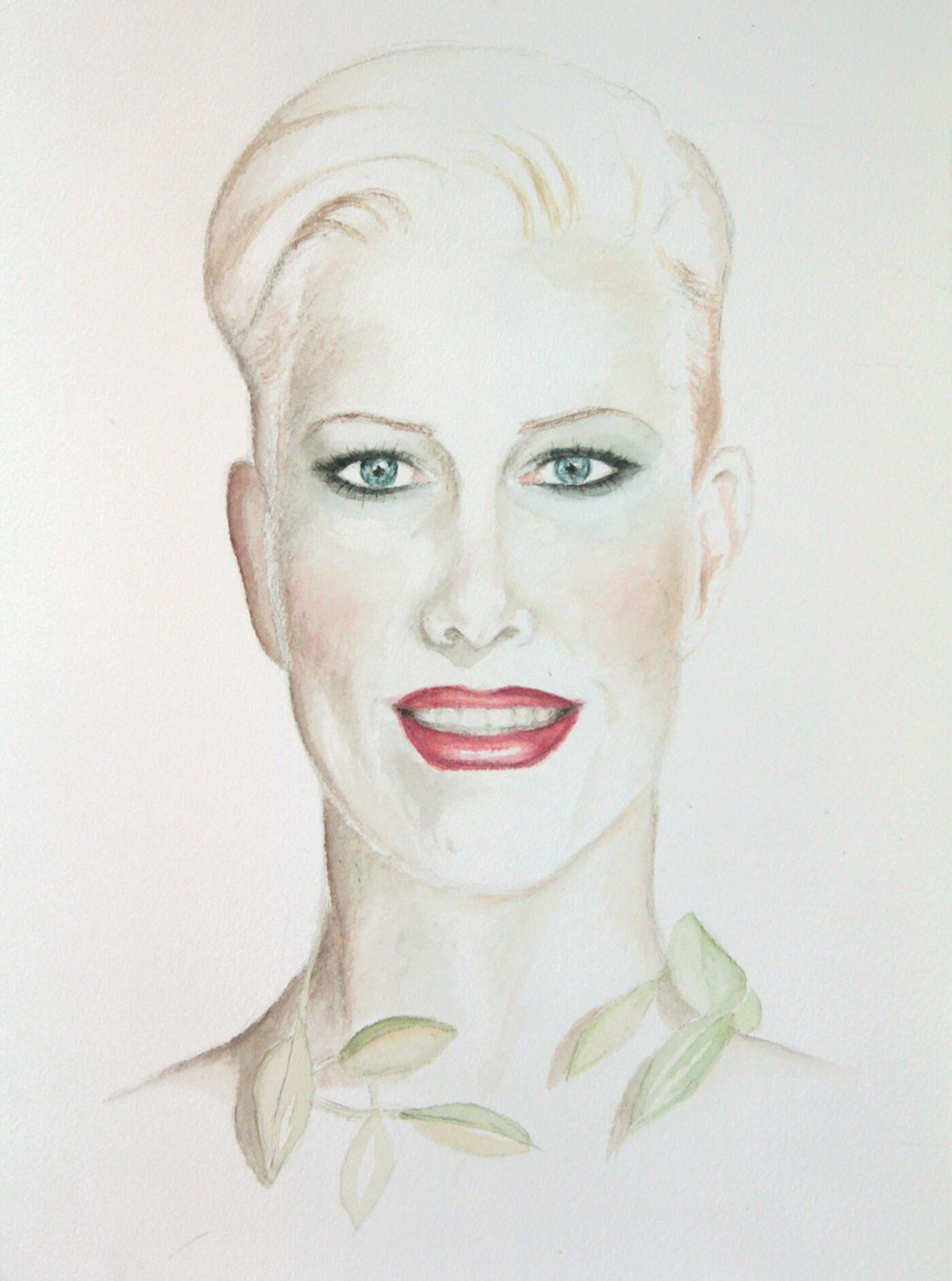 In the early 1990s, Justin Vivian Bond lived in San Francisco, and would soon move to New York where we were both part of the cohort living through the darkest times of the AIDS epidemic, changing all of us forever. This was the time of Kiki and Herb, the legendary cabaret duo act created by Bond and Kenny Mellman. Most of my friends had already seen them and regaled me with tales of their genius—I seemed a little late to the party.
The first time I saw Bond perform as Kiki DuRane was a few months after 9/11. On the day of the performance at Westbeth Theatre, my friend, the late painter Frank Moore, who'd been battling AIDS, told me that he now had non-Hodgkin's lymphoma. As we talked on the phone, he could tell that I was crying and said, "Dry your eyes, dress in your finery, and get your ass over to see Kiki and Herb. Their magic will lift your spirits, refurbish your engine, and be good for your soul." Of course, he was right. From the moment Kiki entered—by jumping up onto the bar behind us, singing, snarling, crawling and sashaying across it, making her way up to the stage—I was hooked.
We first met in person in 2003, after the performance of Kiki & Herb: Coup de Théatre, at the Cherry Lane Theater. The moment was brief, but I felt a sense of kinship, which we have been building upon ever since. It has been a transformative privilege to watch V move on and become the mesmerizing trans-genre artist Mx Justin Vivian Bond—performer, singer-songwriter, visual artist, and activist. Viv has the rare ability to make one laugh, cry, and be moved all in the turn of a song, a phrase, or the exquisite rendering of a watercolor. The looping and interlacing of the personal and the political, the public and the private, in V's work continually enthrall me. I try to catch Justin Vivian Bond in performance as often as possible. There is a transparency of process happening in the moment and, when the fairy dust settles, I come away feeling elated and inspired.
—Joy Episalla
Joy Episalla So we're talking about your upcoming show at Vitrine gallery in London, on Bermondsey Street. My best friend lives two doors down from there.
Justin Vivian Bond Oh really? I used to live right by there, next to the London Bridge Station, above the Hepatitis C Trust. I'd wake up in the morning and scream, "Put me on the waiting list!" (laughter)
JE Your exhibition is called My Model / MySelf.
JVB In the window of the gallery, I'm going to have a step and repeat backdrop—a wallpaper with Karen Graham's face and my face and leaves in a repeating pattern. There will be a red carpet and a velvet rope and a plant and it will all be lit. During the opening night, I'm going to stand in the window and model in a pink dress. I was looking through Victor Skrebneski's book with photographs of Karen Graham for Estée Lauder. Googling the designers of her dresses I found out that at least three of them had died of AIDS. So that day I went down some crazy AIDS hole. It just triggered me.
JE It's connected to your history.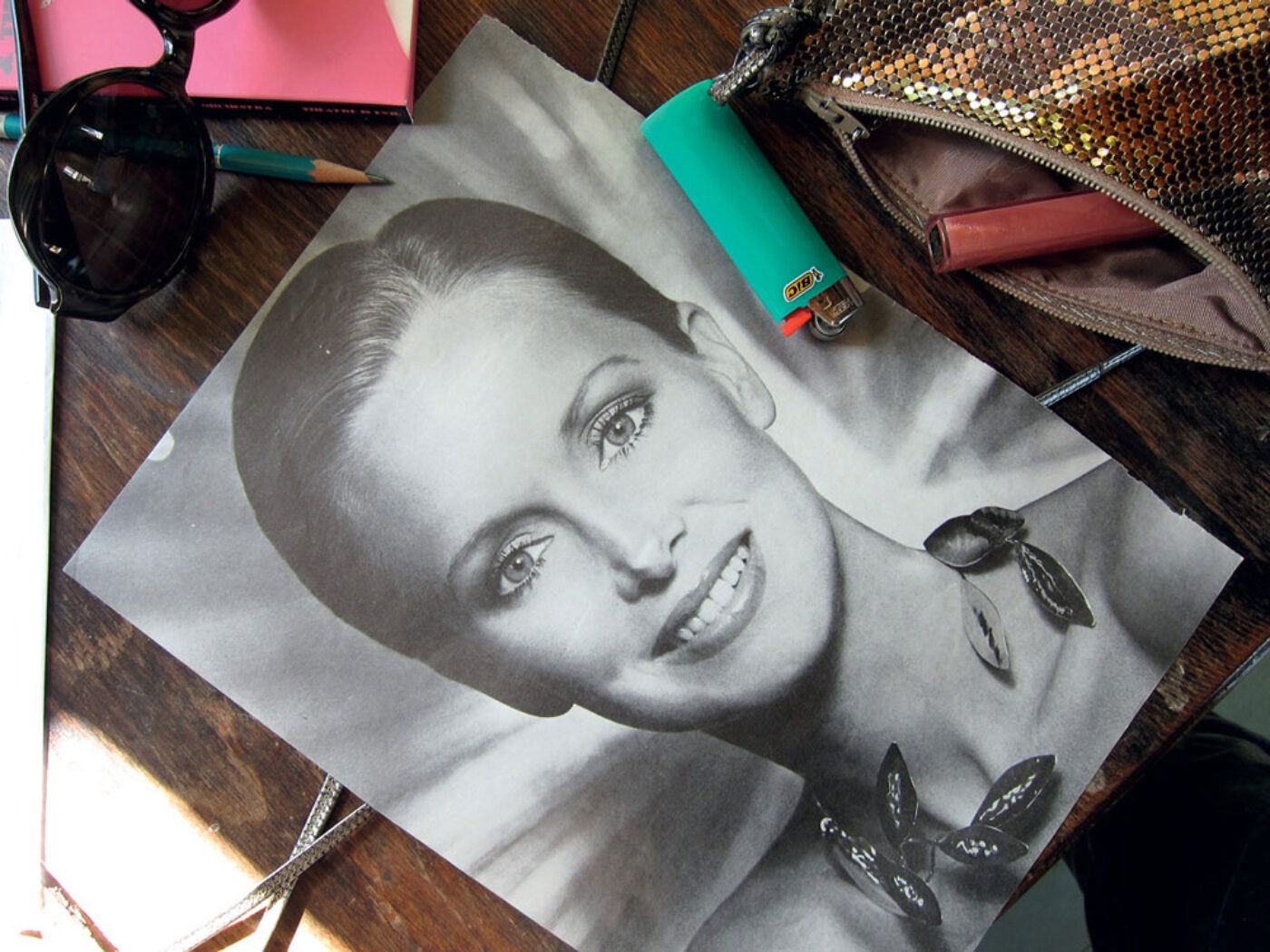 JVB Karen Graham represented an aspirational, white woman of elegance and she embodied an American ideal in the '70s and '80s sold by people like Calvin Klein and Ralph Lauren. But it was really started by Estée Lauder herself, a little Jewish lady from Queens who made this ultimate shiksa the face of her brand. And Billy Baldwin, a queen from Baltimore, became a top decorator of that era. They basically created the environment and the aesthetic of the ruling, elite class who oppressed them.
JE There is a deep irony there. How did you first encounter Karen Graham?
JVB I actually thought she was Estée Lauder. I didn't even know her name until after she was no longer a model.
JE The complexity of how you understood her image echoes the disjunction you grew up with as a trans child in a heteronormative environment.
JVB Yeah, there's no one for you to attach your identity to, or form your identity with, or against.
JE You discovered an outlet, someone who resonated for you, and only years later you realized, Oh my God, that image, that person has always been in my head.
JVB Exploring that identity, dismantling it in a way, while maintaining the obsessive quality through the eyes of an adult, has been very powerful. I've been under its spell. It's not necessarily a healthy spell, wanting to be an aspirational white woman of elegance. It means you're never actually going to be what you are aspiring to be, because aspiring to something implies that you are, in fact, not that. I like to keep the white part in there too because it begs the question of what it is to be white and it frames "whiteness" as other.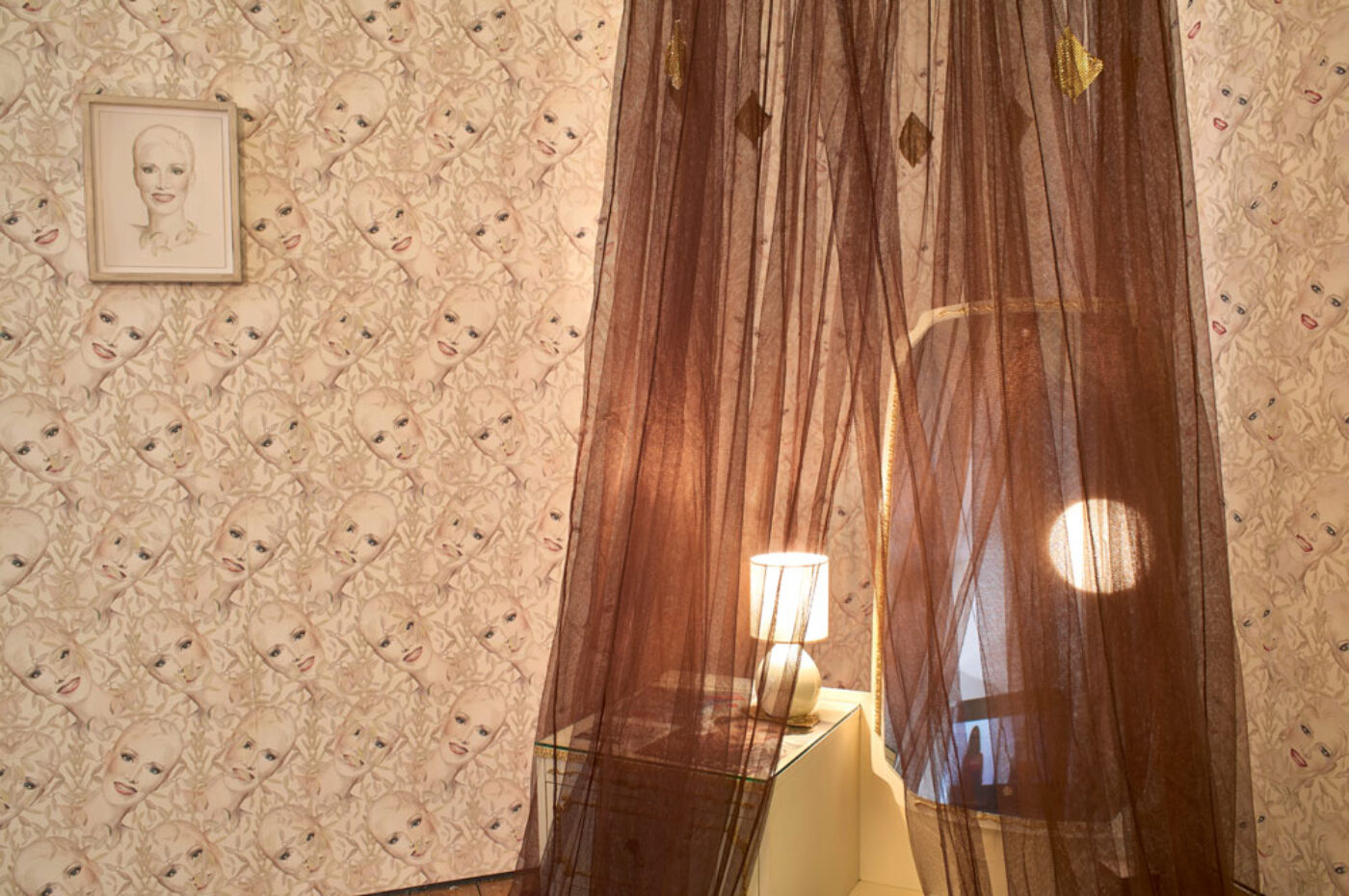 JE I can tell that you read a lot and that seeps into your work.
JVB I read poems a lot. I appropriate and put texts into my show the same way as songs. Obviously I don't just go up onstage and do somebody's lines without crediting the writer, at least not intentionally. For instance, my show The Drift was inspired by the Tennessee Williams novella The Roman Spring of Mrs. Stone, and I read entire passages from the book onstage.
JE I saw The Drift three different times a few months apart. Each time the performance evolved and became more layered. I think your process of drawing from a range of sources and the fluidity with which you manipulate your material also plays into gender fluidity.
JVB It's all rooted in an idea. Nothing is really fact-based but nothing is really false either. I don't know if I'm making any sense now.
JE It does make sense. What I'm getting around to is process. I have the impression that you walk onto the stage with a text and ideas you may use, but there's a lot of—I don't want to call it improvisation, but I hear it happen in the moment. You're playing your instrument, which is not only your voice but also your thinking. It's exciting for us in the audience to see it come together and see how you can turn on a dime.
JVB I'm not one of these people hell-bent on setting the program, then sticking to it no matter what—thinking that after having written everything out, and performing it in the correct order without fucking up, I have succeeded. I can't work that way because then all I do is concentrate on the task of remembering some shit I thought was clever several weeks ago but the performance is just dead, boring, an exercise in recreation. I just can't force myself to care under those circumstances. There are no stakes.
JE You wouldn't be in the moment.
JVB Also, I'm not skilled enough to reimbue the lines with the intensity I felt when I was writing them. So it's more important to keep everything live—for instance, I read three paragraphs of something and after the first one I think, I better stop here. You can tell when you're pushing people. You're trying to impose on them what you believe they should hear as opposed to actually communicating with them. It's important for me to be attuned to what's going on. I'm feeling the vibe of the crowd.
JE Let's talk about the songs you choose to sing. I love the way you're able to envelop me in a song, but at the same time you are adding layers of meaning to it. There is the interplay between the personal and the political. Even though I'm looking at you, and you're looking at me, and you're telling me something, you're also telling me something else. That's the catch. That's the best part.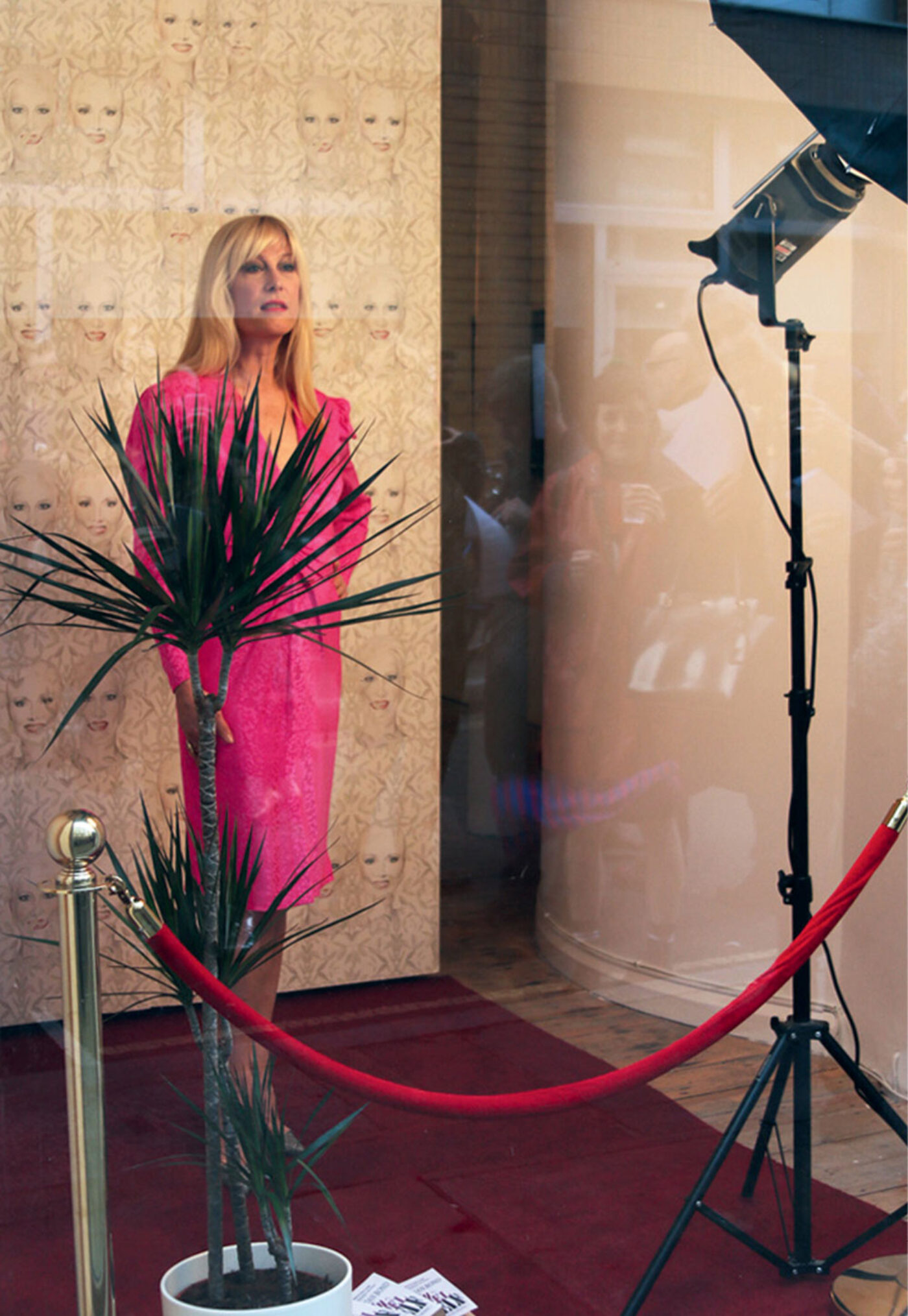 JVB Not everybody has a clue that it's happening, which is awesome. Sometimes drunk straight people come up to me and want to lecture me about sexuality and gender. Do they really think they're going to deliver any profound illuminations on that subject? So I just act a little drunker than them and say something ridiculous and scare them off. It's the kindest way to deal with it. There's no point in arguing with people when we're not even talking about the same thing. It can be fun but it's also scary. People can have a violent reaction to something because they have no clue what's going on. It's out of their psychological realm to actually understand the subject. Which is sad, but it's also not my responsibility to educate them. A new paradigm is here—it exists and there're plenty of us seeing it. Obviously, there are a lot of things I myself can't understand, but I'm not going to start pontificating about them.
Let's face it, though, part of my job is to charm large groups of people, and as I've gotten older, I've begun to see that particular part of my job as very uninteresting, tedious, and energy-consuming. Over the last twenty years I've spent a huge amount of time trying to charm crowds.
JE It's taken its toll.
JVB Well, it's taken away from the time I could've spent with the people I deeply care about. At least I've figured that out, so now I'm focusing on the people in my intimate circle who really matter to me and it's enriching the quality of my life.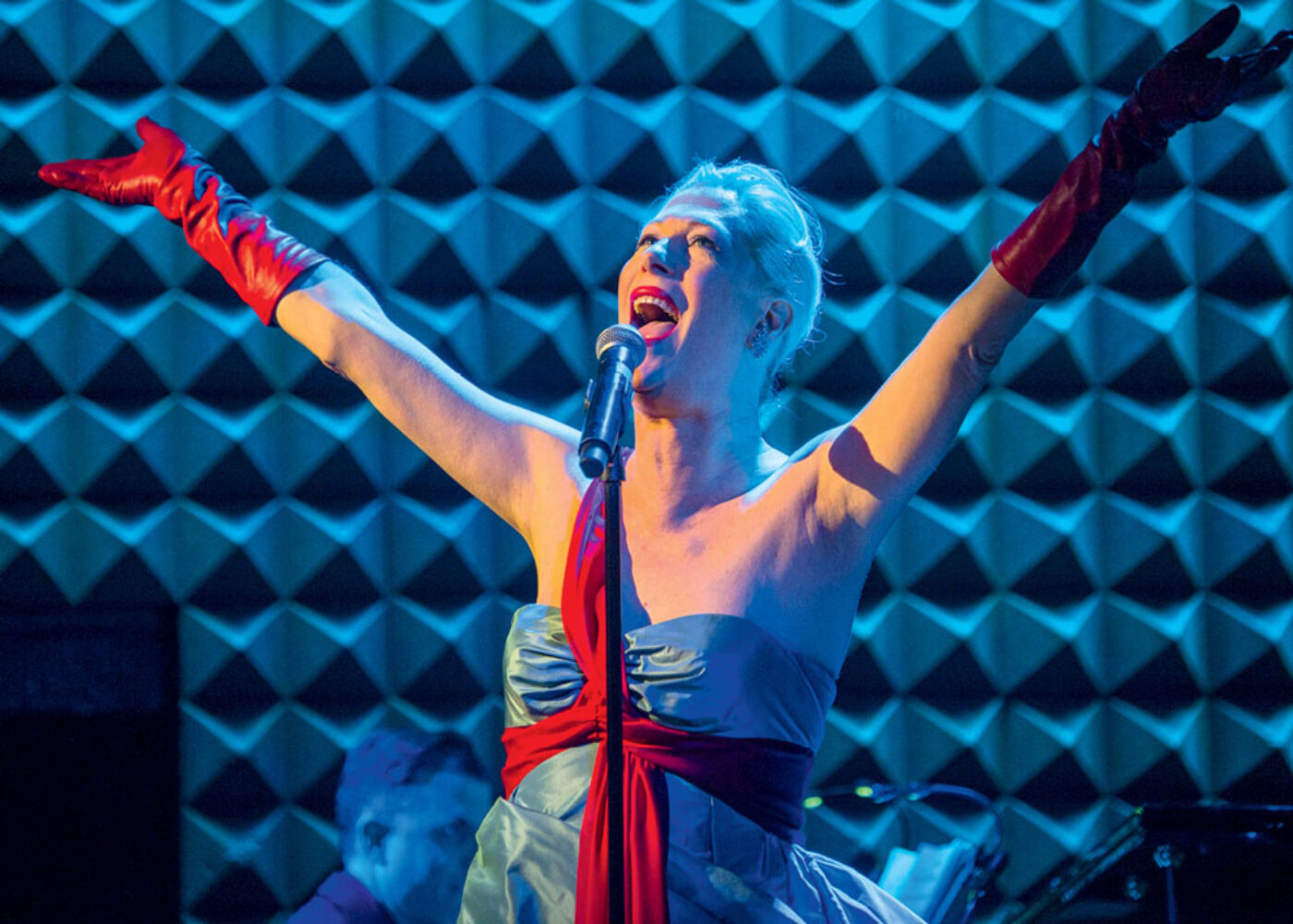 JE What is it that appeals to you about covers? Is it certain artists? Is it the way you're able to imprint yourself on the song?
JVB I'm not recreating a song, I'm singing a song. I could go through each song and have a different story for why I do it.
JE What about "22nd Century"? Obviously, it's like an anthem.
JVB I was working with my friend Charles and a choreographer and a dramaturge on a show based on the writings of Joan Didion for what eventually became Lustre: A Mid-Winter's Transfest, in 2008. I had this whole concept in my mind and we started to brainstorm. But I got incredibly frustrated because they were from the dance world, where they spend hours and hours collaborating. Their process was very different from mine. I just want to make decisions, put it together, tighten it up, and present it. I ended up not working with them. I love them all but it just wasn't the right thing. 
So I called up The Pixie Harlots and Nath Ann Carrera got on board and it became what it was. But during my rehearsals with Charles and his people, Tali Bogen had brought that song "22nd Century" in and played it for me, and I thought, Oh my God, this song's fucking amazing! It was really hard to learn. I just messed up and messed up, but I put it in the show. I first performed it with Our Lady J on piano, a cellist, a flutist, and sometimes a guitarist. Later I started playing it with just Nath Ann on the guitar. It's so much more immediate and intense with just the two of us doing it together.
JE Yes, and so beautiful.
JVB I sing it like this, "In 1980 a plague struck the earth and bloodletting was the thing that was, 1988 men and women struck out for freedom, they said there was no reason there was no cause, 1992 was ripe all the way, guns and bugles blaring throughout the day, right wing left wing, middle of the road, backwinder, sidewinder whiplash, backlash, liberation of women, liberation of men and everybody hanging their head low… ." In the original it says 1972 but I changed it to 1992 because that way it talks about the successive years, which to me represent the activism during the Reagan era in reaction to the AIDS crisis.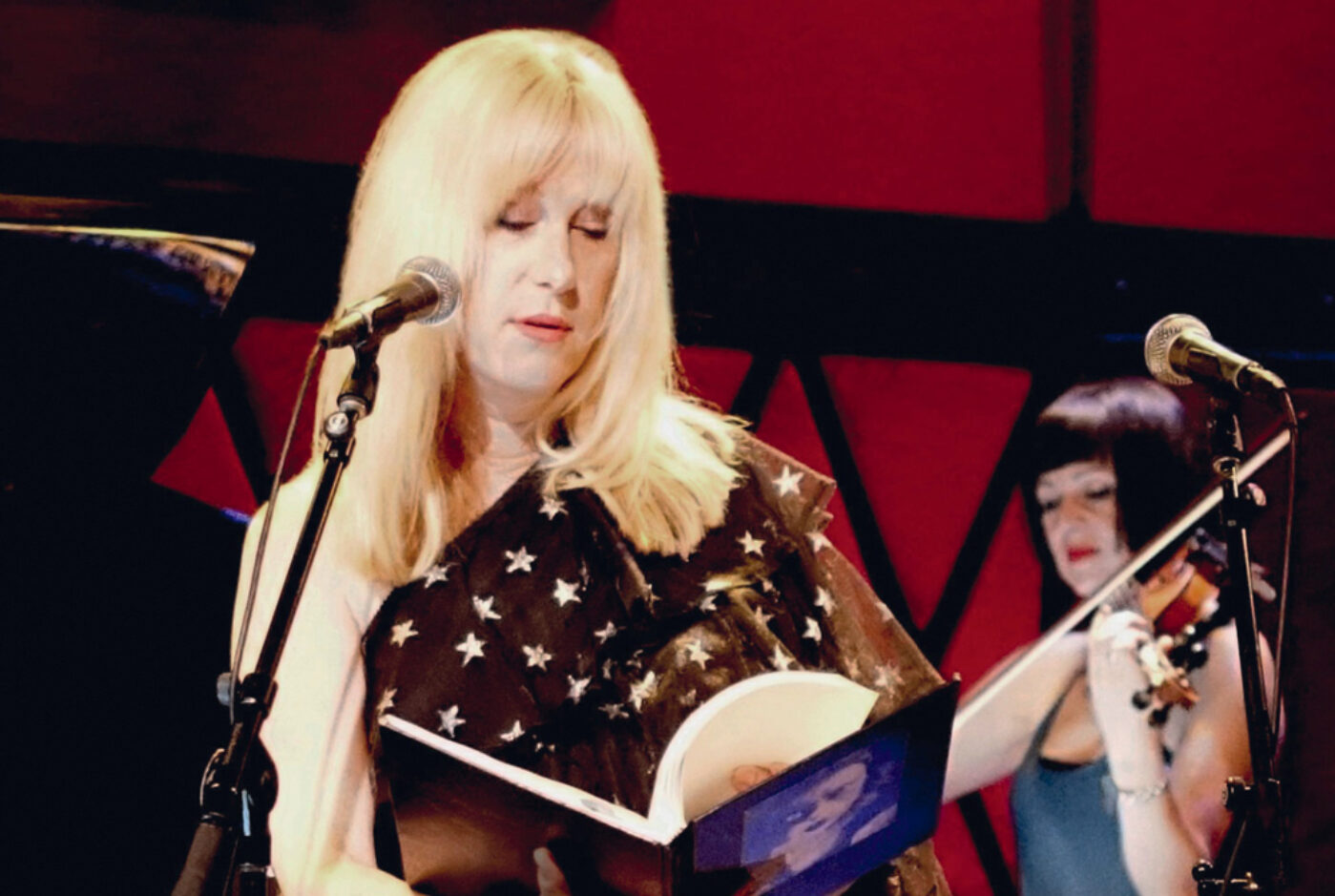 JE When you do this song that's exactly what I'm thinking about.
JVB I first heard Nina Simone singing it, but Exuma wrote it. I don't think his intentions behind that song were anywhere close to what I've turned it into. The song resonated very deeply with me. When it goes, "Sex changing, changing, woman is man, man is woman, even your brain is not your brain," I don't think he was saying that in a positive way.
JE But you are. And that's what's so liberating about hearing that song. During the AIDS crisis in the late '80s and the early '90s, you were in San Francisco and I was in New York. What we all experienced deserves an anthem.
JVB Right, and it's an eco-anthem too. For us who lived through that, it's like, Check, I'm with you.
JE "Patriot's Heart" makes me cry every time I hear you perform it.
JVB Mark Eitzel wrote that song. Kenny Mellman brought it to me. Of course we had lived through that, both of us having grown up in San Francisco. When we met, Kenny was in college and I was maybe twenty-six. We'd go to the bars where our friends worked and where these boys would be dancing. We had no idea what was going to happen to them. I had lived in DC in the '80s and I wasn't really that aware of AIDS, to be honest with you. That wasn't my reality in my early twenties. But then I got to know it well enough.
JE I did too.
JVB I used to go to this bar in DC called Tracks, which was on the edge of town, and it was the most fun I've ever had. There was another place nearby called Ziegfeld's. It was all tacky show-biz fabulousness and the drag queens would come in and do their lip syncs. Then you'd go through a door and there was the male stripper bar, and it was all dark and smelled like poppers. Such an amazing place in the shadow of the United States capital. These young guys were dancing naked on the bar and you're there, feeling young and alive and gorgeous. It's all gone now. Being true and honest in a capitalist society—sex workers, performers who are just trying to survive—there's something extremely noble about that to me, very clear and direct. It's also a dangerous world for many reasons; so "Patriot's Heart" is describing this scene as beautiful, against the hypocrisy of people exercising power over the powerless.
JE Kiki and Herb performed that song.
JVB It's one of the few songs from the Kiki and Herb days that I continue to perform because it resonates with my own life. I just couldn't not sing that song. Kiki had been a burlesque dancer in Baltimore in the '50s, so it was a great song for her to sing.
JE Then, of course, there's "Golden Age of Hustlers," about the San Francisco hustler scene in the years before AIDS.
JVB Written by Bambi Lake. I first heard that song in the early '90s. She and Jonathan Bassil wrote about five songs and before I moved to New York she gave me the EP. I carried that cassette tape around with me forever and eventually digitized it. Bambi leads a difficult life with mental health and addiction issues. I felt that these songs should be heard. We have to tell our stories and the stories of those we've lost to get people to see things that are around them but which they don't necessarily acknowledge.
JE We are the witnesses and we have a responsibility to the people we've lost.
JVB For me, spiritually, it's really important to contextualize my work, or your work, with the people whose work should have been alongside ours. If I hadn't been friends with Miss Kitty Litter Green, whose portrait is on the wall over there, or Jerome Caja, I can't imagine I would have been compelled to do the things that I did when I moved here to New York. To host the club Cream at Cake where I presided over a Big Load contest where people would jack off into condoms and we'd weigh their load on a drug scale and whoever had the biggest load would win a prize. Or to fluff and photograph contestants for the Pretty Penis contest on stage—for me that was liberating and important political work. 
I had been this little Christian kid from Maryland trying to get over that, and Miss Kitty and Jerome took me places I would've never gone to—just crazy shit we did. When they weren't around anymore, I felt compelled to continue spreading that kind of joyous and free sexual energy in a public arena. I considered it to be a mission because their freedom had, in a way, liberated me and this gave me a sense of responsibility to try and do that for others. Blow jobs for Jesus, really! (laughter) I'd get up on stage and expound on the joys of sexual liberation at a time when everyone was terrified of queer sex and even people within our own community were trying to shut it down.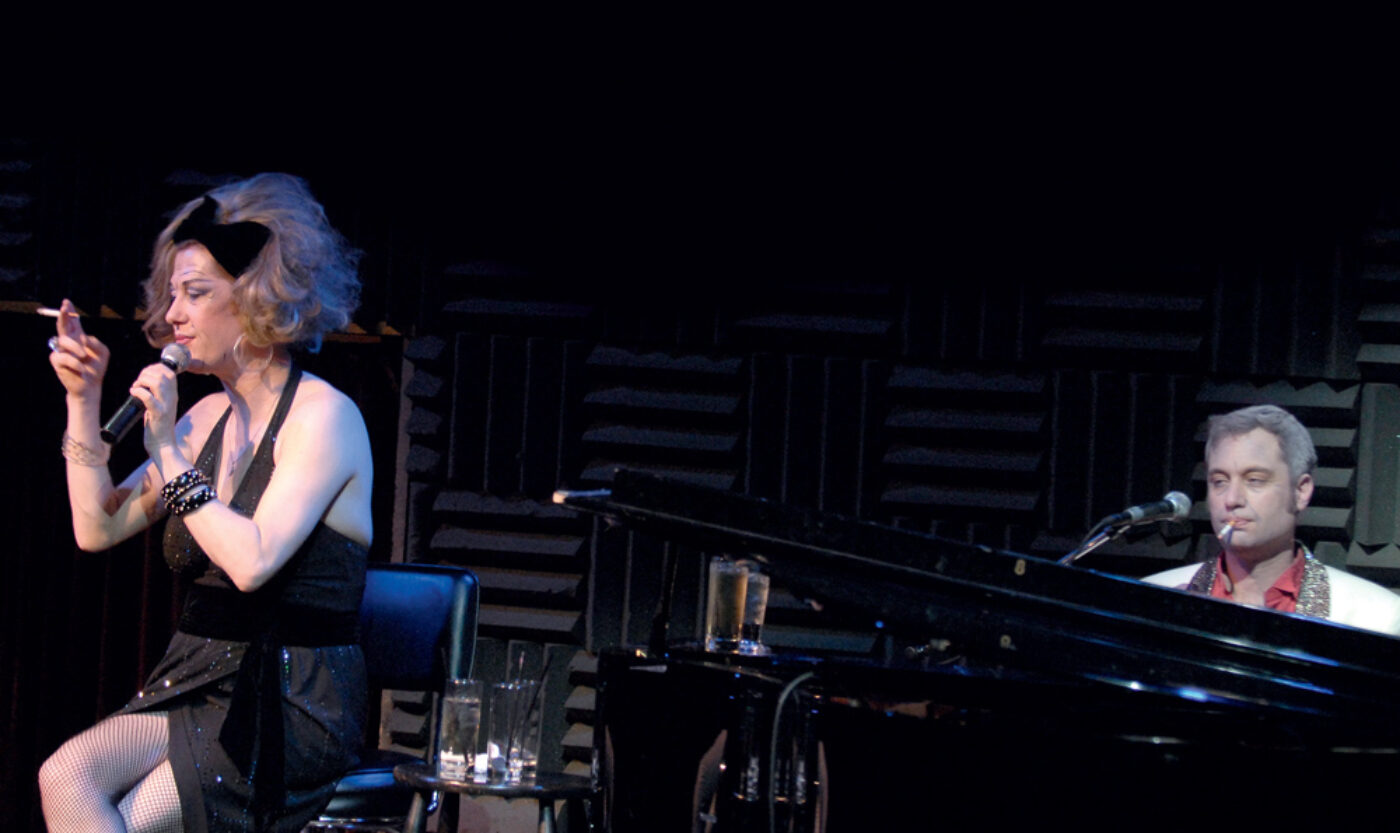 JE I remember that night at Westbeth when you, as Kiki, came out across the bar.
JVB Kiki was an entirely different kettle of fish, but that's right, I jumped up on that bar. The thing was, I never wanted to be that character but it was something I had to do. I wanted to be in a beautiful dress and be glamorous, and all of that, which I was to a certain extent. But I never imagined that I would go to Carnegie Hall as Kiki. It was really rewarding and important for me and for the audience who came with me, but I never expected to make a name for myself as a character or a persona. That came as a confusing surprise.
JE Kiki transcended certain things. When I saw Kiki and Herb a month after 9/11 at Westbeth, I was still feeling unsettled, especially in large enclosed spaces with lots of people, and Kiki said something like, "I guess you're all wondering if there's anything still outside."
JVB Those weren't my exact words but it was December 2001. That year our holiday show was called Kiki and Herb: There's a Stranger in the Manger.
JE In the midst of this wild performance, you were able to verbalize the general unease that sat just below the surface. That ability you have, to be transcendent and ironic at the same time, is rare.
JVB To me, that was the golden era of Kiki and Herb. I was thirty-one when Kenny and I left San Francisco. The period between Flamingo East and Fez, from 1998 to 2001, was a magical time; a whole community coalesced around our shows. The last show we did at Fez ended on Labor Day weekend, the week before 9/11. The name of that show was Stop, Drop & Roll, where I was going off on Middle East politics and on the way it was reported on, like CNN exploiting these stories of horror—fetishizing the violence but not explaining any of it, which really dehumanized the citizens of that part of the world. And of course we were providing most of the weapons. It was all so skewed and it was obvious to me that we were all fucked. That was what the show was about! A week later—
JE —we were really fucked.
JVB Well, Kiki warned you. Did I conjure it? I don't think so, but it was so visceral for that character and for what we were seeing around us. It was like, of course 9/11 happened. And then after the actual hijacking, the hijacking of the narrative was so utterly shocking.
JE Everything got hijacked afterwards.
JVB The whole world changed and at that time I was, I would say, somewhat reinvigorated creatively because of the insanity of the Bush administration— the stolen election, the homophobia, the ultra-conservative agenda, all of it. Everything that was going on was like Back to the Future. But my creative resurgence quickly wore out because, like so many others, I think I was going through PTSD. First AIDS, then 9/11, I mean, really. I felt like, I don't want to be here, so I'll just check out and do a lot of coke and keep screaming for a couple more years till I can't take it anymore. (laughter) That's basically what I did. Fortunately, the "keep screaming years" were at Carnegie Hall and on Broadway. But those weren't particularly satisfying years for me creatively.
JE But you've made a very interesting transition forward.
JVB Yeah, thank God. Kiki and Herb allowed me to do a bunch of things I'd always wanted to do when I was a kid—so when Kiki and Herb ended I was able to walk away, having accomplished those goals. Then I set about recontextualizing my work in a more personal, satisfying, and I guess you could even say adult way.
One of the reasons I love cabaret so much is that Kiki and Herb created the world that they lived in. That character Kiki, her makeup, her costume, were very specific. Kiki and Herb existed wherever they were playing.
JE It was happening in real time.
JVB And in a real place, except for the video we did for Total Eclipse of the Heart, which was made with flashbacks. I'm always where I am when I'm doing cabaret shows, like when I did Lustre at PS122 (2008) and Re:Galli Blonde (A Sissy Fix) at The Kitchen (2010). I worked with Machine Dazzle to create these incredible sets. Machine is a genius visual artist who came up with representations of things we had discussed. For instance, the Galli, who were gender variant priest/esses of the ancient Etruscan goddess Cybelle, grew their hair long and bleached it blonde. One of their sacred rituals was that when someone died they would cut off their hair and hang it from the trees. So Machine suspended branches from the ceiling of The Kitchen and covered them with all of this blonde hair representing the hair of our departed trancestors. It was gorgeous and chilling.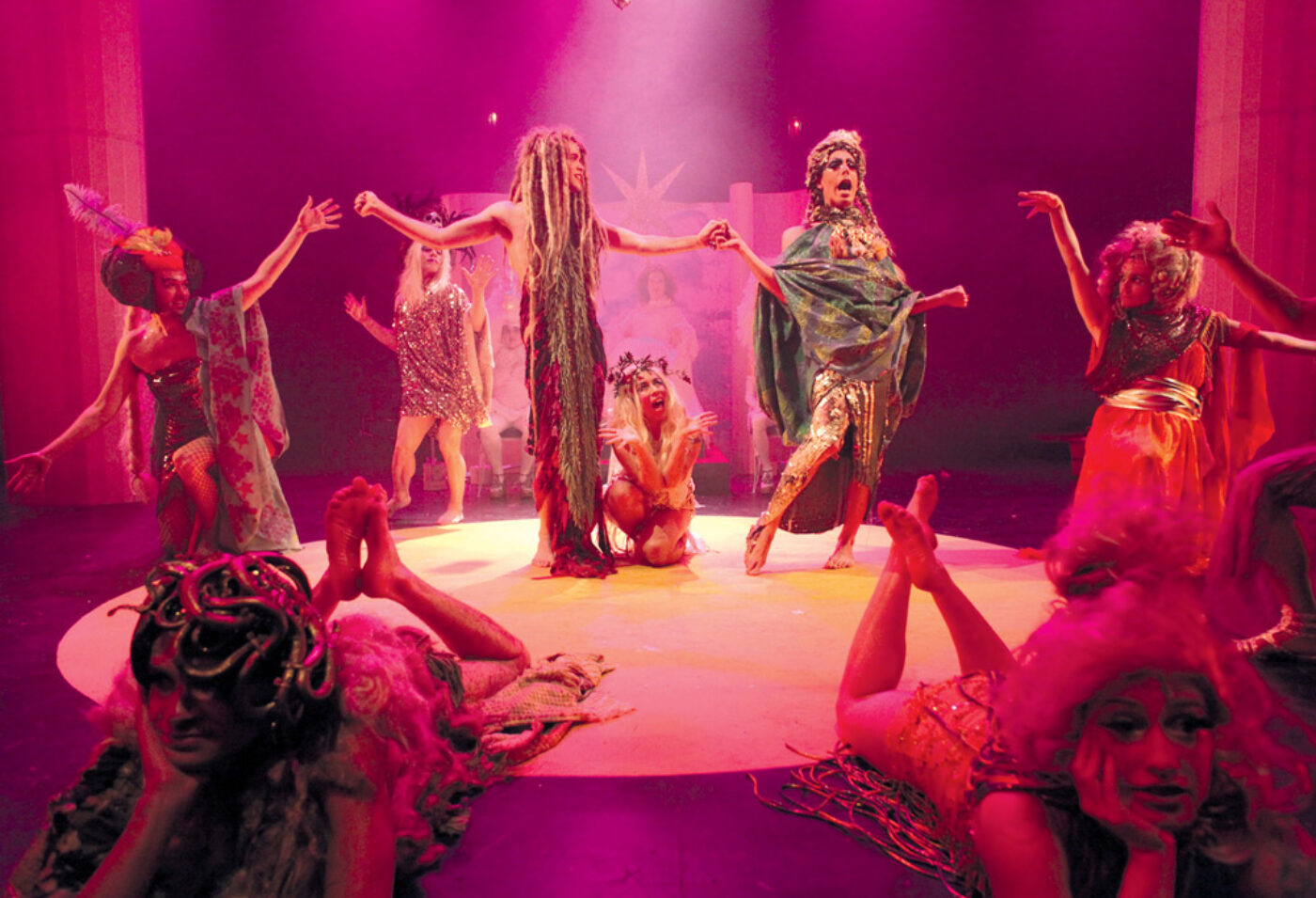 JE I was thinking about the notion of traveling and honoring nature and being outside the gender binaries. It's like utopia. Traveling to something. A lot of the time you seem to be talking about utopia or dystopia.
JVB Well, that's what the Galli did. They built little stages and did their shows in honor of the goddess, and that's what we did.
JE Let's talk about the different hats you wear. You are a performer, a songwriter, a curator, a visual artist, a writer, an activist …
JVB I call myself a trans-genre artist. There's a word for it—having a horizontal practice—but that just sounds dirty. (laughter) I'd only had two solo exhibitions before this one in London. In my show at Participant a couple of years ago, I had mostly watercolors of radical fairies and friends of mine, and I used furniture from my own house, which was being torn down in order to build a glass, steel high rise. It was about that history being erased by the capitalist system so I preserved it temporarily in the non-profit art space down the street. 
This new show at Vitrine is more personal. Sitting in my exhibition, with nobody else there, knowing that exactly what I want is on the walls or on the floor, that the story I'm trying to tell, basically to myself, is there—if I want to change anything I can—gives me an overwhelming sense of satisfaction. It's just like, Oh my God, this is amazing! When I walk out of the room I can carry that with me.
JE Now it's no longer in your head. You're completely immersed in it.
JVB It's different when you're performing because everything is in flux. It's not like you do the rehearsal and you can walk out and leave that show as you would want the audience to see it, and then you can go back and revisit it.
JE After that moment in time, it's over.
JVB Performing can feel great and satisfying while I'm doing it, but I'm often forced to relive it through whatever people say about it afterward. It's wonderful to receive compliments but it also separates you from your own experience. I do love the applause and the moment where we're all like, Oh yeah, we just shared this, but then when it's over you just feel so completely naked and vulnerable—while you're still in that space where your mind has expanded to take in whatever the universe was throwing at you during the performance.
JE You're open.
JVB Yeah, you're letting it fly and it's happening. But then you come offstage and find yourself in that middle space where you're the most vulnerable. You're not really yourself yet, and you're no longer what you were on stage. That's when you have all that energy coming at you, usually from people you don't know so well, and it can be really intense. Then you have to run away or drink something or be around people you know who create a safe space around you so you can unwind.
JE Your exhibition My Model / MySelf is a pretty deep journey, also time-wise—holding onto something, your obsession with Karen Graham, for so long and then coming back to it.
JVB Ironically, it's about how I, as a young trans person, identified with this ideal of ultimate femininity. As an adult, I realize that she was an icon representative of capitalist society and designed to perpetuate an ideal and to sell things.
JE But she also gave you an opportunity to hold onto a certain kind of vision.
JVB Exactly, a vision of who I was or who I wished to be.
JE That's a radical repositioning.
JVB When I was admiring and loving her and desiring to be that idealized creature, I wasn't thinking critically. She was there to sell me an identity, and so I bought it. An identity that I couldn't even begin to have.
My interest in her wouldn't have been rekindled if I hadn't found out that she went on to become a fly-fishing instructor. I found this interview with her where she talks about being a child and sneaking off into the woods to play with the tadpoles and to sleep naked in the moss. 
When I left Kiki and Herb, I went up to the Queeruption festival in Canada with Nath Ann—we literally had just met—and we pitched our tent over this little indentation in the forest that was just moss, and we laid with each other in this bed of moss for a week, and that was a rebirthing for me into who I am now. If I hadn't read that article about Karen Graham and her relationship to nature—
JE —you wouldn't have noticed all the connections. She wanted to be out in nature and be a real person.
JVB She wasn't into those guys who would sit with the sun reflectors working on their tans. (laughter)
JE In your essay on Karen Graham in the 2014 Feminist Press anthology ICON, I read that you were already recontextualizing as a young child without completely being aware of it. For a young person, it's an important revelation: you can know something about yourself, but not everybody else needs to know.
JVB I was mentoring four performers recently at the Tyrone Guthrie Centre in Ireland. We created a space with the five of us, wherein they could be as vulnerable as they needed to be, without any judgments whatsoever—with critical thought but not critical judgment. They got to be incredibly open with their feelings and thoughts, and with their attempts. It was beautiful and moving to watch their experimentation. After about five days of that I said, "It's good that you can get to that place while we're here but you don't need to do that anywhere else. Just because you're capable of it doesn't mean you need to share it. You can change it, you can use it in whatever way you need to."
JE What a gift that is, what a keepsake.
JVB I wish someone had told me that when I was young. I wish I'd had a place where I felt safe enough to be vulnerable. But I didn't—not with my family and not in my acting school.
JE Seeing you perform and looking at your art, hearing you read, being with you across the table, gives me that serene sense of grace that you have.
JVB Thank you. I probably got that from my grandmother. She used to tell me stories about the old days. I hardly remember them but in her presence I learned how to be a witness for what she had witnessed and how to tell stories myself. The gift she gave to me was the grace of listening and from that I learned how to just be.
BOMB's performance interviews are sponsored in part by The Select Equity Group Foundation.
Joy Episalla is a multidisciplinary New York-based artist who has exhibited in the United States and in Europe since the 1980s. Episalla is a founding member of the lesbian art collective fierce pussy. Her solo exhibition Street View Rear Window was shown at Participant Inc. in New York this past spring.
Originally published in
Featuring a cover with hand-drawn verse by Eileen Myles. Interviews with Carolee Schneemann, Nicole Eisenman, David Humphrey, Maggie Nelson, Justin Vivian Bond, Robert Grenier, Leigh Ledare, Chris Kraus, Moriah Evans, and more.