The director of New Museum's residency/incubator hybrid talks about her plans for the program.

Discover MFA Programs in Art and Writing
A few weeks ago, the New Museum announced its newest initiative, NEW INC, and an attendant open call for members. This latest venture will not look like many models which have come before: neither a residency program, nor a research and development program, or a lab proper, NEW INC accounts for the recent history of makerspaces and coworking spaces to create a shared workspace emphasizing professional development and collaboration for members working in the areas of art, technology, and design. The INC in the name points to both incubator—a model for production that this new initiative draws upon—and incorporated, suggesting that the members of this program will develop products, businesses, and commercial arrangements that are outside the usual scope of museum practices. With NEW INC, the museum looks to put forward a model that sets aside the historic tension between museums and commerce.
The eventual activities of the members will constitute the foundation of the program. These activities will be guided by Julia Kaganskiy, former global editor for the Creators Project and founder of the #ArtsTech meetup, with her tremendous ability to define a shared vision for a community and foster collaboration within it. Shortly before the announcement of this new initiative, Julia and I spoke about her vision for the program.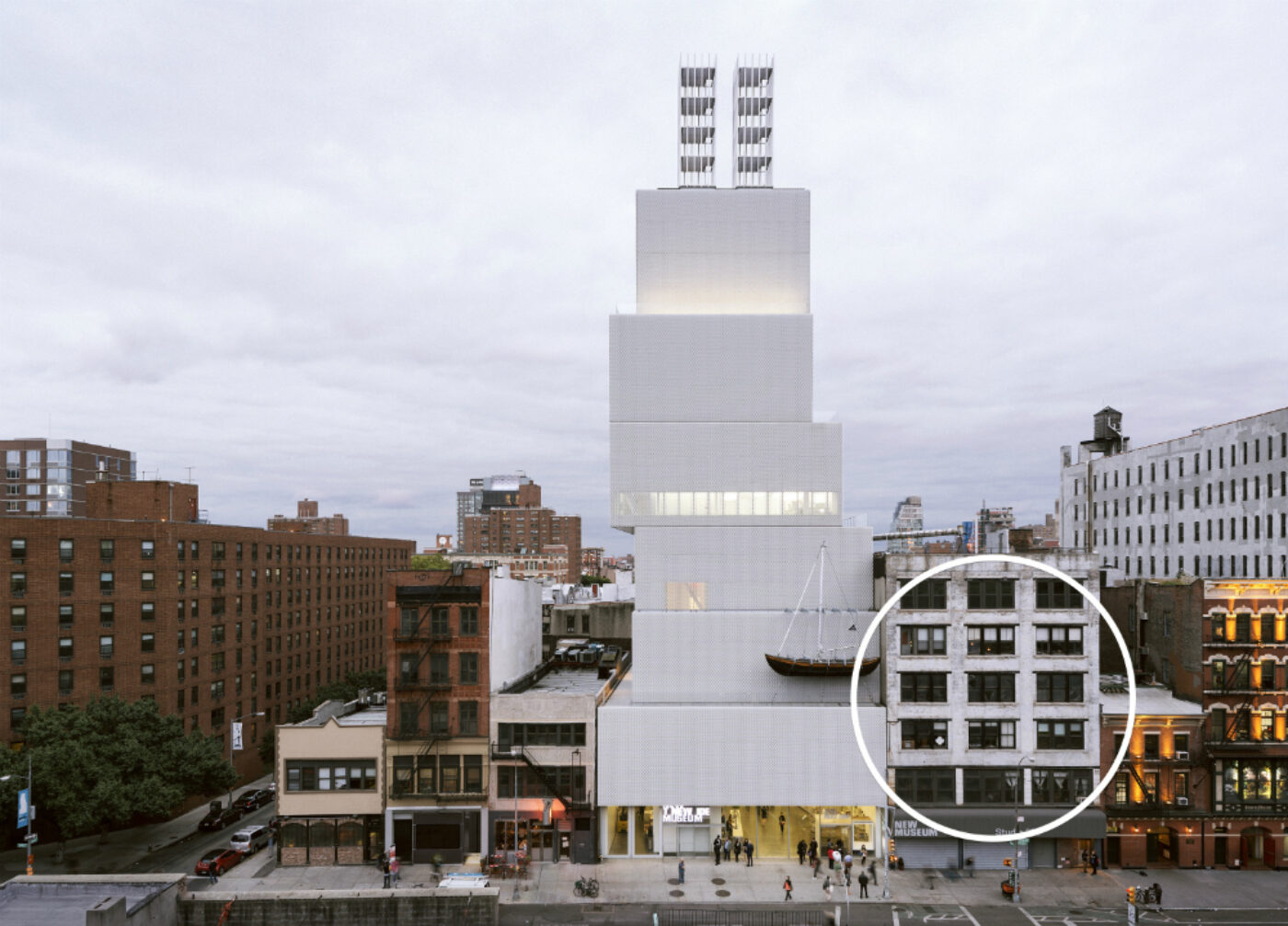 Emily Zimmerman How have the plans for NEW INC developed over the last few months?
Julia Kaganskiy I came on board on January 2nd and started working on fleshing out the incubator program. The first few weeks have been dedicated to defining the scope, the vision, and the mission, of what it is that we're doing, and trying to find the language to articulate that, which has been challenging. It feels like we're forging a new model here. We're taking inspiration from things that already exist, but maybe not aligning 100% to those existing models. A lot of the language that is out there about incubators, accelerators, or artists-in-residence programs, is fraught with all kinds of connotations and expectations. Essentially, baggage that we don't necessarily want to bring into the new initiative, right?
EZ Yes.
JK I've been looking a lot at a bunch of different models and programs, be it business incubators or co-working spaces, the artist-in-residence programs that we all know and love, university research labs like MIT Media Lab, and some historical alternative school models like the Bauhaus and Black Mountain College, as well as contemporary alternative education programs like Public School, Trade School, and things like Skillshare, that are really empowering practitioners to teach one another and share various skill sets. A lot of this is informing the way we conceive of our incubator community and how our program is going to be structured.
EZ What will the physical space of the incubator look like?
JK We have 8,000 square feet, the entire second floor of 231 Bowery, the building next door to the museum. Then there's 3,000 square feet of artist studios on the 6th floor that are going to have rotating exhibition-related residencies selected by the museum's curators. The artist residencies are a slightly separate program, though we're hoping that there will be some interaction between the artists and the incubator community. The incubator will have shared workspace with dedicated desks for full-time members and communal desks for part-time members. We're anticipating roughly 40 full-time members and 40 part-time members. There are also two anchor tenants in the space, Columbia University GSAPP Studio-X and Rhizome. It's possible that one or two other museum programs like Idea City, The Digital Archive, or Museum as Hub will also move into the incubator, but Rhizome will definitely be there. The front room looks very much like your traditional coworking space. There's a kitchenette area and some social areas. There are two shared conference rooms. There are two small booths for phone calls or intimate meetings, and then there's the Studio-X area. The second room will be more of a maker inclined space. That room is going to have a small fabrication lab. We're keeping it simple to start, so we will probably have 3D printers, some soldering irons and arduinos, Raspberry Pis., and some hand-building tools, things like that. Adjacent to the fabrication lab there's an event space that seats 40, where we can have small screenings, classes, workshops, lectures, as well as use that space more flexibly when it's not being programmed.
EZ The think tank is a model is often seen in opposition to the model of a public institution. The incubator appears to be doing both—inviting the public in and also giving artists the protected space of, say, a closed lab to create new work.
JK In terms of inviting the public in, it's something we're still working out how to approach. That's going to be happening in a very structured way, especially in the beginning. When I say that we have this event space, it is primarily going to be used to host professional development events for the membership community. There is interest in inviting the public in, and certainly in showcasing the ideas and the work that's being developed in the incubator program. In the beginning, this type of programming might take place outside the incubator, for instance in the museum's theater next door, so as to protect the privacy and the work environment of our members. Eventually, I could see us hosting public lectures and classes on the weekends, or something akin to an open studios night, but we really want to include the membership community in making those kinds of decisions to make sure that they are comfortable with being a public-facing space.
EZ There are a number of organizations that are sitting together within the incubator, and I'm interested in how those pieces fit together: Studio-X, Rhizome, Ideas Festival, even the Museum as Hub. Are there ideas for how collaborations will happen between those different entities, or is it now just a matter of being proximate to one another and sharing the same space?
JK Studio-X and Rhizome are the only two organizations that are 100% confirmed to be in the space, and with both of those, I think we're thinking of the collaboration as primarily a programmatic one, at least to start. So partnering with them on lectures, talks, workshops, and so forth, and having them be a voice in the community. In the case of Rhizome, perhaps offering a critical voice and creating a good discourse in the space. In terms of facilitating collaborations, that is something we really want to do, but we don't want to force it, so we're toying around with various models and will probably experiment a bit in our first year. Perhaps it's quarterly design challenges that the entire incubator community participates in. Last year I was really inspired by the city-wide brief to submit proposals to the Reinventing Payphones challenge. I could see us spending a weekend, as an interdisciplinary community and think tank, coming up with some proposals for a challenge like that. Something that unites all the different areas of practice in the space around a shared purpose or idea. One thing that I'm being mindful of is to not over-program the space too. I think we will see a degree of collaboration happen organically. It's more about trying to activate the space and create opportunities for connection, and sometimes that happens best through some sort of really simple social interaction, like having happy hour beers on Fridays.
EZ Will members be chosen to create a composed group whose interests work well together, or will selection be driven by who is doing the most interesting projects in a vacuum?
JK It will definitely not be selected in a vacuum. We will be assessing members' work, ideas, and proposals on the strength of their own merit first and foremost, but then once we make the first pass of people, we're going to be doing in-person interviews. In addition to reviewing the skill sets and the projects and making sure that they make for an interdisciplinary mix of complementary interests and skills, we also want to make sure that the personalities that we have in this space mix well too.
EZ How will intellectual property issues be handled?
JK At present, the museum does not plan on taking a stake in the members' work the way that you might see in a traditional incubator. The members of the space are retaining the rights to all of the work that they are developing. We feel like we have an obligation to educate members on their rights in regards to IP, and I think one of the major aspects of the professional development component is going to be bringing in lawyers to talk about the difference between copyright and patent, or how to apply for a patent, or how to read a contract, things like that. On a personal level, I would be really interested in having a good group of projects that are open source. That's something that I'm really passionate about. I realize it's not for everyone, but I think at least a portion of the people and projects in the space will probably be working on open source initiatives.
EZ The big question in all of this is how does the introduction of the incubator shift the kind of role that museums play in culture at large? It feels like a very significant change.
JK The New Museum's mission is and always has been new art and new ideas, and it is one of the few—maybe the only—institutions in New York that really live by that. They are constantly experimenting with what a museum is and should be in the 21st century. It's my favorite thing about the museum. I think they work in a way that is very fluid, organic, and experimental, and they are driven by the new, so they are willing to break existing models in a way. They confront these tough questions of what is the role of the museum today. I'm interested in how museums can think about their contributions differently. The incubator is an interesting initiative because in some ways it is much more business oriented than anything you would expect to see come out of a museum. To me, however, what that translates into is empowering artists and designers by providing business training. We are at a point where we're seeing so many MFAs being churned out every year, and yet unemployment rates for artists and designers are at an all-time high. So, in thinking about the role of museums today, is it not potentially the role of cultural institutions to support future makers of culture in building sustainable practices?