Artist Josh Müller uses a variety of methods to draw into question how audiences interpret film, from resetting and rephotographing travel magazine models to taping a rescreening of a popular television series.

Discover MFA Programs in Art and Writing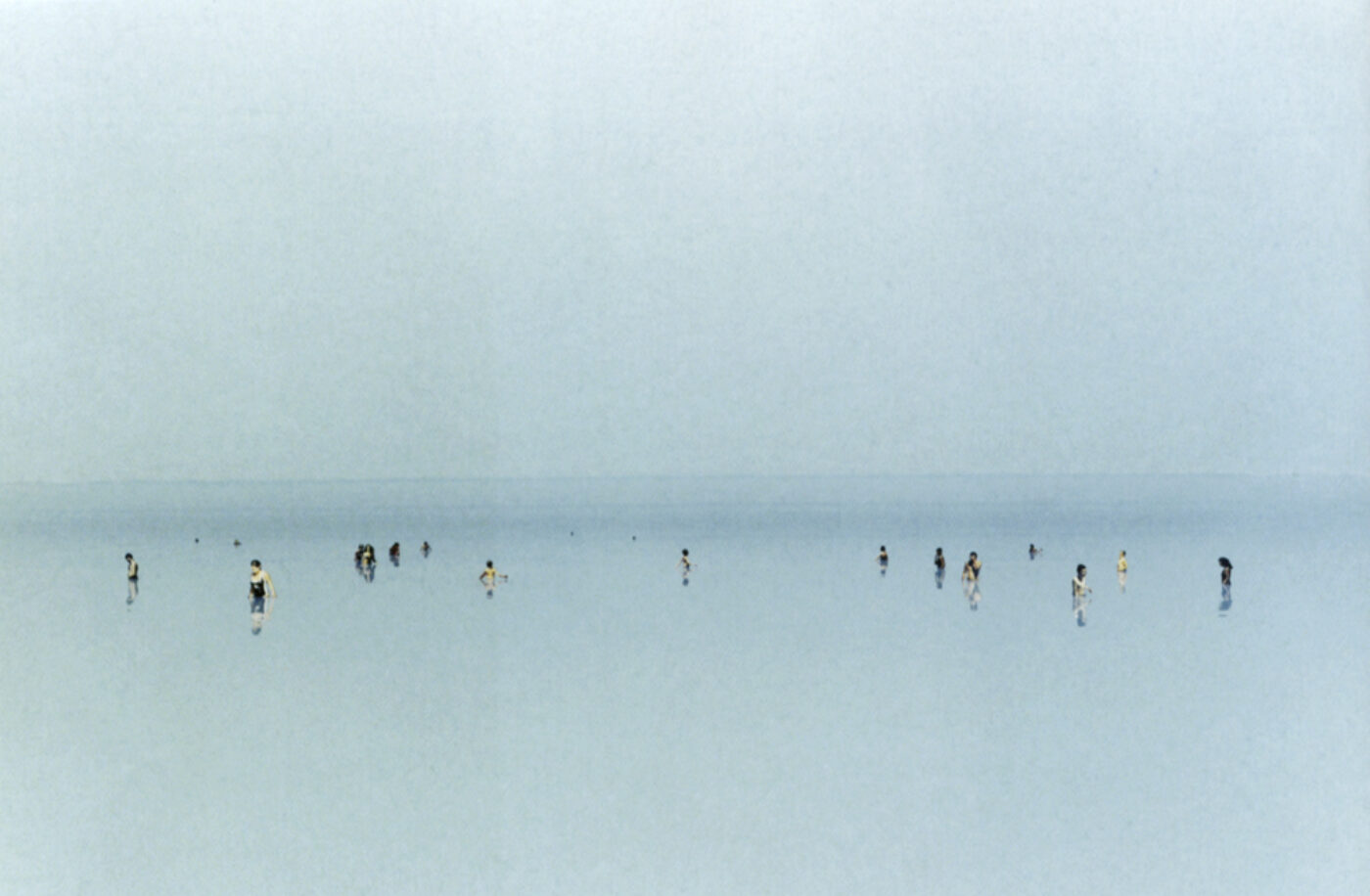 In his 1969 essay "Incidents of Mirror-Travel in the Yucatán," Robert Smithson commented, "Timelessness is found in the lapsed moments of perception, in the common pause that breaks apart into a sandstorm of pauses." Austrian photographer Josh Müller also cultivates this fracture in perception. His photographs evoke a sense of timelessness but also suggest a wholly created space that seems at once a fragmented snapshot of the world we're familiar with and a collection of its displaced elements.
In the series titled "Sommerstück 1–8," 1999–2000, sea and sky appear as broad stripes, two barely distinguishable shades of blue. The scenes feel immense, large enough to consume the viewer's peripheral vision and even more expansive for the diminutive size of the figures that dot its horizon, which read less as miniature than as far away. Müller cuts them out of travel and leisure magazines (they retain both the crisp focus and specific sunlight of their original source), positions them upright in a reflecting pool as ersatz beach bathers, and rephotographs them. The tension he cultivates between dimensionalities by creating an environment for the flat cutouts and then reflattening the scene in dramatically blown-up photographs is the most powerful aspect of the work, and the most thoughtful.
The water functions both as a unifying field and as a mirror, effecting a dialectic between each flat figure and its own reflection. This meditation on the figure in space is, after an initial pause, understood by the viewer as fabricated. But, as in good TV, the image has been manufactured for our consumption, and we are simultaneously in on the joke and at the mercy of the mirage. Consciously manipulated, we are left to reflect on our desire to find ourselves not only displaced but re-placed into an environment constructed exclusively for our enjoyment.
In his latest project, Müller synthesizes the experience of an audience viewing his photographs, increasing the scale of his set to life size. He erected four rows of theater seats in his studio and over a week's time screened the first season of David Lynch's Twin Peaks on a small TV monitor. An invited audience filled the seats each night, and Müller photographed and videotaped the scene. Here Müller's project, while indulging the viewer in a marathon screening of a program whose every episode was cultishly awaited, also makes clear the layers of constructed reality we traverse to be engrossed.
—Lucy Raven
Josh Müller's Ins Kino Gehen: Go to the Pictures took place at the International Studio and Curatorial Program, New York, in late July.
Originally published in
Featuring interviews with Jane Hammond, Walid Ra'ad, Martina Kudlacek, Mahmoud Darwish, Jeffrey Eugenides, Steve Reich, Beryl Korot, and Christopher Shinn