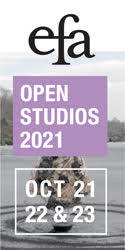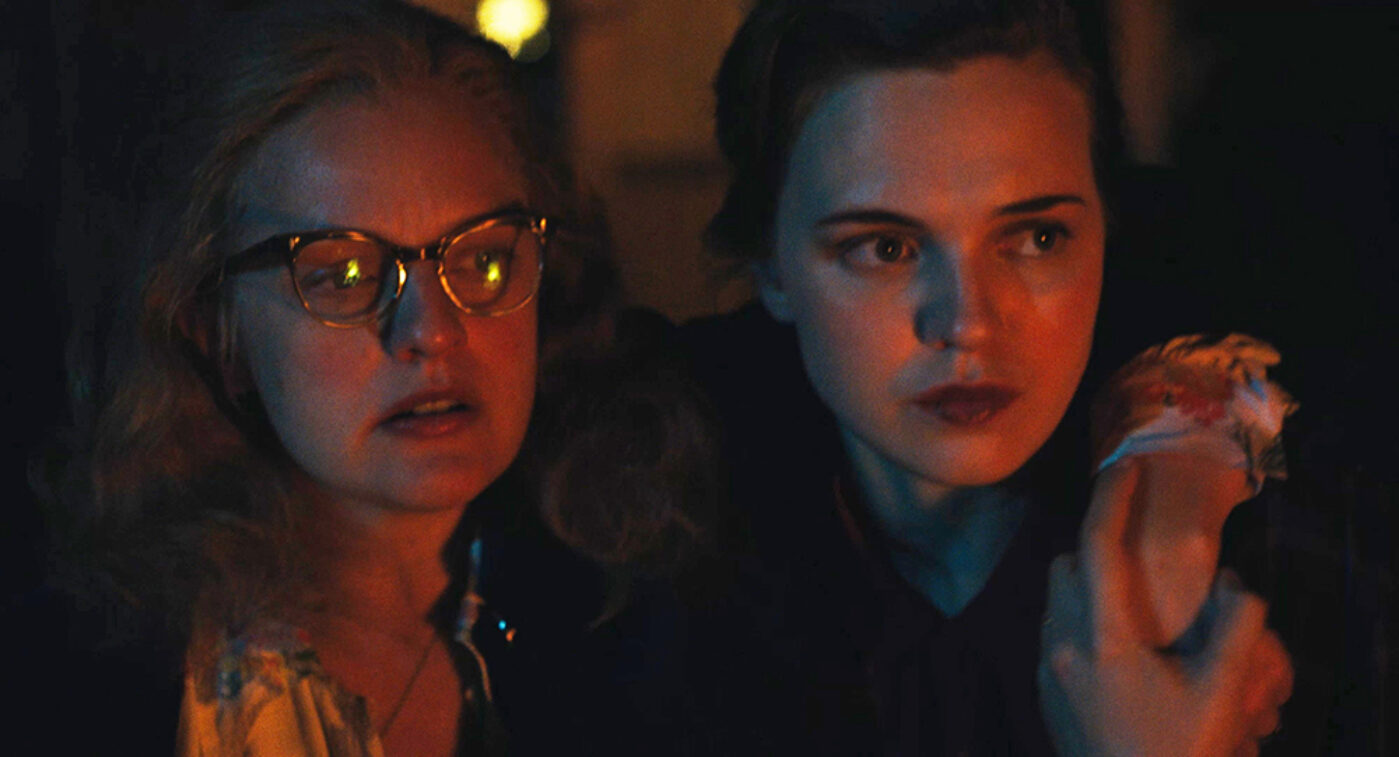 (Killer Films, 2020)
It's rare for a short story to cause a ruckus, and Shirley Jackson's "The Lottery" is one of the few exceptions. Published in 1948, the tale of an all-American town's dark heart and violent tradition was so shocking to New Yorker readers that many canceled their subscriptions in disgust. Shirley, the latest film by Josephine Decker, opens with a young woman reading this now-legendary story on a train, but she's far from offended—she finishes the last line and grabs her boyfriend's crotch.
The couple, Rose and Fred Nemser (Odessa Young and Logan Lerman), are on their way to meet Jackson and her husband Stanley Hyman, played expertly by Elisabeth Moss and Michael Stuhlbarg. The Nemsers arrive during a bacchanalian party—where their drunken host Stanley greets them in a laurel wreath crown—and they gawk at the racially mixed crowd, free-flowing cocktails, and swinging music that seem out of place in the sleepy town of North Bennington. Soon they're pressured into staying on as helpers in exchange for room and board. Fred will assist the philandering professor Stanley, while Rose cooks, cleans, and takes care of the irascible and depressed Shirley. The couple has entered a Gothic, transgressive world, rendered through lush and creepy cinematography. A world, perhaps, from one of Jackson's stories.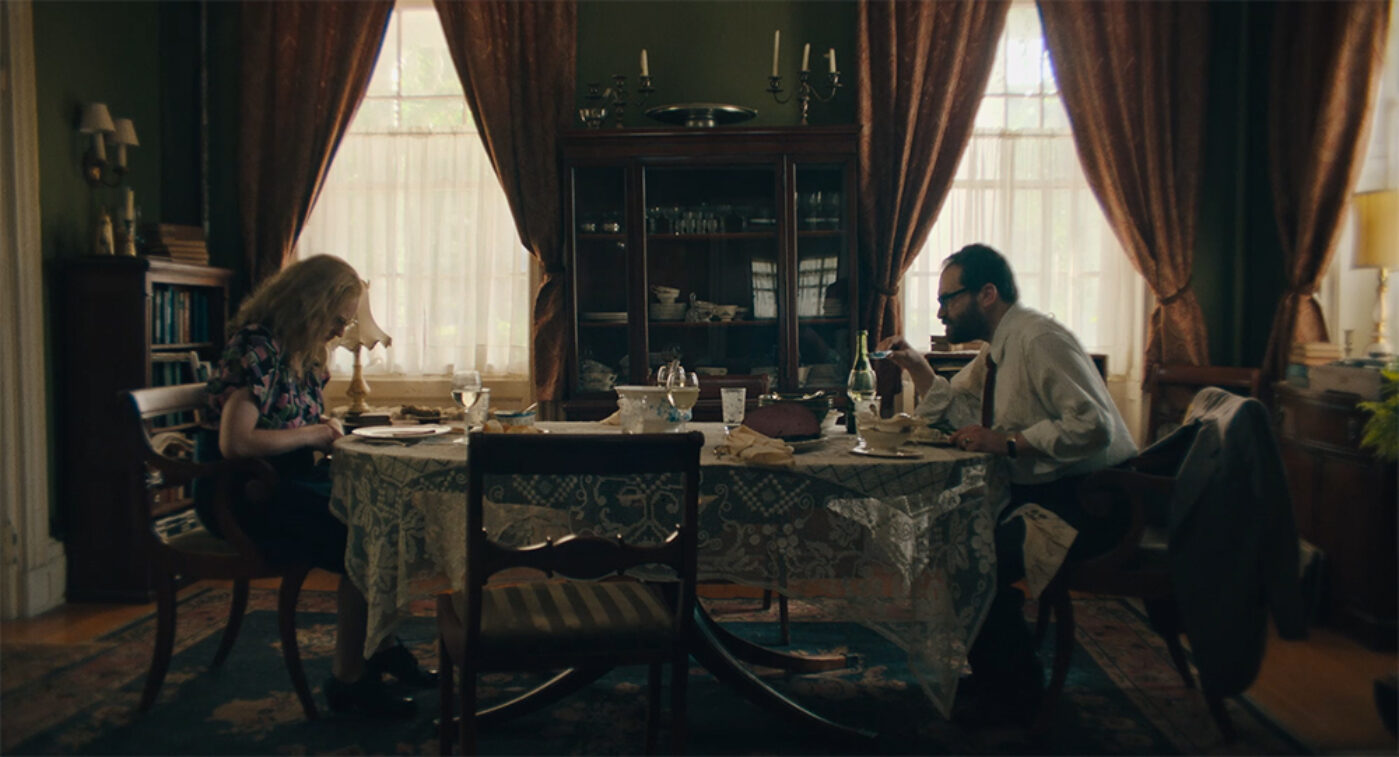 But the film is not an adaptation of Jackson's fiction, nor of her memoirs or biographies. Decker instead based her Shirley on Susan Scarf Merrell's 2014 novel of the same name. This might be a smart move. Jackson is one of America's greatest fiction writers, but her work has been ill-served in film—with the exception of Robert Wise's stellar The Haunting (1963). Still, despite Decker offering many visual delights and an atmospheric, string-filled score, I couldn't help thinking about the gap between the real-life Shirley Jackson and the character. How much is lost in the translation from person to myth, myth to fiction, fiction to film?
To begin with, Jackson's children are missing from the film. Far from being a half-mad writer barely able to get out of bed, the real Jackson was mothering three children at the time the film supposedly takes place. Most of her income came not from shocking fiction but comedic essays about domestic exploits. Shirley's Jackson is closer to the myth—most know her not as the author of domestic comedies but of the "The Lottery" and the brilliant horror novel The Haunting of Hill House.
At the end of Jackson's life—when Merrell's novel is set, but not Decker's film—she was indeed bed-ridden and suffering from anxiety and agoraphobia. She loved her children but did feel trapped in her marriage. She had an active social life but did feel ostracized by the townspeople of North Bennington. Perhaps by simplifying and compressing Jackson's life, Decker is able to tell a larger truth about Jackson and the ways in which women artists have been suppressed by a sexist society.
For me, the more jarring break, however, is not biographical but aesthetic. Jackson is a hilarious writer, whereas Shirley's broody, self-serious tone feels far from the biting satire of Jackson's prose. To see her reduced to an "insane and spooky writer" reminds me of how Franz Kafka's mysterious and complex work has turned into a synonym for "annoying bureaucracy." Perhaps such flattening is inevitable for any writer lucky enough to stand the test of time.
Strangely, the best part of Decker's Shirley is the most unmoored from biography. While Shirley initially taunts Rose ("I'm a witch, didn't anyone tell you?"), she soon enlists her as a writing aide, and they descend into mutual madness and erotic attraction. Rose's character bleeds into Jackson's in-progress manuscript, Hangsaman, about a young woman's mental unraveling inspired by a real-life Bennington student's disappearance. The invented Rose–Shirley relationship—told in dreamy visions and Gothic encounters—sets up an intriguing path for its fictionalized Jackson to take. But the film backs away at the end, returning Shirley and Stanley to their proper order in what feels like a concession to biography instead of character. Perhaps if one is going to turn a life into a fiction, one should be prepared to go all the way.
Lincoln Michel's fiction appears in the Paris Review, NOON, Granta, the Pushcart Prize anthology, and elsewhere. His debut collection, Upright Beasts, was published by Coffee House Press in 2015. He teaches fiction writing in the MFA programs at Sarah Lawrence College and Columbia University.
Originally published in
Our fall issue features interview with Erica Baum, Billy-Ray Belcourt, Trenton Doyle Hancock, Carolyn Lazard, Nathalie Léger, Martine Syms, and Rufus Wainwright; fiction by Kevin Brockmeier and C Pam Zhang; poetry by Yi Sang and Vijay Seshadri; nonfiction by Lorraine O'Grady and Paula Mónaco Felipe; a special project by Garrett Bradley; and more.