Discover MFA Programs in Art and Writing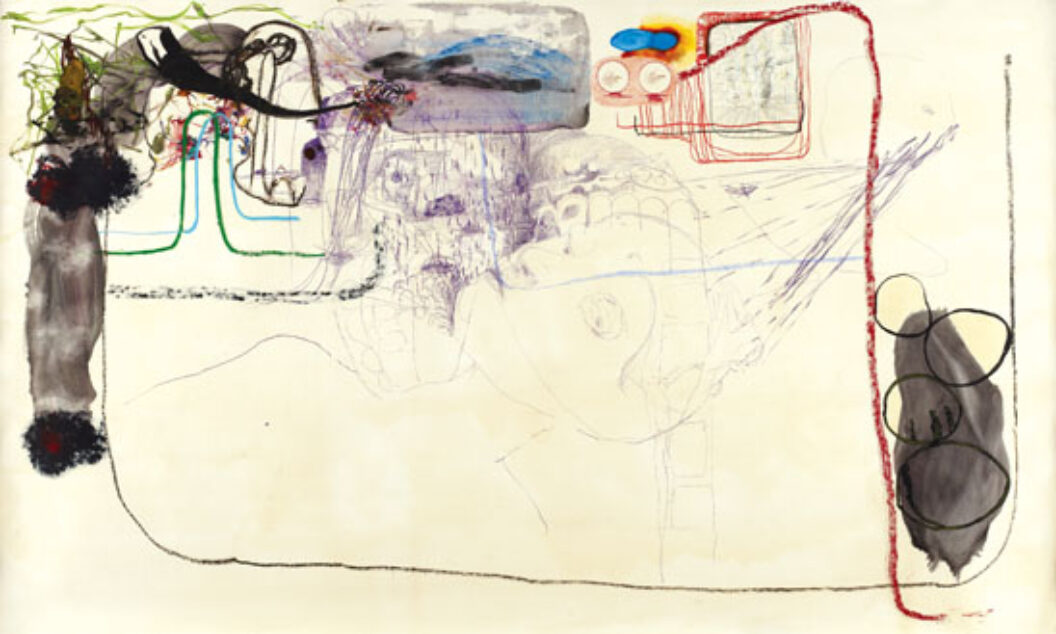 I zoom in on two of Jorge Queiroz's drawings and think: vignettes gone awry, stories within stories, eyes and eyeballs looking in, inviting in. My eyes are drawn to the two graphic circles in the upper right of the first Untitled from 2010. Despite their simplified forms, the red circles feel like binoculars to me, or the kind of telescopes on rotating sockets you find at tourist attractions or near monuments. Those "sight-seeing" circles draw my attention to all the other circles in the drawing—the cartoonish eyelike shapes in the lower right; the enlarged, delicately rendered eyes of a female figure, and to the figure itself, previously undetected.
Now the binoculars turn into viewfinders and the drawing becomes the slide, a flipped slide: five fantastical miniature landscapes drawn with purple crayon strike me as childlike, even a bit crappy. Is it real—or forced, perhaps? The drawing's larger lines and gestures seem to be made without looking at or lifting the pencil from the paper. Is it automatism or doodling, perhaps? The drawing's thinner lines are more diagrammatic, demanding that the viewer consider each delineation carefully. They direct and determine how I associate and connect the fragments. Oil-pastel lines frame the stories and drive the narrative around, while ink washes slow things down, inviting a new thought process. Although the washes appear as if applied in haste, they provide a resting place, carrying me away from the landscape's narrative. Now, for only a moment, I'm inside the artist's head.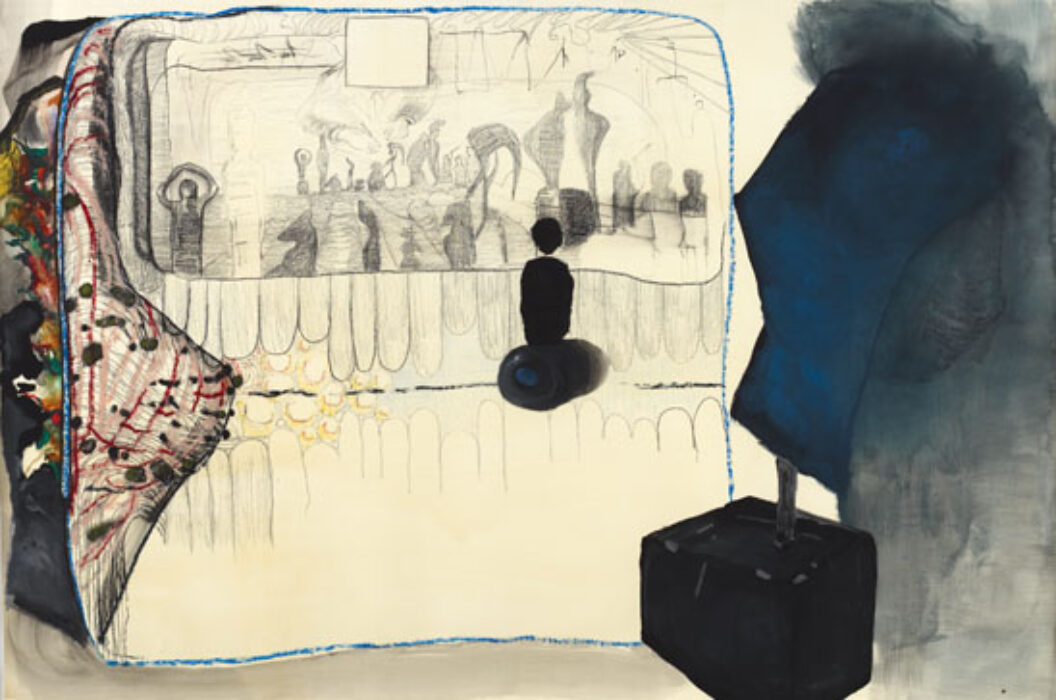 The second drawing, Untitled, reveals a much more straightforward theatricality, with a breastlike curtain being pulled back on the left and a blue sculptural object dominating the right. The audience for the performance occupies the center of the drawing. However, there are rear views of chairs and the back of a young boy watching—implying another audience. Are we watching watching? It's as if Queiroz draws and paints only enough to make me "get the idea." Then the record changes and he is on to something else. Only later I notice (in the back of the stage) a figure deeply immersed in writing or drawing—his head blanked out by a rectangle. Is this the empty page, the artist's reflection? Is it a chiasmus between drawing at looking or looking at drawing? Symmetry is merely implied. The figures evoke futuristic chess pieces playing bocce ball. When I zoom in closer, larger forms dissolve and become linear and abstract. It seems as if color is only being used when it really matters. Again, there are washes, appearing like moments of thought, like diversions or ponderings. Is the artist drifting off? Is he drawing a lingering, patient daydream, without really illustrating or charting it?
Mental notes or thought bubbles qualify abstraction, hinting at diagrams, hinting at—on the edge of consciousness—the not-quite-delivered promise of a clear image in an otherwise foggy dream. Or they could be fragments from a dream whose narrative trajectory has been lost. Queiroz's works draw you right into their flickering ambience and keep you—along with their own interior audience—in a hazy yet highly attentive state.
Emilie Clark is a New York-based artist. Her watercolors appear in this issue's literary supplement, First Proof.
Originally published in
Featuring interviews with Joe Fyfe, Katharina Grosse, Luis Camnitzer, Jim Shepard, Sebastián Silva, Thomas Pletzinger, Robert Wyatt, and Sibyl Kempson.