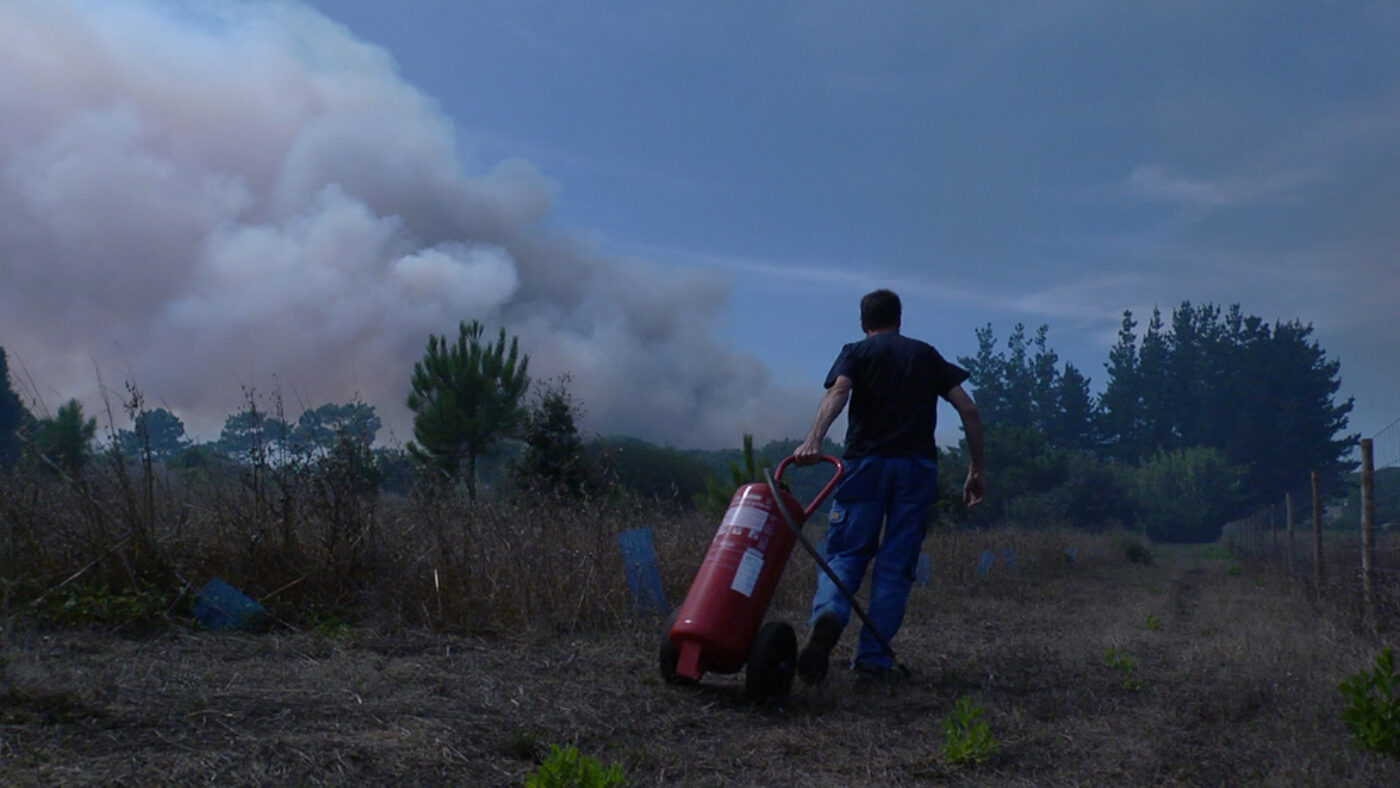 A bee lands on a cheeseburger being held by Joaquim Pinto. The camera moves in and, with microscopic focus, captures the perverse comedy and unexpected beauty of the creature determinedly sawing off a chunk of meat before flitting away. It's one of a dozen extended sequences of bodies close up—insect, canine, and human—that could strike the first-time viewer of Pinto's latest film, What Now? Remind Me, as curious, poetic digressions. But the deliberate and obsessive attention imparted to such incidental observations underscores an urgent and necessary function. They act as tethers to the present, pulling the filmmaker back from the hazy edges of memory and exhaustion. Cumulatively, they become the tissue connecting the cosmic and the corporeal in the film's unique cosmology.

It's safe to say that you will not see another film like What Now? Remind Me in cinemas this year. Pinto's 162-minute epic—made in collaboration with his husband Nuno Leonel—is a deeply personal love letter to life lived fully, in the face of so much decay. The fifty-seven year old director, a central figure in Portuguese cinema who has worked with auteurs like Raúl Ruiz, Manoel de Oliveira, and João César Monteiro, has been living with HIV and Hepatitis C for nearly twenty years, and his latest documentary is an intimate diary of a year spent in a clinical trial for experimental treatment.
As the film shuttles between life on the couple's remote farm and trips to medical centers, it weaves past and present, reverie and reality, the personal and the political. There are glimpses of Pinto's early days in cinema, on set with Ruiz in 1981, and flashes of the vital generation of critics and filmmakers (including friends Derek Jarman and Serge Daney) devastated by AIDS. There are glimpses of his remarkable first two features, Tall Stories (1988) and Where the Sun Beats (1989). But What Now? Remind Me deftly skirts the solipsistic and the sentimental, and its striking images, evocative dissolves, and terrific soundtrack remain with you. It's a testament to Pinto and Leonel's extraordinary filmmaking, as well as to their remarkable decades-long relationship, that together they've produced a film that looks outward as generously and deeply as it looks inward.
Paul Dallas What Now? Remind Me premiered last year at the Locarno Film Festival. Your treatment had already ended then, so I first want to ask about your condition. How are you doing?
Joaquim Pinto I'm okay for the moment. I'm doing my regular treatment for HIV, but I'm not doing any other special treatments. I went to the hospital in Spain but it was closed. The Spanish government thinks it's not a priority anymore. They said goodbye to me, so I believe my treatment is over now. In Portugal, the treatment I was on has been superseded by new treatments that are apparently more effective. They're not as costly, only last two months, and don't have as many side effects. I was lucky to do it in Madrid because no one's getting treated in Portugal. We have a national health system, but the problem is the current economic situation. The main governmental cuts were on education and health, so they're suppressing support of expensive treatments. I was lucky because I got it at the last possible moment. Now, there is little possibility to receive treatment in another country.
PD Over the course of a year, we see you becoming increasingly exhausted by the treatment, but you continue to film. At one point you say, "Filming became just one more activity in my life," like eating and sleeping. In some ways, the film represents the desire to obsessively capture the present moment. How did the project evolve for you?
JP When we started the film, I didn't have a clear idea of what it would be. I had a number of ideas, but they were mostly theoretical. They were not about the structure of the film, which I hoped would emerge during the making of it. If there weren't two of us, the film wouldn't be what it is. Nuno and I had things we wanted to talk about, and many of them were not in the final film, actually. We didn't want to prove anything, or support some theory. We just had a time frame, and a space frame.
PD What convinced Nuno to participate? You mention in the film that he doesn't want to, and he's mostly absent in the first thirty or forty minutes of the film.
JP That's something you should probably ask him. Maybe he felt I was too alone in this process, and that I was drifting in some direction that was not good for me. I think he did it as a present to me, as a gift. I was too weak to continue to work with him on the farm. I would still go with him to the fields, but he became the person who saw for me. He's the one who's looking for things with the camera. He's giving me his eyes and sight.
PD You've been together since the '90s, and the film is very much a portrait of your life together. What's interesting is the way the boundary between the two of you becomes fluid and your narratives become one story.
JP I can't really explain it. It has to be the way we live together. In the film, we don't speak much to each other. It's difficult to speak and hold a camera. He shoots me or I shoot him. But actually, when not filming, we talk a lot and we discuss a lot of what happens, what we're reading. Each day is really a novelty to me. Maybe this comes through in the film. I had the idea that it would be interesting to follow this year, and that something would come out in the form of a film. Both of us are quite disappointed with films these days—not only mainstream films, which repeat the same stories over and over—but also with what people call "experimental films." Our idea was not to do an experimental film, but to make a film about experience. If you start making an experimental film intentionally, you're already setting a frame. We come back to the same films all the time. We get more excited about films that were made fifty or seventy years ago.
PD Let's go back a bit. You started your film career working in sound doing location recording and studio mixing, before going on to produce and direct. Tell me about your interest in sound and how that developed.
JP I actually studied sound in school. I was studying in Germany on scholarship when I discovered that there was a film school in Lisbon. It was more of a technical school for cinematography and sound, but you had freedom to do your ideas there. Then, I saw ads in the newspaper asking for people to work at the Portuguese public television station, so I applied. While I was at the film school, I began working in television. I later left television in my third year of school because I didn't have enough available time to do both. I made a lot of mistakes while I was working in TV, but it was good because you learn a lot. In the '70s, there were no portable video systems, so everything in television was shot on film. All the news was shot on sixteen millimeter. Television studios had their own labs. The process was very much like making films. You do the transfers yourself, so you recorded sound like film. It had to be transcribed and synchronized. Video was used only for live events in the studio.
PD After school, you returned to working in television.
JP Yes. I did a bit of everything. After a year, I had a conflict with a popular news journalist. Actually, it was a very stupid thing. Don't forget, the Portuguese revolution had happened four or five years before, and these conversations were still going on. I was told to do this very important job, which was an interview with the president [António Ramalho Eanes, president from 1976-1986] inside a train as he traveled through the northern part of the country. The idea was to record the interview on the train, and then rush to a TV studio so that it would come out in the evening news. My job was to get the sound perfect with all the train noises. There was a special train car for him, with nice girls serving drinks. He invited the journalists for lunch. No one told me anything, and I was starving and watching them eat this fantastic food. I was a vegetarian by that time, and had with me my vegetables. I put them on the floor and ate. Later, they told me a complaint had been made about a technician who did not respect protocol, and who made a picnic on the floor of the president's carriage. After that, I was not allowed to do location sound. I was moved to the studio to mix everything, from nature programs to music shows. For most people, this was a chore because you were locked inside all day. But for me, it was a pleasure because I could try things.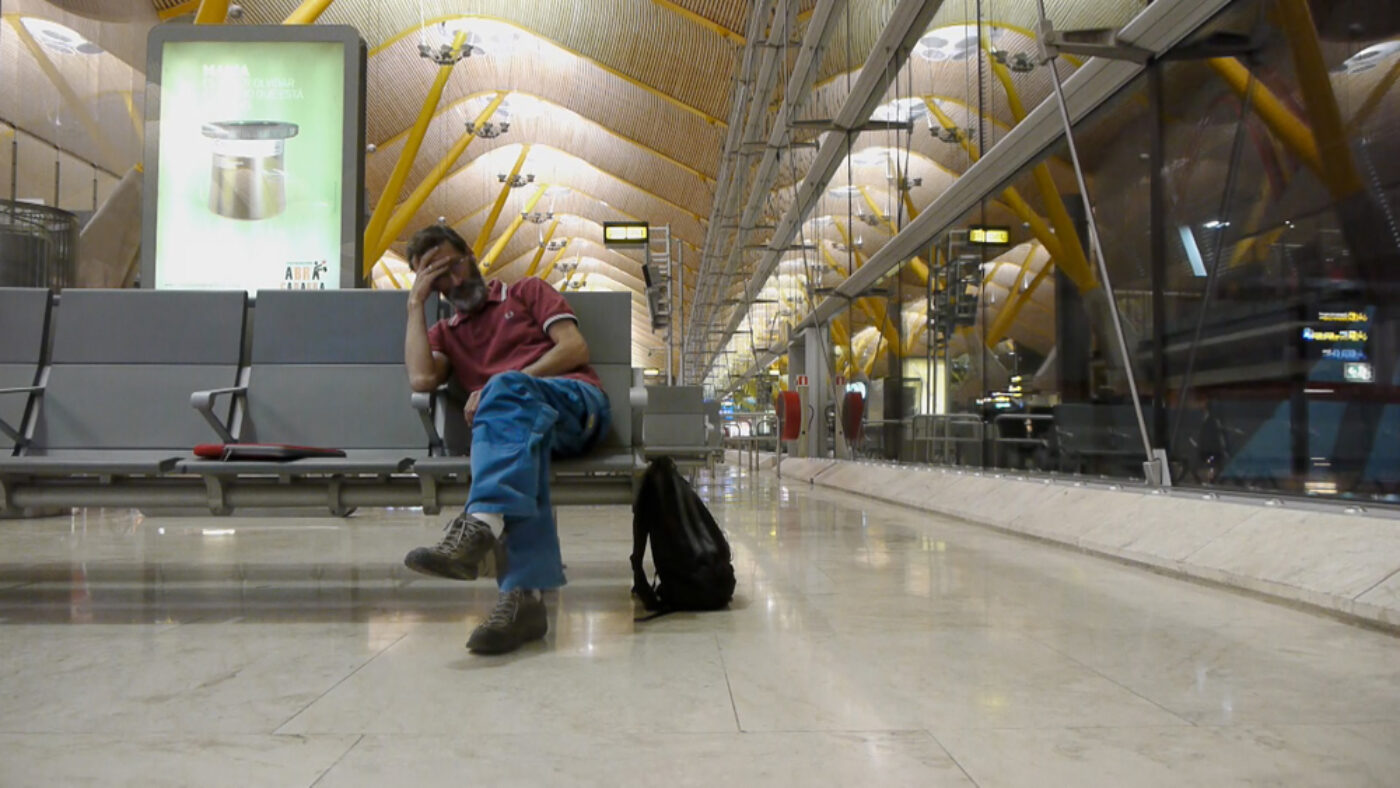 PD Throughout your career, you've worked with many great Portuguese directors. In What Now? Remind Me, we see footage of you on the set of Raúl Ruiz's mystical horror film The Territory (1981), which was one of your earliest—
JP The Ruiz was not my first film. There was a crisis in Portuguese cinema, which started in the '50s. I have to go back to explain this. In the '30s and '40s, there was a strong film industry in Portugal, because there was a joint venture between the Portuguese government and the industry. Most of these films were produced in cooperation with the film studio Tobi Film in Berlin, which also produced films under the Nazis. So, most of the technicians working on Portuguese films were foreign. You had a few Portuguese cinematographers, but no sound people. When the system collapsed, these people went away and the tradition was lost. There was a period, starting in the '50s, when sound in Portuguese film was really terrible. I would say the last film made during this period of mainstream production before the studio system collapsed was O Leão da Estrela (Arthur Duarte, 1947). In the '60s, Manoel de Oliveira actually did everything himself. He had his own equipment, and his wife was doing sound in his films. I remember when we were working together in the early '80s, he still had a sound cart with all the recording equipment inside. He came from a rich family, so he could afford it. In film school, they would bring in people from other countries to do seminars. We were able to not only get experience, but also connect with sound people like Antoine Bonfanti [sound recordist on La Jetée and Last Tango in Paris]. So these years helped me make connections in other countries. When I was finishing school, it was the time when Paulo Branco started getting involved in films. When he started producing films, he invited me to work on The Territory. Paulo was also producing Francisca (Manoel de Oliveira, 1981) at the same time. Actually, we were shooting with this guy who does these very long shots, and there were always these long bits of unused film at the end of each reel, which they used to shoot Francisca. At the beginning of each day, they would ask us how much film we had. We would tell him, "We have a roll with thirteen meters," or whatever, and they would shoot accordingly. The same thing happened with The State of Things (Wim Wenders, 1982). We were helping out on that film. Half was shot in Portugal, really close to where we were shooting the Ruiz. Isabelle Weingarten was the actress in both films. I had seen her much earlier in Bresson's Four Nights of a Dreamer (1971), one of my favorites, and her first film. Isabelle was Wenders's girlfriend at the time, so he came to visit the set of The Territory. We were constantly stopping shooting because there wasn't enough film. He got the idea of doing a film about a film crew that gets stuck somewhere without being able to shoot from visiting that set. Almost all the actors from The Territory are in The State of Things. Henri Aleken, who was already seventy at the time, shot the film. The black-and-white cinematography is amazing. At that time, most people only knew how to work in color. Cinematographers who had any experience in black-and-white were gone, but he was one of the few who were still around. You see a little footage of him in What Now? Remind Me.
PD Another film you reference is the underground gay classic Race D'Ep, codirected by French writer Guy Hocquenghem. It's a formally playful film about the creation of "the homosexual" through key historical moments in Western culture. In your film, you mention being in New York in the late '70s at the premier screening.
JP I haven't seen it since 1979 actually. As you know, that was an important year because it was the tenth anniversary of the Stonewall riots. It was a period of affirmation of a certain pride in the gay movement, and I think people wanted to be politically correct or something. They didn't take jokes easily. Guy is actually very defiant in the way he deals with things, and people didn't accept it very well. I haven't seen him for a very, very long time, but we met that night. I remember the discussion after the screening. Some people were very angry with the film. I don't mention this in the film, but there was another guy in the audience who also took the side of defending the film, and we became very good friends. He's an American guy named Douglas Crimp. At that time, he was working at the magazine October. Douglas and maybe one or two others who stood by Guy's film began talking, and we became very good friends. He even came to Portugal two or three times to visit. This is very, very strange, but on that trip to New York, I was with two writer friends, and recently I discovered that they live in another village five minutes away! They wrote for Taquel and were in France, connected to the nouveau roman and Julia Kristeva. I guess they were in no way close to Douglas's theoretical approach, or to Guy's. That night after the screening, we went to different sides.
PD The late '70s was a very difficult moment for the gay movement. Harvey Milk had been murdered, Anita Bryant's anti-gay campaign was at its height, and in 1979 the filming of Cruising was being protested in New York and San Francisco. Race D'Ep is playful and doesn't sit easily in any ideological camp.
JP The funny thing is that a bit later, I met Guy in Paris through Claudio [Martinez, the film editor to whom What Now? Remind Me is dedicated]. They were not only good friends, but they used to live on the same street, three houses away! We used to go to Guy's quite often for dinner or parties. It was just a coincidence.
PD In your film, you visit Madrid's National Library to see the original copy of The Illustrated Ages of the World by the Portuguese Renaissance painter Francisco de Holanda. I wondered if you could talk about the book, and it's connection to What Now? Remind Me.
JP I knew Francisco from some of his drawings and his book called Dialogue on Painting. In the '80s, I had tried to produce a fiction film based on the book, but we never managed to do it. I didn't plan to include it in this film. But just after I started treatment, Nuno talked to me about it. He had found some images and then showed me the book. Francisco Hollanda has an interesting story. His father was probably the most prominent illuminist for the Portuguese court. When Francisco was very young, the Portuguese king sent him to Italy to study painting. I suppose he was twenty-one or twenty-two when he arrived in Rome. People say that he was also on a military mission and that he was supposed to draw all the fortifications, and to send the drawings back to Portugal. While he was in Rome, he met Vittoria Colonna and Michelangelo. When he returned to Portugal three or four years later, he wrote Dialogues on Paintings. It is a really funny book, because it is very colloquial. There's a naïve side to it. Then he started The Illustrated Ages, which is a version of the world that included all the scientific knowledge of that time, and included ideas from people he met on his travels, as well as stories from the Bible. It took him forty years to do the book, so he always carried it with him. There's only one copy, which he wrote and painted. At the end of his life, Portugal was taken over by Spain, because our king was killed on a crazy military mission in Africa, and he had no descendants. The Spanish took Francisco's book for teaching to children, and it was only rediscovered in Madrid in the 1950s. Now it's one of the most prized treasures in the Spanish National Library.
PD That's an amazing story. I see a connection between the way Francisco's book seems to embrace both the microscopic and the cosmic, and your film, in its own way, seems to be doing something similar. It seems to inspect life with an intense focus. I'm thinking of all those long shots of insects and scenes in the fields with your dogs.
JP All that comes from Nuno. I was obsessed with looking at flowers. So, actually, all the things meet together in the film. Maybe I was trying to look at the really small and the really big, and Nuno took the film back to something much more concrete. I think I was pursuing something that was impossible. I'm not going to talk about the film, but I'm going to talk about qualities and flaws in each of us. I think my biggest flaw is laziness.
PD You're extremely productive for someone who's lazy! You've accomplished more than most people.
JP I tend to lose myself in crazy directions and forget things and not get at things at the very real level. I guess it's not really different, but it's part of life that Nuno brings me back to reality. I would say I'm lazy and he's not.
PD Well, you make a great team. It's also not the first time you collaborated on a film. You made a documentary together called Rabo de Peixe about a fishing community on an island in the Azores. It's also showing in your retrospective at the Film Society of Lincoln Center.
JP It's a film about we did between 1999 and 2001 for television and we got funding from fishing associations. They didn't like our version, which was probably on the more personal side. They thought it didn't fit with what they wanted, so we were censored, and maybe it was useful to them. But when the Film Society proposed to show the film, we looked at the footage because the film needed to be translated, and we decided to re-edit it and to keep some of the things that were cut out. Of course, we had to redo the voiceover, so we went back to the original tapes. We could have done a new film, but it's not possible, so we're just re-editing certain sections. We started two weeks ago, and we have to have it ready in a few days!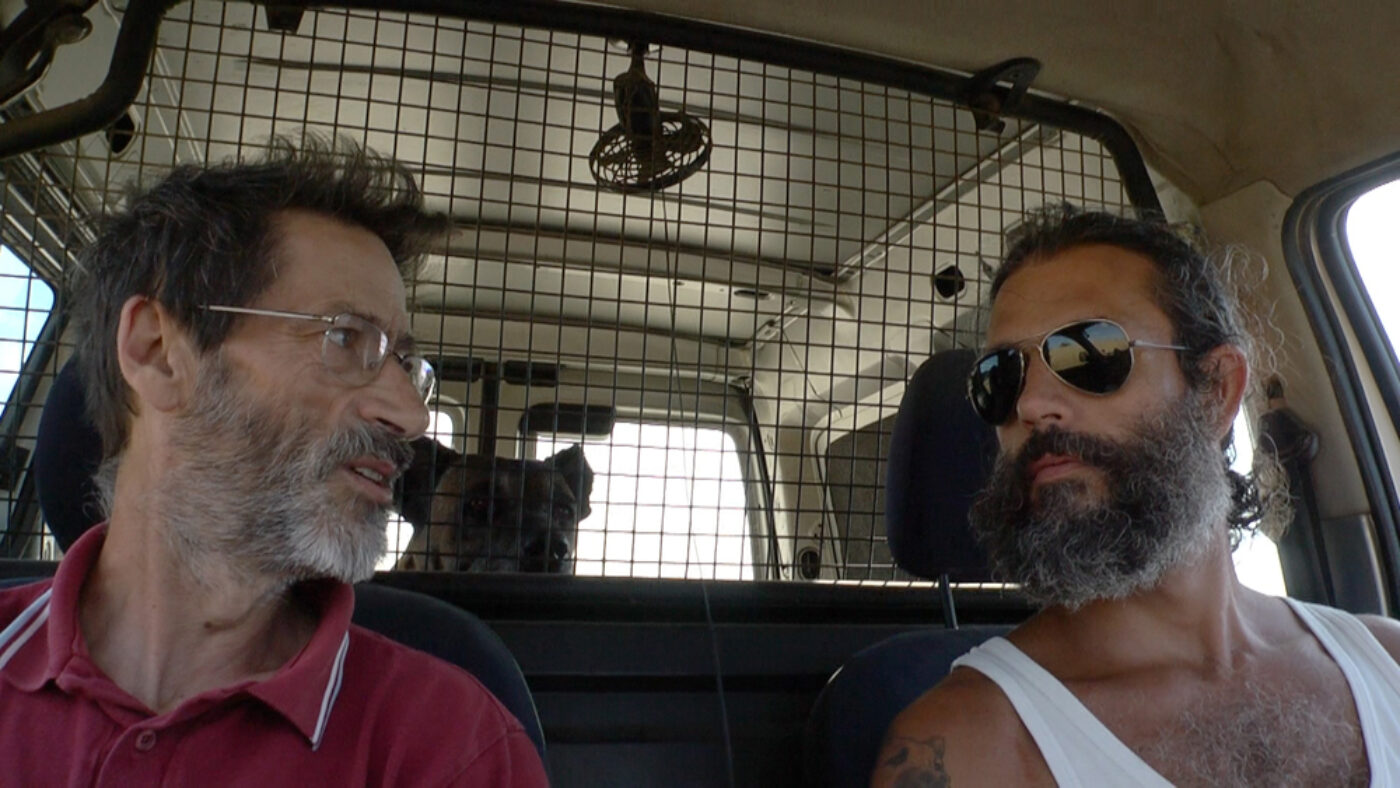 PD Was there a lot of footage you shot that didn't make it into the final cut of What Now? Remind Me?
JP No, not at all. In the beginning, we shot a few things, like visits to the hospital and a few interviews that we gave to associations that were helping people find treatments. Everything that we didn't use—which was not much more than what is in the film—we just erased. What's it for? That's what is nice about digital stuff today. You don't make garbage anymore, like physical cassettes.
PD Time is a big theme in the film, and it moves fluidly between past to the present in a very organic way. I imagine the editing process for the film was quite complex.
JP It was fast, actually. We edited the film in more or less one month. Some sequences took a bit longer. In some cases during the edit, I was sick from the trip and hadn't recovered yet. Nuno would just lock himself in the editing room and then he'd call me and that was it. What took a long time was recording the voiceover. Nuno was getting very impatient. It was maybe two or three weeks. He would say, "When are you doing it? Everything is getting late, you have to do it." We finally did it in one day.
PD There's a wide range of great music in the film, including Beethoven, Schubert, Wes Montgomery, and disco, like Amada Leer.
JP In some cases, the music comes from what we were listening to as we were shooting. We did not switch off the radio at home. With Jacques Ibert's music, which is in a lot of scenes, it was music we were listening to but I wasn't at all certain the music would connect to the film. When we were editing, Nuno brought up the idea of using it and I was surprised. It makes a lot of sense, but I wasn't certain at all. Jacques Ibert has a direct connection to films because he did scores for films like Macbeth (1948) by Orson Welles. We knew some of these orchestral pieces, but we didn't know the pieces for solo instruments. They actually work because they are very minimal. We listened to them for the first time when we were shooting. In other cases, the musical choices come from our capacity to look at an edited scene and think about a musical theme and to find an absolute match. They attract each other like magnets.
PD We talked about your early work in sound in the early '80s, but you soon began producing films for João César Monteiro.
JP It very a busy time for us. I was working for directors who, in some cases, were half-forgotten. I wanted to give them the opportunity to shoot again. I produced Recollections of a Yellow House (João César Monteiro, 1989), which I think was the film that made him more of a name at festivals. The film actually did quite well in theaters all over Europe, and so we started working on a new project, which ended up as God's Comedy (Monteiro, 1995), which I produced. It was a very long and difficult process to make that film. There were many twists and turns. We basically had to start everything from scratch at a certain point. It was a crazy adventure. So I produced those two films for him, but after God's Comedy, I was really unable to continue to produce. I was still able to take the film to Venice, where it won the Grand Special Jury Prize.
PD In the late '90s, you and Nuno moved to the Azores, which is a cluster of volcanic islands about 850 miles off the coast of mainland Portugal. This was shortly after you were diagnosed HIV positive and stopped location work in film. You both must have been seeking solitude.
JP I think it couldn't be otherwise. I'm glad we were able to do it. But it was more difficult towards the end. We were living in Santa Maria, which is a really small island, and there's maybe one flight a week to the mainland. We had to take a small plane from Santa Maria to San Miguel, and then another to plane to the continent. The problem was that in winter the small planes don't fly in the storms, so it happened quite often that we'd get stuck in San Miguel and not be able to fly home to Santa Maria. We actually left the Azores because it was really difficult to get to the hospital.
PD You're now living back in Portugal, and most of What Now? Remind Me takes place in the village where you live now and out on your farm.
JP Actually, we now live about ten kilometers away from where I shot my first film Tall Stories(1988)! During the shoot for What Now?, Nuno and I would go to the beach there. We go less and less because Rufus, our dog, is getting old. A few days ago we did a really nice thing. We took him to the beach for what I think was his last time. It's very hard for him to walk now.
PD This is switching gears a bit, but I wanted to ask you about something that's in the news here in New York. Have you heard of Truvada? It's a preventative drug that, when taken daily, reduces the risk of HIV infection. It was recently endorsed by the state.
JP Nuno told me about it a few days ago because he read an article about it. Well, it's not an option here because in Portugal, because drugs aren't available freely. You only get them through the state if you're in the health system. You can't buy them.
There's something astonishing to me more than Truvada, which is the fact that several years ago, it was announced that people with HIV and who are treated and who have an undetectable viral load can very rarely transmit the virus. It astonishes me because it seems like something that would be more or less obvious years ago, and they could have investigated it then. I think the drug industry needs to keep the subject alive. Of course, it makes sense because there was a risk of exposure for doctors in the field who were working with HIV patients, and what they'd do is attack the infection with a strong dose in order to prevent disease. So, I think Truvada has been in their minds for quite a while. They only announced it now.
PD I'm curious about its impact on gay culture and younger generations. I came of age when HIV and AIDS was all over the news, and the message was always reactionary and frightening.
JP I'm curious to know because my experience was much different. All my youth and adolescence was before this period of AIDS. I don't know exactly how it is today, but probably younger people don't care any more. No one's talking about it in the news. It changes, but I also think it's something of the past.
PD Well, thank you very much for speaking with me. I will send you a copy of Race D'Ep. I'm interested to hear what you think of it thirty years later.
JP Oh, fantastic! I'd love to see it again after all this time.
Joaquim Pinto's first U.S. retrospective, A Life Less Ordinary: The Films of Joaquim, organized by the Film Society of Lincoln Center, runs August 8th-12th. What Now? Remind Me opens at the Elinor Bunin Munroe Film Center August 8th.
Paul Dallas is a Brooklyn-based writer and programmer with a background in architecture. His writing has appeared in Artforum, Filmmaker, Cinema Scope, Interview, and Indiewire. He has curated programs for the Guggenheim, Maylses Cinema, Times Square Arts, and Van Alen Institute.