Discover MFA Programs in Art and Writing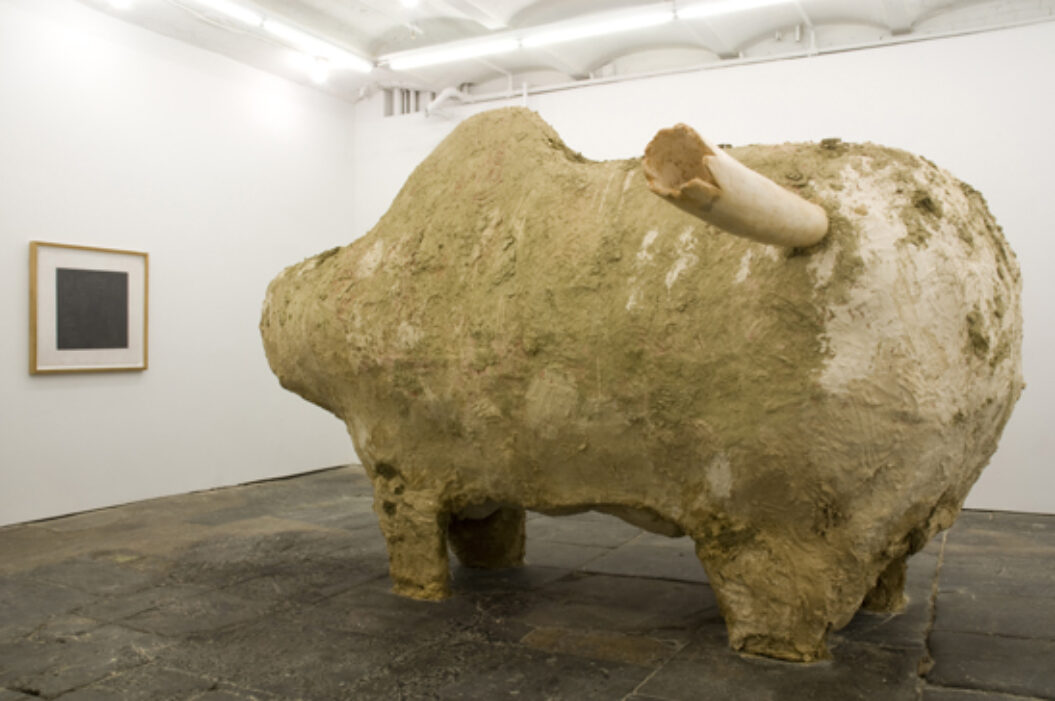 Dazed from lack of sleep, I entered CANADA on Chrystie Street one afternoon to see Malinowska's exhibition Time of Guerrilla Metaphysics. Sitting on a metal chair, I gazed at On the Revolutions of the Heavenly Spheres, a rough-hewn video in which older men, looking more haggard and delirious than I at that moment, spun around a female pianist banging a toy piano while music by Messiaen blared from a nearby boom box. With the names of the planets written in Polish and pinned precariously on their backs as if someone were attempting to keep order among schoolchildren, those drunken planet personifications are perfect and sad incarnations. One wouldn't entrust the maintenance of the solar system to them, though if they are gods, that's about as good a representation as any, given that it appears they truly don't give a shit. A Satyr-like man recites scraps of epic verse, waving a bouquet as if conducting these planets, who eventually collapse on the tarmac after crashing into one another. "There's nothing new under the sun … O dear Apollo, your chariot is the jewel of the sky…" he serenades, beaming an existential smile at the pianist/sun and eclipsing Matthew Barney's self-lubricating satyrs with disarming, bittersweet mundanity.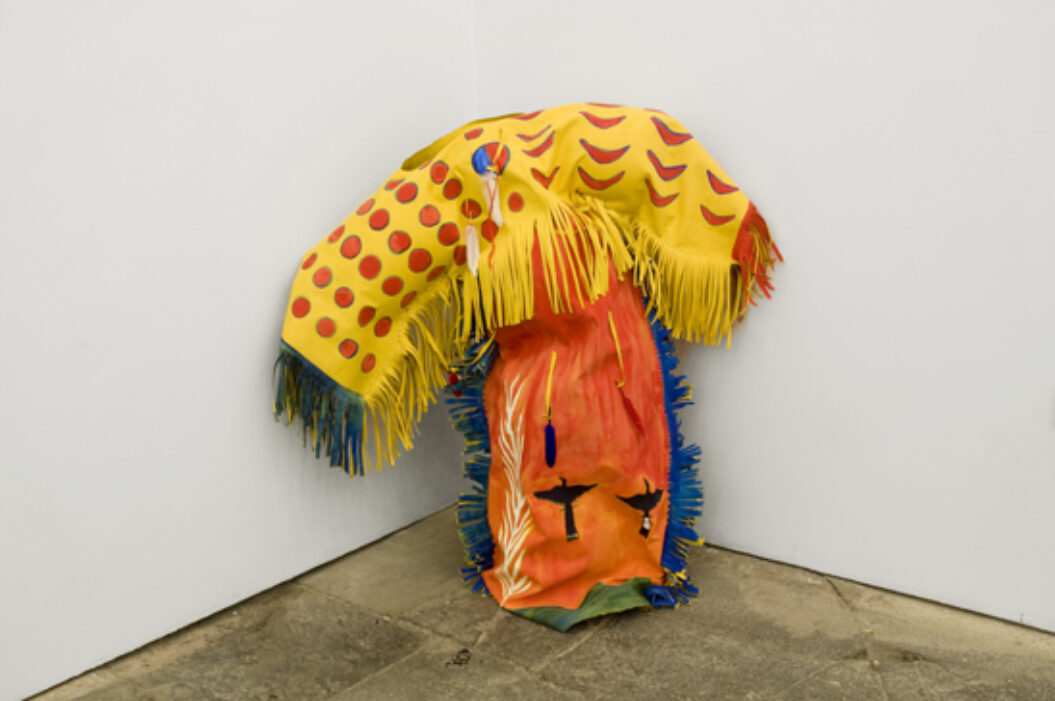 Before venturing into the gallery's inner chamber, I glance at a banal photo of the European Organization for Nuclear Research (CERN) and wonder about what its Hadron Collider is actually supposed to do. Particles collide. A giant mud-coated, featureless beast stands near me—a Boli, a West African talisman—seemingly transfixed by an inkjet reproduction of Malevich's Black Square. In a corner leans a sagging ghost shirt made of imitation suede, its interior billowed by balloons filled with a specific air from the prairies, or perhaps from the artist's lungs. Still, thinking of the prairies while filling a balloon in a gallery in Chinatown might affect the universe in a way beyond mere mortal's comprehension. I feel more at home than I should. I strip and put on this poor halfhearted Native-American costume fit for an eight-year-old's birthday party. Barely able to squeeze my flabby middle-aged midriff into it, I hold on tenuously to some hope of meaning and protection. That outlawed ghost dance—originally intended to ensure peaceful cohabitation—became a rallying cry for a no-holds-barred attack to rid the land of the white man, a final pleading with the spirits.
In the opposite corner, a mechanized gray felt pile wields a cane and raps time on a black box. Is it a 1970s Beuys out of some parallel world in a Macy's holiday display window or a pop-icon version of him wielding his cane for healthcare reform? The box, a 3-D version of the Malevich square, returns my gaze to the print posing as a painting on the wall. Does it threaten to rip a hole in my reality and blast out of the confines of the gallery to wield its power as an object/meaning leveler, or is it just another demystified object in a market-driven whirlpool bobbing in and out of visibility?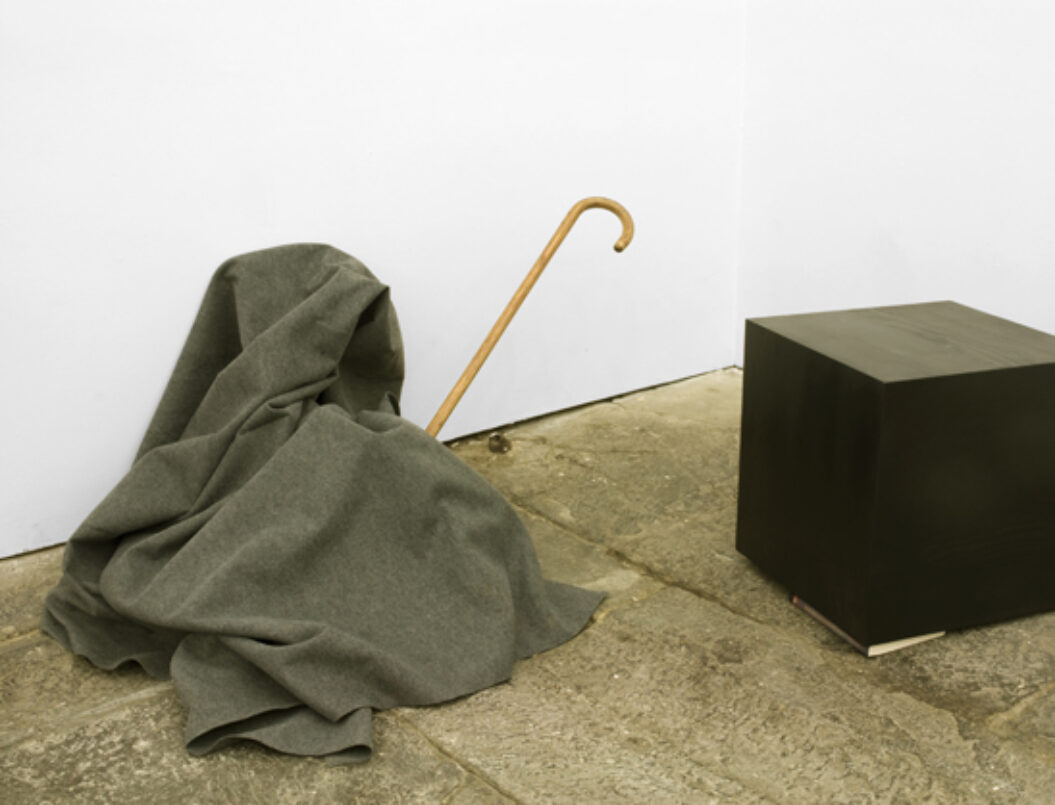 I am in a room with a menacing bovine, there is drumming in my head, I fear being suffocated by a ghost shirt or bludgeoned by Beuys's ghost. Theatricality is okay. I won't be thrown out of the gallery for putting on my own mask and sitting in an empty corner, flask in hand, right? Hedging bets, I lunge for a tusk leaning against the wall and softly chant: "Collaged collision / Objects empty of both practical and mystical import / Oh Malinowska, make me a pallet on the floor!"
I feel pathetic and vulnerable, out of time and place. I remove my mask to kiss the mud pig made with, among other esoteric materials including water from the Bering Strait, the sweater of Evo Morales, Bolivia's president … Is it the authentic acrylic worn by Bolivians or the tourist version made of wool? I am in a room with empty objects longing to be powerful. If I rode the muddy heifer out of the gallery, would anyone notice?
Jimbo Blachly is a sculptor and performance artist based in Queens. He is coeditor, with poet Lytle Shaw, of The Chadwick Family Papers (A Brief Public Glimpse) published by Periscope Press in 2009. Their work will be exhibited at EV+A in Limerick, Ireland, this spring.
Originally published in
Featuring interviews with Guy Ben-Ner, T.J Wilcox and Anne Collier, Sam Lipsyte and Christopher Sorrentino, Carlos Reygadas, Patricia Clarkson and Howard Altmann, David Sylvian and Keith Rowe, Edgar Arceneaux and Charles Gaines and Rick Lowe, Charles Bernstein.