Discover MFA Programs in Art and Writing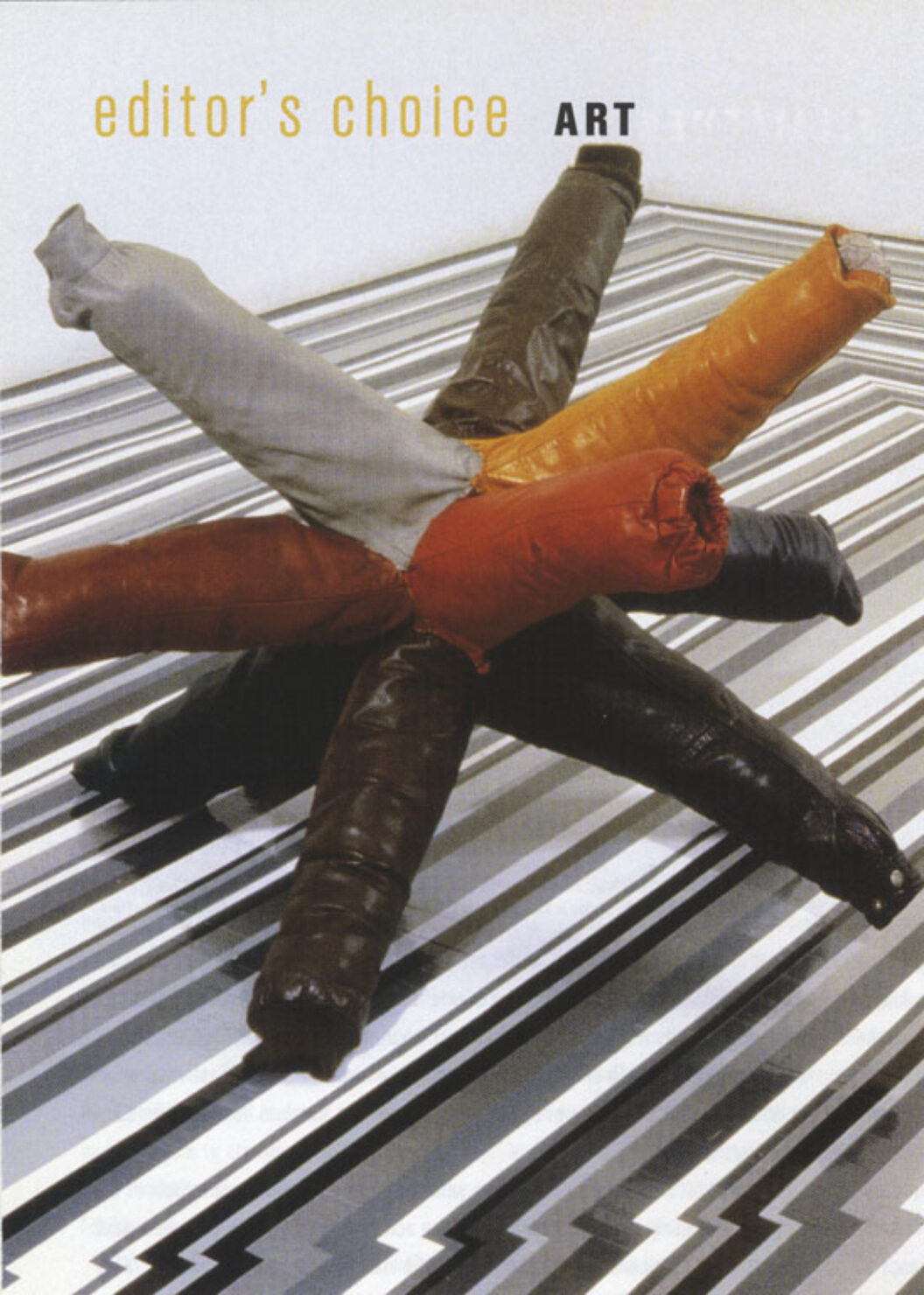 The Scottish artist Jim Lambie had an impressive debut at the Anton Kern Gallery in New York. Featured, among other objects, was an installation of concentric rectangles made of various colors of vinyl tape that covered the entire floor space of the gallery. It was a dizzying experience to stand and walk upon this pattern of rectangles, making the viewer aware of the relationship between visuality and the somatic and how one does not exclude the other. The beauty of this installation was in its utterly simplistic (albeit labor-intensive) employment of Lambie's materiality and his logical extension of this. The "dumbness" of not only the use of vinyl tape but old-fashioned '50s record players covered in bright red or green metallic sequins, and jazz records covered by radiating strands of yarn, called to mind '60s psychedelia. Lambie exploits this without nostalgia, offering instead an unpretentious, homey, and ingenious appeal.
The artist's interest in rock and roll and punk music, both of which emanate from his work, seems to summon to the viewer not a lost generation, but a reminder that, as in the birth of the radical '60s, art can be, and still is, a place where innocence, candor, and the simple approach of hand-crafting can produce the experiential, perhaps more so than the special effects of this age of video and high technology.
Ultimately, it is Lambie's combined role of artist and curator that puts him in control, not only in the making of the works, but also in their contextual presentation. It is patently clear that the placement of his objects had as much to do with the objects themselves as with making the show simultaneously a piece unto its own.
—Shirley Kaneda
Jim Lambie's show Blackgloss was at the Anton Kern Gallery.
Originally published in
Featuring interviews with Om Puri, Uncle Mame, Donald Baechler, Monique Prieto, Aleksandar Hemon, Paul Beatty, Arthur C. Danto, Julien Temple, and Miriam Makeba.