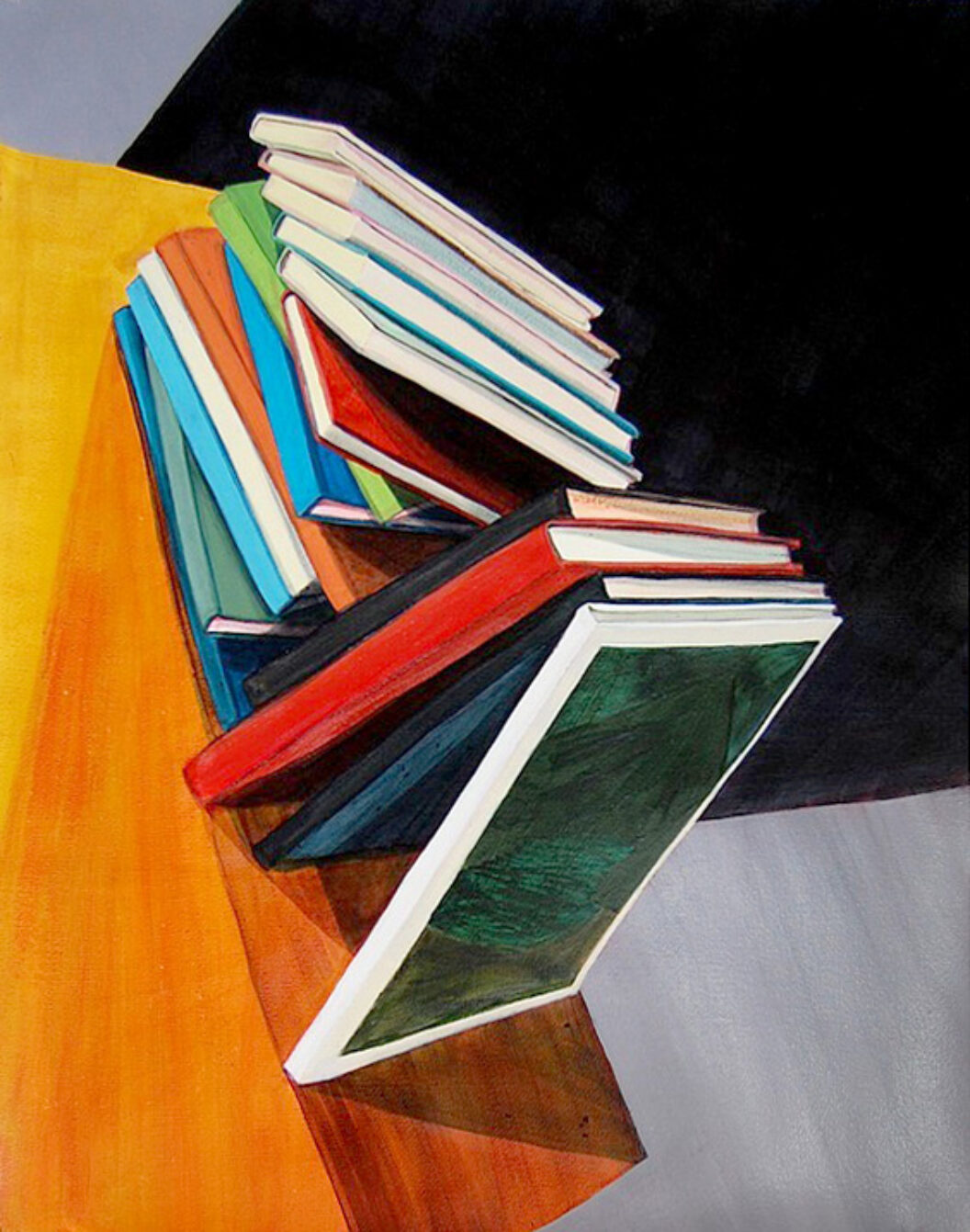 Jill Schoolman, founder of Brooklyn-based translation press Archipelago Books, gave a talk at Bennington College this summer. I sat rapt in the audience, wildly scribbling phonetically spelled names of writers from around the world and notes about their work. Schoolman speaks in a torrent of rapidly articulated ideas, but she slowed down at the end of her discussion to read a striking prose poem by Antonio Tabucchi called "A Whale's View of Man" that closes, "They soon get tired and when evening falls they lie down on the little islands that take them about and perhaps fall asleep or watch the moon. They slide silently by and you realize they are sad." This is the kind of writing that the nonprofit press publishes, by turns tender and startling and deeply literary—the bone marrow of international literature.
Back in New York, I paid a visit to Archipelago's office installed in the Old American Can Factory in Gowanus, a cavernous space crawling with dapper creative types. There, I admired the colorful in-house library of literary gems published over the past ten years: the poetry of Hugo Claus, the stories of Miljenko Jergović, and, of course, the first three volumes of Karl Ove Knausgaard's rather mystical My Struggle. Later, we discussed the archipelagic quality of book translation, the spiritual quality of discovering a great text, and the best bookshops from here to Buenos Aires.
Bibi Deitz You've been at this for ten years and have published one hundred books from more than twenty-five languages. Which collaborations between writers and translators have stood out? 
Jill Schoolman About forty percent of our authors are no longer physically in this world, but even within that group I believe there is still a profound exchange going on between author and translator. For example, I am convinced that Anne McLean collaborates in a deep way with Julio Cortázar. She communes with his spirit and I suspect has lively conversations with him, where she might recall more than he does about his own work and life. I have a feeling that they laugh a lot together! As for the living authors, it's interesting: many of the most well-loved and recognized writers tend to be quite hands-off when it comes to working with their translators. I'm thinking of Elias Khoury, Karl Ove Knausgaard, and Miljenko Jergović. There are others, of course, who prefer to be more intimately involved with the translation process, poring over every word.
BD Which writers prefer this kind of collaboration?  
JS Magdalena Tulli is one of our writers who likes to work closely with her translators. 
BD What are the differences between a book that is translated without the input of a writer, living or dead, versus a book that finds writer and translator in cahoots over every word? 
JS A writer's involvement, in my experience, tends to make life more difficult for a translator. Their input might clarify opaque or complex sections of the text, but usually their participation doesn't improve the translation; rather it forces a translator to become a diplomat, to spend time defending the choices she or he has made.
BD The Haitian writer Frankétienne will visit New York in September for the Brooklyn Book Festival, and you'll publish the first English translation of his 1968 novel Ready to Burst (Mûr à crever) this fall. He's been called Haiti's most important writer. Why do you think this is? 
JS Frankétienne is a force of nature. Not only is he is a vital poet, novelist, visual artist, musician, and founder of a new cross-pollinating genre called Spiralism (where poetry, art, and word-collage are woven together to extraordinary effect), he has also devoted his life to being a vocal advocate of the people. He remained in Port-au-Prince throughout some inconceivably difficult years and allowed the political turbulence and kaleidoscopic energy around him to nourish his work. He is also a great advocate for the Haitian Creole language, speaking out whenever possible for more classic literary and scientific texts to be translated into it. His writings, activism, art, and deep love for the Haitian people have elevated him to an almost sacred place in Haiti.
BD Every translation is a delicate dance between writer and translator. What must be in place for that dance to be graceful?
JS There's a third dancer involved as well, one that for the most part remains invisible: the editor. The translator is dancing with the author—reinventing, transporting, and transforming the author's words and spirit, rhythms and tones. And an editor offers his or her eyes and ears.
BD I keep having this vision of a book of poetry being translated subtitle-style, with the English version of each line directly below the line in its original language. Would you ever try that? How do you think that would be read and received differently from the way poetry is usually translated? 
JS It's more common to see a bilingual book laid out en face. We often do that with poetry, and occasionally with prose. We included the German in Richard Sieburth's remarkable translation of Georg Büchner's Lenz in facing pages. I have seen what you're talking about with the translation below. I believe Les Figues Press has opted for that technique with multiple languages on one page. For two languages, I'm not sure it would add anything to stack the lines one on top of the other. Perhaps it would reveal that translation involves more than the replacement of one word with another.
BD How did you wind up founding a translation press? What's your educational background, and which parts of your past are most useful in your life at Archipelago? 
JS I think my love of traveling and of immersing myself in other cultures planted the initial seed. I love exploring a culture through its literature and art, and it has been a great joy to look for original voices that open up worlds. I studied literature and film, but I have a feeling that what shaped and fed my xenophilia and desire to create Archipelago were my travels.
BD Where did you travel? 
JS I spent good stretches in Tanzania, Mexico, Cuba, Italy, France, England, and India.
BD Archipelago—how did you choose the name? There's something archipelagic about the process of book translation—a cluster of elements existing outside of the usual book-publishing process which must come together first, before the book is released. When you chose the name, did you think about how apt it is in relation to all of the facets that must work in concert to create a successful translation? 
JS That's true. I liked the idea of an archipelago, of distinct islands maintaining their own individual shapes and ways, yet belonging to something larger. Our books come from different parts of the world, are conceived and written in different tongues, but each make up an important part of our archipelago.
BD The five biggest archipelagos are all in foreign countries, which is fitting; did you consider this? Were there other names in the hat when you chose Archipelago? 
JS Our logo is an imagined archipelago. We didn't want to model it on one that could be found somewhere in the world. A couple of the names that we were batting around were Ship of Fools and Terra Incognita. I'm glad we decided on Archipelago.
BD There is something magical about Archipelago books. They feel like artifacts. They remind me of art books—various sizes and shapes, very simple, mostly text and blank space with a small visual on the cover. What do you model them after? In a world full of books that all look exactly the same, these stand out in the best way—with thick paper and exquisite covers. 
JS Thanks, that's good to hear. I knew when we got things going ten years ago that we would want to create a recognizable look for Archipelago. Publishers like North Point and Eridanos inspired me in that department. I feel extremely fortunate to be working with the magnificent book designer David Bullen, who was also responsible for the design of the old North Point series. Dave has been with us from the beginning and we have him to thank for the elegance of our books.
BD How did you discover Karl Ove Knausgaard? How do you feel about being ahead of the game on that one? 
JS I'm close with an editor at Knausgaard's Norwegian publishing house, who first described his novel about angels, A Time for Everything. I was able to read a few chapters of that book in English. Knausgaard's sensitivity and remarkable abilities as a storyteller and thinker jumped off every page. We published that book, and became devoted to his work, before securing the rights for the six volumes of My Struggle. 
BD What do you think it is about Knausgaard that has inspired such literary frenzy? I've heard this discussed at many a dinner party lately, but no one seems to be able to put into words exactly why they've become so obsessed with his books. 
JS Yes, there is a hypnotic quality to the books. He has an uncanny ability to move through time, to twist it, to speed it up and slow it down. He moves balletically from the ordinary to the profound in one breathless leap. I also think that Knausgaard's intuitive grasp of the human psyche, and of its mysterious connection to what lies beyond, infuses whatever he touches or considers with vitality. His raw honesty is addictive, but I feel that it's the undertow of what he is searching for just beyond his words that keeps us involved and wanting more.
BD It's vital to read literature from around the world. For those of us striving to find more international literature, which books would you recommend or deem unmissable? 
JS Oh, there are so so many books that I feel close to. For starters, the novels by Céline and Ondaatje and Krasznahorkai and Nabokov, Hrabal, Rulfo, Elias Khoury and Magdalena Tulli; and stories by Jergović, Gombrowicz, Cortázar, Calvino, Sait Faik Abasıyanık, and Borges. Héctor Abad's Oblivion, Breytenbach's A Season in Paradise, Pessoa's The Book of Disquiet, and Antonio Tabucchi and Josep Pla; the poems of Mahmoud Darwish, José Ángel Valente, Nichita Stănescu, Ingeborg Bachmann, Różewicz, Césaire, Soyinka, Leopardi. More and more I am drawn to books that defy genre, like Ivan Vladislavić's Portrait with Keys or Railtracks by John Berger and Anne Michaels.
BD What are your favorite book shops in New York City? In the world? 
JS I love Three Lives, Community Bookstore, McNally Jackson, Greenlight, and WORD. I also adore City Lights in San Francisco, Elliott Bay and Open Books in Seattle, Skylight in L.A., the London Review Bookshop in London, Shakespeare and Company in Paris—but if I had to choose a city for its bookshops it would be Buenos Aires, hands down.
BD What is it about international literature that isn't present in American prose? What drew you to translations in particular? 
JS I don't think it's a question of what's missing; it's more about tracking down singular voices that have something to say in new or beautiful or provocative ways. There are quite a few publishers here that are devoted to American and British prose. That leaves a lot of fertile terrain to explore. Of course, for every writer that we get behind, a talented ventriloquist must be found, someone who can capture their voice and aura in English.
BD How do you find new acquisitions? I understand that you are trilingual; do you always find a portion that has already been translated into English, French, or Spanish, or do you ever rely on others' recommendations? 
JS We find writers and projects in different ways. I do read things in French and Spanish (including books written in other languages that have been translated into French or Spanish). I'm in touch with editors from different parts of the world and quite a few international literary agents. Often translators will recommend possibilities to us and we'll commission a sample translation. Occasionally we'll take on a book based on a translation sample and a gut feeling. I wouldn't rely solely on a recommendation—I need to be able to read at least a portion of the book in question.
BD The Rwandan writer Scholastique Mukasonga is part of Archipelago's oeuvre—you'll release her first novel, Our Lady of the Nile, this September. She's known for covering intense topics via lighthearted prose—in the past, with nonfiction—addressing genocide and the concept of "never again" while delivering decidedly readable narratives. What was it about her that caught your eye? 
JS I was drawn to her humanity. Mukasonga has a great gift of creating complex yet recognizable characters, ones who make you smile and shake your head and immediately pull you in. She writes with simplicity and depth, and uses dialogue to great effect. The way lives become entangled, the way humor and layered emotions and the influence of family touch everything makes me think of Chekhov. Like Chekhov, Mukasonga's apparent lightness and flow are rooted in regional history, in the intricate web of place and relations and belief, in living memory.  
BD When I discover a new writer, there is a sort of spiritual hush that washes over me, a sense of reverence. How do you feel when you find a writer whom you know you want to translate? How quickly do you know it when you read something new? 
JS Yes, a spiritual hush, that's a lovely way of putting it. Often I know right away. Something inside me starts singing and leaping around, and then I start thinking of people I care about who absolutely must read this book.
Bibi Deitz is a writer and editor based in Brooklyn. Her writing has appeared recently in The Rumpus and The Operating System. More at bibideitz.com.
For more on artist Jordan Buschur visit jordanbuschur.com.