Discover MFA Programs in Art and Writing
In Killer of Sheep, Charles Burnett's 1977 film set in LA after the Watts riots, there is a scene you may recall: a group of friends sit in a car outside a liquor store; on the hood rests a can of beer, and the man in the passenger seat reaches through the empty windshield to sip from it. It's a stunning sight gag, as well as a nod to anti-illusionist theater. I was thinking of Burnett as I saw Jibade-Khalil Huffman's multimedia installation STANZA, which was recently on view at the Studio Museum in Harlem.
Burnett and Huffman share frequent recourses to humor, representing black life and subjectivity through an everyday ambiance, in contrast to the hypervisibility of black suffering in popular media. Huffman's room-sized installation featured videos on flat-screen monitors, projections, framed photographs, screenprints, and a sculpture consisting of five windshields suspended from the ceiling of the gallery. The windshields' cracked glass surfaces refract and diffuse the lights of projectors and monitors surrounding them. They could be the remnants of an accident scene, yet they also resemble the sad, busted screens of our mediated era.
If these fractures remedy transparent mediation with immediate obstruction, the various interference patterns and suprematist graphics populating the multiple screens and projections do the same: shapes open like curtains or obstruct a view of the video's narrative, making certain images more present through their "redaction" (Huffman's term for this effect). Periodically, these elements interrupt the principal video of the installation, wherein we encounter a woman, played by the artist Marisa Williamson, navigating an urban space while clutching a tally counter like those used by club bouncers. Hypnotic patterns, resembling the raster of windshield defrosters or television screens, add further distraction.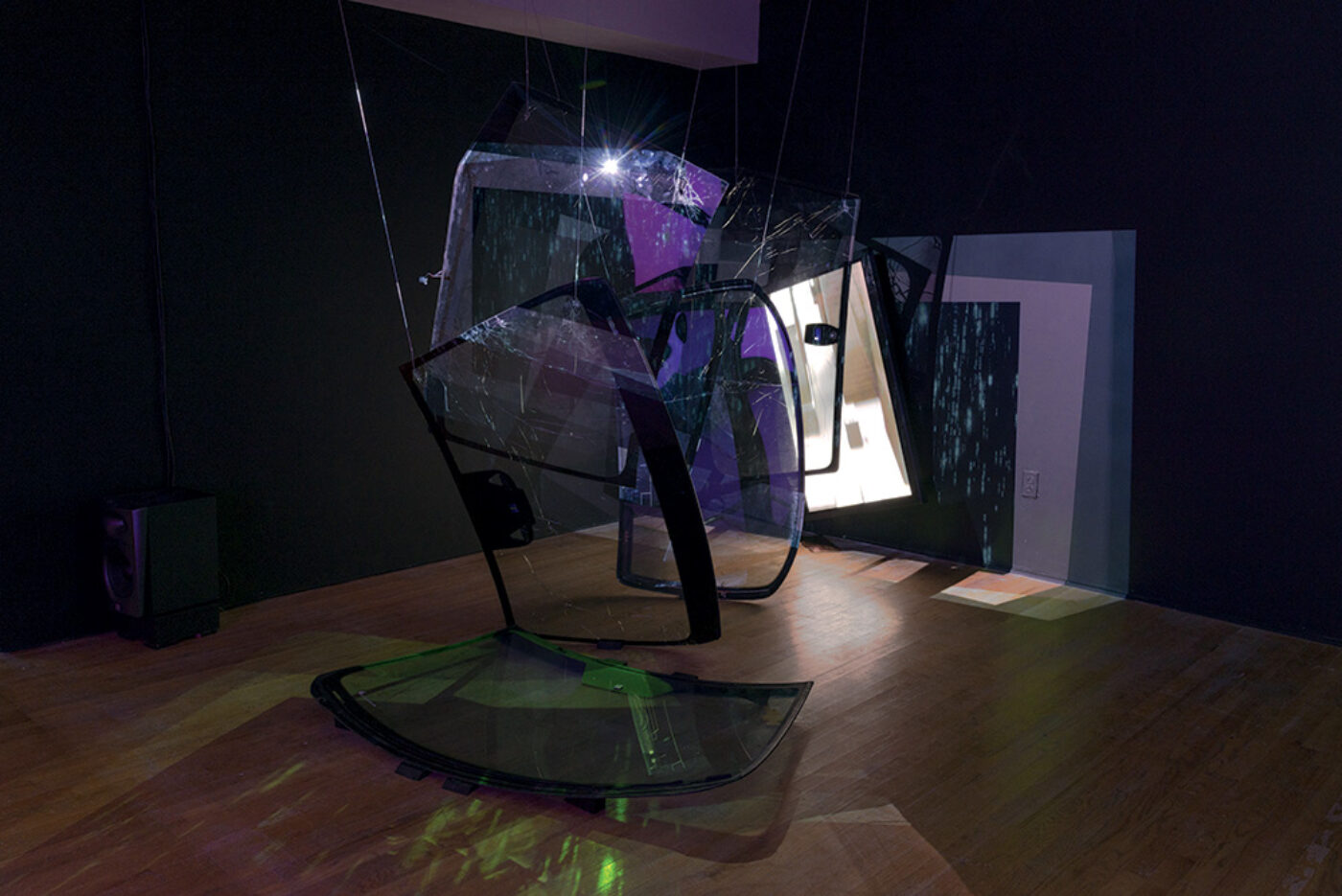 While the video suggests several possible narratives, they don't coalesce. Instead, as in a poetry reading (Huffman has published two books of poetry), our attention moves in and out. A voice-over delivers in soothing tones Dozens-esque modes of address: "What kind of dumbass, bitch ass, mark ass, buster ass, Swift Boat Veterans for Truth boat having ass, Wiccan ass, Dumbledore ass, looking ass, what kind of grown ass, over three ounces of liquid ass, what kind of ashy ass skeletons are depicted in your version of death?"
Reminded of the profound vulnerability of black lives in America, we watch small, mono-hued flags being pinned to polka-dotted wallpaper while the video changes colors as if to literalize seeing red (and blue, and green, and pink). Are these the "colors of a gathering rage" to which the voice-over refers? Instead of head-on rage, as encountered in so much current art referring to Black Lives Matter and parallel movements for transformative justice, Huffman's rage appears diffuse and peripheral, felt at the edges of a shifting consciousness.
The video is punctuated by sampled music (Huffman's mash-up of Anna Meredith's "Nautilus" and The D.O.C.'s "It's Funky Enough") and content culled from TV and the Internet (including a tutorial for preventing cheating in dominos and a windshield replacement commercial from a local demolition shop). Suggesting immobility and fugitivity, much of the action is shot from the interior of a car. The car symbolizes psychological interiority while representing the protagonist's quotidian reality—an urban vehicular phenomenology. As though invoking a "dark sousveillance," a term coined by scholar Simone Browne to underscore epistemological resistance to the surveillance of black bodies in white-dominated social space, this embodied consciousness is never entirely given, always partially withheld. Huffman creates a staggered circuit between the person on and off screen by extending the video into a series of photo collages, prints, and additional projections. As the voice-over tells us, this is an "autobiography spelled out sentence for sentence, on each one of these screens, in the middle of nowhere, of the middle in nowhere, on the center of a dotted line."
Thom Donovan is the author of Withdrawn (Compline, 2016), The Hole (Displaced Press, 2012), and ten chapbooks of poetry. He is also the editor of Withdrawn: a Discourse (Shifter 23, 2016), and the copublisher of ON Contemporary Practice. He blogs on Wild Horses of Fire.
Originally published in
Featuring interviews with Lynda Benglis, Roe Ethridge, Becca Blackwell, Antonio Campos, Robert Greene, Angie Keefer, Liz Magic Laser, Laura Kurgan, China Miéville, Michael Palmer, and Rosmarie Waldrop.