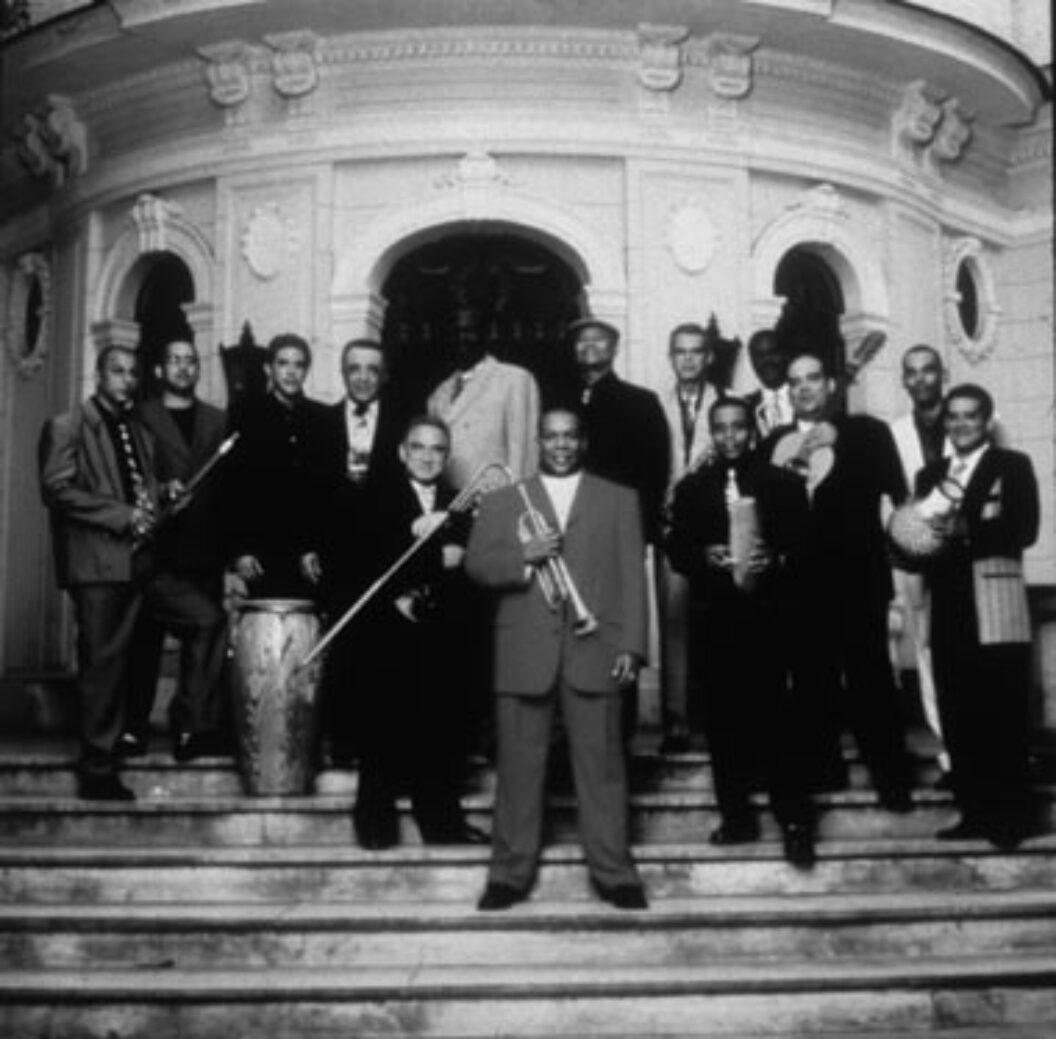 In June of 1999, my band was scheduled to open for Jesús Alemañy's group Cubanismo, at Prospect Park's "Celebrate Brooklyn!" series. Needless to say, like most New York bandleaders, I don't have an all-the-time working band. For this show, I was going to have a lot of new musicians, and with rehearsal time in New York always so limited, I was sweating bullets. The Cuban bands, on the other hand, showed up, rehearsed to the teeth with a road-seasoned repertoire. Cubanismo, in particular, had been on the road constantly and for years, building up their touring telepathy. And there were some bad dudes in Cubanismo—Carlos del Puerto on the bass; Rolo Martínez singing; a young piano genius named Nacho Herrera.
There must have been ten thousand people at the Prospect Park band shell for the show. Fortunately, my New York guys came through (as they always do). We think on our feet in this town, so we held our own. But then Cubanismo came on, and boy did they smoke.
At this point, I know Jesús Alemañy. He's a friendly, socially talented guy, and one of the things I remember about that evening is how nice he was to me, and that he took the trouble to compliment my band.
Presently, I'm working on a book, From the Revolution to the Millennium: A History of Cuban Popular Music . When BOMB asked me to interview Jesús, I realized that this was my chance to ask him about what he saw coming up in the seventies and eighties as a working musician in Cuba. We spoke on the telephone this past November, as Cubanismo, as usual, were on yet another world tour.
Ned SubletteI'd like to talk about your history and the musical developments in Cuba that you've lived through. When did you become a member of Grupo Sierra Maestra? A group dedicated to traditional son; one member of Sierra Maestra, Juan de Marcos González, would assemble and direct the musicians for Buena Vista Social Club.
Jesús Alemañy In 1978, a year after the group was founded. I was 15 years old, going on 16.
NS It was a key group in the history of modern Cuban music, and no one at the time would have bet that it would become as internationally popular as it ultimately did. How did all that come about?
JA The group was already formed when I joined, but in the beginning they had been playing Latin American music—Andean music, and a little nueva trova.
NS And it was a group of engineering students, right?
JA Yes, a group that was formed at the University of Havana. By the time they called me to join the band, their style had changed completely. They were dedicated to playing only traditional Cuban music, the music of the son septet, with the support of the Septeto Nacional musicians—in particular, Rafael Ortiz and Lázaro Herrera. Lázaro Herrera, still alive and in his nineties today, was one of the seminal son trumpeters in the son boom of the mid-'20s, during which the son sextets added a trumpet to become son septets.
NS And Lázaro Herrera acted as a coach for the band?
JA Yes. He was one of the people who initially supported the band and guided it with their knowledge. Lázaro and Rafael Ortiz were also composers and arrangers who were interested in having us create a new version of the music they had composed, and of tunes like Ignacio Piñeiro's "Guanajo Relleno" and "Echale Salsita." Traditional songs such as those were what ignited our popularity in Cuba. Lázaro Herrera and Rafael Ortiz directed the group. They came to our rehearsals a lot, and also taught us their songs.
NS What does the Septeto Nacional signify in the panorama of the son?
JA Well, the son is considered to be the most legendary Cuban music, although the danzón is said to be the older of the two. The danzón, which first debuted on January 1, 1879 in Matanzas, is often said to be the first postcolonial popular form of Cuban music. There is a division between the urban son and the rural son. With the septet format the son became popular during the 1920s in Havana. At that time the son was experiencing a musical evolution. For example, the bass had been played unsyncopated, but then it started to syncopate. And the tres became much more syncopated than before. Also during that time, they started to mix in the rumba of the solar, the rumba of the barrios, into popular music.
NS When did the addition of the trumpet convert the sextet into a septet?
JA Lázaro began to play in the Septeto Nacional in 1927, if I remember correctly. He was very important. That music was used to accompany silent films, live in the cinema houses.
NS They played son to accompany silent films?
JA Yeah, sure! They even played Beethoven, jamming a little bit before the movie started. Once the film began, they would play what is known internationally as classical music. Lázaro was one of the trumpeters who played in those cinemas. He made a lot of money that way. The Septeto Nacional was very important—they were pioneers.
NS Obviously Lázaro was very important to you.
JA He was the person who helped me take my first steps in popular music; he taught me the songs, "El Bardo," "Echale Salsita," "Suavecito." I first played this music thanks to him. He taught me how to play the songs and then gave me ideas for improvisation. In the beginning I copied some things, but then I began creating my own style. I was trying to interpret the tunes the way I felt, from a very personal point of view, especially with those old songs. I utilized modern phrases, with a little influence of jazz in the improvisations.
NS In that period, that idea of playing old style son was not very popular.
JA In the beginning, it was like a boom. The fact that I was only 16 and playing music from the beginning of the century…I remember once, in 1981, we played in the Varadero Festival with Batacumbele. A groundbreaking Puerto Rican group; at that time it was almost unheard of (and is still rare) for Puerto Rican groups to play in Cuba. They thought we would be a group of old musicians because of the kind of music we played.
Anyway, in Cuba, we became very popular and won a lot of awards. And at the same time I was playing with Sierra Maestra and performing throughout the entire island, I was finishing my career at the conservatory, and playing with Gonzalo Rubalcaba and his group Proyecto.
NS What was the big break for Sierra Maestra in Cuba?
JA The most important opportunity to make a big impact was the World Festival of Youth and Students in 1978. This is a major gathering of Communist youth from all over the world, held in different countries on a rotating basis. The Cuban version includes plenty of music. There was a Cuban cultural delegation with artists representing Cuba. At that point, Sierra Maestra started to take off.
NS What was your life like during that time?
JA We played almost every day. I graduated from the Guillermo Tomás Conservatory in July 1981, and that same month, we began our first trip. At the same time I was playing with Gonzalo Rubalcaba. We were playing the festivals and winning contests. In 1982, I began to work as a professor in the music conservatory where I'd studied. I worked there for ten years, while playing with Sierra Maestra. We traveled and played all over Cuba, at the University of Havana, on television and radio, and in all the important festivals.
NS At popular dances?
JA At popular dances, where we alternated with groups like Irakere and Los Van Van. And we did a lot of double bills with Conjunto Rumbavana.
NS Where did you play most often?
JA We played mainly in public places, parks, for parties and celebrations during carnivals, and we played almost every weekend at a place called the Student's House, which was a university student scene. And of course, we toured in the provinces, and we also played in the big plazas in cities like Santiago de Cuba. We were traveling constantly. I was very, very busy. I started to play as a substitute for other players during their vacations, and I played the trumpet with the Tropicana big band.
I played with Sierra Maestra, I was teaching classes in the morning, and then I did the Tropicana show at night—I maintained that schedule for ten years. We never had the opportunity to go to the United States, but we went to Central America and the Caribbean. In 1988 we went to Japan, and in 1990 we recorded an album and toured in Iceland—Reykjavik! Imagine the snow! We went to Europe every year.
NS When did you make the decision to leave Sierra Maestra?
JA I was with them 15 years when I decided to stay in England. I recorded Dundunbanza, my last album with Sierra Maestra, in London in 1992, and I met Nick Gold of World Circuit Records in London, who would executive produce Buena Vista Social Club and Joe Boyd American record producer living in London, with wide-ranging production credits since the '60s and a lot of other people in England, through my ex-wife Lucy Durán.
NS I wanted to ask you about Lucy Durán, because she played an important role, which is not well known.
JA She played the most important role. Our relationship is over; we've been separated for two years. But regardless, I want to give her the thanks she deserves; all of this started because of her. No one talks about her when they talk about how the boom of popular Cuban music began, about the history behind Cubanismo or Buena Vista Social Club. But I always mention her, because in reality, much of what has happened in Cuban music is thanks to her.
NS She was the person who presented Cuban music to producers in England, which is what got the ball rolling, right?
JA Yes, she presented Cuban music to producers like Joe Boyd, Nick Gold and David Flowers; their first experience with Cuban musicians was through Lucy. She also promoted the Orquesta Revé in '87 and '88, in London. The late Elio Revé's group, at that time hugely popular in Cuba, was a delightful and very influential orchestra, out of which came a number of important bandleaders and singers. She brought the Muñequitos of Matanzas out of Cuba for the first time.
NS And she put together that charming anthology album of Revé's which came out in 1989 on RealWorld, La Explosión del Momento! A tremendous record.
JA And Ritmo Oriental, an orchestra that was very popular in Cuba during the '70s. Lucy went to Cuba and took photos of them and promoted their albums. She was the backbone of all of that, the one who gave birth to the whole phenomenon—especially in England, which opened the doors worldwide for all of us.
NS What was the life of a Cuban musician living in London like, learning English and immersing yourself in that culture?
JA It was kind of a battle. There had been no other Cuban musicians in the history of music in London, I was the first. The idea of launching my career alone, with Lucy's help of course, was a challenge. I had a vision. I saw the world in front of me as immense, and I felt free to do what I wanted, though not as free as I imagined. So I started playing with other Latin musicians living in London. Salsa was mainly the style then—from New York, Puerto Rico and Colombia. There weren't enough musicians with the background and experience to play Cuban music. So, little by little, I was struggling and trying to help people—not only to understand the difference in the styles—but to realize that all this Latin music originated from Cuban music. The most substantial thing was joining the group Incognito. But I was only a resident in England, and being a Cuban citizen, in order to obtain a visa and working papers, I would have had to return to Cuba. And I had left with the idea of not going back. I was playing with a top 10 band, and when they went on tour, I couldn't go. Because of that, I had to leave the band. It was very disappointing.
Then, in 1995, I got married, and my residency problems ended. Around that time I met Joe Boyd and began my solo career. Joe came up with the idea for Cubanismo—for me to go to Havana and make an album of traditional music, using instruments like the trumpet as leads instead of voices, with room for instrumental solos. All my experience, all those years of playing in orchestras, led me to want my own orchestra, to play all those rhythms without limitations, to play the traditional styles, with a different vision.
The first contact I made when we flew to Havana was Hilario Duran, who was also on the plane. Cuban pianist now a resident of Toronto, previously with Grupo Perspectiva and Arturo Sandoval when the latter lived in Cuba. We knew each other from before, and we talked the whole flight. I explained to him the concept of what we were doing, and he offered to help me contact some musicians. He collaborated on our first album. As we arrived in Cuba, he said, "Look, call this bass player, Carlitos," The bassist Carlitos del Puerto, the teenage son of Irakere bassist Carlos del Puerto, who would himself later play with Cubanismo who I didn't know because he was younger and I had been off the scene. I knew Tata Tata Güines, one of the most important Cuban congueros of the second half of the 20th century, because I had met him at the Tropicana—after ten years in the Tropicana orchestra, I knew a lot of musicians. I also knew Emilio del Monte and of course my uncle Luis, and Manuel Mirabal "El Guajiro." Hilario told us about Yosvany Terry and Yulien Oviedo A timbalero who was eight or nine years old at the time he played on the Cubanismo album. And that's how we got our musicians together.
NS The album had jazz guys, soneros, salseros.
JA Rumberos! Everything! (laughter) We banged heads a little…but agreed that the idea was to play this music now, at the end of the century, and see what happens. We were the first ones to break the ice. For other musicians, it was like seeing the sun again. At that time, there had been no other project like ours, internationally or in Cuba, and people were interested.
NS Joe Boyd has said many times before that his contribution was to insist that everyone play together live in the recording studio.
JA Yes, that was the idea in the beginning. That was hard for the musicians, because the modern style was to use multitracks and overdubs. The tradition of recording live had been lost. So we went to the studio and set up the entire orchestra. Something funny happened the first day: We played four songs, and when we finished, the musicians—Maraca, Terry and Carlitos—came up to me and said, "Well, we've rehearsed, let's do a take." And I said to them, "No, no, no. The recording is done. We were recording all this time." They were like, "What do you mean—live?" "Yes, yes, that's how we want to do it; we want the sound to be traditional." And they were staring at me like I was crazy. (laughter)
NS Everybody playing together was being done here sometimes, but not in Cuba.
JA No, not in Cuba. And varying the rhythm and utilizing various styles and concepts from an arrangement point of view was not done. There were many musicians involved in different concepts, each one with an individual vision, but playing together, and doing songs by Arsenio [Rodríguez] that were practically unknown, like "Pa' Que Gozen." That was our first album's core of success.
NS And I think that album served as a model for Buena Vista Social Club. They even brought in the same English engineer, Jerry Boys.
JA When they recorded their first album in Havana, we had just released our second album. And we were recording Alfredo's album, Cuba Linda. The second Cubanismo release was accompanied by a solo album of its pianist, Alfredo Rodríguez, allowing cross-marketing of the records, a pattern that was duplicated with Buena Vista's Rubén González release. After that the Afro-Cuban All Stars and Buena Vista Social Club albums came out. Our idea was to do Cubanismo and then do Alfred's own album with him as the pianist—they took that idea, as well as the idea of varying the rhythms, utilizing numerous styles and epochs from popular music.
What happens in Cuban music is this: you hear a Los Van Van record, it's one sound, one concept. I wanted to create a single orchestra that, with the same musicians, could create a variety of sounds and styles. We gave possibilities to all of the musicians. For the second album, we tried to include more singers to differentiate it from the previous album.
NS When did Cubanismo first play live?
JA There were a few versions, but the first show by the full group, with the Cuban musicians that played on the first recording, was in New Orleans.
NS In New Orleans, in 1977? I saw the second show on that tour, in Texas.
JA You saw the one in Houston?
NS Yes, the open-air show they had to stop because of the cloudburst. I was actually the one who insisted the electrician cut the power to the stage because I was afraid Pancho Amat might get electrocuted playing his tres in standing water!
JA You remember? That was terrible weather!
NS I was watching from the side of the stage, with water pouring into your trumpet bell sideways, thinking, Jesús looks so determined to play he won't stop unless the power's off. What a way to debut the band.
JA But we did it. It was our first visit to the United States, and the following year when we came back we were better known and had more possibilities.
NS My impression was that first tour was like a very distinguished supergroup that was more or less jamming. But afterward, it became a real band. And each time I saw the band, it got better. Do you remember when I opened the show for you in Prospect Park?
JA That was an unforgettable concert for me. A lot of people I've met all over the United States talk to me about that concert.
NS Cubanismo was killing.
JA Oh yes. At that moment, we had gained a lot of strength. We had been playing a lot together and were not only tight, we had achieved a communication among us. Unfortunately, maintaining a group of superstars is very difficult; each one has his own personal plan. I've always seen that as something positive: we got to experience playing with great musicians such as Maraca, Yosvany Terry, Carlos, Alfredo Rodríguez, Pancho Amat, Rojitas—and each one has his own orchestra, which is very important.
NS It seems like there's a tradition in Cuban music of two different product lines—music for export and music for domestic consumption. Like "El Manicero" in the '30s. Also known as "The Peanut Vendor," the hit that in 1930 kicked off an international "rhumba" craze—which had nothing to do with rumba…but never mind.
JA It's a part of our history that we can't deny, and it's ongoing. It's been a tremendous battle for the musicians in Cuba who are dedicated to this style of music. I don't think it's a problem of popularity; I think both styles could work. In Cuba it's more a question of, I don't want to play this old sounding music on my radio show.
Cubanismo is the Cuban group that has toured the most throughout the United States, and this part of our history is something we never expected. We are considering going to the Middle East at the beginning of the new year, Israel and Lebanon. A lot of places we have played have never seen a Cuban orchestra before. It has been both important and very agreeable to us, being the first Cuban band people experience.
NS The band hasn't played in Cuba ever, right?
JA No. We have an offer that I hope will soon be confirmed to play in the jazz festival this year. We'll play material from our current album (Mardi Gras Mambo), the one we recorded in New Orleans.
NS I think you made history with this album. I don't think any other album exists as a collaboration of musicians from both Cuba and New Orleans.
JA That was the idea. Joe [Boyd] was the creator of all of this. He was the one with the vision to do the first album, conceptualizing it from a theoretical point of view. The musical part is mine, as coproducer, along with some other musicians. And I have to mention someone who is no longer with us today, Arsenio Rodríguez, one of the legendary Cuban artists. We light a candle in his memory every day. He is the god of Cuban music—one of the gods, anyway. I always find some detail to learn from in Arsenio's music—the style, the feel, the swing, the flavor…I've tried to figure it out, how it is that in his time he had such a modern vision, including jazz harmonies, in traditional son. Despite being blind, he had tremendous vision.
NS Maybe you could explain a bit to the readers about Arsenio's innovations.
JA One fundamental factor: he had the opportunity to travel to the United States and he was able to bring a little bit of that flavor, a little jazz, without changing his style. Because he maintained his traditional style always. Son montuno, guaracha, the rumba and above all the boleros—he was an exceptional bolerista. I think he was the most complete musician of his time.
NS And he also invented the conjunto as we know it.
JA Of course, the piano within the conjunto, the tumbadoras (congas). All from his experience and influence living in the environment of the barrios of Cuba during that time. He brought all of that to his music. People saw his music as part of their daily lives, and I believe that was the secret to his popularity.
NS And also in his song texts…
JA Of course. When we talk about bringing in daily life, a fundamental factor is his lyrics, because he talked about things that were happening socially. This comes from the guaracha composers, from the influence of Nico Saquito, Trio Matamoros and Ignacio Piñeiro—who was a pioneer of the idea of using popular themes in songs. Those are the kinds of things that have created the history of popular Cuban music.
Translated from the Spanish by Eva Golinger.
Originally published in
Featuring interviews with Damiela Eltit, Alavaro Musis, Carmen Boullosa, Gioconda Belli, Sergio Vega, Gunther Gerzso, Valeska Soares, Pedro Meyer, Marisa Monte, Cubanismo!, and Ned Sublette.