Discover MFA Programs in Art and Writing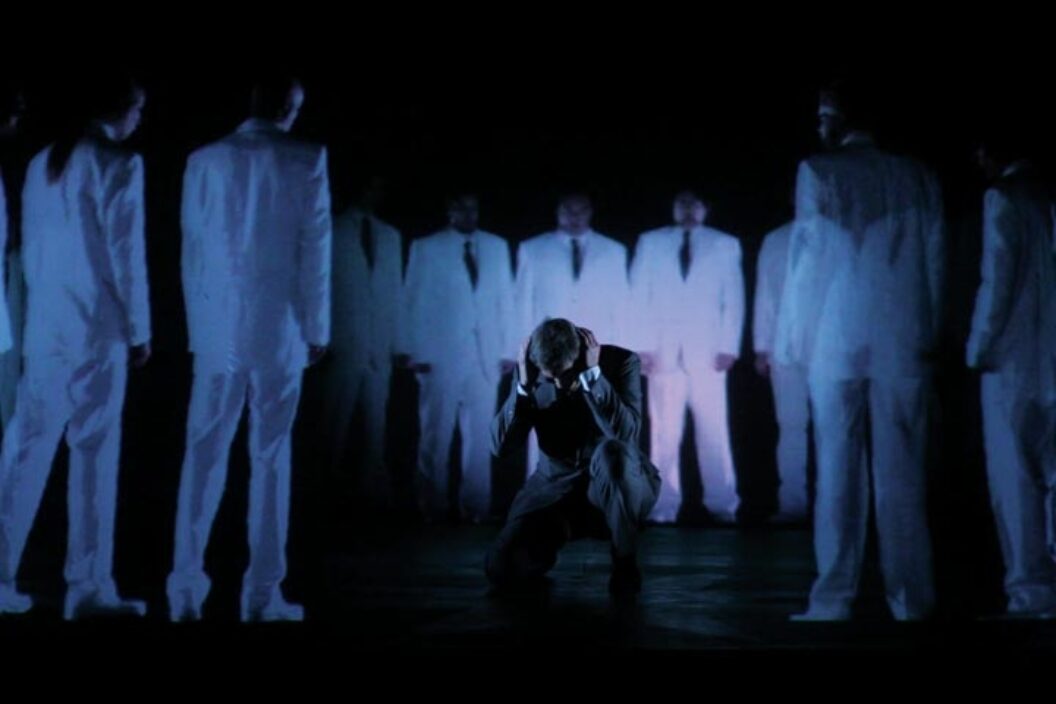 Last November, Jesper Just's True Love is Yet to Come opened to a standing-room-only crowd in the large white box of a space that is the Stephan Weiss Studio in New York. As a red curtain parted on the raised stage of the custom-built theater, set in the gallery as one might expect for a giant Punch and Judy show, the tinkling notes of a music box filled the space and the figure of a young man dressed in a white suit was revealed turning in the air: a lifelike, life-size projection, like a hologram. As the Ink Spots' orchestration of the song "Whispering Leaves" rose to a crescendo, Baard Owe, of Lars Von Trier movie fame, sang to the brightly spotlit youth (Johannes Lilleore) and, at song's end, tried to embrace his ethereal body. For almost 30 minutes, the interchange between projected figures on stage, including a remarkable sequence with 20 members of the Finnish Screaming Men's Choir and Owe, the only live performer, mesmerized the audience, many of whom returned again and again during the performance's eight-show run to witness the seemingly inexplicable magic of hovering life-size people and to listen to the touching songs of Owe, as he sang of lost love in the rain and sank in the end into a virtual watery wasteland.
True Love was the outcome of an unforgettable moment in late 2004, when I previewed Bliss and Heaven, 2004, a video by then-30-year-old Danish artist Jesper Just, in the back room of the Perry Rubenstein Gallery, a month before Just's first show in New York. The eight-minute video began with a young blond man emerging from a field of wheat, stepping into the back of a trailer truck and being transported, as if in a dream, through the truck into a brilliantly lit theater where the burly truck driver, silver tresses and long silk scarf streaming behind him (propelled by a fan), belted Olivia Newton John's "Please Don't Keep Me Waiting" in a deep baritone. My instant response was to commission Just to create an opera for PERFORMA05, the first visual art performance biennial, then still in its early planning stages. By the following summer, Just had taken up the challenge, and in a very short timeframe, would storyboard a performance, shoot a film, record a sound track, and, with PERFORMA, plan his stage debut in New York. Visa complications delayed the arrival of Just and Owe from Copenhagen, who made it to the Weiss Studio with only 24 hours to spare before opening curtain, during which time Owe would step onto the newly constructed stage for the first time (only a small model of the stage existed before then). Artist, performer and technicians had mere hours to prepare before doors opened on November 3. Just's achievement in creating this lyrical work with its mix of sadness and elation, which, previous to opening night, existed in two-dimensional form only, set a new standard for the very idea of artists' performance, establishing at the same time the debut of the PERFORMA Biennial and its mission to inspire new directions for performance in the twenty-first century.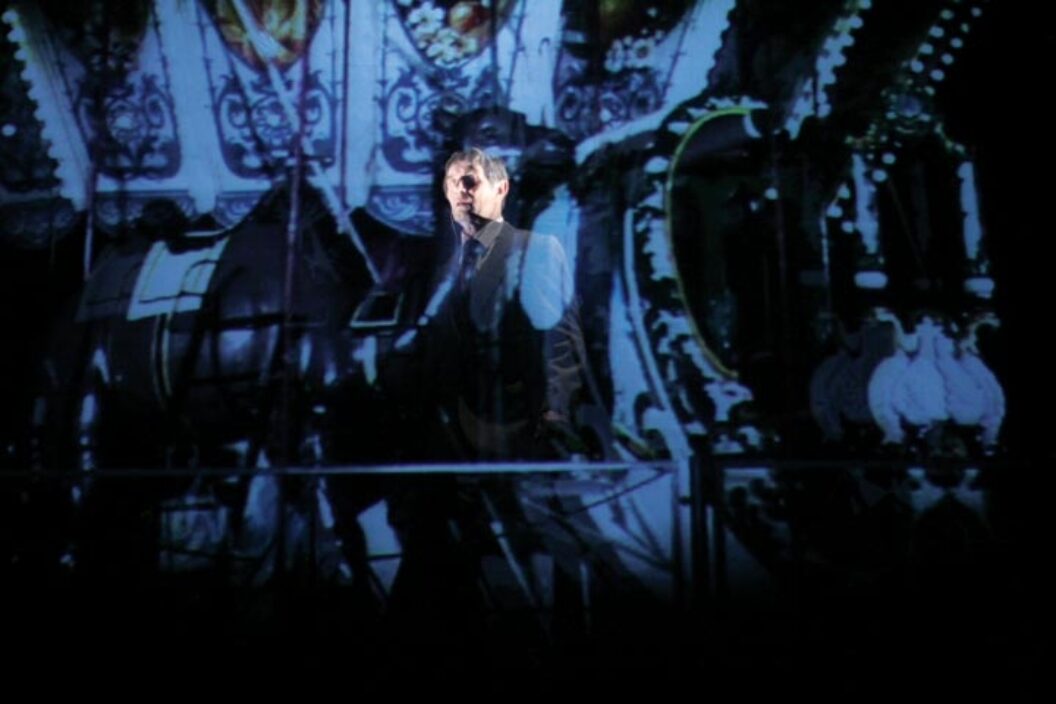 Rose Lee Goldberg What went through your mind when I proposed that you create an opera for PERFORMA?
Jesper Just Well, I guess I said, "Yes, thank you," and I didn't really think so much about it, because PERFORMA did not yet exist! But then I got a letter from you a few months later and then I said, Holy smoke! This is for real, and I had to come up with a live performance, which was a big step.
RLG And a courageous one, considering that your longest video at that stage was only eight minutes long, and that you had never worked live before.
JJ Yes, but I had been working with professional singers and actors in my films, as well as a few professional opera singers from the Royal Opera Theater in Copenhagen. I had used four opera singers at a strip club, singing Roy Orbison's "Crying" a capella, in No Man is an Island II [2004]. I think they were quite suspicious when I first called them to be part of this, but then they thought it was great fun and it turned out quite well, I think. When you proposed a live opera, I thought, actors are able to shift between working in films and working live in theaters, so I should be able to do the same.
RLG In those first few minutes of watching that video, I reacted strongly to the operatic—as in exaggerated and dramatic—atmosphere of the piece. I wanted to see your characters step out of the screen into real space. I loved the idea that this big guy in a white T-shirt might sing opera but could just as well perform on the Bowery. The mood was pedestrian, but also edgy and seductive. Was opera a part of your growing up? You were able to make it feel so natural.
JJ I think I hated opera like any other kid, but I did listen to it. And although I love theater, and can see the beauty of it, I never remember being touched by it. It's just so artificial to me with people standing onstage and pretending that they are not being watched. I am never able to reach that hypnotic state when you forget where you are, which happens when you read a book or watch a movie. I just can't forget that someone is standing there.
RLG "Being touched" emotionally is key to your films and your first performance, True Love is Yet to Come. You seem to fine-tune the emotions of your films as though adjusting the sound level of an amplifier. Are you as aware of your own emotions?
JJ Well, if you want to make a piece that is going to touch people, I think it's important that you approach the "emotional" so that it's based on intuition and "female qualities" in the way you make it. If you are very conceptual about it and say, Ah, I can trick people by using a formal approach, it won't work. I think you have to approach it the way you want the audience to experience it. Maybe I am not as good at expressing emotions as you say, but of course, I am very emotional, and I think what you see are some of the devils I am fighting with myself. But I think the themes I am working with are about men showing their emotions in the public sphere toward each other without having it be a balance between male and female. It's of course personal, in a way, but I don't think I am an expert in showing feelings myself. Maybe that's why I want to see emotions on film.
RLG There hasn't been a male response in visual arts to feminism, especially with regard to men's emotions. It seems that you have taken this subject as a central theme in all your videos.
JJ I don't know where it is coming from or why, but I am conscious that during the fight for women's rights and the feminist movement, males have in a way forgotten to find their own place. Lonely Villa, 2004, was shot in a gentlemen's club in Copenhagen, with a telephone on each table and all these men sitting and waiting, although you don't know what they are waiting for. Suddenly one of the phones rings and you can see the emotions in the older man's face as the young man who is calling sings to him. [The song is "I Don't Want to Set the World On Fire" by the Ink Spots.] This work in the club is kind of making space for men, like a secret place where they can come and actually be in touch with their feelings, and then go out into the street and be macho again.
RLG The songs, by Orbison or the Ink Spots, are irresistibly sentimental, almost clichéd.
JJ I work very much with clichés and try to turn them upside down. I use songs as the exchange of love between characters the songs become the dialogue, there are no spoken words and I cut back and forth between songs, sometimes over the phone. Music, of course, helps the work bypass the brain.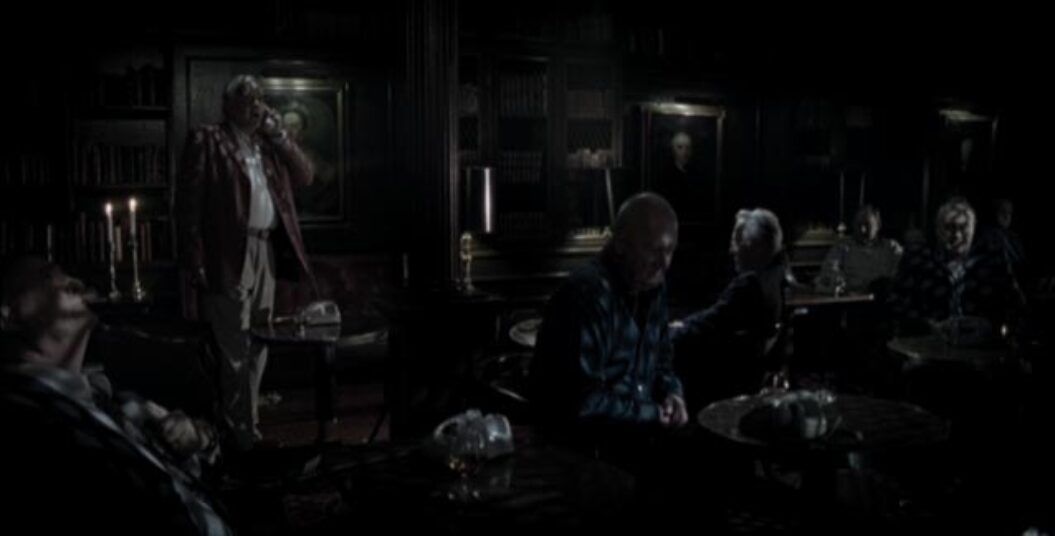 RLG Do you watch a lot of films? Are you constantly critiquing what you see and applying it to your videos?
JJ Yeah, I watch a lot of films and make lot of references to films, but not specific films, rather films in general, and that's probably why the videos look the way they do. I don't think I ever sit and analyze. It's more emotional. Of course, it's conceptual too, but if it were only that, it wouldn't touch people.
RLG Visconti's Death in Venice comes to mind as a possible influence: an emotion-drenched film with a young man being watched by an older man, tears streaming down his face.
JJ I think I have only watched that film once all the way through, but it has been a reference for the performance. With Death in Venice, no one knows what the relationship is between the two, or why the older man is following the young man. There are some hints of course—he had a son that died and it's a little nasty, in a way. But it's very hard to define, which is why it is great. It touches me, and it doesn't have to be explicitly about the relationship. It gives you the space where you can put your own thing into it. My work has sometimes been compared to Pedro Almodóvar's, whom I actually haven't thought of as a reference. I love some of his films, but I think his characters talk too much, which doesn't always give you a chance to think for yourself.
RLG Was your training in film?
JJ No, I studied fine arts at the Royal Danish Academy of Fine Arts. You could study media-based art, but you basically made up your own program. We had meetings every two weeks, and we could request different people to come in and teach. I worked in the graphic department because I was drawing a lot, and then the media department. The academy changes very fast, because it's such an open curriculum and students respond to what's going on right now. In the early '90s, it was very theoretical and hardly anyone produced anything. And then in the late '90s, it had a lot to do with social structure, and all of these artists were working with the aesthetics of social constructions and the studio felt a lot like a big kitchen with everyone sitting around a table talking. Rirkrit Tiravanija was there as a guest professor, and he did a lot of cooking, as part of his teaching. I entered in '97 when there was still a good tradition of video art and a lot of video artists coming out of the academy: Peter Land, Gitte Villesen, Joachim Koester, Ann Lislegaard, Lisa Strömbeck and more. I don't know if you could call it a wave of Danish art at that time, but it was connected to the first young contemporary gallery, Galleri Nicolai Wallner, which considered this work in a serious way. I took some extra courses at the Danish film school during vacations, but mainly I was working in video. I used just one actor, and I made all kinds of 'happenings' in the street and shot them myself.
RLG Where did you meet Johannes, who appears in so many of your films?
JJ We had worked together before both of us went to college.
RLG Where were you working?
JJ At a nursery.
RLG For children?
JJ Yeah. That is very common for young men. Because the divorce rate in Denmark is so high, and most of the children are taken care of by women, they hire young men to take care of the children and to be role models for them.
RLG Was this after school?
JJ Yes. I studied with a Polish painter at night, and during the day I worked at this nursery, with kids from one to three years old.
RLG For how long?
JJ Two years.
RLG So lots of crying, then.
JJ Lots of crying. And role modeling.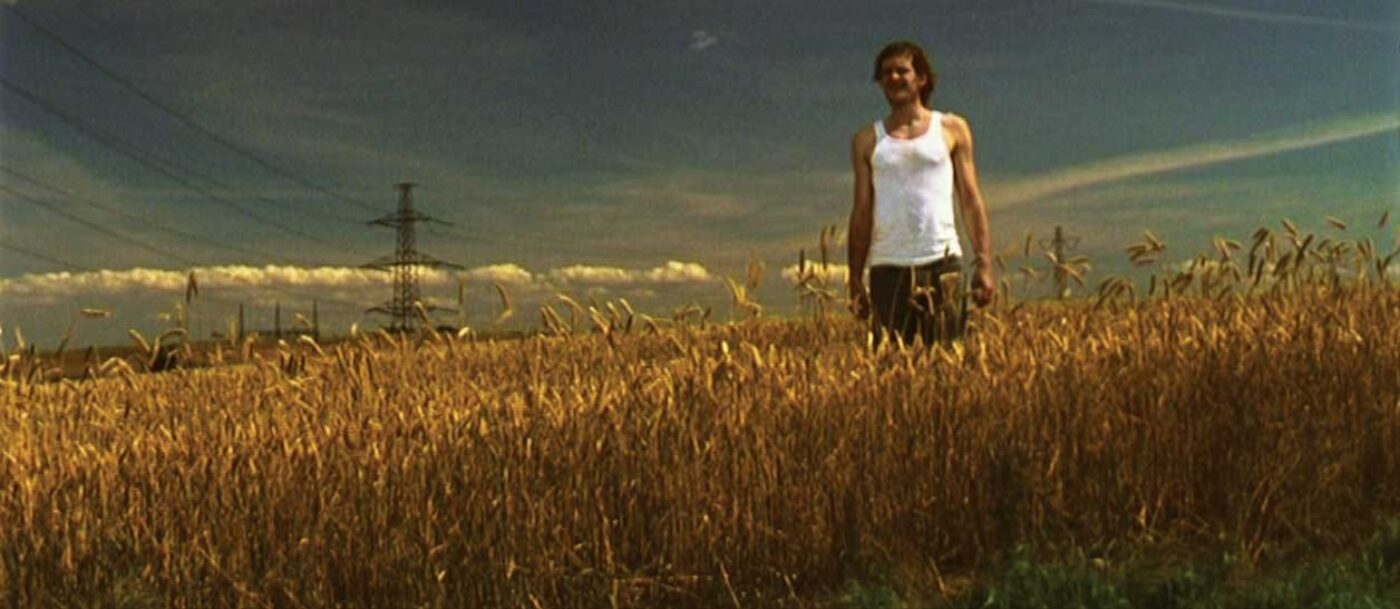 RLG Is this a clue to your films? Kids without fathers? Or at least does it help explain the emotional aspect of this theme? It's interesting that you and Johannes were both working with fatherless children—
JJ Yes. It was a great job. It was in the center of Copenhagen. We had to do everything: change diapers, take the children for walks outside … but then after that Johannes and I didn't talk for about five years because he moved to another city to study acting and I went to the Academy. And then I met him by accident one day, when I was starting to work with video, and I wanted him to act in one of them.
RLG He looks a lot like you.
JJ Yes, he's a kind of alter ego. When I was first at the academy, all the video was very autobiographical. You turned the camera on yourself and made videos that were like diaries. The artist using him- or herself as material. I preferred to put an actor, who can act better than I can, in place of myself. I don't see it as a big difference. It's just another way of doing the same thing.
RLG How did you begin working on this commission?
JJ For me, making a work is like a puzzle, with all these small ideas that I try to fit together. I have ideas of visuals and then I have ideas of narration and ideas of songs, and then I just try to move all the pieces of the puzzle around so that some things fit together and some things don't. When I begin, I have no idea where I am going, and that's the fun part, that suddenly you have something you didn't know you had. I also play with people's expectations about film.
RLG In what sense?
JJ If you go to a movie, you expect it to be two hours long. With my films I decided to do something that was like a cutout of a much bigger film, to create a scene in a film but without the backstory for the actual characters. You don't know where the characters come from or where they will go, but because you are comfortable with the general language of film, you feel comfortable watching this "excerpt." You watch them "looking through the glasses" of a feature film, which allows me to take the work in different directions.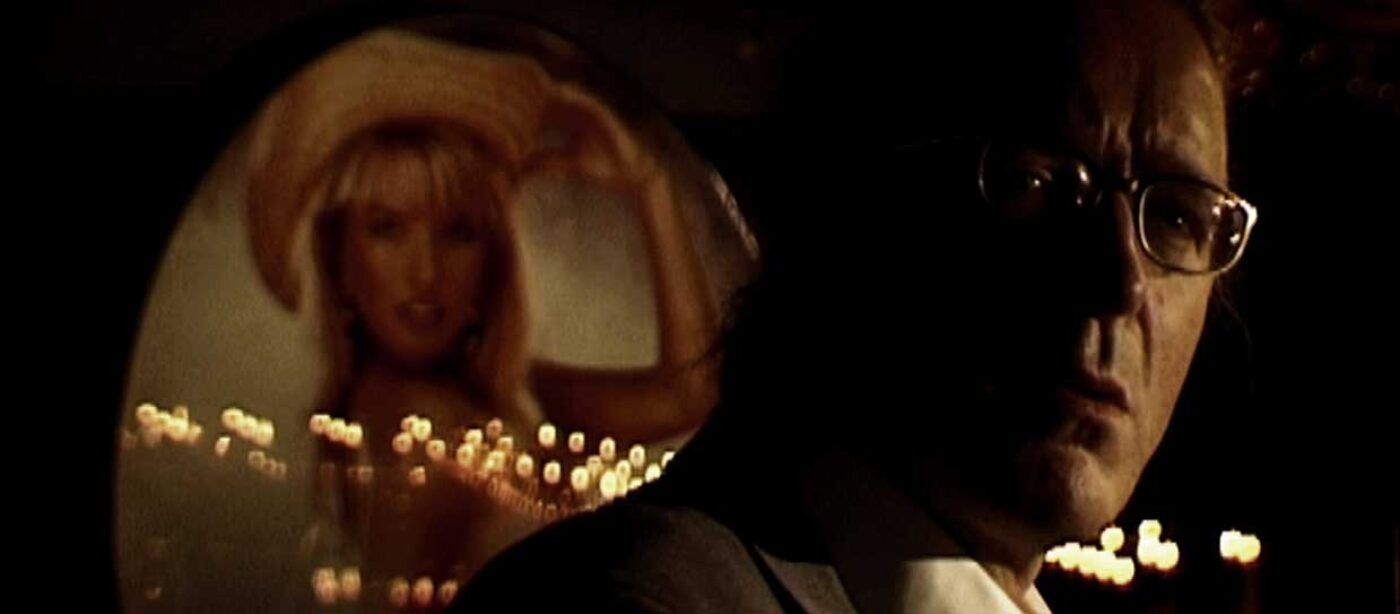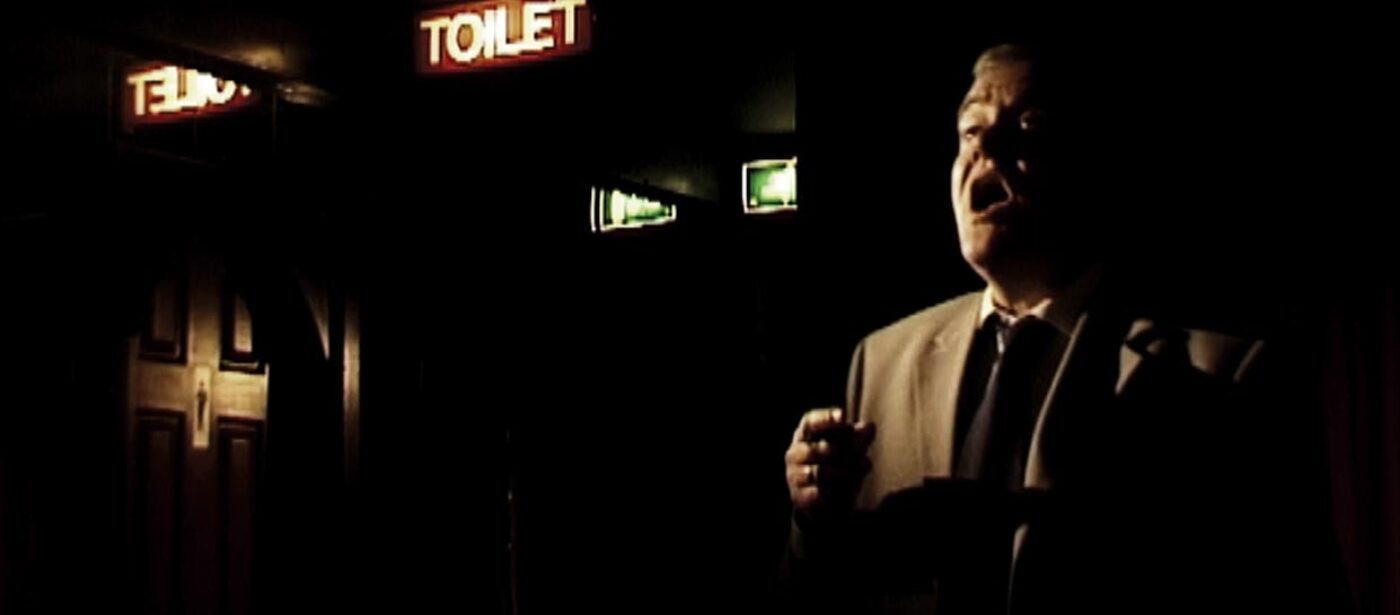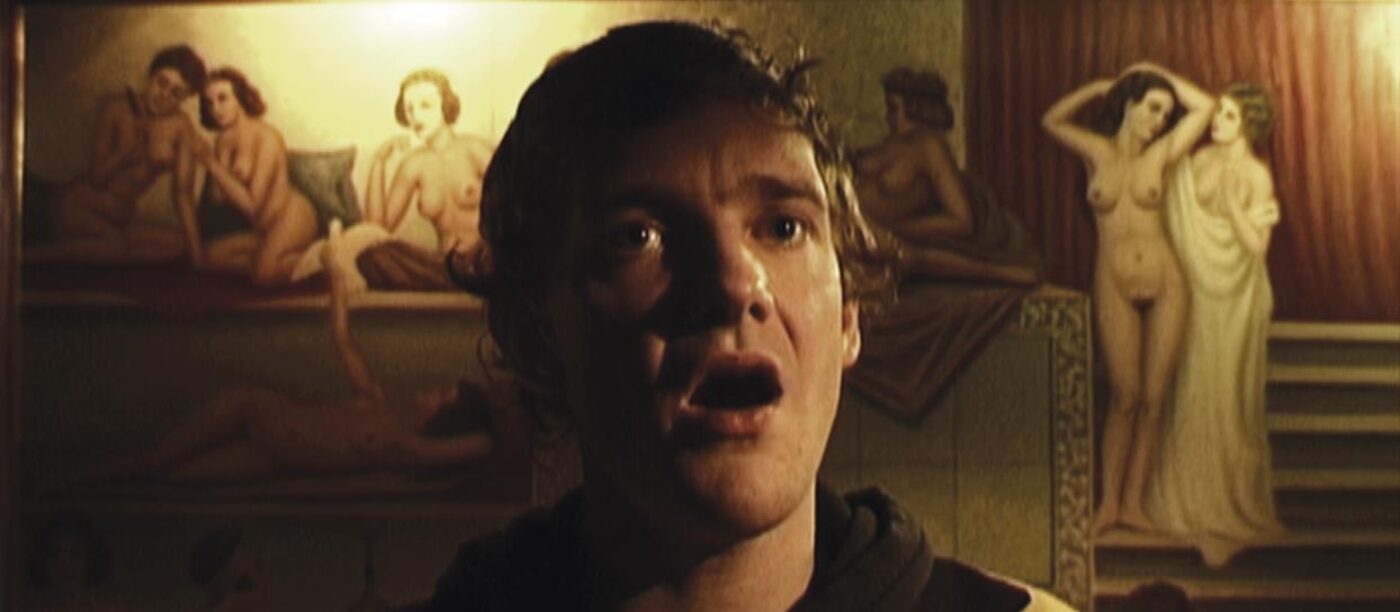 RLG So how did it feel to go from film, which you know so well, to doing a live performance?
JJ Well, it was very alive, and I was nervous, because I'm very controlled when I do my films, and this performance made me very nervous every day. For the whole week of the run I was standing there with my fingers crossed from the beginning to the end, hoping it would go well, because so much could go wrong, both in terms of the technology involved and the fact that we hadn't had much time to rehearse. The performance was always evolving, and I could direct it and change it every time it was performed. Baard and I talked about the performance all the time, so none of them was the same. If we had had a week more, it would have been different again.
RLG Did you enjoy the rush of adrenaline of watching your work live?
JJ It's of course quite a kick, and afterward, it was always a relief, which was a great feeling. I was thinking that I didn't know if I had the nerves to do performance again, but in the end I really liked it. It certainly has affected my ideas about the new film that I shot last summer, which was the most controlled production I have ever made. Working live made me think it would be interesting to do something next that really is very loose, like in the old days, when I began making film, with happenings on the street, and whatever happened, happened. There would be a risk. In one of my first films [No Man Is An Island, 2002] we had our actor, an older man, dance in a plaza near a housing project. It was in a public space were children were playing. I had no idea what was about to happen, but all these children came and started to dance around the old man. They started to interact with him, and it really worked in the film.
RLG Everybody seemed mesmerized, and a bit mystified, by the technology in True Love, a special, invisible screen, onto which film was projected that made the projected figures look amazingly real. At the same time, they were transported by the emotions of the piece and seemed to forget about the technology.
JJ Yes, the technology is really just to help the content.
RLG What were your thoughts as you watched the images of your first live performance take shape onstage? For me, your camera work and the palette of your films are very sharp and crisp, while True Love appeared to be more layered, and the visuals were quite misty.
JJ That's because you could see the difference between the live and the virtual "holograms" so it really became like a dream or a vision. There is something very different, very powerful about the live person, which really worked in the performance. Because there is only one live person, and all around him there's this dreamlike universe, I think the contrast between live and projected made him so much more real. It pointed us in the direction of the old man looking for something that maybe he had lost, or used to have, his youth or his son, or whatever. I liked the way it looked but I had no idea before seeing it onstage how it would be.
RLG So you had never seen it before. You didn't build a stage in Denmark first?
JJ No, we just built a small model.
RLG How much time did you actually spend rehearsing in Denmark, when we were waiting for you in New York?
JJ We only rehearsed the songs in Denmark. We didn't rehearse the acting.
RLG But did you at least work with the projections?
JJ Nothing.
RLG Had Baard seen the films that would be projected?
JJ Only once. He didn't want to see them again because he felt that standing onstage would be very different from watching the projections. He was never going to be able to see the projections himself from onstage, so the only thing that mattered to him in rehearsal was finding his cues. He's 69 and very professional. He kept saying, "We don't need to be in New York so early. I can do this." And I didn't believe that he could do it so fast, but he did.
RLG It's intriguing to think of Baard rehearsing in Denmark though, without a stage set, without pictures of the virtual performers who would be onstage alongside him. How did you deal with the music? You at least had pictures from which to work.
JJ Yes, we had pictures, and Jakob Garfield, the composer, and I made an animatic like when you do animation.
RLG Is that computerized?
JJ Yes. It's like a storyboard in a timeline, and then you play it so you can add the music. I had these still images taken of myself acting Baard's role. I did the whole arrangement in Final Cut of this, and then I put it down in a kind of storyboard, which is very common when you do animation. So we prepared as much as we could in Denmark, but some of it we invented on the spot in New York. For instance, at the end of the performance, where Baard is in the water, drowning, my idea was that he would just fade out and it would be total darkness, and it would begin to rain on the stage and that would be the end. But we had to get him to look like he was falling through water, and we also had to find a way to get him off the stage. We did this by having him lie on the floor underneath the stage, which made it look like he was actually lying onstage in silhouette with rain pouring over his body. That was something I came up with in the few hours that we had to put the show together in New York. I think we could have invented a lot of other things if we had had more time. And of course I was directing the whole week, giving new comments, new directions.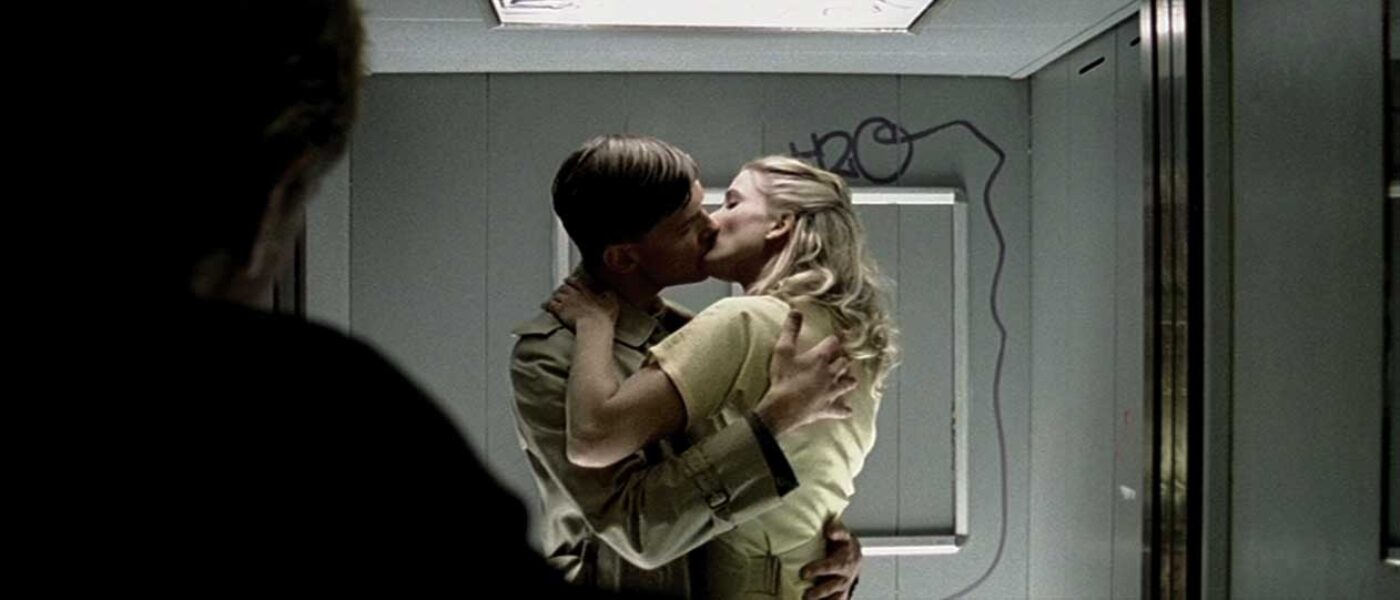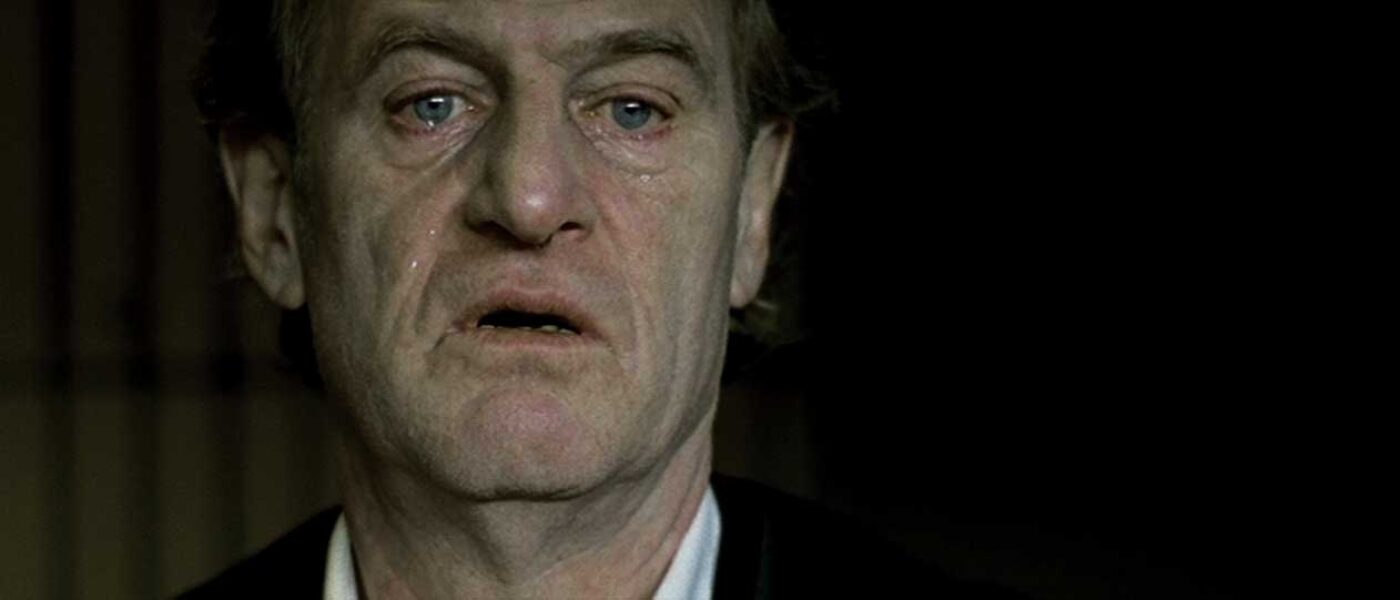 RLG What was your approach to the music, which is so atmospheric and critical to the timing and mood of this work?
JJ I start with a concept for the music. For example, we began True Love with an idea about music based on the circle, such as spinning a bottle or playing on glass, or the circle of the music box with a figurine that turns, or the carousel, or the barrel organ of the man in the street with a monkey. So we began with that idea, and also decided not to use too many instruments. We wanted to achieve intimacy by using a very vague sound that evolves, and maybe there would be a little more added. We listened to it and might say, Okay, what if we put in a harp, or something like that. It's just a feeling. I don't know if everyone works like that.
RLG But you had to leave gaps for the "live" section, with Baard.
JJ Yes, sometimes it was just black holes and music during the film part. We didn't have Baard stand in to do his part. His entire section was just in my head.
RLG Are you a musician? Where does your knowledge come from of all the wonderful '50s songs that you hone in on so precisely and use to articulate your narratives?
JJ I used to play guitar in a death-metal band, which is quite different. That's maybe 16 years ago. The old songs are a way to provide a kind a distance. But they can also be too much. If the performers were speaking these lines as a dialogue, I think it would be a nasty thing to watch. But if you state the songs in the right way, I think that you can make people accept it.
RLG It's been fascinating to watch you develop your work from film and video into live performance. Any thoughts about future performances?
JJ Well, they are certainly two very different ways of working. I definitely want to work with Baard again, and as I said, I might want to try to work more in the way that I did my first films as unscripted "happenings." The biggest challenge might be to do a performance without film, and without all the things around the live performer. Maybe just one person who has nice percussion music, and to see if it is possible to touch people with such a simple thing. Like something I just saw in San Francisco. I was walking down the street and suddenly I heard the sound of someone singing opera and I thought, someone is cleaning and playing loud opera out the window. But I walked father down, on Grand I think it was, and suddenly, down this little alley, I saw this big, big guy standing with his arms stretched out, just singing to the sky. He had a little CD player or something, and someone told me that he was doing that every day. And I thought, That's amazing.
Roselee Goldberg, an art historian, critic and curator, recently founded PERFORMA, a non-profit organization to support and present international performance work in the visual arts. Former director of the Royal College of Art Gallery in London and curator at The Kitchen in New York, Goldberg is a frequent contributor to Artforum and other magazines and lectures and teaches extensively.
Originally published in
Featuring interviews with Bernard Piffaretti, Liz Larner, Tony Oursler, Kimiko Hahn, Mei-Mei Berssenbrugge, Park Chanwook, Anthony Coleman, Jesper Just, A.R. Gurney, William Forsythe.