Jenny Holzer: The Body Electric by Annie Dewitt
In this, an exhibit about secrets—an exercise in exhuming "redactions" as Jenny Holzer titles several of the paintings her show—it seems too easy to say that the work combines the personal with the political, the body with its relationship to war.


Discover MFA Programs in Art and Writing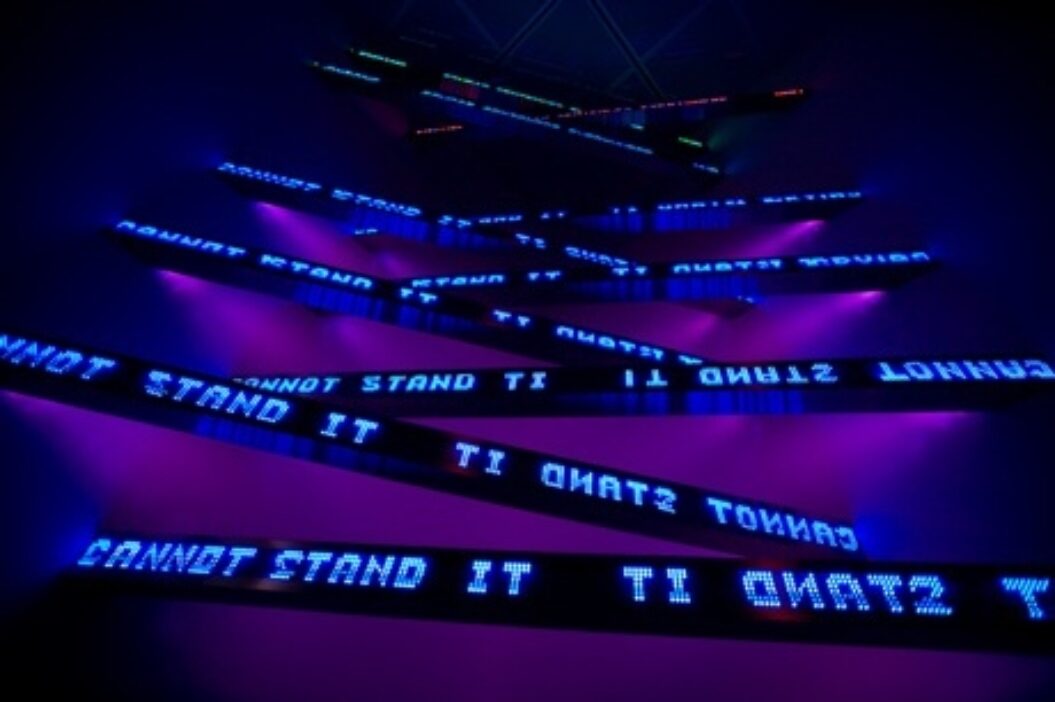 Witnessing a Jenny Holzer exhibit has always struck me as akin to observing a public belching. It has that kind of raw, graphic authenticity. No matter how tied to theory or politics, her work comes from the gut. It smells like the heart of something.
I say "witnessing" because there is a grace to the way her work is manifested, a profound humanness. This human quality is simultaneously odd and eerily successful given her work's embodiment of technology. It's her signature. Her alien moment. There is a modesty to the otherwise obtusely future-esque sea of LCD screens which line the floor at the entrance to her new exhibit, Protect Protect, now on view at the Whitney, a quiet humility which invites the type of rapt interest that I haven't experienced since childhood when I was first learning to read. The infernal interior excitement that went along with sounding out a sentence and placing it with its meaning.
Ok, Jenny, I want to say. Tell me your secrets. Spill it.
From the moment you enter the room, Holzer's work lets you in on something. Some "truisms," as she calls them. Here's one particularly memorable passage I jotted down from her installation, For Chicago:
"Then The Men Come I Put My Mouth On Them I Spit And Write With The Wet The Wet Says What Must Stop And What Shall Begin I Spit Because The Death Smell Is Too Close To Me The Stink Makes Words Tell the Truth About Who Kills And Who Is The Victim Death Is The Modern Disease No Record Of Joy Can Be Like The Juice That Jumps Through Your Skull"
In this, an exhibit about secrets—an exercise in exhuming "redactions," as Holzer titles several of the paintings in this show—it seems too easy to say that her work combines the personal with the political, the body with its relationship to war. Holzer's work embodies a frightening, yet familiar, breed of autism, both private and public. An interior irresponsibility that gnaws away at your bones. Her redaction paintings, works which contain declassified sections of government documents, seem to chart the topography of some foreign land that exists between nightmares, between solar systems. "I personally killed a child," says the exit statement of one discharged soldier of the Iraq war. "I did not witness anyone have sex with women. But as for killing everyone in site, that just didn't happen." Holzer created the redaction paintings in response to the question: "If you could redesign Google's Home Site What Would It Look Like?" In Holzer's interpretation, each day the site would redact a new secret.
And yet amidst these grand public displays of national business, so to speak, are hallucinatory ticker tapes which boast interjections such as, "The New Disease Came I Learn That Time Does Nothing Everything Gets Worse With Days I Have Spots Like A Dog I Cough and Can Not Turn My Head I Consider Sleeping With People I Do Not Like." Holzer examines her own inner most deficiencies and abjections with the same painstaking transparency which she applies to her larger more politically leaning works, a device which allows these works to retain the same sort of localized bite despite their scope.
As I left the show I felt as though I had met a very smart and yet very humble kind of genius. One who simply tells it like it is.