Jennifer Herrema weighs in on her art work, fake reunions, Black Bananas, and sweating the Fiscal Cliff—and the Meatloaf/Gary Busey fight.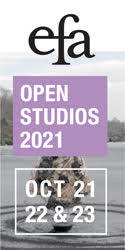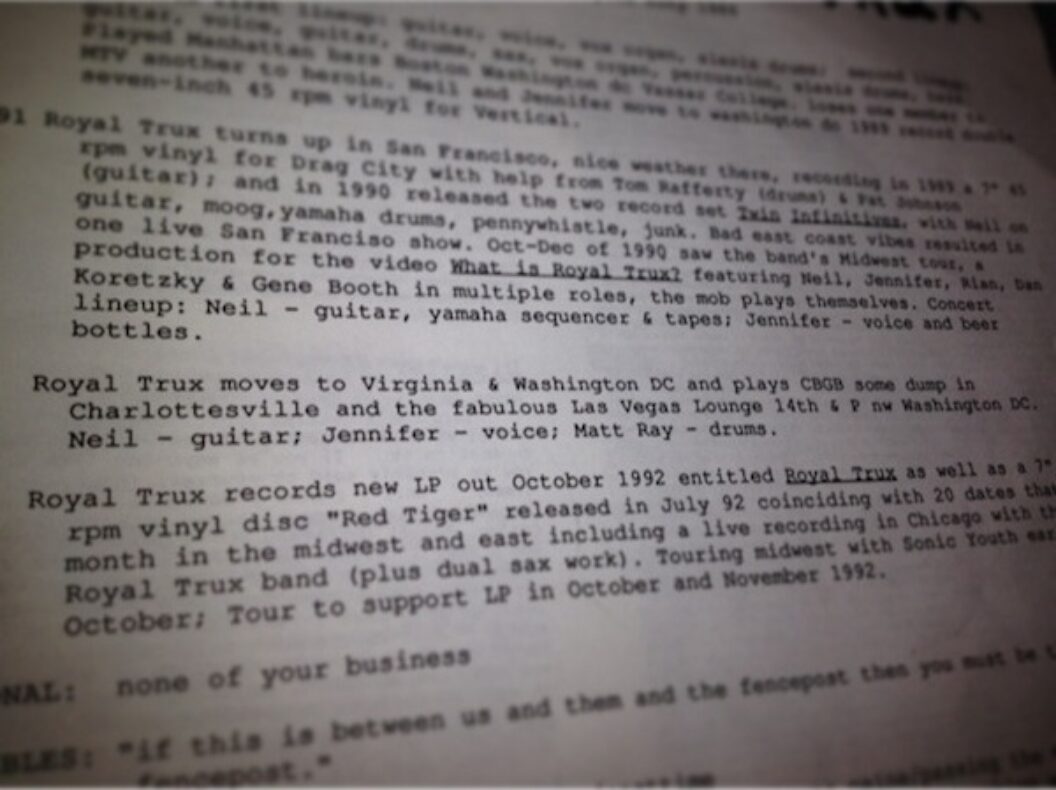 Jennifer Herrema's artist's residency at the New Museum—called "She's Crafty"—featured the influential frontwoman—formerly of the legendary Royal Trux, currently leading Black Bananas—and several artists taking turns reimagining the storefront window of the New Musuem's bookstore (several of the items in the window's storefront are for sale and are, presumably, going to be part of her new Feathered Fish clothing and jewelry line). I met Jennifer on the street, where she immediately asked if I'd like to do the interview over a few glasses of wine next store at the Bowery Diner, along with two of her peers: musician Lizzi Bougatsos (of Gang Gang Dance) and videographer Jess Holzworth. It became clear pretty quickly that Jennifer was one of the least intimidating or pretentious artists I'd ever met. Even those questions that I was a little wary of asking, she answered with total ease. When I asked if she was going to the fake "Royal Trux" show—Neil Hagerty's low-key performance of Twin Infinitives that happened at St. Vitus last month—that, at the time, was only a few days away, she told me she was flying out that night, but gave me her own take on it. I think "The Needle and the Damage Done" was playing as we were seated at the diner. This appropriately loose and laid-back conversation followed.
Gary Canino I wanted to ask about Royal Trux and Virginia. I went to school down in Charlottesville, and have always heard rumors about the '91 show at Trax …
Jennifer Herrema Yeah, I love Charlottesville, it's just a nice place to live. Conducive to getting shit done.
GC You recorded in Virginia too, right?
JH Yeah, we owned a 15-acre farm with a studio built in. In Castleton, Virginia, right between Culpeper and Little Washington, out in Rappahannock.
GC Speaking of Charlottesville, do you keep in touch with David Berman?
JH Yeah, more recently. I wrote a song for The Avalanches, and then they got in touch with David through me, and they asked him to write a song. That time we were writing each other back and forth, and I was laughing at him for getting Pavement to do an L.A. Guns cover or some shit, 'cause that was so lame. "Cut Your Hair" wasn't for nothing, they really hated long hair. So we were writing back and forth, and David wrote a song for me for this upcoming EP, but actually Ethan Miller [from Comets on Fire and Howlin' Rain] ended up doing vocals with me.
GC Did Berman do words and music, or just words?
JH No, he just did words, but we didn't use all of it, because Ethan wrote a bunch, so it's a combo.
GC Whose idea was the art installation?
JH Well, they invited me, so I flew Jessie out from Tucson to help me, and Lizzie lives here, so I had a bunch of things made, and worked on stuff before I left, and did a bunch of collages with Jessie and Jonah Freeman. So, the idea was just to get the girls to help dress the window, but all the stuff that I made is all for sale.
Check out this bag. I have to finish it. Dude, I was so stoned when I was making the pocket on the inside of the bag, I sewed the pocket all the way around, so I had to rip the top so you can get your hand into the pocket! (laughter)
GC With Neil Hagerty doing this conceptual "Royal Trux" show without you in just a few days, would you ever consider doing a fake Trux reunion show of your own, and if so what era would you want to do?
JH Neil wanted me to do it on the West Coast with Accelerator.
GC With a Neil Hagerty replacement?
JH Exactly. And conceptually, I'm down with it, I'm just so busy right now, and I don't want to do it half-assed, I want to do it like Neil's doing it. He transcribed the music and wrote all that shit out! It's gonna be weird, because it was always weird anyway. (laughter)
GC I wanted to ask about the initial confusion of this Trux show coming up. When it was first announced nobody was sure if it was the two of you or not, and finally St. Vitus updated the website with a "Note: Jennifer Herrema will not be performing."
JH Well, Neil had not gone through his booking agent, so nobody knew about it, so as soon as I saw the show was announced, I went straight to Neil. Normally, I wouldn't have done anything, but we were offered $189,000 to do Royal Trux at ATP in 2010, and we said no. And to see this, all of the sudden, I just wanted everybody to know what was going on. So I wrote him, and he wrote me back, and he was like "I figured you would psychically know what I was doing, you always said this is what we needed to do." And I agreed, but it was kinda weird because we just turned down so much money to play as Royal Trux.
GC And he goes ahead and books a small show in Greenpoint with no notice.
JH Yeah, but he didn't think it mattered though. I remember when I didn't want to tour and was totally down to have someone to replace me. And he did do that once too, when Royal Trux toured Japan I had Alan Licht in place of Neil, and nobody could tell the difference. But this show is really more about Neil really doing justice to Twin Infinitives. He just gets obsessed with things, and he's really obsessed with recreating Twin Infinitives, and that's cool because it's just not a Royal Trux reunion, that's something we've both said we wouldn't do. I can't take that shit seriously. I would possibly enjoy it, but it's a parody of itself. That's what this St. Vitus show is not.
GC In a way, the concept is such an unexpected thing to do, but it actually makes a lot of sense. How close to the original will the performance be?

JH Oh yeah. Exactly. He wrote the music out!
GC Do you know who the band is?
JH Yeah, the girl wrote me. Her name is … I think it was Meredith? I could be wrong, but yeah, she emailed me, introduced herself, she's like 18 or something. Lives in Colorado, really big fan.
GC Last I heard, the Howling Hex were playing weekly low-key shows at the Lost Lake Lounge in Denver.
JH Oh, well that's cool. That's very Neil. His family is from there, on his mom's side. He even took those weird new press photos recreating the 1988 press photos. He looks exactly the same! He's even wearing the same shirt.
GC How's the new Black Bananas record coming along?
JH Great, should be out in May. Same band as before. We were listening to it earlier today.
GC How do you feel about the RTX to Black Bananas name change a year or so in?
JH It's good, I think it was received the way I felt about it. When you hear it, you can tell it's the same sensibility and people, but it's just different sounds put together. I thought a new name would delineate the sound maybe, make people really listen to it again. Maybe RTX people thought they felt like they knew RTX, but they really didn't, so I just flipped and reversed it. It's worked really well.
GC Has it been weird opening for younger bands like the Kills and Sleigh Bells, bands who Royal Trux has obviously influenced?
JH Yeah, but, the thing is, they're not younger bands age-wise. I was born in '72, and Jamie [Hince, of the Kills] was born in the late '60s and I'm only five years older than Alison [Mosshart, of the Kills], and Derek [Miller, from Sleigh Bells] is also in his late thirties. So they're not younger bands, they just don't have a body of work, or career, and nobody knows if they'll be important yet, but they are very relevant in pop culture right now.
Black Bananas being a brand new band, with this first record, made it easier to open shows because people were wary of asking RTX to open, although I did turn down a lot of shit with RTX. But Black Bananas being brand new, it makes perfect sense to utilize what the norm is and present ourselves to it.
Besides, according to the statistics from the Black Bananas Facebook page, the audience for Black Bananas is like 80% under thirty and 70% male anyway.
So what others interviews have you done?
GC I interviewed Bill Callahan once, but it wasn't anything like this, it was more of an e-mail exchange. He told me Westworld was a big influence on his last album, have you seen that?
JH Oh yeah, I've seen Westworld a million times. Bill is so dry. That's seems totally predictable that he would tell you that though because I feel like he goes into Yul Brynner character a lot of the time.
GC What do you think about the Fiscal Cliff situation?
JH That shit doesn't really worry me. Recently, I have no debt, I just paid my house off actually, so shit can go to hell if it needs to, I'm okay. I think people rely too heavily on the stock market, you might as well go gambling. I sold almost all of my stocks before shit went down, actually. I do think rich white people should pay more taxes, and I get the idea of why they think they shouldn't, but it doesn't wash anymore, fuck that.
GC Were you worried about Romney winning the last election?
JH No, I wasn't worried about it either way, to be honest about it. I could give a fuck which of those motherfuckers won. I don't hate either one, but I'm not into either as well.
GC Did you see Meat Loaf trashing "America The Beautiful" in support of Romney?
JH I did! I mean, nothing Meat Loaf does surprises me anymore.
GC How about the Celebrity Apprentice fight between him and Gary Busey?
JH Yeah! I didn't know what to think, just because Gary Busey was so calm! I think it was maybe the best thing that's ever happened to him, because he seemed so calm. I don't know if that was even real. Meat Loaf had such a hard time on The Apprentice.
GC I remember you had a project archiving old Royal Trux footage. Have you still been working on that?
JH Yeah, that was this project of mine, but there's also this guy that's been trying to put together a Royal Trux documentary collecting footage. Like, I have a ton of second-hand VHS footage, but he's not getting as much help as he could from Drag City. They're a little wary because he keeps spelling Neil's name wrong.
For more on Jennifer and Black Bananas, check out their website.
Gary Canino lives in New York City, where he spends his nights playing lead guitar for the New Border music ensemble The Monte de Rosas Band.