Lucy Raven compares filmmaker Jem Cohen's Chain—and the excerpted cut Chain Times Three shown at MoMA—to Benjamin's Arcades Project, as a cataloguing of an urban cultural moment.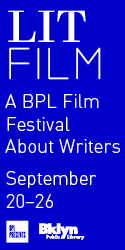 New York-based filmmaker Jem Cohen grew up in Washington, DC's early punk scene, making his first work alongside musician friends with the same DIY approach that still charges his aesthetic sensibility. Cohen spends years collecting and collating footage before realizing a project—Instrument, 1999, made with longtime friends Fugazi, was shot over 10 years, as was Benjamin Smoke, 2000, a collaboration with filmmaker Peter Sillen about a Cabbagetown drag rocker and his band. Cohen's handheld style (he often shoots on Super-8) is that of scrupulous observer and meticulous collector. Rather than follow the usual filmmaking trajectory from pre- to post-production through a pronounced narrative, Cohen patiently waits for the invisible to become visible. The practice is as rewarding as it is demanding. As Walter Benjamin said of his own massive (unfinished) Arcades Project, "To great writers, finished works weigh lighter than those fragments on which they labor their entire lives."
This spirit, distinct in a cultural moment defined by sampling technology, distinguishes Cohen's methodology and presentation and informs his decision to advance his latest project in stages. A 40-minute incarnation of Chain, which Cohen calls Chain Times Three, was recently screened at the Museum of Modern Art in New York; it is one of what the artist anticipates will be several shorter pieces to emerge as Chain takes shape. Shot in a film-essay format, Chain Times Three is a semi-narrative, semi-documentary sequence of collaged fragments from malls, airports, aerial landscapes, and office interiors that charts the disappearance of regional character and the effects of commodification on our most intimate and public spaces. Presented as a three-screen panorama, it is a dense audiovisual palimpsest, a superlandscape of footage Cohen has collected, mixed and edited over the last six years from locations around the world, including Berlin, Melbourne, Orlando, Rotterdam, and New Jersey, scored with original music by Montreal band Godspeed, You Black Emperor!
Except in carefully placed segments where Cohen inserts an actor or foregrounds a specific city or landmark, one location is virtually indistinguishable from the next. It is precisely through the chain-store dictum of "always knowing where you are and what to expect" that this disorientation is channeled. The more branded and designed the spaces Cohen films, the more spectral and estranged they seem. In near-photographic stills during one segment of Chain Times Three, the yellow of the late-afternoon sun is followed by the orange of a Burger King sign and finally a sunset. A woman muses in the mall parking lot. "It's weird," she says, "but it's a great place to see the sky."
Benjamin Smoke was released on DVD from Plexifilm in January.
Originally published in
Featuring interviews with Marina Abramovic and Laurie Anderson, Paul McCarthy, Christian Marclay and Ben Neill, Jesse Reiser & Nanako Umemoto and Andrew Benjamin, Jimmy Santiago Baca and Adam Fuss, Aryeh Lev Stollman, Shari Springer Berman & Robert Pulciniby and Bette Gordon, and Elliott Sharp.