Discover MFA Programs in Art and Writing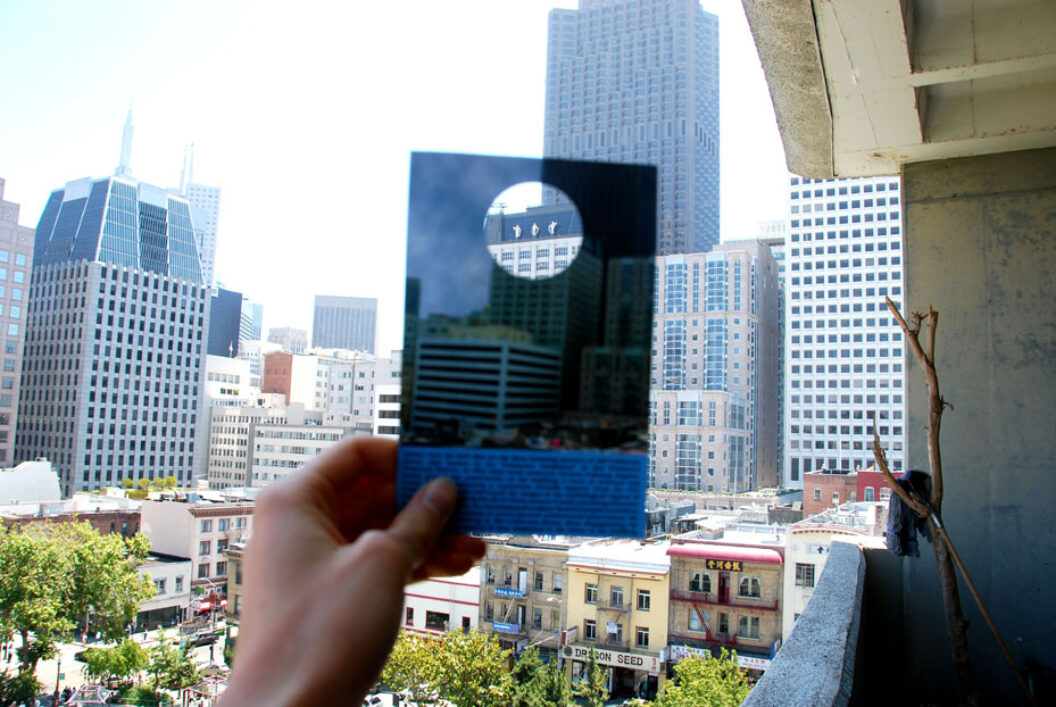 Departing a clandestine appointment in a San Francisco office tower, Jejune Institute inductees puzzle over an encrypted instruction key. Turning it round and round, they will be lured by an immersive narrative on a rambling, secret-peppered urban journey through an imagined past. Zigging through San Francisco's Chinatown, citizen participants—more than 3,000 over the past year—punch a secret code into a rusty box in a parking garage, locate a message on a churchyard brick, and ride an elevator tucked in an import emporium. These inductees have become immersed in the mystery they are unraveling; they've entered a rabbit hole into augmented reality.
This is just the first of several "chapters" in this city-size experimental project assembled and curated by the Oakland art consortium Nonchalance (Jeff Hull, Sara Thacher, and Uriah Findley). Hull, best known for helming Oaklandish—a social group promoting "original Oakland charm"—dreamed up and largely self-funded his new collective as a way to formalize urban play and make the reexploration of physical space in infinitely replicable. Hull had studied interactive narrative and three years ago began enmeshing public art with a fractal of a story line. What has emerged is a long-running urban alternate-reality game.
It all begins when participants unlock a door to a financial-district of ice crammed with psychedelic relics and pseudo-scientific bibelots, tripping an automated video induction by apocryphal Jejune Institute founder, Octavio Coleman, Esq. This psychologically jarring transformation of a private space is followed by an outdoor scavenger hunt punctuated by intricate street installation and eerily recurring glyphs and clues. If chapter one—the Jejune induction and subsequent street labyrinth—represents visual culture, chapter two—Elsewhere Public Works Agency—is aural culture. Outstanding pieces include a low-wave radio broadcast listened to on a Dolores Park hill and a binaurally engineered audio tour of the Mission District on a meticulously designed cult-song sampler CD. The experience dips online too, from a site emulating a pre-browser TRS-80 interface to a mystery narrative through video and a constellation of staged blogs and online social-network sites.
Nonchalance has peppered San Francisco—and a slice of cyberspace— with vignettes of inclusive performance art and subversive street installations. Augmented by a hint of the bamboozlement that made names for the Yes Men and Improv Everywhere, Nonchalance is shaking the platform of curatorial work and interactive art, expanding and transforming its possibilities of both scale and substance.
Christine Lagorio is a journalist and critic whose work has appeared in the New York Times, the San Francisco Chronicle, the Believer and other publications in print and online.
Originally published in
Featuring interviews with Guy Ben-Ner, T.J Wilcox and Anne Collier, Sam Lipsyte and Christopher Sorrentino, Carlos Reygadas, Patricia Clarkson and Howard Altmann, David Sylvian and Keith Rowe, Edgar Arceneaux and Charles Gaines and Rick Lowe, Charles Bernstein.