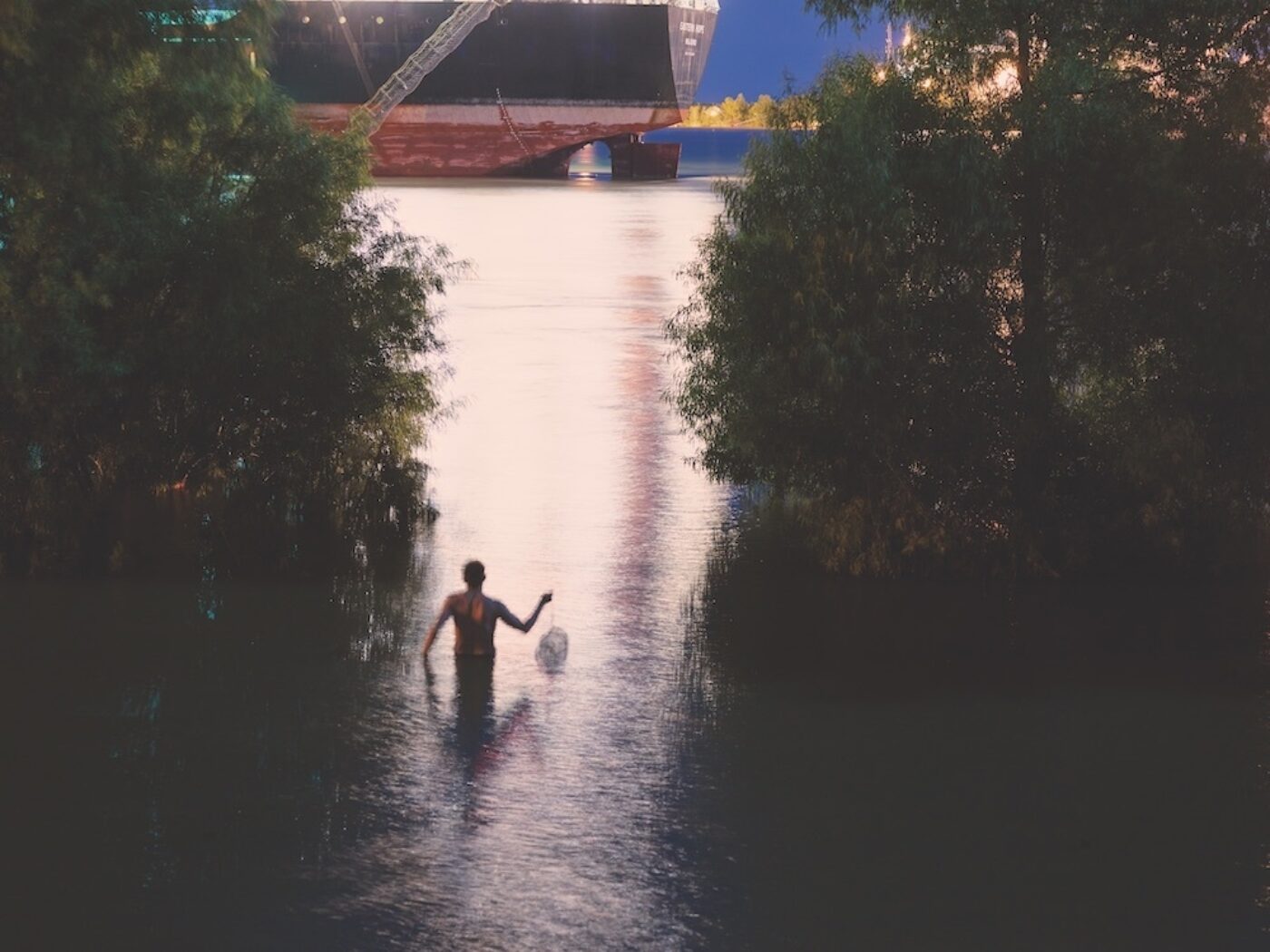 Invited to examine the human geography of lower Louisiana for the 2017 Prospect New Orleans triennial, Jeff Whetstone set off for the batture, a patch of land that separates the Mississippi from the city's levee. This area, which floods when the water rises, attracted him as a site of community and commerce, a place where people fish, sell their catch, and even live off the grid—many in homes on stilts, locally known as "camps," set up in the aftermath of Hurricane Katrina. Whetstone's resultant video installation, The Batture Ritual, is tightly focused, even austere, yet its themes range and rove. In a meditation upon this rich and precarious land, he contrasts the logic and rhythms of the riverbank micro-economy with those of the capitalist order surrounding it. That this contrast never feels trite or abstract is the surest mark of his success.
With the exception of a single, late close-up of a gasping catfish, The Batture Ritual operates almost as a tableau—that is, its long, static takes depict the same locale. Whetstone's camera is at a slight elevation, yards from the calm waters, looking beyond to the slim far bank and expanse of sky. But the sublime vista is framed by shaggy trees—two hugging the frame's flanks, and a third right in the middle, dividing the screen. These obstructions hem in the foreground and flatten the distance into stripes, turning the batture into a stage.
Men enter the scene and set up their fishing rods. They tend to their lines for a minute before we cut to another group doing the same with baskets and nets. The film unfolds, gently widening the cast of anonymous anglers. In shadow and silhouette, their ages, stature, and racial backgrounds seem varied, though only two women appear. There is fiddling and ambling, minor struggles and triumphs, but mostly at a scale we can only intuit by gesture. These human movements are set against the brisk and serene passage of ships: barges, cargo ships, tugs, cruiseliners, and tankers—these vessels are motors of the international economy; many bring crude oil from the gulf. As in a Jia Zhangke film, there is something at once appalling and magnetic about the giant machines. They seem to have mastered—perhaps replaced?—nature. Beside them, the fishermen seem like ragpickers in the wilderness, doggedly putting off their obsolescence.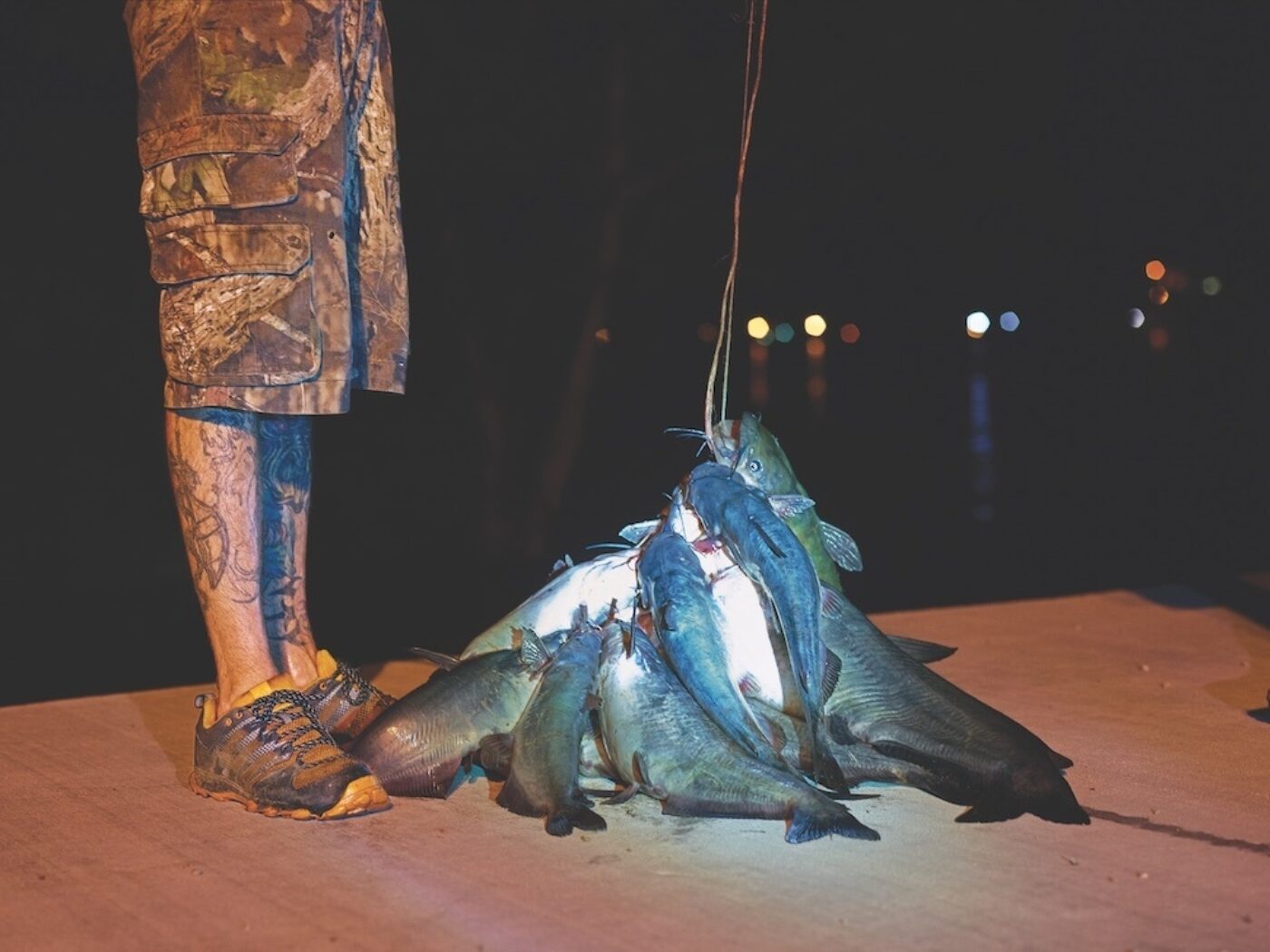 Any number of political points could be sharpened here, but Whetstone wisely remains silent. His diegetic audioscape—restless waves, the thrum of boat engines—drowns out our familiar thoughts and critical impulses, wringing us of premade emotion so we might look at the scene afresh. But it's his frame that gives the film a truly spiritual dimension. "Sometimes when you are very still," the filmmaker Nathaniel Dorsky once said, "you feel things that are hidden. I think [the static frame] has to do with seeing how deeply you can go." There is a sense in Whetstone's video that we are being gradually transported past surface reality, with its immediate problems, explanations, and concerns, and into communion with the natural world.
The Batture Ritual was the centerpiece of a recent solo show at Julie Saul Gallery. It was accompanied by a series of crepuscular photographs also made in and around the batture. The Eastern Hope (2017), a gorgeously hazy night shot, shows a small figure halved at the waist between dark water and a flood of light from a freighter. "The batture is no dividing line," Whetstone writes, "rather it is a magnet that draws animals and industry, fishermen and ocean ships, all manner of life into contact."
Ratik Asokan is an assistant editor at Art in America.
Originally published in
Our winter issue is dedicated to this planet's greatest resource: water. With contributions from Saskatchewan and the American Southwest to Iceland and Northern Europe, an array of voices are brought together here—artists and writers investigating water as site, sustenance, and symbol, along with those expressing alarm and calling for intervention.
---
Featuring interviews with Lauren Bon, Oscar Tuazon, Jaque Fragua, Brad Kahlhamer, Ruth Cuthand, Janaina Tschäpe, Jessica Grindstaff, Tomoko Sauvage, Cecilia Vicuña, and Alicia Kopf, as well as writing by Laura van den Berg, Natalie Diaz, Stefan Helmreich, and more.