Jeff Koons @ Gagosian, Los Angeles by Gilles D'Amecourt
Gilles D'Amecourt reviews the recent Jeff Koons show at Gagosian, Los Angeles.

Discover MFA Programs in Art and Writing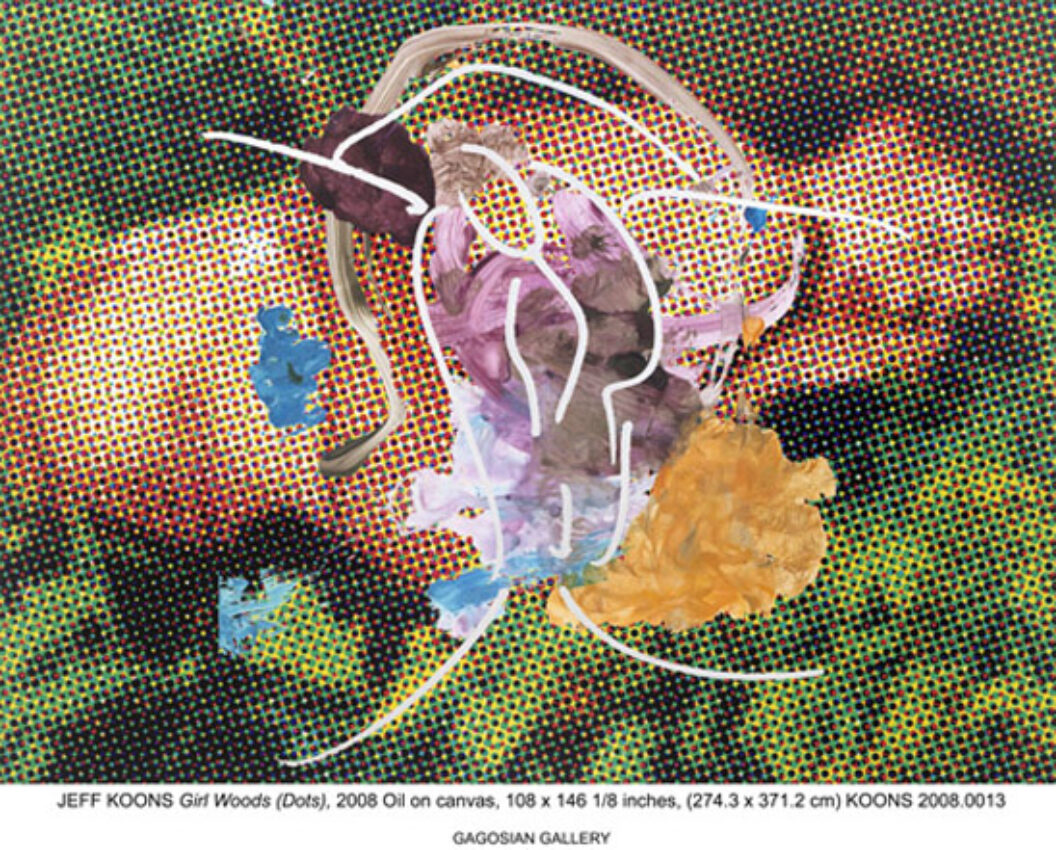 A friend of mine knows that fine art is totally subjective. He has a reply for every criticism, good or bad:
"That's what makes it so great."
With confounding kindness, this retort will de-claw even the harshest critic. So if you told him that the New Paintings show by Jeff Koons is a low-brow, technicolor yawn, and a cacophony of disparate styles stamped with gigantic gestural vagina doodles, I can predict his response… and he would be right. On second thought this criticism is not entirely wrong, just painfully naive and easily misunderstood. Please allow me to explain…
One person's kitsch is another's culture, so the "low-brow" comment is out. Yes, they are colorful but to say they're boring is too subjective, so forget about a "technicolor yawn". The "cacophony of disparate styles" is an interesting observation that sounds worse than it actually is. Here Koons is attempting a third-party riff by imagining how Twombly (Expressionism) and Lichtenstein (Pop) would interpret Courbet (19th century French Realist) or even Dali (Surrealism). This is a daunting task, and from a distance the layering is undeniable. Metallic silver scribblings (Twombly) prominently sit atop thick, textured swirls of paint that partially cover a dot overlay pattern (Lichtenstein). Altogether it looks like a graffiti tag on a finger painting on a subway poster. Koons overrides the cacophony with brute force. Not only are the canvases very large, but on closer inspection the aforementioned layers are completely flattened to one surface through a painstaking process. Suddenly the paintings become photo-real, pop, and abstract. This trifecta of nods from Koons creates more nods in a feedback loop of acknowledgement. Koons himself is a pop artist (like Lichtenstein), is fascinated by romantic symbols (Twombly), and his paintings are photo-real (realism, Courbet). Now consider that in his day Courbet was a very popular artist who did not shy away from bold social commentary. He was also part of the Romantic movement; however, his painting The Origin of the World (L'Origine du Monde) (1866) which depicts a close up of female genitalia was so scandalous it was not publicly exhibited until 1988. This brings us to the "gigantic gestural vagina doodles", which can now be determined as a crass way of describing the transitive influence of Courbet on Twombly and finally on Koons.
Koons is therefore revealing to us a much deeper connection between classical and contemporary artists including himself, which opens an endless discussion about their individual and collective impact on everything including art history, style, technique, culture, moral values, and sexuality. It's a peculiar kind of show that exposes an artist's perspective from the shoulders of giants, and "that's what makes it so great."