Discover MFA Programs in Art and Writing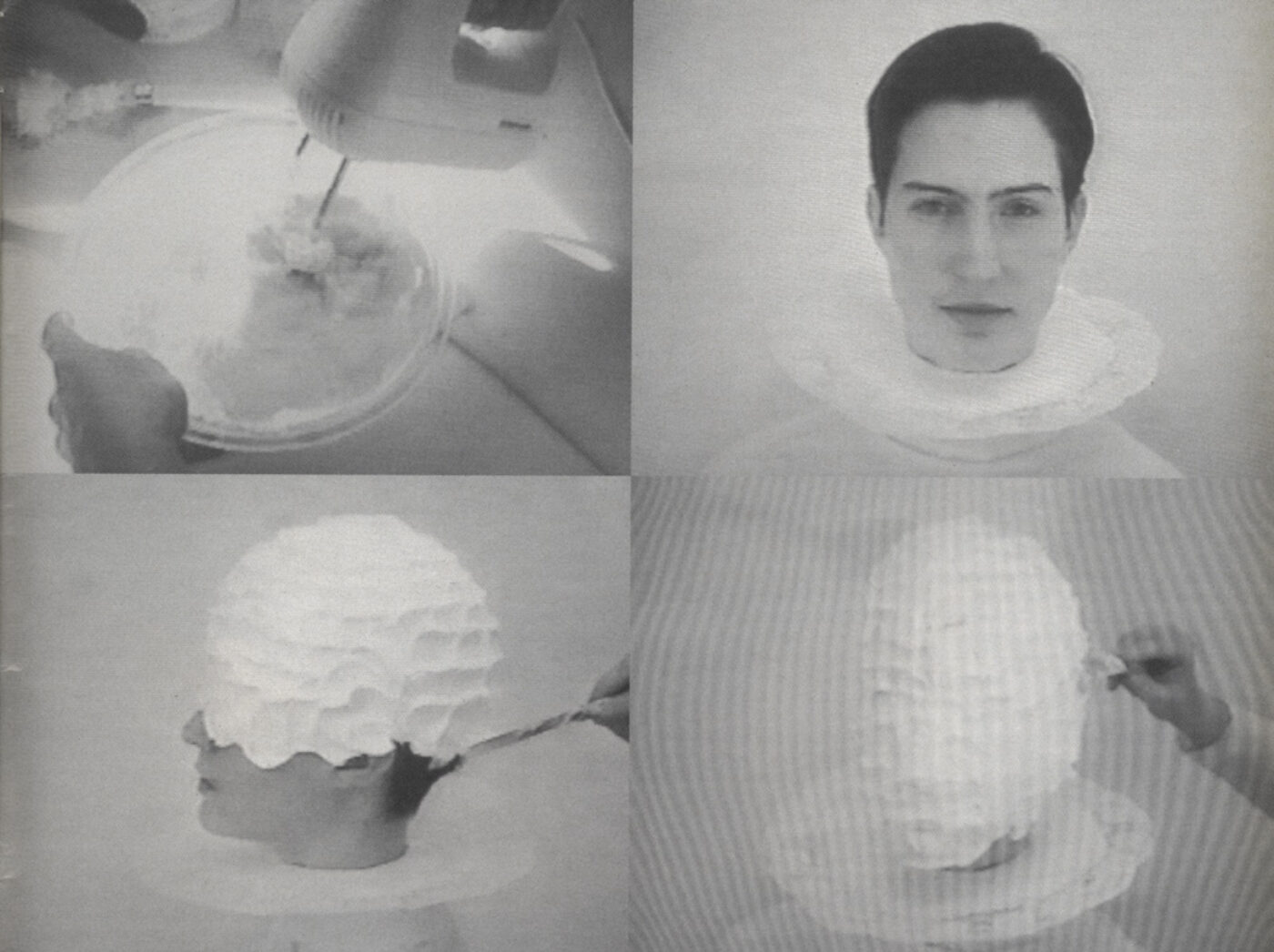 Jeanne Dunning creates work brimming with a macabre stylishness. In her video, Icing, a woman's head is slathered in white stick frosting. A disembodied hand slowly guides a knife over her face, smoothing the frosting and sealing all the orifices. With a kind of sweetness and purity, the woman is being smothered and deprived of her senses. In this piece, and throughout the rest of Dunning's dreamlike work, references reoccur: our compulsion with perfection and grooming; the ambiguity of certain actions (the gleaming sharp blade of a knife caressing a face with icing); the fine line between the normal and the abnormal. She evokes Alfred Hitchcock in the strange methodical starkness of her images. And Dunning is not afraid to address beauty in her work—especially the danger or foolishness in prescribing what can be beautiful. Her 14½ inch latex squares from 1992 entitled Flaws incorporate odd blemishes into the rubber surfaces, focusing on the imperfections that human beings most want to conceal. In other work, like the photographic portrait The Extra Nipple (1994) the body reveals an extra appendage in the unlikely location of the tongue.
Dunning's images often appear to be the result of a spell cast by a wicked witch in a fairy tale. She shifts reality, setting the viewer in a disturbed universe. A cibachrome photograph that initially looks like an intimate orifice one shouldn't be caught staring into, becomes, upon closer examination, the hole a curled hand makes. There is a sort of gleeful and tactical sense of humor here—the ability to play upon the viewer's discomfort at viewing a personal body part, and the relief that is allowed when the image reveals itself as more innocent and less personal than originally thought. In her large scale cibachrome photographs of 1996, Dunning photographed food—sensuous seas of red beets, chocolate pudding, and pink grapefruit. You feel like diving in, swimming in the inviting images; but they are also a lesson in desire and frustration, the sensation always remaining unattainable.
Dunning's interest in the darker and more unexplained side of how one thinks and feels, and the relationship of that to sexuality, reveal her connection to Surrealism. From the beautiful and slightly scary photographs of the backs of people's heads covered with shiny hair, to the small rubber squares with blemishes singled out for inspection, Dunning deals in a kind of personal politics. She examines the contradictory expectations that we have for ourselves as well as what others demand us to be. And she explores the fears that often accompany our desires, mixing in visual terms, the stunning, the freakish, and the mundane.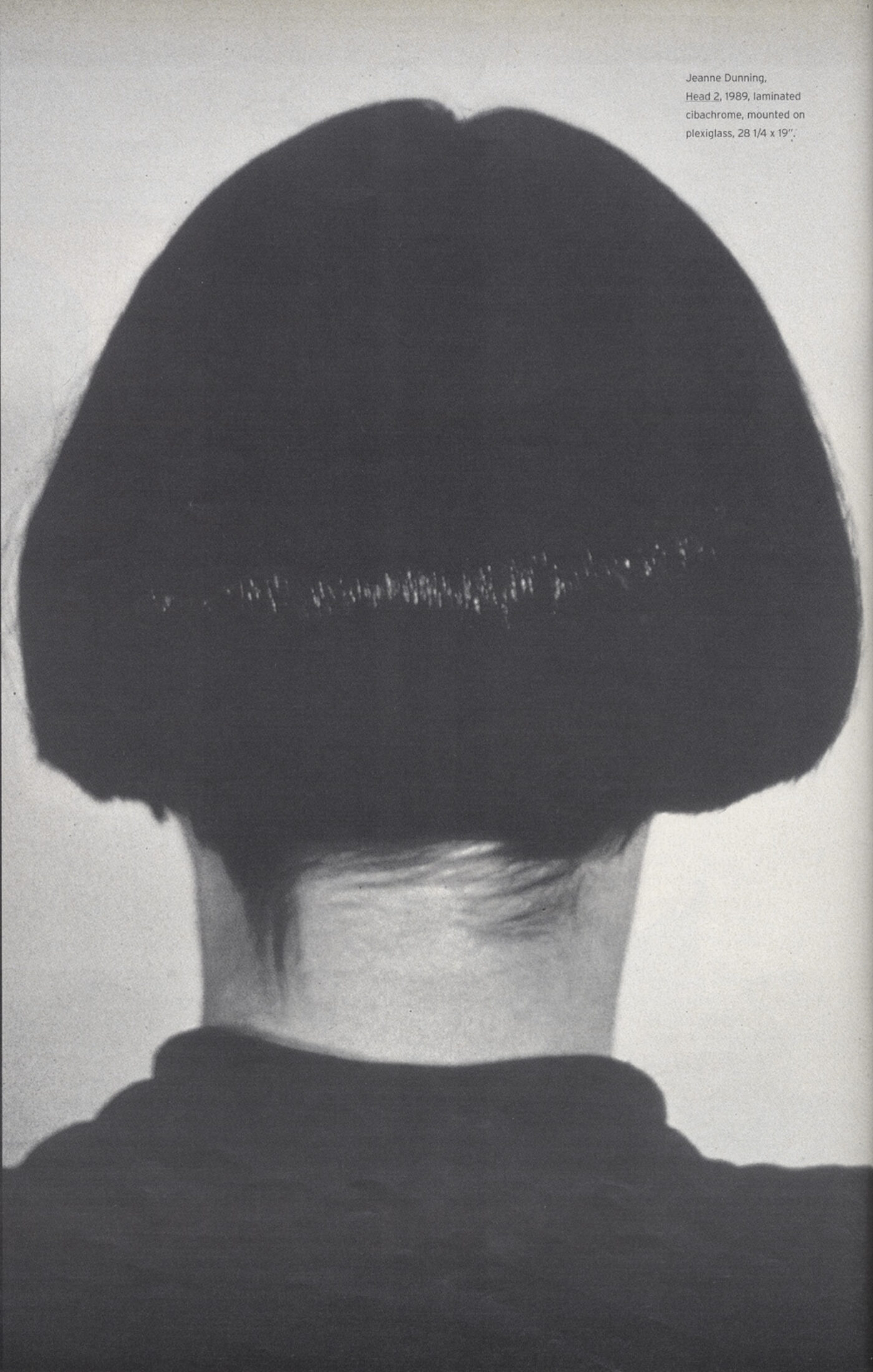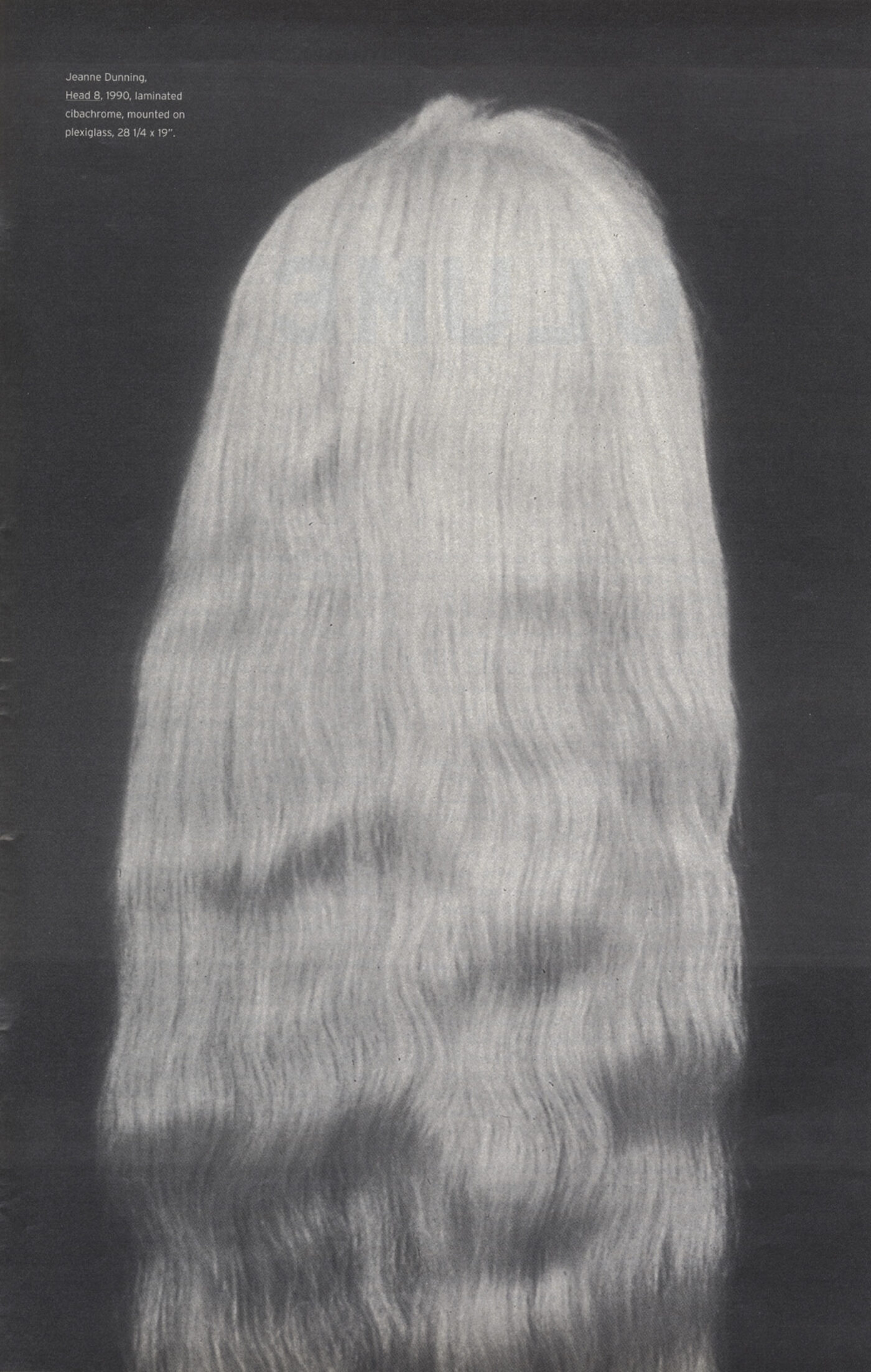 Originally published in
Featuring interviews with Barry Le Va, Jane Dickson, John Lee Anderson, Lydia Davis, Judy Davis, Peter Greenaway, Roger Guenveur Smith, David Del Tredici, Alfred Uhry, and David Armstrong.