Oral History Project: Janet Olivia Henry & Sana Musasama
"When you're an artist, you bring what you know, what you think, what you've experienced, your aesthetic, your ambition, and it doesn't have to be conscious. In fact it shouldn't be self-conscious. If the work isn't speaking to you, if you're not getting it from what you're seeing, you've failed, and no amount of explanation is going to change that." —Janet Olivia Henry
"Making our art is the purest thing we do. There are no hidden lies. My work is my truth as I have lived it."—Sana Musasama

Discover MFA Programs in Art and Writing
Janet Olivia Henry and Sana Musasama share several commonalities: they are both sculptors and educators from the borough of Queens who exhibited in the inaugural Southeast Queens Biennial: A Locus of Moving Points. Henry and Musasama have known each other for years, but prior to this project, they had not had the opportunity to sit down with one another and talk. Witnessing them in dialogue as they shared stories and memories was a delight—I am grateful to have been present.
Janet Olivia Henry is a mixed-media artist born in East Harlem and based in Jamaica, Queens, who uses action figures, toys, beads, and other materials that reflect her perspectives on contemporary American culture. Over the course of her career, Henry has worked for New York cultural institutions such as the New York State Council on the Arts, the Studio Museum in Harlem, Children's Art Carnival, Studio in a School, and the Jamaica Center for Arts and Learning. Henry holds an associate's degree from the Fashion Institute of Technology (1969) and was educated at the High School of Art and Design, HARYOU-ACT Graphics and Plastics Workshop, and the School of Visual Arts. She currently teaches at Brooklyn Heights Montessori.
Sana Musasama is a ceramicist born and based in Saint Albans, Queens, whose practice is informed by her travels to countries such as Sierra Leone, Cambodia, Vietnam, and Japan to understand the traditions of non-Western cultures through the lens of womanhood. For the past thirteen years, Musasama has traveled to Cambodia to work with Together1Heart, an organization dedicated to rescuing and rehabilitating young women and girls who are victims of human trafficking. Musasama holds a BA in Ceramics and Education from City College (1974) and an MFA from Alfred State College of Ceramics (1987), and she has learned various ceramics techniques from her extensive travels. She is currently an associate adjunct professor at Hunter College, an adjunct professor at John Jay College of Criminal Justice, and an instructor at Jamaica Center for Arts and Learning.
It's my pleasure to share the lives of Janet Olivia Henry and Sana Musasama with you in their own words.
The Oral History Project is dedicated to collecting, developing, and preserving the stories of distinguished visual artists of the African Diaspora. The Oral History Project has organized interviews including: Wangechi Mutu by Deborah Willis, Kara Walker & Larry Walker, Edward Clark by Jack Whitten, Adger Cowans by Carrie Mae Weems, Jeanne Moutoussamy-Ashe by Kalia Brooks, Melvin Edwards by Michael Brenson, Terry Adkins by Calvin Reid, Stanley Whitney by Alteronce Gumby, Gerald Jackson by Stanley Whitney, Eldzier Cortor by Terry Carbone, Peter Bradley by Steve Cannon, Quincy Troupe & Cannon Hersey, James Little by LeRonn P. Brooks, William T. Williams by Mona Hadler, Maren Hassinger by Lowery Stokes Sims, Linda Goode Bryant by Rujeko Hockley, Janet Olivia Henry & Sana Musasama, Willie Cole by Nancy Princenthal, Dindga McCannon by Phillip Glahn, and Odili Donald Odita by Ugochukwu C. Smooth Nzewi. Donate now to support our future oral histories.
Part 1
It's August 23, 2018, a sticky summer's day. I arrive at the ceramics artist Sana Musasama's home/studio in Saint Albans, Queens. Sana's generous spirit is immediately felt as she warmly greets me. Her studio is discreetly masked as a shed—it was a garage—and her garden is verdant with quirky outdoor decor. Her workspace reflects her travels. Old hand saws and hand brooms are transformed into decorative objects, while ceramic pieces of varying sizes are placed throughout the studio. One wall is dedicated to girls; it displays ceramic artworks depicting female genitalia transformed due various degrees female circumcision, a practice she became aware of after living in Mendeland, Sierra Leone, in 1974.
Sana leaves the studio to answer the front door; it's the mixed media artist Janet Olivia Henry. Shortly afterward, we settle into our seats, share a few laughs, and feast on snacks of grapes, apples, crackers, and red wine. Then Sana and Janet begin to share their life stories.
—Stephanie E. Goodalle, BOMB's Oral History Fellow
Janet Olivia HenryDid you see this?
Stephanie E. Goodalle: Oh, that's a review of the A.I.R. Gallery show, Dialectics of Entanglement: Do We Exist Together? (2018).
JOHHave you seen She's Gotta Have It? One of Spike Lee's early movies?
SEGThe original one?
JOH Yeah.
SEG Some of it.
JOH Well, there's one scene where Mars Blackmon played by Spike comes tearing down the street on a bike yelling his guts out, "That's me!" (laughter)
I used to show consistently, like a few group shows a year, but when I started working in the Visual Artists Program at New York State Council on the Arts (NYSCA) as a program associate [1987–1995] with Carlos Gutierrez-Solana, concern about the appearance of conflict of interest put the kibosh on exhibiting at the alternative spaces where I had shown. They were the majority of the applicants we handled. I still got to do a show here and there that had been scheduled prior to when I began. There was a show at Intar Gallery in 1988 that Howardena [Pindell] curated, another organized by Olivia Georgia that traveled to New York from Maryland, and one that I put the work in under a pseudonym.
I resumed teaching art in 1996—first for Studio in a School until 2001, and for the last eighteen years at Brooklyn Heights Montessori School. Teaching art is its own thing, so I just disappeared—connections and opportunities dried up, reducing me to one exhibition every two or three years. Linda Goode Bryant, the founder and director of Just Above Midtown Gallery (JAM), referred me to the curators [Catherine Morris and Rujeko Hockley] of We Wanted a Revolution: Black Radical Women, 1965–85 at the Brooklyn Museum in 2017. Hockley, whom I didn't know—talk about six degrees of separation, her mother-in-law is Deborah Willis—pushed for me. So, I brought in my stuff and they said, "Yup, we want to use it." If it had been the current crop of curatorial celebrities, I wouldn't have been in the show. I have a checkered reputation, and they already have a coterie of artists with whom they share the same basic sensibilities. I'm a social goon to begin with, from an East Harlem working­­‑class background. I just never had the finesse to hang.
SEG It's different when you're born into art.
JOH Well, at least the mores of the upper and middle classes give you leave. I've had to put up with the saddity Negroes from forever. You know the kind of people who gasp if you doodle during a meeting. Or don't let your hands be ashy. But I guess my work, little by little, is getting out there.
SEG But since We Wanted a Revolution, you've been in shows back to back, right?
JOH Yeah.
Sana Musasama Have some water, apples, wine?
JOH Is this cup one of yours?
SM This is a friend's from graduate school. These are my cups that nobody thinks are cups—my kind of cup.
SEG These are so beautiful—
SM The difference between these and mine is that they're wheel-thrown and I'm a hand builder. I want to say we've known each other over forty years. We meet more often on the E train coming home to our Queens neighborhoods of Saint Albans and Jamaica, so I am excited to have this time with you. We were both in the Southeast Queens Biennial—I liked your lariat piece very much.
JOH I felt like a piker next to your many-faceted installation. But the E train is our exhibition opening because we don't live in close proximity to the galleries, so the train is where we cross paths. You know, I put that Southeast Queens Biennale out my mind.
SM Really?
JOH Yeah, years ago, in 2000 when I got into PPOW Gallery, I did a solo show of word lariats. Lariat is the jewelry term for an open-ended necklace. The ones I use for installations are yards long. I loop and twist them to follow the form of words I've drawn on a given wall. They range in length from six-inch "meanders," up to several yards. The completed words can be as long as eight feet. The current work incorporates most of the ideas and materials I've worked with in the last twenty years.
I was complaining to my friend Ward Mintz about my early days in galleries. He put it this way, "At one point you were talking about expecting never to be in a gallery, so just keep quiet and make the most of it."
SM So, did you keep quiet?
JOH Yeah, I did. I had never expected that I would get into a gallery. I was in a gallery, then by 2004 I was out of it again.
SM I would stop into the Southeast Queens Biennial daily on the way to Manhattan, and I always walked into an empty gallery. So, I wrote you one evening: "What do we do? I'm trying to get people here, but nobody's coming." You said, "I'm the last person to talk to about promoting my work." (laughter) Then I looked at your resume and said, "It's nothing but work!" Curated show after curated show, you have been in many important exhibitions for over three decades, so what are you talking about?
JOHYes, but that's how it works. You get on a circuit, people refer you, and you go on from there. I got into PPOW because Carrie Mae Weems recommended me.
SM I got into June Kelly because Howardena Pindell told June that she had to show my work. June respected her opinion, brought me into a group show, and has shown my work for over twenty years now. Shervone Neckles got me into the Southeast Queens Biennale.
JOH That's the one aspect of exhibiting that has some validity. When artists make recommendations, gallerists pay attention. Rujeko [Hockley] and Catherine Morris put me in the We Wanted a Revolution show because of a recommendation from Linda [Goode Bryant] and then they looked at the work. That has always been my contention: it's the work that matters, finally. Like I said earlier, if it had been the usual suspects, I wouldn't have been included because they had already written me off. About six years ago I said, "You'll start seeing my work when I'm dead." Ru and Catherine decided to include material from my files as well as Juju Bag for a White Protestant Male and Christian Cullid Lady's Annual Trip Home in the exhibition.
The things I loaned were mementos. I'm a pack rat. After our first meeting, I was inspired to look through my files and found an insert that Group Material did with Carrie Mae Weems in various guises: The Revolutionary, and The African Influenced Sista. Did she put a bone in her nose? I think she did. (laughter) I sent Ru and Catherine an email saying, "Do you have this?" They didn't, so I loaned it to them. I saw how turned around you can get if you invest in being noticed by the art world and I just never got it or figured it out. I've been around people who thought of themselves as artists since I was thirteen. I attended the High School of Art and Design—A&D—from 1961 to 1964.
SM I didn't have any serious art school background until graduate school.
JOH Really?
SM I grew up here in Saint Albans, Queens, in this house. My mother encouraged my four sisters and me to do creative things, but it wasn't for us to take seriously. Many of my teachers told my mother I had something special. I attended creative classes associated with the church, for example, in Bible school, where you make something wonderful every day. I also had a garden growing up and spent a lot of time observing plants grow and insects wander.
Caption: Sana Musasama, detail of Sugar vs. Sap, 1992, ceramic mixed media installation, dimensions variable. Photo by Ian Douglas. Courtesy of No Longer Empty.

JOH I was just assuming you went to Music and Art. A bunch of people I know went there.
SM No. None of that until I went to graduate school at Alfred University. I traveled for many years in West Africa, Japan, Thailand, Vietnam, Laos, Mexico, Israel, and in various places in the United States—the Archie Bray Foundation for the Ceramic Arts in Helena, Montana; the Tuscarora Pottery School in Nevada; the Penland School of Craft in Snow Creek, North Carolina; the Haystack Mountain School of Ceramics in Deer Isle, Maine; and the Arrowmont School of Arts and Crafts in Gatlinburg, Tennessee. I took workshops in these places and explored the world of clay in many countries and then went to Alfred University to compile all my experiences into a body of work.
JOH You jumped right in the fire; pun intended. (laughter) Alfred is a big deal.
SM It was then. There are many excellent programs now. I went there for two years. Alfred was intense, and hard work. I was the only black person at Alfred except for those at the tech school, where I often saw black students who were studying agriculture and farming. So there were a few of us in perhaps a population of 3,000.
JOH 3,000?! Sorry to yell.
SM I had done my BFA at City College, and it was useless. Everyone said, "Sana, you're in clay, you need to go to the best schools." Which at that time were Cranbrook and Alfred. So, I applied to both of them. I would have gone to Cranbrook even though it was in Michigan, but I had been abroad for a year and a half, traveling in West Africa studying pottery. Cranbrook had one faculty member, Jun Kaneko, in ceramics. Alfred had seven: John P. Gill, Tony Hepburn, D. Wayne Higby, Anne Currier, Andrea Gill, Val M. Cushing, and then there were two visiting professors a year. After traveling to so many villages, I wanted to not only create but also hear that chorus line of information. My mother was very ill and my sisters needed me. They were angry with me for not being part of nursing her back to health. So I had to pick a school that I could get home from. Alfred was only seven hours away.
I didn't get into Alfred the first time. I got waitlisted. I often worried why. They had a powerhouse black woman artist there, Lydia Thompson, who was blessing them out. I think they said, "We can't take another one of them!" I mean she was nipping, rightfully, nipping! And I was a New Yorker, too. No way! (laughter)
When I applied the next year, they asked me why I wanted to come. I said, "Because I got rejected the year before and I was devastated, so I am trying again." They gave each graduate student a 500-square-foot studio to work in, open floor plan. You could see people down the hall. When I got there, people were building walls.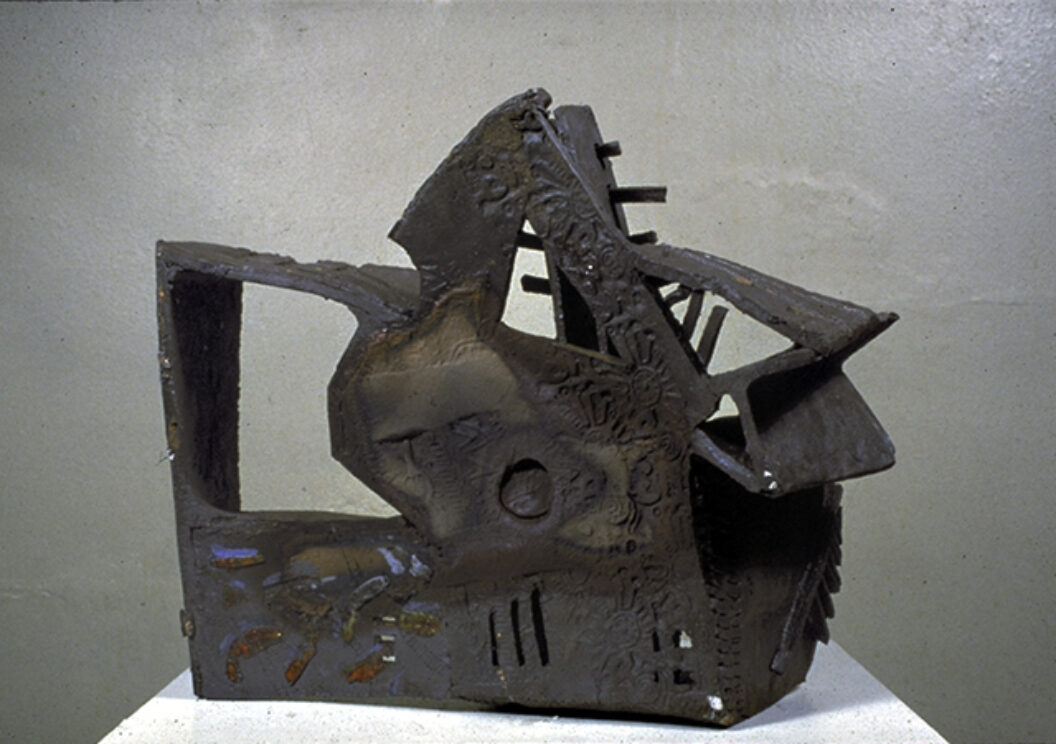 SEG Are you serious?
SM Yeah, because they did not know what to expect. I just said to myself, Sana, you came here to get a two-year degree, you're twelve years older than everybody here, you've been out of school ten years. You've got a lot of catching up to do. Just focus on this. And after a few weeks, many of the walls began to come down. Some only partially, but they came down. So, my thing to them is, not every black person is addressing the same issue the same way, although they may feel the same way about the concerns. The reaction can be different yet valid. After all, are all white people the same?
JOH This is infuriating; they peg us with whatever preconceptions they've swallowed. Then pile on the stereotypes and caricatures to those of us they encounter. I'm so sick of that; you wanna be scared of something, "Boo!" You end up with a quiet rage that permeates everything to a certain extent. White people deny our humanity and expect us to respect theirs.
SM Yes, I agree, Janet. I have stacked this one on one with each experience: Cambodia, Israel, Thailand. I got through those two years and I made some royal, royal friends for a lifetime. One in particular invited me to come to Thailand, where she was a Fulbright scholar. After I spent time with Mei Ling and was invited to give a lecture at the University of Bangkok, she encouraged me to travel north. I fell in love with the landscape, pottery, body adornment, and food. From that time on I became particularly interested in Asia. I traveled farther to Laos, Vietnam, and China. I've worked in clay everywhere. Another lifelong friend from Alfred is Birdie Thaler. We both went to Paris together to the Cité internationale des arts residency program. She eventually moved to Sweden. We were both resident artists at the European Ceramic Work Center in the Netherlands. My buddies from grad school took me with them wherever they went. Now many of them run alternative workspaces, art departments, or are museum curators. I can count on them. You mentioned something about a circuit. My circuit was Deirdre Bibby, who died eight years ago. I've never, ever, ever had anyone like her since. Howardena Pindell is an ally. I can call her into my studio practice, and she will come; but other than that, I don't have a circuit other than the clay world.
JOH I know, and it's separate from the art world.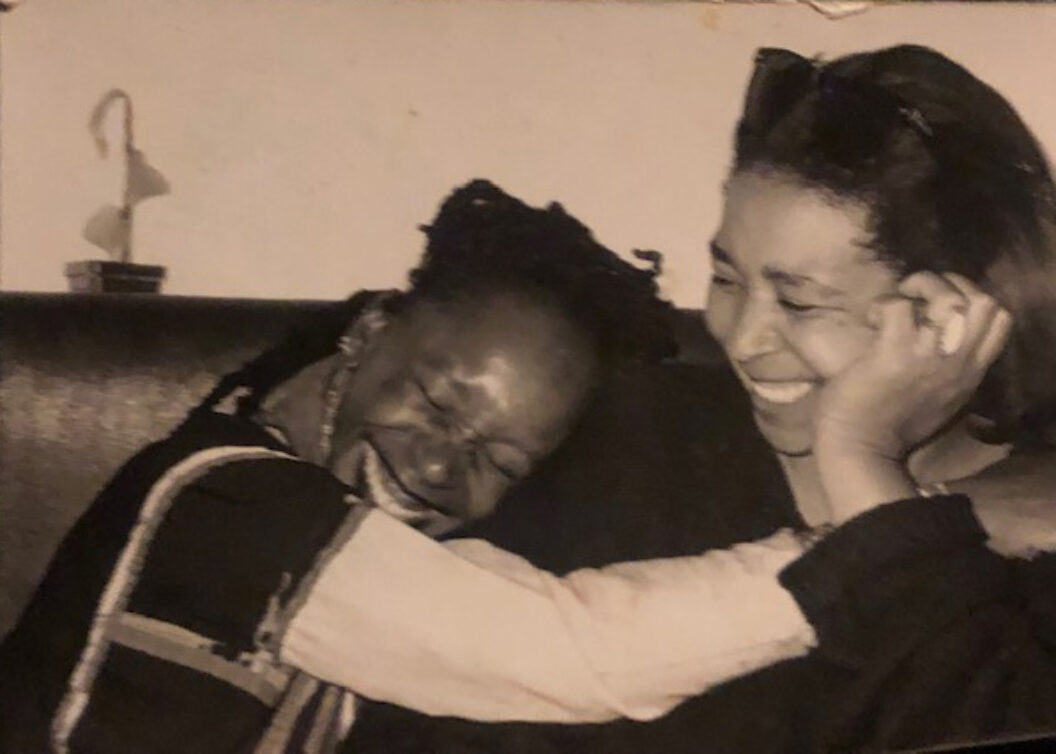 SM Yes, and I hate this division. It's like racism between materials. But what about Carrie Mae Weems?
JOH Well, Carrie has actually saved me from obscurity more than once, but to the rest of them, I'm too frayed around the edges. People want comfort in their relationships. They don't want to be agitated. The Montessori school where I teach—I really love the Montessori method, the attitude about teaching, and the philosophy. Maria Montessori was an MD, and she applied her training to educating children. She isn't acknowledged as originating stuff like child-centered teaching, but she did. Creating an environment that encourages children's curiosity and following where they lead, that's what I would have benefited from.
I made myself watch the National Geographic Genius series on Picasso. As a human being he was a horror, as an artist he is without peer, and I found out about him in high school. From Picasso, I got the charge to invent. He had a lot of facility, but that wasn't enough. He did understand that in that time and place, he had to bring something more, something new to art-making. For me invention is the intellectual underpinning of our time. I'll never criticize someone for doing avant-garde stuff, even though I prefer Bach over Babbitt. In making art, you've got to step up. You have to bring something more than posing the same question and repeatedly answering it the same way. What the hell is that?
SM Can we stay with something for twenty years and still be passionate about it as fresh and new?
SEG Sana, let's start with you. Tell us about your work. Your focus and how it's evolved.
SM I began to travel to learn and relearn. Clay, my material of choice, exists all over the world because Mother Nature makes it. So in between undergrad and grad school, about ten years, I traveled. Without fail, traveling, for me, became a new form of education, transforming me into a global citizen, equipping me with the platform upon which I became a more compassionate human being. My work functions as a reinterpretation of personal and historical narratives, focusing on themes of gender, place, and time. It is informed by the women and little girls who have been my guides and friends throughout my many journeys. In my travels, I began to observe the lives of the young girls that came to my hut each day, in this case in Sierra Leone, to teach me a new skill and inform me of systems in their culture that were unfamiliar to me. These little girls, who were doing the work of adult women, cherished and protected me while I lived with them. I developed an inexhaustible conviction for creating work as a result of seeing and experiencing their lives unfold in front of me. Because of the little girls who were my teachers In Sierra Leone, I was exposed to female excision, child marriage, girl soldiers. In China the bound foot. In northern Thailand, the neck ring tribe, the Kayan. And the historical links to violence against women and little girls, and all children. As a woman solo traveler, I focused on these little girls' lives. It is their stories that became my story. I work in clay as my primary material. I use a wide firing range from cone 01 to cone 6. My color palette is in the family of blue-greens, with metallic and luster flashing. I am a hand builder, using techniques I learned traveling and working in traditional villages. I combine various mixed media materials in my work, such as bark, hair, soil, wire, glass, water, grass, bamboo, et cetera. I keep journals of my travels. Many of my stories turn into a body of work after years of study and travel. Concurrently, I am working on several bodies of work: Girl Soldiers, The Unknown/UnNamed series, The Doll series, The Topsy Turvy series.
Here is a doll from my I See Me series I started in 2016. In slave times, the house slaves would make these dolls for their children. The top would be a white face, and if you turned the skirts over, there would be a child with a black face. Slave children weren't allowed to have dolls in their own image. I would put nothing on the face and then I started changing them as time went on. Putting glass hands in them, rakuing the heads in different ways. This one I love, the way the glaze has puddled down the eye slope. They started looking like girls with an attitude: Don't mess with me, I'm tired. If a gallery were to take them, I would put them in a whole cluster on a wall like one vibration.
JOH Visual art is non-verbal. I've always said, for as much as I can talk, "I can't verbalize all the reasons that I do things (nor do I need to), but I know that there has to be some thinking behind it, something at the core of it. It has to be more than a physical exercise."
I went from A&D to the School of Visual Arts [SVA] from 1964 to 1965, and then to the Fashion Institute of Technology [FIT] in 1967. I got a scholarship to SVA. It's for-profit and to make the bulk of their 1960s student body (Long Island "we don't care where you go to college, but you have to go somewhere" kids) feel comfortable, Silas Rhodes, the founder, announced that our previous three or four years of hands-on art education at A&D or Music and Art meant nothing. I guess in retrospect, it didn't, because their primary method of instruction was mostly "Figure it out yourself." That's not what I wanted. My other influence was the illustrator Antonio Lopez, who exemplified the "Learn it all so you can do whatever you want with it" method. A byproduct of attending FIT was learning anatomy. In order to drape clothes on the body convincingly you have to know where things are, how they connect and how they move. I learned how to draw the human figure from the inside out; but I realized I was setting myself up to go into a business that is primarily transitory and titillating, where nothing is valued unless it can get attention and be monetized. I did not want people I have no respect for telling me how to draw. So, I ended up going where the tide left me—Children's Art Carnival, Black Enterprise magazine, Jamaica Arts Center—and having a very interesting time of it actually, just discovering, learning, and pursuing ideas.
SM So, you got your MFA from FIT?
JOHGulp. No, I don't have an MFA. I'm the Last of the Mohicans. I have an associate's degree. I didn't pursue academics. I'm really not a good student. I only learn about things that I'm interested in.
SM I feel the same way.
JOH But you did it.
SM Yeah, but the way I did it, I prepped myself. My undergraduate degree and my master's degree are twelve years apart. Twelve years of traveling, of self-teaching, and getting myself together and asking questions. Absorbing. It prepared me to sit down and focus.
JOH In the '60s, there was a concerted effort to address the issue of racism, lack of opportunity, and poverty. There were a number of anti-poverty programs. The one that I was involved with when I was in high school was called HARYOU-ACT, Harlem Youth Opportunities Unlimited. I found out about HARYOU from the notices they sent out. Mr. Clements, the head of Illustration and Fine Art at A&D, called me in one spring afternoon in 1964 to give me info on how to apply. After a couple of hiccups I was enrolled in the Graphics and Plastics Workshop run by Arnold Prince, Betty Blayton-Taylor, and James Yeargans in the summer of 1964 (Norman Lewis was a later addition). I got to work in clay, attempted stone carving, painted murals in pocket parks, and exhibited the drawings, paintings, and other miscellany produced in the workshop at Nine West 125th Street. [Harlem Youth Opportunities Unlimited (HARYOU) was founded in 1962 by Kenneth Clark as a result of the study, "Youth in the Ghetto: A Study of the Consequences of Powerlessness and a Blueprint for Change." HARYOU's aim was to reduce juvenile delinquency in Central Harlem by providing access to job training, art, and social and educational opportunities. In 1964, HARYOU merged with the Associated Community Team (ACT). From Mounting Frustration: The Art Museum in the Age of Black Power by Susan Cahan, 2016.]
Meeting Betty when I was seventeen was really important. Mr. Lewis, as we called him, should have been important too, but he was always in a bad mood, which I now attribute to the fact that he was an exquisite painter who got none of the support that people who only had one tenth of his talent got. So he was angry. Then he ends up teaching a bunch of adolescent hooligans in Harlem. We used to argue all the time. I didn't "just want to paint." I wanted to work with different types of materials. I came up with these things called paper mosaics made out of tissue and Elmer's glue. This was after high school and the charge to invent was in my marrow. I had to do more with my ability than just reproduce stuff. I was around other artists my age who were also trying out things. We didn't have access to a studio with a bunch of equipment, but we made differently-scaled drawings and other analog creations.
SM I took classes from Norman Lewis at the Art Students League. He was a dictator in that room. Oh my goodness, you were terrified when he stood behind you. He would throw you out of the room in a heartbeat. Norman Lewis was as brilliant as he was angry, justifiably angry.
JOH Oh yeah, I got thrown out of his class at HARYOU for wanting to work only on my own work. The last time I saw him was at an opening at the Museum of Modern Art (as an employee of the Children's Art Carnival; we got to hang). He introduced me as his best student!
SM Betty Blayton-Taylor hired me to teach ceramics. She gave every artist a job and she continued to help them create their own work.
JOH Yeah. It never occurred to me that a woman couldn't be an artist. Here was one right in front of me. Knowing people like her was my reality. When you come across people who are good at what they do, you're proud of them, you want to emulate them. Making art was normal; showing wasn't that daunting either. Simple nosiness got me into exhibitions. I was like, "What is this show about? Who put it together?" Next thing you know, they were asking me to be in it. That's how I got into a show Alyson Pou was organizing at Pulse Art. One of the first lariats I did was in that exhibition.
SM What year did you start making the lariats? I love them, Janet.
JOH I don't know. I was in Women's Action Coalition (WAC) in the early '90s. I started doing those in the late '80s.
SM That's a while ago.
JOH I know.
SM They drew me in and made so many references.
JOH Again, the charge. When you get one, you have to let it inspire you; you have to let it do what it's going to do. Even if you haven't been working. I always tell people when you stop working and start again, you're going to make some ugly shit.
SM Stop working?
JOH Like when you get a job and devote yourself to it and then finally go back to making your art. It like, eck, the stuff's going to be bad. You just have to go through a process, you have to build up momentum again.
SM Have you ever not worked for years?
JOH Not years, months. But that's still a lot. It's the same as when your muscles atrophy. You need to invest more time getting back to where you were than the time you took off. Also remember, it's a balancing act. A bunch of things have to come together. There's a trajectory you're on, and you can't self-consciously set about achieving it. It's like improvisation, the idea of inspiration, serendipity, skill, comes into play too. You have to be in a place to accept it and when you stop working, it dissipates and goes in different directions. That gets dormant and you have to pull all that stuff up to—I can't even say to your consciousness because a lot of what you do is unconscious. That's why I'm so opposed to having to explain everything. Did you read that artist's statement for that piece I had for the A.I.R. show Dialectics of Entanglement: Do We Exist Together? in 2018?
SM Yes.
JOH Here's some of what I wrote:
"I discovered that American culture had been replicated in [the] miniature. Old Barbie stuff was accurate, detailed, and made with care. (Not all the dolls, never the dolls, which were immobile, while the action figures were basically pliable armatures with portrait faces), but the clothes were great: piping, lining, buttonholes—wahoo." From The Studio Visit, 1982.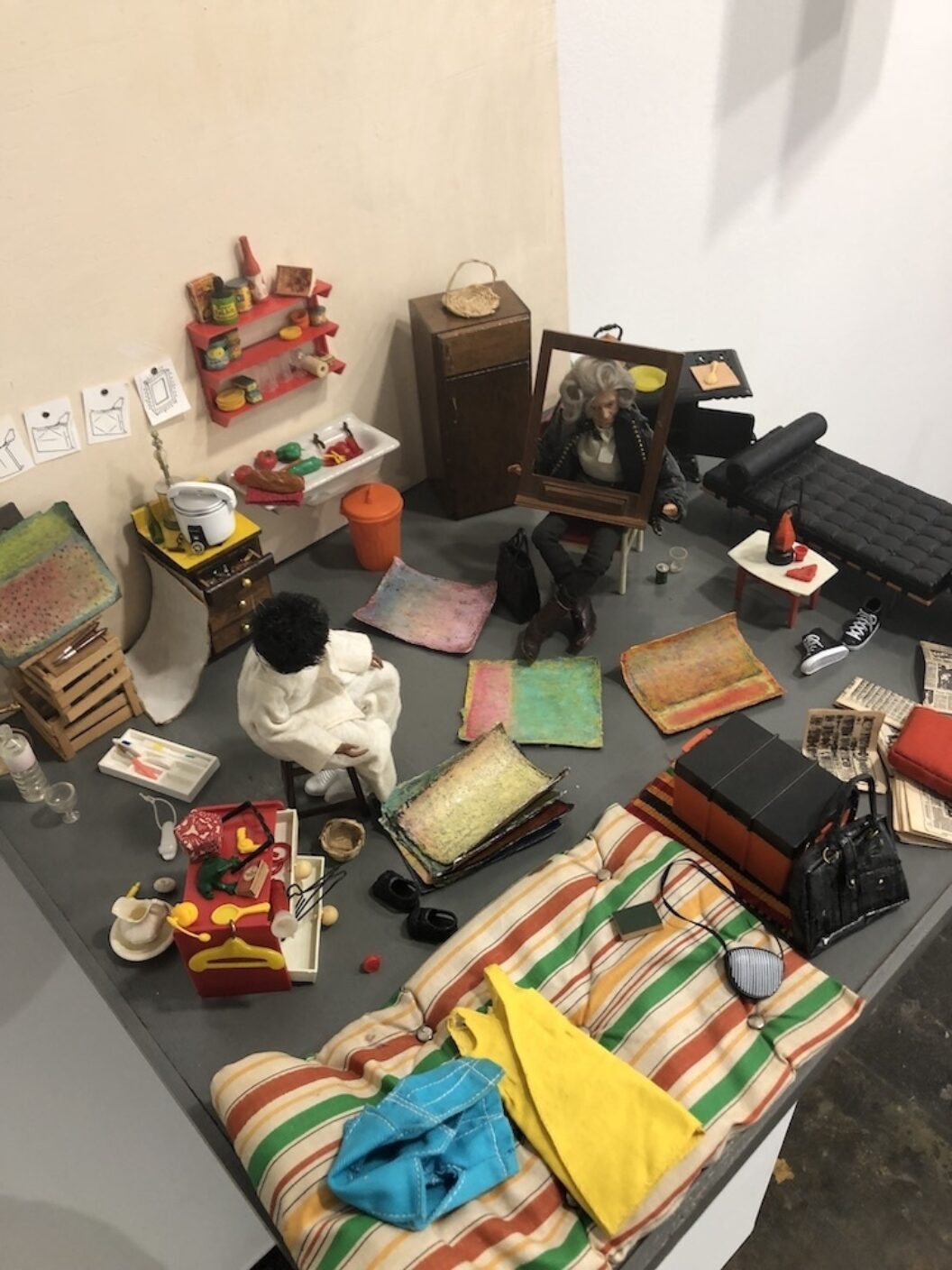 It's funny, but still, kiss my ass. Why do I have to explain what I'm doing? Either you can see it or you don't. My specific reasons for doing things might be useful in providing factual information or for an interview, but in the context of making work, I don't have to explain myself down to the last comma. I understand where theory can fit in, but when it becomes the only lens through which to look at art, then art gets hamstrung. When I went up to Artists Space to meet with Helen Weiner, the shepherd of the Nigger Drawings show by Donald Newman, I was so nervous that the piece of paper I had in my hand ended up in tatters. I mean this is forty years ago in 1980 or so. The conversation concluded with the fact that when artists do things, we have very specific reasons, but when somebody else looks at it, they bring their own perspective. Art either pulls you in or it doesn't; you bring what you know and what you've experienced to it. There's nothing wrong with looking at art and saying, "It doesn't mean anything to me." You don't have to like it but you should be able to "read" it. I was talking to Joy Norton, a dancer, a couple of days ago and she was trying to work out how she felt about all the criticism a piece of hers had generated in a workshop. Especially when no one asked, "What did you set out to do?"
SM Intentionality.
JOH Yeah, you can create a piece with a wide range of intentions, and somebody can still interpret it completely differently. You want to hear a sneaky version of that? I work with Legos, and I did a piece I call NYC Phantasmagoria, it's an ongoing installation I've been working on for decades. I put something that looks like Central Park in the middle of it, and my sister Bunny "made" me stick the Empire State Building in too. (laughter) So alright, it's New York. The part that's supposed to be Harlem, the part above Central Park, I stuck this red, green, black, and yellow building in there and hung sneakers on the tower. This woman saw it at Five Myles in the There's No Place Like Utopia show curated by Matt Freedman, and she had a lovely interpretation. She told me that when men came home from war, to indicate that they would never leave again, they'd throw their boots over the power lines as a way of saying: I'm here to stay. Her interpretation was the direct opposite of me being a jerk, or transgressive.
SMWell, when I look at my pieces that are behind you, the works from the "Unspeakable Series" made of ceramic and mixed media that refer to female excision—I started making them over twenty-five years ago after living in Mendeland. I wanted people to absolutely know that they are manipulated vaginas going through various forms of violence and torture. I say manipulated, altered, or deconstructed, rather than mutilated, to avoid the implications of shame. So my artist's statement was important for those pieces because people called them shoes, pods from trees, seeds, or rotting fruit. I did meet an African woman who had just graduated from Columbia who said to me, "You talked about my procedure in the most beautiful way. It was the way that my great-grandmother talked about it." So I'm sure her great-grandmother circumcised her. Her mother probably told her, "There's a beautiful ritual that is going to make you like thousands of women in the world." These works are the story of rituals in the lives of little girls as a rite of passage. It started it with the long one. This series is all stoneware clay: brown, tan, and gray clays. In the beginning, I embellished them with blues and greens. The girl that hasn't been circumcised is considered "unripe." In some cultures, unripe is considered light blue. In others it is a light green, a color that isn't vibrant. I realized that these rituals happen in many cultures, in many groups of people. They just call it different things in other parts of the world. So then I opened the clay gamut with white, green, and black, every color, because I kept hearing, "Sana, I'm Algerian, not African, and that happened to me."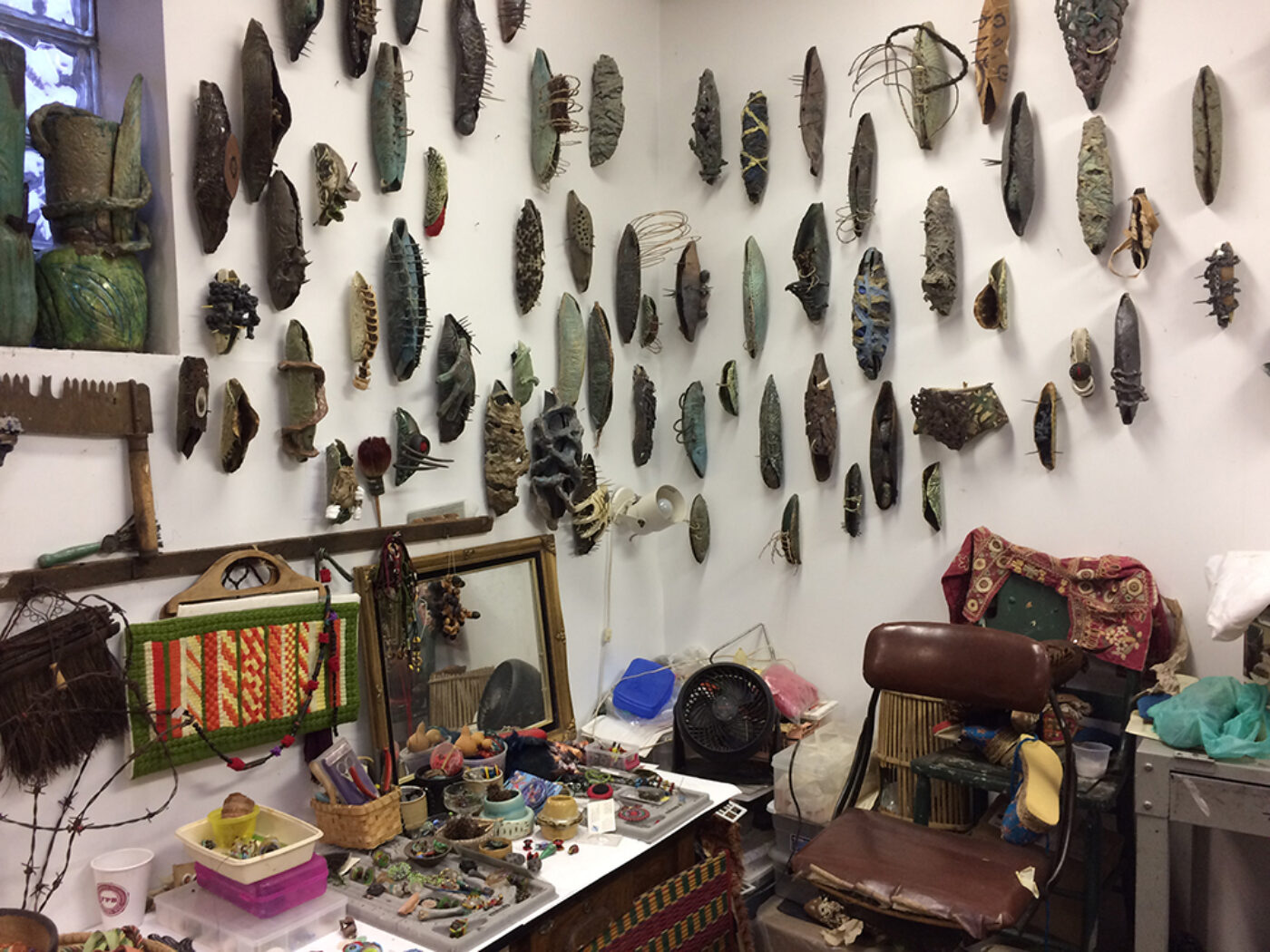 It took me many, many years to understand this, to keep traveling back to Mendeland and asking questions. You know they are not told that they're going to be cut and mutilated, and not have an orgasm, or bleed to death, or get a bacterial infection. I mean, these are the manifestations, unfortunately, but that's not what they are told to prep them for it. They have a ritual. They dance, they sing, and after three months they get beads. If you saw it with your own eyes and didn't know that cutting was coming after it, you would think, Wow this is great, I should have grown up here. The girls are learning how to be sexual because they're going to be co-wives. They're dancing for thirty days, painting each other, cooking, eating sweets; they're having a ball. That ritual is important because it teaches the girl how to hunt, to use a gun, to spear, fight, everything. Without that education, she can't live in the bush. The cutting is the part that needs to stop. Keep the ritual but stop the cutting.
Here in New York, I worked with alternative incarceration cases for sixteen years, with felony offenders in New York City, children fourteen to twenty years of age. I taught art as a life skill. Many of the tools we used in the classroom were once viewed only as weapons, but in our creative classrooms they were tools to make something useful and beautiful. We produced mosaic tables and serving trays, zori slippers, handbags, rag rugs, chimes, felt flowers, and glass beads. I took them to June Kelly Gallery. I had about nine boys and two girls. I would say, "Okay, this is a gallery. You can't hit on the receptionist; you can't ask her phone number. You can't smoke a cigarette in here. You just go in and look at the art. You're 100-percent welcome because it's my show and I'm bringing you in." They said, "Okay, okay, okay." So, two of the guys went right over to the receptionist and started hitting on her. She gave them her number, so there was nothing I could do about it, but anyways, they're looking around and then one of them said, "Sana, are these vaginas?" I said, "Every single one of them is a story about a vagina." They got it.
What I can say, from observing my students at Hunter College, is that when students are encouraged to write artist statements, the experience does make them distill every little fiber of everything that is important to them. I see a real improvement in what direction they take after they've written these statements. But I get what you mean, because every time I submit for a show they ask for an artist's statement or bio. I have to constantly write them over, but I have seen the importance of doing them. I don't want my work to be misinterpreted. I want you to know exactly what I experienced. I've started going to senior citizen centers to take classes. I'm looking forward to retirement because they are really diverse in what they teach. I'm taking sewing classes because I'm making these topsy-turvy dolls. I go to 109th Street and Third Avenue at the Carter Burden/Leonard Covello Senior Program. That population—which is mostly Chinese, Latin, and some black—is so exploited. Con men are constantly preying on them with scam calls, "If you don't pay the immigration bill right now, so and so will be deported." These people are on edge because they know so many undocumented people. They panic. They meet this person and give them thousands and thousands of dollars.
JOH Has anyone been able to stop it?
SM Yes, first of all, just educating the public that this is a scam has stopped a lot of it.
JOH I took an Uber here and the driver, I think he was Haitian, and I were talking about how people make money off of unsolicited calls and other dishonest things like that. He said, "How come people do that?" I replied, I learned a big word this year, a really good one and really important, encomium. Michelle Goldberg, an opinion writer for The New York Times used it on the Chris Hayes show. They were talking about how Evangelical Christians could support Trump. The meaning of encomium is that all you have to do is believe. You don't have to practice the tenets. So you can do the most despicable things and expect to get into heaven by just believing.
SM How did she use the word?
JOH She was talking about this in reference to Evangelicals supporting Donald Trump.
SM Oh, I see, there's a disconnect.
JOH That man, when it finally turns, I think people are going to be ashamed of themselves. How can you let someone who is so contemptible affect so much? This man represents nothing good. I was telling someone, "The thing that turns my brain on is art. The switch that turns his brain on is greed." We need to stop being aghast. This is how he is, and he's surrounded himself with people who are just like him.
SM I have a lot of students who came to the classroom crying because their parents were voting for Trump. They were humiliated and very, very hurt by it. I had a lot of brokenhearted students. One of them said, "I just sat there and listened to my parents and thought, Where in the world am I?" Her saving grace, she said, was, "I got out of Long Island because I wanted to know the truth."
JOH In the Republican world, creativity is confused with manipulation and invention is mere difference. Creating something that didn't exist before does not compute. They don't understand imagination or invention; change frightens the shit out of them. Trump just does things differently; it doesn't matter that it's unethical, grounded in profound ignorance, and is going to destroy our lives if allowed to go unchallenged. He thinks he's exempt from it all—you destroy the environment and you think it's not going to affect you, too? You become the president of a country that is a democracy and you don't know what the word means? But the Democratic Party kinda did this to themselves. They haven't given up on public service, but they have disengaged from the people affected by their ideas and policies. That jerk Trump filled the gap by purporting to know how to save the working class, and they bought it.
SM Janet, if you could have been anything other than an artist what would you have been?
JOH A musician. My mother was an avocational singer; my father was a drummer (I never heard him play, but I have a photograph); and I love music. Mommy was a student of Augusta Galloway who had a singing school in Harlem. She was one of those glass-breaking sopranos. Every year they had recitals. There's a picture of an eight-year-old me in a white dress with my hair in a curling iron updo, standing with my hands clasped in front of me like Marian Anderson and a basket with gladiolas at my feet. In that environment, I heard all kinds of good voices. I also heard music sung in harmony. The prayer at the end of temple—"The Lord Bless You and Keep You" by Peter Lutkin. The first time I heard it, at a dress rehearsal, my little eight-year-old head popped up in wonder—it was so beautiful.
When I came back from Antigua—I lived in Antigua with my grandmother from 1956 to 1959—my mother put me in Saint Martin's Girls' Choir. It was stressful because there were the "in" older girls. However, we sang Bach chorales, Faure's Requiem (rearranged for two voices and chopped up). I remember Sunday morning with the light coming through the windows and that music—
SM You had arisen. (laughter)
JOH Exactly, but music has always been in my life in some form. I learned to play oboe in high school. Tried to play piano, but I'm not talented at all.
SEG Did you spend a lot of time in church outside of the choir?
JOH Besides haunting the building with other teenage girls after singing for the 9:00 AM service and going to Sunday school, there was rehearsal once a week. My family is West Indian, so the equivalent denomination in America was the Episcopal church. Episcopalians leave you alone. Ain't nobody saving your soul but you. There was no hollering either—there was full throated singing in Antigua. Not up here. Y'all mouth stuff. I still can't get over how puny "The Star-Spangled Banner" sounds. I can carry a tune, but I don't have anything to say with my singing. The thing that I can sort of play is the surdo, the bass drum in a Samba Bateria (drum corps). You can hang me upside down and I'll still keep time.
SM How did drumming come into your life?
JOH Drumming came from WAC [Women's Action Coallition], a phenomenon of the early '90s. It had packed, women-only meetings all over downtown. WAC drew artists and lawyers—we were never without permits and good graphics. It was an outgrowth of ACT UP. I learned to call demonstrations "actions." Actions against the Saint John's rape trial, as well as the opening of the Guggenheim's SoHo satellite with Carl Andre, which resulted in the eventual addition of Louise Bourgeois. Marches in DC—the Gay Pride Parade, and the Lesbian Parade the day before. Picketing in response to the art-world boys' club pictured on a cover of The New York Times Magazine.
In WAC, the most fun you could have was in the drum corps. The collectively written chants were hilarious. They could also be the fulcrum for outrage and solemnity. When I joined, I had nary a clue about playing a drum but I knew enough to go take classes. WAC's untimely implosion led some of the drum corps to pursue playing with the LES Samba School.
SM Do you make your own drums?
JOHKinda. I made shakers that look great but they don't resonate worth a damn. I've made instruments with kids, fruit and vegetable maracas, "The Comestible Choir." What would make them sound good is too dangerous—lead pellets—so we put beans and beads in them. I started doing this particular workshop with Dancing in the Streets. I'd go to Toys-R-Us and get plastic fruit and vegetables, make holes in them, put in the previously mentioned beans and beads, insert chopsticks, hot glue the holes closed, and decorate them with colored tape, stickers, cabochons, opaque markers, and ribbons.
SM And you teach music at Brooklyn Heights Montessori?
JOHIn addition to teaching art, I used to lead a percussion group with a musician named Ben Rosenthal, a talented drummer. It attracted all kinds of mindsets and skill levels, but the students all invariably worked hard and pulled off their performances while gleefully making the two of us crazy in the process. They played rock 'n' roll, jazz, samba, African, pop, and a couple arrangements they created themselves. I've been teaching at Brooklyn Heights Montessori since 2000, so it's going to be eighteen years in November [2018].
SM Full-time work?
JOH Yeah, and when kids come back to visit, they'll tell me that they still have the art they did with me. I set out to give them a sense of accomplishment and that they're keeping those efforts in their lives is a good sign.
SM When you're working, do you play music in your studio?
JOH Well, at home I have the television on for company. It used to be better than it is now. I used to be able to put it on PBS and hear really great informational documentaries and interviews all day. Otherwise I have to DVR shows so I can fast-forward through the commercials. I don't watch the news unless the remote is within reach to mute the lying trefs that test credulity each and every time they open their maws. I've spent the summer working on what I'm putting in the Queens Museum's Queens International.
SM I also work at Jamaica Arts Center teaching ceramics. I've been there maybe fifteen years and this year they decided to have summer school for the first time. It was a big success. I suggested air conditioning and they did it.
JOH That takes a politician and a checkbook.
SM It's a historical landmark so their hands are tied in terms of what they can do. But we have a new director who put in air conditioners. Jamaica Arts Center is so reasonably priced. I went there as a kid. When summer school started this past summer, we realized day one, the first hour, that a large percentage of our children were learning-challenged. We had perhaps thirty-four kids. One kid couldn't stop moving, another shouting. I had to change the curriculum.
JOH This is serious.
SM Well, I learned quickly that special needs children require more structure. One crayon, one piece of paper, one paint brush, only two colors, anything more overstimulated them and they couldn't make a decision, which made them frustrated, which made them start fighting and being extremely impatient with each other. On the third day, I put a pile of clay in each one of their spaces. They came in the room, started manipulating the clay, and were silent. I almost started crying. One material with immediate tactile qualities centered them and brought pure joy to their existence.
JOH The best thing in the world is when a class goes quiet on its own. They appreciate your skills at Jamaica Arts Center, finally?
SM Yeah, I think so. I had the residency at JCAL in '86, so I'm from that time period. Also, growing up, that's where my mother took my four sisters and me because she could afford their prices. There's no place in their world where you can take ceramics for twelve weeks and pay 160 dollars. Shucks, I want to sit in and take a class (laughter), and I will once I retire. I want to reinvent myself. I can't do any more than what I am doing now. I need to unpack my load to add more.
JOH Talking about JCAL and what it did for you as a kid, I don't want to hear that kids now don't have art. It's so pervasive. The very children that need art are not getting it. If I didn't have art in my life, who knows where the hell I would be. Being around middle- and upper-middle-class people, at Montessori, they see to it that their children get what they need in order to become functioning human beings with experiences and a level of knowledge that will get them a decent income. I was thinking, What if poor people did that as a matter of course?
SM Well, Janet, your mother and father did it.
JOH Well, my mother.
SM Your mother did it, and my mother and father did it.
SEG Sana, you educate young women in Cambodia during the summers. Would you tell us about that?
SM For the past twelve years during my winter break from teaching, I work in Cambodia with Together1Heart. I create with girls who were once trapped against their will in the commercial sex industry. Somaly Mam, the founder, rescued them from the brothel, gave them medical treatment, taught the fundamentals of cooking and sewing. She taught these girls how to read and write. What she can't do is take care of them the rest of their lives. I have taught numerous workshops using art as an employable skill: weaving, doll making, screen painting, felted flowers, recycled woven plastic, hand bags, chimes, paper weaving, and basket making. Ninety percent of what we create is made from recycled materials. Two years ago, I began the Apron Project, which employs reintegrated girls with an extra sustainable project that can maintain their households. Some girls who enter the safe house are young enough to go to school and get a formal education, but girls and women rescued when they're older, unfortunately do not get the solid educational skills they need. I founded the Apron Project for this particular population of girls graduating from the program. They know how to sew, they know how to grow gardens, they know how to take care of babies, they know how to cook, and they don't go back to the brothel because it's enough money. I ship the aprons home to myself and sell them on my Etsy store during the holidays. All summer long, I'm collecting this fabric and safety pinning parts together. They decide the fabric and the binding. Every girl gets an order of four aprons a month. Aprons aren't used in their culture and so they're producing them for me. The sale of $360.00 per year, per girl, keeps them safe. When they are ready, they know to go to the post office, how to box them. I pay for them and they send them to me. But they must have another form of employment as well. Many are inventing ways of earning that extra income by making products they need in their own homes. Ren Roem, the manager of the Apron Project, is not only going to open a silk farm business but she began to make underpants for her daughter as a small business for herself. Kim, the second manager, built her own studio space for her sewing business. I am proud of these girls who are my chosen daughters. But I'm looking forward to retirement. How about you?
JOH No.
SM Do you know how long you're going to stay in there?
JOH I have to keep working. My sister Bunny helped me put together a budget, and that's the only reason that I'm not chasing my tail financially. This year she looked at it and what I spend and she said, "This is what you have to make in order to sustain the lifestyle that you have now when you retire. You ain't nowhere near it. You better start saving big time." (laughter) So I'm going to stay there for a while, maybe two more years.
SM That's not long at all.
JOH I have to get realistic about this. There's nothing that's going to rescue me, so I've been going through the exercise. I have to say it's an exercise because it hasn't touched down to the reality of what I need to do so I can accomplish what I set out to do. I'm getting some attention and that feels great, but I realized after We Wanted a Revolution closes in Boston—I'm in the Queens International 2018 at the Queens Museum, so I guess there's some overhang—but after that, I'm not looking at any more opportunities. I have to make things happen.
SM How about the fact that the work is truthful.
JOH It is truthful. It has to be, it carries over into how I interact with people. I work with folks who are not artists and the first thing out of their mouths about me is about how honest and truthful I am. My reaction is, "What else should I be?" In my world there is truth and there is beauty and beauty is truth—not an original idea. To accomplish this all of it has to be there and once included I have to have a good reason to take things out. My work is a paean to my obsession with detail. To achieve this, I use whatever I find visually intriguing—I started with toys and dolls, miniatures and tchotchkes. I make color copies from slides of them that I cut out, sewed into clear vinyl, and stuffed with material as varied as excelsior, Poly-Fil (ersatz cotton batting), shredded cellophane, paper, tissue, even shredded money that's been taken out of circulation. The aforementioned is then hung from binder rings, chains, braided waxed nylon thread, or on telephone wire. I'm curious about the ways in which culture manifests itself physically.
I'm fascinated by the things people use to symbolize themselves. I like the idea of recreating the situations where all of this "life" gets played out. When I started using toys and dolls in 1978, I had just finished a series of drawings that were devolving into stylized displays of my facility. I began fishing around for something else. During one of my unguided tours of New York (I had set a goal of walking down every street in the city years before), I discovered the tchotchke side of Chinatown, just as I began to forage in the clearance sections of neighborhood toy stores. I could leave my house with ten dollars and come home with big bags of all kinds of good stuff. The fruit of my shopping adventures became "Juju boxes." They consisted of Japanese rice-paper boxes I filled with miniaturized items that would interest and/or reflect the people receiving them. The associations the contents of the boxes conjured up for me led to my using these objects to tell stories. Especially when I started to include seven-inch action figures. They were beautifully articulated armatures with lifelike faces. When the dolls and the doll clothes began to suggest characters, I started placing them in dioramas then photographing them in various situations.
SM You have to deal with these subject matters in your work to be an artist.
JOH Well, I'm really good at having great fantasies about my life. When I get rich, it's not millions, it's billions (after I get all the legal and tax stuff out of the way), so I can turn the world upside down. That's when I tell myself, Okay, that's not real and imagining for a few minutes every so often is not fatal.
SM (laughter) I too love to dream and dream big when I am alone traveling in an unfamiliar place. Every year after I work with the girls, I try to go to another place I have never visited. So, you don't work the entire summer?
JOH No, one summer I worked at the camp at school. Every other day we would go to Prospect Park and I'd do art classes under a great big tree on a tarp.
SM But doesn't your salary go for all year round?
JOH No, they only pay us ten months. I asked about it once or twice, but they said no. I'm going to ask again.
SM It's the only way I could survive, with my salary staggered over twelve months.
JOH Now I'm getting social security so I'm saving the social security checks. Over the summer, whatever expenses I have can be covered by it. I have sisters who have helped, are helping me, and who basically put up with me. So, if I ever make money, the first people who will benefit from it has to be them.
SM I have four sisters: one nurse, Ruthie; two administrators, Dot and Bonnie; one piano teacher, Vicky; all retired except Ruthie. They started working right out of high school getting their degrees at night. Their pensions are more than I ever made in one year. They raised children and lived out their dreams, particularly now. I love them very much, although we are very different. Different leaves on a tree, but the roots that are interwoven underground are all deep and long.
They've been so annoyed with me, at this profession, and being around the world all the time, but when it's important, they're there for me. I was in a terrible car accident, and I just kept the front door open and they rotated around the clock caring for me. I could not roll over in bed without help. This is what we've done for each other and for the last generation, and I hope my sister's children will follow with this tradition as well. My two aunts didn't have children so we as nieces rotated our trips to Florence, South Carolina, to care for them. Ruthie, my baby sister, moved in with Aunt Ruth for her final four months of life. Aunt Ruth was ninety-five years old when she transitioned in March. I was on Amtrak doing my duty every nine weeks, which I didn't do as much with my own mother and father because I was too immature to see the depth of what it is to be responsible as a family member. I come from a matriarchy and this is what my sisters and I have learned to do.
JOHI have one brother and three sisters. I'm the oldest. Noeleen is a retired accountant, Claudia (who we call Bunny) is a retired TV sales rep, Valorie works in the bursar's office at York College, and Ronnie prints T-shirts. Everyone but Bunny lives in Queens; she moved to Durham, North Carolina. I'm fortunate to be a part of an extended family. My mother was a really kind woman and to this day people are nice to my family because of her—it was not self-interest that generated being helpful to other people, it just made her feel good. Without knowing it, I think she believed in karma.
SM It's human.
JOH I think about that, but I get defensive. I'm on my own. Right now, I'm okay physically, but it looks like we're going to live a long time.
SM Not me. Almost everyone in my family falls apart at eighty and is dead by eighty-five. Aunt Ruth should have been gone at eighty, but modern medicine kept her alive.
JOH Eighty is a long time!
SM No, it's not, honey. It's right around the damn corner. Less than twenty years!!! At this moment we have lived out two thirds of our lives.
JOH I'm seventy-one.
SM Okay, you're closer, but what I'm saying is that eighty is not that far away when we look at it, and we don't know. I worked with some deadly materials before I knew any better. Ceramicists consider ourselves walking time bombs. Many of my peers have died from occupational hazards in the classroom. Safety did not exist during my studies. Now studios are safer.
I put myself on a ten-year plan to edit and downsize everything that I own. I'm beginning to sell things because leaving all of this on four sisters is highly unfair. I need to find homes for these pieces while I'm still aware. I've saved religiously my entire life, but I've been an associate adjunct professor at Hunter College for twenty-three years. So I will never get a big pension from them. It's my social security, my savings, investments, and I own my home. Maybe make an Airbnb in the basement apartment, but in any case, in ten years, I only want a third of what I have.
JOH I rented a storage unit. It's small and the pieces that I've been showing go there, because it makes more sense to me not to put them back in the miasma I call my studio.
SM If it weren't in storage, where would it be?
JOH It would be strewn all over my place, which you will see tomorrow. Right now, there's one room I cleared out, so I know where stuff is located and I can see what I'm doing. I'm a scatterbrain, I can't work in a disorganized environment. Physical organization is a buffer against my head going all over the place.
SEG It's balance.
JOH Yeah, it's like having a budget. My sister said, "You pay over time. You don't pay one thing off and put yourself in a position where all your money is gone."
SM My attitude about my credit cards is I consider shopping to be hunting. Hunting, you kill something and you eat it. When I'm shopping, I'm eating! When I was visiting Aunt Ruth, I went to thrift stores. I'm constantly accumulating, to convert and make things into an art object. Now I must edit what I bring in. When my sisters come here they say, "Sana, you've got to get rid of this shit." Well, that shit is my artwork. (laughter) They are my sisters not my curators.
JOH I want to catalog what's in storage. I asked someone to look into a program to start registering my work.
SM I absolutely need help with all of that. Remember when an artist could donate a certain body of work and an institution would be happy to take it? No, not anymore.
JOH I went to an exhibition's opening reception where one of the artworks was unopened crates of the artist's deceased mother's work that had been sent back by her gallery. It still freaks me out that her daughter never opened them up. Whatever that relationship was, that's cold. My ten-year plan is to have enough money to pay for that storage unit they can disperse the work. I got to get somebody in my family from the next generation trained enough to know what they have to deal with. I'm expecting that eventually it will be sold. I really hate the idea of some speculator discovering and making a killing off of my work. I want my immediate relatives to cash in.
SM We have to put in writing what we want. I just keep building cubicles in the backyard and waterproofing them. That's why I bought the house twenty-five years ago, so that I could have home, studio, storage, and gallery under one roof. I have most of the work that I've ever made. Then I've got this apron collection that the girls in Cambodia make. Hundreds of aprons are coming every year.
JOH You don't sell them?
SM Seasonally: Christmas, holidays, birthdays, or when I'm having an exhibition. They don't move as fast as they come to me from the girls. When I retire, I can put more energy into it. I have an Etsy store. I have had excellent assistants over the years, former students. Sally Hypolite, my former student and friend since 2004, died of cancer on October 24th, 2018. She was excellent at whipping PowerPoints together in seconds. Jackey Slaney is responsible for me getting on social media. She just said, "Sana, once a day, do Instagram." Angela Kim advised me numerous times for the Apron Project. Sometimes, my students come to me with ideas that are better than what I can think of.
Getting off at Hunter College at 9:30 at night and then sitting half an hour for a tutorial, and with the train rerouting last night, I walk into my home at 1:00 AM. I do fine from September to December. In March, I'm a mess, and by May I'm waiting for the semester to be over. Service.
Like you, if my studio's not organized, I can't work. It distracts me. This room has to be clean and everything has to be in place. It doesn't stay that way, but things have to be set up in advance with the molds and the clay and the beads. It's the only way it can work for me. And I don't work continuously. There are big gaps when I'm not hands-on. Clay teaches you that because you have to wait for it to dry. If you build something six feet, it may take three months to dry, so I stop, then I start something else.
Traveling in Africa in the '70s was really wonderful for me because I saw people live by the seasons. I've lived my life like this, I'm producing for four months, showing three months, writing grants, visiting artist residencies, teaching, plus being a sister, auntie and then going to be with the girls in Cambodia. I keep journals, I'm constantly writing about what I do, what I'm thinking, what I'm feeling. What I see.
JOH For myself, I have a mess of beads, most of them are grouped by color and either hang on a wall reserved for them or are stored in boxes with compartments. I don't pass up making purchases—When I see beads I can use, I get all of them because I've learned, the hard way; they probably won't be there when I go back. Also, there's a work table piled with bead projects in my studio. I also take a lot of pictures of art, architecture, patterns, and textures.
SM I'm into dried fruit. On the way to the bus stop there was this bag of decaying and drying sliced apples. They were beautiful and reminded me of my work on excision. I will use these dried apple skins with my work.
JOH There was a woman on the Lower East Side who used to do workshops with kids where they made prints using sliced fruit.
SM Yes, Fred Holland did a lot of fruit printmaking. Today, I saw a sliced tomato on the ground that had been flattened and scorched. It was incredibly beautiful.
SEG Do your objects come to you or do you intentionally seek them out?
SM The majority of the work I'm making is from my travel experiences. I'm a world traveler and they're retelling a story of an experience that I went through. I lived in West Africa thirty-five years ago and foreignness prevented people from talking to me about it. In the years following, reading, understanding, and seeing the differences between the girls who have been incised and those who haven't made me begin this body of work. They are clay slab constructed pod forms that echo the vagina. They are torn, cut, sewn, stapled, or punctuated with patterns and textures. In Mendeland, Sierra Leone, when civil war began to break out, I saw girls being recruited. So most of my work is coming from interpreting experiences that I had in the last twenty years. I'm curious about your opinion on the work I'm now doing after having gone to the killing fields in Cambodia a number of times. This is a piece about remains in the killing field where grass has suffocated and woven through the body.
JOH When you say a body—
SM Hundreds and hundreds of people's remains are in the killing fields, where they were murdered. It's been over thirty-five years, and there's now a mass burial site.
JOH They didn't bury them?
SM Some did, some didn't. What you have is a monument, a skyscraper of skulls. You can see a pelvis here, a rib cage, teeth, children's remains by the beating tree. In the thirty-five years, the grass has eaten them up. You walk through a path now, but when I first went there twelve years ago, there wasn't any path. I didn't want to step on the remains, but the native people went ahead. Dust comes up when you step on them and the dust blows. After living and working in Cambodia—these sculptures are the bodies in the killing fields in various stages of decay. I'm displaying them with water. I rakued them. When they came out of the kiln, they were half filled with water. I can show you the pictures where I have wheat grass growing around them. These pieces I'm making now, you see the ceramic body in there? I'm using wheatgrass, it grows up and then it dies. How do I present that to a gallery? How do I show a piece that needs to be watered every day?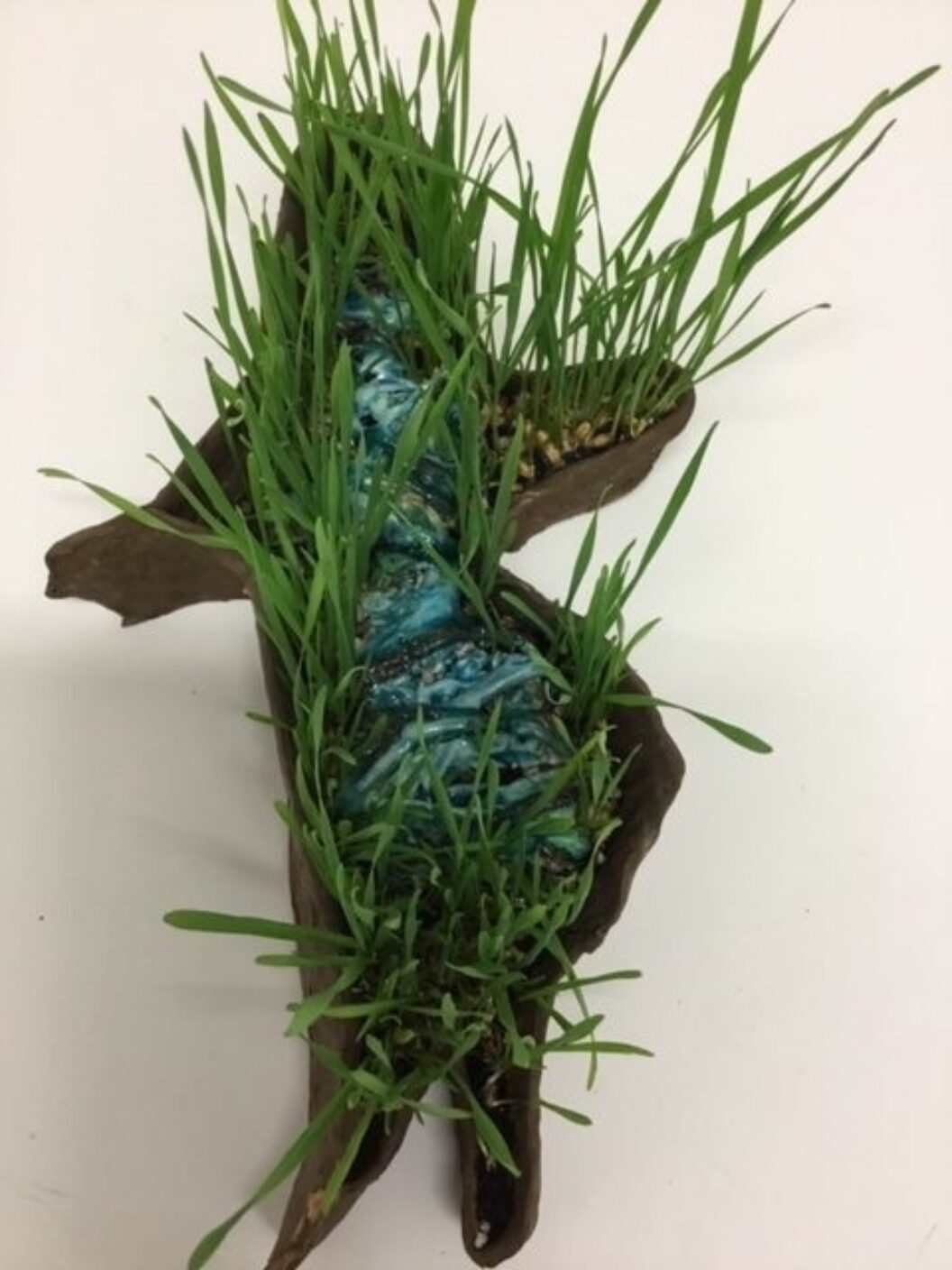 JOH Tell the gallery to water it.
SM Somebody said that the work should be experienced through documentation. Put four cameras around it and over a month period watch it go from nothing, to grass, to dying. I'm thinking about my work living in someone else's home. I don't make the work for me. I make the work for people whose lives value the work.
JOH You're better than me. I make it for me.
SM I make it for the world. I get tremendous pleasure in creating them, and then I send them out into the world as my children, as ambassadors. I want them to continue the story.
JOH I'm not that evolved. I do it to please myself, and no one tells me what to make. However, I am a citizen of the world, so I can't in good faith ignore what's going on around me. I remember our orthodox feminist friends and their attempts to monitor and control people's behavior and creative output. There was all this talk about cultural appropriation or whatever. No one tells me what I can and can't use for inspiration. I'm the artist, I don't need supervision to make my work. On the other hand if I put it out there, I have to accept the responses my work elicits. Also all this blather about who gets to use what content, why aren't you tackling the hard part—who gets to cash in?
SM There we agree, absolutely.

Part 2
Our second session takes place the following day, on August 24, 2018. I arrive at Janet's apartment in Jamaica, Queens, to find her sitting on her front stoop. In a few moments, Sana emerges from around the corner. We enter Janet's apartment. Cardboard boxes house older works she intends to place in storage, or are open so that she can retrieve artworks for one of her upcoming exhibitions. An exciting mixture of books, DVDs, doll accessories, beads, and papers fill every corner.
Janet beams as she escorts us into her garden room. Sana asks for clippings of a few plants and I am captivated by glass domes housing smaller and more lush worlds. After our tour, Sana, Janet, and I relax on some cushions and start recording.
—Stephanie E. Goodalle
Stephanie E. GoodalleYou are both native New Yorkers, but your entries into Queens are different. Tell me where you were born, about your family life.
Sana Musasama I was born in the Saint Albans US Naval Hospital in Queens in 1951. All of us, me and my four sisters, are native to Saint Albans. My father, Lewis, made a career out of the Navy and we went to the schools in the neighborhood. PS 15 was right around the corner, and once a week we went to the Navy base for recreation with other Navy families. We were in an international arena of people from all over the world. That's when I really got comfortable with what I would consider otherness because as a little kid otherness was anybody that wasn't me. My father spoke bits and pieces of many languages and it was fascinating to hear somebody talk in a language I didn't understand. I became fascinated with my father's friends: the way they ate, their clothing. Some women wore niqabs and would eat food by lifting the veil; some ate with their hands. Sundays were a meeting ground around the dining room table with my father's friends. He was very outgoing, handsome, and charming. My mother, Sadie, was shy and introverted, and we five girls had a little bit of both of their characteristics. My Dad was a great cook and wonderful storyteller. I loved after-dinner stories of faraway places or events in the family that were right down ridiculous.
I have lived in Queens all my life, but to be honest I can't stand it! You cannot entertain. Nobody will come to Saint Albans. They take the subway all the way to Jamaica Avenue and then they have to get on a bus. Even I don't want to come home to Queens many nights. I do love it once I am here. My studio and home are very beautiful and I love the objects that I have collected that still tell me stories of my travels. Plus the furniture is my mom and dad's, and I smile when I jump on the couch with a good book.
Janet Olivia Henry I did a reverse migration. I was born at Metropolitan Hospital Center during a blizzard in January 1947 when it was on Wards Island off Ninety-Sixth Street. My mother, Enid Brann Henry, worked there years later after she became a nurse. I was raised in East Harlem. My father's father was from Antigua and his mother was from Barbados. They met in Panama. That's where my father was born. I always thought, Daddy Emerson Henry's voice had a funny overtone; my mother explained to us that was probably because he had spoken Spanish till he was thirteen.
SM Is that why you lived in East Harlem? Because East is a Latino enclave?
JOH People from the Caribbean, both Latino, and to a lesser extent, black West Indians, settled in East Harlem. My mother always hated Brooklyn because you had to know where you were going in order to get to where you were going. She told us that she, Daddy, and I lived in Brooklyn briefly and moved back to Manhattan as soon as they could. Back then, we were one of the first families to move into the Johnson Projects at 115th Street running to 112th Street between Third and Park Avenue. I learned about the movement to improve housing for the poor when I worked on a show entitled Living Space at Studio Museum. The projects were meant to be the next step in providing safe housing with reliable services to low-income residents of New York, but there was no concern about things working, or having sunlight come into your window as opposed to peering out at a dark brick wall. We lived in the projects until the '60s. My sisters and brother ended up going to Catholic school because my father was Catholic and my mother had had enough with public schools. They asked me if I wanted to go and off the top of my head I said, "No." So, I went to Junior High School 117 and from there to Art and Design. My siblings ended up with all kinds of funny stories about school and the sisters. It wasn't all farce, we also took a road trip one summer to visit the nuns from Saint Marks that they really loved.
SM Did you grow up speaking Spanish?
JOH No, not at all. Daddy probably lost his Spanish by the time he met my mother in Antigua. Mommy was very persistent; after she met my father at Nelson Dockyard when they were both teenagers she scoured Antigua's capital, Saint John's, to find him. She left for America and he joined the army. They wrote each other during World War II and were reunited in New York after it was over. But in my family, especially my mother's generation, all cousins counted. One relative fathered twenty children.
SEG You mean by different wives?
JOH Not wives, women. He had one wife.
SM My goodness, it's a tiny village.
JOH The equivalent of a small town actually. Everybody called his wife "Mother"—she was this little, feisty woman. Once she blockaded all the doors to their house so he couldn't get in after coming home from "visiting" one of his women. He was apoplectic. When he finally got in, she hid so he couldn't find her. But when he died, she said all his children should know each other. In fact, some of them get along better with their half siblings than they do with the whole ones.
My mother was an only child—my grandfather got my grandmother pregnant, then he left when Mommy was a baby to find work. He went to Cuba and ended up in New York. They got married in New York, so my great grandmother raised her. That's another West Indian thing. The parents leave and the grandparents raise their children. Granny left my mother in Antigua to be raised by her grandmother. My mother didn't really meet her mother until she was sixteen, but her father had gone home, so she knew him. When I was born, my grandmother just took me. I was the replacement. My mother was a very kind woman, and she imprinted on us what she believed. My grandmother was so unrelentingly mean that when we were saying a prayer at her grave, one of my sisters ended it with, "And I hope she stays dead."
After my mother and father separated—this is my estimation here, every time they made up, she had another kid. That's why there are five of us. As an only child my mother had a certain degree of financial security, but after she went through her savings, she had to go on welfare because Daddy wasn't living up to his end of the deal. The social workers were very intrusive. My grandfather bought Mommy a television and the caseworker that came to the apartment wanted to know how she got it. Mommy didn't want that kind of intrusion in our lives, so she became a practical nurse, and in order to go to school and study, she sent us to the West Indies when I was in fourth grade.
The West Indian method of raising children is to stick you in a box and tighten the screws until you fit and have no distinguishing features. I went there in 1956 when I was nine and came back when I was twelve. My last report card said, "Janet is losing her ability to draw." That's how much pressure they put on us. If you didn't conform, you were beaten down until you did. If you had any kind of problems, you were made to feel just awful about having them. My friend, Danny Louie, who I got to know at FIT, said we'd cry spontaneously when we heard the word "Antigua."
SEG Oof.
JOH That's the psychological damage they do to children. I remember drawing before I went to public school. I started talking late, so the whole idea of finding some way of expressing myself—I was drawing to entertain my sisters and brother. When we were in the projects, and Peter Pan came out, my brother became fascinated with him. So did I. Every morning I had to draw Peter Pan, and Ronnie would hang out the window singing "Never Never Land."
So, yeah, art was something that I always did. You come across people who say they were encouraged to find a vocation that would earn them a living. No one ever said that to me. When I came back from Antigua, I met Shirley Hinchliff, one of the art teachers at JHS 117, who eventually became my godmother. She was overjoyed that I could sit by myself and draw. East Harlem at that point was like Bahh! The fact that I had talent and the discipline to work and occupy myself with drawing was a welcome contrast.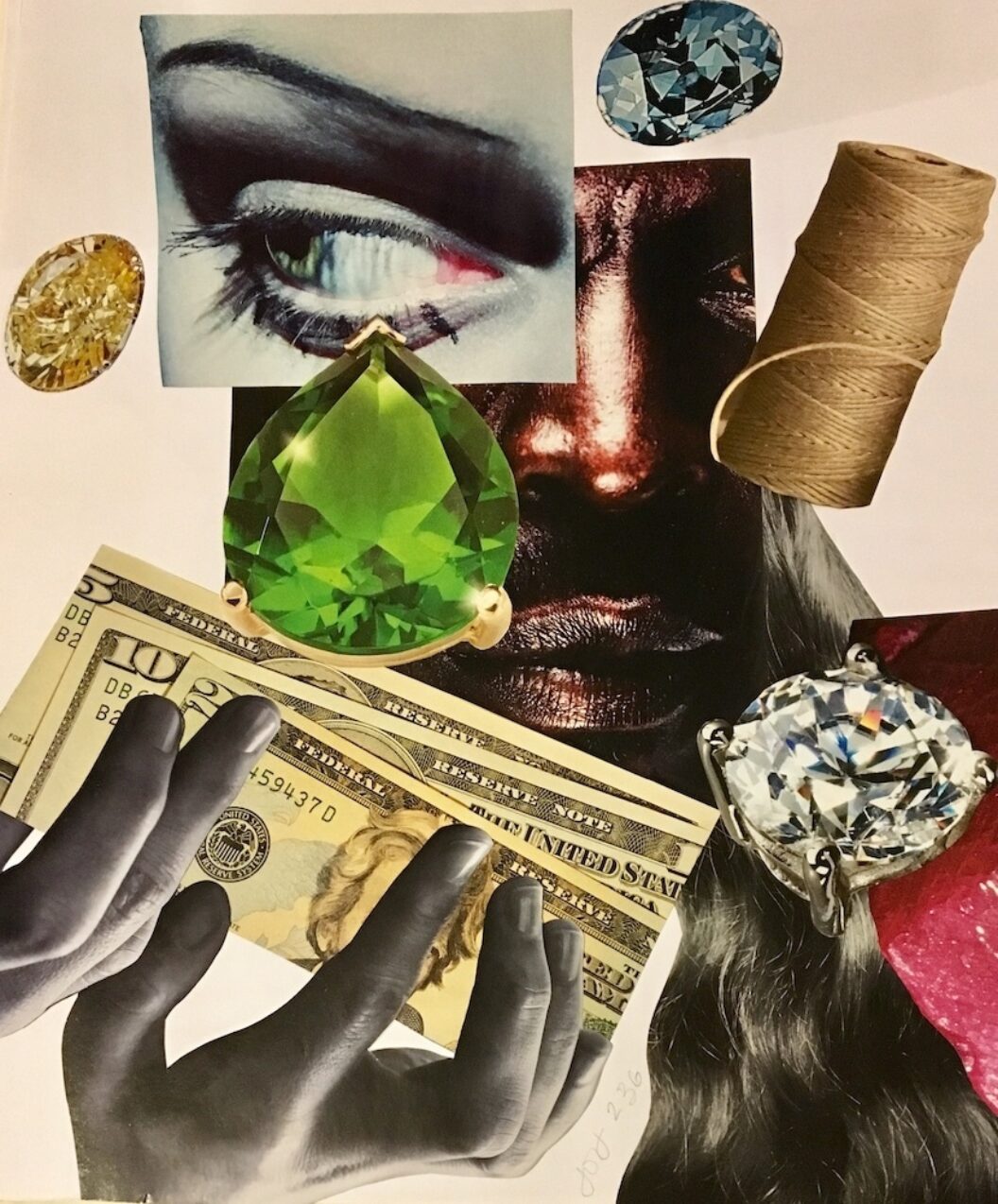 SEGSana, when did you start showing creativity?
SMI think I did coming right out of the womb, but it also had a lot to do with a crowded household and an extended family. Every uncle, every cousin lived with us. There were never under nine people in my house: Aunt Lolly, Uncle Dave, Aunt Dot, Uncle Boddy, Cecil, and Aunt Ruth. In, out, in, out, we just shifted; that room became theirs and then you doubled up with someone else. I grew up with all these people. Whether they were blood or not, they were "aunt" or "uncle." You did not call any adult by their first name. So right now, Mrs. Wilson is still Mrs. Wilson and I'm in my 60s, but she will never become Elvinia.
I'm the second child, but you would think that I was the last child, because I have very strong-willed sisters and I have always deferred to them. I was a sick kid, in and out of the hospitals with disorders that no one could ever put their hands on. We finally figured out that I was particularly sensitive to my father's friends, foreigners who were not inoculated. I caught all these things that no one knew the name of or named them things that they weren't. In third and fourth grade I was in hospital the entire time. I had tutors for six months. Coming home from the hospitals to another home system made me shy and introverted. Doodling was my only way of getting attention in a crowded household. Someone would say, "What are you doing over there in that corner?" and then come to see what I was doing and love it.
When I was ten, one of the teachers told my mother I was really talented, but there was no art in my school. "Why don't you find an art school for her to go to?" So, my mother sent me to P.S. 90 when I was in the fourth grade. I was the only black kid entering that school and the school bus picked me up. It was awkward, a bus coming to get just me, and me being the only kid getting off the bus. And then there was the first day of school with a black crayon.
SEGTell us the crayon story.
SMThe first day of school—in the open enrollment system, black kids were taken from their communities to white communities for a better education, (instead of making the black schools better)—and I was the only black girl in the classroom. The teacher said, "I want everybody to draw their family." She went around with a little basket that held the crayons, and I figured at this point I'm going to make friends because I can draw and I'm going to show off and maybe people will like me because nobody was talking to me. Nobody in the lunchroom sat at my table. The lunchroom cook came over and said, "You're doing great." She was Latin. In the classroom, I waited patiently for the teacher to come over and offer me crayons. I waited and waited. Then I looked up at her and she was staring at me. I thought to myself, Maybe she wants me to reach in and grab my own crayons. When I attempted to do so, she slapped my hand so violently that I jumped up in my seat and fell back down. All the kids started laughing, and she said, "All you need is a black crayon."
JOHThe teacher said this?
SMThis was my first day of fourth grade. I hated her from that point on and rarely spoke. In line outside the door to class, she would examine the corner of my dresses to see if they were clean. She did this to no one else. When I spoke up to my mother, she told me I had to be a strong pioneer for the other black kids that would follow in the coming years and to ignore the teacher, that all my dresses were new and pretty. I screamed, "Why did I have to be a pioneer instead of just a kid?" My mother hugged me and told me it was the best place she could find for me to take art classes. From fourth to twelfth grade, I was only invited to one party. I was ignored by the kids and their parents. One girl took me home for lunch, Cathy Russo, and her mother flipped when she saw me at the front door. Cathy's mother asked her never to bring me back for my own safety.
Two or three years later, black kids started coming to the school, so it made it a little easier. But the conflict then was that these kids came from another value system. They called me bourgeois even though we were not; we were working-class blacks. When my father got sick, the church had to feed us. But these kids considered me to be bourgeois. They cut my braids off; they stole my books; they beat me up on the school bus. The driver had me sit next to him all the time. I was scared to fight these kids.
So I made a friend with one of them, Crystal Capers, and we loved each other. I would go over to her home and she came to mine. When I went to her house, she would bring me into the kitchen where her mother would say, "Give me your wallet, give me your shoes, give me your jewelry." She would give it all back when I was about to go home. She was protecting me from the roaming hands in her own household. I loved Mrs. Capers's smile. She treated me like a diamond. Crystal was the youngest of maybe six or seven. They all wore the same clothes. They would just take the seams in on a dress or pair of slacks. Once a week they stood on line for food rations. I loved to go with them because folks were so friendly. Mrs. Capers preferred that I didn't, but instead stay over for dinner. My mother and Mrs. Capers spoke often although they never met. My dad would pick me up, screaming at me all the way home. It was difficult living in the projects. Overcrowded conditions. Buildings constructed to fall apart; there was stealing, fighting, gangs, and drugs. Unfortunately, Crystal and her siblings ended up heroin addicts. They were so beautiful, so bright.
SEGSo this happened during the late '50s then?
SMYes. And so with a strong household with lots of people, I'd retreat to the backyard and I started playing in dirt; we had clay. I began to form things and shape them. My mother and father encouraged it and sent us to Bible School, which had art classes. I took all those classes and really enjoyed them. My parents loved what I did, but they never wanted me to take it seriously. I said, "Why do you support my older sister, Vicky, with piano lessons?" And my mother said, "Because that's domestic. She can always have students and be in the black community. Aunt Nina makes a good living as a piano teacher in a black neighborhood. Vicky can be that in case nothing else happens, but with art, what can you do, honey?"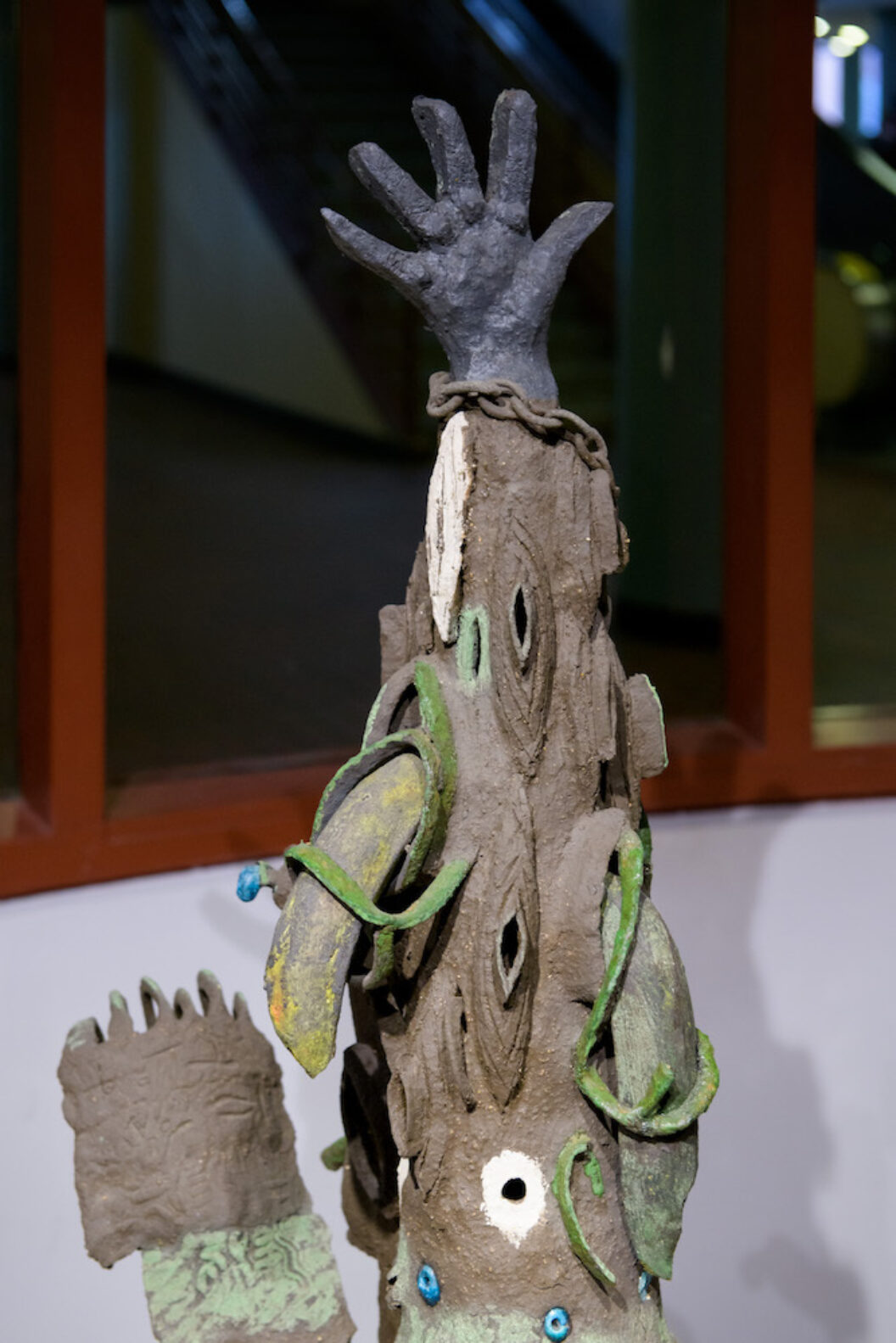 JOHMy family didn't know that much.
SM She said, "You can't domesticate art." My father said, "Yeah, go back to the art when you retire."
JOH They wanted you to be able to support yourself.
SM They said, "Show us role models. Show us somebody that looks like you that's doing it." I didn't know anyone. They took me to Radio City Music Hall. It was a lot of money, first-row theater seats. They said, "Look up on that stage, do you see any dark brown thighs?" I looked—nothing. They said, "See, you can't be this." It was heartbreaking. I didn't stop, but those were real serious roadblocks. What began to happen is a lot of arguing in the house because I decided I was going to school and not to be an anthropologist, or study science and engineering like my dad wanted. I refused. I didn't have the scholastic ability to do those things anyway.
JOH My immediate family had what you'd call service jobs—cleaning, cooking, sales people. When somebody asked me what I wanted to be, I'd say "a secretary" because that's what I saw on television—remember shorthand? It never occurred to me that I could make a living as an artist but it was always something I did. When I was a kid, the boys in my class could replicate things better than me. They'd do that ranking thing and I would be last. That does have an effect on you. In East Harlem there were Puerto Ricans, American-born blacks, West Indians from different islands, maybe a few Cuban families. But the way things were—that generation that went from living in the projects to buying their own homes started to break down. My mother was probably one of the last of the original residents to decide, in the early '60s, that we had to get out. East Harlem was getting too dangerous—my cousin Jocelyn, who had brought me back from Antigua and was attending NYU, had been mugged in our sixth floor hallway.
When we moved in, there were mostly black and Hispanic families, with some Irish, Italian. When I came back from Antigua in 1959, they had stopped screening people. This very large family moved in on the first floor, they had a bigger apartment. We had three bedrooms, so they probably had five. Thirteen kids. And the mother sat by the window all fucking day. The kids were so feral, they were climbing in and out of windows. My mother used to complain. Without screening, you ended up with people who didn't have any aspirations to do anything other than exist. Also, they'd increase the rent every time Mommy got a raise from the hospital, so she figured why continue to sink money into our apartment? That's another reason most of the people who moved in initially later bought houses. Sana, you were talking about relatives living with you? Extended family—everybody who came up from Antigua to visit came to our house: 115th Street and Lexington Avenue. Everybody. We didn't have a "guest room" so us kids had to share our bunk beds with guests. At breakfast there was usually a litany of how they couldn't sleep and were aching from us flailing and kicking them all night.
SM My sister says that kids sleep like fish. Flap and flip all night long.
JOH We went to Saint Martin's Episcopal Church, an imposing house of worship on 122nd Street and Malcolm X Boulevard—it's always going to be Lenox Avenue to me. Its Romanesque exterior is landmarked, but inside is another story. Imported Italian mosaic reproductions up the wazoo. It started out simply enough; memorials reminiscent of Maxfield Parrish, a little rondel of the head of Christ from Raphael's crucifixion. Then the rector vacationed in Italy and the inundation began: Da Vinci's Virgin and Child with Saint Anne, The Doni Tondo by Michelangelo—'cept the languid male nudes and Saint John in a trench were replaced with peach-colored upright slabs. The Supper at Emmaus by Pontormo (who is not one of my favorites anyway) had the figures on either side of Christ removed. Only Reverend Johnson would manage to pick such an uncharacteristic painting by Botticelli (when he was under the sway of Savonarola apparently)—Saint Augustine in His Study (formulating his ass-backwards pronouncements about the role of women in the one and true faith). Just Jesus from Raphael's Transfiguration, et cetera, et cetera, et cetera. Notice a theme? We were treated to Reverend Johnson exercising his newly found discernment and got what's been previously listed and then some reproduced in "imported Italian mosaics." This is what Thelma Golden referred to as little bit of learning being a dangerous thing (I'm paraphrasing here).
SEGBut how did you all sustain your creativity? I mean, coming back from Antigua—
JOH I returned with an accent. As soon as I opened my mouth, I was teased and challenged. My accent was so thick that the first time I heard my mother, I was surprised at how American she sounded.
SEG How long did you stay in Antigua?
JOH Three years. I'm pugnacious; if you challenge me, I don't back down. My sister Bunny will tell you, she got tired of coming downstairs and getting me with my hair sticking up in all directions, my coat and clothes ripped. Everything was new and the friends I had prior to leaving, I saw rarely. So I drew because I could be in my own head and it made me feel better. Whether I fit in or not mattered less. I'd just sit and draw, it was my anchor. I drew beauty pageants and stuff like that with women in gowns and bouffant hair.
SMI want to say something. My mother was very shy. Both of my parents are from Florence, South Carolina and my father made a career in the military. So he left home at seventeen or eighteen—left the horrible conditions in the South with the Klan, the lynchings, the rapes, which I found out about much later on in life through my aunts and their stories. My father went into the military, but he was in love with my mother and wrote her constantly. She was the oldest of seven children, three boys and three other girls.
My mother left her home at seventeen and came to New York. She went to temporary agencies for work. She was learning how to be a nursing assistant. I think my mother had a lot of deferred dreams. She was interested in economics but being the oldest of a seven-child household, she never had a childhood. So she lived vicariously through each one of us. She taught all of her children to be individuals. When she was growing up, she couldn't go out of the house unless someone came back so she could be clothed in shoes, stockings, and the dress. That was her life, always waiting for this one to come back so she could go out, and she promised herself that when she had daughters, they would have their own clothes. I can remember her sitting at the front door with a newspaper in her lap as we would be going to school and she'd say, "Let me see what you have on." And If I had something on of Vicky's, I had to go right back upstairs and take it off.
JOH We shared clothes.
SM We all grew up as individuals but were a woven underground network, strong.
JOH This thing about being raised individually; we were raised as a group. When I was thirteen, my mother seemed to say, "I'm done" and let us all out of the house at the same time. We'd show up at parties, and the guys would be like, "Oh those little girls are here again."
SM Is that you in the center of this photo?
JOH No, that's Renee Allen before she joined the choir. We took the picture down the hill from Saint Luke's Church prior to a concert. This is the group I mentioned earlier. We just hung out together all the time. Our cousin Fernie would tell her mother "I'm going to Mrs. Henry" and then stay all summer. Our apartment was like summer camp. Everybody came and stayed. My mother loved it.
SM My mother did domestic work. We were six blocks from an upper-middle class Jewish neighborhood. She would get us ready, walk us around the corner to school, kiss us all goodbye, and then walk four blocks to where she worked. She was trustworthy, they liked her, and she worked several houses on one block. I did not like that she cleaned houses. But she walked us to school every day and was at the school gate when we got out. She made me understand what was important to her, and that was being with us at breakfast and at the dinner table seven days a week. She said the kids of the people she worked for were being raised by nannies and saw their parents off and on between big jobs or travels. She asked me to respect her choice and I did. I loved my mother very much.
My father also did not like that she did this work: "You don't have to do this, Sadie. I provide you with your own money." She said, "I want my own money that I earn." My father would pick her up from work. I remember one day sitting in the back seat and one of the children came out and said, "Sadie, my shoes aren't where they're supposed to be." I said, "Why are they calling you by your first name? We're not permitted to call elders by their first names." My father said, "Never mind." So I found out there are different rules.
JOH But we called one adult by his first name, Briggs. We didn't know his name until my sisters went to camp, and my mother gave them postcards to send back to everybody, and they didn't know who John Joseph.. He was Briggs, who babysat and tutored us. He taught my mother to drive. He helped her study to get her nursing license. Briggs was Briggs. But to have a family that in their own way encouraged me by not discouraging me was enough. I am another classic late bloomer. Like five years ago, I realized that the arts are an accoutrement of wealth. I've been in the arts my whole life. I've been around people who were not wealthy, who practiced, and played, and sang, and I associated it more with pursuing an interest, not even ambition. It wasn't something that you only had access to because you were wealthy. That never occurred to me.
SM It never occurred to me, either.
SEG Your family supported you going to Art and Design?
JOH Yeah.
SM Mine didn't support me; I did it on my own. I lied to the college to get into a dormitory. I said that I had no place to stay. I went to City College in Harlem and I lied about an address so that I could leave home just to be who I wanted to be.
JOH My family didn't know enough to oppose it. I mean my immediate family—my father's a tailor and my mother was a seamstress and then a nurse. My maternal grandmother, Sarah Brann, worked as a maid. She was later an orderly for Sloan Kettering. My maternal grandfather, James C.O. Brann, worked in the Garment District. That's the other thing. My grandmother got everybody in my family jobs at Sloan Kettering. I'm getting to the cousins, one became a research veterinarian and one an anesthesiologist. But I perplexed my family to some extent. I was a little weird.
SMOne of the families my mother was working for, the Bernsteins, asked my mother to wear a uniform. She bristled about it. They were nice, but my mother felt uncomfortable with this, so she pulled out a sewing machine and made a beautiful simple pinafore with giant-sized pockets. The next day she went to work with that pinafore on and asked if it would be acceptable, and the lady loved it. That's the pinafore I took to Cambodia for the girls to reproduce. This showed me, that even though she was introverted, even though she was shy at that dinner table with international guests, there was a person there that had fight. It was a soft fight but there was a fire there. I lost her too young in my life. She suffered from complications with diabetes. I returned home from West Africa, and climbed right into bed with her, the last six months of her life. My mother was my friend. We fought a lot, but she was a loyal and kind friend. She would say, "You know sweetheart, I love when you come home to visit but I love when you leave. You raise so much mess, Sana." It was the '60s and I was involved in the protesting. My parents would say, "You don't know what we have seen. Stay quiet. The storm will go away. Shut the door." And that's why I have the sign on my front door: "Your silence will not protect you," from Audre Lorde. Because it won't!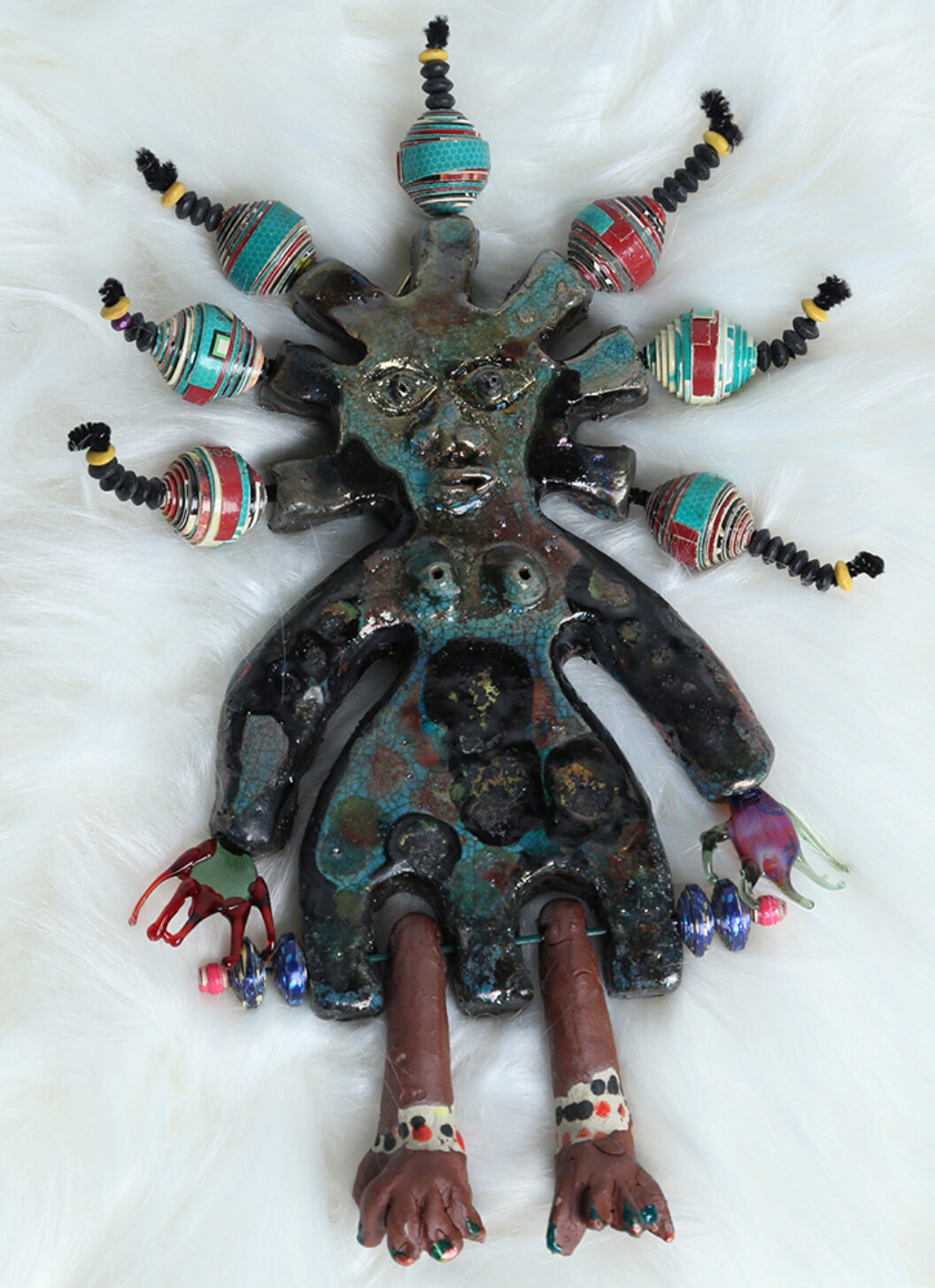 JOHWhat's shocking is that the stuff I only knew of peripherally is now in my face. I mean all of our faces. We are supposed to accept being physically threatened, being intellectually demeaned. That's something people engage in in order to elevate themselves, they denigrate. You should earn your merit. If you're doing it by knocking someone else down, it has no value other than the hurt and trouble that it causes. It's dishonorable.
SM You said something really beautiful in the catalog for the Queens International 2018: Volumes, "Am I a wimp because I don't feel somebody else has to lose for me to gain?" That is so potent. You're not a wimp—you are big, big human, as the Cambodian or the Africans would say. That's a big human quality, Janet.
JOH I have a big ego, in that I want the people around me to do well. Also I've learned that if I'm the only one in an equation that's doing well, I'm prey. What kinda way is that to live?
SM You don't want to be that one person succeeding with everybody else looking at you in a glass bubble. Kick the bubble open; let those deserving in. Let's all sit at the grand table of life. How do you feel about our community of artists who are succeeding and who don't put out a hand to say, "Come in?"
JOH This is my preoccupation. Class drives every damn thing and it's not just your income. Class determines what you're exposed to, and how you're formed, your social graces, physical appearance, and your interests.
It's the work that's going say it all. There's times when I look at my work and hate it, but I do my best and if something really bothers me in the sense that I don't think it's come together, I'm not going to leave it out there and say, Well, it's good enough. I know you have to be ruthless and unsentimental about the work. It has to describe what you set out to describe and achieve what it's going to achieve. When you're an artist, you bring what you know, what you think, what you've experienced, your aesthetic, your ambition, and it doesn't have to be conscious. In fact it shouldn't be self-conscious. If the work isn't speaking to you, if you're not getting it from what you're seeing, you've failed and no amount of explanation is going to change that.
SEG Janet, what was the transition like for you, going to high school at Art and Design? How did that shape your early work?
JOH Art and Design taught you skills. I learned what a T-Square and a triangle did, about the different kinds of pencils and brushes. I learned what typefaces were. I learned how to use a ruling pen with gouache no less, and more about drawing. Art and Design was the school that prepared people for the field as opposed to what was then Music and Art.
Antonio Lopez (the fashion illustrator that I mentioned earlier) had gone to Art and Design. He came back there to talk to us during an assembly in 1963. He was so shy he could barely get three words out of his mouth. I learned from his work that if you know your stuff, you can do whatever you want. That's exactly what he did. He knew how to draw the human figure. He knew how to use different materials. He was interested in fashion in a way that I still respect. As you know, I hate fashion—all that transitory, titillating stuff that has nothing to do with artmaking. It is about the here and now only, and it's passé almost as soon as it happens. Not that apparel can't be beautifully designed and wonderfully made and reflect an aspect of culture. But that's not what the business is about. What's her name, Versace?
SEG Oh, Donatella.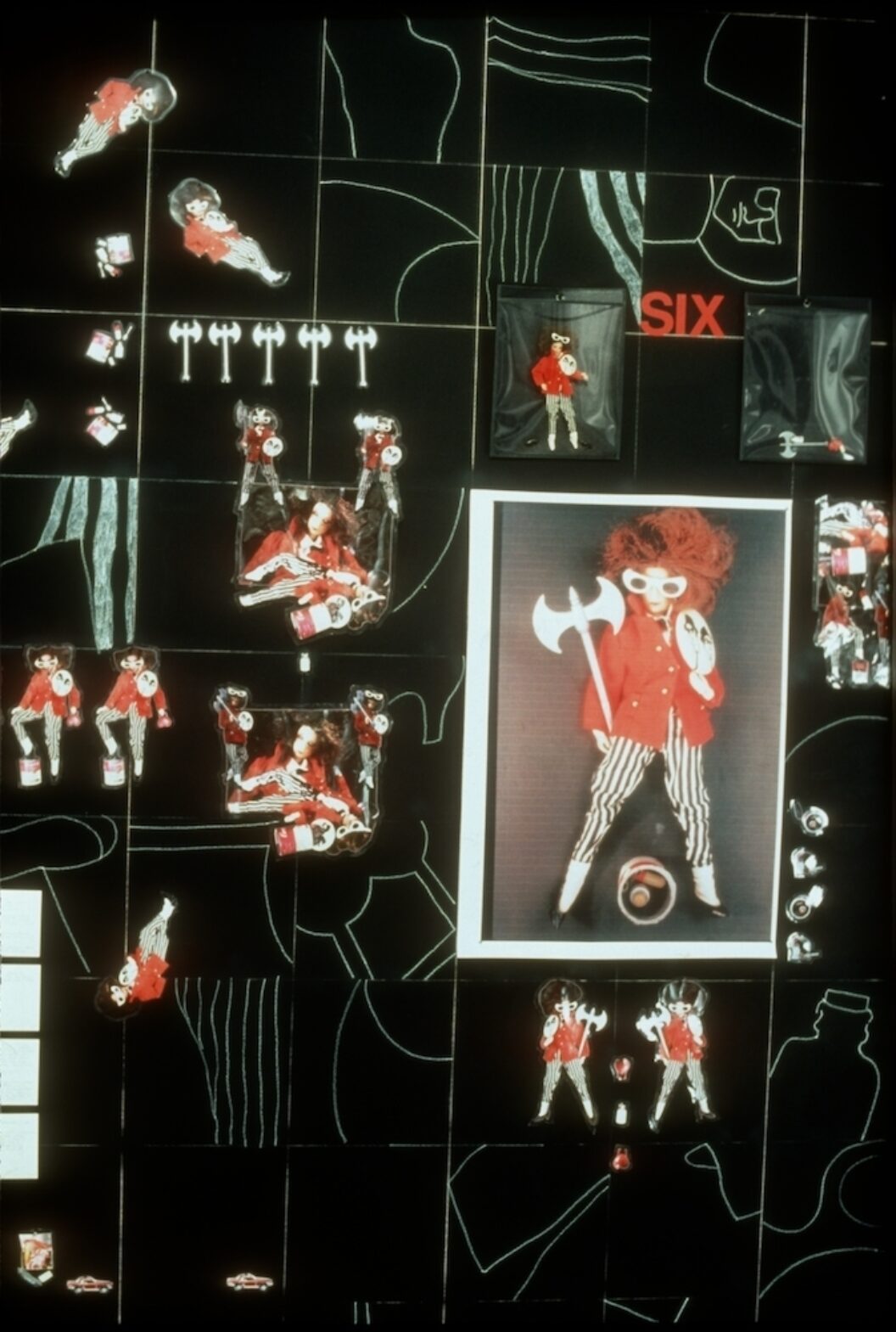 JOH Yes, she said that fashion has no business attaching itself to art. You know, this artificial connect. She got my respect immediately. But from Antonio, I learned about that particular aspect of artmaking and I went from Art and Design to SVA—I got a scholarship to Visual Arts in 1964. Ironically, during my meeting, the interviewer told me that all the candidates from Music and Art were Antonio Lopez imitators. I only went to SVA for a year and a half. Basically, in the first year, we were repeating a lot of what we had done in high school on a higher level. So it really threw me off. I didn't learn more concrete skills like anatomy, watercolor, interpretation of the draped figure, and principles of design, until I went to FIT. Betty Blayton-Taylor didn't want me to give up on my visual arts education so she paid for me to go to the Art Student's League to take an etching class—
SEG Sana, what about your educational experience?
SM I went to City College, going through the motions of a four-year degree. City provided dormitory rooms. The place was Seventy-First Street and Broadway. What a great place to live—in the Hotel Alamac.
JOH What!
SM We loved it. It was a SEEK (Search for Education, Elevation, and Knowledge) Program. Counselors were like our parents, supervising us. A few of them took me under their wings as the little middle-class nice girl from Queens who wore matching shoes and handbags and didn't curse.
JOH And that counts for something!
SM Yes it did. Manners and kindness had merit once. They nurtured me and told me where to go and what to do. They really impacted me to trust what I felt was the right thing to do. Unfortunately, because my parents would not support art school, and I had to get a full-time job, I just went through the motions of school. I picked classes according to my job schedule, so I robbed myself of what education could be.
JOH I had the same thing with Betty, she described us (by then my sisters were working at HARYOU too) in different roles. My sisters and I were raised in the Johnson Projects, but we were kept indoors; we weren't street kids at all—we went to school and extra time was spent inside, choir rehearsals, relatives' houses. The neighborhood had very little influence on us.
SM But I hated it because it made the other black kids hate me.
JOH I didn't care.
SM I wanted friends at school, P.S. 90, Richmond Hill High School, and finally City College. While there, I worked from eleven at night to three in the morning, or eleven in the morning to three in the afternoon. I alternated between those two schedules at Harlem Hospital doing clerical work for four years.
When I took my first ceramics course at City College, Paul Chaleff and Walter Yovaish were the instructors. Teachers didn't give assignments and a syllabus, you just worked because you wanted to be there. As you began to develop your own work, they'd mentor you. You saw them make work, fire gas kilns, build crates, leave to drive across country for a fair, apply for shows, grants, and tenure. You saw them weep when they didn't get into a show or get an award. But they never stopped working. I remember struggling with how to resolve a lip on a large vessel I had created. I asked Paul for assistance. He looked at the form carefully, grabbed some clay, and formed one lip after another, talking me through each one. He showed me about thirteen different approaches and when he walked away, I was left with what I had begun, an unfinished pot. (He had removed each lip before starting the next one.) Wow, what a lesson. You saw what the life of an artist was about, good and bad. I am still in touch with Paul.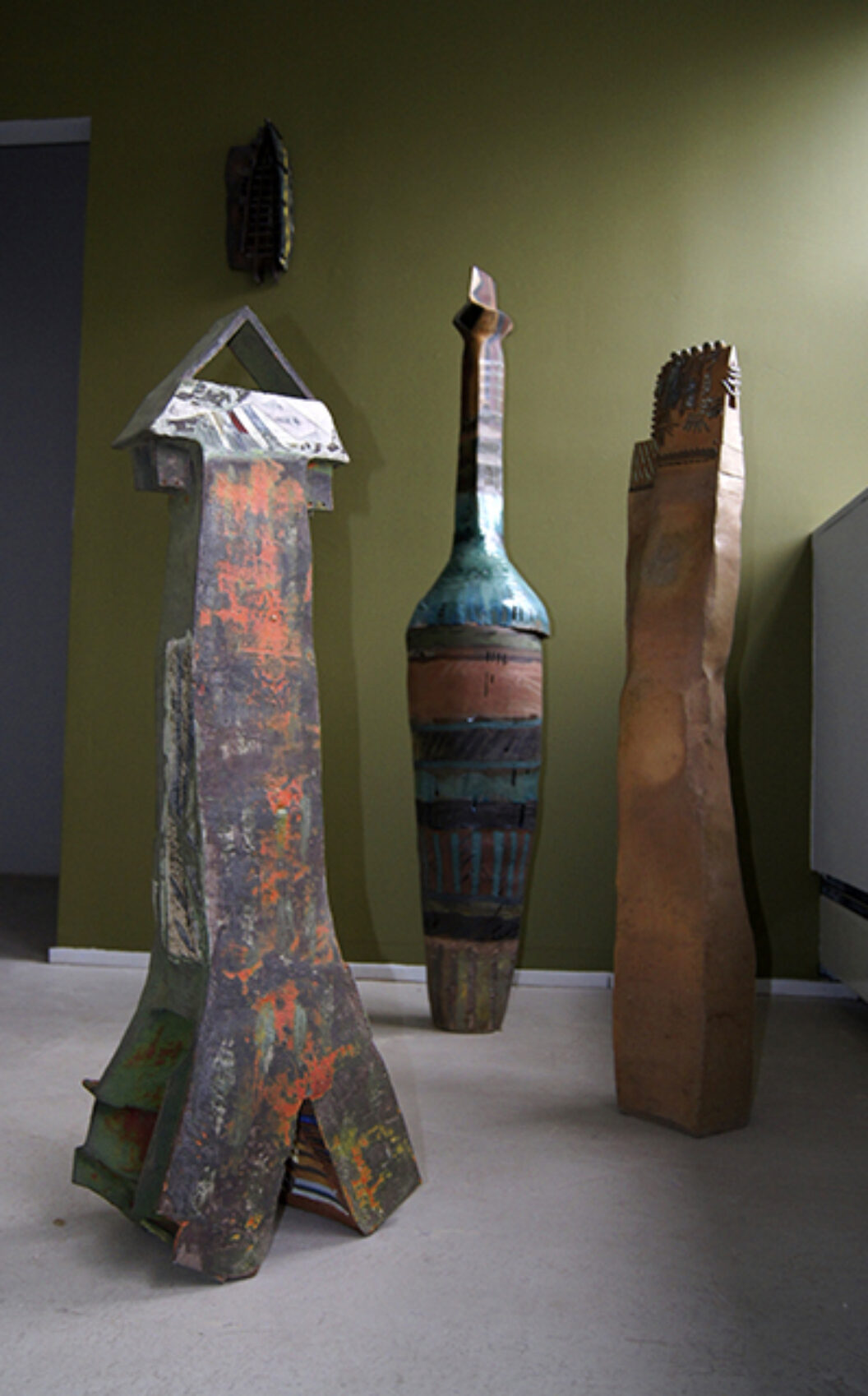 But mostly I picked classes that fit within my job schedule and sometimes I found myself sitting in classes where I was never going to understand what was going on: statistics, linguistics, way over my head. But I was able to read, get help from friends, and at least wrote decent papers to slide through. It meant four years of sliding, and I felt severely deprived of an education. I said to myself, "I have wasted four years of my life being poor and getting a poor education. I'm never going to sit in a classroom again." I was so disappointed. But during my years at college, I'd listened to my peers talk about the adventures they had traveling around the world and the things they did in the summer. Mine was always getting a job. After I got a bachelor of arts degree, within nine months of saving, I bought a one-way ticket and started traveling around the world.
Working in clay, which exists all over the world and comes in as many colors and personalities as human beings do, it didn't matter where I dropped myself, I would find clay. I told myself, as a black American, you're going to Africa first, and then China and Japan, Latin America, and then you go to the Middle East. All of these places were clay centers. So, I traveled to each one of them. I would show a taxi driver a postcard with pots on it and he'd just started driving. That began an exploration that opened up my lens to the world. I arrived in West Africa empty and I came home full. I lived in Mendeland in Sierra Leone the longest, nine and a half months. I was loved as extended family and little girls became my mother and guides through village life. They taught me everything about being a woman and being safe in their culture. Their mothers were busy farming and working, but the little girls had time to teach me their language, how to wash clothes on washing stones in the river. They taught me how to walk, sit, and eat like a Mende woman. All this I will never forget. Yawa, who I loved deeply and who died after her excision, taught me the tones in her language. She took her little dirty finger, put it in my mouth, and pushed my tongue up onto the roof of my mouth. Their language is about the way you move your tongue and your mouth. Tone distinguishes meaning.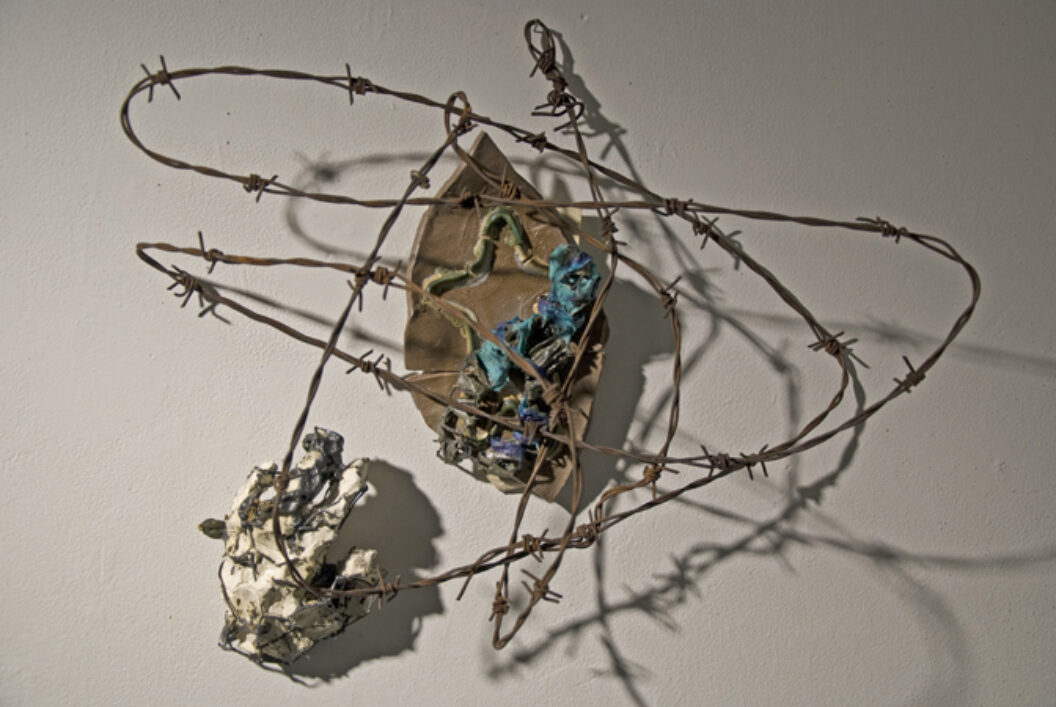 My African writer friends often write in French and English, rather than in their indigenous language. When I asked, they responded that they reach a larger population if they write outside their language. I then asked, "What about the people where your mother or grandmother come from?" They say, "That is not a book Sana, it's a song, it's a dance, it's a movement, it's an everyday narrative. When we're washing clothes, it's the song we're singing. It's not this Eurocentric thing so don't ask me to do that. My culture is safe doing it the way they've done it all these years. I am writing in the language to educate you."
Travel began to be my way of learning and unlearning. I had to test the truths I was raised by up against other truths. I yearned for explanation and watched their lives very closely. These women and girls were wonderful mentors. I cherished them in my life and they came to my hut every day. They would cornrow my hair, take it out, the next one would cornrow my hair, take it out; just over and over again so my head would be throbbing from pain. We would sit and look at each other, and giggle and laugh, and then one day these little girls disappeared and came back three months later different. I was oblivious to what had happened to them, but also to what was happening in that part of the world. Civil wars were breaking out, and people were fighting for their independence as well as fighting internally between different tribes.
SEG When was this?
SM Oh, this was in the middle to late '70s. The Mende people who I lived with and loved, and who loved and protected me, came to my hut one day and said, "You must go back to your motherland because we can no longer protect you." They weren't people to elaborate or tell you that a civil war had come because gold was found and they were going to be persecuted. I cried and I packed. I distinctly remember those girls walking me with my luggage to the lorry park. They walked me in a direction that I had never walked before, which told me something bad was going to happen. We hugged and said goodbye. They paid my fare because I was always being cheated, and then the letters started coming. "Sana, the rebels are taking us. Our village is now gone." Then the letters stopped. Civil war broke out. Mendeland, Sierra Leone became a burial ground.
A guy named Lahai, who was from Sierra Leone, was in the airport when I arrived in Ghana. That was my first stop in Africa. As I was going through immigration, I felt somebody breathing on me. I turned around and it was this beautiful African man. I got on another line and I felt this heat on my neck again so I went to another line. Finally, I turned to him, my voice was cracking, and asked: "Why are you following me?" He backed off because he sensed my fear. Then he said, "If you feed me one meal a day, I will show you Africa." I looked into his eyes and I felt this internal peace. He wasn't too much taller than me; he was bone thin. I thought, Sana, you can kick his ass if he gets out of line. So I said, "Yes. I have a friend outside the airport." Joe Bush had arrived a month earlier and was waiting for me. I told Lahai we would take him up on it.
Lahai took us home to his village in Mendeland in Sierra Leone. It took us three months to get there. We walked, we hiked; we canoed; we took lorry trucks. I insisted because I wanted to see the landscape. Lahai feared the other tribes. They would welcome us in and say, "Oh the gods said that somebody like you was going to come today." They would feed us, but Lahai would not eat their food or drink their water. He was always suspicious of another group. We would have to go to the market and buy him food. Lahai protected and provided for me while I lived in his village. I had a journal and I recorded every single thing. It is there that I met Yawa, the sassy little girl that was responsible for my meals. She was a bright light, bossing all the other girls around. I began to teach her to read in exchange for language lessons. I expressed my delight in having Yawa as a daily companion and once I said, "I would love to take her back to the United States and educate her." Lahai said, "But she's not ripe," as he placed his hand on top of her young breast. "Not ripe!" I said. Then I understood, Lahai thought I wanted Yawa as a co-wife for Bush, the man I was traveling with. Yawa was probably twelve. I later learned that "ripe" is associated with being ready for marriage, and thus circumcised. But at the time, I was clueless to the depth of what was happening around me. That was held secret and sacred.
I traveled through pottery villages and followed their traditions. If I went into a village and if there were only men doing pottery, I knew I couldn't. I was respectful and I watched. If I went where women did it, I would get on that assembly line. They would be humored and charmed. As in many parts of the world, what's happening is dictated by the season, and so too in Mendeland. Rainy season came, beating away the topsoil and exposing the clay. Clay holds water, soil doesn't. People would line up in an assembly line of maybe 150. The elders would dig the clay from the earth. The next group would pray to the gods for placing the clay there. The next group would wedge and add grog to strengthen the clay body, and the next group made the bottom, another the belly, another the handle, the lip, the lid. Another one burnished and another group moved the vessels to the firing pit. When a pot was made, so many hands had touched it. The concept of signing one's work did not apply to this system. The pots that were made belonged to everybody, and that way of thinking and working was so beautiful to me. There was also no such thing as you getting that piece in your hand and shaping it a different way. They were following tradition and it had to be. We made the pots that they had always made. We fired them and would take them to the next town and barter for what didn't exist in our own village. That was such a beautiful experience, all these women praying to the god(s), somebody coiling it, another person putting on a handle, another person putting on a lip. I thought, There's no individuality in this culture, unlike the way I was raised.
When a piece was almost completed, leather-hard, the women would pull out these clay stamps and rollers which had deep incised patterns. They would take the roller and press onto the clay creating tight, beautifully rendered meandering lines. I discovered these marks on the inside of the handle, on the foot of the vessel, the underside of a lip. Not obvious, you could miss it if you weren't looking for it. I thought, This is the way they sign their work, they placed their pattern on it. Sometimes this pattern was tie-dyed on to their lapa [wrap skirts], or painted on the wall of a woman's clay kitchen. At times their cornrows resembled their roller patterns. I began to know the women by their marks and patterns.
JOHThat's really great.
SMMark-making has been a significant practice of mine. It's my way of writing. Africa taught me so much. I am still learning from those lessons. Africa was my wellspring.
SEGDid you start making these excision pieces while you were in Africa?
SMYes, but I made what they made. I was learning a great deal about construction. Huts were made of clay; they were really one giant pot, the granaries were the same. I was getting a hands-on education that I could apply not only to my artmaking but to my approach to teaching and my lifestyle. This was my education and I did for it for ten years, off and on. Then I went to graduate school a few years later. Alfred was my first experience with an art school. I was twelve years older than everybody and almost all of them came from good programs. They had a language that I did not have, but I had lived a life that they could never conceive. I was too shy to speak, but when I did, I spoke from life experience, something that many of them had not had in the raw sense.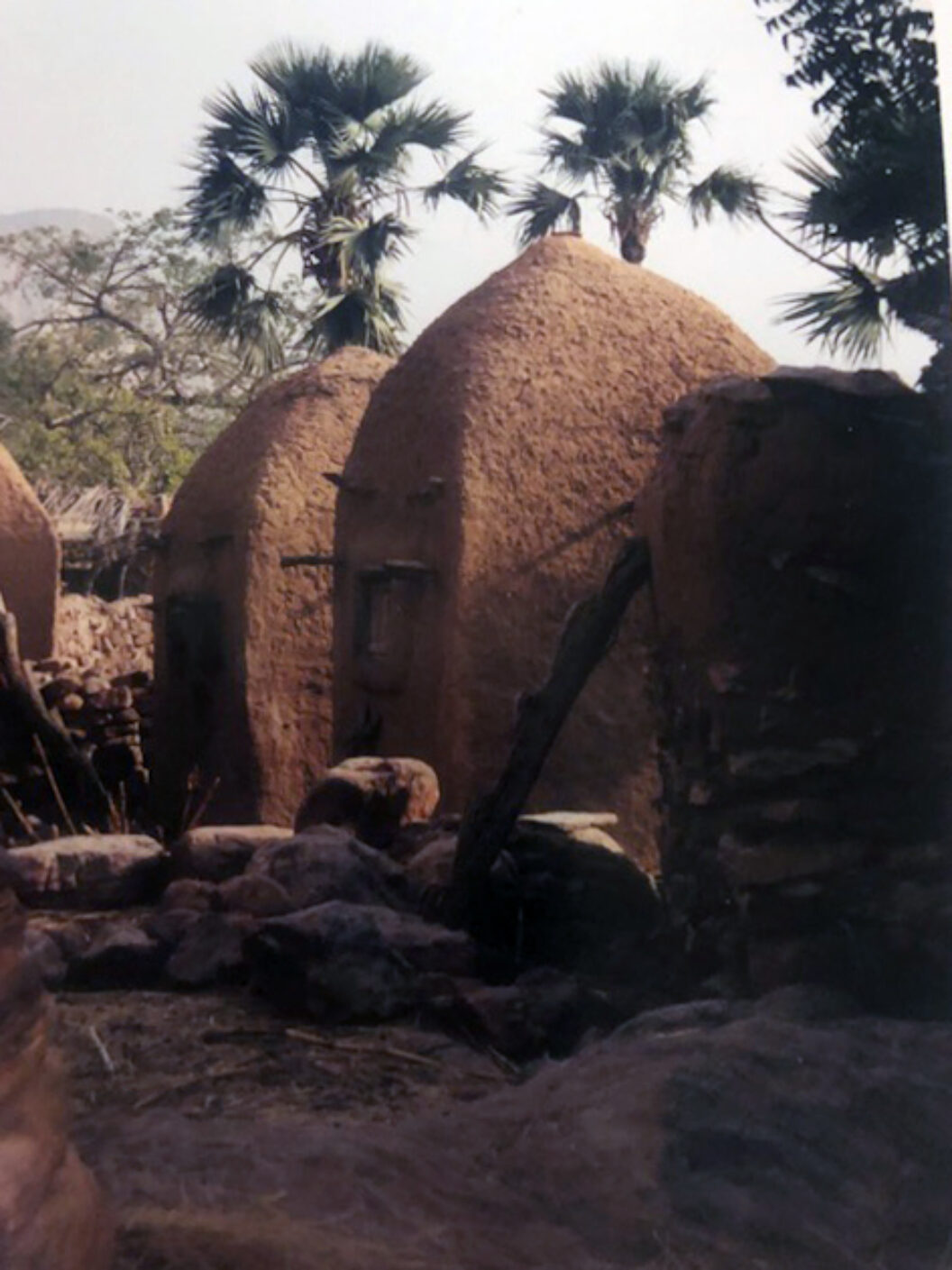 SEGSo, Janet, what were you doing after FIT?
JOH After my first year at FIT in 1967, I changed my major to advertising design. My fashion illustration instructor, Ruth Antholz said, "My best student is going into advertising." But my view of artmaking was not utilitarian at all. It was and will always be a form of self-expression. I might lose my way and ask for advice but I am reflexively averse to unsolicited "Why don't you(s)." So I went into advertising design and learned a whole lot.
At the time, Betty Blayton-Taylor was formally connected with the Museum of Modern Art. The Museum was closing down its education program, if you can believe it. So, they put all their marbles into the Children's Art Carnival. It was a creative wonderland and Fashion Institute of Technology, (where I had learned what they had to teach me) paled by comparison—so I started working there.
SM What were you teaching?
JOH I taught everything at the Carnival.
SM I taught there!
JOH D'Amico invented Children's Art Carnival. There's still one in India on a boat. The original Carnival was on Saint Nicholas Avenue where Harlem School of the Arts is now, in a converted garage with really high ceilings. It was set up as a big open workshop, but children entered by what was called "the motivation room." This appalled some educators because it sounded too Orwellian, but it wasn't. Kids went in and played. Played with piano keys that controlled a light show. They had pegboards where you could pull big rubber bands and make shapes, blocks to build with, and they had these huge kaleidoscopes. The idea was to get stimulated, visually, and then you'd go into the workshop where you could paint. Paintings were eighteen inches by twenty-four inches. Each set-up had an upright easel with glass caster cups containing primary colors plus black and white, a bowl of water, a sponge, and three brushes. Working large allowed kids to be uninhibited and produce great work. That was the beginning of my training in art education.
SM It sounds very Montessori.
JOH Yeah, it was based on Piaget. Eventually, Betty thought that it should do more than provide creative activity, that kids should get job training. So she introduced filmmaking, photography… I don't know the exact sequence of events, but eventually, the Mellon Foundation gave Betty the money to buy the brownstone on Hamilton Terrace and Carnival went up there. I worked there for a couple of years and then I didn't anymore.
In 1972 you could get a round-trip ticket to Europe for 200 dollars. Everybody went. Every single frickin'-body went to Europe. So I went to Italy with Danny Louie to visit Gerry Lavilla, our Hawaiian friend from FIT and her husband George Valiakas in Greece. We went to Rome and then we took the train down to Brindisi and the ferry to Corfu, where we met up with George, Gerry, their new baby, Alexis, and George's sister, Melina. We spent a few days in Corfu. Then George flew us, as Gerry put it, to Athens—the wheels of the car barely made contact with those winding mountain roads.
SEG What work were you making? This was in 1972?
JOHYes, I hadn't started making jewelry yet. I was making embroidered belts. Before I started taking the Long Island Rail Road to commute to work I used the hour or so on the subway to make stuff.
SM Oh, how beautiful. Let me see. You made this belt? I don't understand how this is fabricated.
JOH It's yarn, I used a blanket stitch. This piece is old as hell. It's no longer iridescent, now it's more like multicolored. The whole thing is a fairly stiff mesh. I used different color combinations, that's the only one I have left.
SEG So how did you get from drawing and sketching to making belts and jewelry?
JOHI've always made things, starting with linoleum block greeting cards in high school. I was talking about Antonio Lopez earlier, I had friends, Ed Smith and Kenneth Mitchell, who admired him, too. We emulated this really creative force and followed his lead. Antonio did drawings and sketches for the coming year's silhouette. He also did these really lush watercolors for magazines. We tried to turn everything into art. I started making painted capiz shell broaches while I was working at the Carnival. Onnie Millar introduced us to them, along with painted rocks. The charge to invent is a permanent fixture in my creative life. The best description I've heard of being an artist was Peter Martins describing how dancers perform. They don't say to themselves, "Point, lift, leap, turn." It's in what's called muscle memory. They've learned this stuff and then they use it.
SMThey digest it.
JOHYeah, like a sense of color—graffiti on the subways. When I was in Visual Arts, I remember seeing the 7 train going over the Grand Central Parkway and exclaiming, "They've started going to art school!" They had started using color theory. I was having my eyes turned inside out by Cézanne. It was like the first time you make music and have it reverberate in your head, you never hear music the same way again. Cézanne taught me that you didn't have to be an extraordinary draftsperson to be impactful or create wonderful work.
SEGBut the theme of fashion and clothing has carried over throughout your practice and into the Juju boxes, correct?
JOHWell, in a way. Juju boxes came about because of my acquisitive nature, the firm belief that we can all make our own magic, social commentary (saying what I see), and an ever-present interest in color and design. I found Washi paper-covered boxes at Azuma, a wonderful, wonderful Japanese housewares/tchotchke store that no longer exists. They sold really beautiful things that influenced my taste. At Art and Design, they encouraged us to start a morgue (images of things you liked and/or found useful) and keep a sketchbook. The morgue evolved into the material I used for Face Morphs and I have stacks and stacks of sketchbooks.
SMInteresting, I kept journals but not sketchbooks. I would write my experiences with such detail that I could open them years later and experience the time vicariously. I encourage students to keep journals. They are our life source.
JOHAn image I saved served as a model for one of the seats for Wrought—another ongoing toy project that looks at the characters in WAC's drum corp. I saved a photograph of a chair that said, "See if you can make this out of Legos." So I tried until I got something I was happy with. I save whatever catches my eye, no magazine leaves my house in one piece.
SM(Sana picks up Janet's appointment book) Tell me what this is.
JOHIt's my datebook. It's set up so that I can see all my monthly appointments but each day has a section, too. It's a catch-all for memorabilia and information. Like these are bead suppliers from the Atlantic Antic. I went on Google and found ideas for earrings and necklaces. This is one of my favorite things on earth; it's called a custard apple.
SM This book is beautiful.
JOH I used to cut more stuff out of magazines. You used to look at a magazine and two thirds of it would be inspiring. I open Elle now and I don't want to look at, much less wear, any of that stuff. I'm not of this time in that regard.
SM This is great. I'm going to try this. My days are so packed, that I need two or three pages to write one day's agenda. I have journals of travels and trigger words that take me right back to the moment. Yawa is bleeding. Yawa is buried. Power words that even from these journals of mine that are fifteen years old, I read a sentence I wrote that's so raw and pure to the moment, that it takes me right back.
SEG Janet, were you at the Children's Carnival during the '70s and '80s?
JOH Yeah, but after that I went through a spell where I worked sporadically and didn't make enough. I was poor and it was really difficult—how can I feed myself with this money? Feeling good when I had enough to eat, and alternately getting demoralized because the penury was going on for too long. It stopped being a challenge and started looking like a future I couldn't see a way out of.
Around that time, 1976, I continued to bounce around from job to job. The National Park Service asked Betty to organize a series of colonial craft workshops at Hamilton Grange for public school groups. Betty called me. At that time Hamilton Grange was shoehorned between Saint Luke's Church on Convent Avenue and an apartment building, not its current location, on a grassy incline in Saint Nicholas Park. Between tours, we had workshops in spinning, weaving, and leatherwork. That's where I found out about the waxed nylon thread used to sew leather. That's what I string my necklaces on because it holds up.
And that's the other thing that's different about now. When I took over the job of visiting curator at Harlem School of the Arts from Kellie Jones (she got a whosie-whatsit at Yale leading to a doctorate and had to decline the assignment), in 1987, it was where the waves left me. I had organized shows but I wasn't a curator.
The resulting show was Nine Uptown with Candida Alvarez, James Andrew Brown, Anne Loving Cortes, Walter Jackson, Nina Kuo, Pedro Perez, Howardena Pindell, Calvin Reid, and Lorna Simpson. I also organized a show of paintings by Amos Ferguson, a vernacular Bahamian artist. I remember climbing up and down ladders putting up art on those second-story concrete walls.
Instinct said, "Go volunteer somewhere so you can learn how to pick and install work." Helping Kellie put up a show at Henry Street Settlement filled in a lot of gaps. It became my master class in organizing and installing an exhibition. I got enough confidence to trust my eye when choosing work, but installation is still a mystery I think you have to have a talent for. And then I worked at Studio Museum.
SM Before you were an artist-in-residence at the Studio Museum?
JOH I was education coordinator and that's when we did the show, Living Space: an exhibition on Low Income Housing. They still have the catalog in the museum shop. I did that for a year and then I wrote a proposal for Art-Go-Round, a multi-discipline series of classes for public school groups at JCAL that got funding from NYSCA. All of this was going on while I was still involved in Jamaica Art Mobilization, Jamaica Arts Center, and finally Jamaica Center for Arts and Learning (JCAL) opened in 1972. That is where I met Ward Mintz. I was one of the artists in Jamaica Art Mobilization that helped to provide programming that got it off the ground. I didn't teach formal classes but I did work with teenagers making murals in South Jamaica (down the street from my house), on Hollis and Laurelton. I also helped with the administration of Jamaica Arts Mobalization, to a large degree, for most of its existence. I worked with artists from all over Queens in Jamaica Arts Mobalization. Most prominently Hank Beck, a photographer, Jackie Freedman, Florence Siegel, and Margot Lovejoy, a painter, and mixed media artist respectively, doing Media Days—entire days devoted to a particular medium, exhibitions, and the like.
SM Do you remember Bill Miller?
JOH I remember Bill. He was a stand-up guy.
SM The JCAL's main gallery is named after him.
JOH Bill was a curator, one of the directors of Jamaica Arts Center. He saw it through a really good evolution. He wanted professional exhibition space for the center. So it's lit properly and is climate controlled (four large windows on either side of the space were walled up as a part of the renovation).
SM He was kind and supportive. He was one of the first people that I knew that had AIDS without it being called AIDS. They didn't know—he called it "the mysterious disease."
JOH He, like so many good people, died; his partner died too. Most of the artists I worked with in Jamaica Arts Mobilization had pretty predictable ideas about what art was and is. As I was working with them two things happened. Linda Goode Bryant had opened Just Above Midtown (JAM), and I got one of the Rockefeller Fellowships at the Met from being involved with Jamaica Arts Center. They were looking for non-traditional people to bring into the museum field. The year before me, Linda Goode Bryant had been one of the fellows. Everybody knew everybody else, so through the network I found out about the opening of this gallery on Fifty-Seventh Street. I remember walking up to JAM and thinking, Heaven. If I never show here, I don't care as long as I know it exists and there's something I can look to and be influenced by. I was so happy, and then I found out about them having difficulty. Linda says I'm one of the reasons she stayed open. When she said, "I'm going to close," I was like, "You can't close on me, there's nothing else like you." She soldiered on and I met David—
SM David Hammons?
JOH Yeah. I tell people when I met David, I was sitting in the office and he sold me postage stamps to get money.
SEG Excuse me?
JOH David Hammons sold me postage stamps to get money.
SM But how could he?
JOH He sold them for face value and I needed them, so what the hey. It was a minor league adventure. At that point, all his clothes came from the Salvation Army. Linda told me that when he came to New York, he knew he was as good as people like Robert Rauschenberg and he decided that he was not going to get a job. And people supported him—
SM Yeah, lucky him. Like who? What guts. What black woman artist has the luxury to say, "I am not going to work and let people support me."
JOH Young David Hammons was fine and strangely charming.
SM He adored my best friend, Deirdre Bibby.
JOH I've got a story to tell about David Hammons.
SEG You want me to pause the audio now?
Part 3
Sunday August 25th, 2018, I met Sana and Janet at Hunter College. Sana has taught ceramics as an adjunct professor at Hunter College for twenty-three years. We met in front of Tony Smith's Tau outside of the Bertha and Karl Leubsdorf Art Gallery. Sana affectionately referred to the location as "The building with the big black sculpture in the front."
It was cool inside, a welcome relief from the heat. Voices of the security guards and students echoed throughout the large room, foreshadowing the upcoming fall semester. Janet, Sana, and I found seats in a quieter section of the atrium and began the final interview.
—Stephanie E. Goodalle
Sana MusasamaMy father, Lewis, had five daughters, but I never felt or heard him say he wanted a son, and I'm sure he did. Unique to my father in that time was that he cooked, he did his own laundry, he cornrowed our hair, he taught me how to fish, and he washed the floors. I hid him when friends came home because they laughed.
Janet Olivia Henry Why?
SM Their fathers read newspapers all day long and their mothers did everything. They would come into the house and giggle, and I would ask what they were laughing at. They would say, "Your father is washing dishes." That was something I learned to appreciate about my father. When I went to West Africa to do my thing, my parents were so scared because it was dangerous. My mother pushed the money that she made from doing domestic work in my pocket.
JOH You realize, aside from being responsible for your existence, that your parents do go out of their way to help you and encourage you. When I had my solo show at JAM, John Wessel said to me, "Your mother is really proud of you." We were butting heads at the time, but here was tangible proof that she thought well of me.
When I was in Women's Action Coalition [WAC] in the early '90s, we had these retreats. There was this one woman, who droned on about how her mother inveighed about the damage her birth had done to her life. It sounded as though the mutual resentment consumed them both. Hearing this everyone chimed in. I finally said, "My mother loved me" and that I wasn't averse to having an ongoing relationship with my family. I didn't have to cut ties to establish myself. Also, I got sick of them moving like a herd. If you identified as a lesbian or a feminist, you had to become a part of that group, exclusively. How do you justify isolating yourself within a group when "the better self" is supposed to be accepting of different kinds of people? That's one of the things that prompted me to do more social commentary. I started doing work about what I was experiencing. WACtales, a piece that is more narrative than pictorial, was a product of this, as was the first plate in NYC Phantasmagoria. The pyramid represented the class structure of the organization. When I was at the Studio Museum in Harlem the first time in 1977, as education coordinator, I hadn't been making any art because I was also involved with Jamaica Art Mobilization. It was wearing me out and wearing me down. I felt like I was being dissipated, and so I stuck paper up on the walls of my office and started doing drawings about what was around me and how it was affecting me. That led to other things like the beginnings of the Juju Boxes series. A part of me was amused, but another part of me had to be cautious because people got wary. They were afraid that I would make art about them. (laughter)
SM Oh, that's great! "Shh, here comes Janet."
JOH I shouldn't have been surprised because I told them that if they got on my nerves bad enough, I would turn them into art. (laughter) I found dolls that looked like people I knew. I called them "action figures."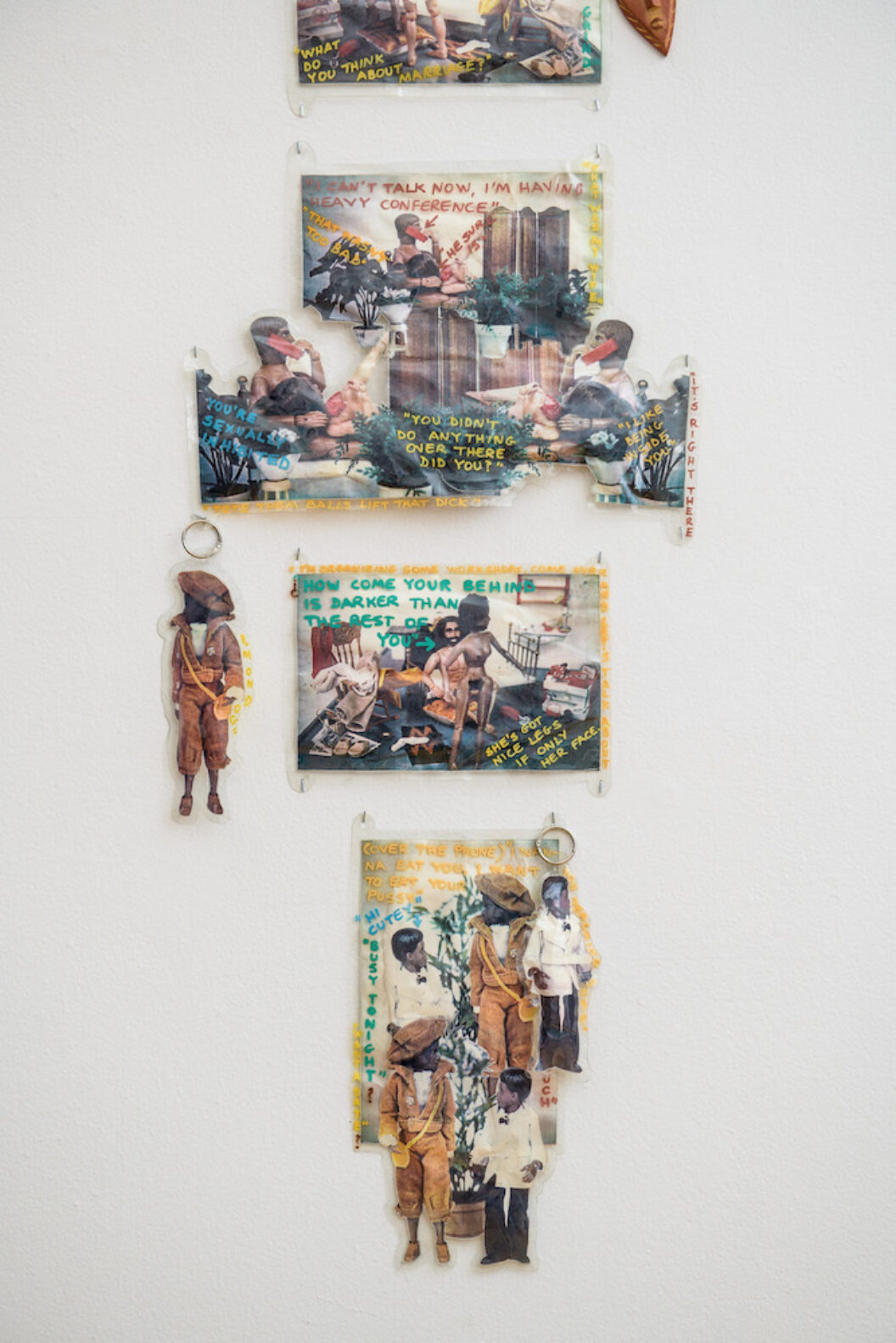 SMDid they really look like them? Were these people able to identify themselves?
JOH Maybe. I don't know if you remember Ivan Karp. He had OK Harris Gallery when SoHo was the center of everything. The Wizard of Oz action figure resembled him.
SM Where was it located?
JOH It was on West Broadway. The action figures I'm referring to were made by Mego. They were from TV shows and movies like The Wizard of Oz, The Waltons, Wonder Woman, Our Gang, Star Trek, Happy Days, and Batman.
When I did the solo show at Just Above Midtown, Janet Henry, Retroactive in 1982, I did vignettes from my life—starting with my idea of how I came into the world, coming back from Antigua, painting murals, working at JAM, the West Indian Day Parade, The Studio Visit (the piece that was in the A.I.R. show), and the opening reception for Janet Henry's Recent Academic Abstractions. It's the piece that has the Ivan Karp/Wizard of Oz action figure giving the thumbs-up to entrants to the gallery. The hands came from a Fonzie doll's body. These action figures provided a palette for me.
I made my own medium or material that I could use as I wanted; it also meant that sometimes I felt I didn't have anyone to "play" with. I was doing stuff that nobody else was doing. I tried to work with other people, but it just didn't pan out. I'm difficult, not always amenable or good at compromising. If you're going to be this independent, you're going to have to do it all yourself.
One evening, after work, I was sitting on the dining room floor of Linda Bryant's apartment trying to do something with a couple of the action figures I was using at the time. I remember laughing out loud at a scenario I cobbled together and David Hammons muttering, as he walked through the room, "How come she has so much fun making her stuff?" I do—I like it that I can surprise and amuse myself, so a good deal of what I latch onto is just so I can see what'll happen. I started making social commentary pieces with the dolls and the accessories and the little tchotchkes that I found. That has continued. I've been working on toy projects that are ongoing and not yet complete—Wrought, the piece about the drum corps, I started that more than a decade ago. The Lego installation of New York City, NYC Phantasmagoria, I started that right after I left WAC. As long as it's in my possession I will keep adding to it.
SM What year were you finished with WAC?
JOH1993. I started collecting dolls that reminded me of people in WAC or that I could turn into the personalities that populated WAC. All those clothes, furniture, drums, and accessories you saw for Wrought in the other room. I now know that if I need something, I can go online and get it. But I used to buy Barbie ensembles to get the hat or a pair of shoes. My sisters would look at me like, "You spent all that money to get that little thing?" I had to make a living, so when I was offered the job at NYSCA, artmaking took a back seat.
SM You had to do that for a while.
JOH Yeah, I started working at NYSCA in 1988. I'm obsessive and there was a lot to learn, so I devoted myself to it. At NYSCA, we had cubicles with corkboard. Every interesting thing that I found was posted on mine. I remember this woman who was a performance artist and a very elegant, smart, savvy person, looking at it and saying, "How can you think?" It was about inspiration. Kaylynn Sullivan Two Trees, another smart, innovative person who did really good performance art in the 1980s, always showed me the things that inspired her. She said that even though her inspiration was very specific you'd never be able to identify any of it in her work. You can allow yourself to be influenced but you always take it to another place. Did I tell you about something I saw in a Thelonious Monk documentary? One of the musicians in his band heard him playing a standard and thought Monk was giving it his own twist. Monk replied, "No, I'm playing it straight." That's what I subscribe to—the idea of copying things verbatim is impossible because you always bring yourself to whatever you do. There's so much pressure to do work that is sellable. Artmaking starts with what you have to say. If selling is your primary motivation, do a Jeff Koons in reverse.
SM When you talk about this bulletin board in your office, how did you use it as inspiration? Impulses came and then you worked from those? Or are you working and collecting?
JOH I'm working and I'm collecting. You know that Lego chair you saw yesterday? Sometimes I'll just want to try to make something. I'll work on it until I think it looks good enough to pass my muster. With Legos especially, sometimes, I'll just put things together to get a shape and in the process other ideas crop up.
What else do you want to know? (laughter) This is really making me think about what I've done. Me being stubborn, I have always thought that verbalizing what I'm doing is contradictory. Words can only be an approximation. Like photography that's used to represent art. It becomes an art form in itself.
SM I'm thinking of the moment when we decided to commit to this career for life. I entered it for a passion and never thought about the economics of how I would feed myself. I worked fifteen or sixteen years before the bell went off in my head: Sana, you have to feed yourself. I was living in alternative spaces, and they provided a studio, and I just had to come up with the shipping. I fell into academia, to be honest. I never wanted to teach. Once I realized it would give me time off and a pension, even if it was part-time or adjunct, I thought that would be the approach. Over time, I became very passionate about my students. It made me responsible for sharing my journey as an artist and assisting them in carving and shaping their own lives as artists. I was one example of how an artist survives. My students give me a pulse that propels me to do my best by them. Especially when I see how sincerely interested they are in the arts as a life force.
Stephanie E. GoodalleYou're replicating those same interactions in the classroom that you've had globally, and that's what sustains you.
SM Yes, I am. Interestingly enough, 90 percent of the classes that I teach are women-dominated. I find that all over the world in ceramics; it's like comfort food. It's the same kind of pulse that I need to go into the studio. When I began to travel, I realized by seeing, looking deeply, writing in my journals, learning the languages, that observing everything that a place had to offer me was my fertile ground. I began to learn that I could talk through my work in ways I had not done before. I could make art about my travels as a woman going to many places in the world alone. Learning to listen to people and their stories and finding value in them. It took years of travel, returning to school, attending workshops and residencies, and research, to have the confidence to make something that was outside of my own cultural experience.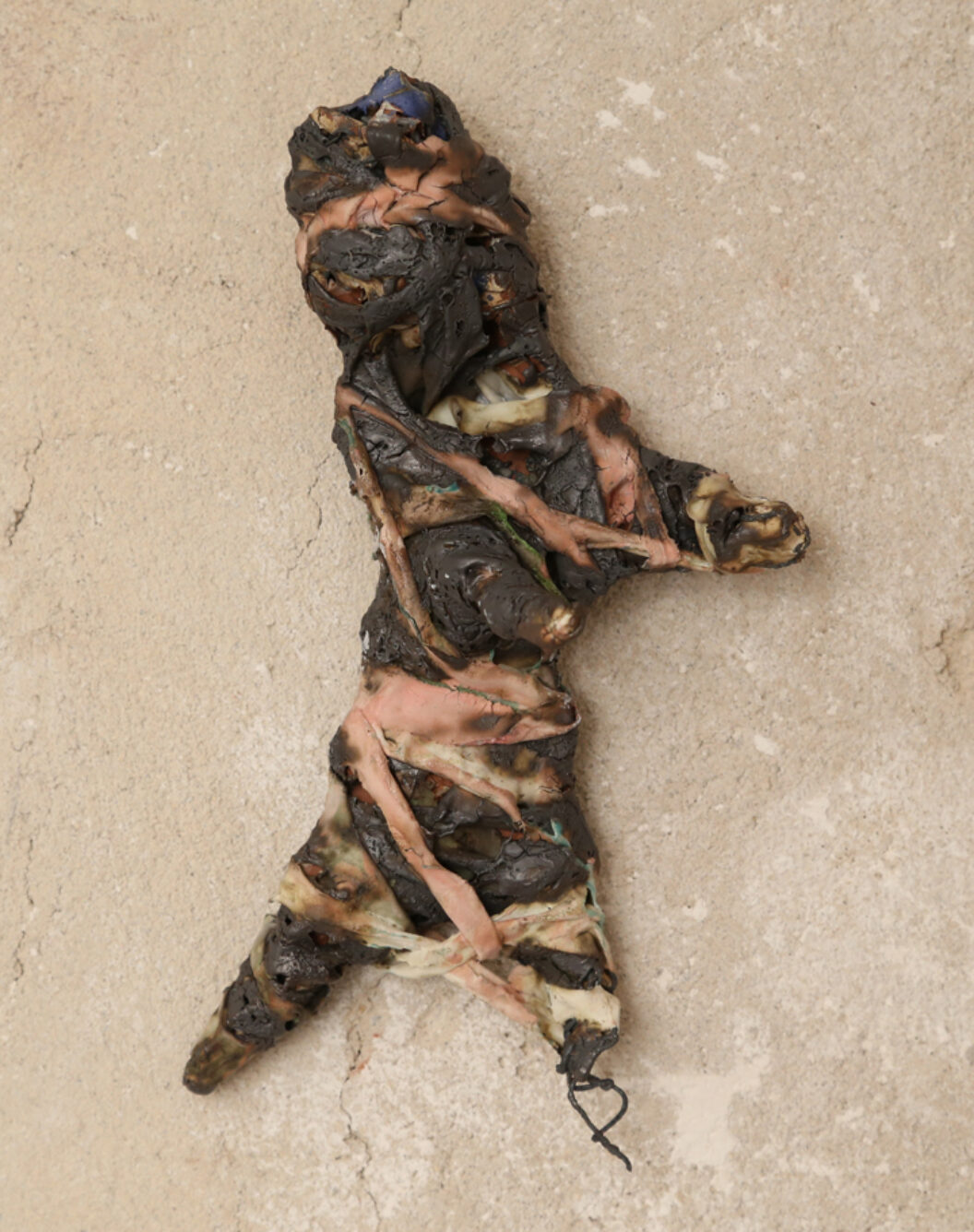 JOHComing from New York, we had more opportunities. I talk about my life being where waves left me, and there were times when I didn't have a job, but then, without trying, people would call me asking if I wanted to do x, y, or z. That happened nine out of ten times. I learned that the work had to have some content and/or some intellectual underpinning. It may reflect what given information is in the air, and I could pick it up. It has to be more than surface because I think with my eyes.
SM I like that. "I think with my eyes."
JOH When I realized that, I didn't feel so lost at sea, not having any control.
SEG How do you think being an educator changed how you make art?
JOH I'm trying to teach people what I know, and I want them to have as much fun making art as I do. By "fun" I mean a sense of accomplishment. Students take you seriously because they realize you're not teaching a formula. Until I learn differently, everyone is an artist. You have to show me you're not an artist. I had one kid with a visual impairment; he couldn't take things in or interpret them visually. I didn't know this. He created one of the best self-portraits I've ever seen. He was twelve or thirteen.
SM You distill it. One of the questions that I have for my advanced students after they work sixteen weeks on a sculpture, is what components of the piece are unnecessary— because it can be overworked. Even with myself, sometimes I have to go back and remove part of the sculpture and go back to the pulse. I tell my students that being an artist is not like being in a race. I'm constantly telling myself the same. At the moment, I have given myself two years off from competing and running after every show because I'm trying to figure out how to retire and have wonderful freedom. I have former students that have been my assistants in my practice. One said to me the other day, "I wish you would develop your doll series. You've been working on them for four years." I said: "Jackie, dear, I trust what I'm doing. I worked on the trees for ten years. It's not a race for me like it is for you. I have already worked for over thirty-five years. I am a current in a big sea, maybe not a rip tide but I am present, and this is important to me. I am not invisible. You are going to learn as you go into the world that there are different levels that we choose to compete on."
We choose to step back, to observe, travel, switch materials, stop, and begin again. It's important to find your own path and to also get the support you need. Right now, I am seeking a think tank of women who can challenge and push me further in my many interests. I have so many deferred dreams. I realize that one must have more than one life goal, that we have the capacity to do so much more than we imagine. The art world teaches us many lessons both bitter and sweet. One of the many lessons for me is that success may not happen when you want or even need it to happen, but that does not mean that you are not HAPPENING. Every time you enter your studio excited about a new idea, not caring if it will make money or not, you are active and alive in your medium and it's all good. Making our art is the purest thing we do. There are no hidden lies. My work is my truth as I have lived it. And I have not been afraid to tackle difficult subject matter. Of course we (I) want our work to leave us and live in the rituals of other lives but that's another story. I am happy being an artist. I am proud of the subjects I choose to address and share even if I still own the work. Yes, I wish for more representation. Martin Puryear once told me, "Sana we have fifty-two states, why don't you have representation in each one?" BAM!!!! He blew my tiny thoughts out the window. I want grants, and awards, and selling more artwork would be a delight. However, I live a full and interesting life. I love it with all its ups and downs. Like I said, it's not a race. It's about persevering, staying healthy and happy. It's a balance.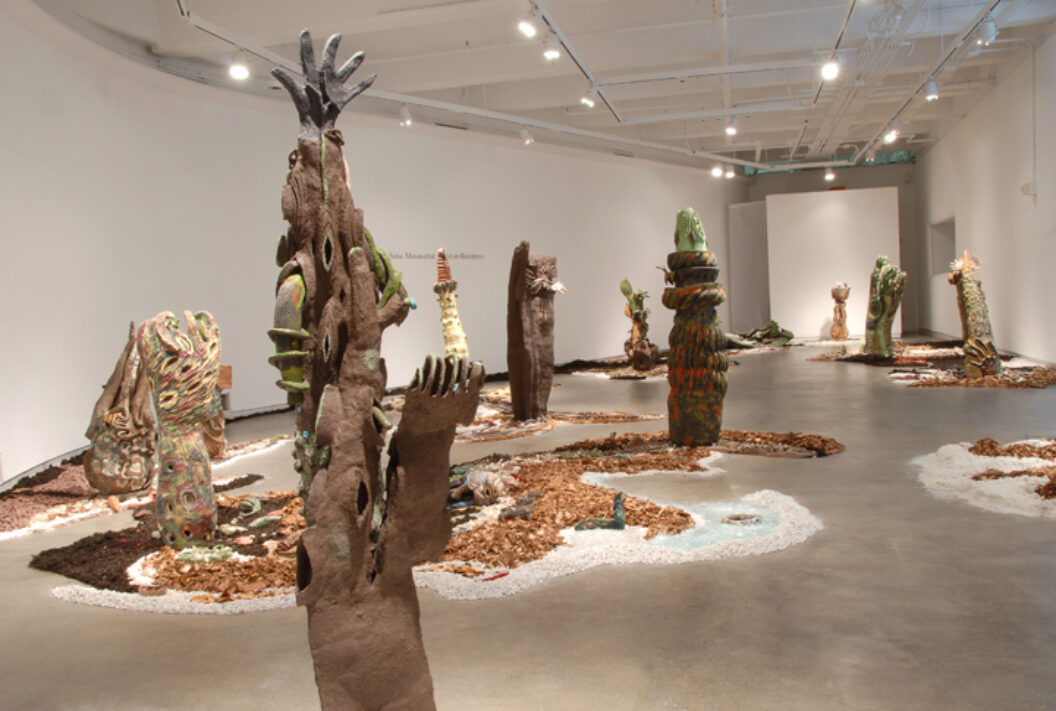 JOHI only have a few hard and fast rules, one is to do it well. It may mean ripping it up, but it has to be the best it can be. That's the thing about working in a continuum, some things may take a year to work out; others may fall into place in a day. You can't predict it, but you do have to give your work what it needs.
SM Clay takes time. In all its stages: it's wet, it's bone dry, it's hard bisque in the kiln and out several times. You must learn to visualize tremendously; you could be working with a white material that turns black with the glaze firing.
JOH You can't predict what is going to work well. I'm working on these things now with my fingers crossed because I know some of them are going to be good and some of them aren't. Trust your instincts and don't lie to yourself. You have to be ruthless; you can't be sentimental. With the action figures, I went from dioramas to photographing them to making color copies, sewing them into clear vinyl and stuffing them and turning them into another kind of sculpture.
SM I have to keep a journal because I work in seasons. I get four months out of the year to do work, so it has to be from writing an experience over and over and then rereading it. Then I get a pulse. I also have to remove myself sometimes, like going to do a residency where someone is providing breakfast, lunch, and dinner and the bell just goes off. I'll get more work done in an eight to nine-week period than I would in a nine-month period because of teaching, family, exhaustion, travel, and room for a little bit of depression. (laughter) But I've made it work.
JOH That's good. I'm trying to pay attention to what I need to do more work. Compartmentalization sounds real good at this point. An armor of serenity coupled with keeping my distance at my job. It's not my forum. I can let it all out of the bag with my art.
SM What did my mother say? "It's not your hill to die on. Pick your battles."
JOH I'm there in a certain capacity. I do my job. When I found out the tuition these parents pay, a part of me said, "You better fulfill your responsibilities." I have to do right by these students and give them the tools or let them find the tools. One of the things that I discovered is that kids need their own head time. When I meet an adult who says they aren't creative, I tell them that they are, but they were never allowed to cultivate their imagination. I'm around kids and that's all they have. What I've found is that making art has to be unencumbered, unhindered by too much direction. They do what they want, and they value that, almost above anything else.
SMI've been teaching at Jamaica Center for Arts and Learning on Saturdays going on twelve years. They come in there and I feel like a guide. They just make something and when pieces come out of the kiln, the look on their faces when something white turns yellow—
JOH No one can take away that sense of accomplishment from them. It's a part of their foundation that is going to be there forever.
SM The expressions, the delight in their eyes, their excitement is inspiring! They never ask you for critique, and they never ask you for permission. They haven't learned how to be frightened.
JOH That's the other thing I want to talk about. You do not need permission or approval to make your art, especially from men. Who asked you anyway? We're either equals or nothing. Carrie Mae Weems told me this story, I don't think she'll mind if I told you. She was out with Kerry James Marshall decades ago in Chicago and this woman was doing that helpless thing. Carrie asked him, "How come men like women like her?" He told her, "Because she needs us."
SM Carrie's something else. I really wish we knew each other. She was a good friend of Deirdre Bibby, who I met while doing my residency at the Studio Museum in Harlem. We became best friends until she died prematurely ten years ago. As a curator she knew all the hot and upcoming artists. She went to all the happenings and invited me to come along. She could work a room. I learned so much from her. She was beyond my mentor. She was my sister, mother, sounding board, curator, confidant, and my friend. Carrie is a good friend of yours. Would you consider her a mentor?
JOH Yeah, I've done things and she'll tell me, "No." I sent her some samples of the Twos. I didn't know what to do. Hanging them on the wall didn't look right. She said to try them in shadow boxes like Joseph Cornell. I knew what she meant, but I'm not going to replicate Cornell. This is what they're starting to look like. I have to work them out. I got boxes ranging from eight to sixteen inches square. What I wanted to do is put shelves within the boxes and drape them so that they splay out. Carrie helped me figure that out. The first lariat I exhibited at PPOW Gallery was affixed to mesh; she did not like it—at all. Come to think of it she advised me to draw the word on the wall first and attach the lariat to the drawing. Here's a description of the Twos series from the web-based catalogue for the Queens International 2018: Volumes:
"This idea started percolating in the early '90s, when I taught art at the Lower Lab School in Manhattan. The fourth grade was studying Northeast Native Americans, so I came up with the idea of creating objects that represented symbols of authority. I got to do a little project, that sorta edged up to the possibilities, and that was it until ten years later when the contrarian in me decided that if I used the jewelry form to make my art, instead of making actual jewelry, practicality could take a hike and it would be way more interesting to go where the material and my inspiration took me."
As with the "real" jewelry I make, the forms I pursued were based on sketches made from How to Wrap Five Eggs, Traditional Japanese Packaging by Hideyuki Oka, with photographs by Michikazu Sakai—and a non-verbalized fascination with undersea creatures and habitats.
The Twos series emerged out of this. It's another one of my "what ifs?"—concisely; what if I combine two ostensibly disparate elements for no reason other than I want to see what will result? Previous exhibition installations made the work look like cadavers dangling from hooks. Obviously, that was the wrong way to show them; they were more intriguing jumbled or splayed on flat surfaces. Contextually they are personal evocations anyway; not declarations. Turns out rather than representing outward status, they are symbolic of the internalized sense of self, a signifier—something that brings you around to yourself. I found forty-one terms for "two" and set about making a piece for each one. This choice of words is more a vehicle to catalog the work than a way of explicating the meaning of each term.
I continuously collect collage material for my classes, an eye or two dispersed in trays of varied materials was the norm. Isolating facial features so that they could be reassembled, Face Morphing developed into a project I could do with the lower grades I teach. The resulting sessions were riotous. At some point I took it back for myself, so to speak, to make the concoctions you see here. My focus has been more than altering faces, the entire picture plane has come into play. The first dozen, approximately, were the core of the Diet series or Mugs and Grub . If they come off as a polemical discourse about America's eating habits, or mine for that matter, that's unintentional. They're simply juxtapositions of seemingly unrelated subject matter; I take pride in having stuck a baked turkey on the head of some actress.
SM The lariats are some of my favorite works of yours. They're really potent and they resonate and give me so many references. They make me think of the beads that the girls wear around their waist in Africa after initiation which are thick and clustered and sacred objects. It also makes me think of the whiplash used during the time of slavery, of lynching. The word lariat has Latin origins, and means to tie up, bond, hold stationary. It makes me think of the hogtied pigs on the way to market in Cambodia, or the chicken woman walking to the slaughterhouse with her lassoed animals. There are these aggressive terms yet these works of yours are lush, potent, and so beautiful. Still, I see the horsewhip sweeping aggressively across the wall with iconic symbols attached to them like torn skin.
JOHThere's a certain level of anger that's always there. To a lot of people, I'm the angry black woman. They're like, "Tone it down." You know the White Protestant Male piece I had in We Wanted a Revolution? One part of it has a little colored kid, LCK , and he's kneeling. He's taking the knee. That's a standard pose that has become controversial to some people. Obviously I didn't do it consciously but the times caught up with it. I'm just appalled at how evil people can be. Historically, how can you build a whole society around taking people's lives? What mentality do you have to have in order to engage in that as a productive and honorable activity? Remember when we were talking about hating someone because of how they looked?
SM Or fearing them, and then hatred comes soon after.
JOH You can be afraid of someone and still not want to kill them. It doesn't make any sense. Trevor Noah said, "White people hate it when black people steal back what white people stole from them. If you think about the stuff they've done, they have every right to be afraid." I forgot about the Black Panthers carrying rifles and Ronald Regan making it unlawful to parade around with them. Could you imagine those right-wing jerks and their open carry laws facing down Panthers? Lord have mercy. Enough about them though, there are some of us who accept people for who they are and want to make a better world.
SM You make me think of Audre Lorde when she said, "We can't dismantle the master's house with the master's tools." I need another set of tools to take this down.
JOH And we have it. That's why there's apprehension about the infringement of other cultures. But our high-minded pristine European culture is not pristine. It's adulterated up the wazoo. My favorite symphony is [Jean] Sibelius' Second. There's a part of it that is more rhythmic than other movements, it's very dramatic and reminiscent of [Manuel] de Falla. Turns out he wrote parts of it while he was vacationing in Spain. He's Finnish. That kind of influence is everywhere; nothing is pristine. Scolds feel that we need their tutelage about cultural appropriation. My attitude is, Fuck off. You don't have any say in what an artist uses as inspiration. What they won't do is discuss who is remunerated. It's not that you make art using other cultures, it's who gets paid. When they start addressing that tangibly then they can lecture and admonish all they want.
SM I have two questions for you, Janet. If you had to have three words to describe you, what would they be?
JOH "Curious," "visual," and this is going to be odd after I've said all this, but "friendly."
SM (laughter) I think you are friendly.
JOH I do want to make friends. What about for you? What are your three words?
SM I've juggled them around, but one would be "generous." I take a lot of pride in being generous. The other one is "unstoppable" and the last one is "funny." That's what it is now, but it could change. Being generous is really important to me. In teaching I try to be the gift somebody was to me in my life as a young artist and give it back to my students. Working in Cambodia with the girls who were lured into the sex industry, that's what I'm trying to show them through my presence each year. I am trying to replace the gifts that were unjustly taken away from them, one girl at a time. I am the ambassador saying, "This should not have happened. This was wrong. What can I do to help with your burden?" It is my life dream to continue to plant seeds of hope in the lives of trafficked children worldwide and lead them to water just in case I am no longer around.
JOH I want to change one of the words I used, to describe myself as "generous" too. It's a tradition. My mother was a really warm person. She had talent, too. She is not a candidate for sainthood, but she liked children, she liked people, and she liked being kind to people. She taught that to us. She is my hero.
SM When did she pass?
JOHShe was sixty-seven. It was 1987.
SMIt's been a significant amount of years. My mother has been deceased over forty years.
JOHYou lose the person who knew you from nothing.
SMThat's right. My first friend was my mother, Sadie. She didn't live long enough to see me as an award-winning artist and humanitarian, but I think she knows.
BOMB's Oral History Advisory Panel includes Sanford Biggers, Thelma Golden, Kellie Jones, Odili Donald Odita, Lowery Stokes Sims, Mickalene Thomas, Carrie Mae Weems, Stanley Whitney, and Jack Whitten (in memoriam).
Support:
The Oral History Fellowship is made possible by the Stavros Niarchos Foundation, Cary Brown & Steven Epstein, and generous individuals.
The Oral History Project is supported by Agnes Gund, the Seth Sprague Educational and Charitable Foundation, Humanities New York with support from the National Endowment for the Humanities, and with public funds from the New York City Department of Cultural Affairs in partnership with the City Council.
BOMB Magazine thanks the curators of the 2017-18 No Longer Empty Curatorial Lab: Sarah Fritchey, Corrine Y. Gordon, Rebecca Pristoop, Niama Safia Sandy, and Anastasia Tuazon for recommending Janet Henry and Sana Musasama for The Oral History Project. Henry and Musasama's artworks were featured in the inaugural Southeast Queens Biennial A Locus of Moving Points, organized in partnership with York College Fine Arts Gallery / CUNY, Jamaica, Queens.

Portions of a dialogue from a fall 2018 studio visit by Betsy Sussler and Jennifer Clifford Danner with Sana Musasama are incorporated into this interview.

Any views, findings, conclusions, or recommendations expressed in this digital publication do not necessarily represent those of the National Endowment for the Humanities.