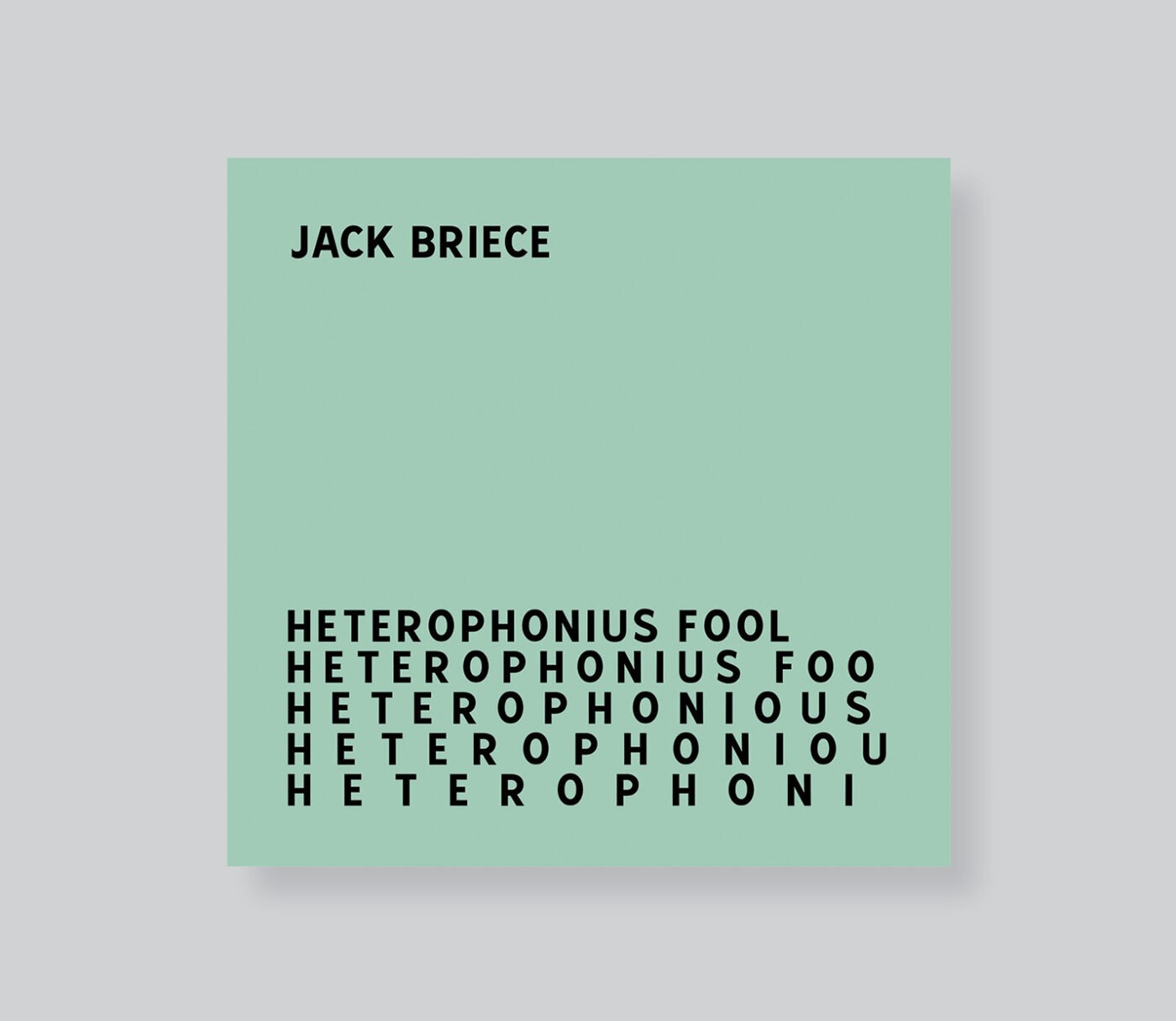 (Concentric Circles, 2019)
This fall, Concentric Circles, Jed Bindeman's crate-digging label of '80s and '90s bedroom arcana, will press to vinyl Heterophonious Fool—the composer Jack Briece's sole commercially-released recording, initially a tiny self-produced edition from 1984. Bindeman purchased a copy of the tape from sound ecologist Hildegard Westerkamp in 2017 and was struck by the recording's implacability, its lack of apparent sonic analogues, and its minimal digital paper trail. Like many of that era's spoils currently being revisited, such as "Blue" Gene Tyranny & Peter Gordon's Trust in Rock (Unseen Worlds) and Paul DeMarinis's Songs Without Throats (Black Truffle), the release looks back to a curious juncture in new music, straddled between post-Cagean concert music and a forward-thinking pop sensibility.
Fool was produced during one of the composer's most productive periods, between 1980 and 1984, after he relocated on a whim to Santa Fe. The move put him in proximity to peers such as composer Peter Garland and video-art stalwarts Woody and Steina Vasulka. Briece would take excursions outside the city to the nearby Ortiz Mountains, where he found space and solitude to refine his erudite practice influenced by analyses of planetary alignment, esoterica from the Book of Changes, and thirteenth-century polyphony. Heterophonious Fool is a suite of five pieces, its meter and melody determined via I Ching–divined number series. Briece offsets cosmic heaviness with a gentle irreverence, instrumenting the work for the unmistakably nasal preset tones of cheap portable Casios and Rolands. The recording thus bears resemblance to the vital naivete of fellow alchemical purveyors of cheap electronics like Harald "Sack" Ziegler, or early 8-bit video game music, while Briece's formal approach—making use of repetition, phasing, polymodality, and deep stereo experimentation—is indebted to the rigors of twentieth-century minimalism.
Inspired from afar by the liminal exercises of John Cage and Fluxus, the majority of Briece's output took the form of ephemeral events, scores, and videotapes. Two of his "videomusicals" have now been digitized by the American Composers Alliance: Bones, a video-processed percussive piece, and Monkey 80, which interpolates taped scenes from the Year of the Monkey's television news, including the Iranian hostage crisis, Reagan's election, the trial of Jiang Qin, and the Voyager spacecraft's encounter with Saturn. His pursuit of a novel marriage between video and musical composition was hardly abetted by the institutional support structures of the time. Briece struggled to find funding for equipment and editing throughout his career. A 1973 performance at the Rothko Chapel in Houston had to be reworked after he learned of Dominique de Menil's aversion to televisions in the performance space; his most ambitious work, a performance and three-channel video installation titled Seasons in collaboration with Texas composer Jerry Hunt, went half-finished.
Briece died of sepsis brought on by AIDS in 1988 at his sister's home in Aptos, California—a stone's throw from the maverick composer Lou Harrison, whom he hoped to meet but never did. His symptoms developed suddenly, during a research trip to Finland. Cautious of Western medicine, he avoided treatment, discarding his zidovudine capsules until his illness proved too burdensome for travel. He was active until the end, setting hopes on a tour of the US and appearing on an episode of Charles Amirkhanian's radio program, which aired two weeks before his passing. Fortunately the work remains, back in circulation by serendipity, the same celestial force the late composer spent a lifetime trying to hone.
Tyler Maxin is the Communications and Development Associate at Electronic Arts Intermix (EAI).
Originally published in
Featuring interviews with Korakrit Arunanondchai, Antoine Catala and Dan Graham, Atelier Bow-Wow, American Artist, Jeff Bliumis, James N. Kienitz Wilkins, Rion Amilcar Scott, and Carmen Giménez Smith.