"One white lie gave me a ten-year career in modeling."

Discover MFA Programs in Art and Writing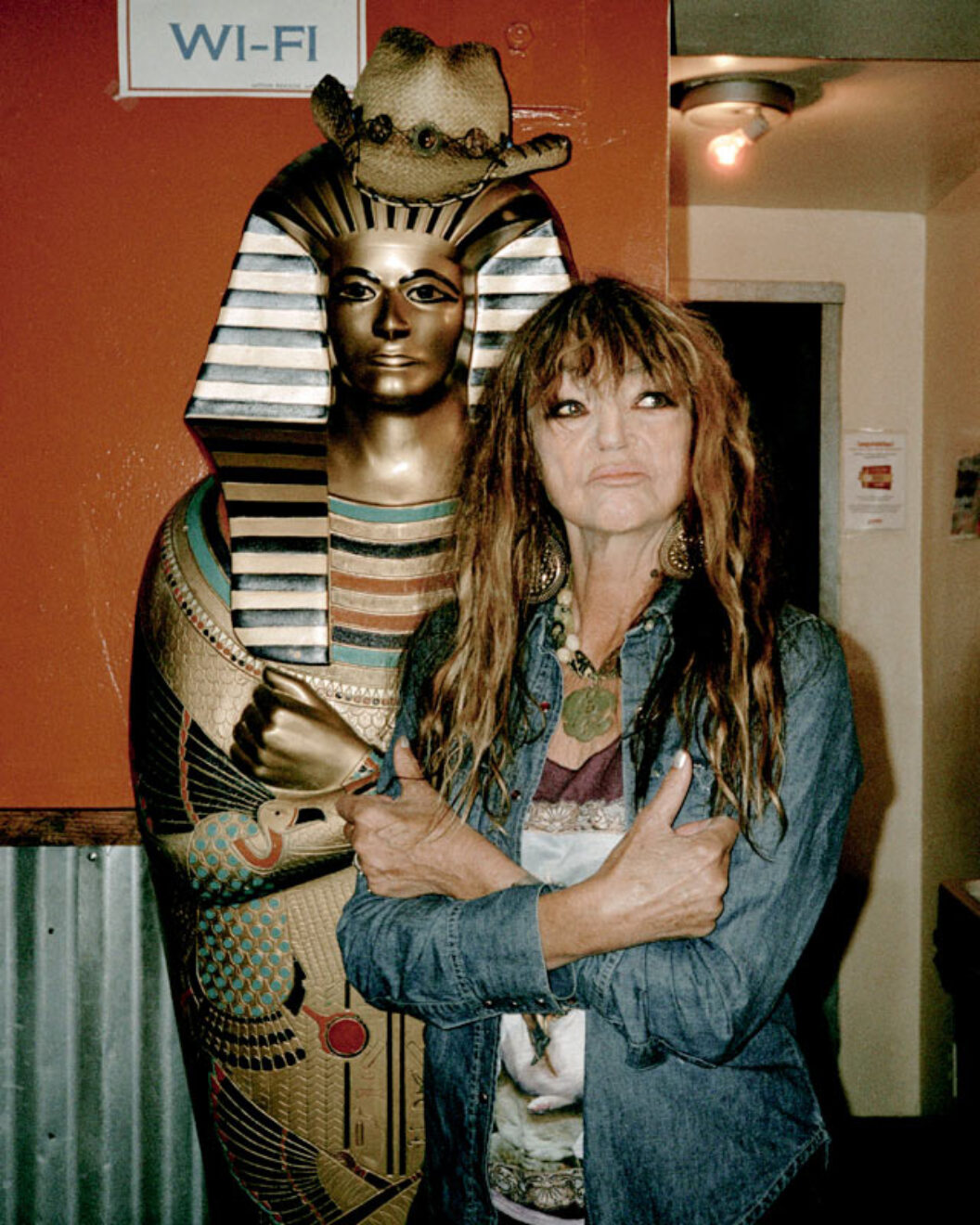 I met Ivy Nicholson by chance in Tompkins Square Park in 2006. Recognizing her from afar, I summoned her my way, "Pose for a picture with my 'zine'?" She stood there holding a copy of my USELESS magazine. Click. Then she was on her way, and I moved to London. It wasn't for another few years before I found a reason to call her. It was the release of Andy Warhol's catalogue raisonné by Calle Angell—a catalogue of Warhol's epic 16mm film portrait series—that opened my world to the Superstars. I was living in London when it was released, but the thought of redoing Warhol's screen tests percolated in my thoughts. With such a detailed resource at my fingertips I was able to research all the names, find out who was still alive, and begin the process of reaching out. When I moved back to New York in 2009 I called Factory photographer Billy Name and asked if we could try redoing a screen test together. Later I videotaped Bibbe Hansen, and then in 2010 I videotaped Jonas Mekas, Ivy Nicholson and her daughter Penelope Palmer (who Warhol filmed when she was only a few months old), Ultra Violet, Mary Woronov, Taylor Mead, and many others. Videotaping Ivy and Penelope led to four years of photographing the two of them—as well as Penelope's twin brother Gunther—in and around their apartment in Staten Island, up until Ivy and Gunther moved temporarily to Kentucky and then onward to LA in 2014.
Ivy Nicholson lived several lives between 1950 and 1968. She was born in 1933 and grew up in Cypress Hills, New York. She left home at 16 and was spotted by a wealthy industrialist in Miami while working at a club. She agreed to go to Europe with him if she was able to bring along one of her friends. Soon thereafter, she walked herself into French Elle magazine in head-to-toe designer duds with a Rolls-Royce waiting for her outside. She tells them she's about to be on the cover of American Vogue. They hire her on the spot and put her on the cover. "One white lie got me a ten-year career in modeling," she giggles over the phone to me.
For all the years I've photographed Ivy, I've known her as both ungovernable and practical. For a thousand photographs I would take of her, maybe she'd approve one—the one where she'd look thirty and the angles were perfect. The only condition she gave me for allowing this brief Q&A was that I include two photographs that I didn't put in my current exhibition. I took them in LA at the end of 2014, when I went to find where she was living in Venice Beach. I photographed her on the sand while the sun set, on the street, and in front of an Andy Warhol portrait. Then I took her out to eat. On getting back to New York, I gave two of the photos a good dose of retouching. Ivy loved them. For a time I considered doing an exhibition of retouched photographs that would match her own idea of her model self, but I wanted to explore something else instead, at least for the time being. To what extent should the subject dictate how they wish to be seen even if what is there is there? A close friend offered up a thought the other day when discussing these photographs: "We all have two faces: the one we carry around in our mind and the one we see in the mirror." Whether you were one of the great beauties of the 20th century or not, this is probably something we all share, especially with age.
Conrad Ventur We have to talk about some things. Do you remember meeting Andy Warhol for the first time?
Ivy Nicholson Jane Holzer walked over to me at a cocktail party that my roommate in the Village had. He had invited me to live with him—of course, he was gay—to get me out of a cheap hotel that wasn't very nice. He sent me to that party and said, "You'll meet interesting people. You might get some work." I had no work. I was running out of money. I cannot remember where it was, but I noticed Andy because there was a man with white hair who I thought was staring at me from behind dark eyeglasses. All of a sudden Jane walked over to me, turned and looked toward him, and said, "That man is a director, a movie director. He'd like you to be in one of his movies this week. But in a few days." I replied, "I'd be delighted," and kept staring.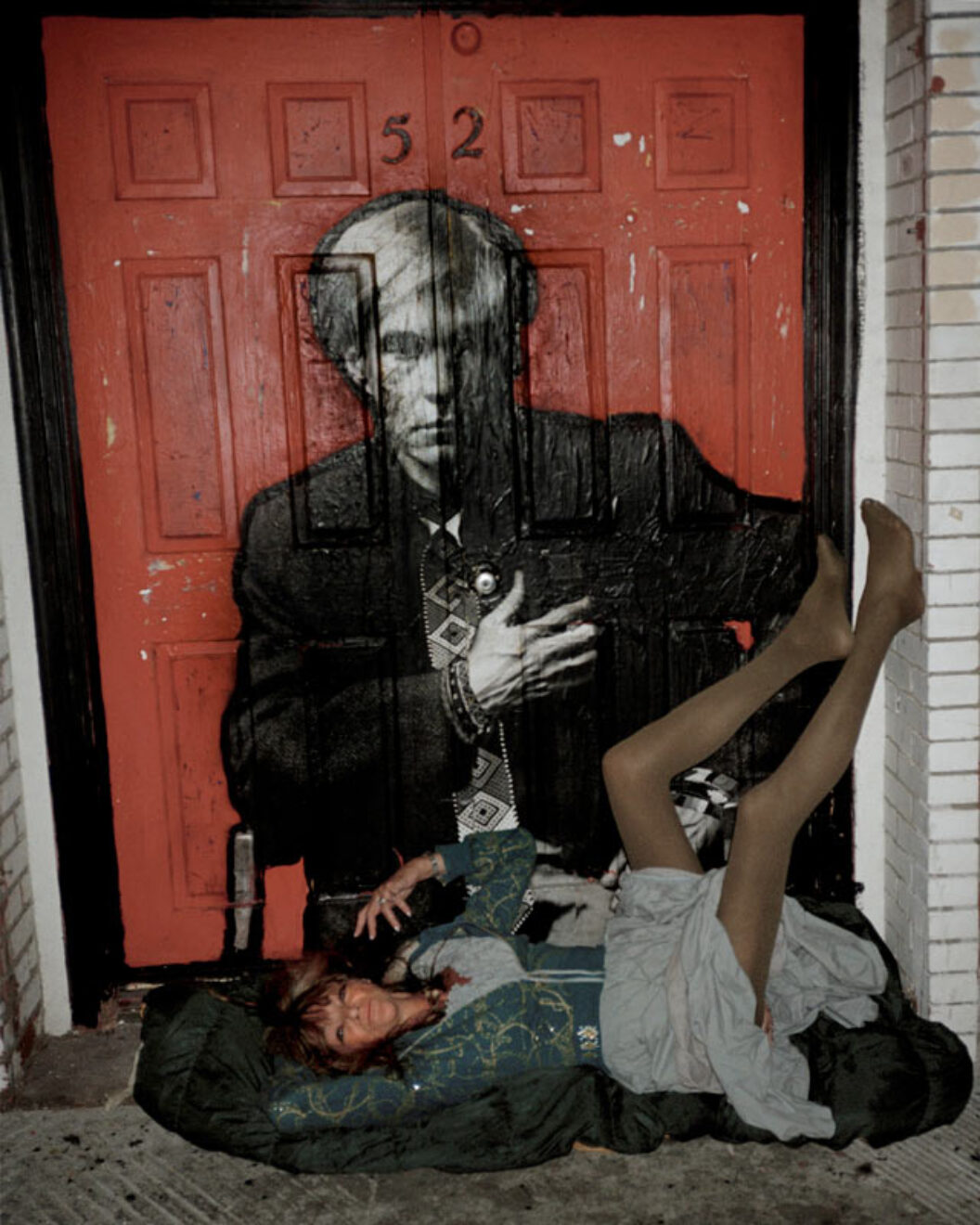 I fell in love with him on the first shoot, and he with me, because the vibes started when we were shooting me in the countryside. Nobody cared where we were going. We were all obsessed with Andy. Really, it's wild. He could do almost anything he wanted. He had power. Or he was a brilliant actor. He was… shrewd, really amazing.

CV Do you remember Jonas Mekas filming you?
IN He was kind of aggravated that I wasn't seated up on the stage as one of the most used—in the good sense of the term—Andy Warhol person. I mean I was in tons of anything and everything. Jonas looked up on the stage, looked at me, and said, "I'd like to film you, just you." He didn't like the idea that I wasn't on the stage. So he filmed me alone. They were all sitting there waiting for him to finish. He was happy to film me. I believe it was one of the showings at the Gershwin Hotel.
CV Oh you mean more recently?
IN You weren't there. I really think it was at the Gershwin Hotel, because I really didn't go out that much.
CV Do you remember Jonas filming you in the '60s for an award ceremony?
IN No.
CV It's a film with you, Jane, Darius, Warhol, Gerard Malanga. Darius is reading a book. Everyone seems to be eating bananas. No?
IN Well, I know I refused to eat a banana, so he gave me an apple, and I ate it. Guess what? Bananas resemble something, don't you think?
CV I know what you're talking about. Alright.
IN Fine, you're a cute guy.
CV [sighs] When did you stop modeling? You did that cover for Bazaar that was Avedon. Wasn't that around the time you met Warhol?
IN No. I was maybe seven or eight months pregnant with Sean in that photo. I think it was Sean. I was in America. I didn't leave until the eighth month of pregnancy to go to Rome, where I had left Darius because he was a difficult child. Darius came out like scissors. And when Sean came out, it was like, "I'll help you mommy." Smiling! Are you like yuck?
CV No I can handle it. It's nature.
IN Why do I fall in love with gay men?
CV I'm really surprised, too. You like heterosexual men.
IN But I fall in love with or am attracted to gay men more often than straight.
CV Are you sure about that?
IN I'm positive. Andy had boyfriends. When he fell in love with me I fell in love with him. And he would push the others away if they even said anything. I mean, at that moment when you're in love, you don't necessarily feel like going with anyone else. Uh-oh. A man is delivering an enormous box. I'd better get out of my nook. Now I'm walking and looking at photos of a tower and boat. Huge photos. This one says, Safe Navigation. Okay, now I'm going into Rite Aid. And now I've bought buttercream ice cream and I'm carrying it. I can't wait to eat it. Butter peecawn. I want more magazines that talk about Jack Nicholson. I want to know more about what he's up to… don't make me too outrageous.
CV Don't worry, I won't.
IN Oh, but how have you been? You're not talking about yourself. Have you made your apartment pretty? Have you collected any really interesting books?
CV Hmm. No. I don't know. I think you enjoy these things a lot more than I do.
IN I found fantastic books. People give things away here. I have a whole row of fabulous books that anyone could get really interested in. There's one about women who fight to have rights and have done interesting things in their lives. Some of them were awarded awards.
CV I've basically been looking for old-fashion magazines that you modeled for.
IN All the high fashion ones. Vogue. Harper's Bazaar. LIFE. I was high fashion, with huge spreads, too. And the magazines I was doing photography for also did stories on me, like Women's Wear Daily and Réalité. English Réalité did stories on me. And I was also their photographer. So, I'm lucky that I'm a bit zany. That makes good press. But it's nonstop.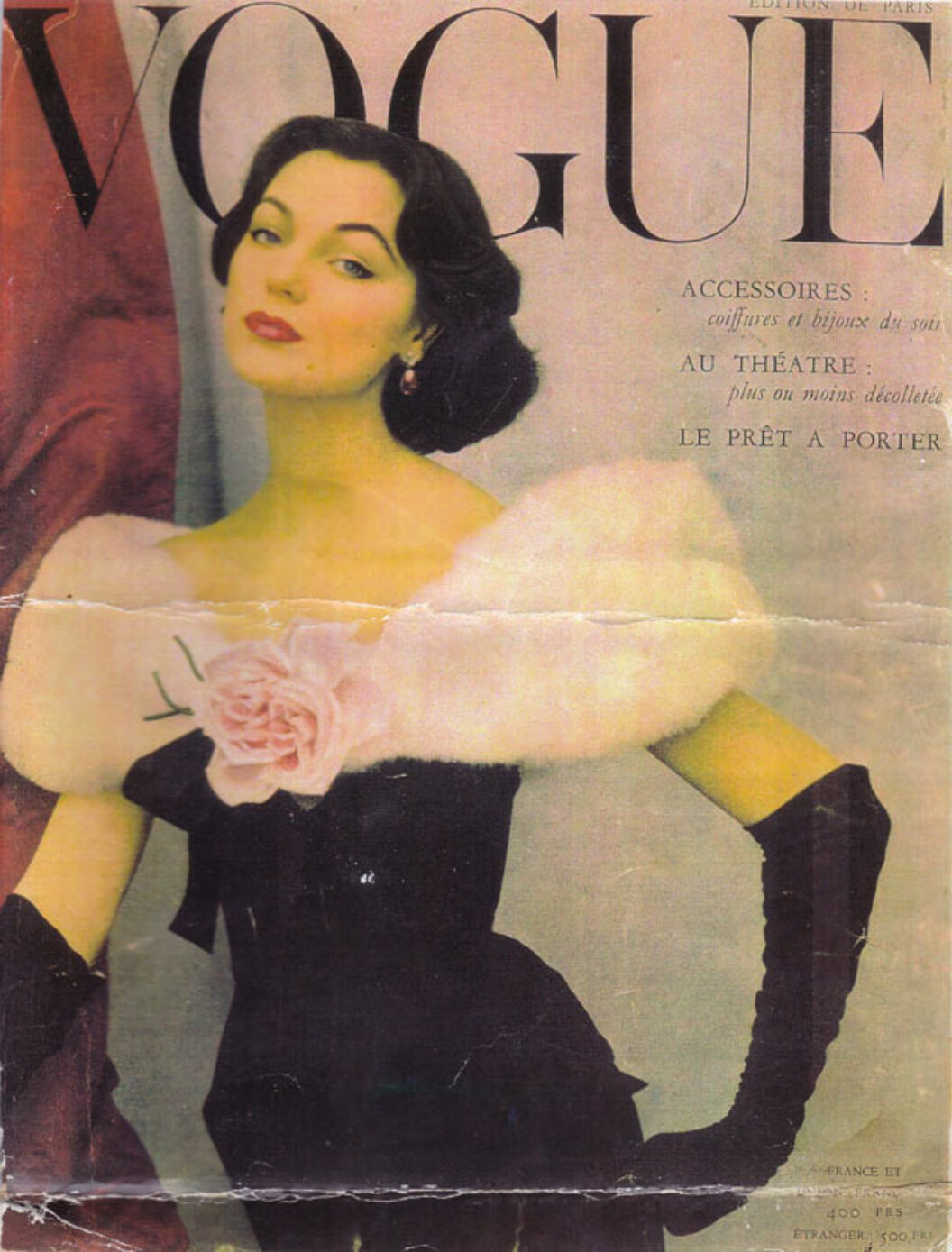 CV So modeling for Avedon in '61, then Sean's birth. Then meeting John [father of Penelope and Gunther] and doing films with Warhol in the mid-60s. What other artists did you work with before that? Chagall? Dalí?
IN Yes, well, LIFE took photos of models wearing prints of the most famous painters of that moment. One girl wore Miró. I was chosen to wear a Chagall dress. And the magazine brought me to Venice to model, and photographed me with Chagall. His wife said, "No, I don't want a model to pose with my husband." And then I started talking about my trip to Iran, and I mentioned the Caspian Sea. At that moment she took me and said, "You will pose with my husband!" And she pushed me over to do so, saying, "You've seen the Caspian Sea! You've seen the Caspian Sea!!!"
CV What was she like?
IN She was Indian-looking, though I'm not positive. She was very exotic, with a very beautiful face. High cheekbones. Very striking.
CV Did you see them again?
IN No, but Chagall said, "I will paint you from memory." And there are some portraits he did that were similar to me. I didn't ask him which ones were of me.
CV What about Dalí? What's the picture where he's posing for a portrait and you're on the floor? There are pictures of you together. What was the occasion?
IN Milton Greene was doing an article on me and all the portraits ever painted of me. And LIFEwanted Dalí to paint me, but he never replied. But when I told him, "Oh, what a shame because Milton Greene is doing an article on all the painters who have ever painted me, what a shame!," he said, "What? Milton Greene's photographing? I'll do it! I'll do it on the spot." And he did. He used reddish-brown charcoal and did a nude drawing of me, which was very ethereal. Very beautiful. In no time at all. Amazing. The man was a super-genius.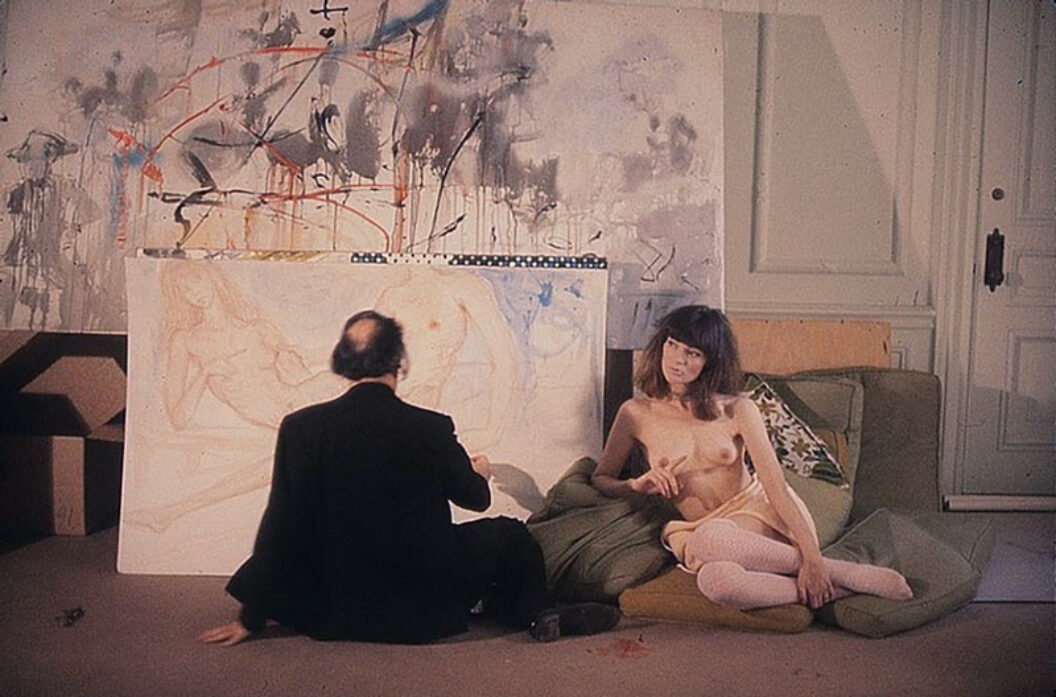 CV Did that make you uncomfortable? Being nude?
IN Not at all. Posing in the nude for a portrait by Dalí? I didn't feel uncomfortable at all. I respected Dalí's work. He was sheer genius.
CV Did you stay in touch?
IN Well, I'd been to dinner with him and his secretary. In touch, no. I guess we lost touch at some point because we weren't in the same country.
CV Did you model for other artists? Other painters?
IN There were certainly great painters. Mati Klarwein did a portrait of me. My best portrait was done by Ernst Fuchs. It's an oil painting. He spent one year doing it. It's a full-length nude, but wearing kind of a see-through gown. It's very ethereal. It was so Botticelli-looking that when I would take it through customs they'd say, "You can't fool us. This is a Botticelli." And I would reply, "I'm not removing my clothing to prove it. It's me, but what if I hold my hair up in the same way in the portrait. Can you see it's me?" And then they would say, "Oh! Oh yes, it isyou." And then I would go through customs with my Fuchs. I believe in reincarnation. I believe I actually was one of Botticelli's models in the 15th century, in Italy.
CV Maybe I can find an image of you that looks like Botticelli and include it in this interview.
IN Too bad you didn't photograph me when I was a blond. Of course, the Primavera looks a bit like me. But there was one photo in a guidebook that is identical. The eyes are going up like cat eyes.
CV Do you remember this trip where you were photographed in Egypt? How long were you there?
IN About a month. But I didn't like the woman in the script, and I refused to sign a contract with Howard Hawks, even though I had passed the test.
CV So, who was it that photographed you? They look like fashion pictures.
IN Ernst Haas photographed me in front of the Pyramid. At one point, he wanted me to run around in the sand.
CV Okay, I'm going to get back to transcribing this. And I can call you back with questions?
IN Yes, dear. Big hug. I'm rubbing your back now.
CV OOOh it feels so good.
Conrad Ventur is an artist working in photography, video, and installation. He received his MFA from Goldsmiths College, University of London, in 2008. Ventur's work has been exhibited at Baxter Street Camera Club, New York (2016); Rokeby, London (2016); The Andy Warhol Museum, Pittsburgh (2009); MoMA PS1, New York (2011); the Center for Curatorial Studies at Bard College, Annandale-on-Hudson (2011); and PARTICIPANT INC, New York (2013), among other venues. He received a Franklin Furnace Fund grant in 2013 and his work is held in the permanent collection of the Whitney Museum of American Art.