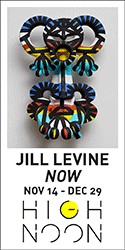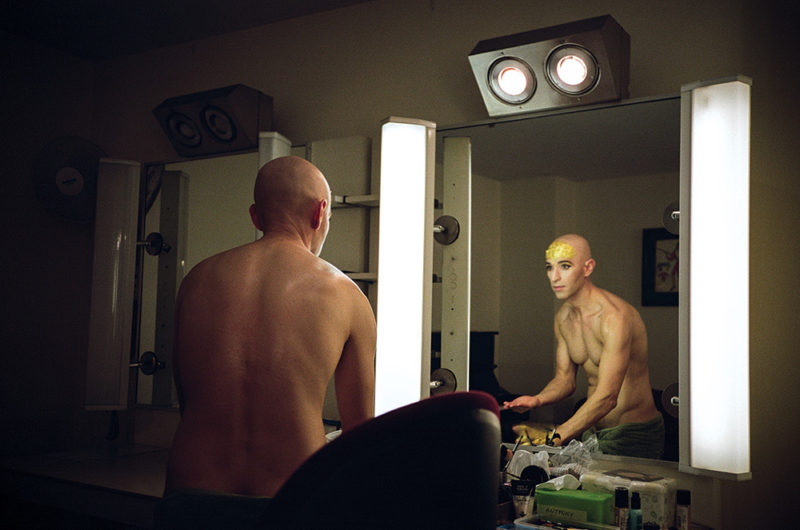 The countertenor Anthony Roth Costanzo began singing on stage at the age of eleven and has since appeared in opera, concert, recital, film, and theater in the US and abroad. This season, Costanzo performs the title role of the Egyptian pharaoh in Philip Glass's opera Akhnaten from 1983. The new production had its North American premiere at the Metropolitan Opera in New York, now playing through December 7.

Costanzo's recent conversation with friend, mentor, and fellow vocalist cabaret diva Mx Justin Vivian Bond, inevitably draws parallels between their respective art forms and underlines opera's potential for renewal and inclusion. The following is an excerpt of their conversation. Stay tuned for the full interview in our winter print issue.
Artist and photographer Matthew Placek, who first introduced Bond and Costanzo, gives us a rarefied behind-the-scenes glimpse into one of the final dress rehearsals of Akhnaten at the Met. Placek followed Costanzo, his friend of nearly two decades, from his dressing room to the stage and back.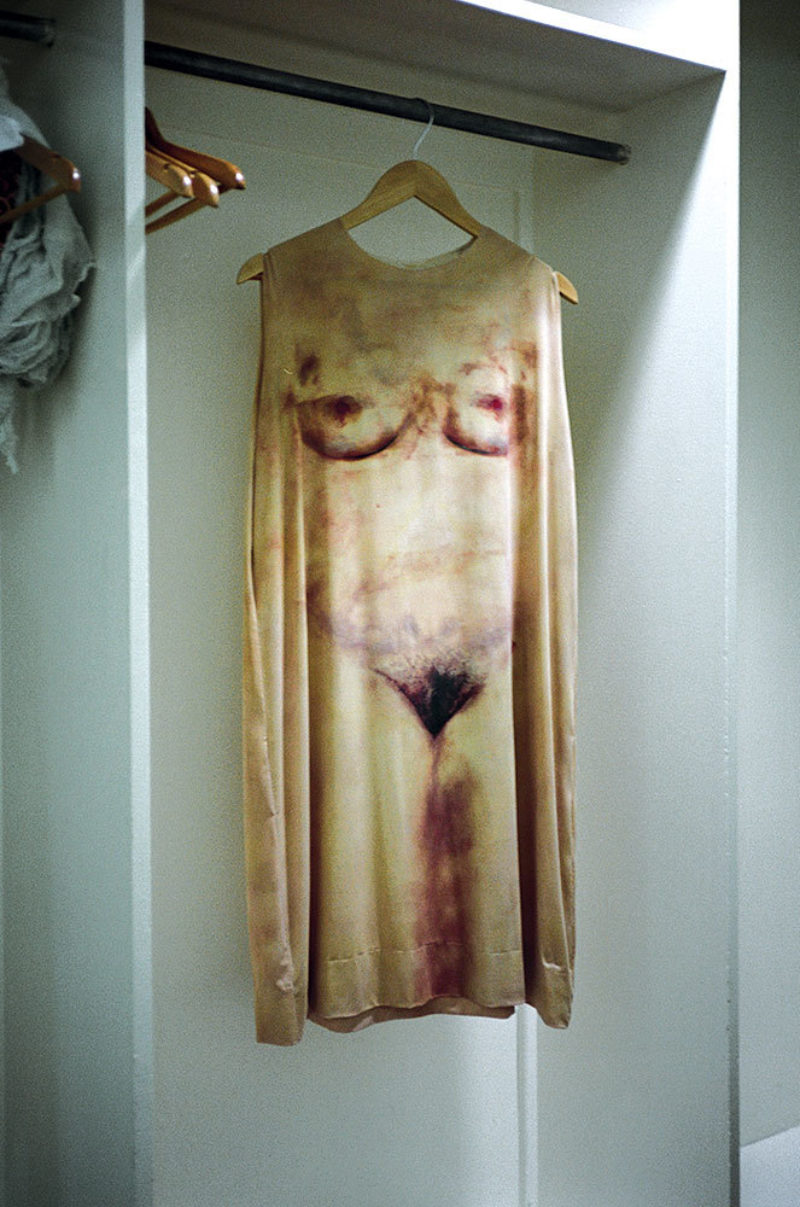 Anthony Roth CostanzoI was excited that you were able to come to London and see me perform in Akhnaten, the production that's about to open at the Metropolitan Opera here in New York.
Justin Vivian BondIt was one of the most memorable, magical, and thrilling nights of my life in a theater anywhere ever!
ARCOh, thank you! That means so much. You didn't fall asleep in Akhnaten. (laughter) Since the production in London, I've been doing more research on the Pharaoh Akhnaten and thinking a lot about him and about playing him on stage. I wanted to ask you a question, since you're the reigning expert: In some scholarly sources, Akhnaten is portrayed as a hermaphrodite—
JVBWhich they're calling intersex now.
ARCRight. I went to Oxford and met with these Egyptologists who showed me old statues and drawings of him, and it looked like he had breasts and hips.
JVBSort of like me.
ARCSort of like you. I asked the scholars if they thought the pharaoh was actually intersex. They said that he had lots of children. So it's hard to know. But then one woman, a wonderful Egyptologist, posited this theory, which really got me thinking. She said that Akhnaten was the first monotheist. He was like, "Let's get rid of these hundreds of gods in Egypt and have just one God—the sun."
And he didn't think of the sun as, you know, a man with a white beard, he thought of it as the unification of man and woman. He also changed art and how people were making art—he had men and women on the same plane, as opposed to the man always being elevated.
He saw a pharaoh's role to be between man and God and, according to this Egyptologist, he tried to come closer to God by being the unification of man and woman.
In ancient Egypt, they invented all kinds of ways of changing the body, including waxing. Body hair was considered disorderly, so they tried to get rid of it. Maybe the pharaoh changed his physical appearance to be more like a woman, so he could be closer to God? From today's viewpoint, would it be reasonable to call that trans?
JVBI'm very interested in the idea of trans theology, and I've been trying to study it. For instance, looking at the Christian tradition of the Father, Son, and Holy Spirit, I don't believe that the spirit or the soul are gendered. We are connected as human beings through our souls and spirits. So I do believe it is trans to tranifest that energy in your physical expressions. It's what I do as a nonbinary person who doesn't subscribe to these antiquated essentialist gender roles and that sort of thing.
ARCIt's really interesting to me that Akhnaten can be a part of what we now call the trans and queer world because, of course, there are many people who feel him. Philip Glass wrote the opera about Akhnaten because the pharaoh was a visionary. He basically changed the course of religion. There are people who believe that Moses, who came about two hundred years later, got his ideas from Akhnaten. Moses and therefore Judaism, Christianity, and Islam are indebted to the pharaoh.
JVBIn which case Akhnaten really fucked things up. (laughter)
ARCWell, he started a trend that got fucked up later.
JVBIt went off the rails.
ARCNow, as religious people are railing against trans people, wouldn't it be interesting to turn around and say, "Hey, all the ideals upon which your religion is based began with a trans person." (laughter)
JVB"You've been duped by a bunch of power-hungry idiots, who realized the only way they could have real power on this earth was by subdividing and categorizing people so that they would fight against each other in order to get more of what they want."
ARCBut Akhnaten is a fascinating figure. How does someone who took the throne at a young age change the fabric of an entire society? As I get deeper into this role, I realize that sometimes art is about asking questions, not answering them. I keep returning to the same fundamental question: Was he—or they—good or bad? Were they a cult leader forcing an entire nation to follow their idea of God, or a progressive, a revolutionary fighting for what they thought would make society better?
JVBThey were trying to unite. But unification doesn't work when it's about power. Once people are unified then there's no benefit for power-seeking individuals to be derived from everybody's unification. That's why that couldn't work.
ARCWell, after reigning for seventeen years in Egypt, Akhnaten disappeared. We believe they were killed, and everything they had changed was reversed. Theirs was an untenable way of operating. It's interesting to think about that in relation to our current existence and to present that artistically on the stage. Like many people, I look at the world around us in dismay. It seems we're regressing and in fact reversing the progress we've made, not just in America, but around the globe. What I love about opera is that it deals with these big themes, both personal and universal, that we don't often have a way to talk about directly in our everyday lives. Through the lens of beauty, we can consider and engage with them in a meaningful manner. The way we do it in Akhnaten has a certain amount of abstraction yet winds up feeling quite visceral and emotional. Even without understanding the ancient Egyptian language in which we sing or the minimalism of Philip Glass, it's a very theatrical experience. And the costumes are beautiful and evocative.JVBYou are also performing in the nude.
ARCYes, I make my very first entrance in Akhnaten completely naked. I'm rather nervous to appear nude at my home theater, the one I've performed at for the past ten years. It's like the reverse of when they tell you to picture the audience naked when you get nervous. It's like your worst nightmare.
JVB(laughter) That's true. Is it your first title role at the Met?
ARCIt is! I've never had a title role in a new production there, and that's kind of the holy grail.
JVBHow are the rehearsals going?
ARCI rehearse all day. I get up in the morning and do vocal exercises to get my engine started. Then I have to practice the Philip Glass material, which has all these repetitions, and it's very hard to remember what repetitions occur when.
JVBI can imagine.
ARCIt's like running a marathon. You have to get your stamina up because you're going "ah-ah-ah-ah-ah-ah" for like twelve minutes nonstop. So, I work on my stamina in the morning, then I do a full day of rehearsal with the orchestra and everyone involved. There must be around 150 people in the show, if you count the orchestra. Rehearsing all day is physically taxing because I'm moving very slow and in a kind of lugubrious way. It takes a lot of muscle control. But then, after rehearsals, I have to spend my evenings at the gym because if I'm going to be naked in front of four thousand people a night, I want to look my best. (laughter)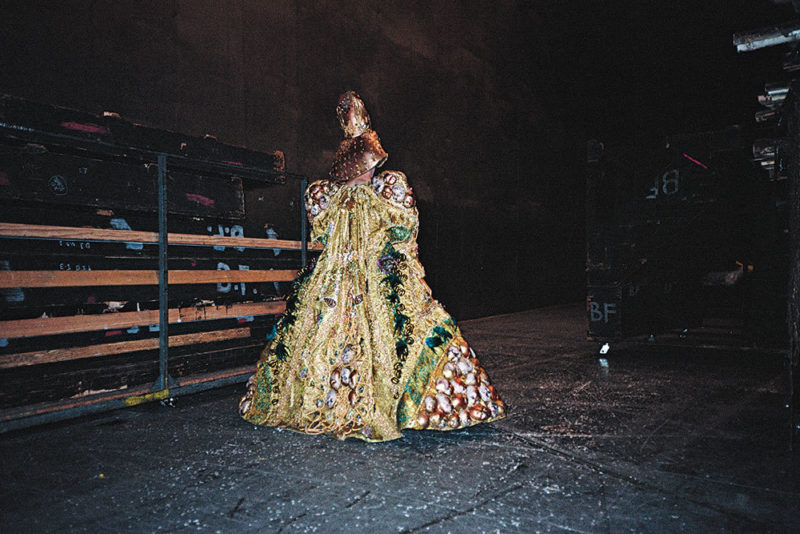 Justin Vivian Bond is a trans-genre artist and vocalist living in New York City. Besides frequent cabaret performances at Joe's Pub, Mx Bond has appeared in film and television, on and off-Broadway, and most recently in the opera Orlando. Mx Bond is the author of Tango: My Childhood, Backwards and in High Heels (The Feminist Press, 2011).