Have sculpture, will travel. Isak Berbic shares his motivations and aims for nomadic sculpture.

Discover MFA Programs in Art and Writing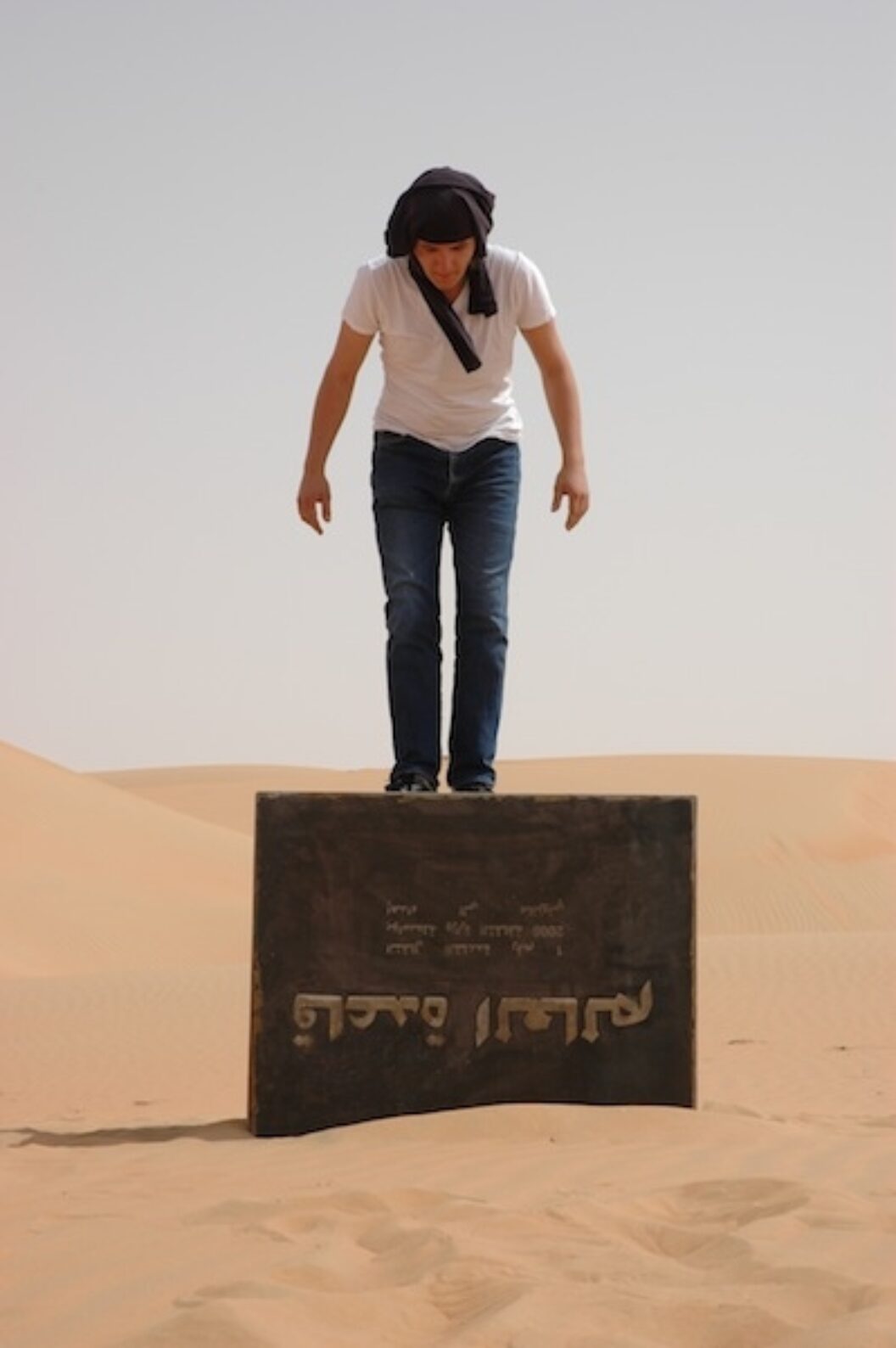 I met Isak Berbic in Berlin, Germany at Transart Institute's Summer Residency, 2010. We had many conversations late into the night after the U-Bahn service ended, leaving us stranded having drinks. Our conversations ranged from the development of a diasporic consciousness, to discussing our roles in the contemporary art market. Though Isak is based in Dubai and I live in Brooklyn, we have exchanged emails regarding his new performance The Nomadic Plinth. In this performance, Isak displays artworks by contemporary artists on a moving pedestal to businessmen at a two-day entrepreneurship conference. Isak's wheeling pedestal roams the conference spaces and shows artwork by pioneering and emerging contemporary artists working in the United Arab Emirates. The Nomadic Plinth is a negotiation between the art object and the viewer, bringing the art to the audience, literally. It reconsiders the "native" site for an art experience by providing a unique spatial platform for exhibition within a transient environment. The pedestal is accompanied by presenters who inform the audience about the displayed works and their respective artists, providing information such as biography, artistic practice, auction value, and previous sales.
Samuel Jablon I read your essay, and it left me thinking about how an artwork or reproduction is displayed. Could you tell me how this is significant in your work? Does it have anything to do with how you are frequently moving between Dubai, Chicago, Bosnia, Nepal, Budapest, and Berlin? It makes sense to me that the reproduction takes on the form of the object; it's easier to move with.
Isak Berbic In the first line of the poem "Thoughts on the Duration of Exile", Brecht writes: "Don't knock any nails in the wall, just throw your coat on the chair." I like this poem because it talks about negotiating with the psychology of permanence. I think art objects "on display" are really in exile from their art historical, ideal, and coherent whole. That is why artists, galleries, and museums struggle to hide all the hardware in an effort to give the work this imaginary space. Much of my work does in fact have some kind of solid material presence, especially in the moments of being experienced by viewers. But its materiality is very light, and unanchored. It doesn't have the ephemerality of an event, but it does not cast itself in permanence. It is framed and operates within its particular time and place, and after there are residues and documents. After exhibiting, the work essentially becomes images in print, PDFs, and folders on hard drives. They are removed from their actual materiality and take on another form for presentation purposes, in which they are abstracted and prepared to be signs of themselves. It is how art travels today; we take cards, catalogs, and exchange files. This is a shift in attention from physical locality, to interpersonal communication. In the recent project The Nomadic Plinth, a businessman at the forum was interested in purchasing one of the works, although, he said, he would not be able to fit it into his carry-on suitcase. I thought this was so delightful.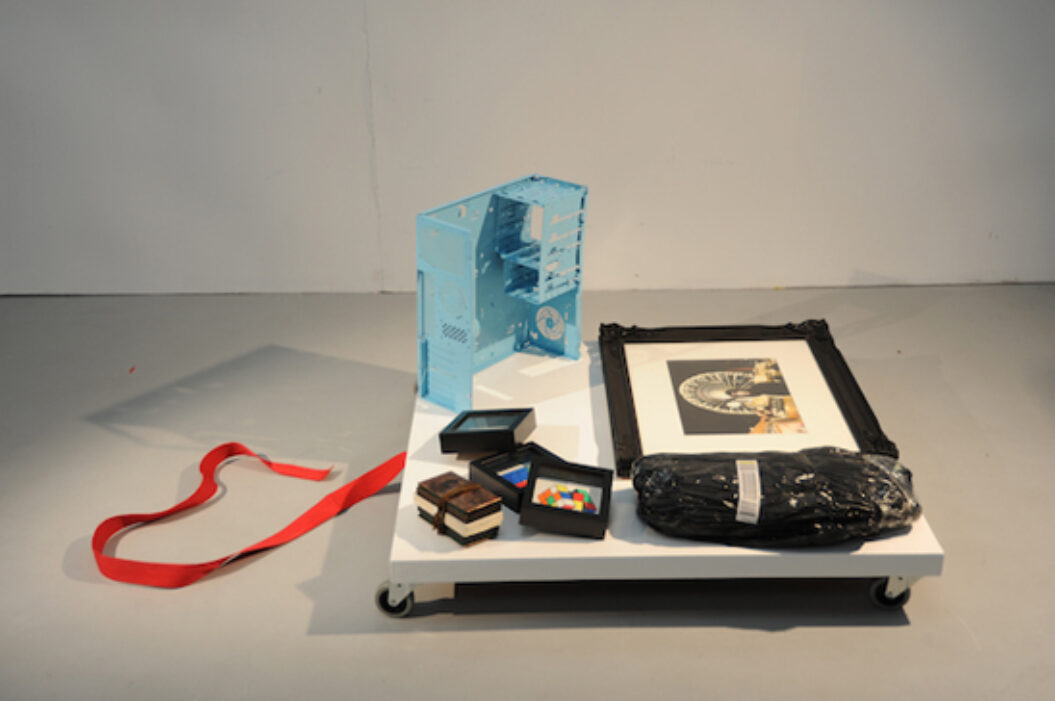 SJ I've only known you a short time, and I have noticed a repetition of pedestals in your work. Whether you are standing on them, they are left in the desert, or you sell art off them. Could you talk about the use of the pedestal in your work?
IB Well yes, I use the pedestals exactly for what they are intended for: to display objects on them and to make social connections with them. In Nice Sculpture the pedestal was made of mud and roof tiles. It was a performance festival in Indonesia organized by the Jatiwangi Art Factory. My work took on a two-week process. I purchased tiles, and worked with laborers in the neighborhood roof tile factory, to build a cube in the factory courtyard, where people play volleyball. The night prior to the opening I went into the town market and bought a lot of meat. In the morning, I began to prepare the meat, and fresh vegetables. Being a foreign person in this small town of people, neighbors began gathering to see what was happening. There were about seven to eight people kneading the beef with spices. I asked the women who operate the kilns to help me build a fire on the sculpture. We fanned the fire and started grilling the meat to feed visitors at the festival. The Nice Sculpture remains next to the volleyball court as a public grill. Hopefully if it got old for them, they took it apart; or if it grew on them, they improved it.
In The Nomadic Plinth, the pedestal is actually an art work by an Australian artist Colin Reaney. In his recent works, he uses industrial materials and makes these pedestal-like trolleys, a kind of of "do-it-yourself" minimalism. I produced the work according to his instructions, and used it to stack other work on top of. It is interesting because it gave me a result of not having any gallery furniture. I cast two hostesses that moved the plinth around the exhibition grounds presenting it to visitors. So in a way the hostesses took on the role of gallery furniture as well as wall text.
SJ How were the artists chosen for The Nomadic Plinth? Was it based on their current market value?
IB The artists were selected according to medium and depending on availability. What is important here is that the artists already have a value beyond the material. Their artworks bring a preexisting cultural significance and market value. Some works are from private collections, while others were on loan directly from the artists. The youngest emerging artist Shaikha Al Mazrou, born in 1988, is an Emirati national who was brought up in its cultural capital, Sharjah. She received a BFA at the University of Sharjah in 2010. Her work has not been collected or widely exhibited, which made her very interesting to me. Whereas Youssef Nabil, born in Cairo, already has a well-established career in museums, art galleries, auctions, and art fairs, like Tarek Al-Ghoussein whose work is in collections such as Guggenheim, New York; Victoria and Albert Museum; and the Sharjah Art Foundation. Vincent Leow has been living and working as an expatriate in the UAE for the past three years. He is a pivotal figure in the art scene in Singapore, and was representing Singapore in the Venice Bienalle in 2007. Their distinct qualities complement each other in a balanced way.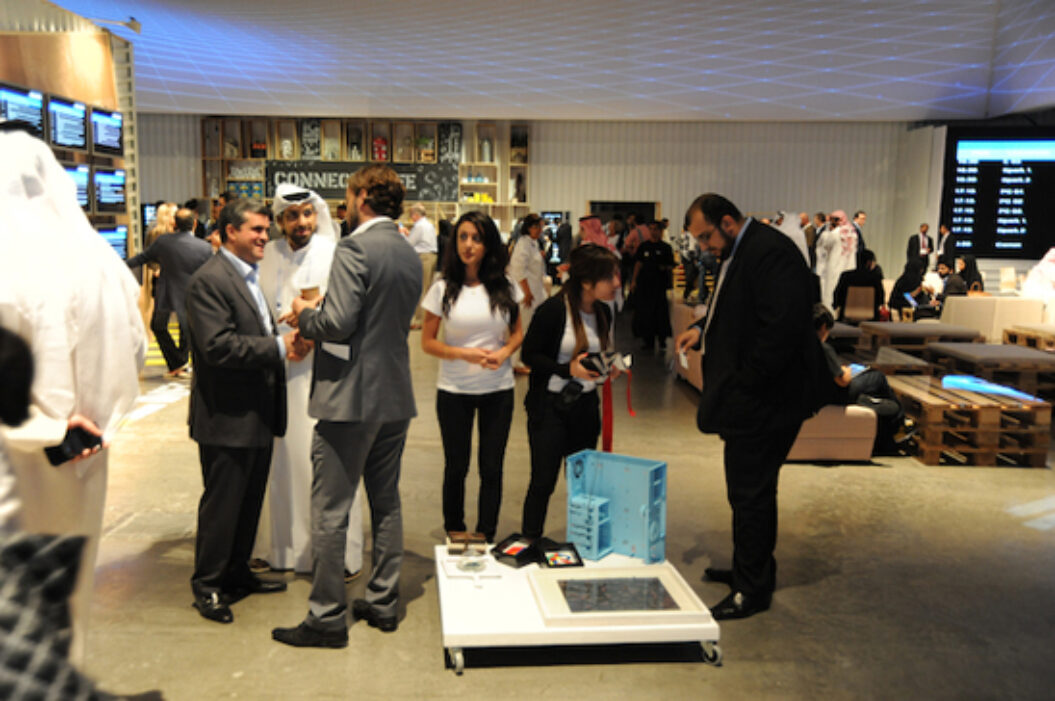 SJ This piece seems to bring the art object directly to the buyer, while your earlier work seems to be about the reproduction of the art object as object…
IB This is a very site- and time-specific piece. It took place within a two-day entrepreneurship conference organized by a large corporation in Dubai. There were keynote speakers, business forums, and incubation sessions. There was complementary delicious food: drinks, cappuccinos, lattes, and muffins. The speakers, presenters, and visitors were major and minor business figures in the Middle East. In between sessions, many of them took breaks, had coffee, looked at other features on the entertainment program. Those were the times when the audience took interest and interacted with the work. They wanted to speak with the hostesses, and were curious about what they were showing. Sometimes they knelt over to get a closer look. They exchanged business cards.
SJ What was your intention? Were you showing the audience how they could profit from investing in art? Would you say the success of an artist is dependent on the investor?
IB The hostesses spoke with the businessmen and revealed very interesting methods. According to research in art markets, the index on contemporary Middle Eastern art gains is 10-15 percent in growth and when buying a young, emerging artist, the margin of profit may reach astronomical returns. It is a very lucrative investment opportunity, and far better than the more static investment instruments such as mutual funds or real estate. A wise collector should build a diverse portfolio of old masters, modern and contemporary art, and impressionism. The established art investor should buy an emerging artist's entire studio of works. The investor should produce a value of an artist's work by taking one to an auction and ensuring it is generously bid on and purchased. Finally, the collector will release one work after another in auctions selling them for the newly established high value, thus taking in incredible profits.
SJ I like how you hired professional hostesses, could you tell me how this is important to the integrity of the piece?
IB It was important to have the hostesses communicate directly with the audience because of their ability to perform in this kind of environment. They are trained to reproduce content and communicate with diverse passers by, which was necessary for the situation. They were also very good at improvising and communicating with people in general. They are smiling, young, and beautiful. The audience was mostly middle-aged or older men. Prior to working with me, one hostess worked at an office technology trade show and the other at a Ferrari World Abu Dhabi VIP event.
SJ What is your experience of being an emerging artist in the UAE?
IB I like this idea of an emerging artist. It is like a purgatory. I am not sure how much the UAE has an affect on my emergence. Currently, I work here as an educator. This allows me a great freedom to work on any kind of project I desire, rather than being dependent on grants or galleries. I feel some of these programs, that have been put in place by non-profit or philanthropic organizations to fund artists, have a restricting effect on them—often this is not imposed, but self-imposed, since artists feel a debt to the funders to make something respectable. It is really special to watch young artists in the UAE, and nurture contemporary art in this society, and enter the discourse. I find this is really important.
Samuel Jablon is a painter and writer based in Brooklyn, New York. His work explores travel, interaction, daily experience, and an individual madness/obsession with absurdity, contemplation, and humanity. He currently is exhibiting a series of works on paper at Naropa University, in Boulder, CO.