A Dream Deferred: Isaac Julien's Looking for Langston Reviewed by Ehm West
A portrait of Langston Hughes and Black queer Harlem.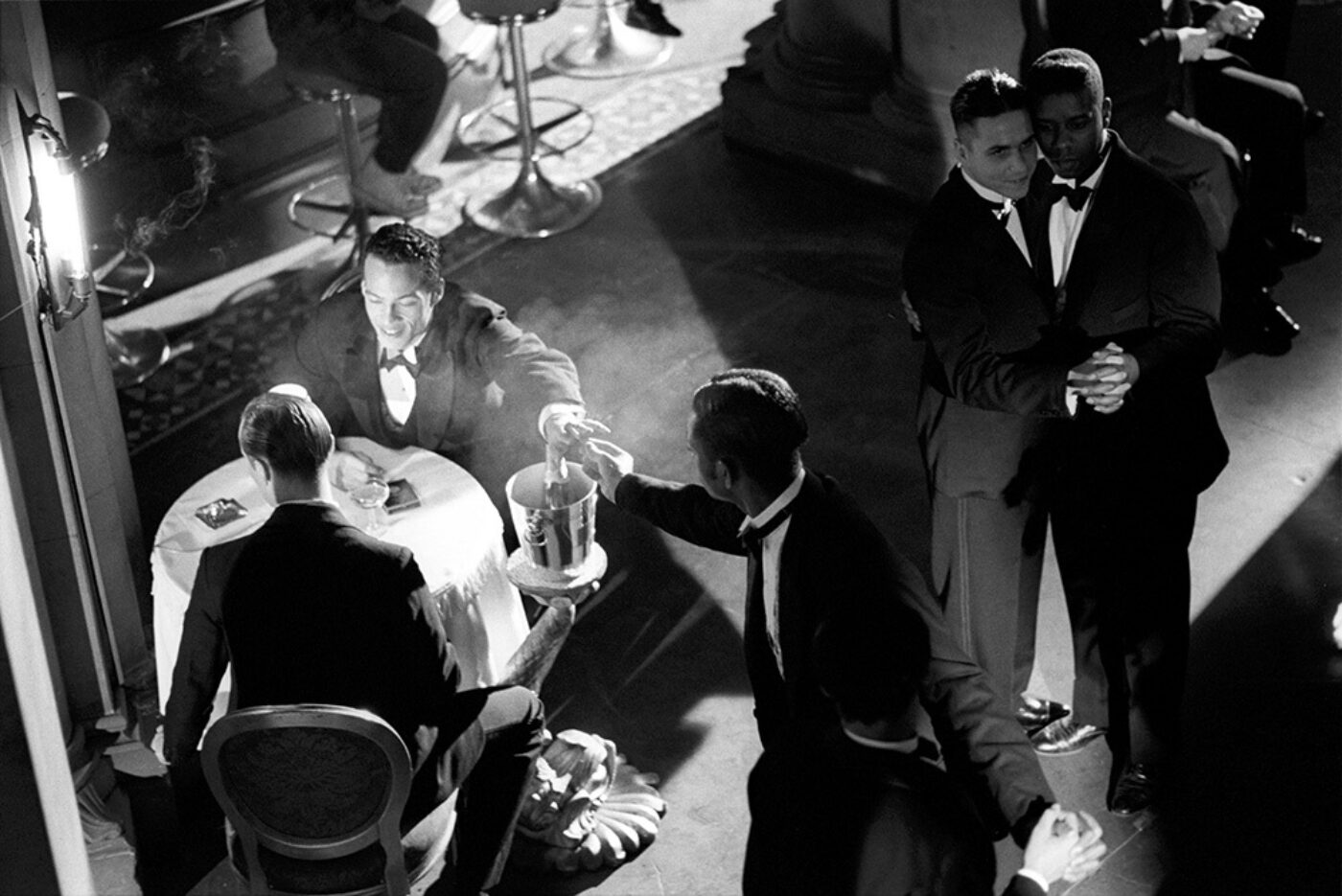 Sometime after 1920, clubs lining the streets between New York's Lenox and Seventh Avenues would become a second home to Harlem Renaissance artists and writers whose desires differed from the norms of a growing Black middle class. These spaces would become a romantic fixture in the writings of Langston Hughes and his contemporaries Alain Locke and Countee Cullen—a refuge especially for those like Hughes who aimed to keep their desires private. But this did not extend beyond the closed doors of the nightclub for Hughes who, unlike his counterparts, kept his sexual wants private. Only years later was his desire scripted in letters between Locke and Cullen, in which both lay bare their disappointment and confusion in Hughes's inability to return their gaze.
Isaac Julien's Looking for Langston (1989) maps a silver string of desire back through the twentieth century, returning this gaze and parsing it among the many Black queer figures of American literary history. Alongside the likenesses of James Baldwin, Essex Hemphill, and Bruce Nugent, the ghost of Hughes weaves seamlessly through Julien's forty-minute dream sequence, inviting new and old legacies over the range of sixty-some years to reflect on their shared longing for a space of one's own. At the film's open, Julien lies in an open casket and Toni Morrison reads a eulogy for Baldwin, the same eulogy read for his funeral a year prior to the film's making. She quotes Baldwin, reading, "A person does not lightly elect to oppose his society. One would much rather be at home among one's compatriots than be marked and detested by them. And there is a level on which the mockery of the people, even their hatred, is moving, because it is so blind." Moving below the balcony on which the service takes place, the camera focuses on a formal ballroom where smoke winds between pairs of men frozen in pose and Hughes's voice carries out lines from his poem "Tell Me": "Why should it be my loneliness / Why should it be my song / Why should it be my dream / deferred / overlong?"
The lack of candid language for queer desire in the early twentieth century, beyond poetry and prose, illuminates why Black queer narratives have often unfolded spatially and in many parts. The looming threat of the AIDS crisis echoes throughout Looking for Langston, where black-and-white frames throughout recall the memory of friends lost and an attention to pause in the glares from one figure to another elicits not only his ruminating desire but a caution and care for the other. Found footage of the exterior of the Cotton Club and Edith's Clam House uptown cuts between photos from Robert Mapplethorpe's Black Males, later influencing a scene of two men undressing one another in a windowless bedroom and gesturing toward the haunting lines of Hemphill's "American Wedding": "No soldiers of doom / will swoop in / and sweep us apart. / They're too busy / looting the land / to watch us." Hemphill reads several poems throughout the film, many of which would later be published in the 1991 anthology Brother to Brother: New Writings by Black Gay Men. The gravity and eloquence of his words are echoed in lines from Nugent's poem "Smoke, Lillies and Jade," read by Erick Ray Evans during a scene that follows Langston's ghost through a nameless field and delivers him to a nude man who mouths, "I'll wait."

The positing of circumscribed notions of Blackness throughout film history limited the scope of Black experiences seen on screen up until the 1980s, when the advent of more accessible technologies created opportunity for artists like Julien to write these narratives not yet pictured. Preceding artists such as Marlon Riggs and Cheryl Dunye (the work of whom encountered challenges with funding when its Black queer content was realized by the National Endowment for the Arts), Looking for Langston was not unmarked by criticism and backlash. Following a supposed copyright dispute between Julien and the Estate of Langston Hughes, a found footage scene of Hughes's poetry reading in a nightclub was demanded silenced during the film's premiere at the 1989 New York Film Festival.

Displeased with this portrayal of Hughes, the estate invoked a number of responses from critics who were equally enraged by the film's suggestive nature. In a New York Times review, Caryn James indirectly elucidates the necessity of fiction and make-believe to recontextualize queer histories. In response to Julien's demanded censorship, James writes: "That issue should not obscure the fact that Mr. Julien's film would have been much more honest and effective if it had simply left Hughes out from the start. Looking for Langston is not about the poet's life or work; it is Mr. Julien's fantasy of beautiful, gay black men during the Harlem Renaissance." Not only do James's words flatten the work into something of a fairy tale; they also deny the potential of created "fantasies" to garner a pragmatics of trust in unlearning one's history for another. At the film's end, a police brigade readies for an attack on the ballroom, only to discover that the dancing men pictured in scenes moments before have suddenly vanished. An angel watches from the balcony overhead, laughing as if to say that the dancing has not ended, but rather continued somewhere, elsewhere, off-screen.
Isaac Julien will present his film at Metrograph on November 17 in collaboration with Performa Arts.

Ehm West is an artist and writer based in New York. They are the co-curator of Ellipsis, a roaming screening series that premiered in May 2019 at Spectacle Theater, Center for Performance Research, and Light Industry in Brooklyn, New York.