Investigating Violence: Jonathan Herrera Soto Interviewed by Erica N. Cardwell
Presenting the missing in prints and installations.

Discover MFA Programs in Art and Writing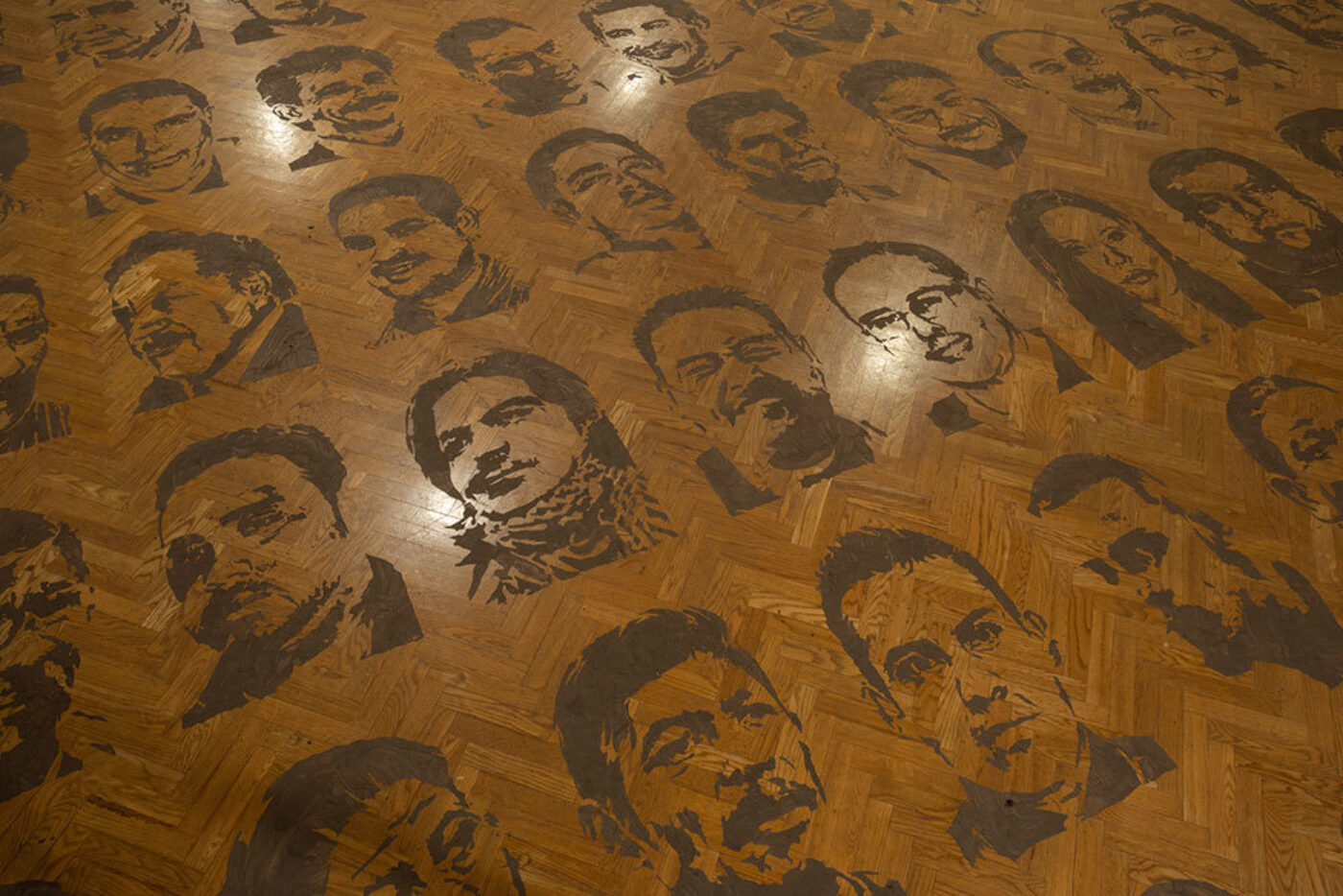 Jonathan Herrera Soto's current exhibition In Between / Underneath (Entremedio / Por Debajo) at the Minneapolis Institute of Art asserts impressive nuance within the prevalence of grief and love in our contemporary cultural disposition. His work interrogates "truthiness" as both a mechanism of fake news and illusion of journalistic freedom. As a fellow in the Minnesota Artists Exhibition Program, Herrera Soto spent the year deeply immersed in the stories and images of missing and murdered journalists from Mexico and the United States. In Between / Underneath (Entremedio / Por Debajo) contains more than two hundred prints, made of mostly mud and clay, that speculate on this violence in every step of their process. We spoke in his studio as he and his assistant Martin Gonzales were finalizing a seating area made of salvaged wood for visitors to the exhibition.
—Erica Cardwell
Erica Cardwell Can you tell me a little bit about the exhibition?
Jonathan Herrera Soto The whole show is in three pieces. Part of it was my senior-year thesis for my BFA. As a printmaker you try to push print as a medium and do formal 2D work in frames, but also try to push the vocabulary of print by putting mud on the floor. The original installation consisted of prints on the floor, made with mud, of missing and murdered political prisoners throughout different historical contexts. I drew from a lot of archives online, and in most cases I didn't know the names. It was more of a broad stroke in talking about that type of violence. The current iteration is more specific. These stencils are of missing and murdered Mexican journalists. The decay, and the rendering, and the dissolving of them made more sense. A lot of my work deals with truth, truthiness, and the lore of violence within communities. Every portrait is cut by hand with a box cutter, and audience members are able to walk on the prints.
EC What was the idea behind having audience members walk across the portraits?
JHS I have always felt very conflicted about my complacency in violence, simply by existing. We buy, we consume, we absorb. I'm trying to articulate this in my art-making. Whether we mean to or not, whether in malice or by accident, these people will dissolve due to our presence. I think that's how I feel every day, that by simply existing, we are inflicting violence halfway across the world in ways and at a scale that we can't even imagine. I wanted to hone in and figure out aesthetic devices that do similar things. By occupying space we inflict violence whether we mean to or not.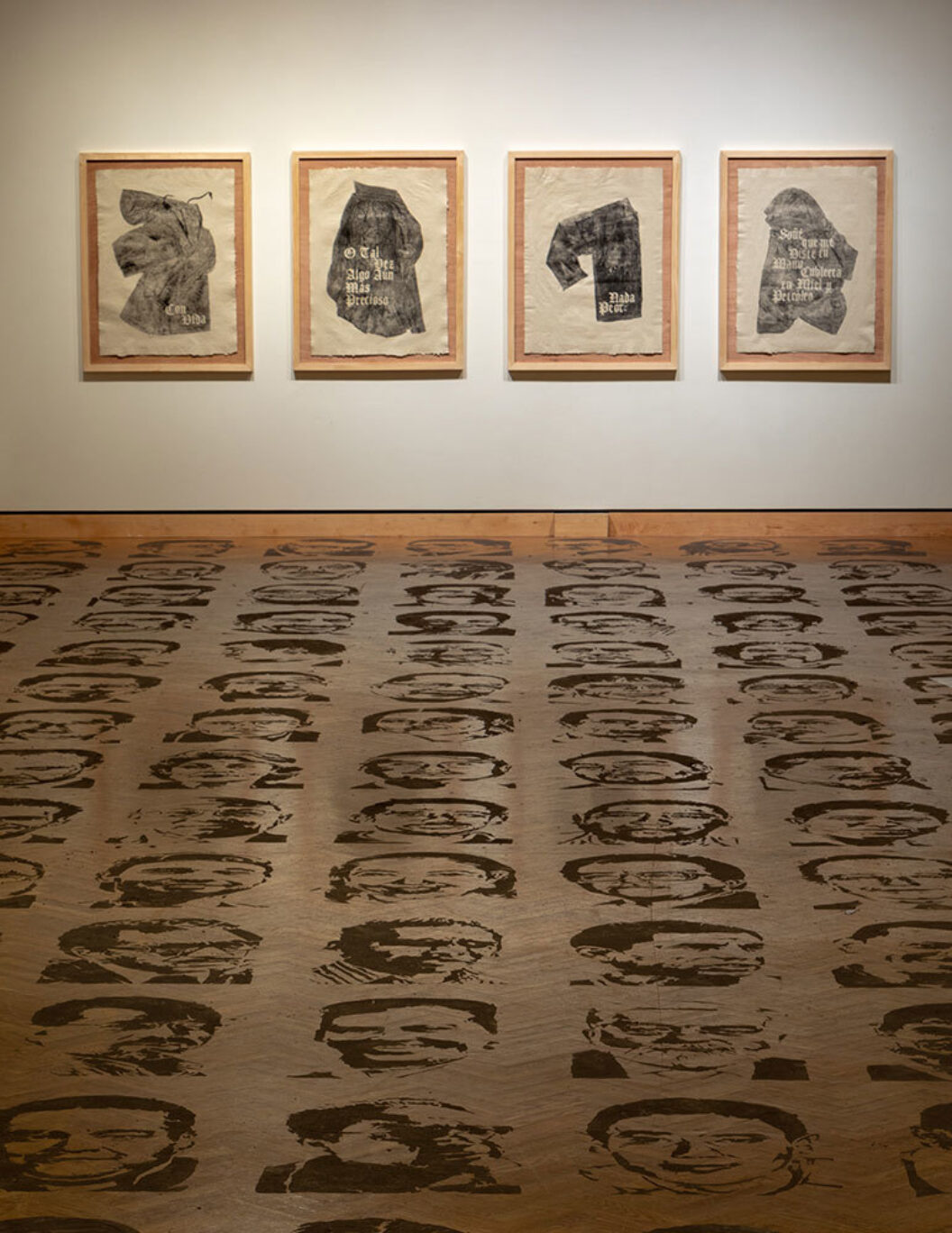 EC In your print work do you often work with a box cutter?
JHS I am really interested in print because of that inherent violence in the process. The studio space, I think, is very sacred. Whatever happens in the studio carries through the art object's presentation. These things are sliced. These things are burned. And the prints are smashed under hundreds of pounds of pressure in order to be rendered visible. The final product has all of these really violent qualities to it, even though what ends up being presented is very somber, very aesthetically pleasing. Also as a printmaker, I make lithographs, but none are in the show. It's the etching and the acid—the violence inherent in the print process is what draws me most to it.
EC Is the lighting purposeful? It's subtle, a bit softer.
JHS I wanted to convey the simplicity of what an interrogation would look like. It's a work light with a warm bulb, not too heavy-handed. The coil is intentional, as it has a kind of utility to it. The presentation is minimal: it's just the viewer, the light, and the subject matter. I wanted to convey interrogation in something that is subtle, isn't quite "the work," but is the way you experience it. I'm trying to think through what it means to interrogate and what is truth. The bright lightbulb and the clamp lightbulb have always been images that have been stuck in my head.
EC Tell me about the installation.
JHS The prints are all numbered—Journalist #199 or Journalist #171, etc. In the beginning of the process, I would write their names on the matrix and the date. The Minnesota Artists Exhibition Program gives its fellows a year to work, and I realized that if I created a data sheet, then I could just number them and have them categorized. I would put up a big sheet of Mylar and make a chart, trace the journalist, number them, archive them, and then spend a month cutting them. Then we lay them out. The mud mixture I use is clay, water, charcoal, and a bunch of other soot. There is also a ceremonial quality to unfired clay and its relationship to the body, religiously and historically. Kind of like the lighting, it's meant to be both subtle and didactic. The phrase "unfired clay" has the potential for violence. "To be fired." To be burned alive.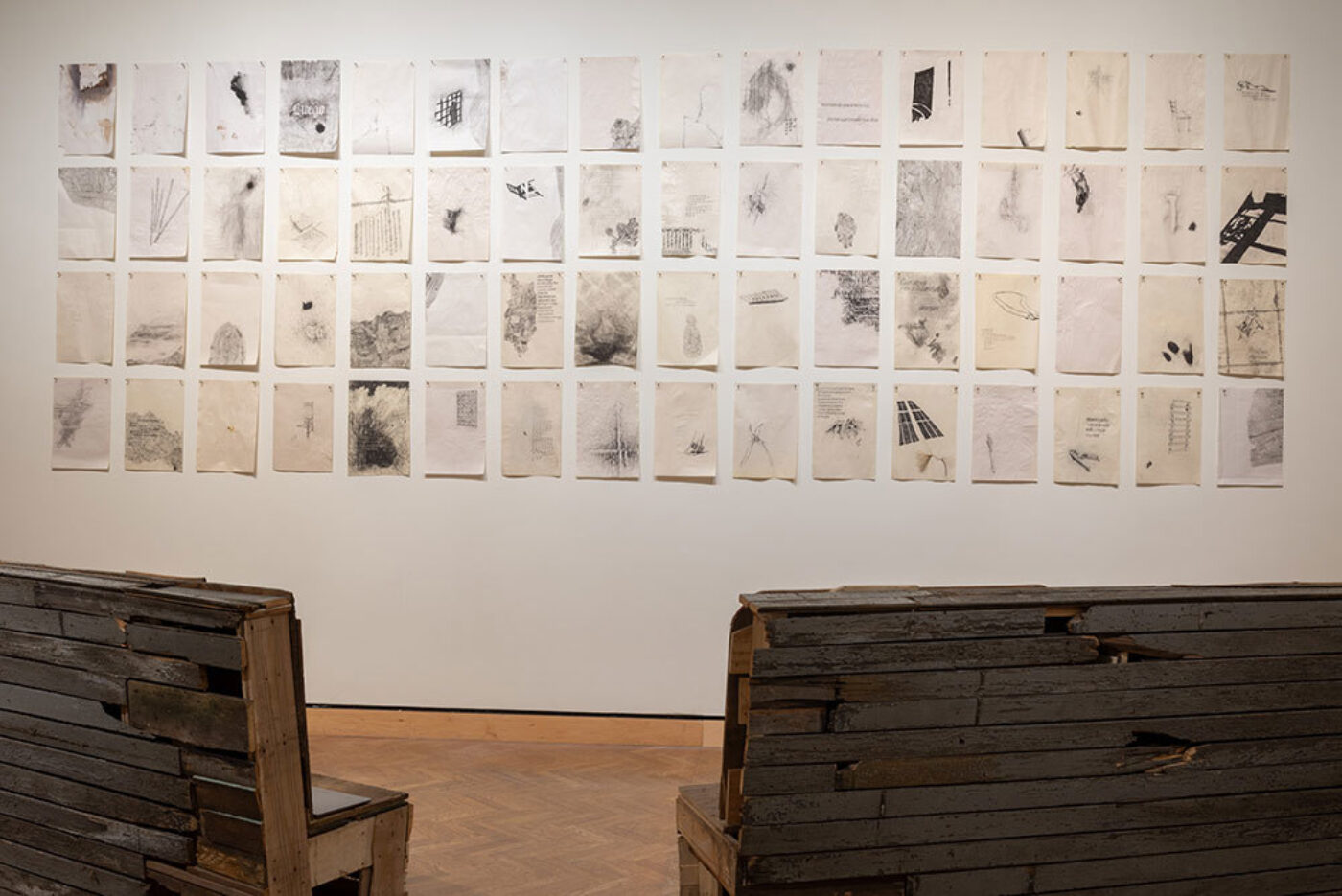 EC How much time did you spend researching?
JHS Some would take a few minutes or some would take a half hour to an hour to research. There's not a lot of info, depending on how far back you go. You can't find any images of these journalists dating back to the 2000s, '90s, and '80s. It then becomes hard to render them visible. There are only their names and maybe the blog or the news station they worked for. Projecting them and tracing them takes time. The cutting part is the most extensive; it takes about an hour. It's kind of like clockwork, like washing dishes. I have listened to a lot of podcasts.
The journalists that I have archived and named going back to the 1800s are over four hundred. Some have been assassinated or made to disappear in the state of Mexico. Some were visiting journalists, and some are journalists from the US who also experienced this violence. There are two hundred in this room, but over four hundred with names and dates. It's very difficult to find names and images. I hope to apply for a Fulbright in the future to go to Mexico and spend some time researching the images that I can't find. On the last day of the exhibition, I will be doing a performance during which I will mop up the prints. When I read poetry, I wear a costume. It's olive-green fatigues, and I'll be barefoot while mopping everything up.
The collagraphs will be in the far end. They are real articles of clothing, like my backpack, that are inked-up and pulled through the Telio press. I flatten them and cut out any bulk cloth. I know what gesture I want them in. It is hard, as they are really uneven and unstable. They are kind of monoprints, and I won't be able to reprint them in the exact same way.
Also, I haven't had a chance to tell you about the love letters. These are people with names and dates.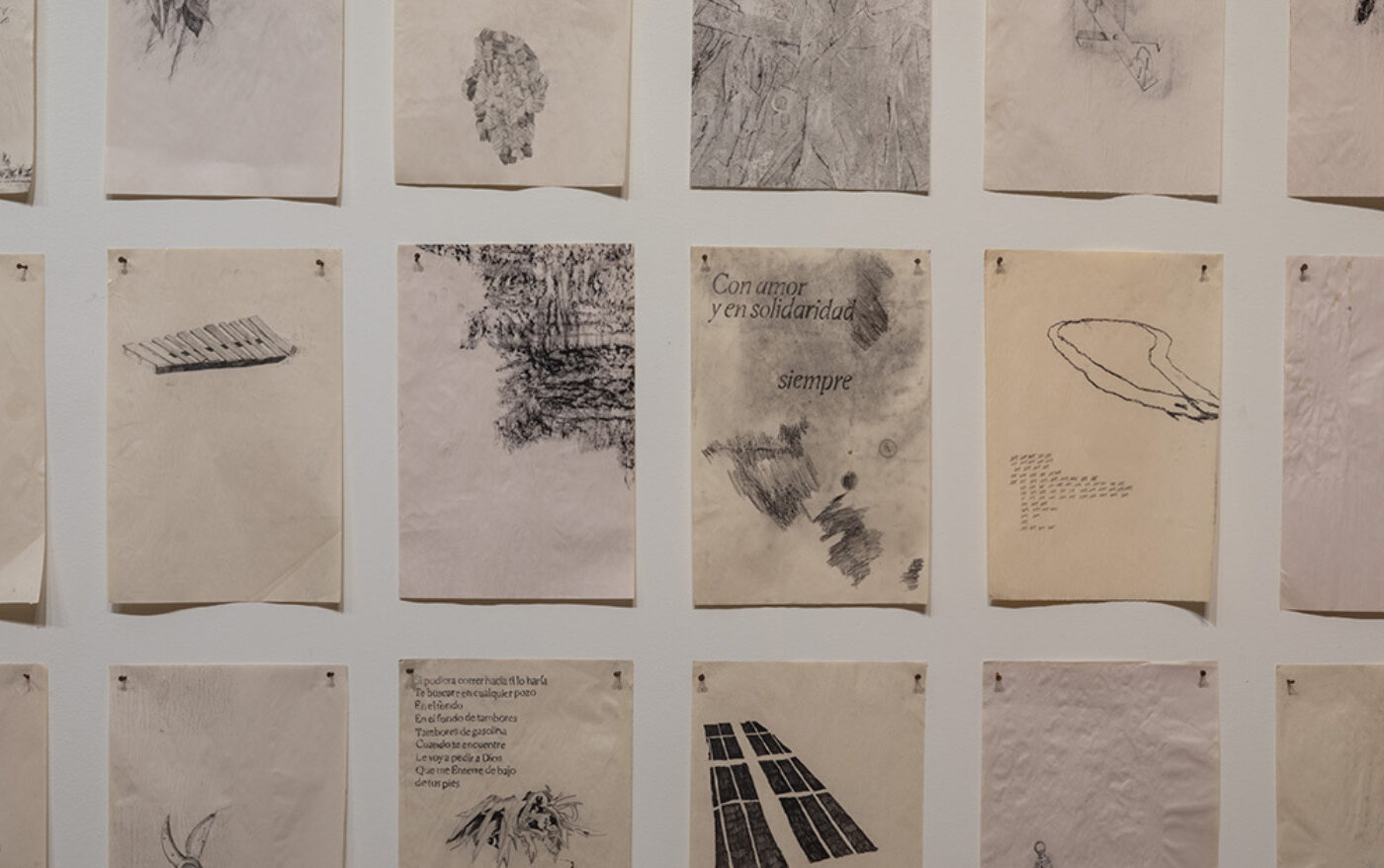 EC Tell me about the love letters.
JHS My initial interest in this type of subject matter involved instances of trauma in my family, which derived from my uncle who was a police officer in the city of Iguala where the forty-three students disappeared in 2014. They arrested all of the police officers in the area that were on duty because of the international outcry for answers and explanations. The Mexican government's response was that the police did it, and it was going to put all of them in jail. It was a very shallow response. It's not only the big picture that the students disappeared, but the government made these officers disappear. There are still twenty-two officers with no chance of parole held in maximum-security prisons, and no one knows about them.
Maybe they are safe and being taken care of or maybe they are being interrogated and someone is chopping off their fingers. There is a fluctuation between the extremes of hopefulness and the very worst that can happen. I would write poetry and then sketch from that. The result was black-and-white charcoal on newsprint. These installations are meant to echo each other. They occupy the same space. In this way, I kind of snuck in my own pain and love. Sometimes I write love letters to my mom and never send them, and sometimes they make their way in here.
Jonathan Herrera Soto: In Between / Underneath (Entremedio / Por Debajo) is on view at the Minneapolis Institute of Art until November 3.
Erica N. Cardwell is a writer and educator based in Brooklyn. Her work has appeared or is forthcoming in Hyperallergic, The Believer, Frieze, Brooklyn Rail, and elsewhere. She teaches writing and social justice at The New School.