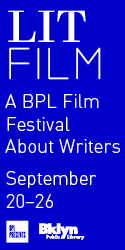 The House of fiction has many windows, Henry James noted. Here are five such windows, newly installed, never having been looked into or out of; that is, none of these young writers have been before published.
Reflecting different locales and vistas, different styles and visions, there is no aesthetic principle unifying these writers. Their variety moves me, as does their sometimes maverick freshness. They did, at one time or another, study writing with me, but their creative disposition had already been shaped before I met them.
The views from their windows include a school yard in Spanish Harlem where lovers reunite; a home turned into a brothel for three; a Manhattan bar viewed by a newly arrived spy "who had never sat inside of a bar;" the alleyways of Albuquerque, New Mexico, where one man dies and a woman photographs the event; a French village, where love and art bloom among the eggplants.
All five pieces are excerpts from novels, two to be published, the others in varying states of completion. It was difficult to find chapters or sections that stood whole and story-like complete. What I hoped to present was each book's flavor, if not the sense of its unity. A fragment of a window with its partial but enticing view.
—Frederic Tuten, Guest Fiction Editor
Originally published in
Featuring interviews with Robert Altman, Ida Applebroog, Chuck D, Alvaro Siza, Joseph Chaikin, Peter Campus, Robert Pinksky, and Maryse Conde.