Alex Zafiris meets with Ian Szydlowski of Chilean art collective Instituto Divoriciado to discuss their new multimedia work, Love and Other Hallucinations.

Discover MFA Programs in Art and Writing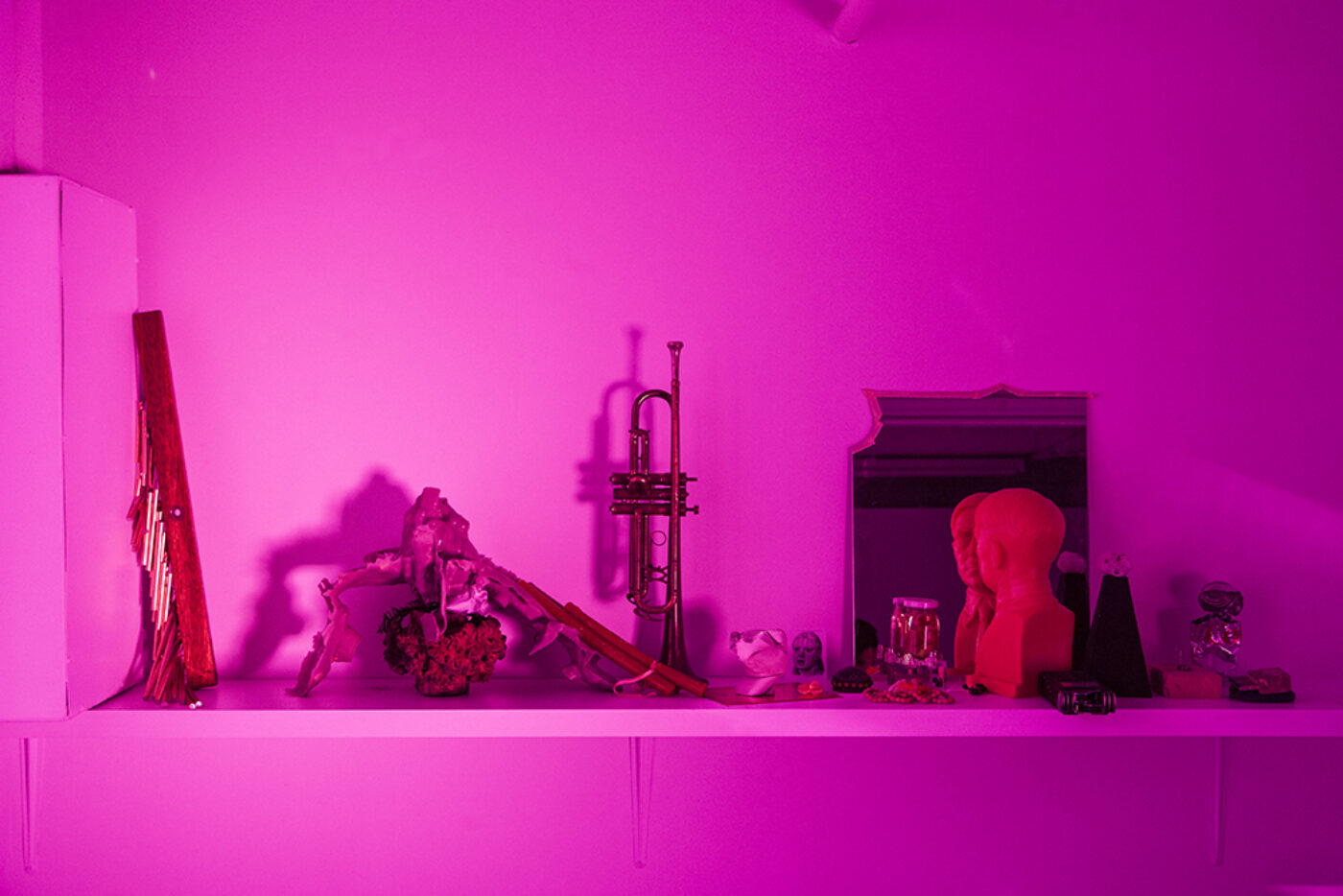 Instituto Divorciado creates work based on exchange and transformation, with ideas that observe group thinking rather than the individual. Love & Other Hallucinations, a piece that examines art and life as one and the same, began as a single word, "mother," and was leveraged into the atmosphere via performance (both in New York and in Mexico), live and pre-recorded radio, vintage and new film footage, food, stories of the supernatural, silk screens, plastic sculptures, indigenous holy rituals, peyote, an unpublished novel, and dreams. The work unfolded, and continues, through a series of exhibits and events. Sound, colors and taste act as directives, and experience is the story. Feeling replaces narrative, and this expands through the artists, the audience, friends, families, and now, you the reader. In their hands, art is community.
The three members of the collective are Diego Fernandez, Iván Navarro and Ian Szydlowski. Fernandez and Navarro were born and raised in Santiago, Chile, while Szydlowski was born in New York to Chilean parents, moving back to his hometown capital in 1989. They became friends while attending the city's Pontificia Universidad Católica art school in the 1990s, when the country was still blinking in the light after years of suppression, fear and violence under Pinochet's dictatorship. By 2000, all three had moved to New York to pursue lives as artists, encountering varying and fluctuating levels of success. In response to these tides, they founded the collective to produce work unconnected to the art system.
Early last year, Karin Schneider of Cage invited them to produce a project. The second-level Chinatown space is a hub for discussion and alternative art practice, rejecting art market codes as we know them, thereby producing work and events free from the stressful restrictions that accompany such an unpredictable and emotional career. Beginning in November last year, and still continuing, Love & Other Hallucinations has held sessions both at Cage and in their Williamsburg studio; in Mexico with the Huichol (an indigenous Mexican tribe who still live by a mystical logic that pervades their every thought and action, deeply in tune with the earth and the elements, unchanged for centuries); and discussion with artists, critics, curators who have entered their sphere through curiosity, friendship and instinct. The work developed with the intent to examine how meaning and connection arise collectively, how it grows into public consciousness, and evolves into the cultures and systems of modern life.
Alex Zafiris For me, the most important part of this piece is your belief in primal thinking.
Ian Szydlowski Yes. It wasn't absolutely clear when we set out. Then we realized that this primacy was around storytelling. It became a part of our belief in redemptive values of art practice, and also a central rite to the role of the artist in human societies throughout the centuries.
AZ What was your original intent?
IS We were working in collaboration with Cage, looking for ways to explore new formats. The idea of the mother was central, as was building a discussion-based working language that might help bridge a long-term social and cultural engagement with the Wirrarika (Huichol) tribe in Mexico. Cage's focus is on future formats, with a clear guiding principle to eradicate, or at the very least, to skirt existing dominant ideologies and power in art presentation. We wanted to learn about alternative models, and bring these ideas into our community.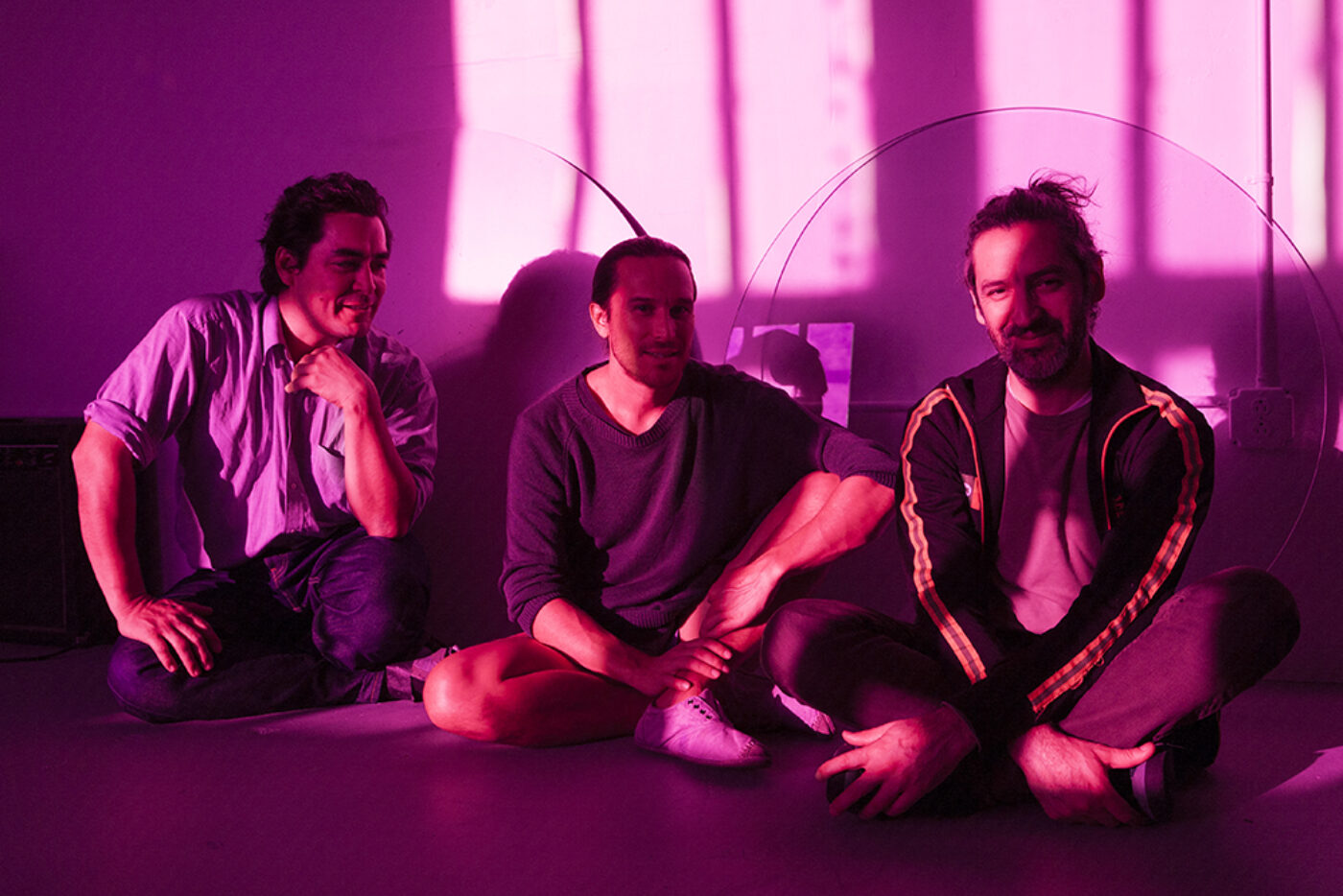 AZ It was Karin Schneider, the operator of Cage, who gave you this initial idea of the 'mother.'
IS Yes. It made a lot of sense to us. We had already been collaborating with my mother on a novel she wrote called K-pash kau (Basta por Hoy), or Enough for Now. It tells the day in the life of an indigenous woman on a small island in the Patagonia. In her work The Symbolic Order of the Mother, the Italian writer and philosopher Luisa Muraro writes about how the mother transmits to us many foundational principles in human civilization, such as speaking. Language has a symbolic function that allows us to interpret what is real. The rules of the" mother tongue" are born of the necessity for mediation—they are what the mother imposes, so that we can communicate and share with her our experience of the world. Ideas and references like this resulted from working with Cage, and became more and more important as the work developed, and continues to shape itself. I want to add that this epitome of the mother in the work became about feeding the good wolf. In other words: not the Western Judeo-Christian, Greco-Roman figure of complex shame and guilt, but as a source of awe and inspiration.
AZ Tell me about the role of the Huichol in the piece. You were already thinking about them, before connecting with Cage. Why and in what capacity?
IS They call themselves Wirrarika. It's a Spanish-language distortion that comes from the 'we' sound of Huitchol. It was a bizarre encounter, unexpected, serendipitous, a purely chance meeting in Mexico City with a Mexican psychologist named Gabriela de Tukiendorf, whom I knew from Berlin. She was there working and learning with the Wirrarikas. She invited me to spend several days with a shaman and his wife in ceremony in their sacred lands to the desert, what they called a Wirikuta. I felt called to this journey and accepted without hesitation. It was a good decision. We took a bus from D.F. [Mexico City] to the desert and the shaman met us there in his beat-up pick-up truck. That night, under stars, we started a four-day ceremony, out of which both me and Gabriela were made tribe members. I was re-christened Ulu, and she, Zukulima, both sacred names for the Wirrarika. We all became friends, which is very rare: I would learn later that the Wirras are traditionally a very closed society. The experience was truly unique. This particular shaman had the power to name outsiders—not all of them have that. Together we hunted, and ate hikuli, or peyote. I realized later on that our meeting was the right intersection for a collaboration between Instituto and Cage.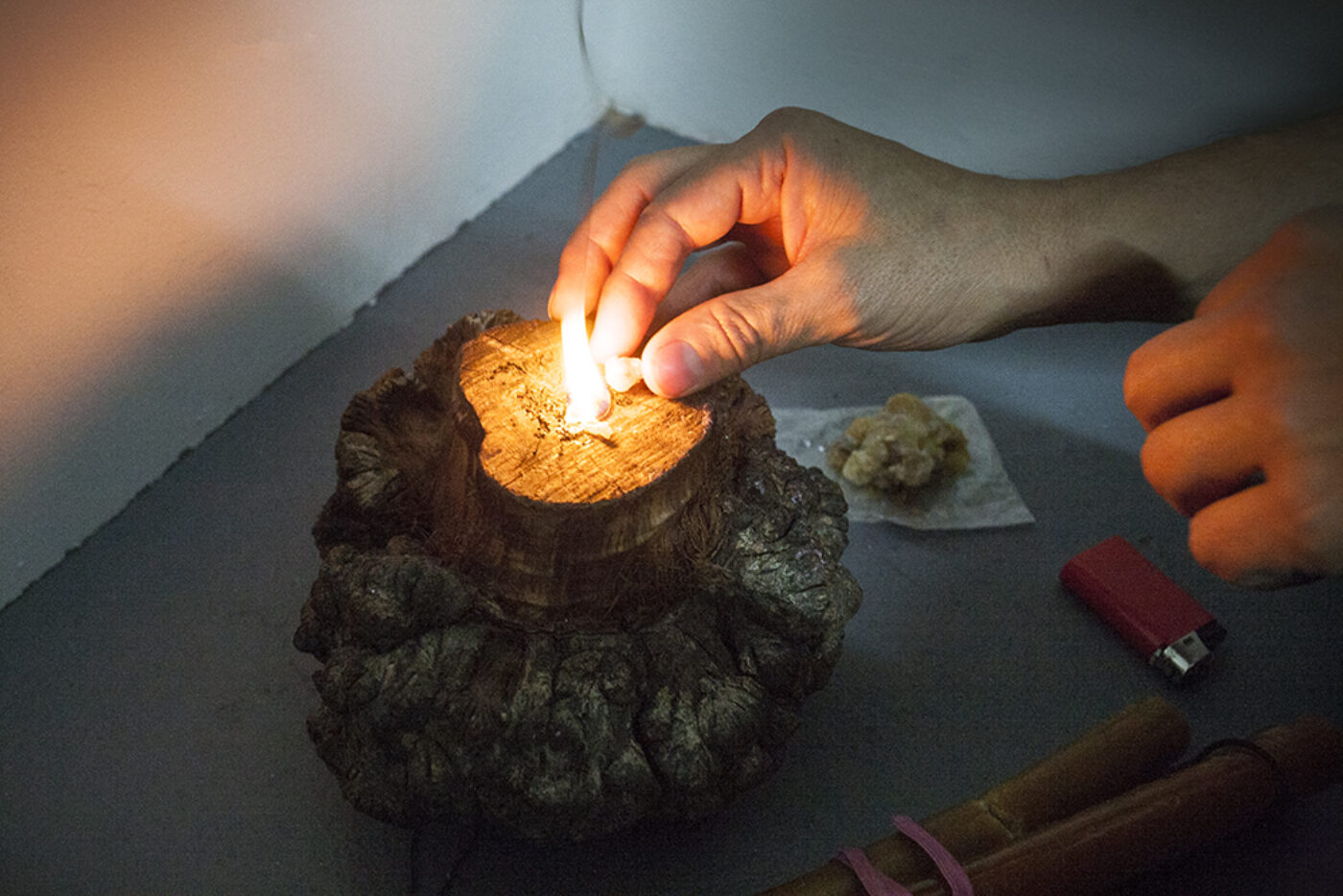 AZ What happened out there, for you to feel so strongly about your experience, and for the Wirrarika to accept you on this level?
IS The changes from this experience actually took time to settle in. It only became clear only afterwards, in the ensuing months, and in discussion form, with Cage. The early initiative was more related with social issues facing the Wirrarika, than solely making an 'art work'. The format began to develop, and we are still building that process. This is the interesting part of the work. It has to be clean and transformative, otherwise it could easily fall into some kind of hedonism or exploitation. That would worse than failure.
As for the internal process of what happened in the desert … Those things are often best left private. Sharing often spoils it. When transformed through words, the light energy of pure thought and image is left as that, diminished from the experience.
When I was eleven years old, my family went to Creel, near Central Mexico, which has a strong presence of the Tarahumara people. At that time you could only get there by train and horseback. The Tarahumara and the Wirrarika are related cousins. They share the same sacred altiplano. The Wirrarika look West, and the Tarahumara look East. I think this somehow led me there, as if I was following this same journey I made with my family as a child, but now as an adult.
Hikuri is also known as medicine. After overcoming the first fear of ingesting it, hoping one is going to be safe from its grip, you realize that it is busy cleaning your body and mind. It's like a vacuum cleaner, pulling out all the negativity that holds us back from our deepest potential. Antonin Artaud would experiment with hikuri with the Tarahumara, which lead him eventually to his Theater of Cruelty. This flowing from vision to reality seems to have a primary vital presence. It is something that has always interested me, this idea of radical spiritual sublime as a transformative tool in art. In terms of modern day life, part of the social problem the Wirrarika face is that the 43-day walk pilgrimage from their villages to the sacred lands to perform the Wirikuta ceremony is blocked due to farmers, new construction of towns and Mexican roads.
AZ What is it about the social issues that the Wirrarika face that you find so compelling? Is it their way of life, that contrasts so much with the modern world? Is it their art practice? Do you feel a connection to them?
IS Yes, all of those things. I understood it was an honor to be embraced by them, a privilege to be chosen to serve them in any way possible. Zukulima and I are working together—her very actively from Berlin, me in New York—which we've learned is far from easy. I decided that working long term on a socially engaged piece was the only way that made sense. It would produce the only honest outcome. We had so much to learn about the Wirrarika way of life, their art practice and politics, and how it offered huge insight to our own fragile culture in New York, and our own people. The Wirrarika themselves are learning that opening up about their problems will help protect what they hold dear. They are interested in exposure and interchange now, in view of bringing an international awareness to the challenges they face. It was within this sphere that storytelling as an idea began to emerge out of this first wonderful journey.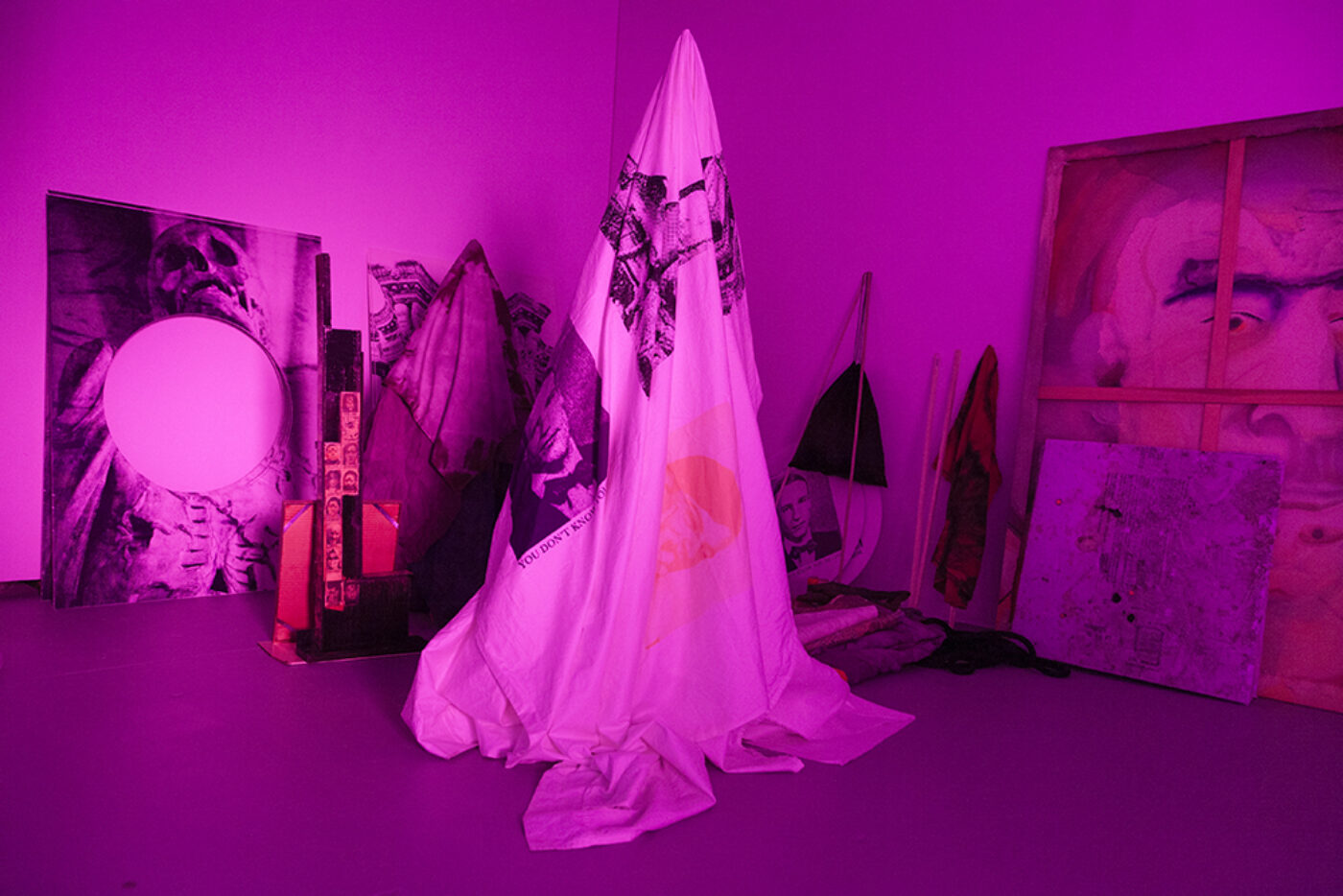 AZ In some ways, this is how Instituto Divorciado came together, in the first place—a reaction to this 'fragile culture' you mention.
IS Certainly we are a product of that in some ways. The dictatorship in Chile did away with an entire fragile culture, and I think Instituto was born out of this rubble.
AZ Tell me more about you and Iván and Diego, and how Instituto formed.
IS We met in the early ′90s, studying art at La Pontificia Universidad Católica in Santiago. At that time the school program was based on Josef Albers' version of Bauhaus, which he taught at Yale in the ′50s. A strange legacy, probably the last of its kind anywhere at that time. The other major art school, La Universidad de Chile, was closed due to years of ongoing unrest, so at PUC we lived through a very unique and vibrant moment. There was no other option to study art in Chile. The country was living its first years of democracy, or so we thought. Pinochet managed to hold on to some power until he was arrested in 1998 on a visit to the UK for health reasons. But it was a lively time of transition.
Iván was the first to go to New York, and laid some ground work out for us. Diego followed, and I sometime after. Our friendship was cemented as we found ourselves in the city with little agency to continue what we were doing in Chile at that time. Diego was a talented artist who, with two other friends, ran an alternative space called Galería Chilena, "La Galería Que Te Hace Creer", or, "The Gallery That Makes You Believe," now a legendary program that shifted art positions in Santiago in the late ′90s. I was a draughtsman and printmaker working successfully in the commercial gallery scene. Ivan early on was always very strong and very consistently working with electricity. He broke into New York art circuit serendipitously in the early 2000s, and has continued to stay there.
Due to some of these biographical connections, and also this Bauhaus legacy, we founded the Instituto in 2005. We were spending a month living together by chance in Brooklyn, and it started lightly, almost humorously, but become a serious side project to our interests outside our individual art practices. Instituto Divorciado is a place where the lines of authorship are blurred and the kinds of projects can be very diverse. We collaborate with many other artists and try not to think of ourselves as the only members. It's a kind of thinking process in self-exile, literally: divorced from the institution. We also work with Ivan on his label, Hueso Records and are active with publishing projects and sound ideas, some of which will appear on Hueso later this year.
AZ And it was through your work collectively, as Instituto Divorciado, that you first met and worked with Karin Schneider.
IS In 2006 we invited her, alongside 73 artists, to participate in a show we curated and set up in Berlin called Contra Golpe—Reenacting a Failed Operation. While in Germany we learned that back in the late ′70s, a plan to assassinate Pinochet was conceived and planned by the militant group FPMR (El Frente Patriotico Manuel Rodriguez) in East Berlin. This attempt would fail in 1986 when executed, due in part to some critical mistakes, faulty equipment, and sheer luck on the part of Pinochet––his car was hit, but he survived. Pinochet took this to be divine intervention, even claiming to see the Virgin Mary in the shards of his window.
Karin's piece in the show was the most powerful. She gave us instructions to initiate a voodoo act to heal the wounds, but also to finally destroy Pinochet, who was still alive and well and living in Santiago. At exactly midnight on the twentieth anniversary of the failed attempt, with the help of artists Peter Wächtler and Hans Friedrich Lissmann, we executed these instructions. It was quite specific, and when two months later he actually perished we contacted The Clinic, a popular satirical Chilean weekly, and took full responsibility. They published an article: "Artist group, Instituto Divorciado, takes full responsibility for the death of Pinochet." It was the first moment we felt the power of what artistic collaboration could actually accomplish. We still believe that together we initiated this final chapter to our troubling history, and it was in no small part to Karin's instructions.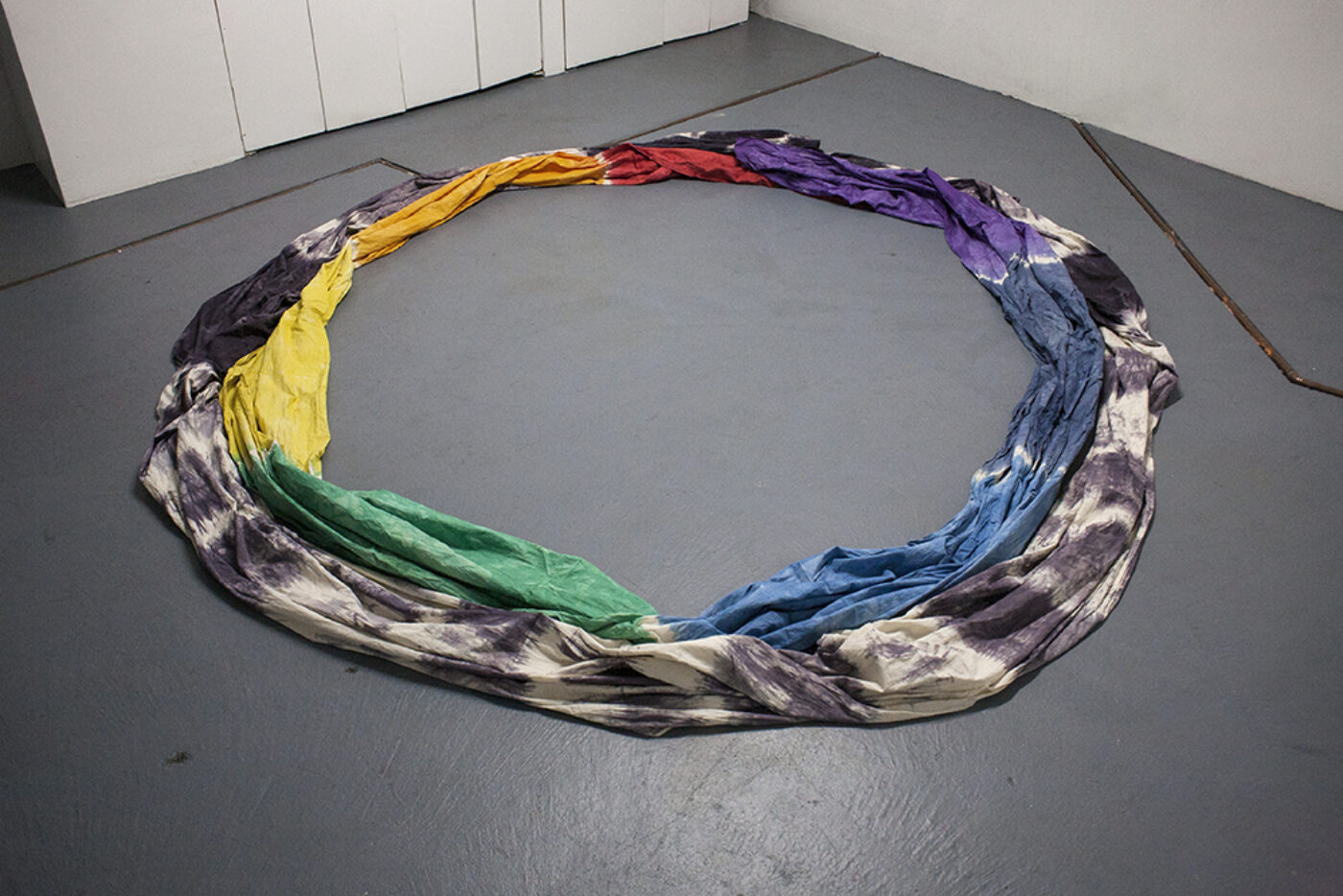 AZ Many people would call these stories of coincidence. But I think you would call them something else.
IS I guess you are right. Actually, it doesn't matter what you call them. I am happy to call them stories of coincidence, but also I want to think that it is the meaning we extract from these connections that makes a coincidence potent. At the Instituto, this method actually discovered its own way of working with us. It's something we like to call "a lively presence," a kind of receptivity that feeds itself by pulling in artists with visions in its immaterial wake.
AZ Would you say that the construct of Cage lends itself to this method?
IS Cage is interested in philosophy and politics, removing itself from capitalism, and setting up ulterior models as a point of departure. There are many things happening there, but we humbly lent our perspective to this proposed method, yes. We tried to bring the spirit and essence of the Wirrarika to enter and cleanse, to imbue the space with those mystical but essential human powers. That was the idea of hallucination: Not as something illusory, but something that seeps into, and shapes, our vision or worldview. The book Hallucinations by the neurologist Oliver Sacks came out right as we opened the show, and he has similar ideas. The age of reason has reduced hallucination to an aberration. Sacks courageously places it back into the sphere of serious discussion. I think Cage is a vehicle for all these things, not as an end, but as a means to heal sickened hearts. When you participate in a ritual with the Wirrarika, you plunge into an age-old rite that connects us to this past, a direct lineage of transmission. One of the fascinating things is that these can be collective. They refer to hikurias a book that is being actively "read" in different dimensions, all within an inner plane. The art that stems from this is vividly drawn from those experiences, as a representation, a keepsake, or even a sign post of places visited and places possible, with or without ingesting peyote.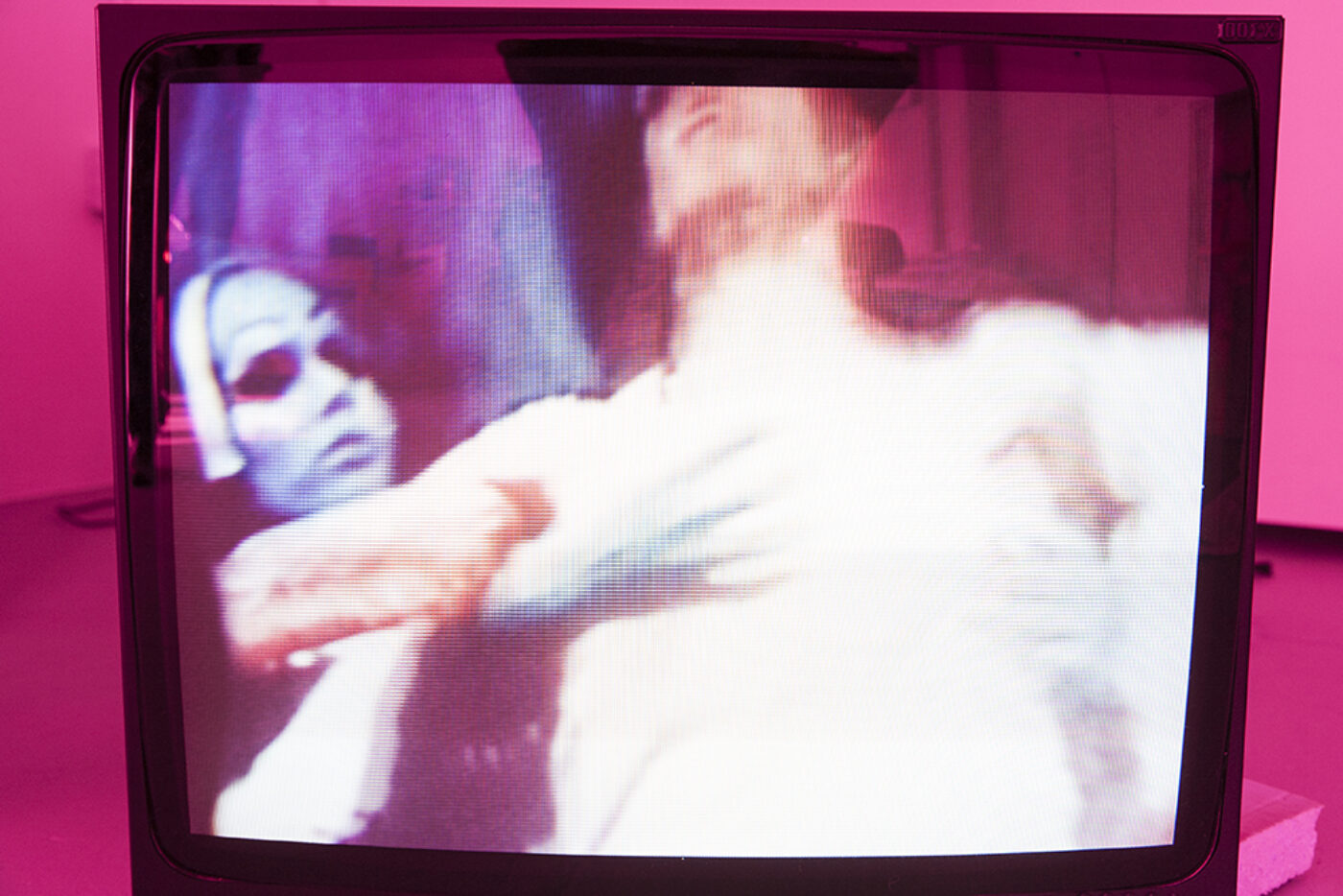 AZ Josef Albers said: "Art problems are problems of human relationship." It feels that you three have a different approach to art in general.
IS At PUC, these human relationships were further reduced to a finite set of art problems which had been sealed in place for over thirty years by the time we studied there. We often see the Cordillera de Los Andes as a wall that divides us from the rest of the world—it is one of the reasons Darwin was so intrigued with certain species from Chile. They were isolated from the rest of the world, a perfect laboratory. You can see it actively in other artists who thrived in that environment. Ivan's brother, Mario Navarro, along with Mónica Bengoa and Cristián Silva, created La Sociedad de Jemmy Button, Inc., a hugely successful art group named after Darwin's human specimen, an Alacalufe Indian from Patagonia. Button travelled to England and back, and became a prominent chief among his people. Most of this movement was driven by the print department, which was in sync with Bauhaus, Eugenio Dittborn, and La Escena de Avanzada––all of this is documented by Nelly Richard in her seminal 1987 book Márgenes e Instituciones. I think we were some of the first artists who felt like breaking with this tradition in a way, led in no small part by Dittborn's Airmail practice. We wanted to break down the Cordillera, for better or worse. That incentive brought us out of there, to reform and shape work outside of Chile.
AZ I feel that, despite all these unusual approaches and systems we've discussed, Love & Other Hallucinations has an inevitability to it. And for this reason, it is your most significant work to date, as a collective.
IS Following the mother principle depends on something really foundational. Maybe that is what you are responding to. It also listens for subtle, unheard elements in order to resonate a particular voice. That is where this piece finds its heart: In a good place. Letting go and allowing those things into being is very challenging, even when you are a divorced institute. As to the inevitability, it was always part of the intention,—to tell a story and try to shed a light on dark places.
For more on Instituto Divorciado, click here. An edition of this project will be printed and available in the Cage installation at the PS1 Printed Matter Art Book Fair
For more on Cage, visit their website.
Balarama Heller provided the photographs for this piece. He is a photographer who lives and works in New York City and abroad.
Alex Zafiris is a writer based in New York.