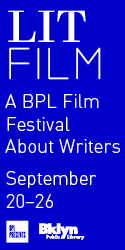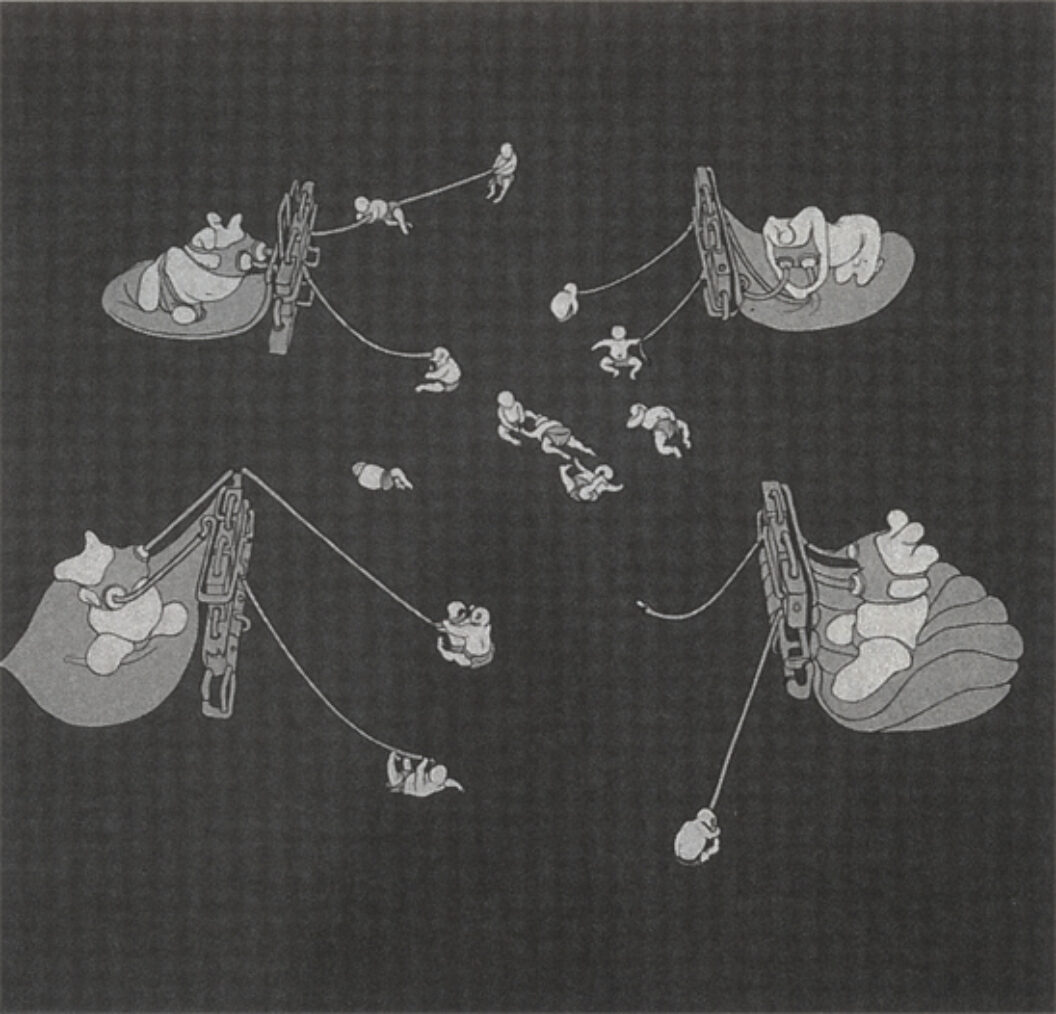 Inka Essenhigh paints ambiguous figures engaged in mortal battle for sexual supremacy. Observed as if through acid-tinged eyes, Essenhigh's figures suggest mutating strands of Sea Monkeys morphing from one state of perversity to another against a flat field of sickly colors.
Essenhigh takes on basic topics of beauty and sexual reproduction. Venuses of Willendorfdepicts four fleshy torsos with flaccid stumps in place of limbs and heads. Sitting on tangerine-colored mats in the corners of a kelly green field, the torsos are outfitted with nursing bras that resemble S/M apparatus. Long tubes attached to their breasts are threaded through mechanical devices to feed the sucking mouths of isolated infants.
As big-assed Hottentot figures stand by in Wheel of Fortune, a flabby creature turns a mill churning out babies resembling dressed chickens. One baby plummets to a floating plane while others are gathered up and shelved. Recalling the sexualized mechanics of Duchamp's chocolate grinders, Essenhigh renders birth as a grotesque assembly line.
Her abstracted bodies are invested with violated corporeality. Beauty Pageant places misshapen figures under bell jars on a runway. Stripped of distinguishing characteristics, they are barely recognizable as human, much less as female. The winning beauty queen is literally statuesque, resembling the Nike of Samothrace; she is dragged down and hauled to the end of the runway by slaves. Her victory is observed by an audience of one, a robotic critic.
This was a strong first solo show by a young artist. Essenhigh's subjects may be enigmatic, but her technique is deft and lucid. The surfaces of oil enamel on canvas are slick yet luminous. Vivid colors contrast one another, resulting in a vibrancy that animates Essenhigh's weirdly amorphic scenes.
—Grady Turner
Originally published in
Featuring interviews with Tracey Moffatt, Aharon Appelfeld, Eric Kraft, Maurice Berger, Patricia Williams, Richard Powers, Stellan Skarsgard, Jesus "Chucho" Valdes, and Lou Reed.