Ingenious Collagauteur, Etc.: Remembering John Ashbery by Joan Retallack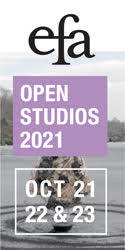 John Ashbery's playfully brilliant, conversational mind made him a cherished colleague, friend, and dinner-table presence, as well as poet of humorously germane largesse. Beloved for his personal warmth and uniquely erudite wit, one could liken him to the iconic eighteenth-century raconteur, except that he was entirely up-to-date in full-spectrum appreciation of high, mid, and low culture—to the point of erasing their mutually observed estrangements. Ashbery's poems swerve from pop to esoteric, canonical classicism to gravely silly melodrama. Also from Lautréamont to Hollywood to the "outsider" aesthetic of Henry Darger along with the choice morsel words and worlds of ads and packaging. Why not recognize the underappreciated amusements of "lowbrow" culture in their ubiquitous daily doses?
Ashbery's brow was commodious enough for all that and more TBD. His knowledge was broad, detailed, and lightly summoned in exchanges full of wonder, puzzlement, clever (but not mean) barbs, and fond recall. The source: the inextinguishable curiosity of a then and then precocious child. Most of all, Ashbery loved foraging for piquant (and poignant) expressions nestled in the many odd words/languages/voices we daily live in, by, and with. In that way myriad voices, myriad tastes were invited into the poetic mix. He was of course expert in the dicey sleight of mind that can present one mirthfully apt non sequitur after another until things strangely begin to add up. Add up to capacious puzzles capped by the uncompromisingly modest or campy or grand finish. Finish, as in excellent wine, to be savored.
The range of images in Ashbery's visual collages resembles nothing more than his collaged poetic sequences. Simultaneously learned and demotic, necessary and contingent, they are in subtextual conversation with personal memories—starting with a rural childhood and the tragic death of a beloved younger brother—continuing with the only recently (somewhat) relaxed American puritan censorship of homoeroticism—the decades long terrors in that. The remedies were many—Harvard friends, New York artist circles, loving relationships—turning Ashbery's uneasiness with the myth of normalcy ("the mainstream") into a uniquely flourishing creativity that transcended insider-outsiderness. Friendship and curiosity and alterities in conversation– engaging the turn (verse) with (con) toward the other—other person, voice, margin—of a poetics that was, in Wittgenstein's terms, a form of life. All this very much in the foreground of Girls on the Run—recently performed in entirety as a relay reading for Ashbery's ninetieth birthday at the Hudson, NY, Basilica not far from the home he shared for thirty-nine years with his husband David Kermani. In this book-length poem, Ashbery celebrates Darger's hermaphrodite idyll of childhood with its pre- and post-fallen intimations in uneasy conversation with a frequently overshadowing adult world. It ends with this:
Mary Ann, and Jimmy—no, but who were they?
Who have as their mantles on the snow
and we shall never reach land
before dark, yet who knows what advises them,
discreet in the mayhem? And then it's bright in the 
    defining pallor of their day.
Does this clinch anything? We were cautioned once, told
    not to venture out—
yet I'd offer this much, this leaf, to thee.
Somewhere, darkness churns and answers are riveting,
taking on a fresh look, a twist. A carousel is burning.
The wide avenue smiles.
It's my experience that Ashbery lived by the following bit of common-sense wisdom: humor without gravitas passes through the mind with little effect; gravitas without humor is death. During the last few months when one might retrospectively characterize the scene in a second-floor Hudson bedroom as "Ashbery on his death bed," he was more delightful to visit than most any of us still muddling along in the illusion of interminable medias res. Ashbery loved to play in the important way most of us abandon as we "grow up": he continued playfully engaging with the surprising dispositions of material reality that observe most deeply rules we humans only guess at, wager on. The sensuality of the sense that words make as we try to make (poesis) them do our bidding—or their own!—can be nudged into play by procedures. Ashbery's methodically intuitive assemblages were a kind of indirect procedure. But he also enjoyed them outright. During his time on the faculty at Bard College, he regularly visited one session a semester of my practice-based poetics seminars. He would lead the class in a writing procedure that he did along with us. It always ended with everyone reading aloud what we had composed. The last class visit, before he became emerita at Bard, involved a sheaf of pages with rows of rebuses that we were somehow to use sequentially. He participated with glee and later told me he liked what he wrote so much he was including it in his next book. Unfortunately, I was sheepish (still am) about not remembering by then what he had written. I didn't ask and, consequently, have never figured out which poem in the "next book" it is. But I do have the fruits of another procedure: his "28 Facts" written for an agreed upon co-introduction at a joint poetry reading we did at Bard. Each of us was to write a list of facts (the number corresponding to our birth day) about ourselves for the other to use as introduction. Here's what Ashbery wrote:
28 Facts about John Ashbery (born on the 28th day of July, 1927)—for Joan Retallack, who is introducing him in their joint reading at Bard College, Thursday 16 February 2006
1. He has the same birthday as Marcel Duchamp, Jacqueline Kennedy Onassis, film comedian Joe E. Brown, novelist Malcolm Lowry, and poets Gerard Manley Hopkins and Kenneth Fearing.
2. He wrote his first poem, "The Battle," at the age of eight. Its subject was the battle between the snowflakes and the bunnies.
3. As a child he appeared on the Quiz Kids radio program.
4. The first movie he saw was a version of Alice in Wonderland in which W. C. Fields played Humpty Dumpty. (His spell-check just queried "Dumpty" but not "Humpty.")
5. He himself played the role of Miss Preen, a nurse, in a boys'-school production of "The Man Who Came to Dinner."
6. The following year he played one of the two old ladies in "Arsenic and Old Lace."
7. He decided not to become a professional actor.
8. He decided to be a painter. After taking lessons in painting for several years he gradually lost interest.
9. He grew up on a farm near Lake Ontario.
10. He likes Lake Ontario very much.
11. His favorite novel is Proust's Remembrance of Things Past.
12. He read it in an English translation.
13. After that he learned French and has intended for many years to go back and read it in French but hasn't yet done so.
14. He attended Harvard and Columbia.
15. At Columbia he wrote an MA thesis on the English novelist Henry Green, whom he still likes a lot.
16. The first long novel he read was Thackeray's Vanity Fair.
17. The second one was Gone with the Wind.
18. From this he concluded that all long novels deal with impetuous, strong-willed women.
19. He still believes this to be true.
20. Other novels he likes are Bleak House and The Woman in White, which was made into a musical that is about to close on Broadway.
21. The first modern poet he liked was W. H. Auden, who, coincidentally, chose his first book some years later for the Yale Younger Poets series.
22. Years after that, an acquaintance of Auden's told him that Auden once said he had never understood a line of his, Ashbery's, poetry.
23. Others have said the same thing.
24. He writes poetry on an old manual typewriter.
25. He used to write it by hand, but when he started using long lines he switched to the typewriter so he could remember the ends of the lines when he got to them. (The typewriter was faster.)
26. He once wrote to Julia Child about a recipe of hers that he couldn't make successfully. She replied with a corrected version of the recipe.
27. The recipe was for a cold almond soufflé.
28. Despite having the corrected recipe, he never again attempted it as it seemed to him that the problem with it hadn't been addressed.
—John Ashbery
Joan Retallack is the author of eight books of poetry—including Procedural Elegies / Western Civ Cont'd, an Artforum Best Book of 2010—and numerous critical studies, including the introduction to the Yale edition of Gertrude Stein's Stanzas in Meditation (2012), Gertrude Stein: Selections (2008), Poetry & Pedagogy: The Challenge of the Contemporary (2006), The Poethical Wager (2003), and MUSICAGE: John Cage in Conversation with Joan Retallack (1996), which won the America Award in Belles-Lettres.