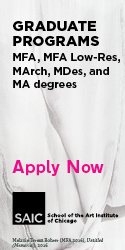 I.
The wind blows hard among the pines
Toward the beginning
Of an endless past.
Listen: you've heard everything.
—Shinkichi Takahashi
Out of time, mindful of No-Mind,
your journey hurries, widens:
water of words on melting wall,
endlessly fading, leaking light.
Clang bam bang rang the wrenches,
amid a trinkle of broken ice,
slivers that feathered the floor
only to weep and vanish there.
With the help of a neighbor,
the policeman got the refrigerator door
open far enough to see that a rope
was holding it tight. He cut the rope
and found Mickleman in plastic Superman suit,
his knees pulled up to his chin,
his hands holding the rope, which he had tied
to the inside of the refrigerator door.
The rope and Mickleman were frozen solid.
The police looked round and found
'neath Mickleman's gray baggy bed
a home-made scrap-metal robot girl,
no more than fifteen, sixteen at best,
a jolly matter of metal, painted Kotex,
rags and pins and polka-dot party paper
and inside elaborate electronic devices,
none working.
Atop the refrigerator
were a police officer's uniform,
complete with motorcycle helmet and boots
and toy badge and bullets
and a little silver cap pistol in a holster.
By the time they got the door off
and the Superman suit bagged and tagged
it was bright morning again, blankly blind
to all that lumpy, bundled business.
Out and in, the Man-swarm panic
presses its heedless way apace,
Times Square carny wisdom
uncurling off lards of discount sex:
"Take a tip, Mister," a drone intones,
"Never cross-rap in front of a mark
on the Midway … Step lively …
Show starts in five minutes …"
Turning points of war in neon
across the way the while
bang bang bang A-train brain barrelling
through dim caves
of beastly beginnings, these mere eons
of survival that nailed Calvary,
these wronged witches and revenging fathers,
these scarred spawners of Hitlers and Eves:
as we hack our way in sidewalk blindness,
foolstrong dabblers at Remembrance Roulette,
the last exits blinking faster …
fire and ice cream
popcorn and ivory.
"One of the largest battles
since the cease-fire,"
the radio was claiming, but Mozart, for one
wasn't listening: Mozart was dead;
Mozart died a long time ago.
"Never mind a gravestone,
just wrap him up in his requiem
and send him out collect."
The strings shrieked
The oboes were totally shocked,
till someone explained:
"Serves him right, that dirty
no-good commie Kapellmeister."
Tinkle tinkle tinkle
in the choirs of the night
his silver soul sails timeless
in spangled ice,
fodder for its nameless grave:
"Needy kapellmeisters needn't apply."
And so you blast back to nothing,
blind fits of phantom freedom,
beginning at ends,
ending to begin again,
dreaming up smiling skulls that may have been Mozart
or Geronimo or Mrs. O'Leary's cow
or even Mickleman, say, in his supercooled womb.
The people in the neighborhood
said Mickleman came to Hollywood
in the midst of a mixed-up March,
all wired high in electronics,
catalogs stacking grim prisons around him
and him like a skinny transistor
living on nothing at all
but Cutty Sark and Hostess Twinkies …
LOS ANGELES (UPI)—The "miniskirt judge" is
under suspension from the bench. Bringing
her Chihuahua and a mechanical canary
to court, jailing defense lawyers and
threatening to perform a "38-caliber
vasectomy" on a policeman were too
much for a group of her peers.
"Zanuch had this leftover massacre
to sell but his price was outta sight …"
At night Mickleman's real world began:
at night, when in quiet he'd don
the clothes of a cop
to patrol the sinning streets,
on foot and on cycle,
Mickleman against the void.
(The cycle once wore
red light and siren,
but they made him take them off.)
Mickleman told them he protected
the citizens asleep in the city dark
(as he sent forth "pretend" sharks of revenge
to rip and shred all villains to bits).
But somewhere along his long, fine line
he saw that to be a policeman
wasn't enough: enter Superman,
sort of, and flying toward Right.
But now Superman, like God, was dead
and Mozart was dead too.
Mozart died a long time ago …
II.
The legs of the crane
Have become short
In the summer rains.
—Basho
We begin by looking back,
safe in the wake
of ancient, wash-away dawns,
adrift with the sound of a cow ringing the pail
in dewy morning haysmell haze.
Maude Silverleaf had a walnut face,
ninety-two years in the grain
and every winter in her blue boots
her once-stout peacoat stringy with age
she shoveled the snow
'round the skirts of her house
and stood every Sunday in the choir
in the church down the street.
Incredible in all those years
she never sang a note,
but had only simply mouthed the words:
she never thought her voice good enough
while never doubting her choir-calling.
Summers were spendthrift then,
infinite fodder to bake and waste;
Carnival times, carousel eyes:
quiet canoes on a forest river,
walled in high and dark by trees,
drip-drop leafiness from primordial wraps:
Wonderful blackness just beyond the bend;
Picnics and parties,
silent vibrant Mind in star-flight:
vasty cosmic comforts of no-meaning
in light-year fancy.
We drift content,
high amid news of far-off fuss:
this napalm real estate,
the TV is explaining,
is really a steal:
gook-of-the-month club guaranteed.
Said the Nixon Official's wife, "Everybody
should rise up and say, 'Thank you, Mister President,
for bombing Haiphong.'"
The Mother Superior in the Flying Nun
television series testified that she
had sexual relations with Bartogs while
she was his patient 26 years ago. Justice
Murray threw out her testimony, however,
because of the long lapse of time.
"The Vatican announced today
that bishops have 'a God-given right
to ban books attacking
the true faith or good mores.'"
Mairzy Doats was sitting under the
apple tree with Rosie the Riveter,
sipping strawberry formica
waiting for the lights to go on again
All over the world
Traffic continues
Despite the gaff:
"Hurry time, please. It's up."
The phone keeps ringing:
Static radio rape in murky air.
Amalgamated Dreams reports a decline:
"Cash fucks only. Credit up your ass."
As the basket-barge comes drifting by,
crippled fags hanging from the racks.
BUSINESSMAN, 44, married, likes trees,
tennis, books, Beethoven; works nights,
seeks enjoyable companionship with woman
who is free in the afternoons, XYZ, Box 11033.
Mr. Moose-Goose is going to the beach,
carrying in his hump-pack
a jar of grease and a tube of Tono-Bungay.
He has about his almond eyes
a fey look of dreamy murders,
of infinite loss in chambers of granite quiet.
"I'm just this freaky little peony,"
claims he, "adrift in a rotten potato patch."
Ilya Murometz and his huffy Mother Russia
want no part of him:
they have, instead, this thing about bears:
they always carry one around with them,
take it to parties, to Kremlin parades,
wherever they're wished to go.
In Kiev one day Ilya Murometz invented the anti-bearhug,
then sent himself to Siberia to atone for his sin.
There he died happily ever after.
IS THERE A LAST TANGO IN PARIS? NYC Maria
Schneider needs a Marlon Brando to find out. XWZ
44099.
Brenda Brood was a done-to
in a mob of do-tos
She babbles of a dirty God,
of her many and moist old hurts,
weaving seedy the while
'mid her cruddy cardboard boxes,
her stacked-up hallway life.
The windless August
stands steamy walls around her,
a sooty stillness
that smells of loss without end,
of heavy red roses gone early to rot.
The clerk in barred-up jail-desk
peers out at her, waiting
Hard masks across the void …
"PENALTY" IS THE MAGIC WORD
KAPOSVAR, Hungary, Sept. 2 (Reuters)—When soccer
fan Janos Pek shouted "Penalty!" from his hospital
bed, doctors couldn't believe it—it was the first word he had uttered for 11
years.
Struck dumb in a 1964 accident, Pek was listening
to radio commentary on Saturday's opening soccer
game of the season. When the announcer described
how a forward was tripped in front of the goal,
Janos shouted "Penalty!"
Meanwhile your true love's eyes
fade by stages in rivers of things:
wind-up Mickleman Dolls,
holy carloads of broken Evel Knievels,
ready for the Arm and Leg Department
Spindrift outcasts
cry crowded in mire,
striving to ride the roughs
of over-ripe revenge:
too many cocoon afternoons
self-piteous in fists
of head-long bitterness.
"Get a plastic disciple kit
in the Christomat."
Someone here from the Aggressive Behavior Institute,
spoiling for a fight.
Says he's a used Freakout Mediator,
Too late for unemployment,
Too late to hide his cancelled face.
A walk further on with thee
my god is more than one might bear betimes
Are you serious about all this?
This Spring Street spring-fling thing,
Dorie Draculard doing her dingbat death dance,
"Catatonic Phonic" through the lofts above,
psychic puke and psychic pearls,
rolling up Broadway like a hose
and nowhere to stow it.
So go and unroll, shalom, shalom,
As subway graffito reveals:
"I like pussy because it makes my dick feel good."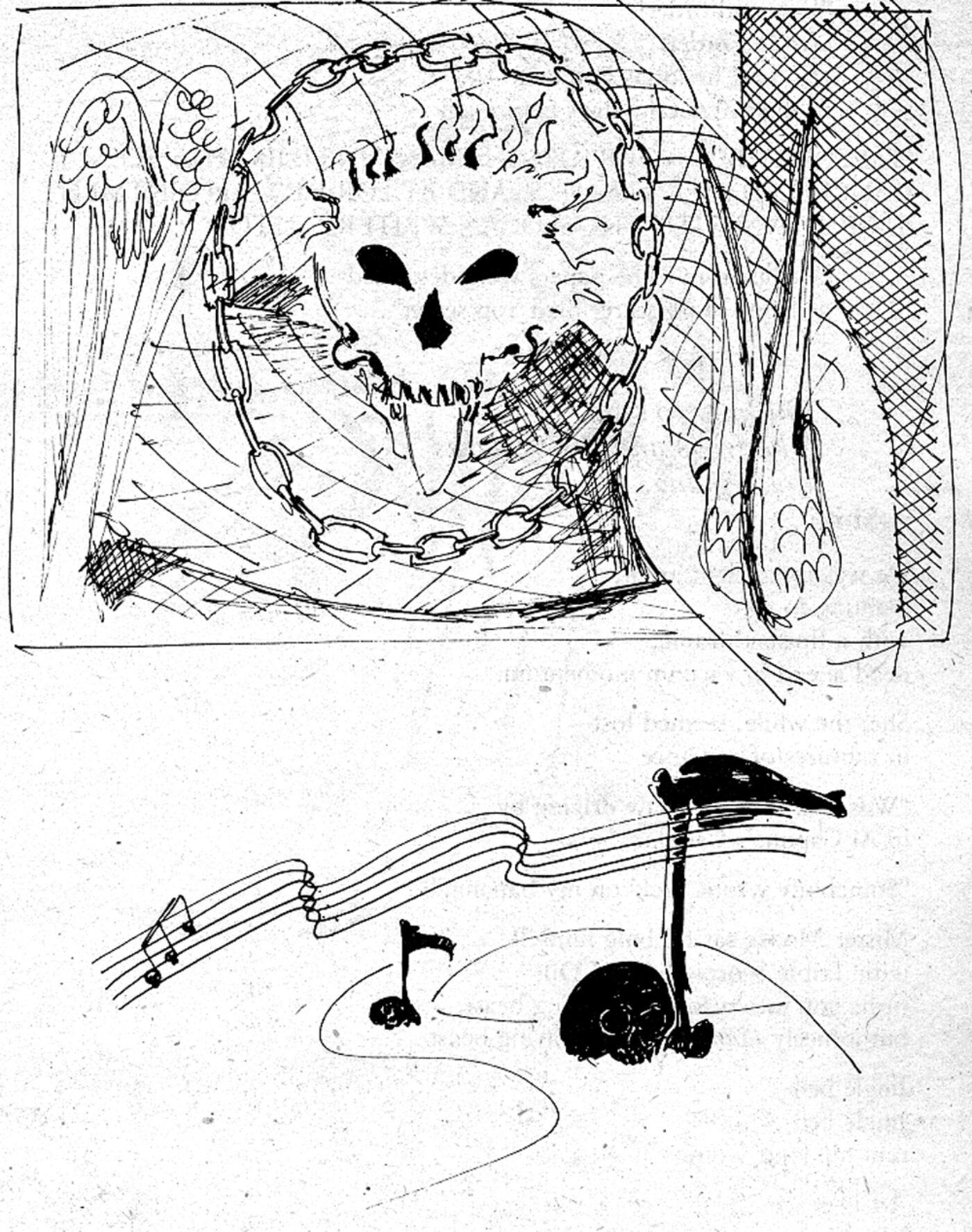 III.
Your mind can make you ill.
Harp smashed, gourd and bag tossed,
No longer do I dig for gold in amalgams.
—Rodohin
"Mozart, Mozart, he knows nothing of Mozart,
Up there, wallowing in Wagner. He should
be going away, not these others.
However, orders are orders. What can I do?"
"Don't ask the Secretary;
He's hiding in his Cabinet."
"Might try Ms. Muse,
she was just here:
left you this bill.
Wants you to call her right away."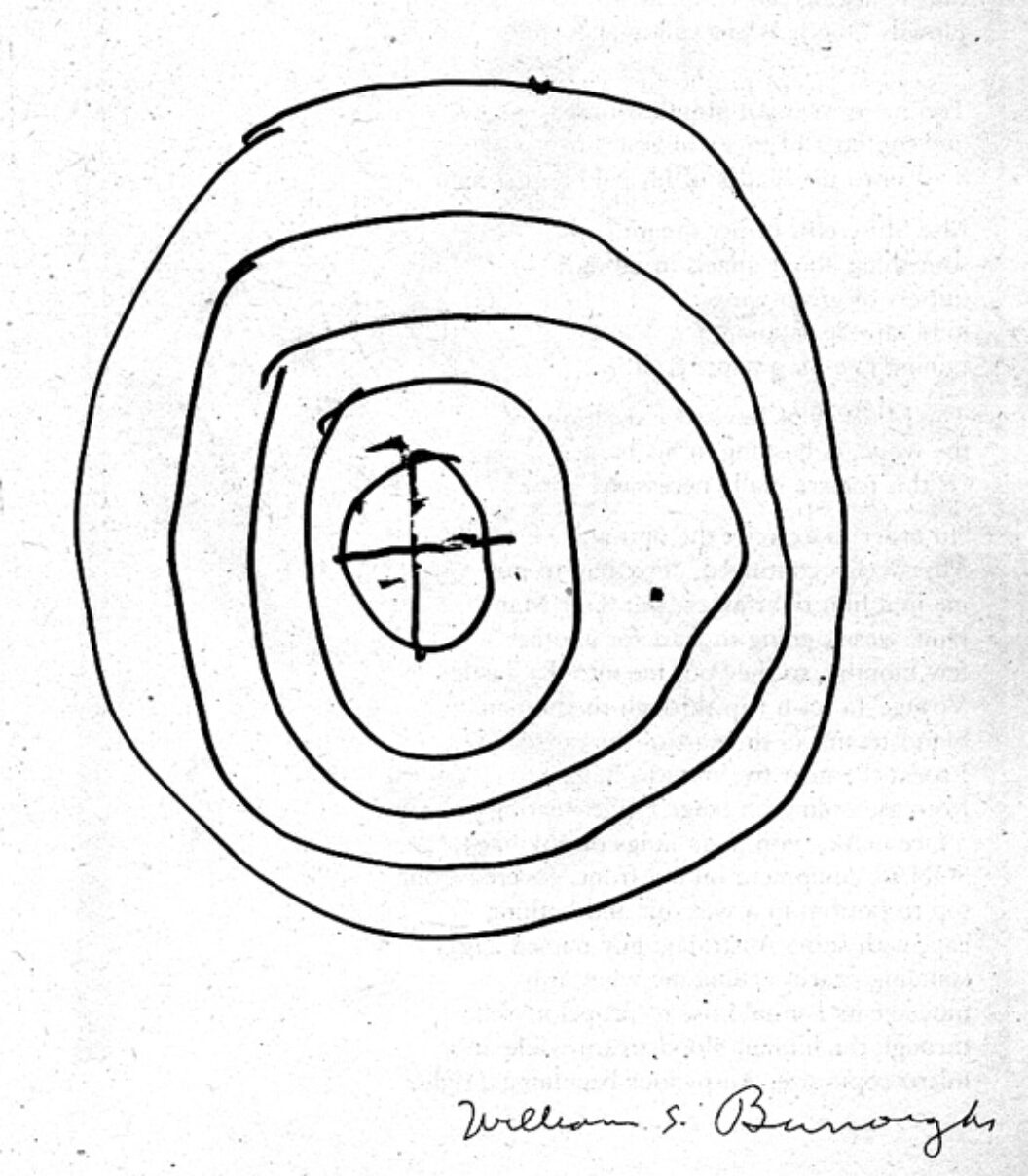 1939: good time to settle
this mess, once and for all;
It's either Germany, or the world:
"Fuck Mozart, hire a new kapellmeister!"
Maybe Himmler knows one;
We can trade him some lampshades.
"… bim, bim, bim …"
"All off for Zanzibar Interpass …"
Kissinger pelted
by leftist leaflets
Astronaut
is injured
on bicycle
U.S. Hunting
Bank Bomb
Money Men
"AFFAIR IN THE AIR,"
said the outside sign:
"Adult Feature
for
Adult People
with
Adult Minds:
Adults Only"
"How fuckin' adult can you get?"
Wonders Sweet Sal,
smacking her lucky lips.
(Sweet Sal was a call girl
who'd left her tear-stained
hubby home, a cashed-in oboe
crying sonatas to sleep;
But hell with Sweet Sal:
Go find Mozart instead.)
Inflation nation
pressure-points:
the fat black nun
bleeding in the snowbank,
the shivs of "manifest destiny":
"Nigger, nigger"
cries the crow
Dog-Ear Flap Costs Him His Job
Alger County's dogcatcher has lost his
job in an expense-account dispute that
touched off a flap over whether he should
cut off and forward the ears of dogs as
proof he shot them. The County Board of
Commissioners got suspicious last month
when the dogcatcher submitted a bill for
$488 for catching and killing stray dogs.
One commissioner triggered a storm of
criticism and controversy by suggesting
that the dogcatcher submit the ears. The
dogcatcher first accepted, then rejected
the idea. "There's no place to put the
ears if I cut them off," he said.
Mister Transistor is in the air:
"Money doesn't care where it comes from …"
It was siege and counterseige,
flaming nymphets in a frigid wind:
the rasp and chaos of embattled romance,
the lights at the bar all pearl and wine.
"Gimme anutter twenty," sayeth Sweet Sal;
Showing him she knew he knew she had him,
Mister Transistor from Middlezilch County:
a man of hidden virtues, no doubt.
Nine-thirty sunshine sheets,
But she was gone,
leaving her eggshell face
upon the pillow
for the cat to come in
and fall asleep on.
Angels in a bog. As a voice
calls soft: "All aboard …"
He drank deep her busy perfume
and waited for the memory to shrivel.
Later, again, they locked dry
in the press of utter revenge
and neither would let
the other go free;
For lovers ever,
with words of knives,
have worlds to say
of hurts and hearts,
of all that barren
hope begot.
"Oversexed male with vasectomy would like to
make it at Madison Square Garden during
'The Star-Spangled Banner' at the first hockey
game of the 75–76 season. XWZ. Box 77044."
Amazing
These glitter-geeks,
awash in tinsel sunshine:
sodom begorrah
in the subway;
"Close it up and pull it out
on the downside A …"
Up and out,
in and down
the street freaks sail by
scufflin' hustles
adepts in the arts of hard spins
"Up your pragmatism with a paddled canoe
type thing," quoth the raving Miss Nevermore;
2 asron probers seized in arson probe
Fallout hits milk
but poses no peril
"Elvis was amused by a news report that singer
John Denver had given his manager a Rolls-Royce
that reputedly cost $40,000. Presley laughed
and said, 'I'll show that sonofabitch. I'm
going to give my manager a million-dollar airplane!'"
Hospital rates hit
$400 daily here
Hey hey
Get outta my way
I just got back
from the U.S.A.

"Law and order!
law and order!"
cry the Christmas bombers
in their hypocrite days before jail/
"I'M SORRY BUT YOUR APPOINTMENT IN LIMBO HAS BEEN
CANCELLED STOP PLEASE STAND BY FOR NEW APPOINTMENT
STOP DOWN WITH THE SLOGAN WRITERS! "STOP"
Washington: "The papers were described
as being more secret than 'top secret' … "
IV.
On how to sing
The frogs and the skylarks
are arguing.
—Shiki
He was an airtight artist,
wanting to start
with a finished frame,
dead ahead in vacuum momentum.
She, the while, seemed lost
in raptures of romance
"Was that ol' Dali I saw driving by
in Al Capone's Cadillac?"
"Somebody wrote 'fuck' on my banana."
Mister Moose sat rubbing himself
with Triple Scorpio Suntan Oil:
turns you into a foaming raving beast,
but a nicely tanned foaming raving beast …
Jingle bell
Jingle bell
rent me your womb
Art is peace
Ms. Muse proclaims,
Yet Mister Regret
twists in sleep
while bombs and burning babies
blister and redden his dreams.
His footlocker is empty now,
save for the lead jockeycap lawn-negro
with the brass ring and the peeling paint:
under sagging canvas bunk
Howdy Doody is growing maggots.
Too many years of pointless order
and too little of love's looseness
hardened the blades of his cold-raging hate.
Ms. Muse tells of her dream,
something about angels in a bog:
flutters of green wings,
loud tap-tap-tapping:
raining rice on a paper roof.
The Minister of Revised Executions,
the while, is basking in his barge:
"Is this torture really necessary?"
"In order to exercise the option,"
Miss Welch continued, "Fox had to put
me in a film right away. But 'Our Man
Flint' wasn't going to start for another
few months, so they put me into 'Fantastic
Voyage' (a sci-fi trip through the human
bloodstream) in the part of the nurse.
I spent the next five months hanging
from the ceiling on Stage Eight wearing
a face mask, with aqua lungs on my back,
SONAR equipment on my front, covered from
top to bottom in a wet suit and bathing
cap, with some Australian guy named Ziggy
standing nearby telling me what arm
movements I should use to propel myself
through the human bloodstream while at
microscopic size. Auspicious beginnings, right?"
Art is health,
Ms. Muse proclaims
Yet Mister Regret
sleeps with a crowbar
in his bed
peeling his past
on strangled mattresses.
For something there is
that loves, in fact, a wall:
some secret seed of sorrowed spite,
some captive song unsong.
Remember, me laddies:
"Treat the caddy
as you would your son."
               Psychedelic Rubdowns
FREE-LANCE FEMALE FIGURE MODELS ALWAYS
AVAILABLE FOR PHOTOGRAPHY SKETCHING &
PSYCHEDELIC "BODY-PAINTING" ASSIGNMENTS
STOP PIN-UP POSES LINGERIE & LIVE NUDE
STUDY CLOSE-UPS STOP FREE INSTRUCTION &
CAMERAS OFFERED.
Reeves, having trouble finding work
after the Superman series ceased production,
went upstairs to his bedroom;
His girl friend told the others,
"he's probably going to shoot himself."
Everybody chuckled. A few seconds later,
there was a shot: Superman was dead.
Mozart was dead too.
Mozart died a long time ago.
V.
The great path has no gates,
Thousands of roads enter it.
When one passes through this gateless gate
He walks freely between heaven and earth.
—Mumonkan
Spring was blowin' in cold,
quick winds that raped the granite's dust
and whipped the river snows to sudden floods.
Life, said Sweet Sal; Was a touchy cat:
it kept clawing ("there's no hatred like frustration")
or went smooth again
according to the gain of the rub
"Bubbles Cavanaugh of the Neurorectomy
Department has just cashed in her ass
at the Plastic Anatomy Bank."
On TV a Chinaman chimed a word of wise:
"You disagree with me,
I gotta live with you!"
"Do-lang, do-lang …"
Doin' the Peace-in-Death Rag,
letting the skies and rivers run.
"The acquisition of my tape recorder
finished any emotional life I might
have had, but I was glad to see it go.
Nothing was ever a problem again, because
a problem just meant a good tape."
—Andy Warhol
A self-employed repairman
of imitation mobile homes
has invented a solar-powered tombstone
that shows movies and still-pictures
of the newly, dearly departed
while emitting appropriate organ music
and any last words or eulogies
selected beforehand
by the far-sighted deceased;
The device is activated
by a remote-control device
carried by a visitor to the gravesite.
The movies are shown on a 12-inch screen,
mounted conveniently next to the epitaph.
"You could also," says the inventor,
"have pictures of Christ ascending to heaven,
or Christ on the cross, whatever you want."

       Brain Damage Blues, Part Two
STOCKHOLM (UPI)—A Swedish brewery has found
a successful twist in selling beer by covering
the can with drawings of naked women and racy words.
The "pornographic beer" is being exported only to
Denmark.
48 bottles of beer on the wall,
48 bottles of beer …
Bury time capsule,
auto, books and all
LEWISTON, N.Y. (AP)—First
they filled the 1968 Oldsmobile
station wagon with sneakers, books,
watches and "stuff that meant
different things to different people,"
they said.
Then they covered the car with
four inches of polyurethane foam and
two inches of tar. The stuffed
preserved auto was then buried for
safekeeping.
A group of artists buried this
"Citizen's Time Capsule" here Sunday
in the hopes that when it was unearthed
Sept. 7, 2000, it "will reveal to the
citizens of the future those features
of American life that reflect our
present culture," they said.
A 25-year period was chosen so
that the people who buried it might
be present at the disinterment and
drive the Olds to California.
               * * *
          The former Playboy Bunny
          was highly benign
          in cozy confession:
          "I was always getting demerits
          for having my tail on crooked!"
                 X'S MARK THE PROFIT FOR ARTIST
                 VIRGINIA BEACH, Va. (AP)—Since artist Ed Roebuck
sprayed black X's on 60 of his paintings at an art gallery
last week, the canvases—X's and all—have been selling
better than ever
                 But Roebuck, who defaced his work in despair over financial
problems, isn't happy about the turn of events. He said he
thinks it reflects a fascination with violence and called the
sales of the paintings a sign of national "sickness." His wife,
Gloria, agreed: "They wouldn't buy his love, but they bought
his hate and frustration."
Roebuck, 42, vandalized 20 years' work by spray-painting
black X's over the paintings. Before the incident, he had sold
one painting. Since then, 17 more, all covered with X's,
have been sold. Museums and buyers have expressed interest
in several others.
                 Some people who earlier bought prints by Roebuck have
called him to ask if he will spray X's on them.
Skylab's astronauts mourned the
death today of space spider Anita, a
tiny animal which captured the interest
of the orbiting pilots and earthlings with
her weightless web-spinning.
A scientist-astronaut who kept
close watch over Anita and companion
spider Arabella, said it appeared Anita
had not eaten the housefly-sized bites of
rare filet mignon he gave her.
"We just completed the memorial services,"
he reported to mission control.
"Shit, man, no use hassling. I hear even
ol' J. Paul Getty's feelin' the pain. He
was sayin' just the other day how
one billion ain't what it used to be …"
"The falling leaves fall and pile up;the rain beats on the rain …"
Originally published in
Edouard Roditi by Bradford Morrow, Taylor Meadeby Alf Young, art by Elizabeth Murray, Ellen Phelan, Pat Steir, and more.