Image Not Available: Can Alanna Heiss Bring Art to the Airwaves? by Jed Lipinski

Discover MFA Programs in Art and Writing
When Alanna Heiss thinks about radio, she thinks about revolution. Last fall, while curating a show for the El Salvador Biennial, the founder of P.S.1 Contemporary Art Center took a Range Rover into the hills to confer with some "retired guerillas" about their days on the liberation front. "Radio was everything to them," she says excitedly, seated in her office beneath a chalkboard-sized photo of an old Hi-Fi radio. "It made rebellion possible. They broadcast from perilous locations, like caves and mountaintops, and strapped radio batteries to the backs of mountain ponies."
Heiss understands the revolutionary mindset. A feisty, fast-talking 65-year-old with hyper-alert blue eyes and fading blond hair, she was a pivotal member of the '70s alternative-space movement. The organization used guerilla tactics to exhibit art in derelict buildings and burned-out warehouses throughout New York City, enabling experimental artists to circumvent the commercial gallery system.
"The alternative-space movement wasn't about making objects that went into a gallery," says Charlie Ahearn, who claims the movement inspired his film Wild Style, a cult classic of early '80s hip hop and graffiti culture. "It was about making the outside world your gallery, and experimenting with locations for art to happen."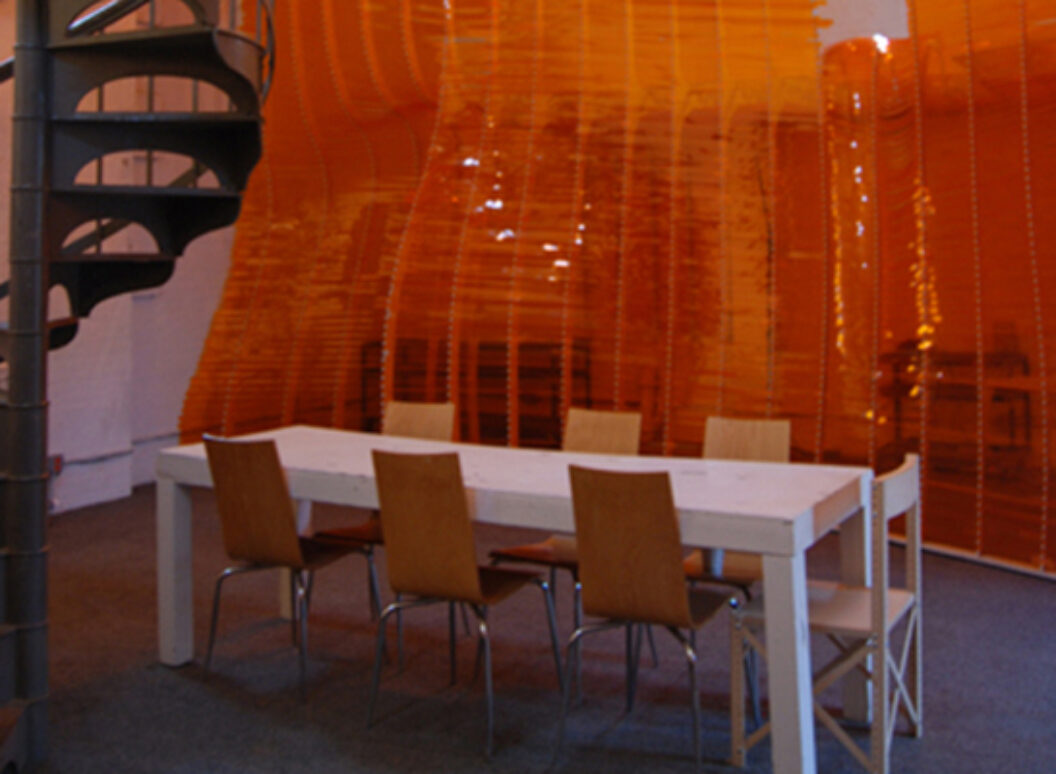 A similar philosophy informs Heiss's newest project, Art International Radio (AIR), a Web radio station scheduled to launch officially on June 25th. Located on the top floor of the Clocktower at 108 Leonard Street in Lower Manhattan, AIR is a described as a "media arts center." In addition to broadcasting live and pre-recorded radio programs covering all aspects of the arts, AIR will offer workshops, community events, and residencies for radio, media, and sound production. The station furthers Heiss's commitment to finding places for artists to mingle, share ideas, and create work that is not beholden to the whims of the art market.
"Warhol had a way of connecting with people by saying, 'I'll do your portrait,'" says Tom Finkelpearl, the executive director of the Queens Museum of Art and formerly P.S.1's deputy director under Heiss. "Later, he connected with people through Interview magazine. Alanna, as a cultural entrepreneur, used to connect with artists and curators by doing shows together. The radio station has become an equivalent to that—it's like the second chapter of Interview."
In December of 2008, Heiss ended her 32-year tenure as the director of P.S.1. Due to fundraising difficulties, the Queens Museum merged with MoMA in 2000; soon afterward, MoMA's board began looking to replace Heiss with a younger, more financially-efficient manager. Her departure coincided with the closure of P.S.1's web radio station, WPS1.org, which had been online since 2004.
Today, Heiss is essentially back where she started in 1975, when P.S.1 was still a deserted, ransacked public school. "Alanna was never a museum person until she invented a museum," sculptor Richard Nonas says of Heiss's transition to P.S.1 in 1976. "She's always been an outsider, but one who gets pulled inside and then either jumps out or gets kicked out."
"In a way, she's changed the art world more than almost any other single person in the city," he continues. "It's pretty wild that, after the gilded prison of MoMA, she's looking for yet another way to deal with art." A way, it turns out, that doesn't involve the visual.
In early March, Heiss is sitting in AIR's control room with two young artist-musicians from Los Angeles. The room, like AIR's website, is devoid of decoration: besides the necessary sound equipment, it is empty but for a Japanese taiko drum, an unplugged air conditioner, some books (Pro Tools for Dummies, John Preston's My Life as a Pornographer), and a postcard of David Byrne's "Playing the Building" installation at the Battery Maritime. Dressed cozily in a blue hoodie, jeans, and red socks, with her fading blond hair tucked beneath black Bose headphones, Heiss smiles radiantly as her guests perform a bizarre rap song about Chinese merchandise.
Afterward, she traces the peculiar arc of her career, which, for an arts administrator, is notable for being rather unacademic. "Before becoming a curator," she says in a fiercely articulate voice, "I worked as a used car dealer, a parole officer, a teacher of religious education, a historic buildings inspector, an artist's liaison at St. Katherine's docks in London." She casually mentions studying trapeze for three years, and procuring the artwork for the Milk Bar scene in A Clockwork Orange. She laughs. "I did a lot of strange things."
These experiences turned out to be an excellent education for a guerilla arts curator. "Her intelligence extends into the orbit of political and sociological systems that artists aren't capable of or interested in dealing with," says the artist Dennis Oppenheim, who first met Heiss in the late '60s. "She understands the mechanisms for art to nourish itself on."
Heiss was born in 1943 and grew up in the small town of Jacksonville in Southern Illinois. Her mother was a schoolteacher, and her father a social worker at what was then called The State Institute for the Insane. He often hired clients to do chores and odd jobs around the house, putting Alanna in touch with some highly imaginative personalities. "From a young age, I was very cynical about the separation between the sane and the insane," she explains. "I was familiar with the need to be with people who see reality in a different way." This, she believes, accounts for her fondness for artists.
A passion for music—or, perhaps more accurately, for sound—preceded her interest in visual art. She played the piano in high school, and later studied the violin and harpsichord at Wisconsin's Lawrence Conservatory of Music. Lacking the talent of a concert performer, she spent her post-graduate years drifting between New York and London. She paid several visits to Radio Caroline, the notorious pirate radio station that broadcast from a ship anchored three miles off the coast of The Netherlands. "They played great rock music and transmitted information about Americans living in exile," she says wistfully. "It was fun from a distance, but less romantic when you're floating around on a Dutch barge." Still, it roused a desire to run a station of her own one day.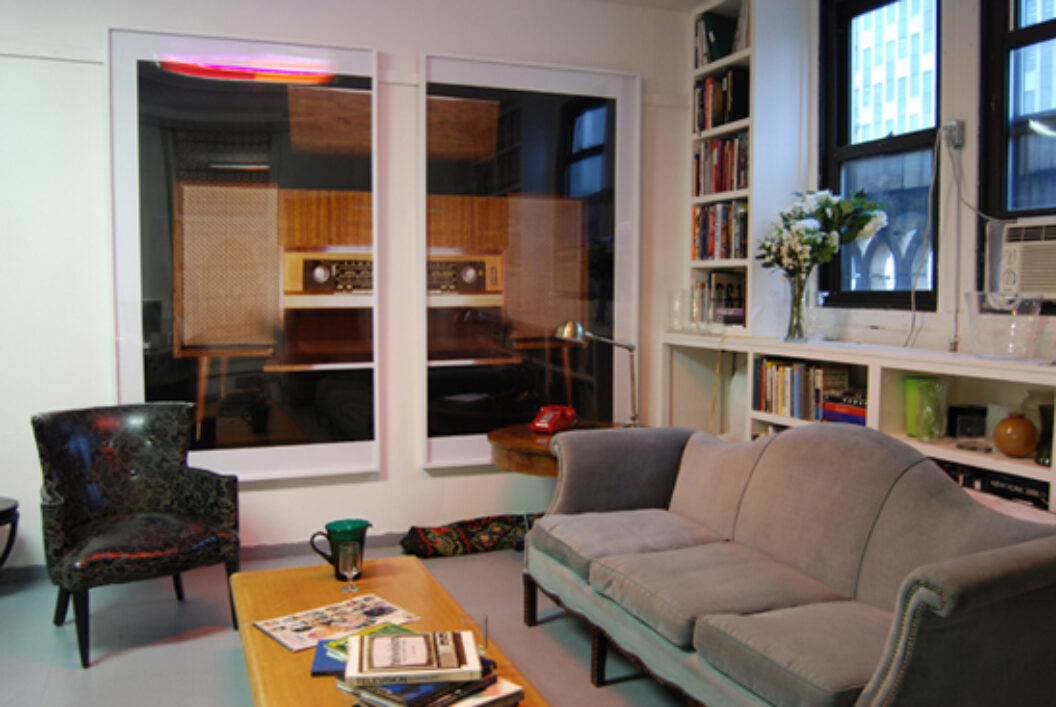 Her true talent, she soon discovered, was for real estate. In 1971, she and New Yorker writer Brendan Gill founded The Institute for Arts and Urban Resources. By lobbying landlords and city officials, they developed many renowned alternative spaces, such as the Coney Island Sculpture Factory, an old factory used for large-scale sculpture projects; the Idea Warehouse, a performance space at 22 Reade Street; and 10 Bleecker Street, which Heiss leased from a private landlord. Artists like Richard Serra and Gordon Matta-Clark contributed site-specific installations, which were often invaded by local gangs. "The Fire Department would show up with water hoses and try to blast the kids out of the building," Heiss laughingly recalls of 10 Bleecker Street. "So there was always an element of audience participation."
In 1976, Donald R. Manes, the borough president of Queens, offered Heiss the lease to P.S.1, a 150,000 square foot Romanesque Revival public school in Long Island City. It was built in the 1890s and abandoned in 1963. For P.S.1's inaugural exhibit, "Rooms," 78 artists created installations and interventions in the classrooms, bathrooms, and hallways. "Because it was Alanna, we knew we could do anything we wanted, as long as we didn't cause too much damage," Richard Nonas remembers, adding that Gordon Matta-Clark cut holes in three floors and ceilings to make a long shaft of sunlight. P.S.1 became, and remains today, the largest contemporary art museum in the world without a permanent collection.
The demands of programming P.S.1 caused Heiss to phase out her other alternative-space projects. But she held onto the Clocktower, which she had acquired four years earlier, as a kind of secret resource. "I'd wanted something really high up and remote," she explains. "Something that existed in people's imaginations."
Heiss's reasons for choosing the Clocktower happen to make it an ideal radio broadcasting center. Throughout the eighties and nineties, the space was a hive of creative activity. There were celebrated one-person and group shows; artists like Philip Glass and Christian Marclay worked in the studios; and nonprofits like Visual AIDS occupied the free office spaces. But after 9/11, armed guards and metal detectors were installed on the ground floor, preventing public access to the tower. "I thought, 'Now's the time to do the radio station,'" Heiss says. "'We can use the rooms for sound art and experimentation, and reach the public through the airwaves instead.'"
Late one morning, Jane Kaplowitz, the artist and garrulous host of AIR's new show "Talk to Me," is sitting in AIR's control room with the painter Laurie Simmons. As Heiss observes from a foldout chair, the two debate "what it means to dress like an artist." Kaplowitz is wearing white cowboy boots, a scarlet scarf, and a pink flower-print blouse beneath a zebra-striped sweater. "In the '70s," she says, "to show your seriousness as a woman artist, you just disdained clothing and style." Simmons demurs, reminding Kaplowitz of her affection for a pair of Carmen Miranda platform shoes circa 1975. Kaplowitz laughs. "Laurie was recently in my closet," she says, "and I think she was aghast at all the Maribu and Ziggy Stardust shit goin' on in there." Heiss, silent until now, suddenly bursts out laughing.
In the search for radio personalities, Heiss is relying on her colossal network of artist pals. Kaplowitz, for instance, got her first job at the Clocktower over 30 years ago. ("I asked her to update the gallerist Leo Castelli's mailing list," Heiss giddily relates. "She'd call the people on the list and ask, 'Are you dead?'") Elliott Sharp, the downtown musician and co-curator with Heiss of several P.S.1 shows, is orchestrating a mini radio opera for AIR; Laurie Anderson, a longtime friend, is slated to share a late-night talk show with Vito Acconci called "The Midnight Hour." Heiss moonlights as a host herself: she recently interviewed the avant-garde filmmaker Michel Auder, promoting his new film The Feature and swapping memories of Nico and Max's Kansas City.
Like a conventional museum, AIR has its own permanent collection, albeit in digital form. In a curatorial coup on par with her alternative-space days, Heiss has acquired the licenses to MoMA and P.S.1's audio archives. Amidst thousands of hours of recordings, one can hear Duchamp explain the ideas behind his readymades, Larry Rivers converse with Terry Southern, and Michel Gondry discuss his transition from music videos to film. These archives will absorb AIR's own growing catalogue, forming what Heiss thinks of as an oral history of modern art.
Of course, creating an oral history costs money. With arts organizations everywhere scaling back, and without MoMA's support, AIR will be unable to broadcast from this year's Venice Biennale—as WPS1 did in 2007 and 2005. Thus, Heiss has embarked on a worldwide fundraising mission. In late March, she zipped off to a biennial in Sharjah, one of the United Arab Emirates bordering the Persian Gulf. "The Sheik sponsored the entire event," she says enviously, "so they didn't have to worry about bad reviews." No deals were struck. Yet, while wandering Sharjah City's bustling seaport, she discovered a well-known Indian art collective transmitting broadcasts about the fair to Calcutta. Heiss requested some of their recordings; the two are now pursuing a long-distance partnership.
While she is traveling the globe, her staff is looking for ways to make AIR user-friendly. "In 2004, Internet radio was a relatively new thing," says Paul Johnson, AIR's new "emerging media" expert. "I mean, this was pre-iTunes. To this day I don't think I can get WPS1's Real Audio plug-in to work!" Johnson is developing an iPhone application that will allow gallery-goers en route to Chelsea or MoMA to download podcasts with featured artists from AIR's archive. Podcasts—a feature WPS1 lacked—can be a boon for public radio; Johnson cites the example of This American Life, whose podcast averages around 450,000 downloads per week on iTunes.
Due to the tightened security, access to the Clocktower can only be gained through invitation, appointment, or reservation. Once inside, though, it's hard to ignore the evidence of Heiss's old alternative-space philosophy. Like the early days of P.S.1-which she renovated only minimally to allow artists to transform the space themselves—parts of the Clocktower seem intentionally unadorned. A long hallway, painted by the artist Mary Heilmann to resemble a two-lane blacktop highway, runs past several vacant sound studios in the process of renovation and the green room/kitchen area, which contains little more than some sunken couches and a paint-splattered Sony boombox. The hall terminates in the cavernous performance gallery, painted a luminous, uniform white. Its only objects are a modest dining table set with Heiss's Royal Bavarian China.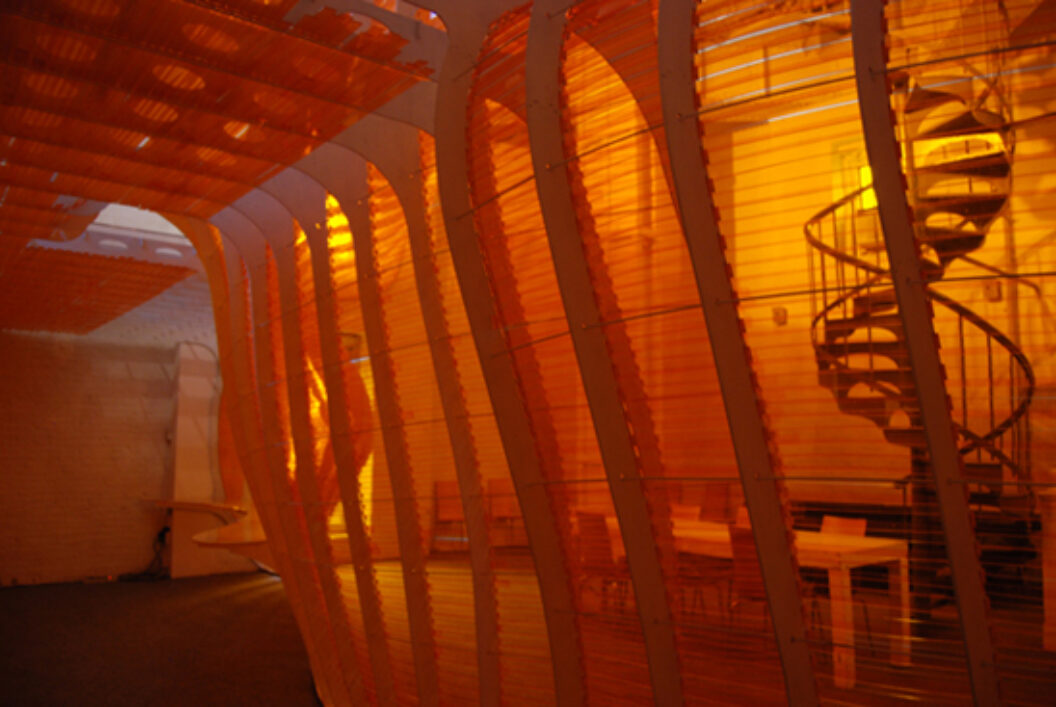 Still, vestiges of past installations can be seen. The remains of a Lawrence Weiner piece—a cryptic inscription reads: OFTEN REPLAYED (PLAYED AGAIN)—decorate the skylit stairwell leading to the tower. Here, a curvilinear sculpture by the architect William Massie, made of orange hybrid plastic and laser-cut steel, encloses a DJ booth. And new installations are already underway, including a series of talking lightbulbs by Tony Oursler that will line the hallway walls, plus a set of industrial light fixtures designed by Max Eicke, which illuminate the scarlet-hued wood floor of the so-called Weimar Lounge.
"Most Internet radio stations don't have this kind of space," Heiss says, standing beneath a spiral staircase twisting into the gears of the clock above. Jeannie Hopper, the station's manager and the host of WBAI's Liquid Sound Lounge, recruited a NASA sound engineer to wire six of the facility's rooms together. This allows Hopper to stream from a conversation in the performance gallery to the tower above, where Antony and the Johnsons played last winter for an invite-only crowd.
The Clocktower's visual asceticism bears out Heiss' intent to foster what she calls "the severe, disciplined moment of audio."
"When people think of art," she says, "they think of visual art and writing. They don't think spoken word or radio art." With more funding, Heiss wants to commission artists to create "sound installations." "In the art world, an 'installation' means building a substantial physical piece. In our world, that means creating a piece for the radio," she says, clearly relishing this new distinction between worlds.
That's not to say she will lose touch with visual artists. Several weeks ago, at a packed opening at Harlem's Studio Museum, she appeared to be on intimate terms with half of the crowd. Kalup Linzy, a young video artist who hosted 12 shows for WPS1, jumped up when he saw her and affectionately yelped her name. Moments later, the sculptor John Ahearn (director Charlie Ahearn's twin brother) wrapped her in a bear hug, and Heiss laid a hand on his pregnant wife's stomach.
Later, with Heiss detained by the museum's director, Ahearn recalled, "When I was nobody, she came and visited my basement studio in Tribeca, where I was doing these abstract paintings." He laughed. "Neither of us was very interested in my work at the time." Not long after, though, Heiss included several of his plaster casts in "The Portrait Show," a landmark exhibit at P.S.1.
For the next half-hour, Heiss wheeled around the gallery, spreading the word about AIR to artists, curators, and art dealers, while pointing out paintings she'd hung in P.S.1 years before. When it came time to leave, she quickly skirted the lengthy coat-check line, having carried her vast wool jacket in hand, and blew a few kisses back into the room. She then hurried out into the rain, and hailed a cab back downtown to check in on her radio station.